Straight bob haircuts have floated in and out of vogue with the times. With a return of 90s and early 00s hairstyles and fashions, however, sleek looks are back with loads of influence. Today's styles aren't quite as specific as they were in years past, and different features can be adjusted and incorporated to suit your look best.
Straight Bob Haircuts
Read on to see a wide variety of 35 different styles just waiting for you to try.
1. Red And Blonde Straight Bob
Say goodbye to dull haircuts and colors, and welcome this amazing mix between blonde and red with orange nuances. Bleach the strands from your hairline, creating a blonde contour for your face. This color will be revealed if you comb your hair to the back or pin it in a pony.
2. Short Bob with Thick Bangs
A great way to make your hair appear thicker is to dye it black and do a blunt cut. And the same technique works for the bangs. Keep them just above the eyes and use the top hair to style a messy pony or a bun.
3. Salt and Pepper Bob
For some women, getting white threads is such a burden that they try to solve by constantly dyeing their hair. If you are not one of them, get a haircut that offers those grays value. Opt for a bob haircut with long bangs tossed to the side.
4. Pink Bob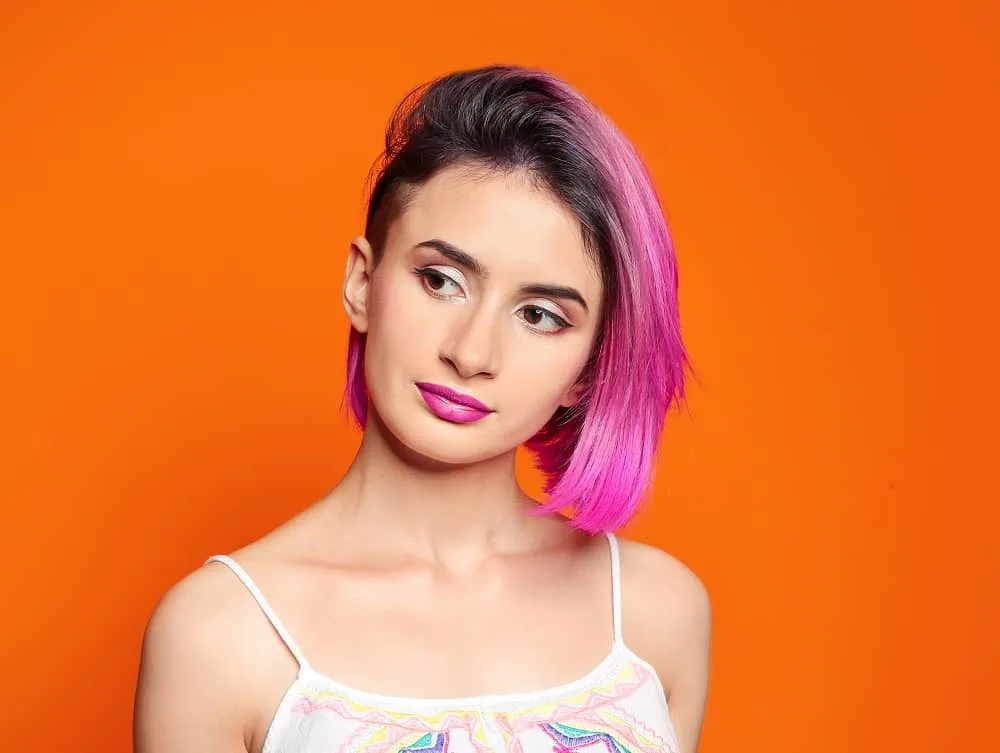 Fancy a pop of color? Why not choose an electric fuchsia for your straight bob? To spice things up even more, use the trimming machine and shave the temple hair on one side. If you want to reveal that shorter section, all you have to do is flip your hair on one side.
5. Sombre Bob
Who said a simple bob hairstyle is dull probably didn't see this example. The sombre enlightens the hair towards the ends and the clean straight cut offers the hair more thickness. Those glasses are one of the centerpieces of the look since they are modern and add that sexy geeky feel.
6. Red Asymmetrical Bob
Asymmetrical bobs are great attention grabbers, especially when the difference between the two sides is as noticeable as this. Also, a bright red color is memorable and a great idea for women with fair skin and blue or green eyes.
7. Half Up Half Down Bob Hairstyle
A balayage can enlighten your hair and it's not necessary to build this color transition close to the roots. For a cool hairstyle, you might consider sectioning the crown hair and pinning it up, like a samurai bun, on top of the head. Use a rubber spiral hair elastic.
8. Creamy Blonde Bob
For this look, gaining more volume is the main goal. First of all, use shampoo, conditioner and serums that provide that dimension. You can even use Velcro rollers to get that height when tossing your top in the opposite direction.
9. Two Colors Bob
Combining two powerful and electric nuances like this green-yellow and teal will undoubtedly upgrade your look. Also, to create a gorgeous frame for your face, style wispy bangs and give them that round shape. Use a rounded brush when drying out your locks.
10. Bob with Cornrows
Straight bob haircuts are highly versatile and leave plenty of room for creativity and style. So if you want to keep your hair medium short, styling it is certainly not going to be a problem. Like in this case, you can pull off a silver ombre and create cornrows on one side of the head. Emphasize the look with a big earring that covers the lobe.
11. Straight Lob
Lobs are defined as a fancy way of saying 'longer bob,' but regardless of how you say it, these bobs are characterized by longer lengths that skim the base of the neck or shoulders. They look powerful and elevated in sleek styles, or you can flip the ends slightly out for a playful touch.
12. Straight Bob with Bangs
The short length of a bob works wonders at highlighting the jawline and framing the face, but bangs take this idea to the next level. Wear them short or see-through if your face is round or blunt cut and long if your face shape is oval.
13. Choppy Straight Bob
Perfection can be boring! This jagged-cut bob makes straight hair interesting, especially if your hair is fine and lacks texture and body. This choppy cut must be done in clearly defined varying lengths so it looks intentional.
14. Straight Blunt Cut Bob
This is the look everyone has been sporting lately, from Hailey Baldwin to the Kardashian sisters. Blunt cut bobs are fresh and define a beautiful nose and elevated cheekbones. If you're worried the look is too severe, a simple side part will instantly soften.
15. Straight Weave Bob
Weaves are the new hot way to achieve a sleek bob regardless of your natural hair. It's also a great way to try out the style before growing your own hair out or giving it the chop. We love it silky straight yet slightly curved under for a touch of warmth.
16. Straight Blonde Bob
Blonde hair does really well in a bob. Many blondes deal with dryness and breakage, so a healthy bob chop is the perfect way to remove dead ends and reset your hair growth while hopping on the trendy train.
17. Straight Brown Bob
Of course, straight bob styles look great in every color. If you want to add interest to your brunette locks, then why not try it out in this style? Balayage highlights are perfect for adding in depth and definition to otherwise plain tresses.
18. Straight Balayage Bob
Balayage highlights are amazing because of their overall effect and the way they grow out. Because these highlights are painted where the light hits, you won't get a line of demarcation at the roots and the blend will be soft.
19. Straight A-Line Bob
An A-line bob is defined by longer hair at the front, around your face, and shorter hair in the back, cut on a gradual slope. It lets you frame your face with the length you choose, while keeping your overall appearance short and tidy. Add bangs as necessary, of course.
20. Inverted Straight Bob
Inverted bobs follow the same gradual shape as an A-line bob, but a stack at the back of the head gives the bob an overall round shape. We love it on symmetrical face shapes and square jaws, as the front pieces round and conceal harsh lines.
21. Straight Ombre Bob
Ombre bobs, whether they are electric pink and purple or blonde, brunette, or black, makes bob hairstyles a little more interesting. You'll need a decent amount of length to keep the style from looking silly, so a shoulder-length lob is ideal.
22. Straight Bob + Side Part
Soften up the severity of straight textures with a side part. Take it super deep or throw it slightly off-center according to your overall preference and face shape. Short pixie bobs to longer lobs can benefit from a side part.
23. Textured Straight Bob
Straight hair types don't require a pin straight look. Beef up your texture with a slight tousle using a large barrel curling rod. This will give your straight locks a bend here and there for a natural, undone appeal that is far from falling flat.
24. Straight Bob + Middle Part
You can never go wrong with this haircut. Go for something as simple as mid-parted hair to flaunt this straight bob cut on a daily basis. Gwyneth Paltrow proves that the look is about confidence and effortlessness. Plus, it softens up a square or heart-shaped face by concealing the back corners of the jaw.
This haircut is done in the classic French bob style. No matter your facial structure, the bob that falls around the face with bangs on the front will compliment your look, barring minor adjustments. The curled under nature of the hair cups the chin, so if your face shape is already round, cut see through bangs to reveal and lengthen your forehead.
26. Short Bob with Side Bangs
Fringe bangs may not be everybody's cup of tea, but side bangs certainly are. This beautiful straight bob can be every woman's go-to hairstyle when it comes to maintaining short locks.
Use adequate styling serums to help retain the texture of your hair and prevent your bob from being mussed up by the elements. Go light, however, so as to not weigh down your shorter locks.
This straight long bob provides the luxury of a ponytail when the need arises without having to panic that your hair is too short to be tied up.
With one side slightly longer than the other, the asymmetrical feature of this long bob with side bangs doubles the attraction factor for this hairstyle. This style is often seen with side bangs, so work the flexibility of this feature and have them cut on an angle.
28. Coloured Asymmetric Straight Bob
Nothing says "diva" quite like the asymmetrical bob. This look is distinctly more side swept to accommodate the prominent asymmetrical hair length.
If you have a square or round face, it's best to reconsider this asymmetrical bob cut on straight hair, as the side part will act as a revealing curtain on your face shape.
29. The Helmet Bob
The helmet bob utilizes multiple layers to create a rounded shape on the hair. It's perfect for adding volume to thin hair types. The look is cute, flirty, and perfect as a chin-length style. All that is required is quick blow-dry styling.
Thick texture with lots of bulk deserves a medium layered hair cut. Varied short layers creates movement and makes hair easier to handle. This straight bob hairstyle makes a half up half down hairstyle easy to achieve.
Believe it or not, this style also serves fine hair textures well, if you don't mind a bit of minimal styling to blow out the layers.
31. Razer Sharp Bob
Featuring a super-long fringe starting from close to the crown of the head, this straight bob is ideally suitable for women with small faces and sharp features. This short haircut highlights the chin area, thanks to its short length that ends in the hollows of the cheekbones.
32. Summer Pixie-Bob
Looking for something that keeps hair away from your shoulders and neck? Then this super close pixie cut straight hair bob is your answer.
The focus of this look is on the long wispy bangs that are perfect for round face shapes. Because the focus of the hair lies at the front of the style, keep hair close to the nape of the neck with an undercuts style.
33. Black Straight Bob
Particularly attractive on women with black hair, this blunt lob haircut boasts of precisely straight even ends and extremely straight locks. A center part continues the powerful effect, though side parts provides a softening element.
Braids are excellent details for short bobs that find full-on up-dos difficult to achieve. Braid horizontally across the crown of the head from one side to the other for a tiara effect. We love it on these candy-colored locks, but the style works on traditional colors as well.
Medium bobs are ideal if you want to give your hair the chop, but anything shorter than chin-length simply won't do. Center parts and long, piecey bangs are perfect for softening square jaws and framing a feminine face. Maintain the shine necessary for pulling off this classy look with a serum and high quality shampoo and conditioners.
Maintaining sleek bobs with straight hair is all the rage this season and totally convenient if you naturally have fine hair. Straight hair shows highlights more prominently than curly hair and that is an advantage that you can use to any extent. For regular styling, you could stick to straightening your entire hair's length without curling it at the bottom.
The sharp and straight look is definitely a lot trendier than incorporating a curl at the end. If you have medium layered hair then you can go for a slight outward curl for each layer while keeping the rest of your hair straight. If your hair is naturally straight then you can experiment with different lengths of bobs or lobs.
Use serums and products that help in making the hair look denser in volume and avoid going for gels and serums that give your hair a super sleek oily look. Another trend that is a rage off –late is to get multi-dimensional hair color done in such a way that only when a certain part of the bob is lifted into a ponytail or a mini bun, the color is seen. However, this trend is best left to be achieved through a professional.
If you are thinking of cutting your hair short, then going for a straight bob haircut is your answer. However, take a look at the available highlights and hair colors to decide on what you want your style to be like. Towards the end of the day, it's all about what you want to look like.