Men with thick hair often go for medium hairstyles because there are so many styles to choose from! Thick hair is known for being unpredictable and you never know what you're going to get each morning. The good news is that you'll never have to worry about your hair, so it's time you embrace it with these medium hairstyles for men with thick hair.
Many men out there think of their thick hair as more of a curse than a blessing, and I want to help you correct that today.
Medium Hairstyles for Men With Thick Hair
As opposed to men with thin hair, thick-haired men have more options than they can consider and there are many different things they can do. The following are the classic medium hairstyles for thick hair.
1. Modern Mop Top
What to do with all that hair? Give it a retro cut that creates movement to help distribute bulk and you'll be looking like a Beatle before you know it. This look works best on longer face shapes and substantial jaws, however.
2. Bold Mohawk
Thin hair makes mohawks fall flat, so embrace your inner punk with this style for your thick hair. You don't have to try bold colors, as with this look, but you may as well take the plunge.
3. Mohawk with Trendy Fade
As if the mohawk hairstyle needed even more unique features! This hairstyle says it all, however, and is wider than most, especially along the hairline. Shave symbols and details into the side portions for a stand-out vibe.
4. Hard Part with Medium Undercut
A hard part created at the middle of the head helps to break up thick hair with an undercut. Not only is it right on trend, but it accentuates the difference between a luscious man bun and closely buzzed hair on the lower half of the head.
5. Rounded Twists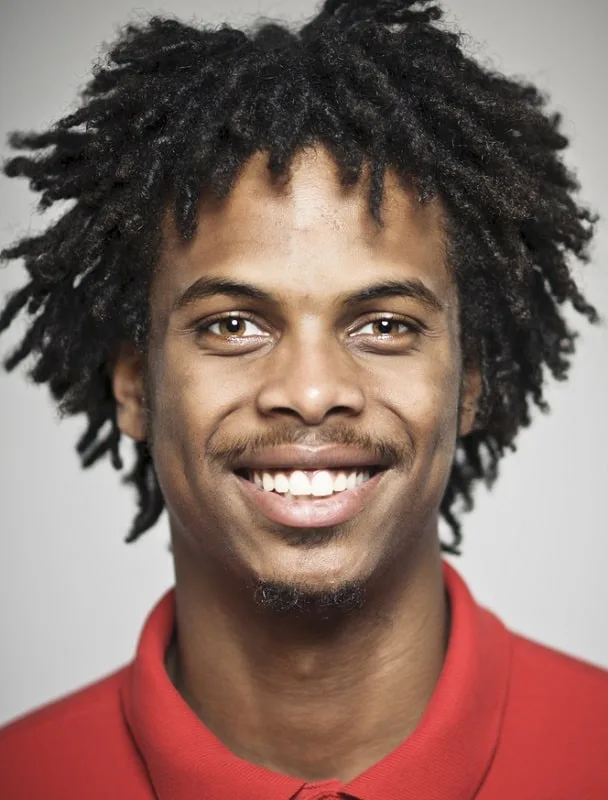 Twists help keep natural hair organized and tidy, so why not try it as your next medium style? A softly rounded shape will instantly make you look years younger.
6. Short Bohemian Braids
Popularized by the likes of Travis Scott and A.S.A.P. Rocky, this trendy style is easy to manage but conveys a playful energy. Create sections on the scalp in square shapes or any that you prefer and creates twists or braids with each section.
7. Double Puffs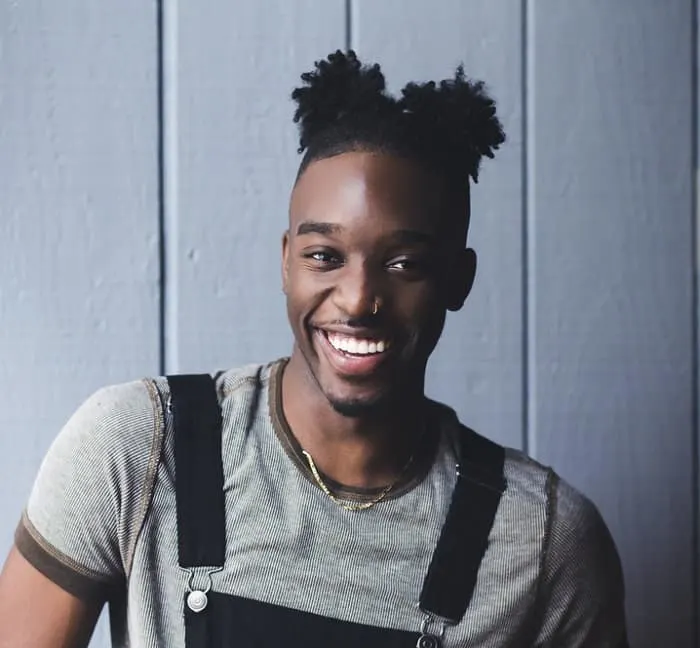 A playful way to style medium hair is with trendy puffy space buns. Excellent on an oval face shape, these puffs add essential roundness to an otherwise long and angular face.
8. Perfect Pompadour
It takes a lot of hair to pull this look off, so you're in luck! A pompadour has that retro feel you're looking for, all while maintaining a clean cut image. Create height at the hairline and be precise when pushing it all back.
9. Natural Hair Mohawk with Cornrows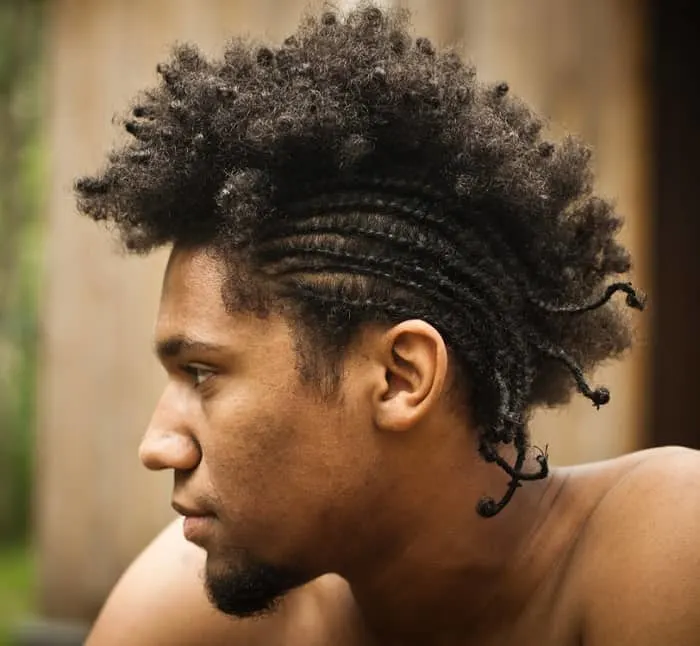 Having a lot of hair can be a blessing, especially if you want to do something creative with your look. Natural hair runs free with this subtle mohawk while cornrows shape the face and keep this look nice and tidy.
10. Medium Springy Ringlets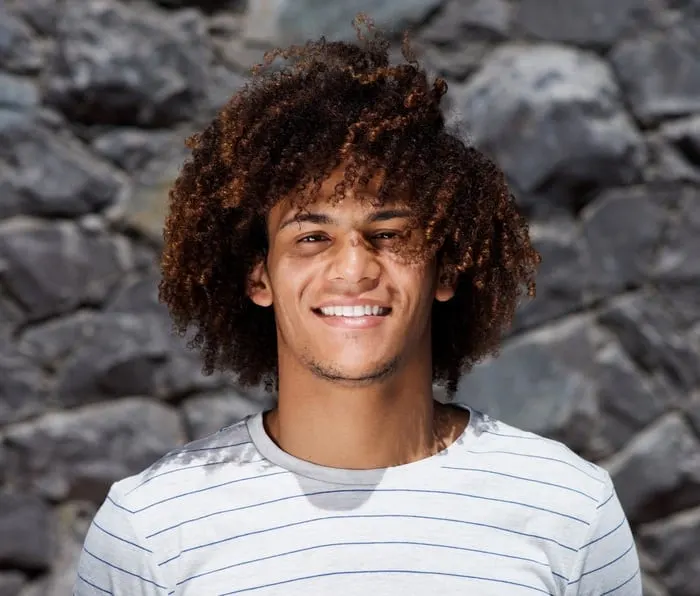 If you've got thick and springy ringlets, do us all a favor and grow it out! These curls are absolutely gorgeous and look great in a rounded shape if you have a particularly strong or square-shaped jaw.
11. Medium Style for Mature Men
Mature men that are lucky enough to still have hair, let alone a thick mane, should go for a casual, swept back style that reveals any natural wave. A medium beard provides exceptional balance.
12. Sleek Bob for Straight Hair
A soft, youthful appeal is perfect for guys working with a clean face and straight locks. Shorter layers at the front should be cut to the cheekbones to add definition to a less defined face shape.
13. Sleek High Fade
High fades are great for framing and defining the angular aspects of your face. Additionally, they work well with beards both short and long. Comb all of your hair back up top, or spike it up if you're feeling funky.
14. Fringe + Fade for Men With Thick Hair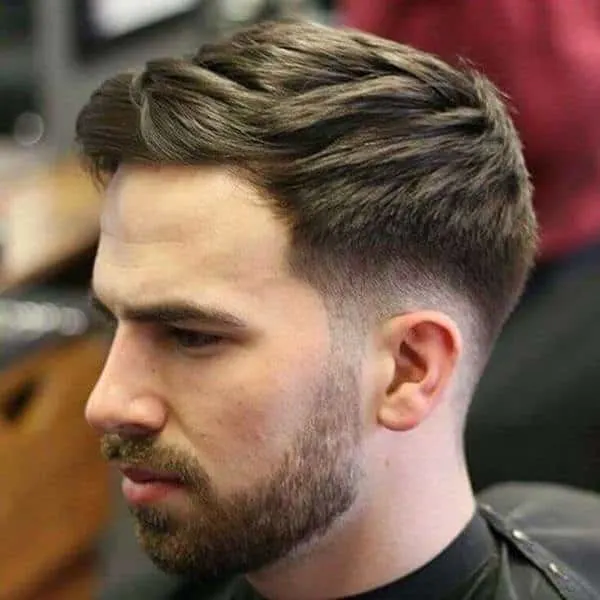 The angled fringe with temple fade is a great go-to men's hairstyle for thick hair because you can have texture and also look clean. As the fade grows out, it will still have a great effect, and styling this medium haircut is as easy as it gets.
15. Heavy Crop for Medium Length Thick Hair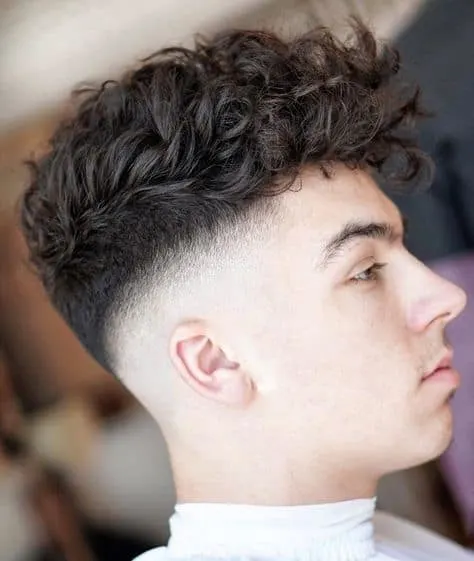 The heavy crop is quite popular in Europe and it's making its way to this side of the world. Couple it with a high fade and you have a very stylish medium haircut. The heavy crop looks great for all types of hair and you can have that messy, carefree look that's so easy to style and maintain.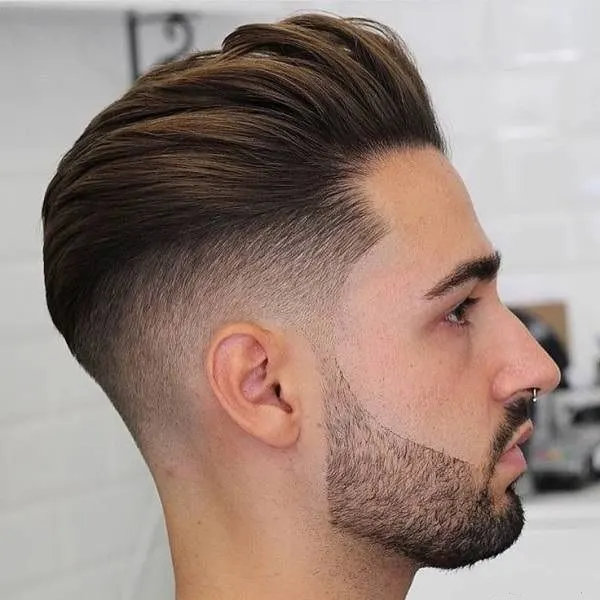 The undercut is another super popular option today and it's very elegant; if you combine it with some fade and you slick it back, you'll have a stylish and sober look. Styling this hairstyle is as simple as using some product and just slicking your thick hair back.
17. Quiff with Hard Part and High Fade
The quiff hairstyle is yet another popular classic medium length hairstyle for men that look great with thick hair. On this occasion, we combine it with a hard part and high fade to add more complexity to the hairstyle and keep things neat.
Related: How to Wear a Hat for Guys With Medium-Length Hair
18. Medium Faux Hawk with Hard Part and Fade
Faux hawks are cool, stylish and they look amazing. If you combine it with hard part and fade, you get an even more complex and interesting hairstyle. Granted, styling a faux hawk can get tricky on those bad hair days, but it's worth it!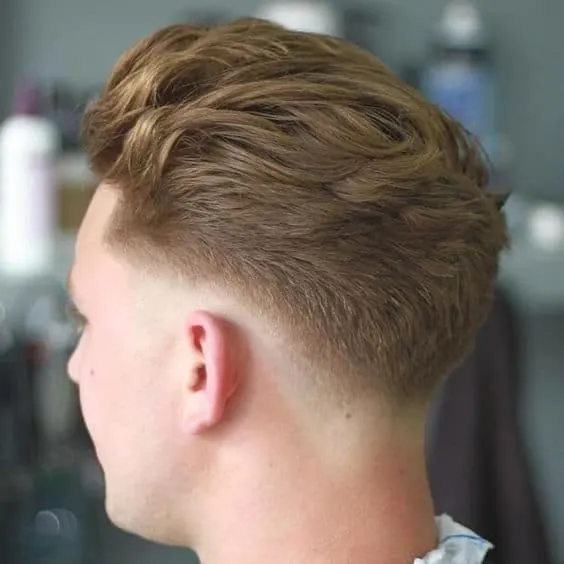 The taper is one of those classic haircuts for guys that never go out of style and that suit medium thick hair very nicely. This low cut taper fade is a perfect example and it will compliment your style very nicely. It's classy, elegant and clean.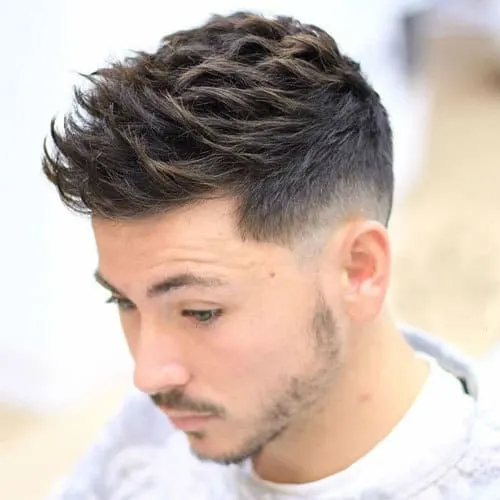 If you've always wanted to try the spiky look, then this might be the moment. Thick hair is perfect to help you get the spikes and this medium haircut provides a lot of body and texture to your hair. Coupled with low fade, you will get a fun and clean look.
21. Medium Length Sweep Back Hairstyle for Thick-haired Men
The sweep back medium hairstyle is another classic that can never go wrong and it's super flattering for thick-haired men. It's easy to style and it has a lot of texture and body, which makes it look stylish and very elegant.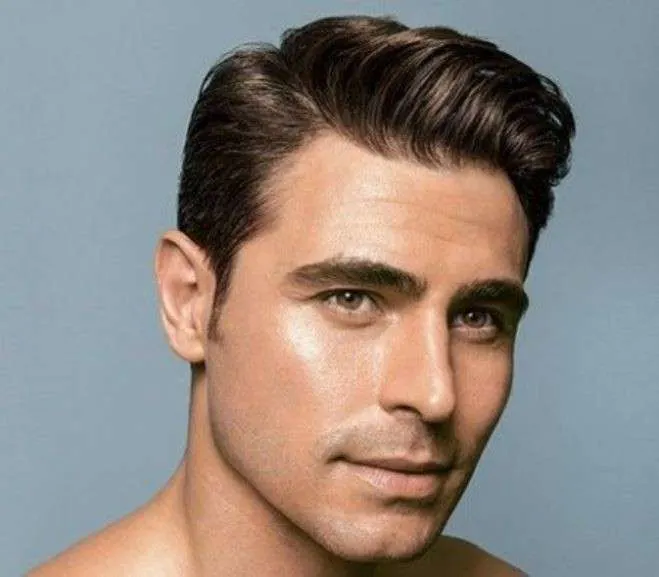 The side part is a true classic and it reminds us of Clark Kent. It's a very popular medium length haircut because it's very versatile, practical and yet elegant and stylish. The side part looks great on men with thick hair and it provides that serious yet down to earth look that can suit most personal styles.
23. Wavy Crop
We already looked at the heavy crop earlier on the list and this is a wavy version that makes use of layers to provide more texture and body to the haircut. As you can see, it's easy to style and it doesn't take much effort.
The only true drawback is that, yes, thick hair can be difficult to style and to tame. It also requires you to pay continuous visits to the barber so you can keep things short and clean.
Not to worry though, because these 23 medium hairstyles for men with thick hair will help you keep your hair under wraps while still looking stylish, modern and elegant without too much effort.