#6: The Waterfall
Look at the way her hair glistens, top to bottom. The ponytail falling over her shoulder puts Rapunzel in her place and those edges are laid to the gawds. Can't stop admiring the arrow through her cartilage, either.
#7: Side Braid Slay
You get to see this ponytail from every angle, which allows you to appreciate the single side braid, the (s)lay of the edges, and the length of the weave. If you're looking for something long but not too long, something fierce but still ideal for the day-to-day, then this one has your name written all over it.
#8: Middle Part Weave Ponytail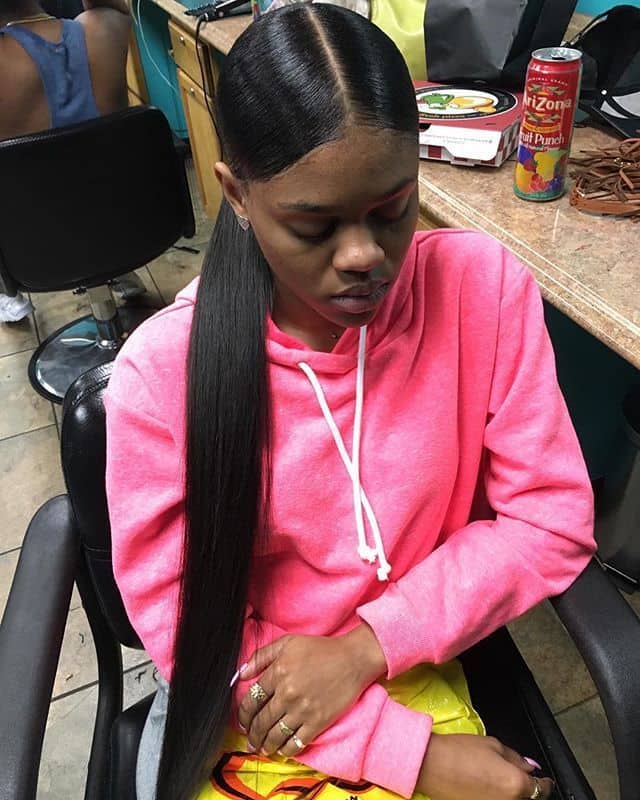 Create balance by keeping a lengthier weave ponytail on the simple side. How? A plain middle part will do it, particularly since it's anything but plain. This part is timeless but gives it can give off a retro, Boho, or funky vibe depending on your outfit, makeup, and jewelry for the day.
#9: Weave Ponytail With Curls
A curly side ponytail like this practically begs for a girls' night out. How can you resist throwing on your cutest outfit and heading to that one club that's got the best music and the hottest clientele? Those curls go on for days—you will walk in like a queen no matter where you go.
Brilliant Braided Hairstyles With Curls
#10: Like a Bob
This is too chichi. The ponytail is on the shorter side and it falls to resemble a sharply angled bob. The wrap of hair around the base, and the fact that the ponytail begins so high on top of her head, both create a retro vibe. Lastly, the matching hard parts are ev-er-y-thing.