Gone are the days when grandmothers ditched style for comfort 24/7. In today's modern time, grandmoms are embracing their style, still wearing makeup, getting dolled up to go shopping, and really living life to the fullest. And we LOVE it!
On wedding days, it's even more important to look your best. So, if you're looking for the best wedding hairstyles for grandmothers tying the knot or as the bride's grandmother, you've come to the right place.
The Best Wedding Hairstyles For Grandmothers
Everybody can have a certain appearance or feel; the key is finding the one that works best for you, your wedding, and the venue. Grandmothers (or women over 50) can choose from various wedding hairstyles that range from understated to spectacular and extravagant.
Whether you're the bride, the mother of the bride (MOB), or a guest, we all want our hair to look fantastic at weddings and other special occasions.
Here, you're guaranteed to discover some intriguing grandmother wedding hairstyles. Practice and test a few out at home or with your local hairstylist and discover which works best for you.
Enjoy those memorable occasions as much as you can because life is short. Make memories while feeling and looking your absolute best!
We've curated a list of some fantastic wedding hairstyles for grandmothers. So, sit back, relax, and scroll until you find your best wedding hairstyle!
1. The Timeless Bob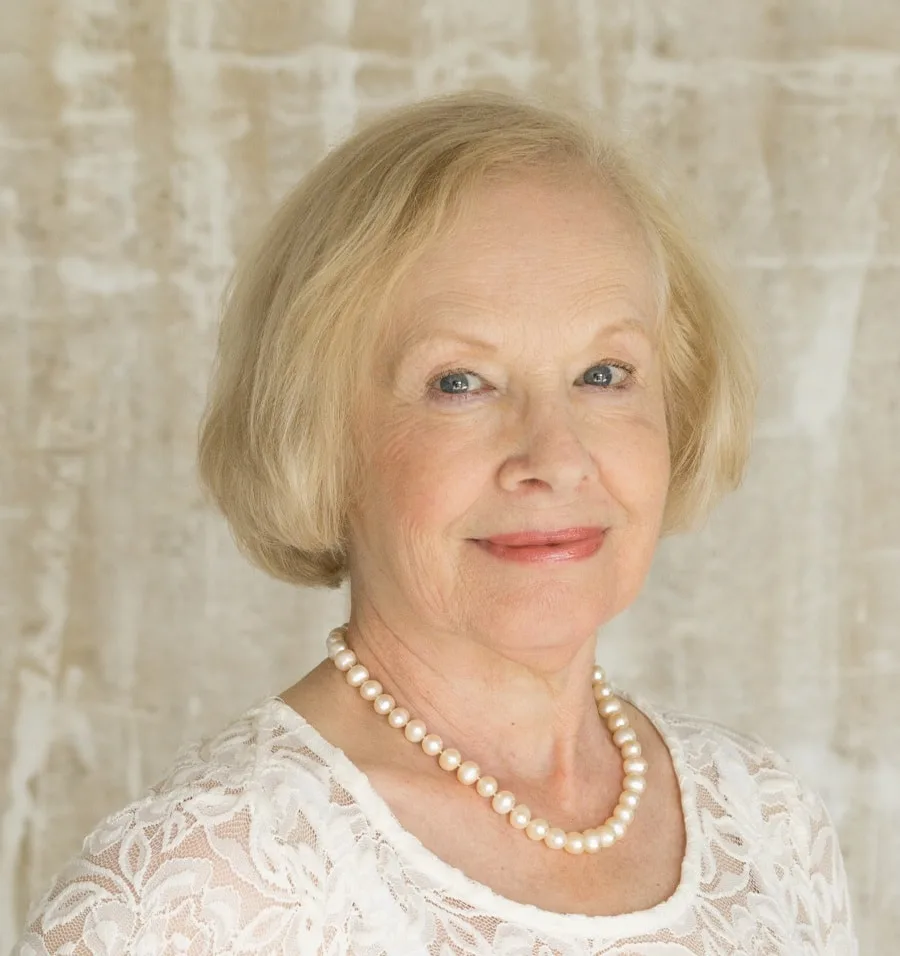 Whether you are on a marathon of Hollywood hits or browsing through the newest edition of a fashion magazine, you are likely to stumble across some version of an iconic, timeless bob.
Perfect for stylish grandmothers and young women alike, a plain frizz-free blowout bob always work, especially as a wedding guest hairdo.
2. Boy Cut With A Twist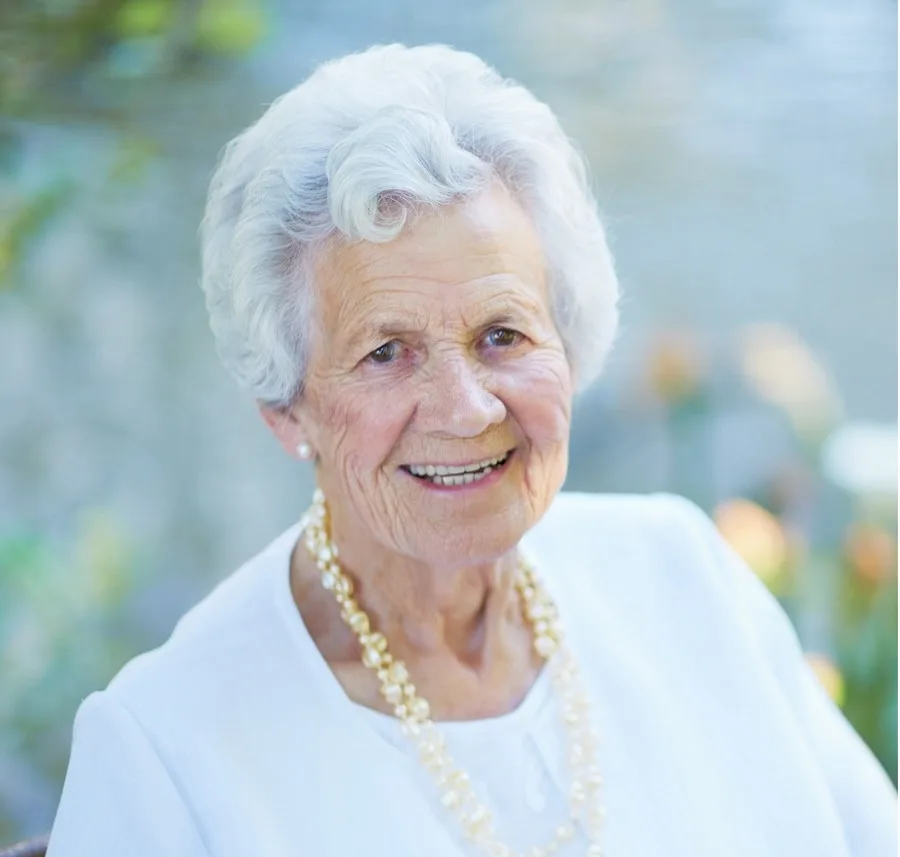 Hair can get sparser and finer as one ages, but this boy cut exudes glorious volume and is incredibly easy to style, no matter the occasion.
You can add a curl or a wave to the front bangs or leave the front bangs slightly longer for that youthful look, and this is one of the few hairstyles that look beautiful, even in its simplicity.
3. A Statement Fascinator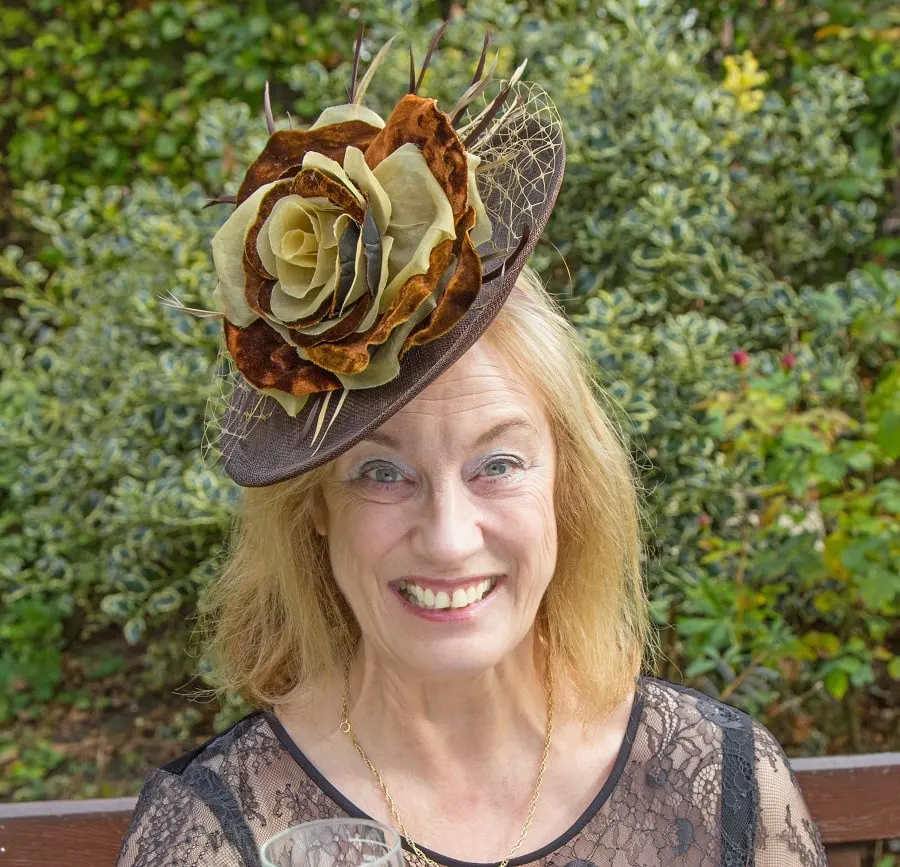 A fascinator is a very old-school way of dressing up your look and whole attire. Opt for a statement fascinator with large hair flowers, lace, pearls, or even fruits, and choose colors that are either neutral or really bright, festive, and floral depending on the season the wedding reception is being held in.
A well-placed fascinator actually takes over the whole look and nullifies the need for additional effort to create this style.
4. A Princess Diana Cut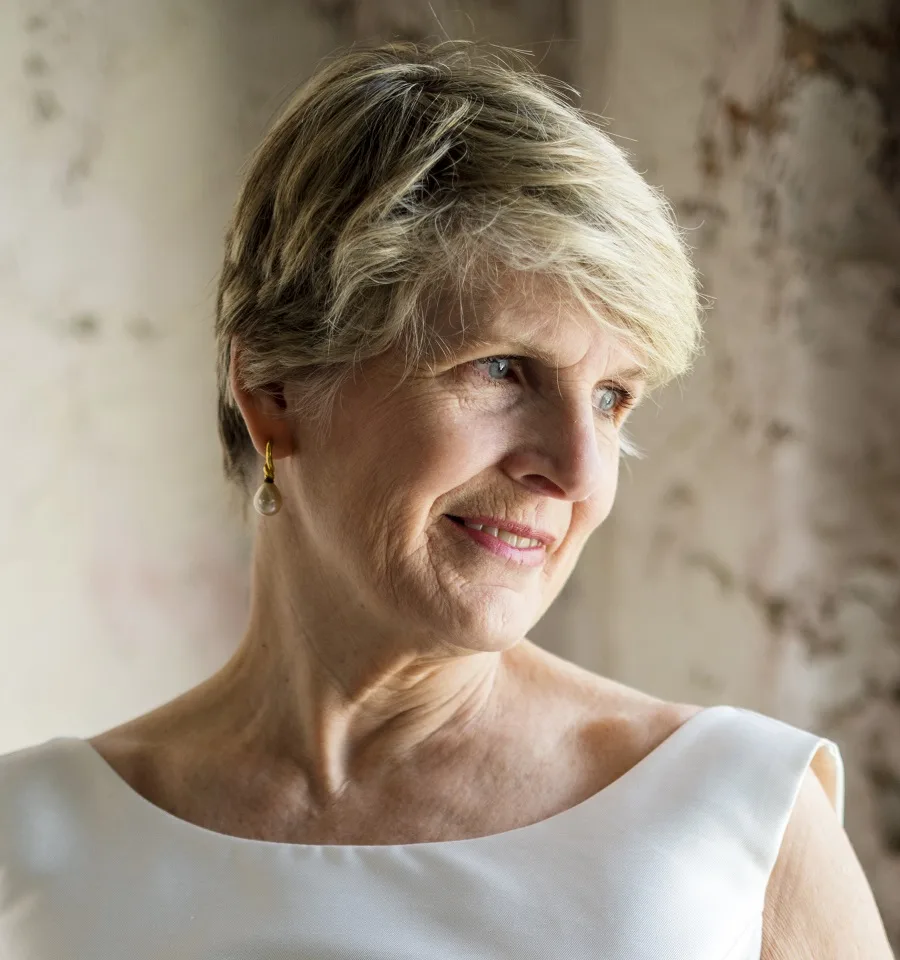 Inspired by the late Princess Diana's haircut, this style celebrates short hair with a straight texture to them.
A side swept bang looks great, and while this hairdo does not require any hair clips or barrettes, they can always be added for an extra 'oomph' factor and if you're the grandmother of the bride, a rose or some gypsy flowers pinned to the side give a festive yet sophisticated vibe.
5. The Pin-Up Route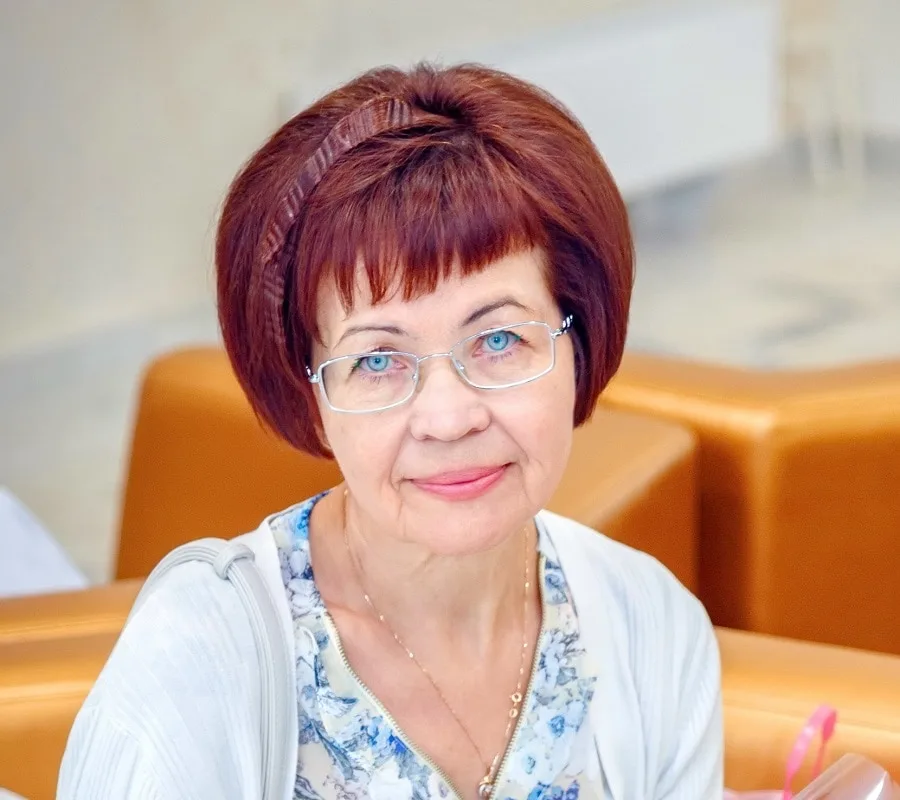 Pin-up styles may remind you of your younger days and are incredibly flattering for every face shape.
Build up some volume in your natural hair by using a volumizing mousse or spray, do some backcombing, and then secure with a polka dot hair band or any other pattern you prefer.
A custom-made headband to match your dress from the boutique is an excellent way to add some synergy to your outfit!
6. Pearly Soft Pinned Waves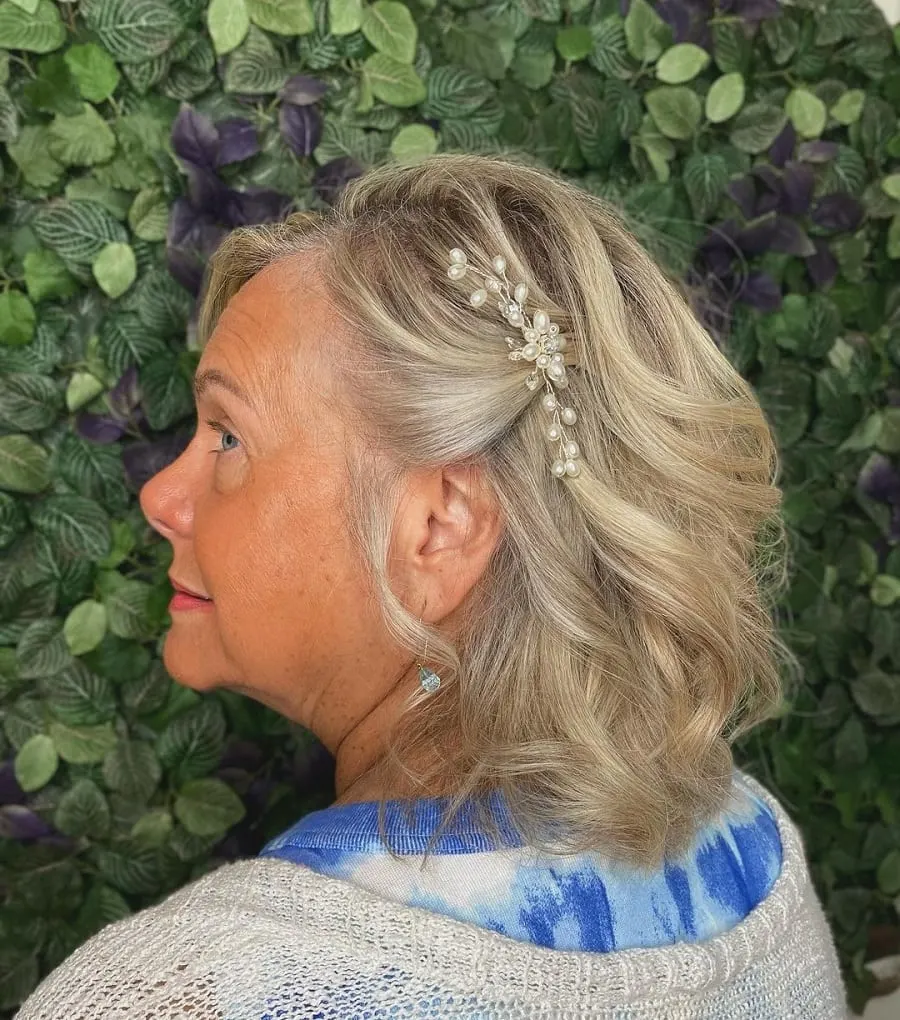 Soft waves are wonderful for older beauties as they tone down the effect of makeup and give a fresher feel.
Create some precious soft waves with a larger curling barrel tong and pin them on the side with a gorgeous statement pearl barrette that is both age-appropriate and completely charming.
7. Alice In Wonderland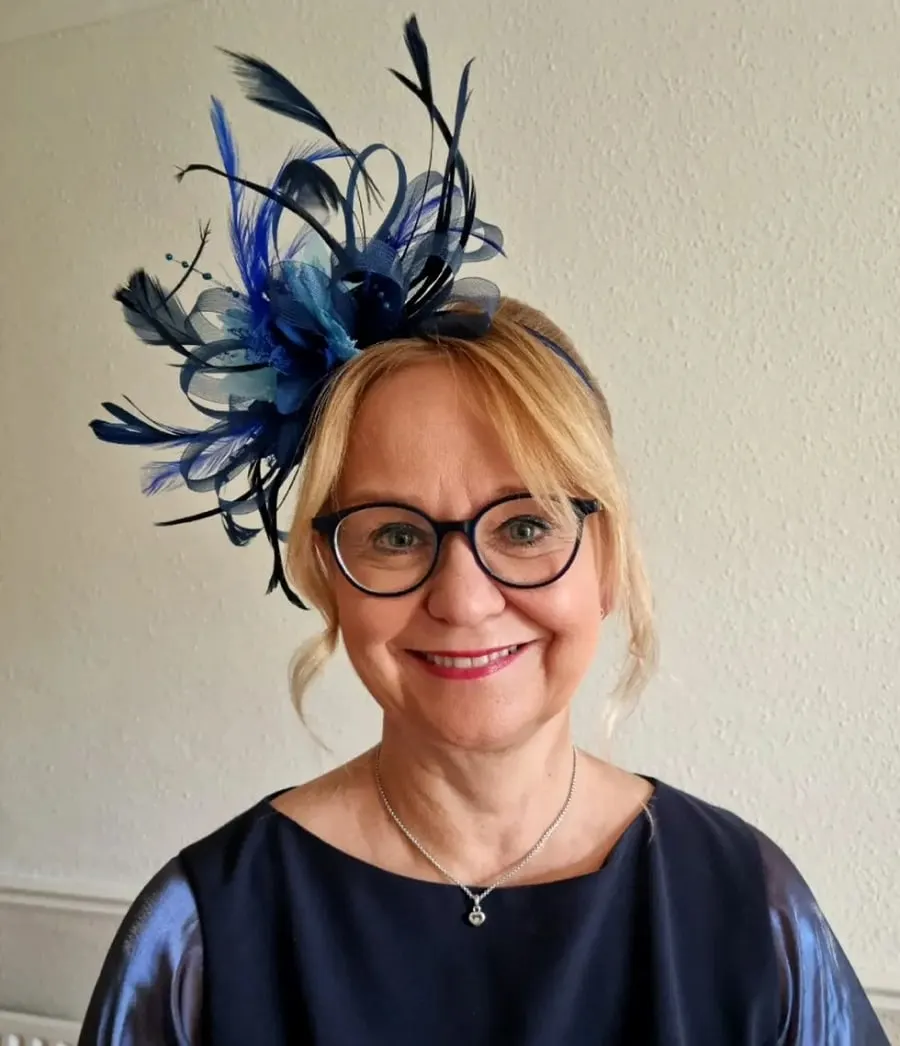 For the more eccentric and fun-loving amongst us, this tight bun with side bangs and a gorgeous feathery fascinator is the ultimate surprisingly gorgeous look.
The feathers can be any color you prefer (or match it with your outfit), and it is a convenient style to pull together for longer shoulder-length hair.
Some hair balm to smooth out those strays and baby hairs, and you're good to go.
8. A Lover Of The Countryside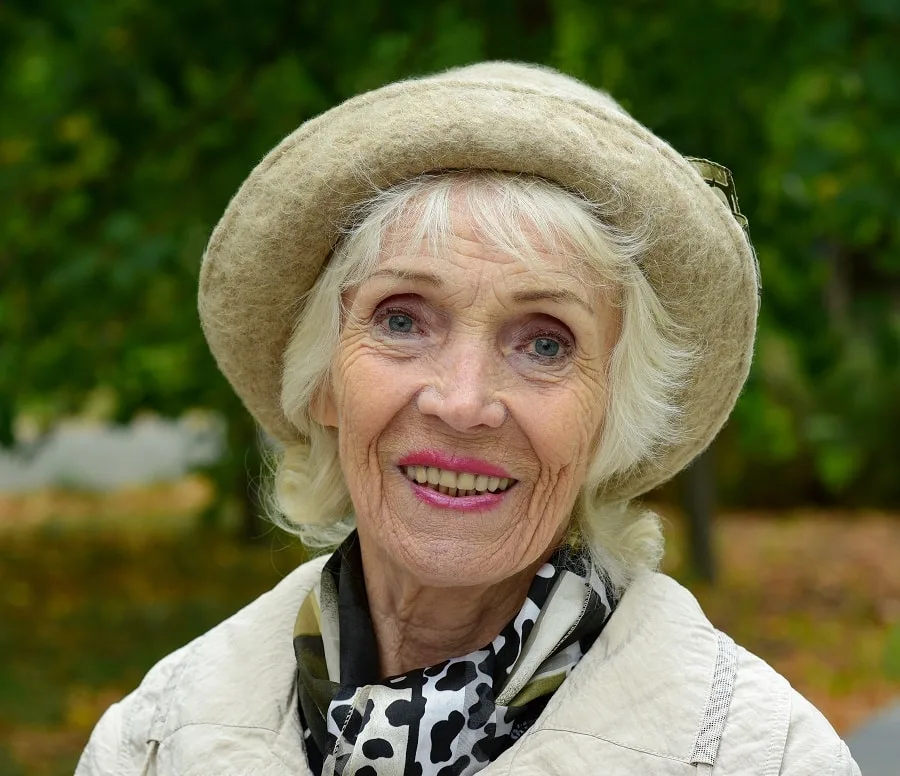 A great deal of suitable wedding guest attire is also about respecting personal comfort and one's own sense of style.
This grandma wedding hairstyle incorporates loose waves with a woolen or suede hat for that simple farmhouse living countryside gal vibe.
9. An Auburn Delight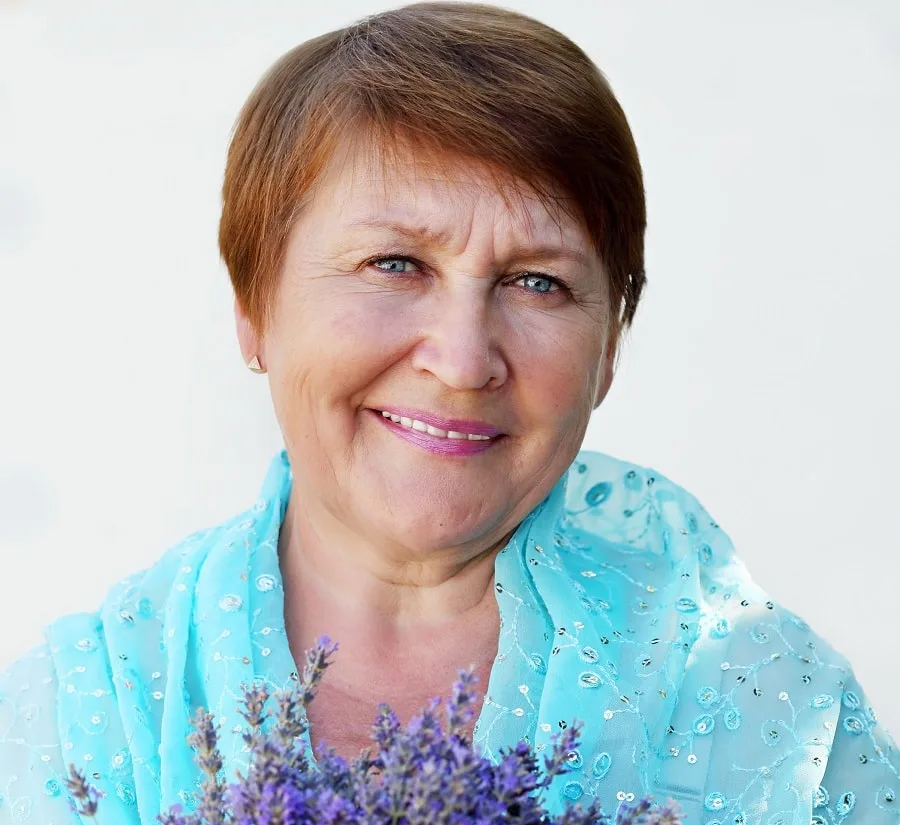 Everyone knows redheads are very powerful and rare, so this plain auburn boy cut will shimmer in the sun and look beautiful even with simpler makeup.
10. A Textured Curly Bejeweled Bun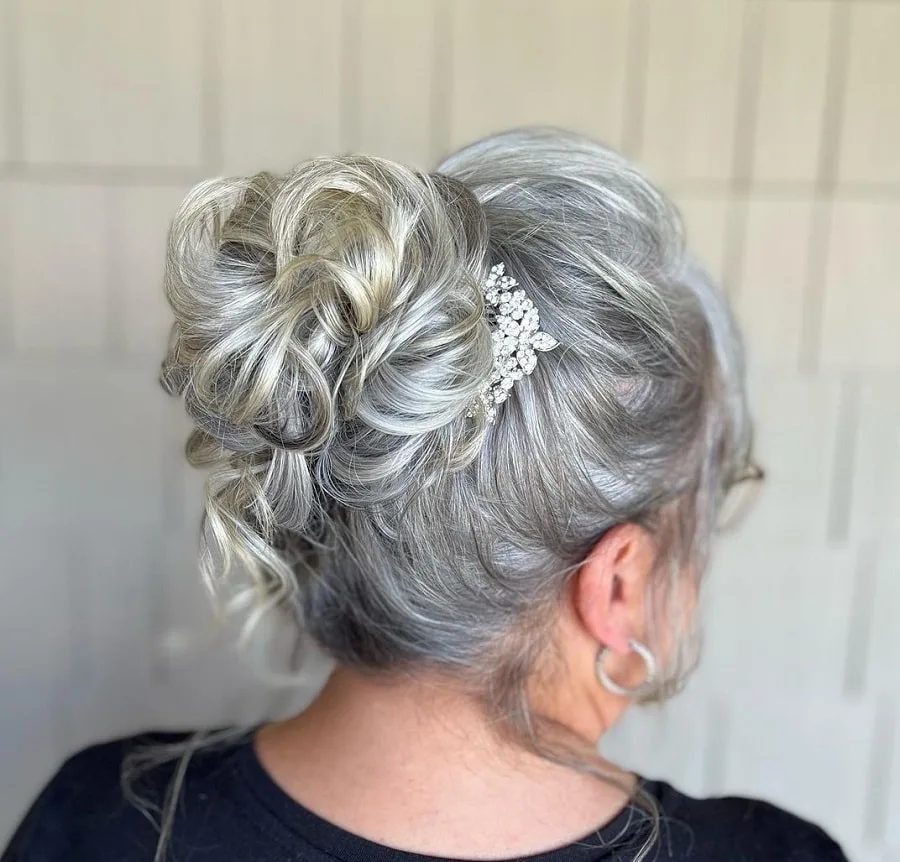 For grandmothers with longer, thicker hair, this curly, messy bun is very elegant and easy to maintain for a long wedding day in which there is a lot of errand-running and moving around.
The hair is first blow-dried with some heat protectant and serum to smoothen the cuticles and then curled into semi-tight curls before being swept up in a messy bun.
The last step is to get out that jeweled heirloom barrette and secure it on the side.
11. Going Neon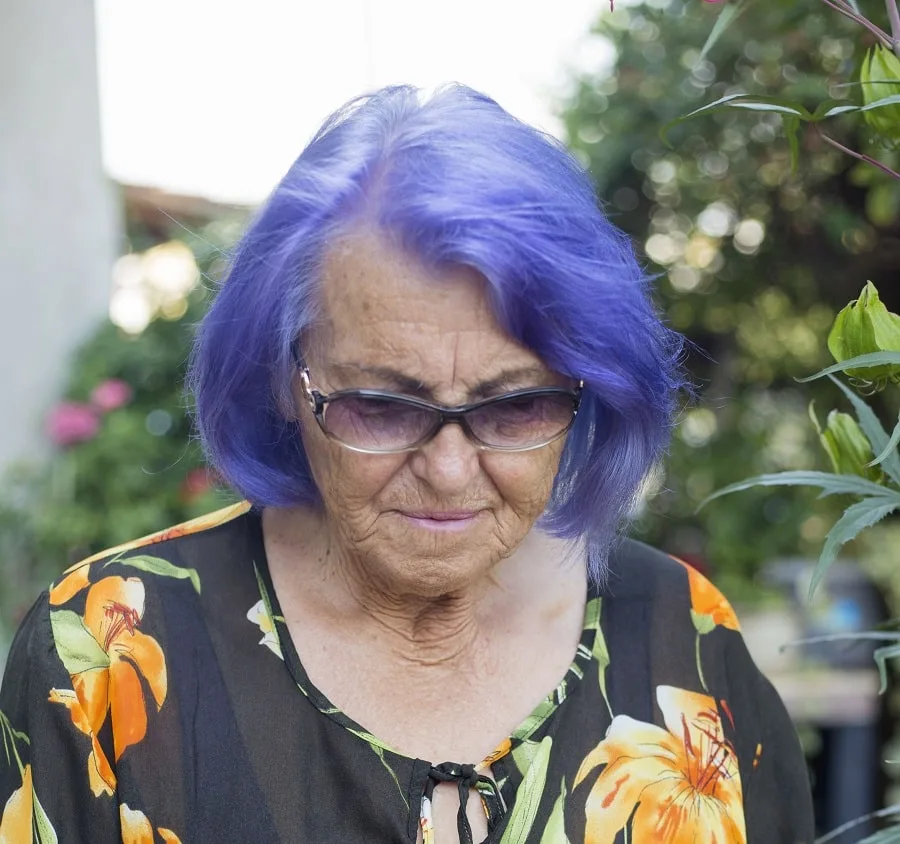 For lovers of disco and punk rock in general, this neon dye job inspires wonder and excitement and beautifies any length of hair. This is a fantastic wedding hairstyle for grandmothers that love to walk on the wild side, fun-loving and fancy-free.
12. Frizz Can Be Beautiful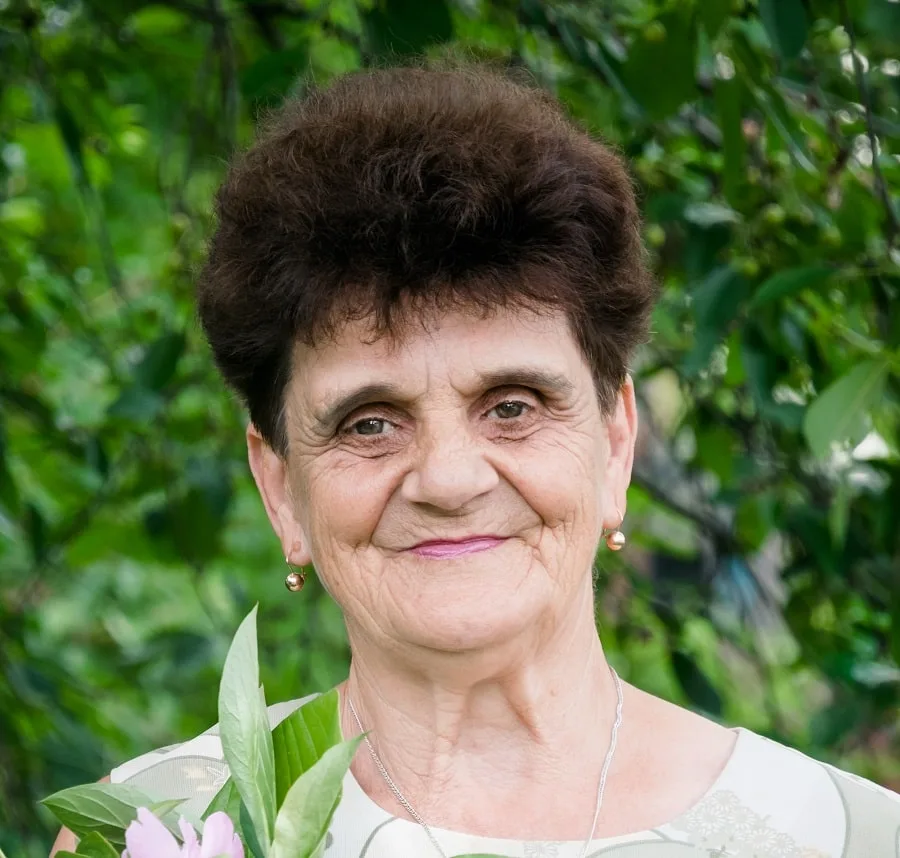 For very short hair, frizz can be styled this way with volume-adding products and strong-hold hairspray and be used to create stunning volume on the top of the head.
13. Graceful Grey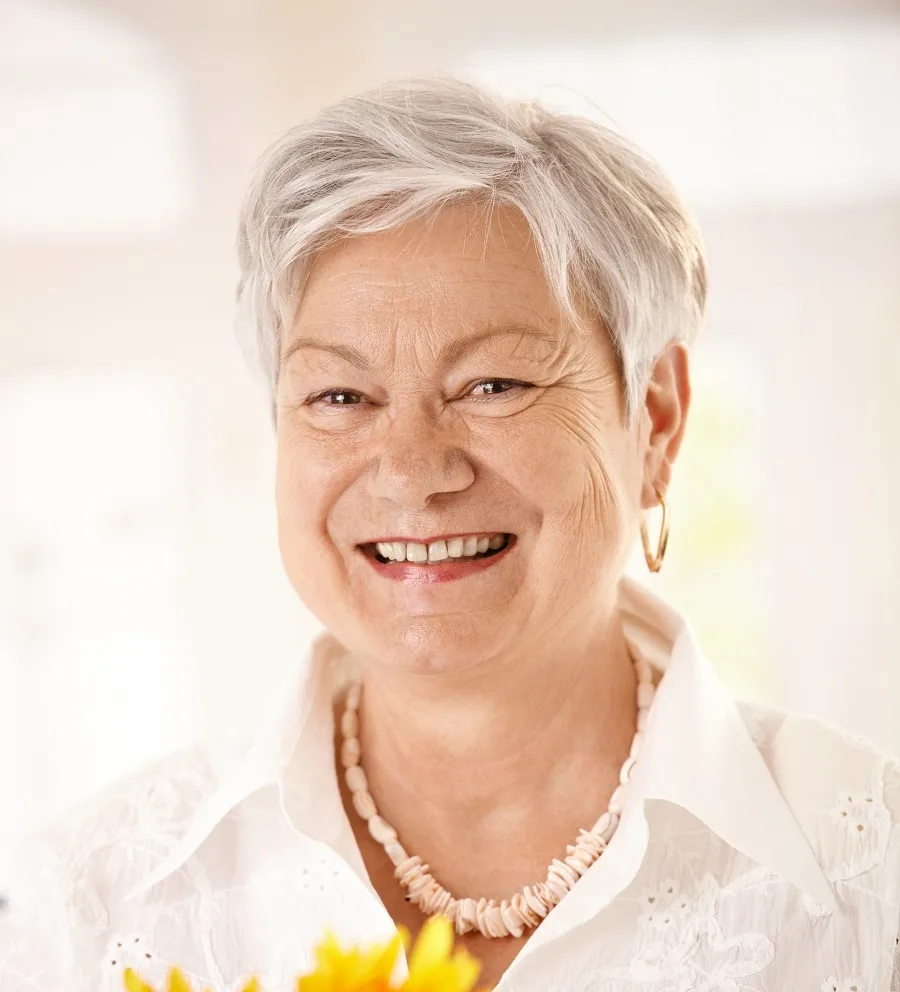 There's nothing wrong with rocking your natural grey hair! Many stunning older women stop dyeing their hair and go the 'au natural" route.
14. A Braided Dutch Braid Bun Extravaganza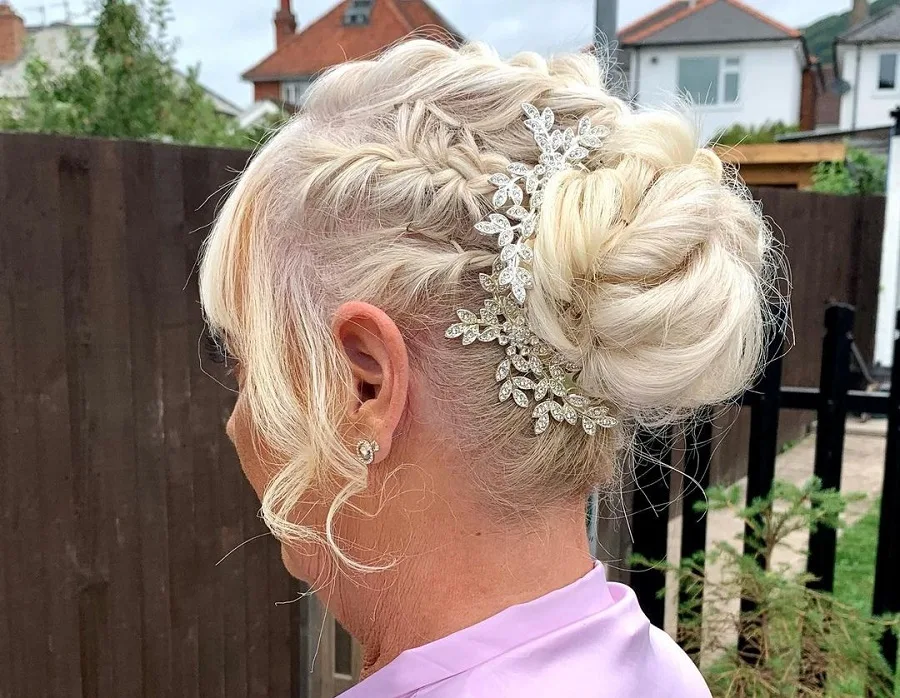 If you like looking like the epitome of elegance and want to look like you put a lot of effort in, opt for this multi-Dutch braid bun style that is topped off with a circular statement jeweled hair clip.
15. Soft Volume, A Glamorous Wedding Hairstyle For Grandmothers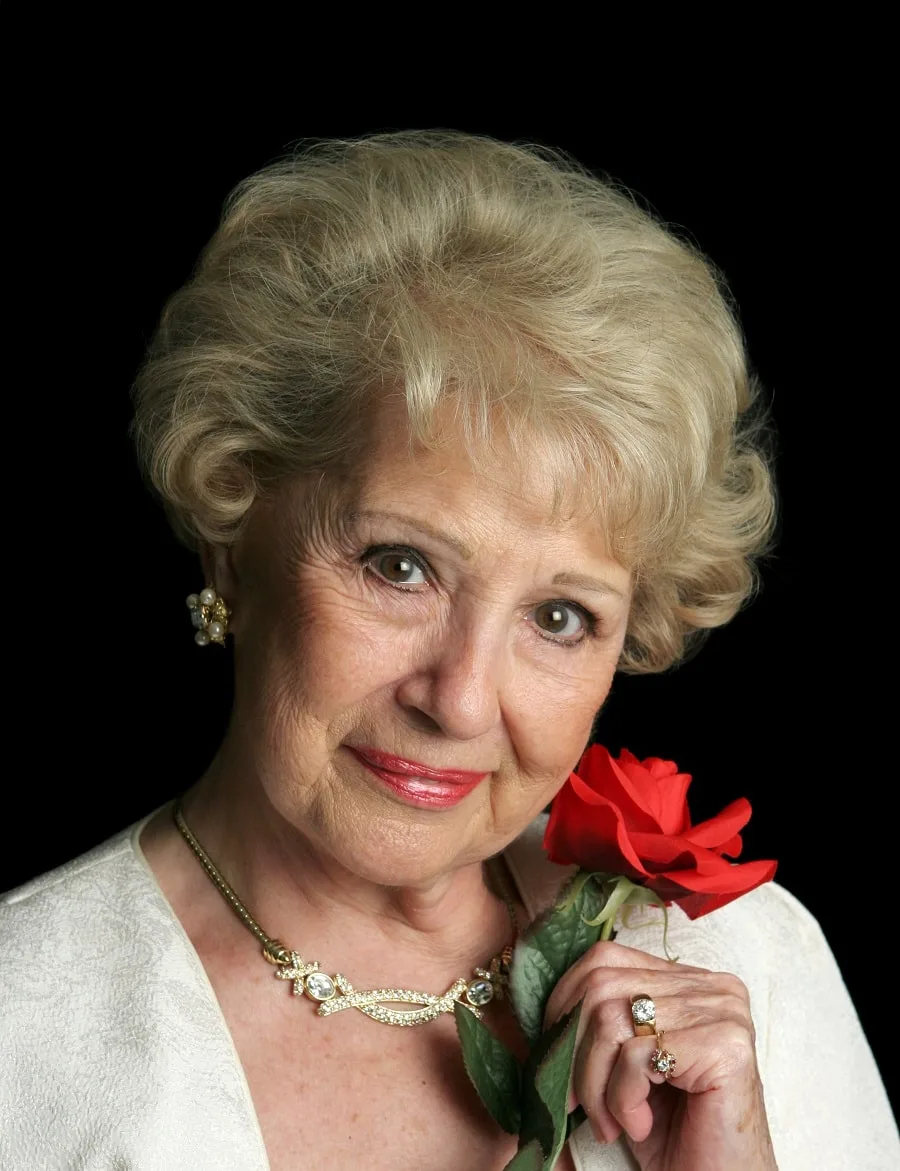 This hairstyle focuses on silky soft strands styled with light curls at the ends. It is a classic style associated with beautiful grandmothers worldwide, bringing forth the beauty of any outfit.
16. A Beautiful Side-Part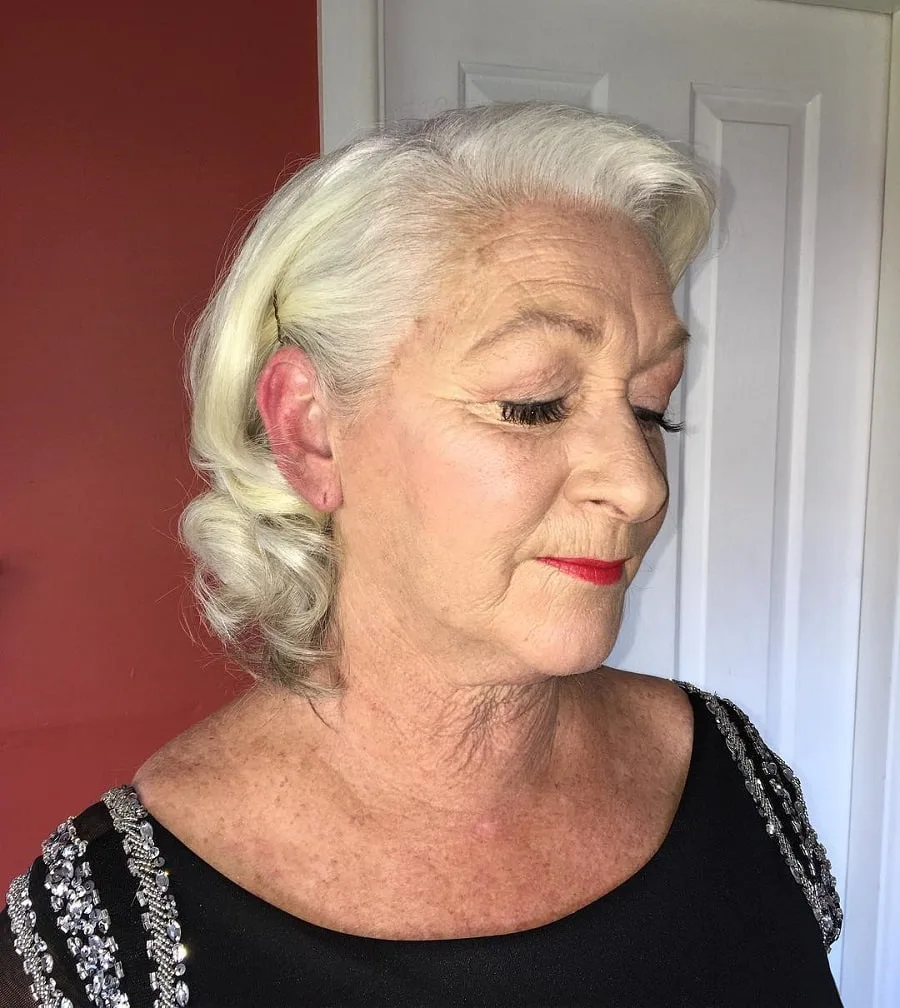 Style shoulder-length hair with this elegant side parting with hair pinned to one side. Ensure the hair has been given a blowout beforehand to reduce frizz and get the strands looking luscious and smooth.
Use some anti-frizz shine spray to prevent any flyaways during a long wedding reception or outdoor ceremony, and jeweled pins to bedazzle the look.
17. A Voluminous Pixie Bob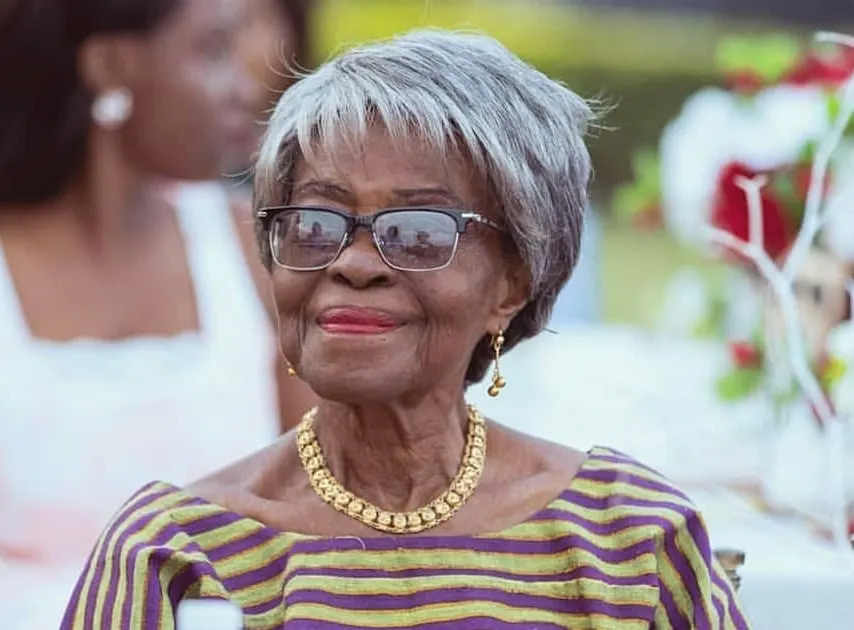 Short hair, like a pixie bob cut, is wonderfully flattering for many different face shapes and usually requires little upkeep or elaborate styling to look good. If your pixie cut looks smooth and your hair is healthy, you can dress the look up or down, depending on personal preference.
If you like color, you can add a headband, some clips, or even hair flowers, or leave it as the perfect simplistic, runway model hairdo.
18. Twist And Bun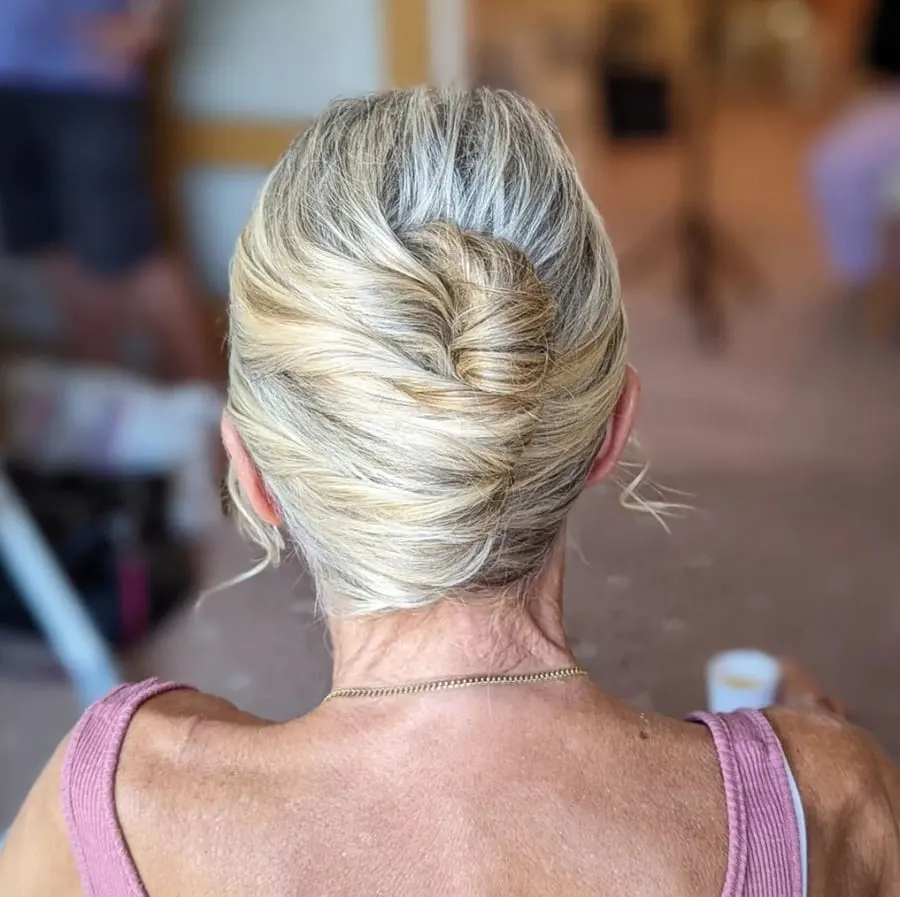 A twisted bun is a staple for when you're meeting your friends for coffee, and it doubly suffices as a stylish, modern take on a classic bun appropriate for weddings and similar formal occasions.
This style epitomizes minimal effort with a gorgeous result. This is an elegant wedding hairstyle for grandmothers and one of our favorites.
In the past, people have advised cutting hair short as you get older. Not exactly sure what the reasoning behind that was other than to make styling and managing your hair easier. But we sure are glad to see that change.
Today, many women over 50, 60, and even 70 are wearing long hair. Some women are embracing their natural hair color, and yes, that includes silver, gray and white hair.
We don't have to adhere to any rules. We celebrate the right to express ourselves freely through our lives, dress, and hair.
We should cherish our families, relationships, and the rituals that unite us as individuals or couples more than ever. Whether you're a grandmother bride or the bride's grandma, these wedding hairstyles are for you.