When a woman is getting married, don't believe for a second that the guests won't take a good look at her mother to see from whom she inherits her beauty. This is why we need to pay a lot of attention to the mother of the bride hairstyles and outfits.
Moms are always there to hold their daughter's hand for good, and for worst, and at a wedding, even if they don't necessarily want it, they will be in the spotlight.
Needless to say, if your daughter is getting married soon, you need to plan early what hairstyles and outfits you will have.
Hairstyles for Mother of the Bride
If you are a woman over 50, your hair is probably turning gray, so maybe it's time for new hair color. You need to look impeccable, so add hair dyeing to the preparation list for the wedding.
If you are out of ideas, check the list below and discover the best mother of the bride hairstyles that will make your daughter proud.
1. Wavy Half Updo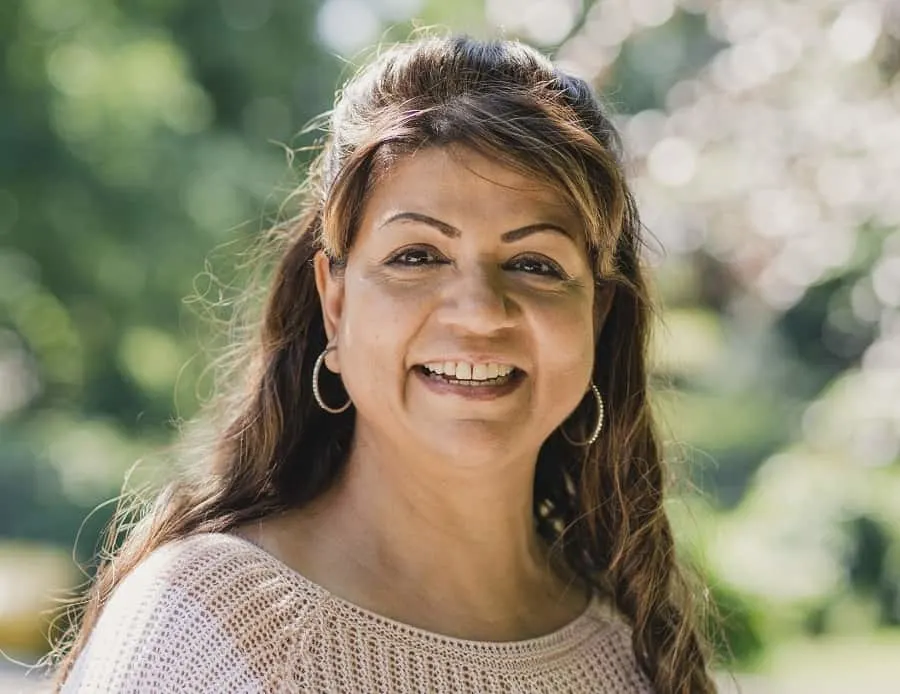 After filling your long hair with waves, gather the top half of your hair into a loose but high ponytail for a soft mother of the bride hairstyle. If you have side bangs, loosen them up to help frame your face.
2. Thick Low Bun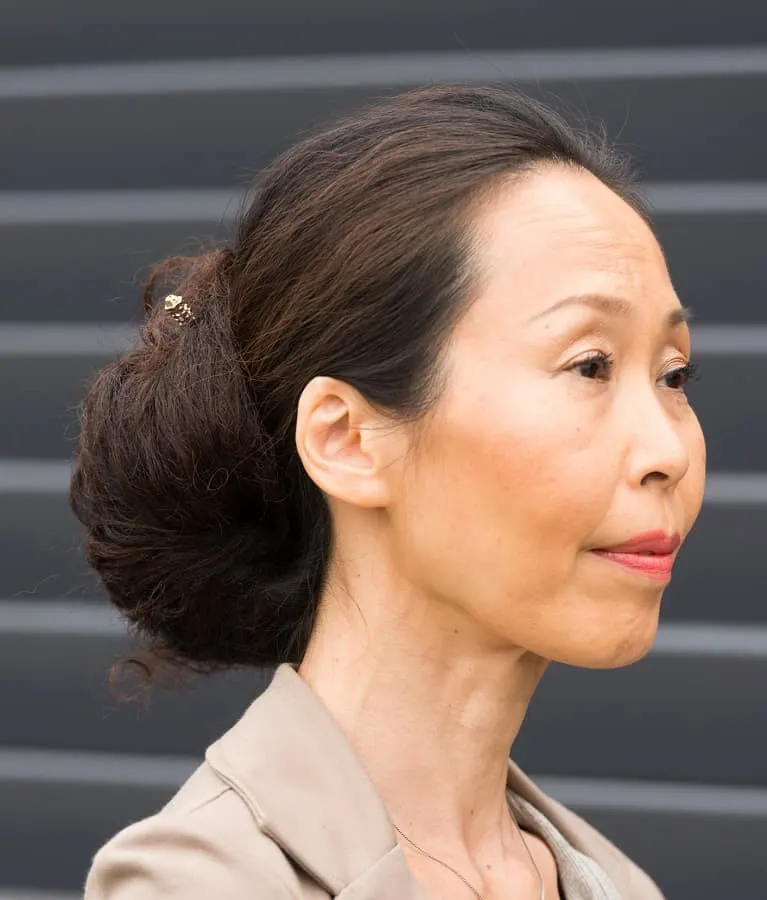 If you have thick hair or want a mother of the bride hairstyle that looks thicker, tease your locks with a bit of hairspray before securing it in a low-rounded bun at the nape of the neck.
3. Easy Updo with Straight Bangs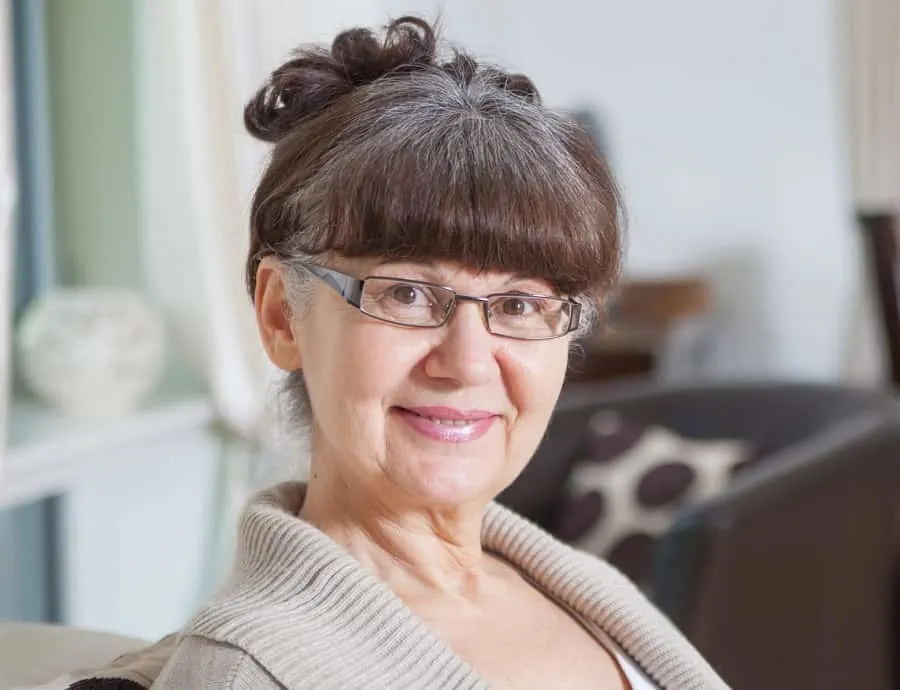 Do you have short bluntly-cut bangs? They'll look great with an easy updo! Gather hair into a low ponytail, then twist up and secure it with a hair claw.
4. Natural Black Curls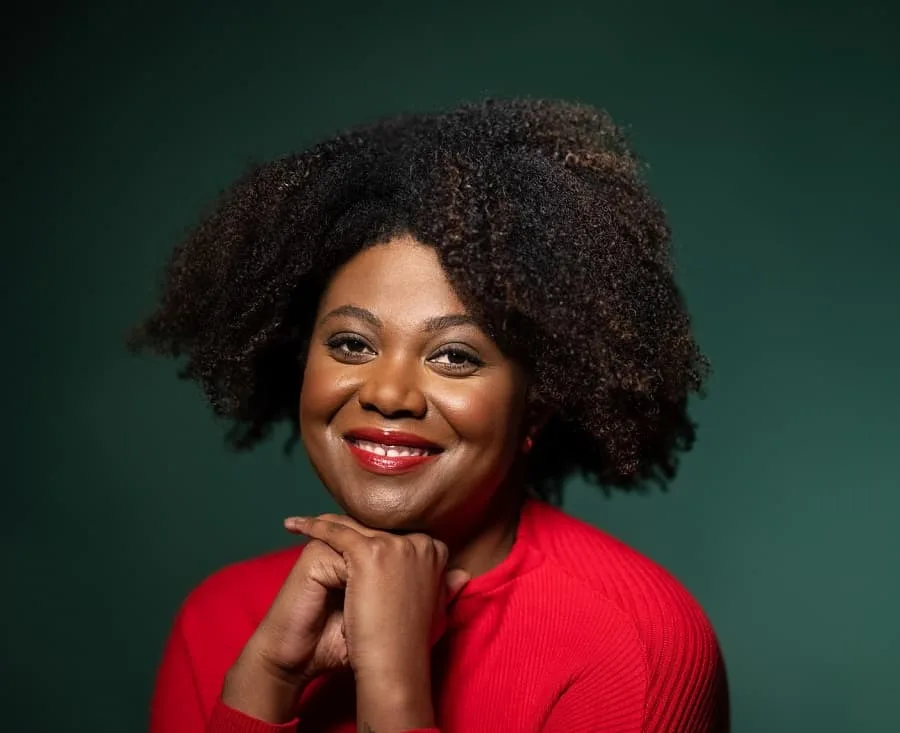 Black women flaunting gorgeous kinky curly hair don't need to worry much about styling their mother of the bride hairstyle. Leaving it down and loose is just fine! You can always tuck in a colorful flower for detail if you want.
5. Low Side Braid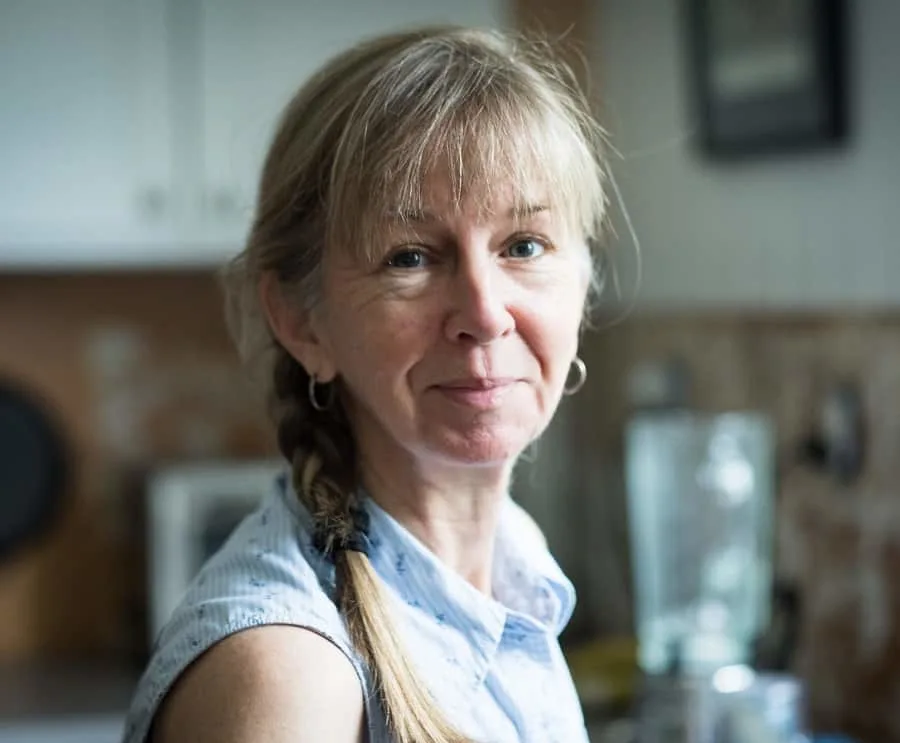 Ladies with long straight hair will appreciate the easiness of this mother-of-the-bride hairstyle. Make a low braid and pull it over one shoulder for softness. Wear any fringe straight and consider using a jeweled hair clip to dress up the style!
6. Highlighted Short Hair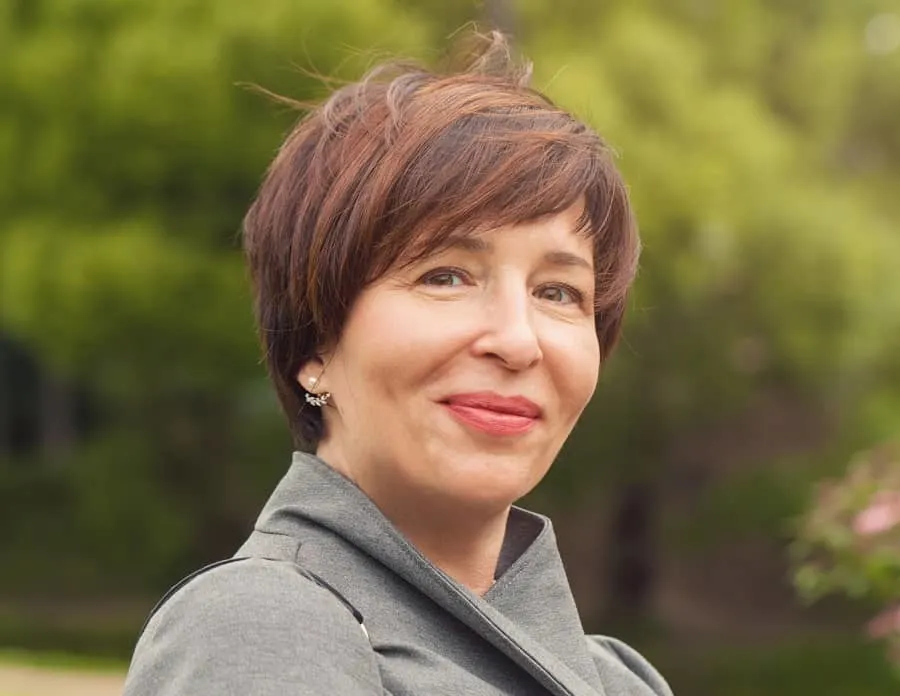 If you're rocking short hair, like a pixie, consider getting highlights for the big day. A brunette base will look beautiful with ginger highlights. Wear hair straight and add your favorite jewelry for a chic mother of the bride hairstyle.
7. Chunky Bun Updo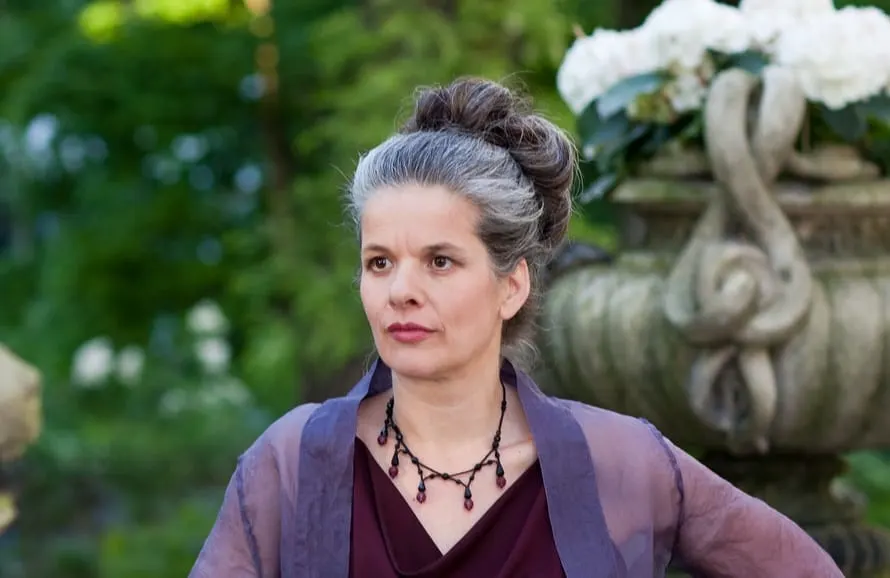 For long thick hair, pull together a hairstyle in minutes by gathering it in a high or medium ponytail, then winding the hair around it to create a chunky bun.
8. Short Wavy Hair with Bangs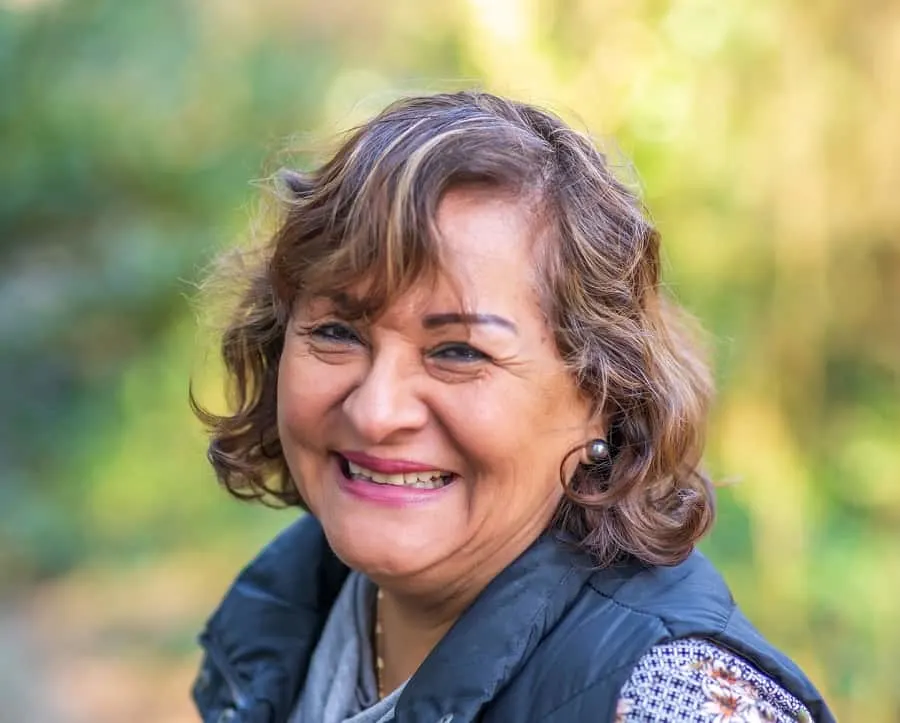 Dress up your big day look by adding in lots of soft waves, making sure your side bangs get a little curl action too! Part hair off-center and clip back one side with a jeweled clip.
9. High Curly Pony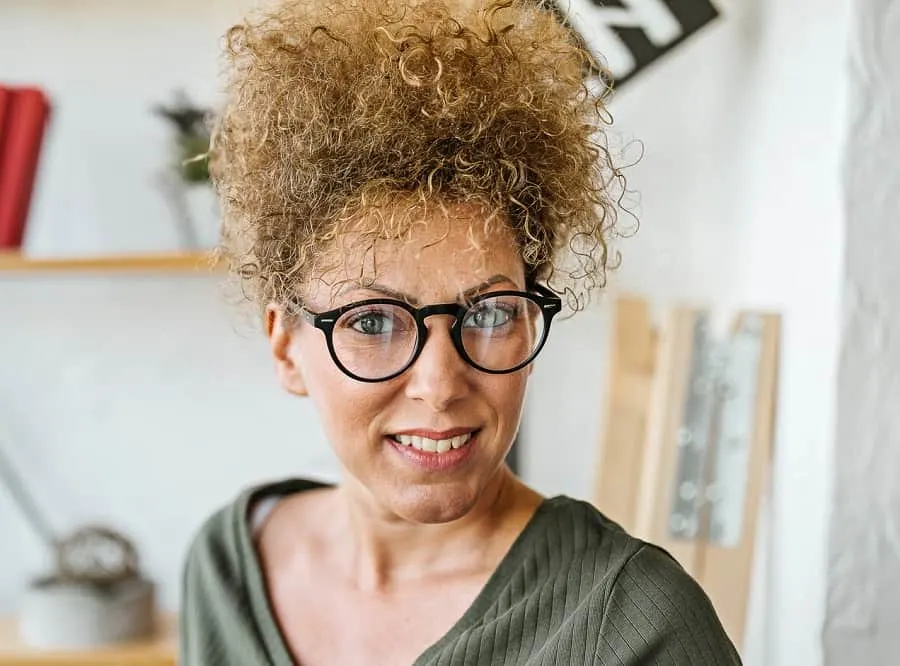 Another way to style thick curly hair in a mother of the bride hairstyle is by gathering it in a high ponytail, letting those curls fall forward toward the face.
10. Layered Bob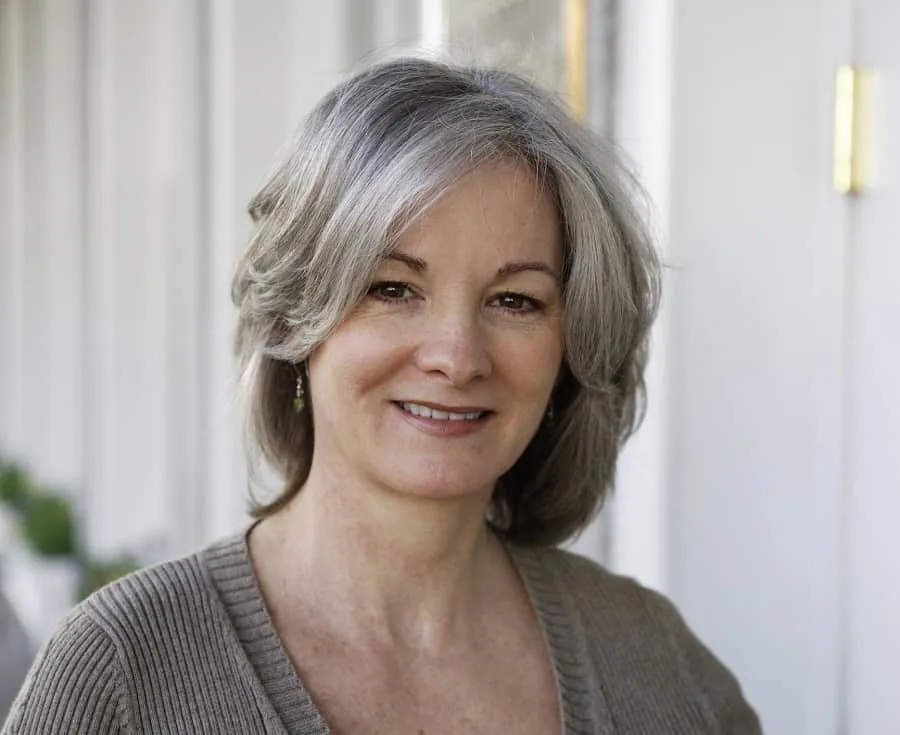 Give shape and movement to your short bob hair by asking your stylist for short layers. Make it a chic mother of the bride hairstyle by rocking a beautiful flowered crown.
11. Short Layered Hairstyle with Bangs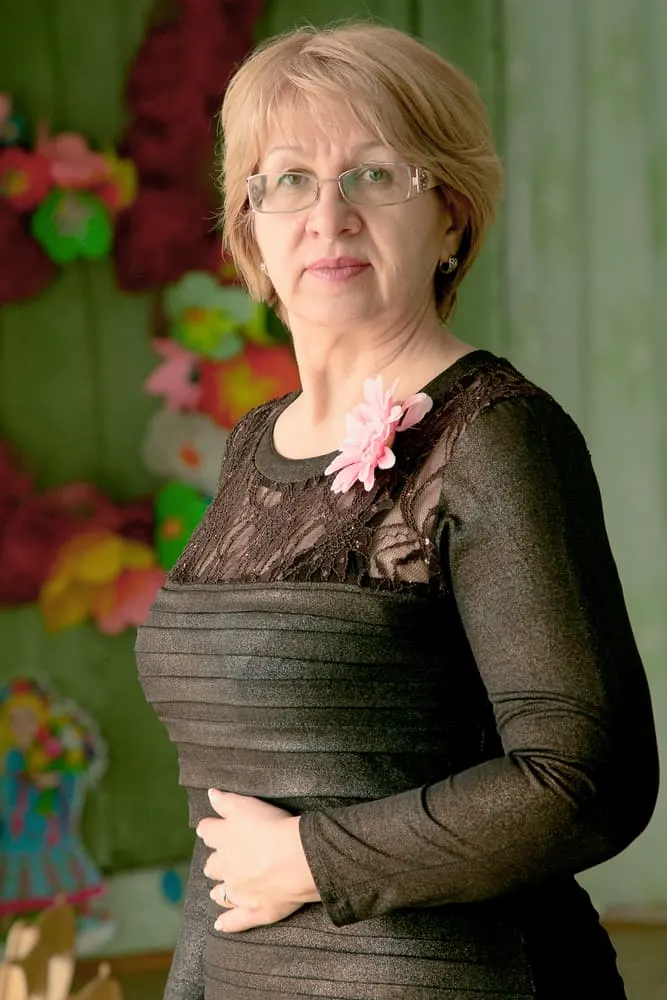 One of the most common mother of the bride short hairstyles for women over 50 is this short layered cut. That sandy ashy dark blonde color will make your gray strands blend and will provide excellent coverage.
12. Caramel Wedding Bun Hairstyle
This mother of the bride hairstyle for long hair is ideal for elegant ladies who want something sophisticated for their daughter's big day. To recreate this look, you will need to visit your hairstylist and show him this picture. He'll know what to do!
13. Wavy Ombre for the Mother of the Bride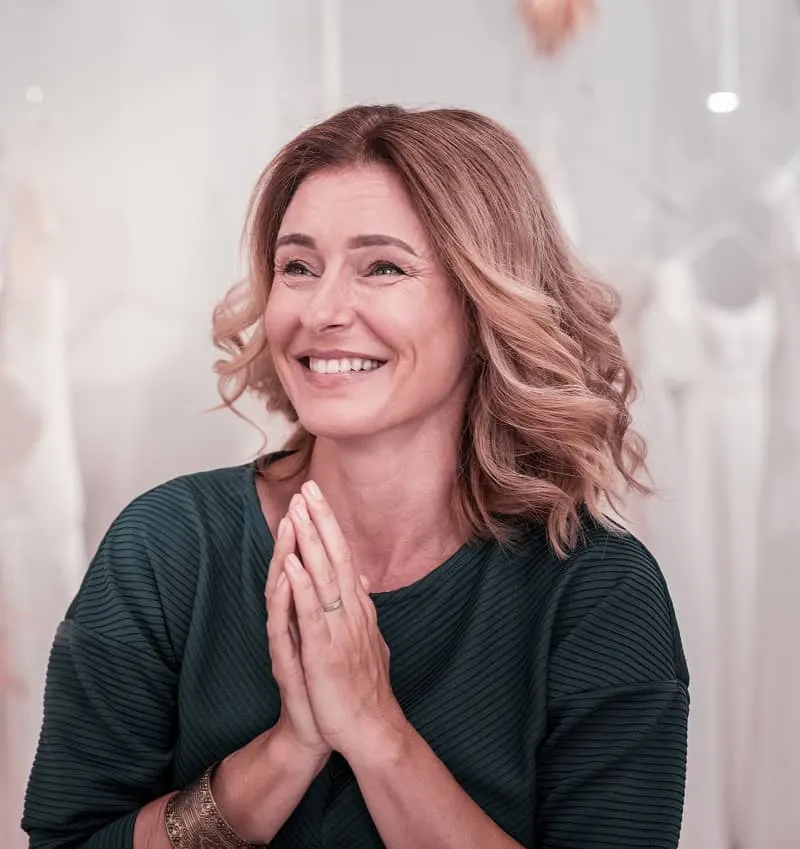 Ever thought that this medium length mother of the bride hairstyle could look so glamorous? The ombre looks fabulous, and those blonde shades make the waves stand out. Use a straightening iron to build the waves. You won't even have to wear much makeup; the hairstyle will work its magic on you.
14. Short Hairstyle for Thin Hair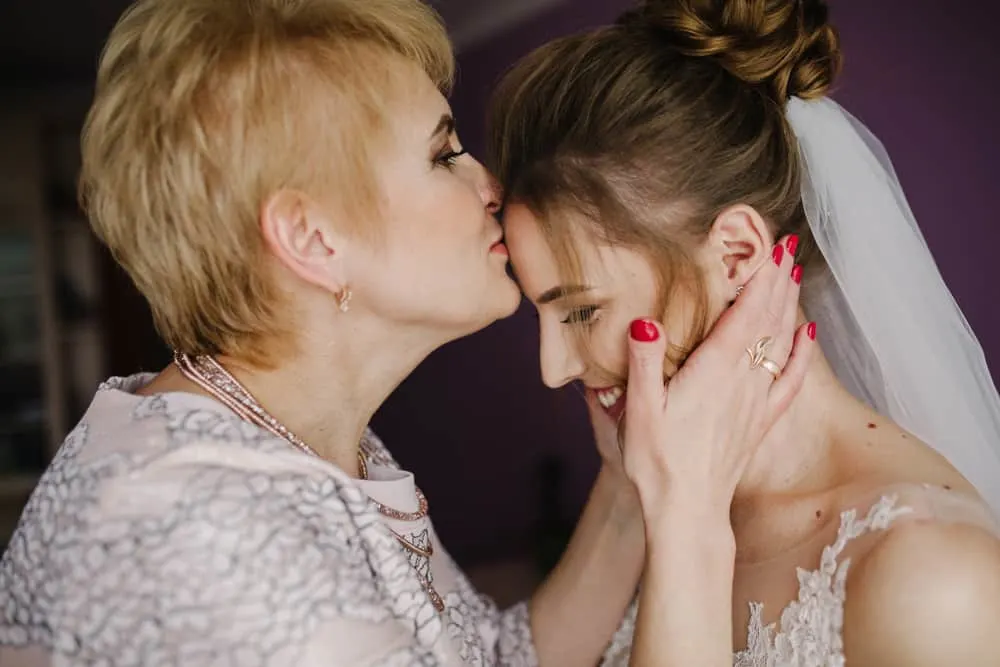 When you have thin hair, this mother of the bride short hairstyle will provide the greatness you want. Make the layered cut and use hair spray to add volume at the roots so the hair will be slightly bumpy.
15. Brown Elegant Hairdo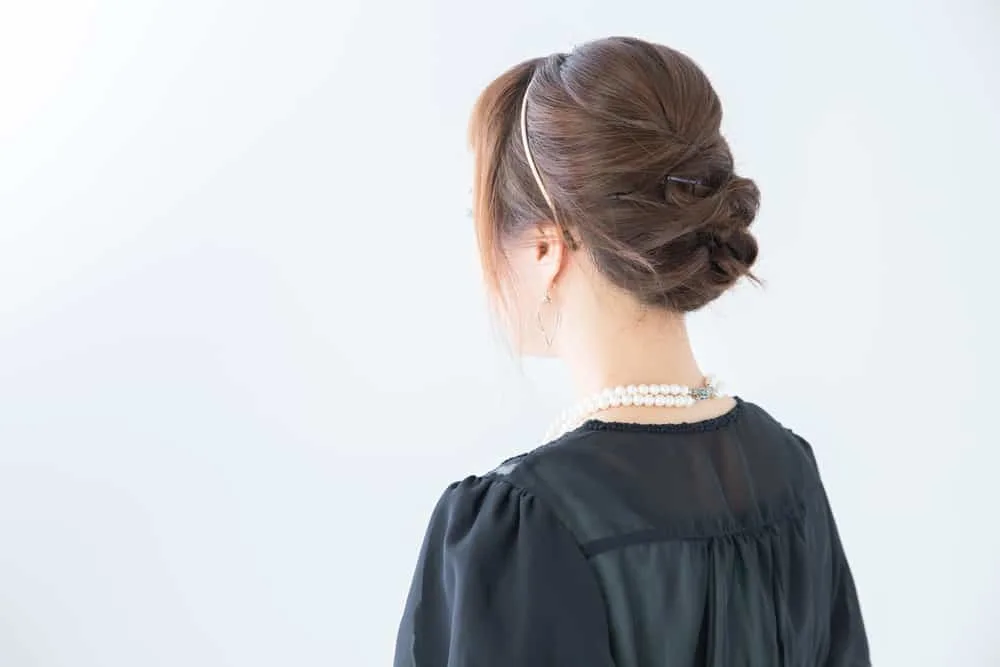 When you want a modern updo hairstyle for mother of the bride, you should certainly consider this option. Spare the bangs and let them fall on sides. In the back, use bobby pins to secure the bun and a thin metallic headband to keep the top in one place.
16. Blonde Wavy Hairstyle for the Mother Of the Bride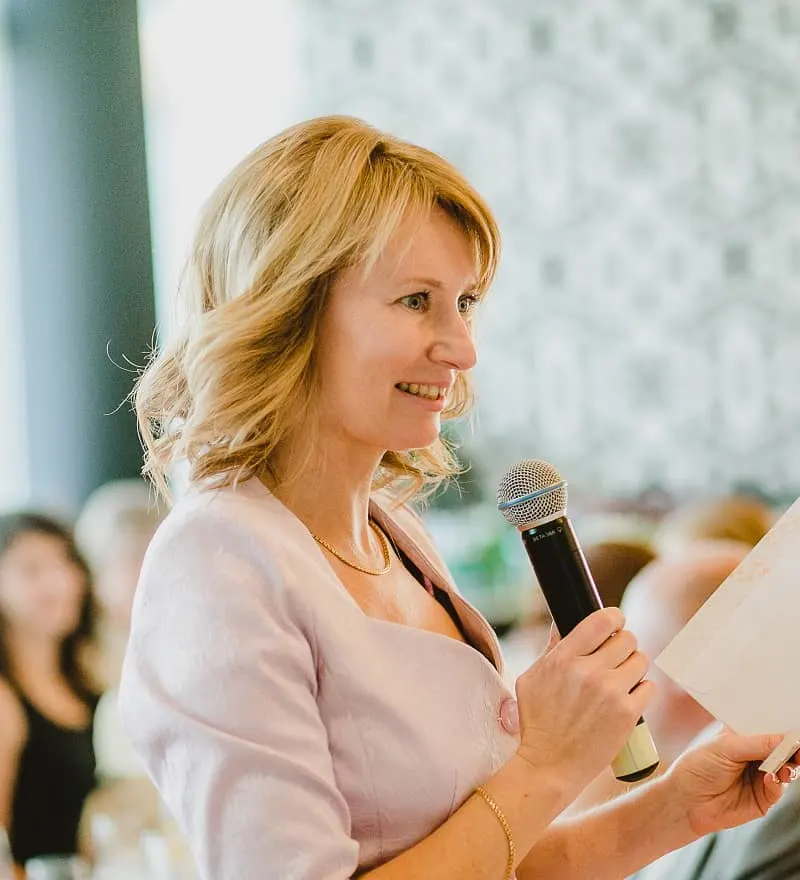 Always go for a mother of the bride bob hairstyle if you want a marvelous look that will make people compliment you—style waves and short bangs that you can wear on the forehead.
17. Blonde Medium Hair for Weddings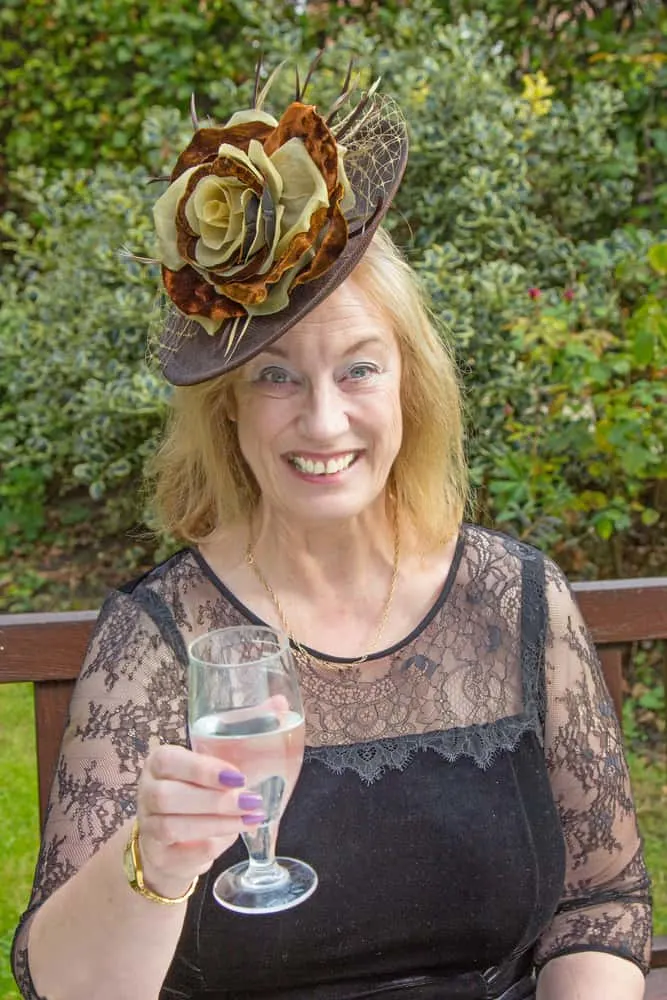 A shoulder-length mother of the bride hairstyle like this will get a lot of attention, especially if you accessorize it with an oversized hat with a big flower on top. Give the hair volume and tousle it if you have thin strands.
18. Blonde Ombre for Women Over 50
A chubby face mother of the bride hairstyle is what you need to hide those prominent facial features. Make a low bun and spare two strands of hair from the bangs. Let them fall on the forehead to make your face look slimmer.
19. Platinum Blonde Hair for Mother of the Bride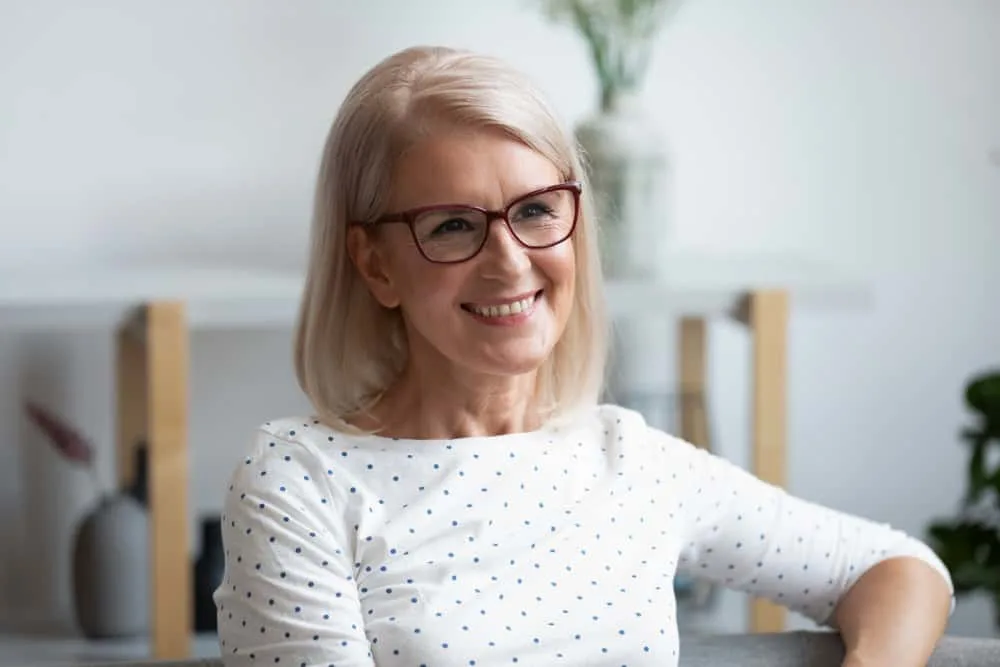 If you are one of those moms who loves simple, relaxed looks even for weddings, a natural hairstyle for the mother of the bride is all you need. Opt for a bob haircut, toss the bangs on one side, and you will look ravishing.
20. Ashy Sandy Blonde Low Bun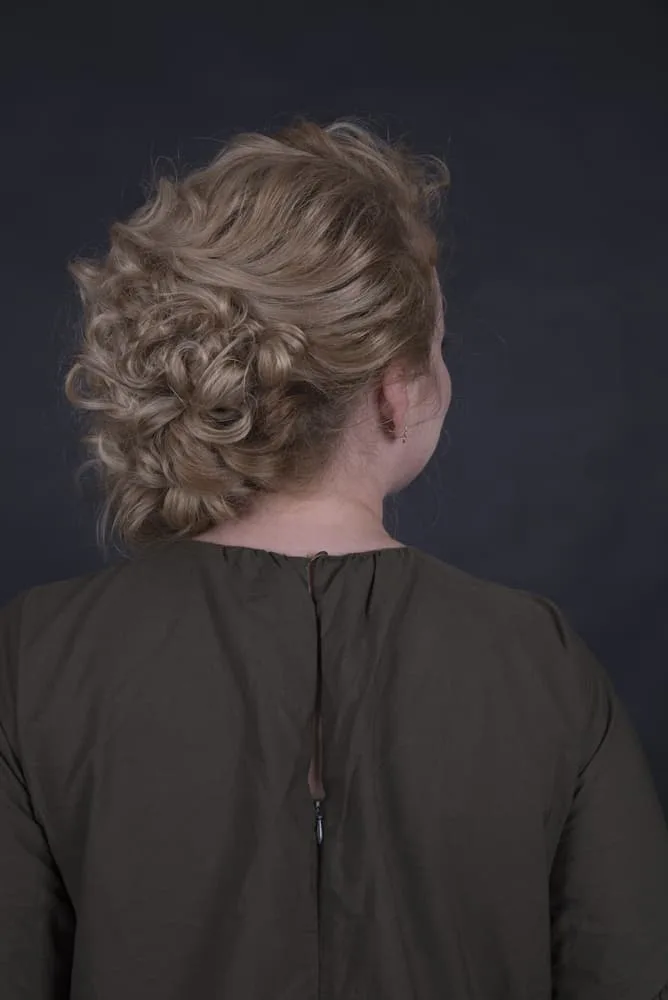 With this hairstyle, you will definitely make all other moms jealous! By styling this bob, you will create one of the best mother of the bride hairstyles! Make it look oversized and with loads of impressive loops.
21. The Medieval Braid Crown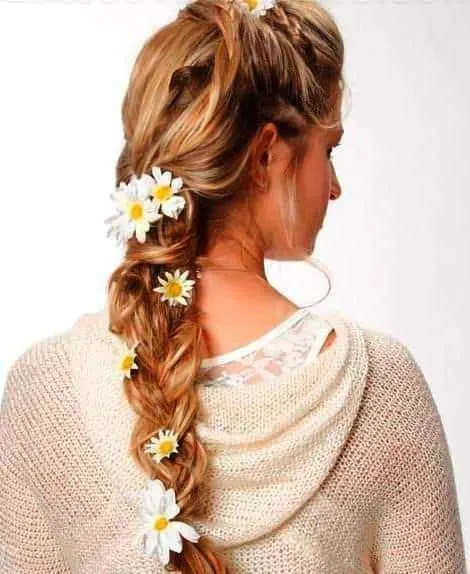 If you are a mom having long dense hair over your head, unquestionably the best pick for you is to try a long braid having a puff in the center. It will bring out the hidden charm and beauty which is concealed by the traditional hairstyle for the bride's mother.
22. Blonde and Bubbly
Old age comes with its own shortcomings. One is the rapid hair fall which is increased by the time a mother weds her daughter. However, for such mothers having short and blonde hair, why not try a bubbly puffy and rough hairstyle which will indeed look beautiful and awesome.
25 Greatest Wedding Hairstyle Ideas With Short Hair
23. Chic High Coiled Bun

Having thick hair by the time, a mother weds her daughter is a dream of every woman. Next in the list of mother of bride hairstyles is to design a chic high coiled bun and to have it flaunted with the sharp looks of your face. You can leave the curls hanging or tie them at the back of your head.
24. Updo with Waves and Wisps
Tired of wispy and curly hair? No need to because you can properly set your curly wispy hair and make a puff at the back of your head giving the mother of the bride a sophisticated and graceful look.
25. The Triple Treat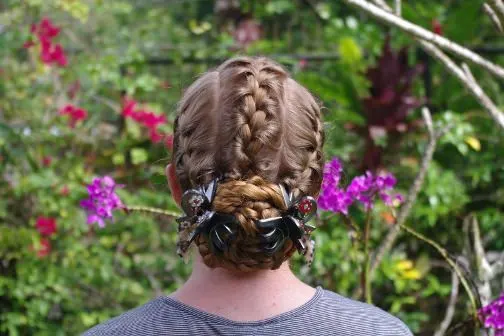 Indeed one of the most amazing and dashing hairstyles of all the time for the mother of bride is the one we are just talking about. This is the type of style which you can try with short and long hair as well. To add more charm and to catch the eyes of onlookers, you can add stuck in flowers too.
26. Classic Bouffant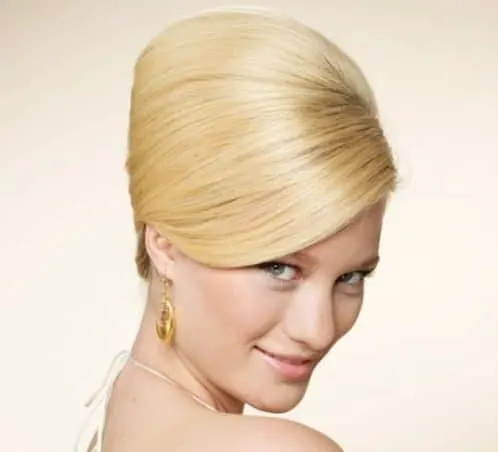 Try this classic bouffant hairstyle because this one is the all-time favorite hairstyle for mother of the bride. Add a modern touch by sticking a flower within in the back puff.
The messy bun goes best with the women having short hair and specifically this one is the perfect hairstyle for bride's mother. If your hair can't stand the volume, you can even coil it.
28. Charming Regal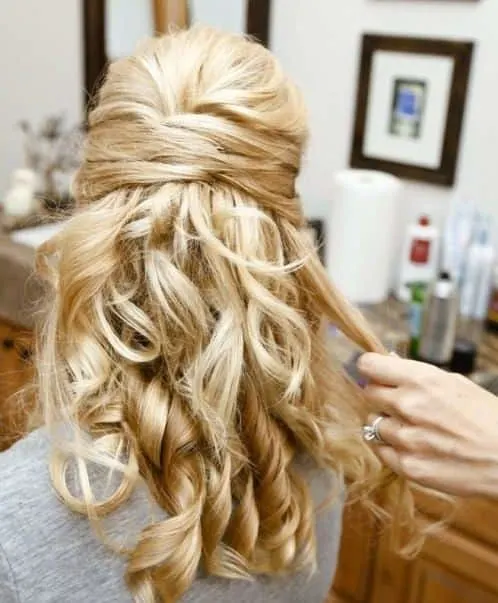 Next in queue is the charming regal hairstyle which is easy to adopt and fashionable in looks. All you need is just two pins to lock the hair-dos and leave the rest of the hair down.
Wedding Hairstyles for Black Brides
29. The Fancy Ponytail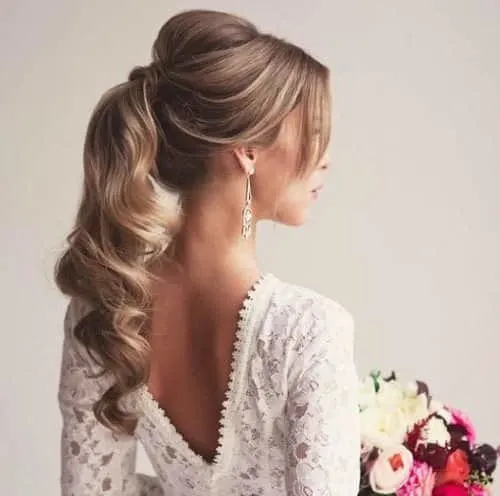 This elegance and charm of this hairstyle don't need any words to describe. This style can go even with the medium hair where you can make you pony flaunt in style.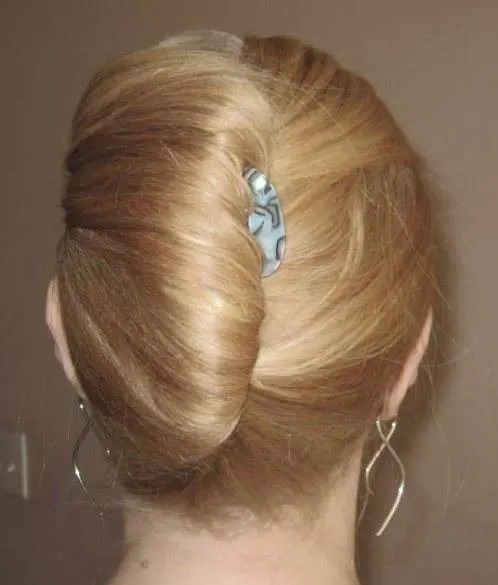 The sleek French hairstyle in which your hair looks like they are wrapped in layers is another best hairstyle for bride's mother. You can also tease the chignon for a more glamorous look.
31. Triple Flower Lower Bun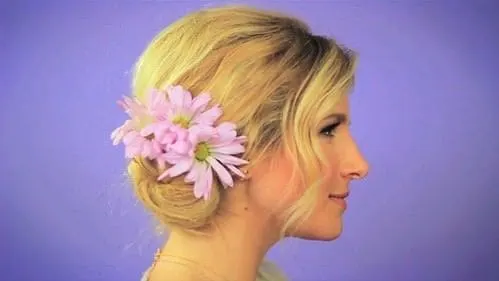 One of the most widely adopted hairstyles is the triple flower bun. Jazz up your looks and flaunt your elegance in style by sticking three flowers at the back puff.
32. Short Voluminous Hairstyle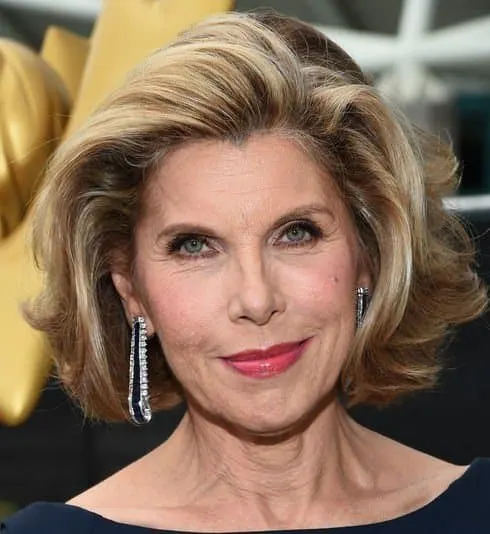 For mums having short hair, this hairstyle is the best to opt. Spray the hair after washing them and have them combed with a drier. There you go, it is ready.
The curls hanging from both the sides of your neck over shoulders is another best mother of the bride hairstyle. All you need is a curler and properly cut hair to make it so.
34. Middle Partitioned Long Hair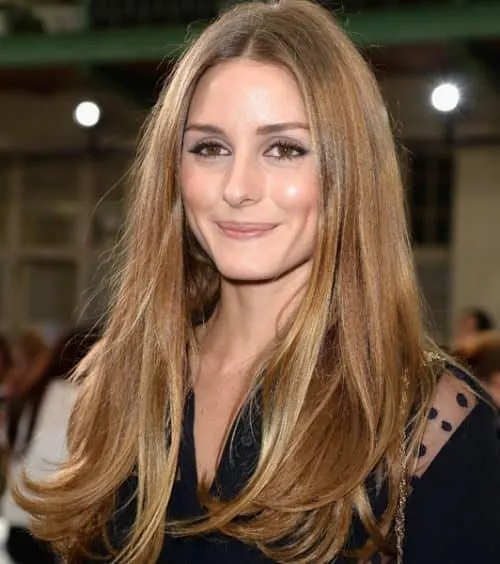 This style is especially for the ladies having long hair. The partition in the middle can be easily formed after proper combing and you can leave the rest opened. You can apply a small catcher at the back to hold the extra hair.
35. Dashing Sleek Up-Do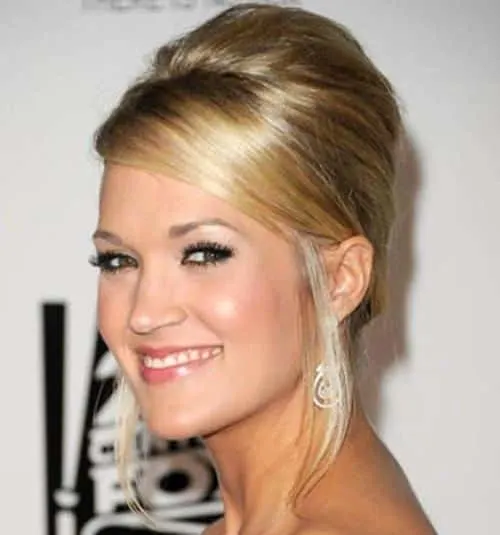 This hairstyle depicts the womanly beauty at every age level. It is a modern hairstyle which includes a twisted knot and a braided bun at the rear.
36. Decent Retro Look
For a mum having hair of a shoulder length, opt this style without giving any other a single thought. This mother of bride's hairstyle gives a retro look to the bearing mom and the elegance speaks for itself.
37. Simple Waves
This wavy hairstyle is another great choice to pick from the list. Properly wash your hair, give them a dry look by using a drier and then slide the hair nicely over your back. This style can be adopted by the mother of bride on almost every occasion and it is best for the wedding day to make her daughter feel proud.
38. The Simple Waves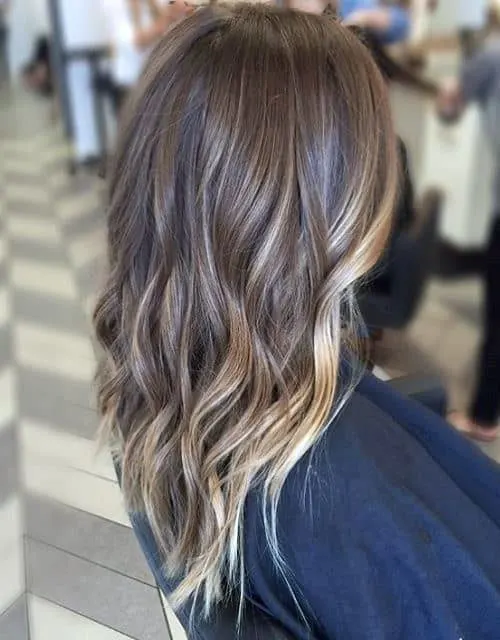 Adding highlights to the hair always makes them look fresh and amazing. The wet look of your hair is always admired and the gel that you have applied must be applied properly in order to straighten up the hair properly. Add more grandeur by curling them a bit as well.
39. The Lush Waves
The style and valor of the lush waves is easy to adopt and long lasting. One thing you need to make sure of, is to leave the hair untied and let them adopt according to the way they are molded.
Vintage Wedding Hairstyles for Brides
40. Curly Hairdo with a Bouffant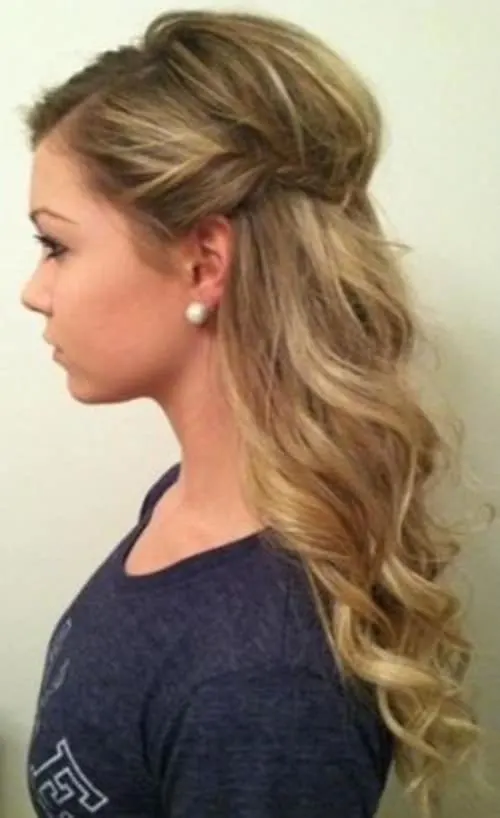 This hairstyle, by far and wide is one of the best among all the mentioned above. The type of hair the mother of bride needs to have are long and dense. Even medium hair would do the trick but they should be dense. To style up for this hairstyle, you first need to curl up the hair and then leave them open with a bouffant.
This hairstyle is all-time flawless and offers you an elegant feel. It goes well with all your wedding outfits. It goes well with thin or thick hair and whether your hair is straight or wavy. The hairstyle goes perfect with any type of hair.
42. Twisted Curls with Flower
This elegant hairstyle looks flawless for the mother of the bride. Pair this hairdo with a flower on eth side to achieve the beautiful look.
43. Pulled Out Hairdo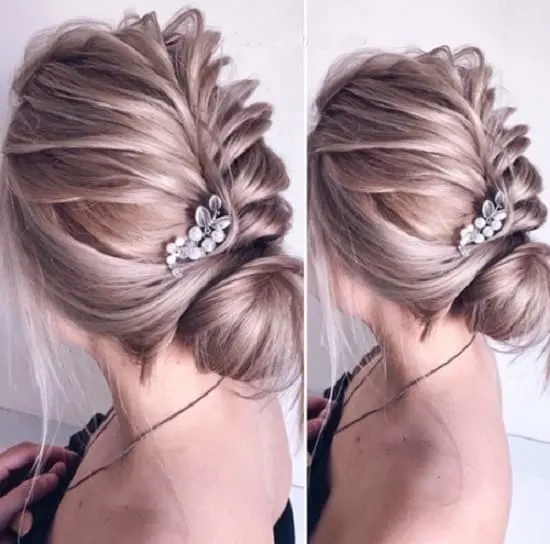 This hairstyle gives the romantic vibes to the entire look. It is slightly pulled with a messy look to give a stunning hairstyle. Pair it up with the perfect accessories and sparkle at the wedding.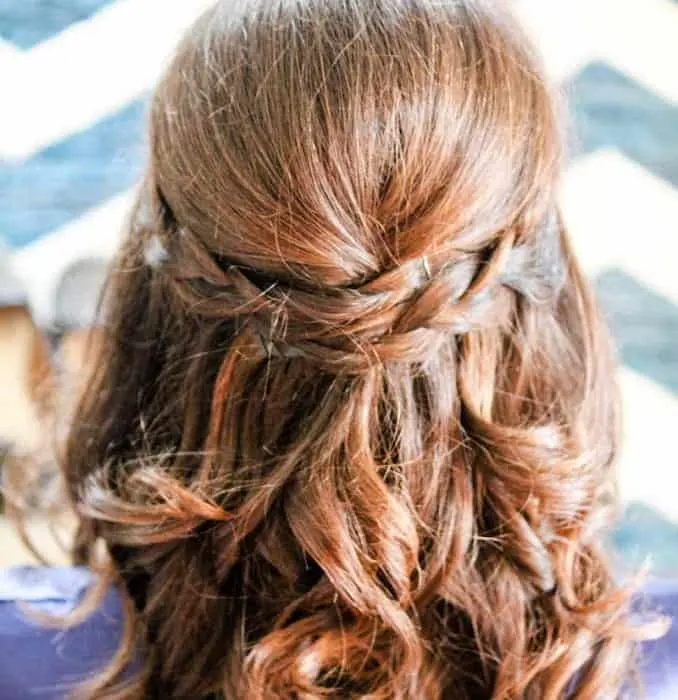 If you are planning a traditional wedding for your kids then choose a classy look for your hair. Choose this gorgeous mother of the bride hairstyles with half up half down hair and jazz it up with beautiful flowers.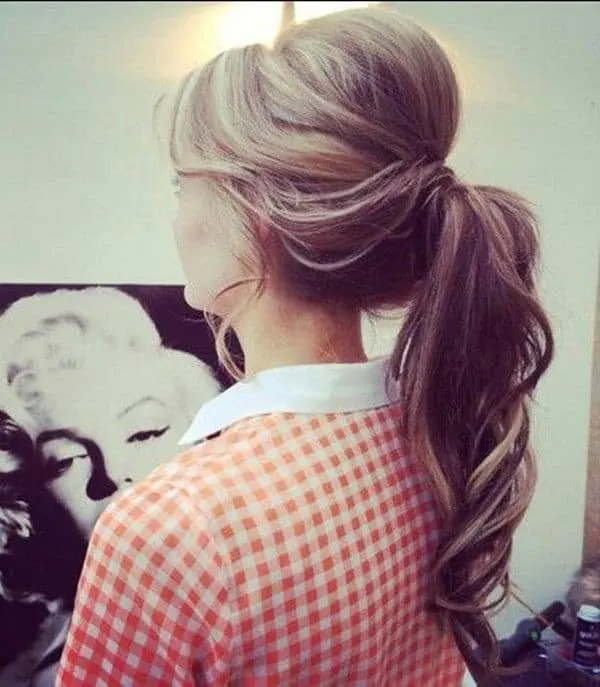 If you have medium length and thick hair then go for this hairstyle. The volume can be created in this ponytail with loose curls on the back. Now pin up some curls on the tip and get side bangs. The loose wavy ponytail gives an extravagant look.
46. Low Bun with Accessories on Top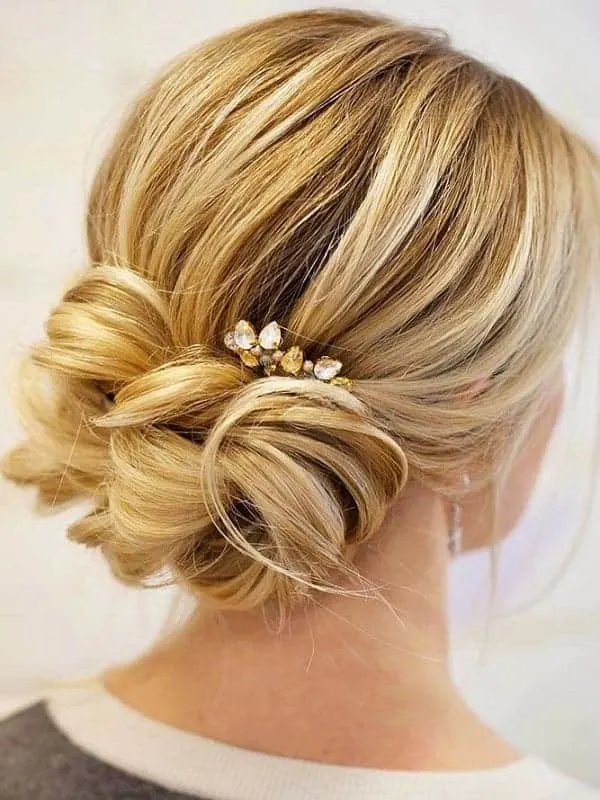 Style your hair into a low bun and top it off with beautiful accessories that make your entire look stunning. This hairstyle can be easily manipulated by twisting hair and pulling them off into a bun over the nape of your neck.
47. Side Swept Hairdo
You can surely flatter this hair look whether you are young or old. Just get the perfect color for your hair and side-swept the entire hairstyle over one side with bangs in front. This is one of the classic hairstyles for bride's mom that go well with all the outfits.
48. Modern Twisted Updo
If the hair of the bride's mother is highlighted then the strands can be twisted in a beautiful pattern to enhance the entire look. It works well for hair with medium length and moderate texture. This hairstyle looks fabulous and goes well the entire personality.
49. Bun with Subtle Curls
This mother of the bride hairstyles for long hair features beautiful curls that are gathered into a bun over the nape of the neck with the help of pins. It works well for short or long hair and will definitely give you flawless look whether you are the mom of the groom or bride.
50. High Chignon with Braid on Side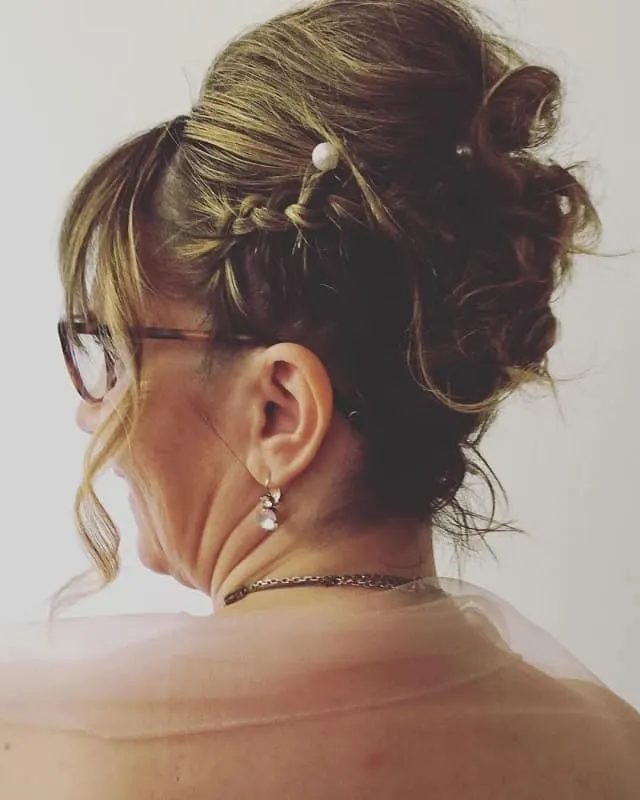 This chignon hairdo over the top looks super stylish with a braid over the side and lose hairs on the side. This chic hairstyle looks fabulous for the wedding. The twists and braid for this chignon need an artist with skills and complete precision to deliver the fine look for mother of the bride.
Whatever length and hair texture you have, this hairstyle goes well for all ages. Even if your hair is not long, you can twist the curls into a bun and hang the rest of the hair loosely to get the chic look.
52. Asymmetrical Updo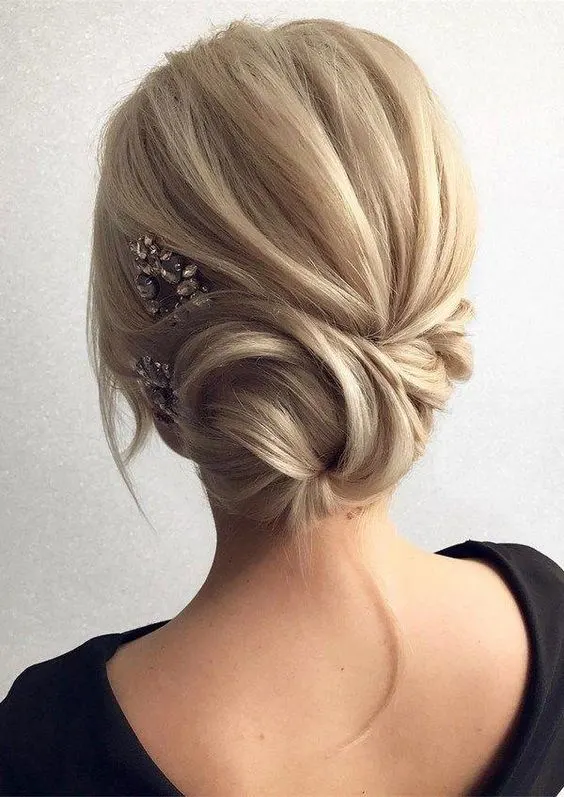 If you wish to attain a glamorous look then opt this hairstyle. This hairdo should be done by a perfect artist who can create a balance between the two sides and achieve this asymmetrical updo with flawless twists.
53. Volume Bun Hanging Low
It is an elegant hairstyle which should be done with complete perfection while adding volume to the bun. The bangs in the front are kept thick to give a soft look to the face. This hairstyle offers positive vibes to the entire look.
54. Twisted Half Hair Updo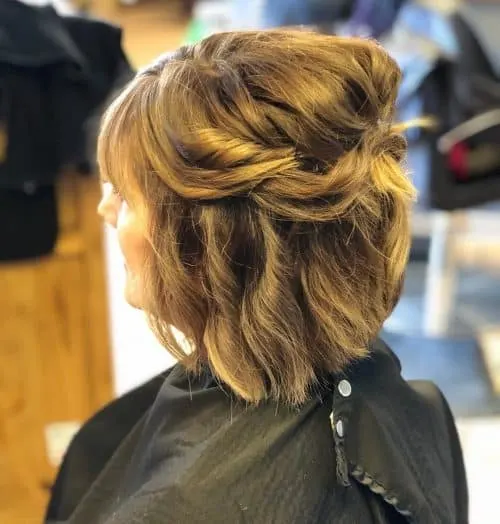 This mother of the bride's short hairstyle works well for medium length hair. Just add a few twists on the back of your hair and curls the rest of your hair. Now let them loose and enjoy the simple hairdo for the eve.
55. French Twist
This jaw-dropping hairstyle looks perfect for mother of the bride. Just smoothen up all your hair and become the star of the night.
56. Side Bun with Twists in Front
This long hairdo is a classic variation of the chignon hairdo. It is a timeless look and is best carried with a neckless dress. It gives you a positive vibe for the event.
57. Messy Bun with Braid on Top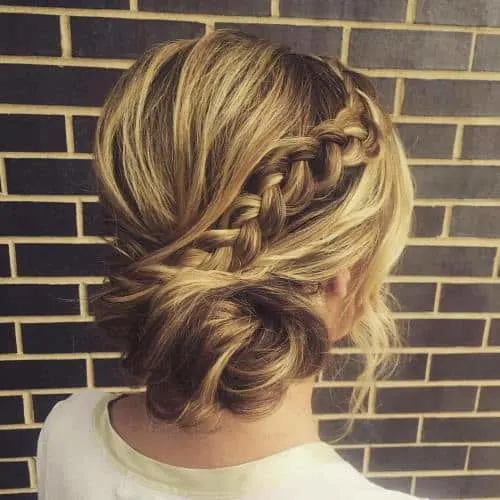 The braid is tightly pulled back and a bun is formed on the back of the hair. This beautiful hairstyle gives you a romantic feel.
58. Side Swept Bun with Messy Braid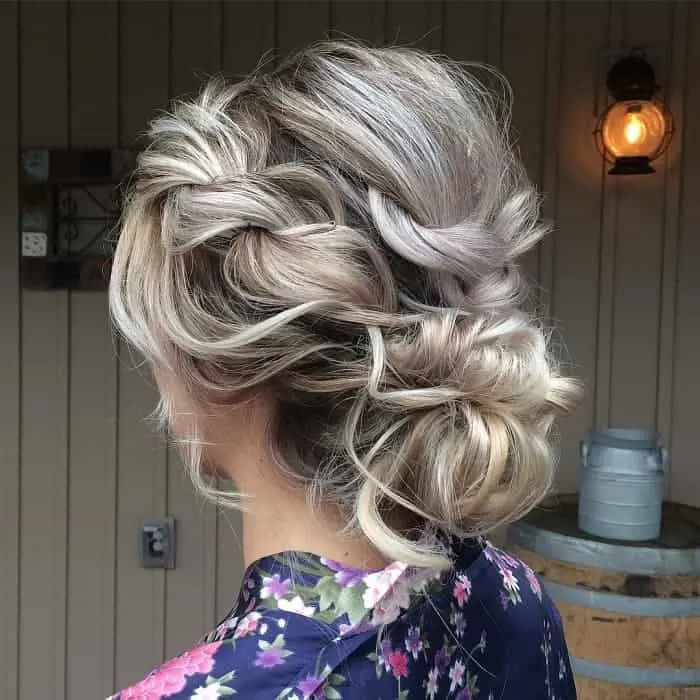 This goes well with all hair textures. The hair is parted on the side and twisted in a bun with a messy braid on the side. It is a cool hairstyle that makes you the star of the night.
59. Twisted Messy Bun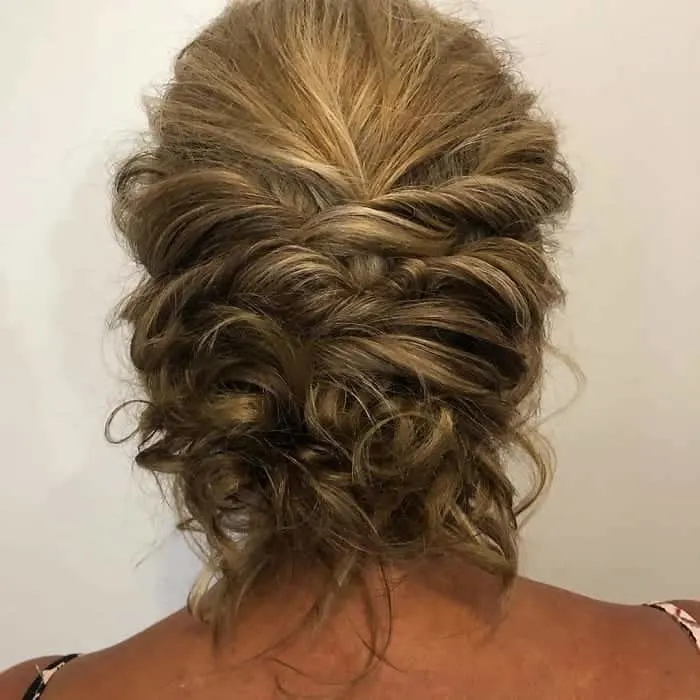 This messy bun looks flawless and offers you the super cool vibes. It looks elegant and goes well with a dazzling pair of earrings and a backless dress.
60. Half Bun with Hanging Curls
This chic mother of the bride hairdo goes well with all the outfits and looks classic. Just do half hair updo into a classic bun and pair it with accessories. Leave the rest of your hair hanging loose in curls.
It is a simple hairdo where the medium length hair is heated up to achieve the beach waves. Just leave them loose and enjoy the chic look.
62. Messy Twist with Flower Accessories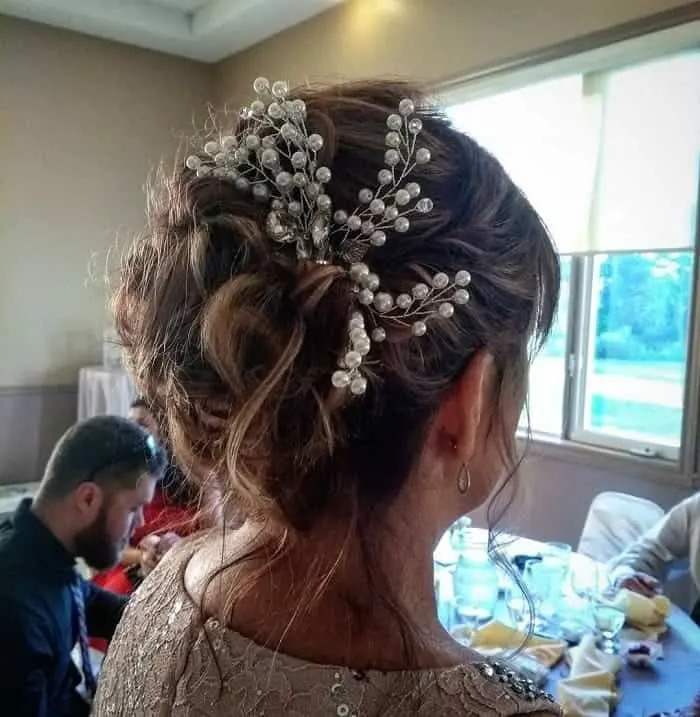 In this hairstyle, leave your hair messy with some turned into a bun while others left hanging loose. Boast this super cool hairdo with accessories on top.
63. Side Twists with Loose Hair
You can flaunt this elegant short hairstyle for bride's mother with the flower accessories on top. It goes well with white or black gown giving you the super gorgeous look.
64. Bangs with Twisted Hair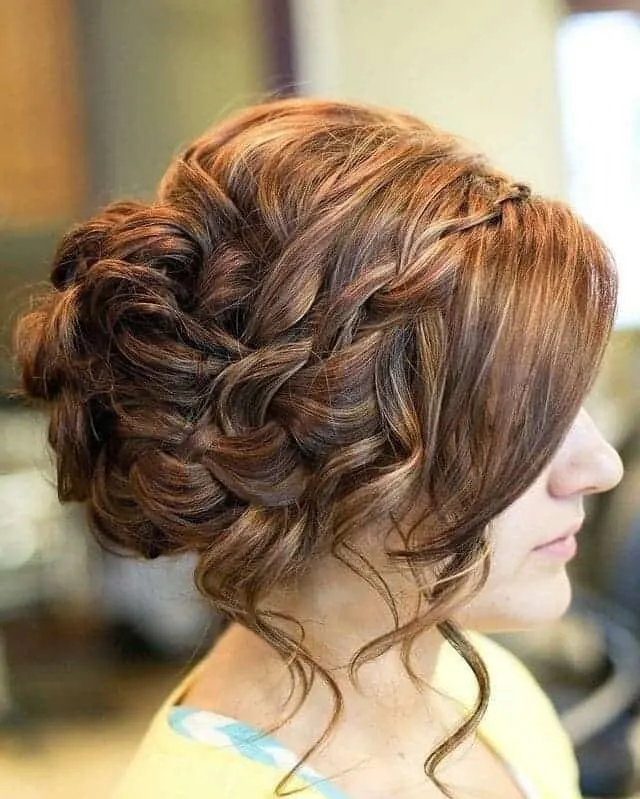 The falling bangs look super cute with striking hairdo over the back. The hair is twisted in the form of bun giving a spectacular look.
65. Side Swept with Hanging Curls
If you have got medium length hair then this hairstyle is surely for you. The upper hair is side-swept in a twist with loose curls hanging down. Add an accessory to sparkle the entire hairdo.
66. Short Bob with Loose Curls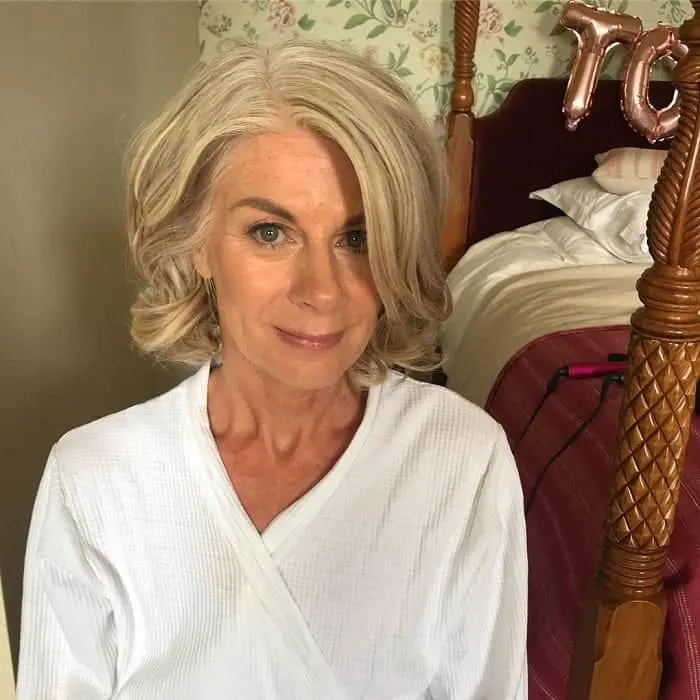 This short length hair looks classic and elegant. The bob cut with loose curls looks super chic for the wedding event. Don't worry, your greyish hair can definitely be styled beautifully with loose curls showcasing the soft appearance at the event.
67. Flower Twist with a Bun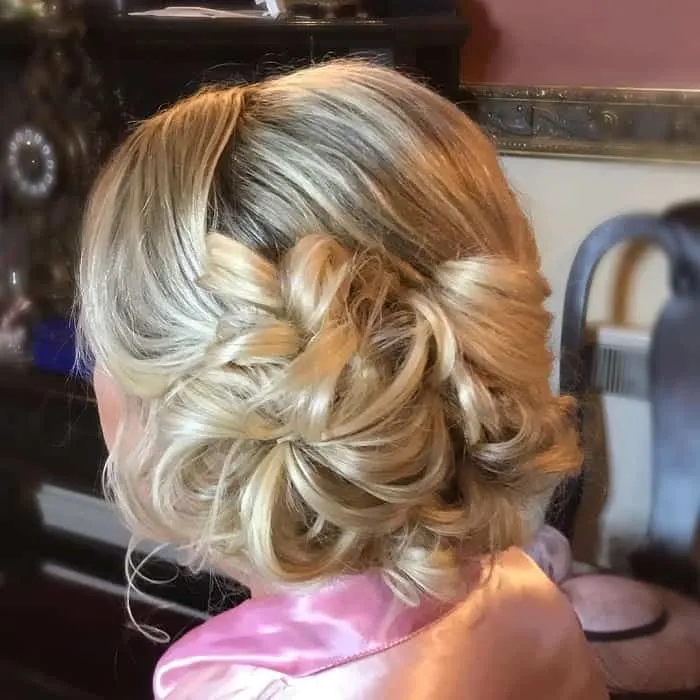 Twist the hair in a flower over the side and roll the rest of your hair in a bun. You need an artist with perfection to create this flawless look. Slay this dramatic hairdo for mother of the bride with a beautiful gown or sequins dress and become the star of the event.
This beautiful ponytail looks chic with twisted hair on sides and a perfect knot over the back. The look of the ponytail is enhanced with a beautiful accessory to add a fine touch to the entire hairdo.
69. Blonde Updo with Curly Hairs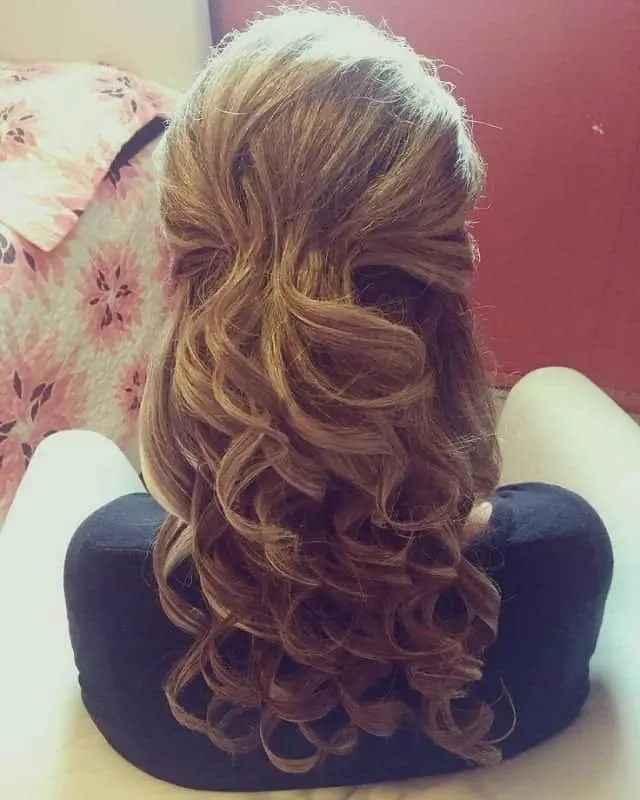 This updo hairstyle gives a romantic feel for the mother of the bride. Just curls the hair of the mother with a tong and style it using a spray to set them tight. This look offers a perfect volume to the hair.
70. Braid with Twists
This hairstyle looks classy for mother of the bride. It is an awe-inspiring hairdo that you will definitely love on your child's big day. This hairstyle is even worthy to showcase over the red carpet.
71. Messy Chignon with a Braid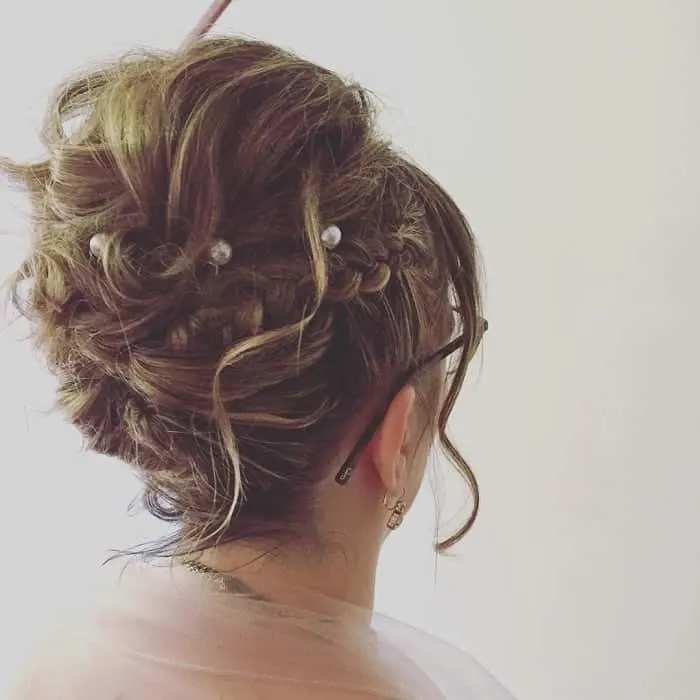 This chignon hairdo is the perfect choice for the big event. It is slightly messy but gives a spectacular look with a braid underneath that gives a jaw-dropping appearance! Add some beads to slay this chic hairdo. This miraculous chignon looks sassy for the mother of the bride.
Style your short hair with a French braid and loose curls. Add an accessory to enhance the entire look. It is a simple hairdo which offers a romantic vibe and is easy going. Make sure you leave some hair to flatter over your face in order to achieve the perfect look.
73. Bangs and a Bouncy Blowdry
The falling bangs look great with a perfect outwards blow-dry. This mother of the bride hair look is simple but looks elegant on the big day for short hair. You just need a perfect dryer with a thermal setting spray to retain this look for the entire event.
74. Side Swept Hair with Beachy Waves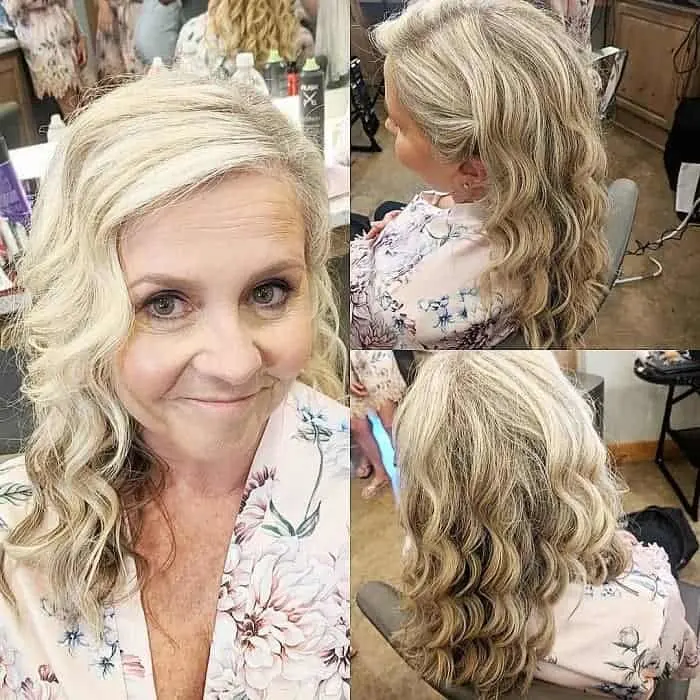 Flaunt this beautiful bride's mom hairstyle with a long pair of earrings that gives you a flawless look for the eve. The tools used to achieve this look is professional curling iron with a thermal setting spray. This alluring hairstyle works well for medium or short length hair. This hairstyle is simple yet with a zest.
75. Highlights with Half Hair Updo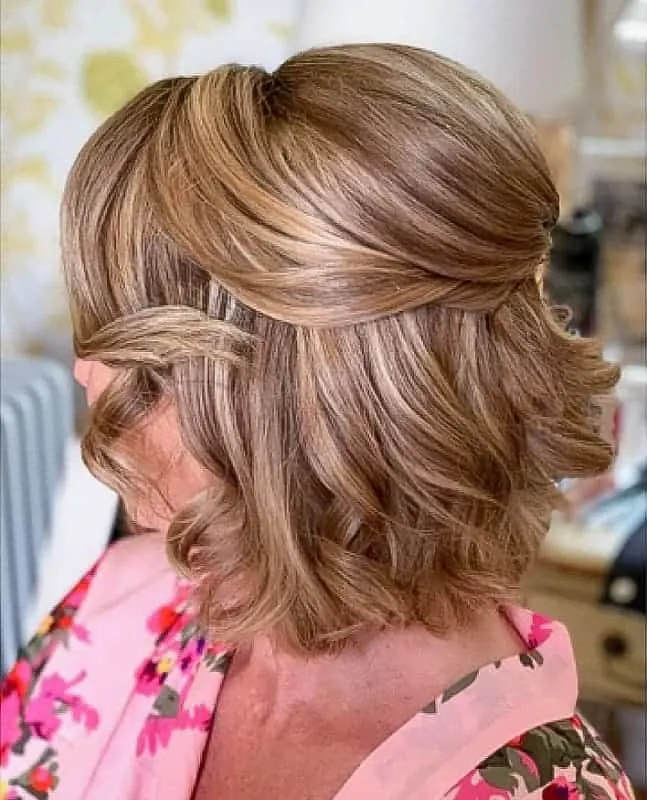 This hairdo looks great for short hair. It looks marvelous with highlighted hair. The striking color of the hair goes well with the dress for the eve. The side sections are parted and pinned by overlapping them over each other to create a dazzling look.
76. Textured Hair
This hairdo for the bride or groom's mom looks incredible so you can definitely give it a try. If you have blond and short hair then choose this hairstyle. The hair color makes the entire hairdo pop out. The textured look is finished with a hair spray to last throughout the event.
77. Boho Braid
It is one of the lovely hairstyles that you'll fall in love with. Pair the perfect braid with a beautiful accessory and loose curls to achieve the impeccable look. This hairdo works well for people with medium or shoulder-length hair.
It offers a timeless look with a formal hairdo that is easy to accomplish. This hairdo is perfect for anyone who doesn't want a sleek finished look instead needs a chic, messy look.
78. Basket Weave Bun
This unique hairdo looks classy and super stylish. It needs an artist with perfection who can create plaits neatly. The artistic pattern over the crown of your head looks dramatic giving you the stunning vibes.
79. Red Hair
No matter what if you have red color and short hair, the simple curls can definitely give you a stylish look. It goes well with the outfit for the event. It looks classy and lovely at the same time.
80. Double Braided Hairdo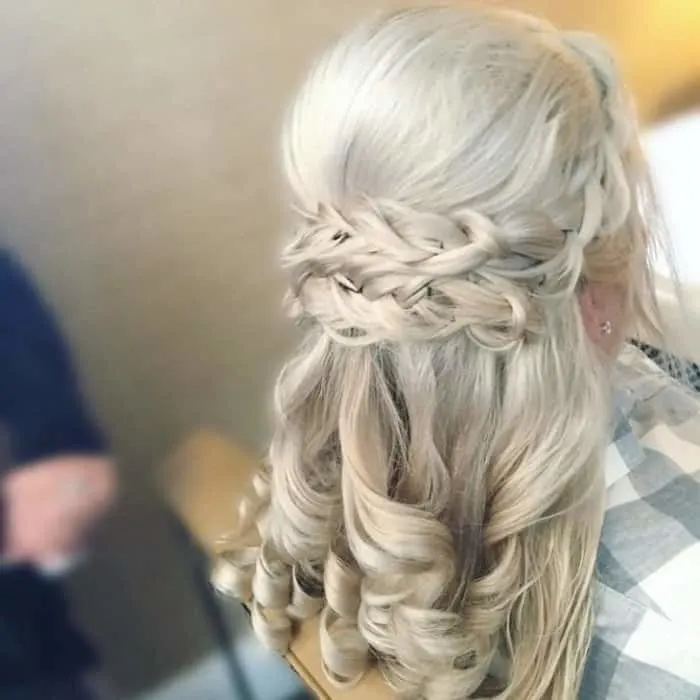 The wedding braided hairdo for mom of the bride looks stunning with loose curls hanging down. The braids look elegant and classy with stylish curls. This romantic style creates a soft appearance and works well on the wedding day of your child.
81. Side Swept Bob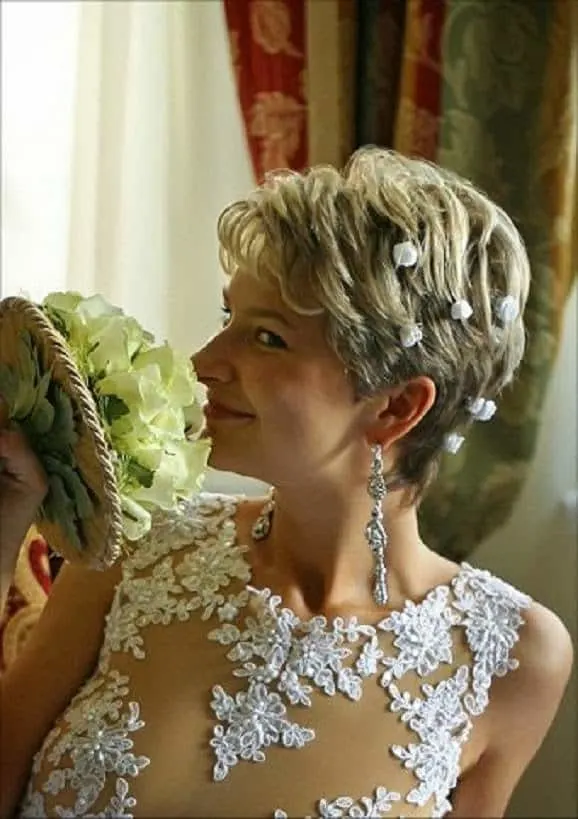 This effortless mom of bride's hairstyle looks chic and pairs well with the beads. Just brush your hair over the side and achieve this beautiful look with different textures and hair tones. You need a perfect mousse, hairdryer and setting spray to get the desired look.
82. Textured Hairdo with a Side Cap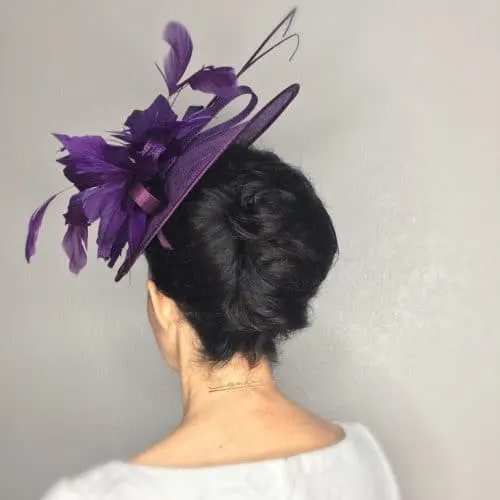 This swirly and soft hairdo looks great and can be effortlessly carried out for the night. The hair is textured with the tong to create a mesmerizing look that you can flaunt at the party.
83. Classic Hairstyle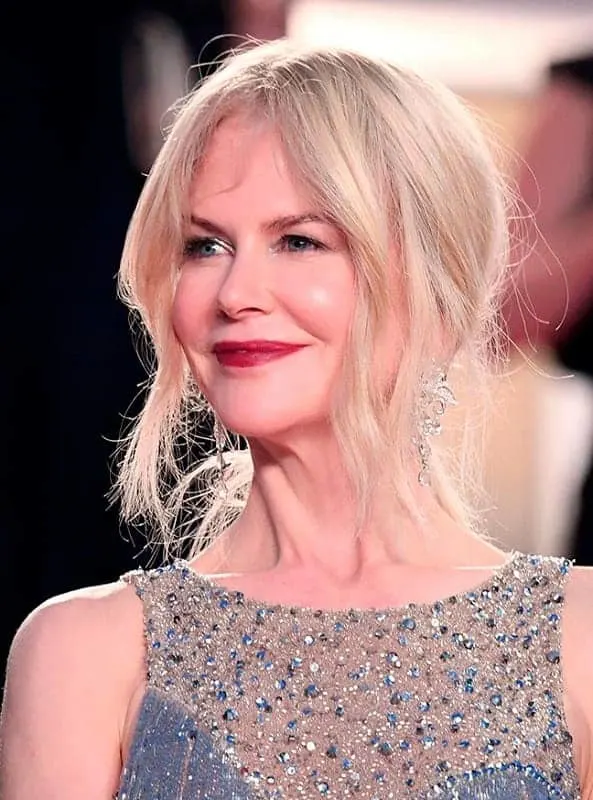 Achieve this elegant hair look while tugging back the rest of your hair over the back. Take a few sections in front and tong them into loose curls and leave them hanging. This mom of the bride hairdo is classical and looks marvelous. The classic hairdo goes well with all the outfits and looks adorable.
84. Upswept Hairdo
This hairstyle is timeless and looks great even for short or medium-length hair. The hairdo looks adorable with highlights or color. The textured hair looks adorable which you can definitely flaunt with side bangs in front.
85. Soft Waves
Achieve this sultry and classical look with soft, beachy waves. It looks stunning and goes well with the outfit. It looks vibrant and youthful.
This short hairdo is perfect for the mother of the bride who is trendy and fashionable at the same time. The hair look works well if you prefer showing the different colors of your hair.
86. Bouffant Half Hair Updo
This half-hair-up and half-hair-down voluminous hairdo looks classy. This mother-of-the-bride hairstyle with half up half down can be achieved while teasing the top of the head with a rattail comb. Now backcomb the hair and achieve the desired volume.
Pin down the created textures into locks with accessories. Leave the rest of the hair open and tong them into loose curls to achieve the beautiful hairstyle.
87. Bouffant with Messy Curly Hair
This curly, messy half-hair updo works well for medium to long hair. Before creating a bouffant leave the hair over the side. Once you backcomb the bouffant, pull them over the back and pin it.
Now pull side sections from both sides and make a knot over the back. Pull the random hair strands from the upper part of the head to create a voluminous look. This dramatic hairstyle is breathtaking.
88. Side Hair Updo with Curls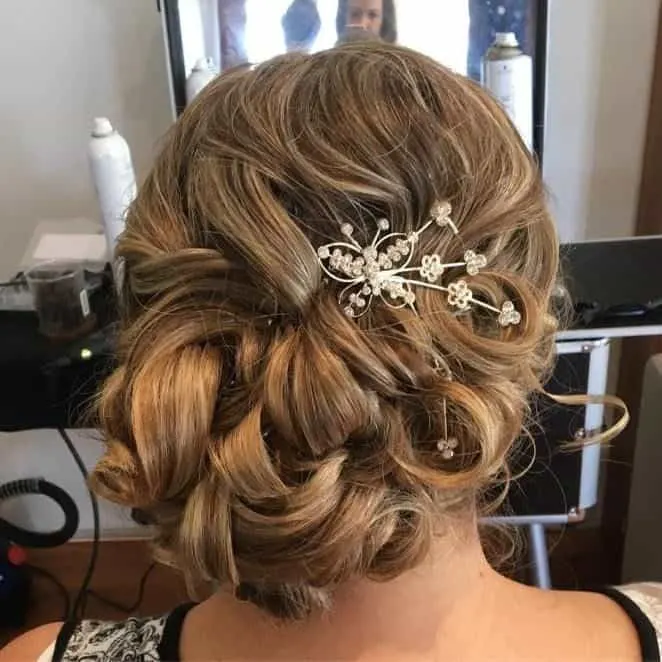 Hair jewelry instantly glamourizes your entire hairdo. The standout jewelry with side hair updo and curls looks adorable adding a spark to the entire look. This hairstyle needs a proper setting spray with a curling iron to create a stunning look.
89. Voluminous Hairdo
If the mother of the bride prefers having a short hairdo, then create a style that gives the illusion of a voluminous hairdo. Pin the twisted curls over the crown of the head to achieve a flawless look. This fabulous hairdo can be styled with bangs giving you sexy vibes.
90. Loose Hair Updo with Whipped Curls
This elegant and effortless hairstyle for the mother of the bride looks flawless. An experienced hairstylist can achieve this exquisite look. The hair is curled and then intertwined to produce this stylish hair look.
Weddings are not only about the dress and hairstyles of the bride and groom. It is also about the parents of both sides and how they are getting themselves prepared for the wedding night. Many mothers are usually confused about which hairstyle to choose for their child's wedding. You can also try a wedding hairstyle with a hat or fascinator.
Dear moms, your daughter is a precious gift to all of you so make her proud by looking the most gorgeous within the whole crowd because that's the moment everybody will be looking at you and will be picturizing the elegance that your daughter will portray after reaching your age.
Pick the best among the mother of the bride's hairstyles and make yourself look comfy and gorgeous.