Beauty goes beyond the limits of age. That is the sole reason why every woman over her 50's should (and can) identify any shaggy hairstyle for fine hair she wants, including the trendiest and sophisticated ones.
Worried about the fine hair? Not an issue. If your mane is not voluminous, opt for one of the stylish and modern shaggy hairstyles for fine-haired women over 50. They are always fascinating, low maintenance, fuller and elegant.
Best Shaggy Hairstyles for Fine Hair Over 50
You have heard it whenever you visit any salon-that the shaggy hairstyles for fine hair over 50 may become the talk in town and the best bet for every classy woman over 50. You know why?
Well, the stylist can boost the volume where needed, if your hair is flat, she can create dimension, and get you out of any hair breakage. That well said, let's dig deep into some of the trendiest short and long shaggy hairstyles for women over 50 with fine hair.
1. Short Shaggy Hairstyle with Strands
The short shaggy haircut can give a woman over 50 a younger look. It is a composition of well-crafted strands and cut ends. You can also check other short shag hairstyles for women.
2. Messy Haircut for Over 50
The messy cut is a gorgeous shaggy hairstyle for women over 50 with fine hair. It is amongst the effortless hairstyles to maintain and the most admired thing about it is that it can be styled with fingers. This rule out any necessity of brush or combs.
3. Curled Out Bob-Neck Flattering Haircut for Women
Though considering the face type and length of the neck is crucial to almost all ages, it is undoubtedly much more essential and advisable to women over 50. This is a simple haircut but what makes it glamorous is the flattering neck design. It is a design that looks great on mature women with fine hair.
4. Boast Graying Hair
If you are a woman in your 50's, you should take great caution when wearing short hairstyles. First, be mindful whether you are courageous enough to reveal your graying hair or you opt to dye it with a hair dye. For instance, this model has chosen to wear a hairstyle that reveals her aging.
You can opt for this shaggy hairstyle if you have a fine hair. The flawless style is achieved by side parting the short layers. It is particularly ideal for women over 50 with a round-shaped face.
6. Chic Super Short
This super short hairstyle can be incorporated into some length to add a feminine look. It works well for mature women over 50 with sunglasses. Since all the hair is styled away from the face, there is no interference with the glasses.
Shoulder length bob always looks great when worn by mature women, though very few women enjoy healthy hair like this once they are in their 50's. For this one, there so many styling options, but bangs are most preferred. Opting for a haircut with trimmed bangs gives women over 50 a youthfulness look.
8. Spiky Hairstyle for Elder Women with Short Fine Hair
This hairstyle looks great for women with fine hair over 50 with all types of textures. It also works well with textures such as thick and thin hair. It frames your facial features thoroughly, including your eyes. Add side swept fringe to make it more adorable.
9. Layered Super Short Fine Hair Over 50
Incorporating some layers gives a contemporary look to this short haircut. It makes you look younger than you are. It is another hairstyle that works pretty well for older women with fine hair.
Women aged over 50 will always look gorgeous with a typical short cut with bangs. Similarly, bangs are a great way to hide a receding hairline in its initial stages. In particular, women in their 50's with hair loss prefer this hairstyle.
11. Tapered Bob Haircut for Over 50
Tapered haircut looks great on women over 50 with fine hair. It is an effortless style to maintain and adding side-swept bangs makes people confuse you for a 30-year-old lady.
Ravishing Hairstyles for Women Over 50
12. Shag Hairstyle for Women Aged Over 50
A shaggy haircut for fine hair women over 50 adds definition and texture to your hair. It also works well for women with normal and thick hair. If you have thicker hair, you will need to include much layering to minimize the weight of the hair.
13. Choppy Hairstyles with Curly Ends
This choppy haircut for older women gives you a certain playfulness to your general look. Consider this standard and youthful wear to show the fun and amplify out your smile.
14. Mid-Length Bob for Fine Hair
This is a pretty low maintenance hairstyle for women over 50 who want something medium and not too short. These long shag hairstyles can also be a good fit for you.
A short haircut spiced up with bangs brings a more youthful look to a woman over 50 with fine hair. As illustrated here, this haircut is a sure-fire bet for women over 50 with square-shaped faces.
16. Short Wavy Cut
This hairstyle is suitable for ladies over 50 with fine wavy hair. It maintains the natural curliness in your hair and gives it an admirable flair that you can show off. It is easy to achieve and maintain.
17. Asymmetrical Pixie Cut Women Over 50
Asymmetrical pixie haircut is a superb choice for women over 50 with oval and round shaped faces. The angled bangs significantly smoothen your face, while giving you youthfulness and sense of aptitude.
18. Short Tucked Layered Bob
A short haircut with a light hair shade can give you a youthful look. Besides it is easy to maintain and takes only takes some minutes to wear.  It is ideal for most face shapes but looks great on women over 50 with oval faces.
19. Diana Keaton Short Bob with Bangs
This shaggy haircut for fine hair women over 50 is an accurate definition of class. The volume is enhanced by the layers, and the bangs make it unique, drawing attention to your eyes. You cannot get it wrong by trying this gorgeous shaggy hairstyle.
In case you have a fine hair, this is one of the haircuts that enhances the glamour of your hair while giving you unlimited ways to style. This color is amazing, but you can always find other shades at the colorist.
21. Very Short Textured Pixie
Very short textured pixie offers you an exceptional hair texture and shows off your face extra-ordinarily. They are additionally very easy to maintain with only regular trim. Throw on some foil highlights to add more interest.
22. Neck Hugging Shag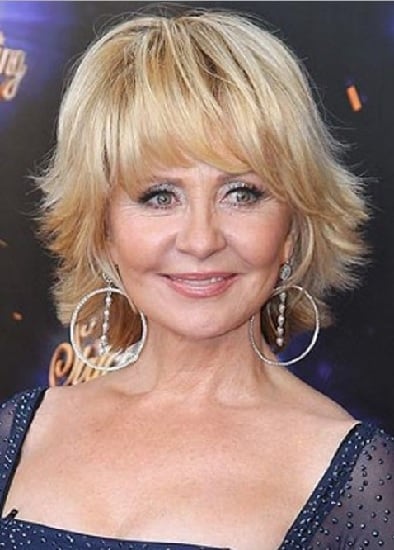 The elegance and numerous layers are what squirrely characterize this hairstyle for fine hair. Though edgy, it is still great for older women. Women who work in offices will find it a great option.
23. Angled Wavy Bob
This wavy angled bob looks excellent when balayage with a given color. You can achieve the soft curls with rollers if you don't prefer a permanent wave.
24. Wavy Little Bob
Hellen Millen shows how great little wavy bob can be on women over 50. It is a great look for older women with thin to fine hair.
25. The Hot Colour Bob
Are you afraid of experimenting with eye-catching hues? If no, then this is the right shaggy hairstyle for you to try. The days when anything that lacked a brand name was considered too much are gone. This eye-catching, appealing hairstyle will rock your look and steal the show!
26. The Ultra-Short
Women over 50 who need to show off their personality and angel face can give a try to this shaggy hairstyle for fine hair. Besides, this style helps to protect your hair from damaging. However, to keep it looking ever beautiful, you need to trim it regularly.
 27. Voluminous Layered Bob
There are two crucial things you should consider when you have a fine hair; tons of volume and layers. For instance, this is Pam Grier showing off an incredibly layered and voluminous hairstyle that is amazingly beautiful. The haircut gives you a lot of eye-catching texture. It is a highly versatile haircut that you can wear to your office and go to a nightclub without making any simple alteration on it.
28. Glenn Close Short Curls
This shaggy shortcut is achieved by trimming the hair at the front and leaving the long layers at the back. The hairstyle frames the face well giving you a unique look. Slight curls can also be added on the full mane to have that textured design and exciting look.  This is a sure way to rock regardless of the event you are attending.
29. Streep Sleek Back Updo
With updos being the talk in town this year, this list couldn't be complete without including this swoon-worthy updo that can make any woman over 50 amazing. The updo is not complicated and allows you to hold the hair at the back into a bun or a ponytail. The options are unlimited. Besides, you can change it the way you want from time to time. Just bear in mind that you cannot get it wrong by holding the hair at the back into a bun, it is sassy and trendy.
30. Sleek Messy Updo
Updos for aged women are outrageously hot this year, being in the three top hairstyles to look at 2021-so it is without a doubt that this messy updo should be included in the list. It is one of the preferred shaggy hairstyles for fine hair over 50 because it has a lot of volume on its nape that gives it that sophisticated and elegant look while the loose strands and bangs add a fragility on the face. Try it today and look like you will be ready for a red carpet! It is simple-just few minutes of recreating the hairstyle and look fabulous.
For most women, hair loss is inevitable as they age. So, it is ingenious for the women over 50 to consider hairstyles that not only enhances their personality but also helps them to control their hair issues. We hope that this article has been a significant breakthrough in your search for shaggy hairstyles for fine hair over 50.
Generally, short hair is an excellent option for women over 50 with fine hair since they are easy to style and most of them give the older women a youthful look that adds to their personality.