Rockabilly music style was first invented in USA in the early 1950's. It was a mix between rock and hillbilly music popular during those times. Rockabilly music immediately became very popular. The contemporary stars right away switched to singing rockabilly-style songs. At the same time men and women of that era started sporting rockabilly star images. In the modern world, rockabilly music appears mostly at theme parties or on Facebook music lists of some old music lovers. However, the Rockabilly hairstyles still rock the world. While not being simple enough to be worn on daily basis, they become a perfect choice for proms, parties, weddings and other special occasions. There are also modern ways to make these old hairstyles, so they don't look so outdated. There are many different rockabilly hairstyles to choose from for men, as well as women. The variety of hairdos and their colors can surprise you.
New and Old Rockabilly Hairstyles for Women Around the World
Learning how to make a hairstyle that was popular over 75 years ago might seem like a strange thing to do. However, you'll be surprised to find out that rockabilly hairstyles are still considered very fashionable by some men and women. Girls all over the world turn to these extravagant and really beautiful options to compliment their theme party or wedding image. Whether you got invited to a masquerade ball or just want to impress your friend and family with an amazing hairstyle on a special occasion, these rockabilly options are for you. We have tried our best to make the perfect collection of such hairstyles to help you with your choice. Pay special attention to the colors. They are what makes these hairstyles even more impressive.
1. The pink devil
This devilish hairstyle gets its name from the horn like arrangement on top. They are created by making a middle part and twisting the strands upwards. They are then clipped to the rest of the hair or tied by elastic bands. The ends are curled. The color is optional, but red and pink look especially fantastic.
2. Curled ends with high bangs
This rockabilly hairstyle is perfect for girls with straight hair and bobs. All that needs to be done is styling the bangs upward and apply some hair gel to keep them intact. The ends of the bob are curled inwards. The curls must be large. If your bob is asymmetrical, just curl one side more than the other.
3. Curly horns
Another way to make the devilish horns is by curling the frontal strands instead of twisting them. This rockabilly hairstyle will require a lot of hair gel. The back part of the hair is arranged into a voluminous bun. Girls with short hair can just leave it down.
4. Short rockabilly bangs
If you are not a big fan of hair gel, which is usually an important part of rockabilly hairstyle, you can just opt for arranging your bangs the right way. Straighten out your fringe with a flat iron and curl it inwards to get an appearance of short bangs. The rest of the hair can be arranged as you wish.
5. Kerchiefs
Kerchiefs were very popular in the 1920's. If you love kerchiefs, but don't want to look like a housewife, play around with the bangs. Curl them into a cowlick or a pompadour to get a really impressive look from the rockabilly era.
6. Simple idea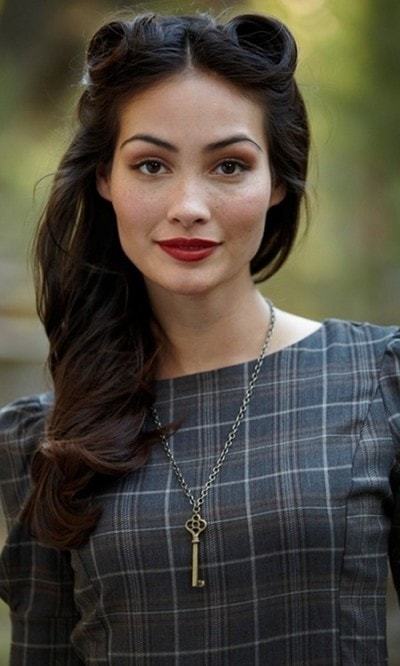 If you want a rockabilly hairstyle but are not ready to look too extravagant, you can go for this simple ideas. The horns are created to be very low by using thin strands to make one curl on each side. The rest of the hair is a little wavy and can be hung over a shoulder.
7. Curly bob with high bangs
Curly bob with high bangs is a very modern variety of 1950's hairstyles. All you will need to do is curl your locks and make high bangs. High bangs were usually an imperative part of the rockabilly styles. Make sure to use a lot of gel to keep them intact.
8. Wild colored a-line bob with asymmetrical bangs
Rockabilly times were surely wild. So, if you are not finding anything suitable for yourself, you can come up with something outrageous on your own. This a-line bob with red and black highlights is a great idea. Stand out of the crowd!
9. Pompadour
Before the rockabilly era pompadours were not that popular. However, Elvis made this hairstyle a real hit. There is no reason women can't try it as well. A well-made pompadour will create an incredible, wild and sexy image for any girl, who dares to try it.
10. High and voluminous bangs
This modern hairstyle has something from the rockabilly times in it. High bangs are a very important part of the 1950's style, so any haircut that features them can be considered rockabilly-like. You can make a bun in the back to make it look closer to the classics.
11. Pinned bob
This neat rockabilly hairstyle can be sported on everyday basis. The medium sized bob is curled and the sides are pinned to create a rockabilly-shaped haircut. If you want to make this hairstyle more impressive, add some large accessories.
12. Let your hair down
Girls with long and wavy hair always looked fantastic regardless the fashion. If you want to add some rockabilly flavor to your amazing mane, brush your bangs up and your look will be complete. Short haired girls can consider getting hair extensions.
13. Short and ragged bangs
Short and ragged was another way to style your bangs in the 1950's. If your hair is straight and thick, then this method is definitely for you. Such fringe requires careful daily maintenance. Otherwise it will lose its special look.
14. Wedding look
This rockabilly hairstyle makes for a great wedding look. The large curls are arranged to make any hair appear very neat and impressive. A large cowlick on top will make you look truly impressive. You will surely be the most beautiful rockabilly bride!
15. Low and shaped up braid
One of the ways to make your hairstyle look more 1950ish is to make high bangs while pulling your hair back to make a braid. This will be a high maintenance style, since such high fringe will need a lot of hair gel to stay in place.
16. Rockabilly make up
Before making your perfect rockabilly style, consider getting the right make up. Smoky eyes and long lashes should definitely be taken care of. Even if your hair is short and you can't settle on one good hairstyle, the perfect make up will save your day.
17. Blonde pompadour
Any man from the rockabilly era would have been terribly jealous of this amazing pompadour Rihanna is sporting. Now women are not limited to just womanly haircuts. They can easily create whatever male stars came up with for themselves.
18. Modern rockabilly
If you want a more modern approach to the rockabilly image, you can sport this type of high hair. It is easily created by doing some work with your brush and a hair drier. Tease the hair upwards and then secure it with hair spray.
19. Color mix
Any hairstyle will look fantastic with a right color mix. This rockabilly image is amazing due to the contrast between rich red and raven black. The high bangs are curled into horns. Some ponytails are made on top and bottom and then also curled to create a very special impression.
20. Dance floor star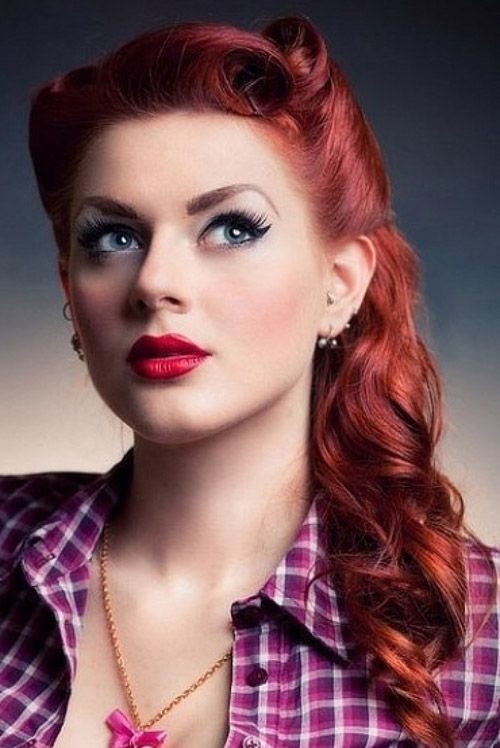 This tender image of the young rockabilly fan will be an amazing choice for girls with long hair. The right make up should make an innocent look, while the curly pompadour can be a slight reminder of the devilish nature. Give it a try!
Now you are ready for any rockabilly related event! Try at least a couple of these options to feel like a real star. You will surely surprise your friends by sporting a complete rockabilly image for the next theme party. Good luck!