When you want to defy your age with style, your hairstyle must be a great statement showing your personal style and preferences. Turning 50 is a significant milestone in any man's life and indicates a time of wisdom, but that doesn't mean your hairstyling game can't improve or be upgraded.
Nowadays, men in their 50's love experimenting, as they create marvelous hairdos that are sophisticated, trendy, and suitable for any environment.
Popular 50-Year-Old Men Hairstyles
Men in their fifties can rock any bold hairstyles regardless of their thinning or balding hair. Check out these hairstyle ideas that 50-year-old men can try with confidence!
1. High Top + Undercut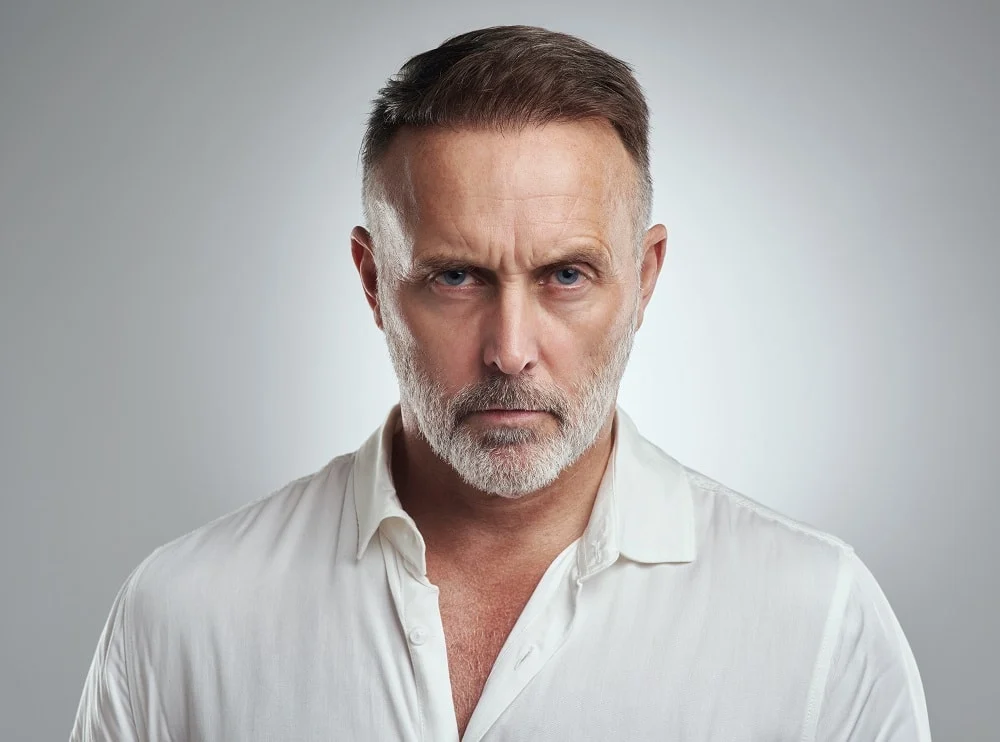 One of the most popular hairstyles for 50-year-old men is the high top. As its name says, it features longer top hair and shorter trimmed sides.
You can use a trimming machine to shorten the sides and scissors for the top. In terms of styling, add hair gel and tousle the top, comb it to the side or back.
2. Defined Curls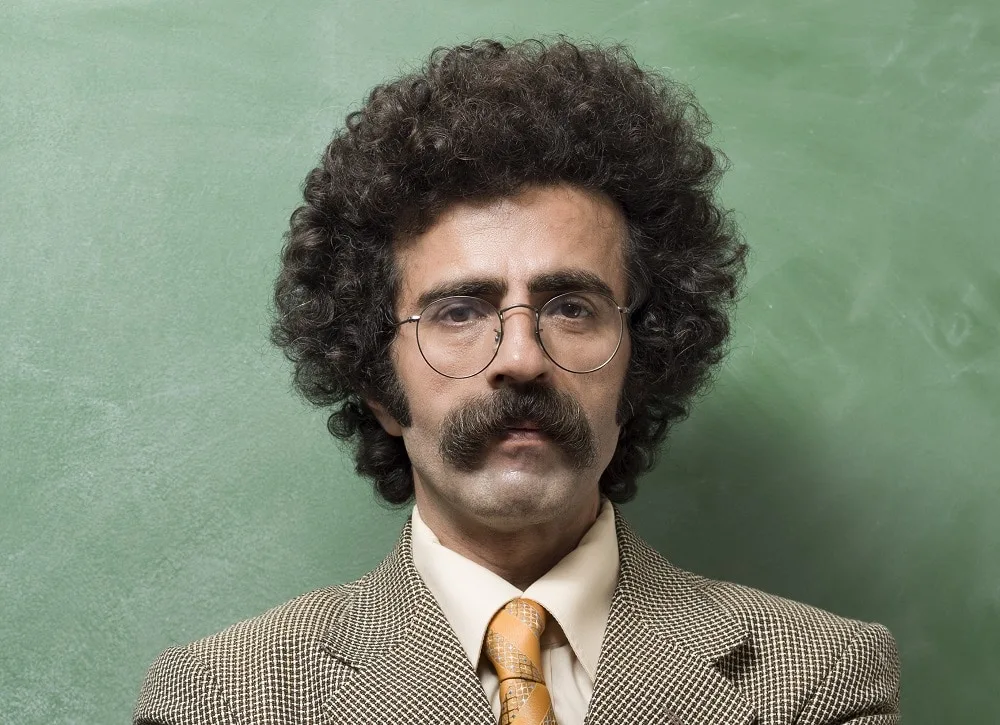 When your curls have such a great pattern, you can keep them longer for the upper area and short in the nape.
Moreover, if you love an old-school 70's look, go for a thick mustache and wide, long sideburns. Wear rounded glasses that match your entire look.
3. Receding Hairline Haircut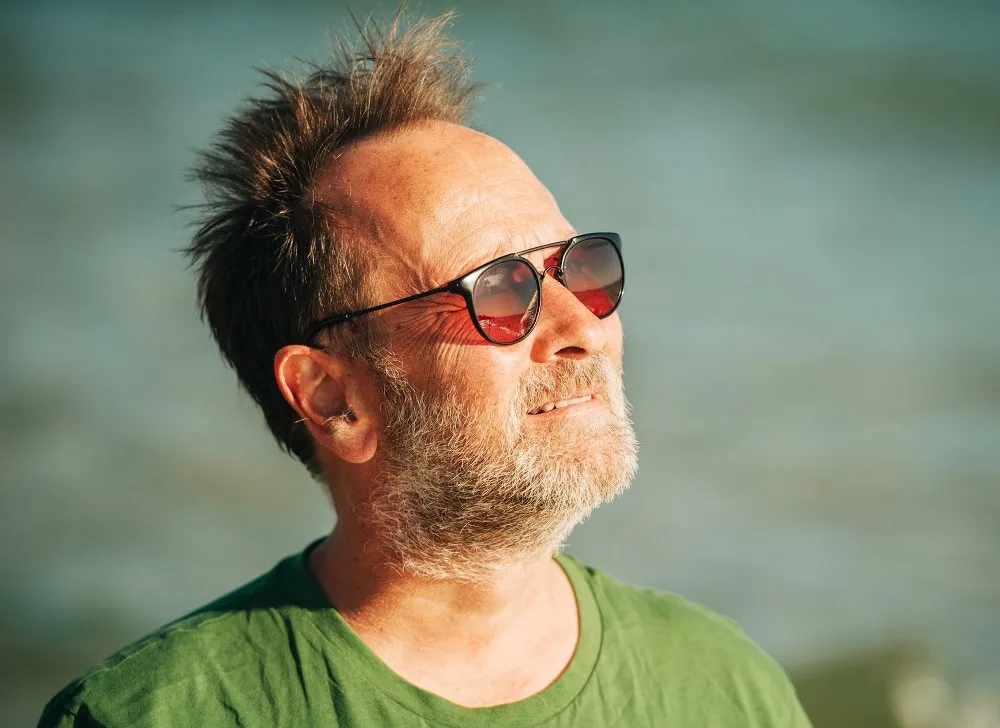 Receding hairlines are a common problem that men over 50 encounter. But that doesn't mean you can't find a hairstyle that makes it look less prominent.
Go for longer strands for the top and style them up, getting a messy casual appearance. Opt for a medium beard and cool sunglasses.
4. Buzz Cut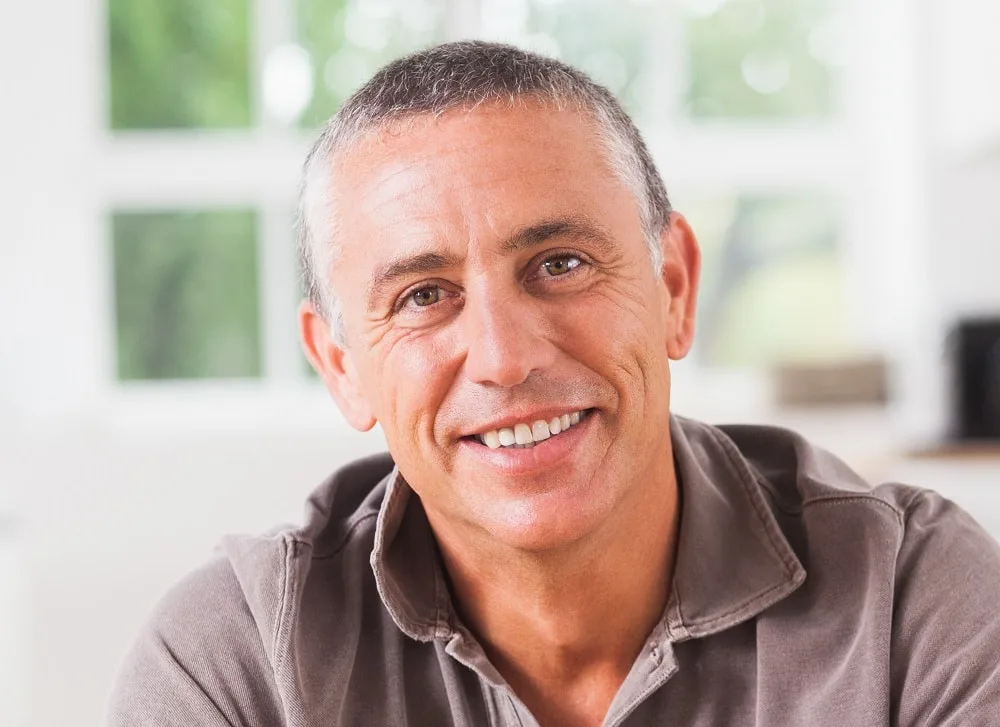 A buzz cut is such a low-maintenance option for older men who want to keep a clean look. Because it's very short, the cut requires minimal styling and is ideal for those who are very active and always on the run.
Shave your beard every day to keep a clean neat look.
5. Long Comb Over with Beard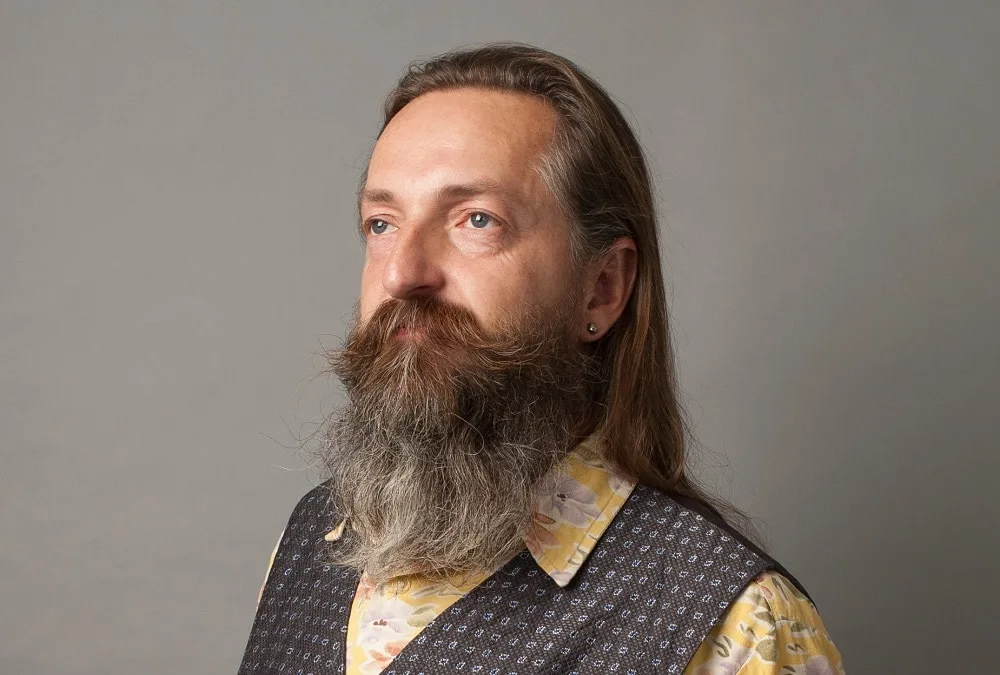 Long hair requires a lot of your attention, especially if you want your tresses to look healthy and soft. To replicate this look, comb your hair back and grow a long beard.
Use beard oils to keep your facial hair tamed and go for a long mustache with twisted ends.
6. Spiky Quiff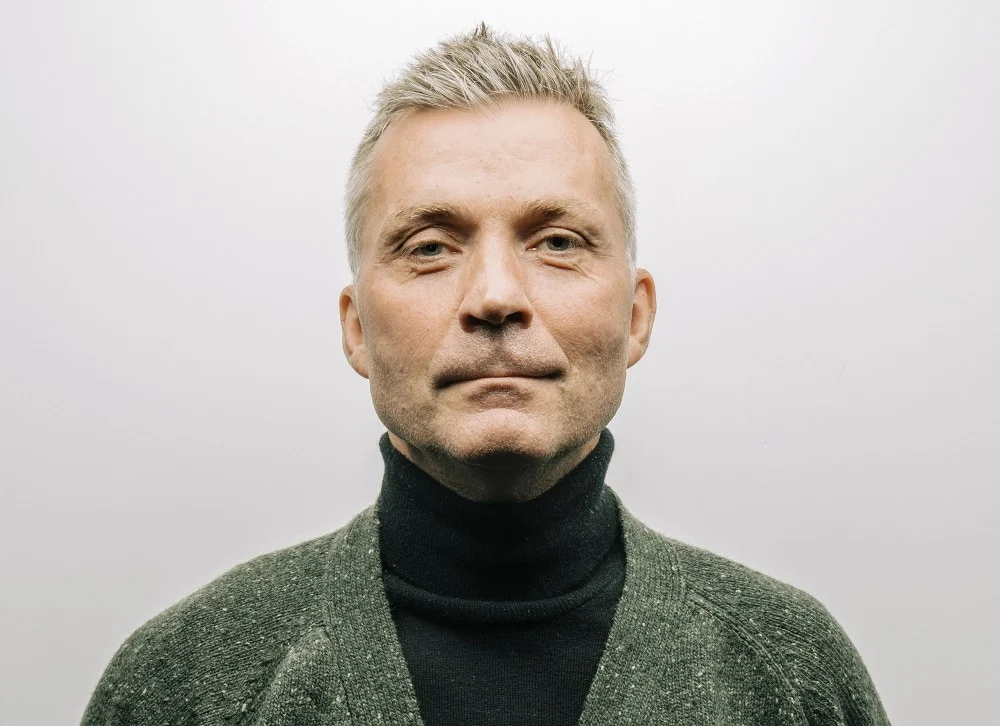 Another cool hairstyle for 50-year-old men features a longer top that can be beautifully styled with hair gel or pomade.
Lift the top, apply your fav styling products, and give it a quick tousle. Don't worry about those white threads, they will naturally blend with hairs that haven't lost their pigment, and create a marvelous look.
7. Feathered Bangs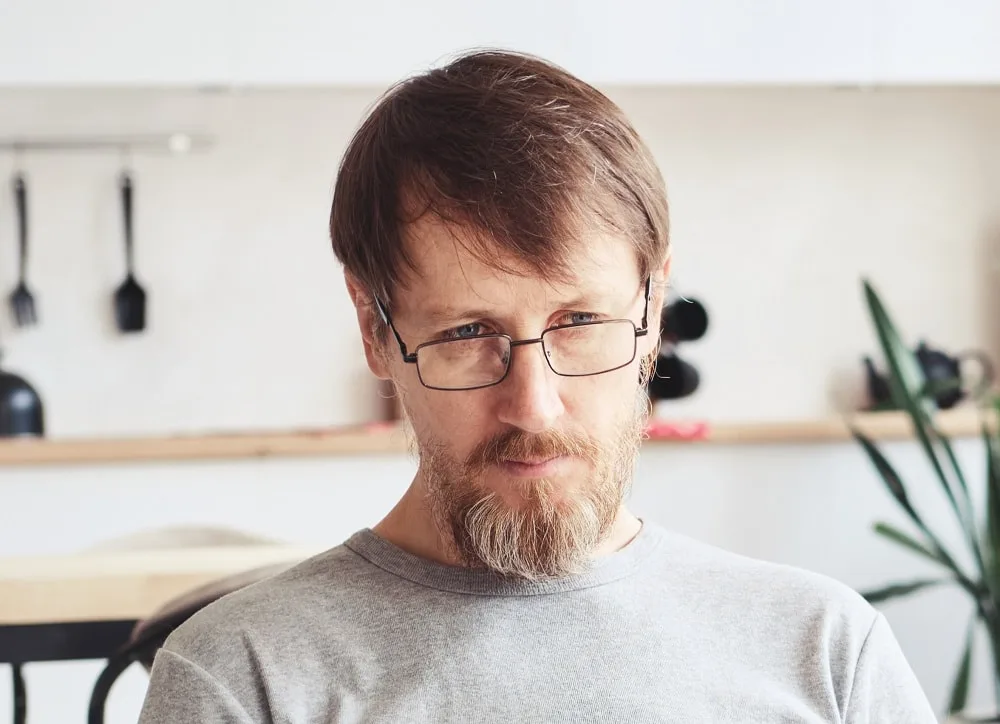 A layered top with bangs that you can casually spread on your forehead will help you cover the hair goals from the corners of the forehead.
The hairstyle makes you look younger and it goes so well with a short mustache and a longer beard that is more dense in the chin area.
8. Messy Spikes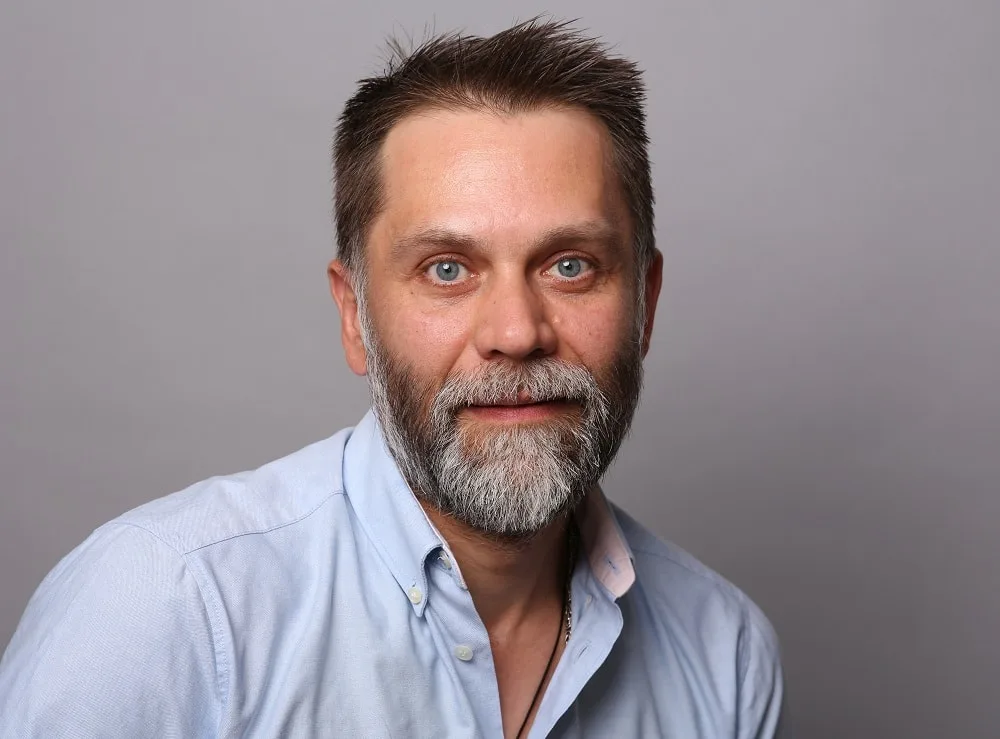 These short spikes, which you can easily create by using hair gel, will strip years off your face. Apply the product on the top and on the sides to get that wet appearance.
Go for a neat look, with a perfectly trimmed beard and a mustache.
9. Bald Sides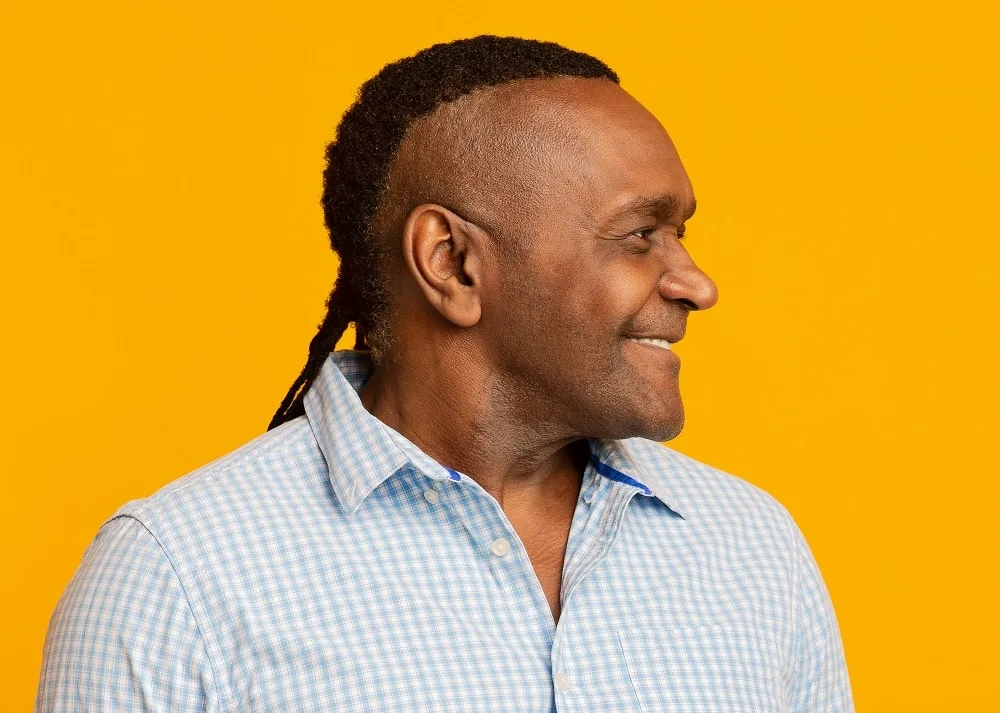 This hairstyle with bald sides is so modern and cool and will make you feel years younger. Choose a point in the center of the forehead and from there, start shaving your head.
You should end up with a triangle-shaped short top that shows off the texture of your hair. In the back, you can use deadlock hair extensions that you will attach to the nape area.
10. Pointy Top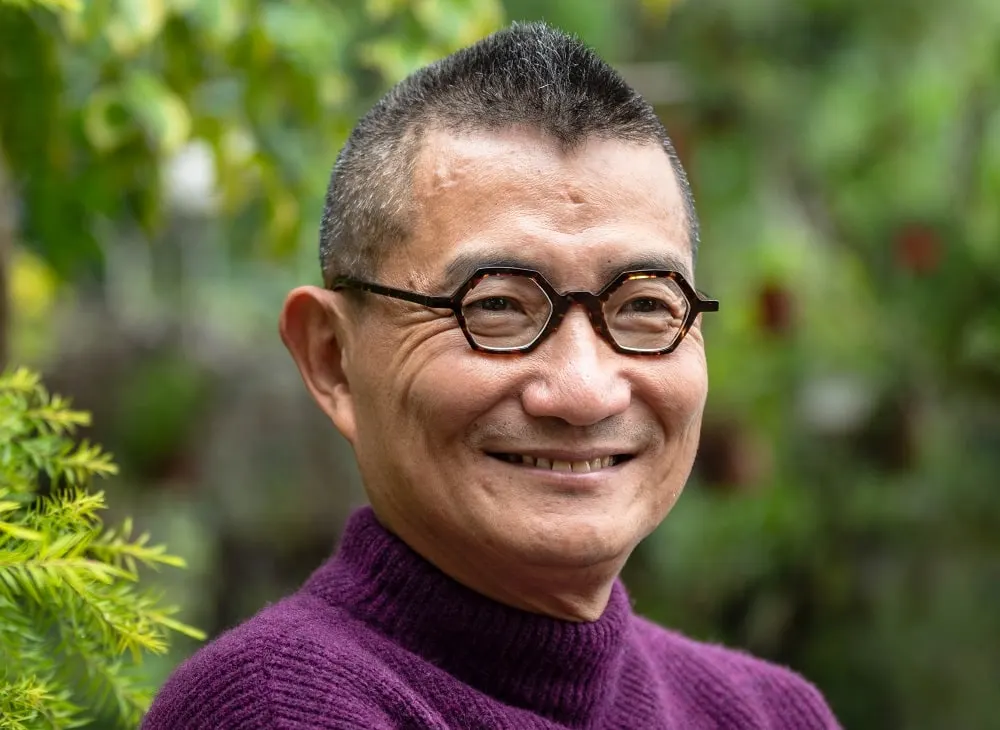 If you have a wider face shape, then you can definitely go for a high top haircut. Give those longer hair strands a pointy shape, so they will create an elongated appearance.
If you love looking cool and modern, then choose a pair of hexagonal-shaped glasses and keep a clean shaved face.
11. Side Top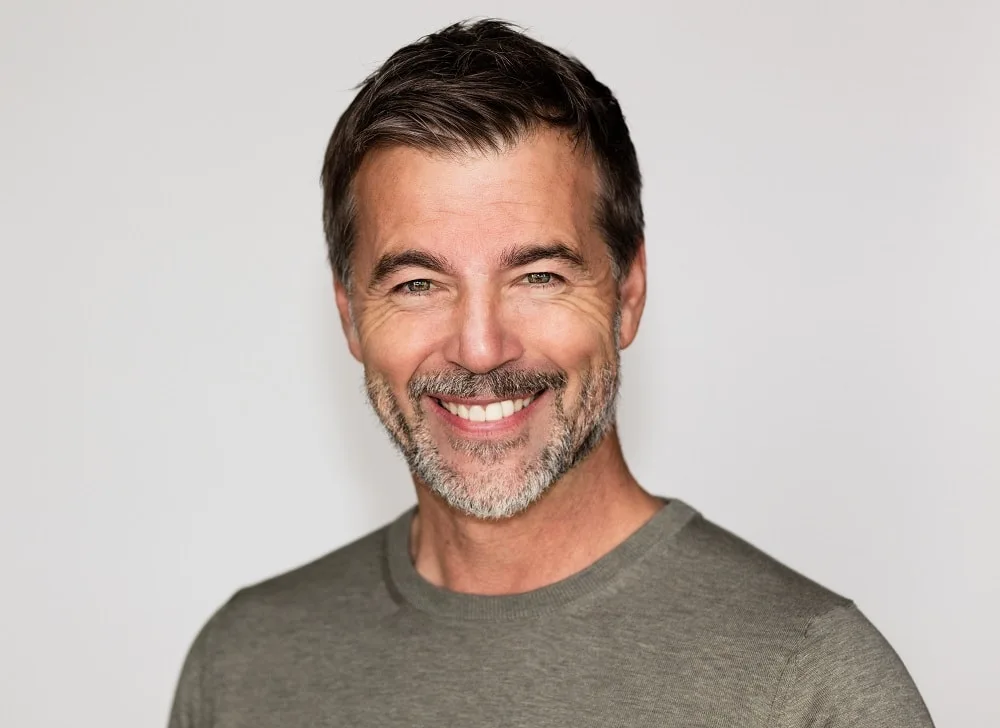 When the top hair is slightly swooped to the side, you will get a stunning fresh look. The hairstyle is appropriate for men of all ages, especially gentlemen over 50 who want to keep a classy, yet modern appearance.
It would help if you opted for a short stubble beard that needs grooming every week.
12. Layered Top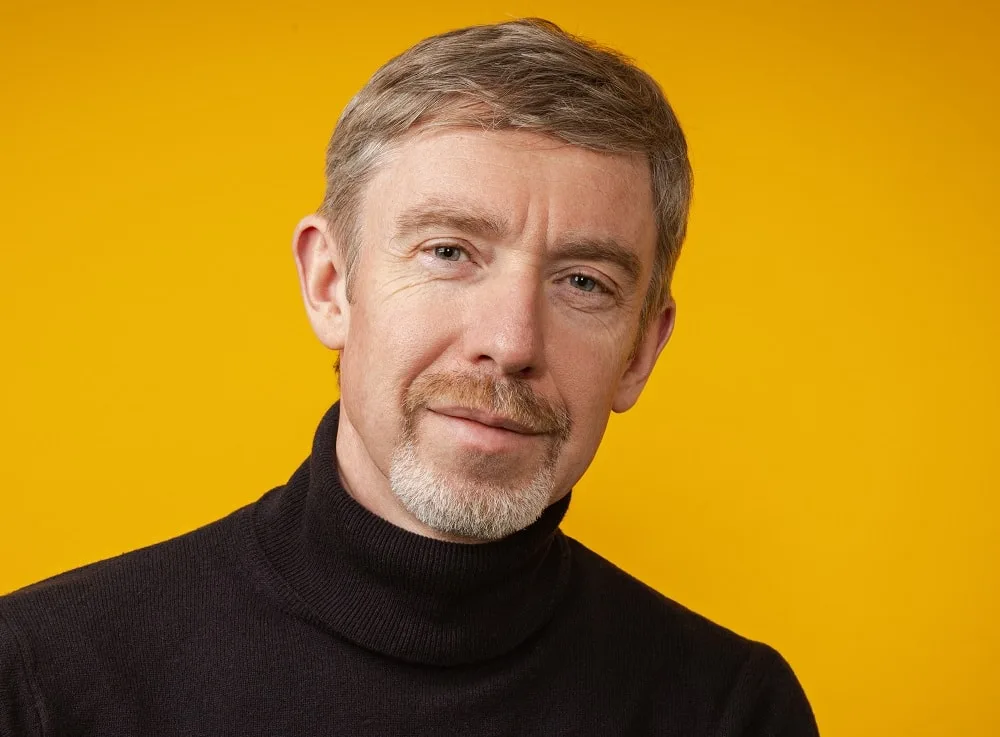 A fabulous hairstyle for 50-year-old men is a trim that builds layers and provides more volume.
Moreover, when your strands are longer, you can comb them, however, you like to cover any problems you might experience, like a receding hairline.
13. Side Swoop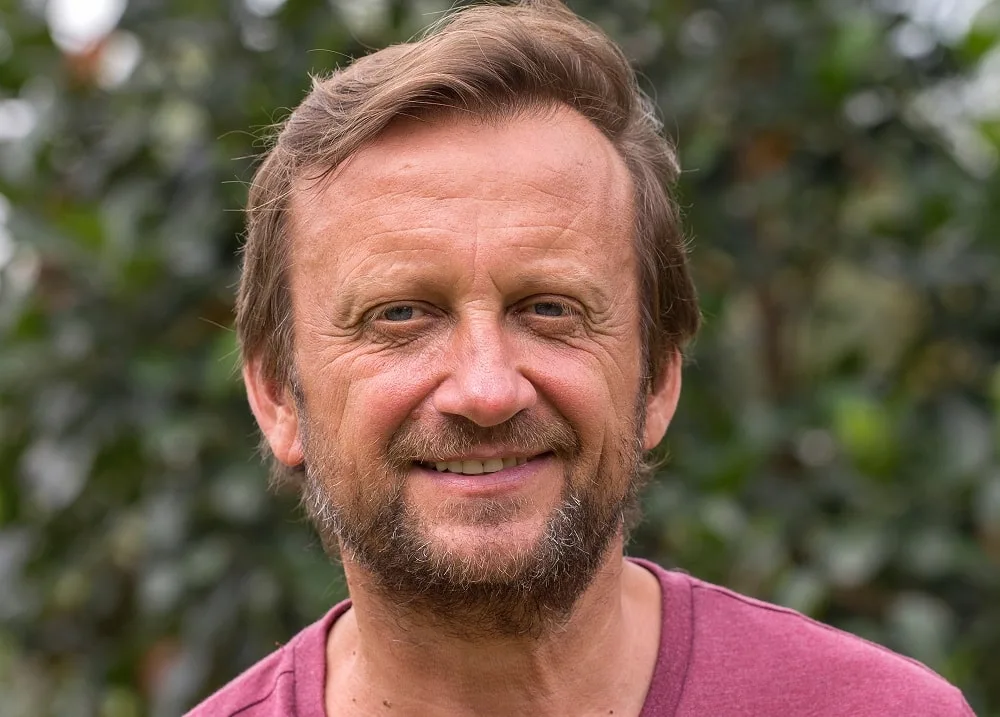 Keeping longer hair provides plenty of styling opportunities, even for men. Those longer strands can be parted in the middle, or you can messily swipe them to the side, creating a volumizing effect and more height.
A medium beard is also a good idea if you love a manly rough look.
14. Long Wavy Hair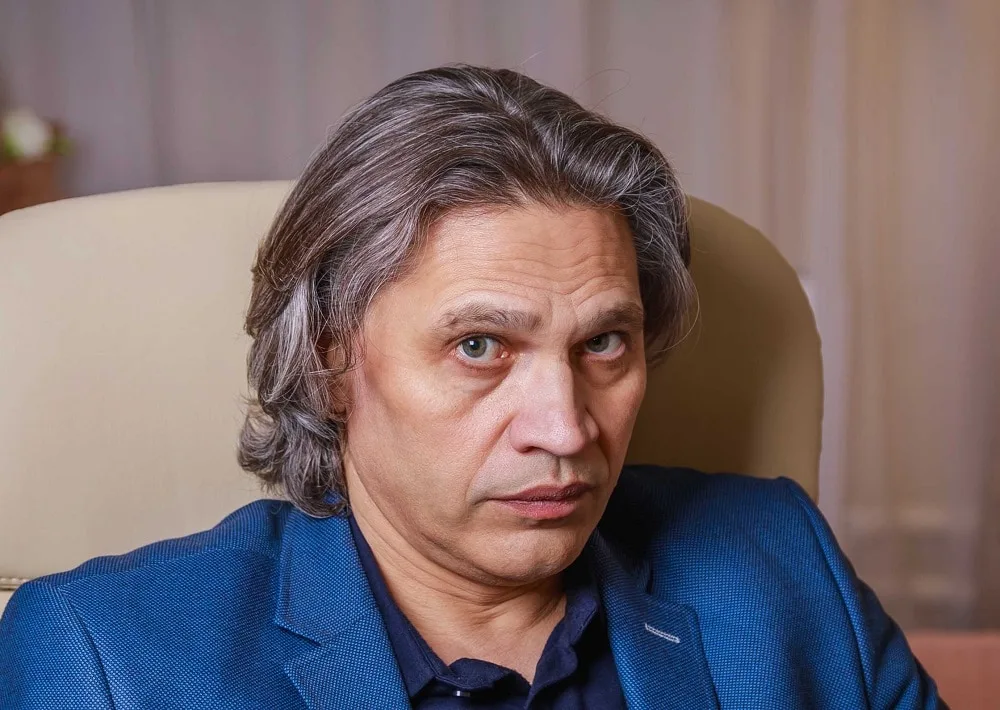 When you have long hair and you can spot strands that are losing their pigment, you will end up with a salt-and-pepper appearance. These white hair threads will amazingly blend with the darker ones and will give your curls and waves more depth.
Go for a layered long cut and opt for a middle part and a shaved face.
15. Man Bun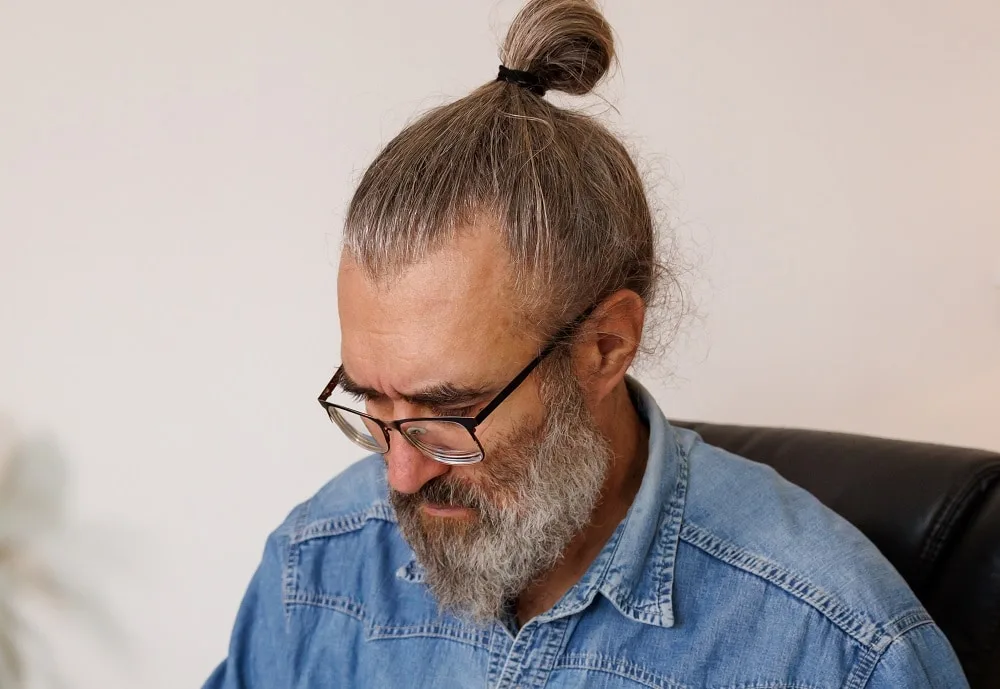 Man buns are such cool hairstyles that suit men of all ages, including gentlemen over 50 just like yourself. They are cool, easy to pull off and fabulously work for medium and long hair.
All you need to do is comb your hair up, secure, and pull off just half of your hair through the elastic, creating a loop. Pair it with a long pointy beard.
16. Short Trim with Beard and Mustache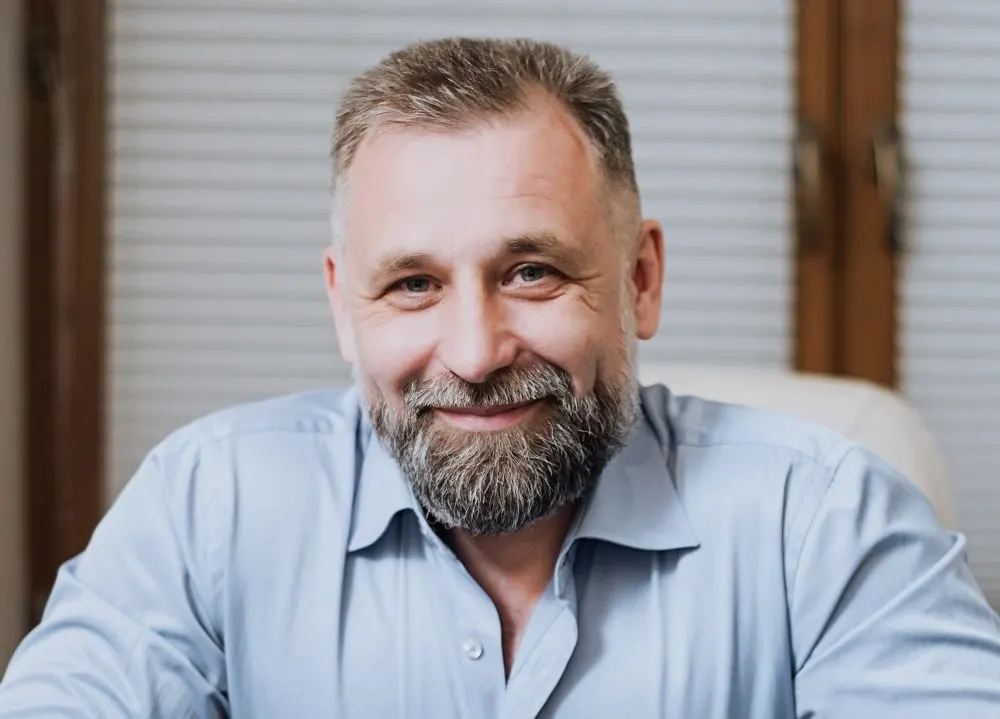 This short hairstyle is perfect for a man over 50 who wants to look professional and neat. To replicate it, you need to use styling products such as hair gel and pomade to lift the hair.
As for a beard, keep it medium long, with a round shape and a blunt mustache over the lips.
17. Side Undercut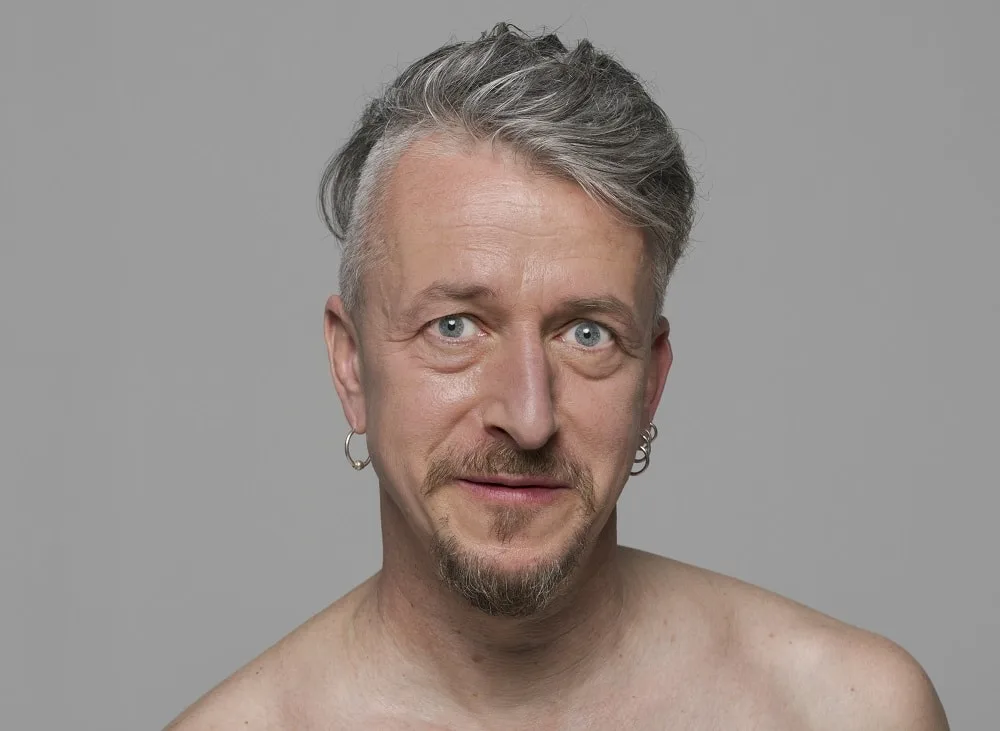 Undercuts are cool and trendy and make any older men feel younger and with a fresh vibe. Go for an extended top and on the side, or even on just one side, opt for a short undercut.
Swipe the top to one part and get a short goatee and mustache.
18. Blonde Highlights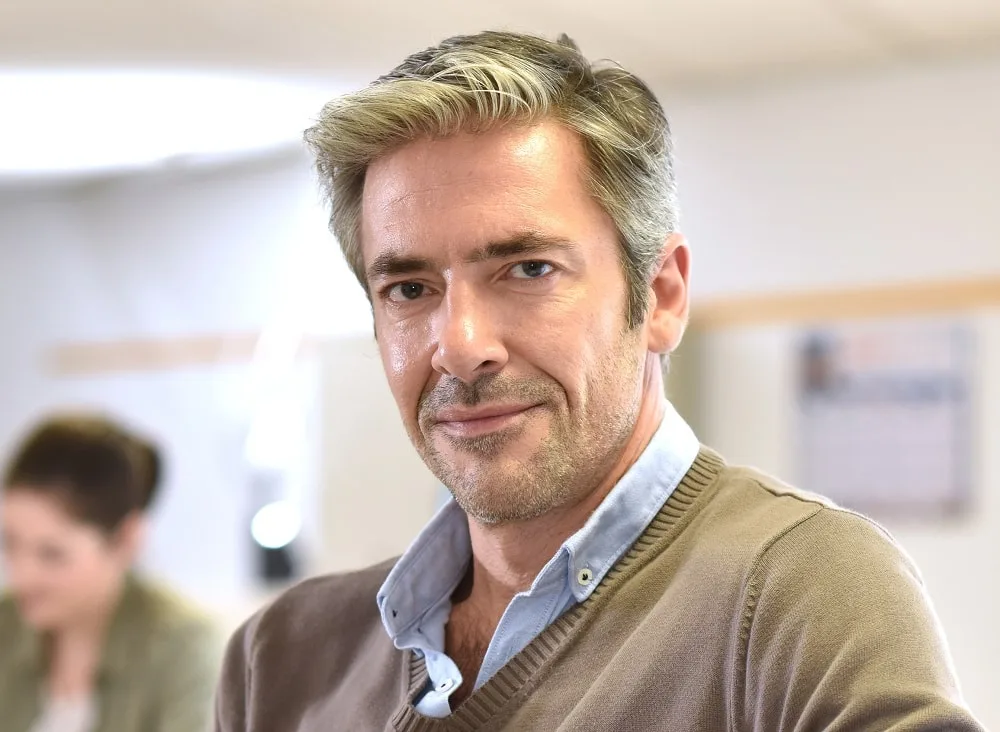 If you don't love the way your white threads combine with your brown or black hair, then you must know you have some options to try.
In this case, you can paint those white threads in a warm blonde nuance, creating a highlighted look.
19. Classic Cut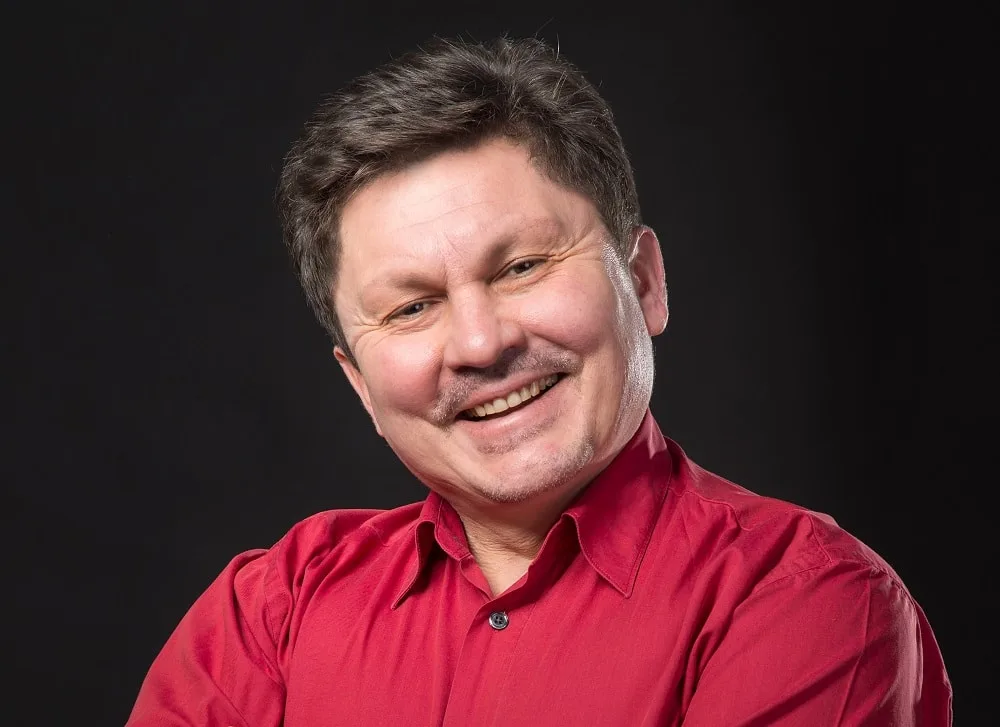 This is one of the classic hairstyles for 50-year-old men and it features a medium-short trim for the sides, with a little bit more volume and length for the top.
That length allowes you to slightly swipe the hair to one side, or lift it for more height.
20. Side Part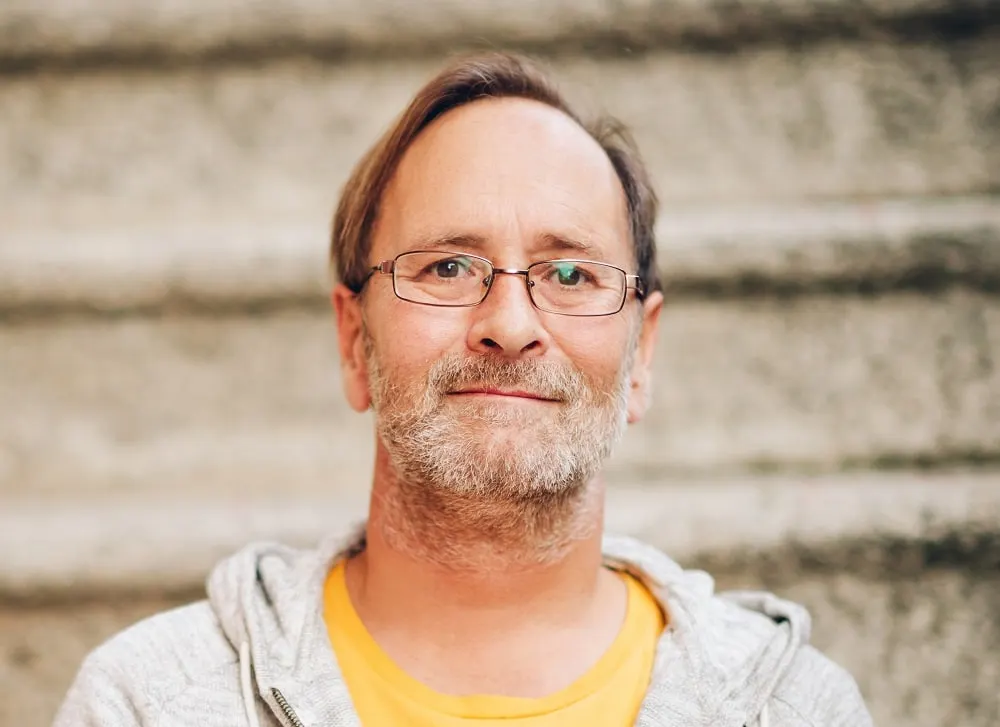 Side-swept bangs are one of the best hairstyling choices for men who have large foreheads. You can also wear it up, but we recommend you place it on the forehead, reducing the prominence of the upper part.
Go for rectangle-shaped glasses and a short beard that covers the face and neck.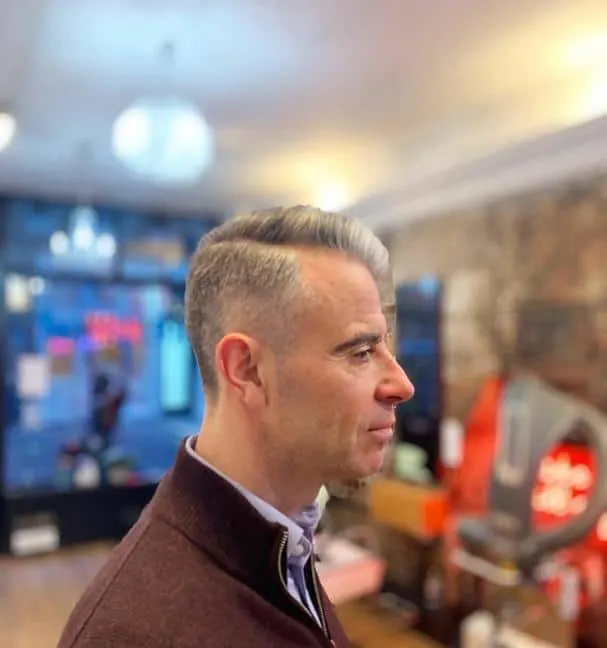 This versatile yet stylish haircut makes the 50-year-old men look graceful and refined. With a fade on the sides and hair with a side part on the top, this haircut is the most classic men's hairstyle.
It provides volume and texture to the hair and makes it look slightly tousled. The side part can be as long or short as you are comfortable with and looks sober and elegant on men over fifty years.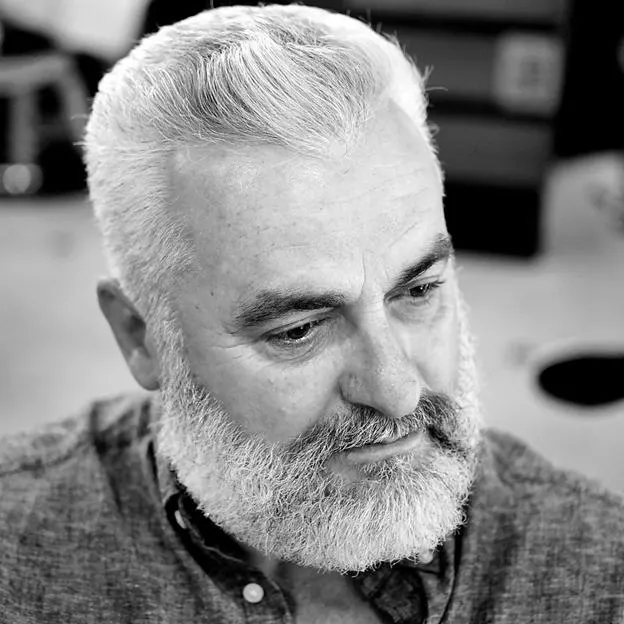 For old men with short grey hair, the crew cut is a very convenient haircut. As well as being a low-maintenance haircut, it is also very easy to style every morning and gives a subtle look.
The greatest perk of this haircut for 50-year-old guys is that it leaves enough hair on the top to cover up a receding hairline. Overall, the pompadour is elegant, classy and very handsome.
Amazing Grey Hairstyles for Men Over 50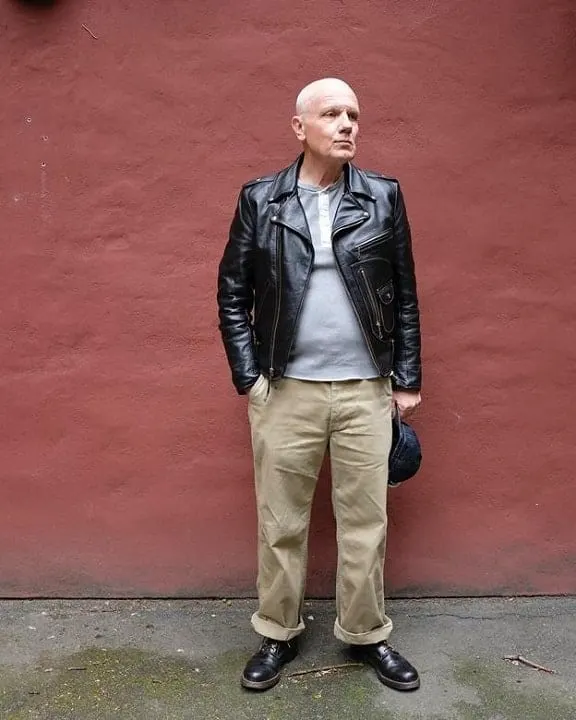 Kudos gentlemen! Now you can turn your balding scalps into a very impressive and swoon-worthy style. Men in their 50s who struggle with bald spots and balding genes can go for the exclusive bald look. It makes older men look cool and macho.
You don't have to worry about your hairstyle, all you need is a good moisturizing conditioner to keep your scalp shiny and healthy and no other expensive hair products needed.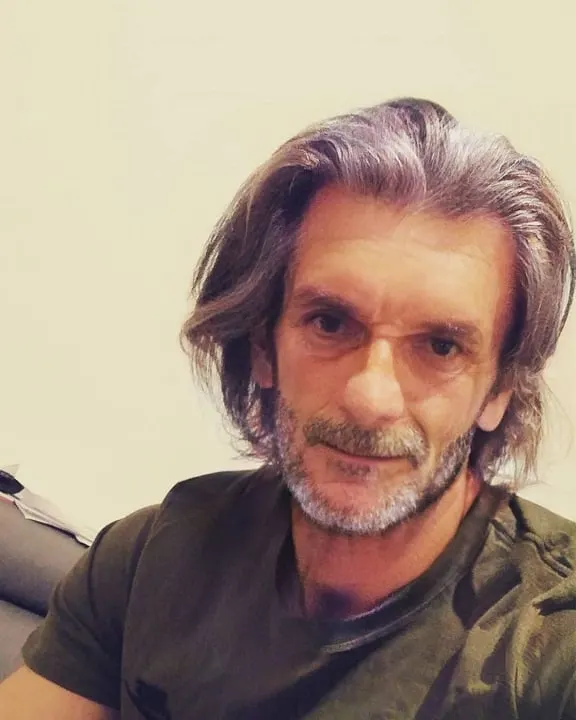 Just because you are growing old doesn't mean that you have to go short. This loose wavy hairstyle is an appealing choice for 50-year-old men with long hair who still have enough hair to support the cut.
The medium-length hair and alluring silver locks as a result of this cut, give older men a handsome and decent look. As the hair is cut in long loose layers it can easily be styled with fingers using some hair gel.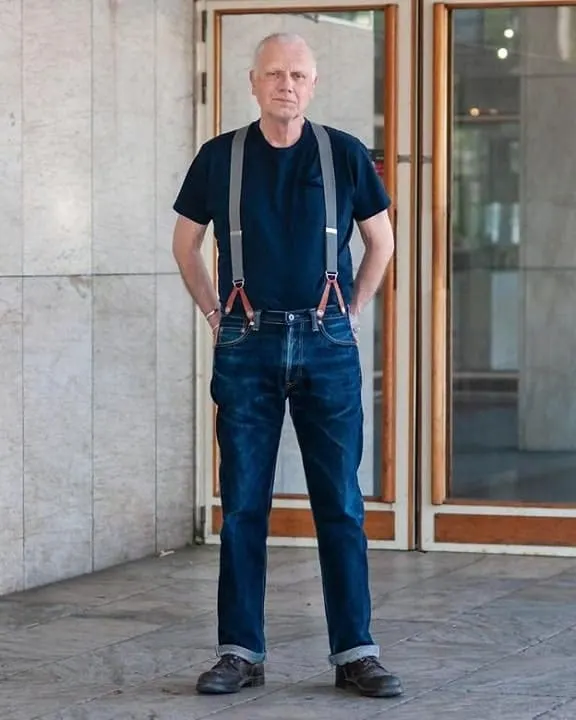 This haircut for 50-year-old men is suitable for those gentlemen who do not want to experiment too much with their hair but still want to look great. The buzz cut is every bit as fashionable as it is functional.
It is a low-maintenance cut and gives the older men a nice and clean look. Being a casual yet stylish and very simple hairdo for men in their fifties, it looks enchanting with white and grey hair.
So, gentlemen, there is always a respectful haircut out there for you no matter what is going on with your hair, whether you have white or grey hair, thinning or receding hairline, you can always try these stunning 50-year-old man haircuts to look decent and classy.