No hairstyle for men channels the 1990s vibe like curtain haircut. Basically, this 90s hairstyle is a style where the hair on top of the head is grown into the bangs or fringe but parted right down the middle.
In some cases, men opt for side parting as well. Back in the 90s, this haircut looked best on men with fine straight hair because this hair type accentuates the strong parting in the middle. But, it's entirely possible to rock this look even if your hair is on the thicker side. Here are 10 cool options to try.
Latest Curtain Hairstyles for Men
A while ago, there were no many curtain haircut options to try. All looks were pretty much the same, but this hairstyle has evolved tremendously since then. Let's take a look at some of the best haircuts to rock in order to modernize the 90s vibe.
1. Thick and Curly
Back in the 90s when curtain hairstyles became popular, they were usually associated with thin and straight hair.
The reason is simple – that hair texture is easy to style in order to achieve the signature parted look. Times have changed, and now it's entirely possible to get ideal curtain cut for your hair type, including thick and curly hair.
2. Two-Toned Hair with Undercut
Men who want to give curtain haircut a try have plenty of options to choose from in terms of styling their hair. One option is to experiment with different hair colors, including various shades of blonde.
The two-toned look will make your hair appear visibly more voluminous, which is particularly useful if you have naturally thin hair.
3. Flaming Hair
Speaking of trying out different hair colors, you may want to experiment with flaming red. This hair color is ideal for edgy men, guys with the wild side, dudes with the attitude. Reddish hair is lively and playful, which is exactly what natural thinness would take away from you.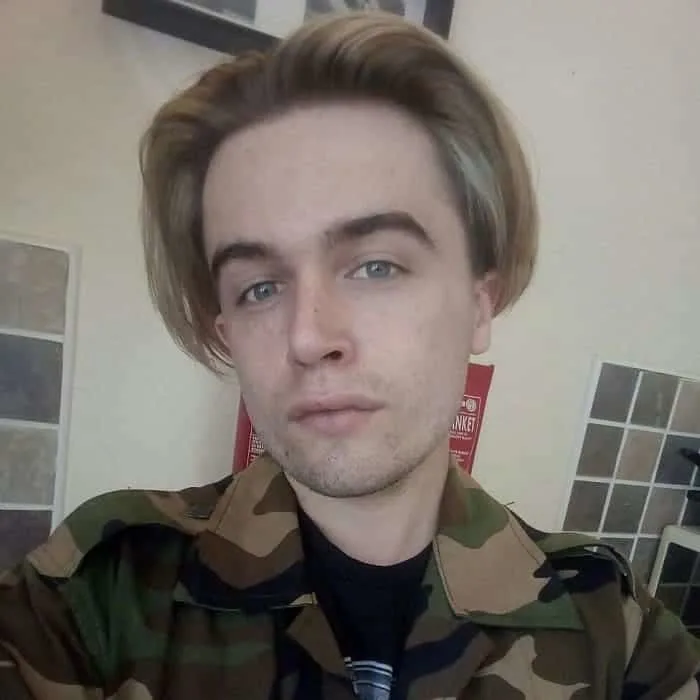 Instead of allowing your hair to air-dry which can lead to the flat and straight hair look, you may want to consider blow drying your hair. As a result, your curtain cut hair will get more fullness and movement. It's needless to mention that a great blow-dry allows hair to seem light like a feather. The ease of movement feels great.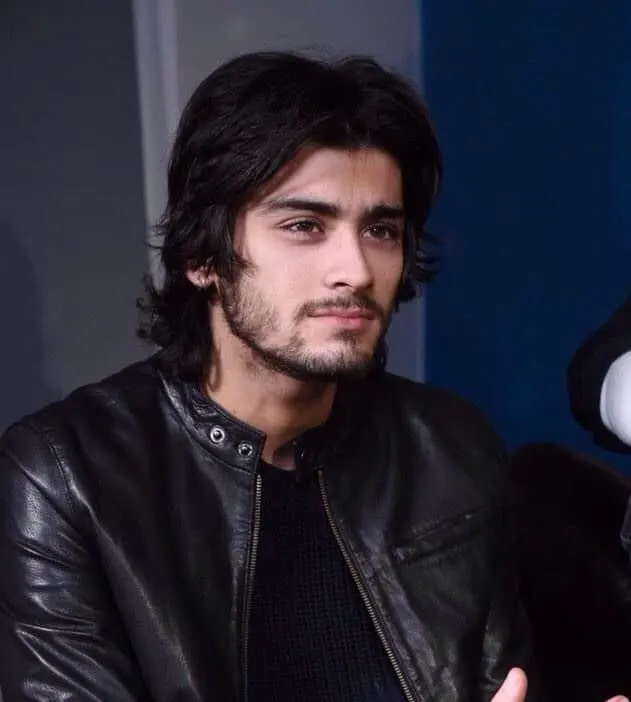 Isn't it frustrating when you can't find a good piece of inspiration for minimalistic look? Not all hairstyles should be flamboyant and unusual. Minimalistic style can often do more than we even realize.
Take this look for an example – it's simple, requires minimum styling, yet men's curtain hairstyle looks amazing.
Men whose hair is naturally wavy can still rock curtain haircut. In this case, hair in the front creates gentle waves, but all you need is to keep it on the side for a natural look. You don't have to go for sleek cuts if that's not what you want. Just make sure you take care of your hair properly.
7. Bandana Style
Do you have a habit of using accessories to style your hair? If not, you should start doing so. For example, the bandana is one of those universal accessories that look great on men and women equally. Placing bandana over your forehead lifts your hair, and creates a unique curtain cut.
Men's curtain haircuts don't have to involve medium length hair in all cases. It's possible to achieve this look even with short hair. Part your hair down the middle and using fingers tousle it a little bit for an asymmetrical and "messy" appearance.
9. Boyband Hair
Remember those times when guys from boybands rocked signature hairstyle parted in the side i.e., curtain look? Those were great times and guess what – you can have the same haircut. This thick wavy hairstyle is particularly awesome for guys.
If your hair isn't short, but it's not long, either you can still experiment with a curtain hairstyle. Nice parting and a little bit of styling will help you create a heart-shaped look as seen in the photo.
Curtain haircut is a great choice for men who love to be edgy, playful, but also for those who want to show off their hair. Now that you've seen some of the coolest styles to try, all you need to do is to go ahead and get it. Care for your hair properly in order to make sure your 90s curtain inspired hairstyle is at its best all the time.