Ariana Grande, the pop sensation, has sported various hairstyles and hair colors throughout her career. When we see a beautiful hairstyle or hair color on a celebrity like her, we find ourselves cringing with envy. Well, you don't need to. In this article, we'll show Ariana Grande's most popular hairstyles and hair colors.
Ariana Grande Hairstyles Through The Years
Red Velvet (2010-2013): Ariana's breakthrough role as Cat Valentine in "Victorious" featured her signature red velvet hair. This vibrant hue became synonymous with her character and early career.
Classic Brown (2013-2014): As Ariana transitioned to her music career, she embraced her natural brown hair color. During the "Yours Truly" era, she often wore her hair down in loose curls.
The High Ponytail (2014-present): Ariana's iconic high ponytail emerged during the "My Everything" era and has since become her signature look. She often accessorizes it with different hair extensions, adding volume and length.
Ombre (2015): In 2015, Ariana experimented with an ombre style, blending her natural brown hair into a lighter blonde shade towards the tips.
Platinum Blonde (2018): For the "Sweetener" era, Ariana surprised fans by going platinum blonde. This striking look gave her a fresh and edgy vibe, perfectly fitting the album's theme.
Lavender Grey (2018): Ariana briefly sported a stunning lavender grey hair color in late 2018. This ethereal shade added a touch of whimsy to her style.
Chocolate Brown (2020): In 2020, Ariana returned to a rich chocolate brown shade. The darker color suited her perfectly, adding warmth and depth to her look.
Caramel Highlights (2021): Embracing a more natural style, Ariana added caramel highlights to her chocolate brown locks in 2021. The subtle change added dimension and brightness to her hair.
Ariana Grande Rocked These Hair Colors
Ariana Grande is not one of those girls who wear the same hairstyle and color for years. Grande knows how important it is to change the appearance and she is not afraid to do it. Since she made a stellar career, she doesn't have too much time to deal with her style. That's why she hires professional hairdressers to do it.
Since most of us don't have an opportunity to follow suit, we can become copycats. Take a look at the best Anirana Grande hair colors and hairstyles.
1. Light Natural Blonde
This hair color is one of the hardest to achieve and the easiest to maintain. If you have dark locks, you need to get ready for some bleaching. As a result, you'll get amazing blonde hair that can give you a celebrity appearance.
2. Raven black
Girls with dark hair should thank Ariana Grande for this color. It's easy to achieve and requires little maintenance. If you have natural curls, the hairstyle will look even more stunning. Consider scheduling regular salon visits to keep the color deep.
3. Golden Brown
Golden brown is the most natural Ariana Grande's hair color that you can copy. Some girls can achieve this hair hue just by toning the locks. Others will need some dye. Ask your hairdresser for the fastest approach.
4. Ombre
Ombre is Ariana Grande's most famous hair color. It looks amazing when she has her stunning ponytail done. Copy this look and enjoy the ombre for months without too many touchups. Use hair extensions to create the ponytail.
5. Cherry Red
Cherry red is a wonderful choice of hair color Ariana Grande's fans can enjoy any season. The rich red hues are great for winter but look stunning and elegant in the summer. You can even allow the dark roots to show.
How to Style Curly Hair Like Ariana Grande
If you are keen on owning up the signature Ariana Grande curly hair, there are some simple steps to get it right.
Brush your hair back completely and create sections
Divide the hair into two sections, top, and bottom. Make sure you do not part the hair
Create the subparts in a way that all of the lower portions go into a ponytail and the top part forms a different one
Now clip the top section of your hair
Now curl and tease the bottom section of your hair first. This will bring in the bounce and volume you see in Ariana's hair. But before you get on with it, make sure you know how to tease your hair well. That will amp up the look best.
The bigger the hair section you choose, the looser the curls will become. This is what will replicate the curls with greater details.
Once you are done curling with the hot straightener, run your fingers through them. That is what will separate it and let it stay that way.
We hope you now have a good idea about which Ariana Grande hair color to choose for your next style change. We recommend you try them all just like Ariana did. You'll surely look stunning with each option.
Ariana Grande's Curly Hairstyles
The hairstyles and colors used by Ariana are casual, trendy and absolutely stunning but the best news is you do not have to put in too much of work in achieving this look. Confidence plays a crucial role in wearing this style with grace and ease. It really enhances the overall understated and subtle charm of these curly hairstyles. What really adds to the whole look is how these hairstyles help bring out her girlish charm and feminine energy in a positive light.
Enhance your overall ensemble with these beautiful Ariana Grande's hairstyles.
If you have really curly locks and like to wear your hair long, this is perhaps one of the best hairstyles to go for. Ariana Grande looks gorgeous in this curly hairstyle.
Inspiring Celebrities with Short Hair
7. Naturally Curly Hair
If you like Ariana Grande's curly hair, this is one of the most natural and cute looks that absolutely celebrates the curly locks.
If you thought that you can wear the curly locks loose, then think again. This curly messy bun is how you can completely own the curly hair look that Ariana pulled off.
This still from the let me love you music video drives home the point that you can look absolutely stunning even in a simple and effortless way if you can style it well. This Ariana Grande curly hairstyle is all about celebrating a simple style with cool confidence.
10. Ombre on Loose Curls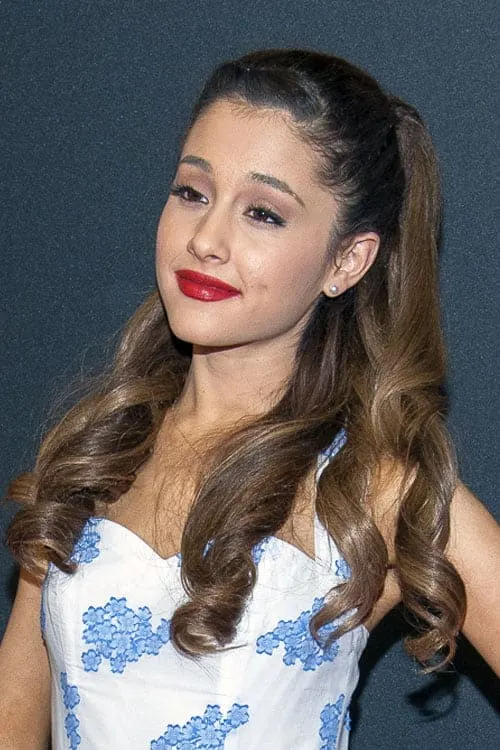 This curly hairstyle of Ariana Grande is perhaps how you can add some chic and sophisticated element to your loose curls.
Therefore, if you like Ariana Grande's curly hairstyles, the most important element is to learn to replicate the curls properly. That is what will help you recreate the fall exactly like hers. Moreover, it is also essential to understand the basics of color and styling.