Pixie cuts for Asian women are trending in recent years. As this haircut can accentuate face shape and can give you a fearless vibe without taking too much of your time early in the morning. Women who want to focus all the attention to their eyes and their face will achieve that easily with this hairstyle. Asian inspired pixie cuts can be worn to any casual or formal event, as long as you wear them with confidence.
How to Style Asian Pixie with Bangs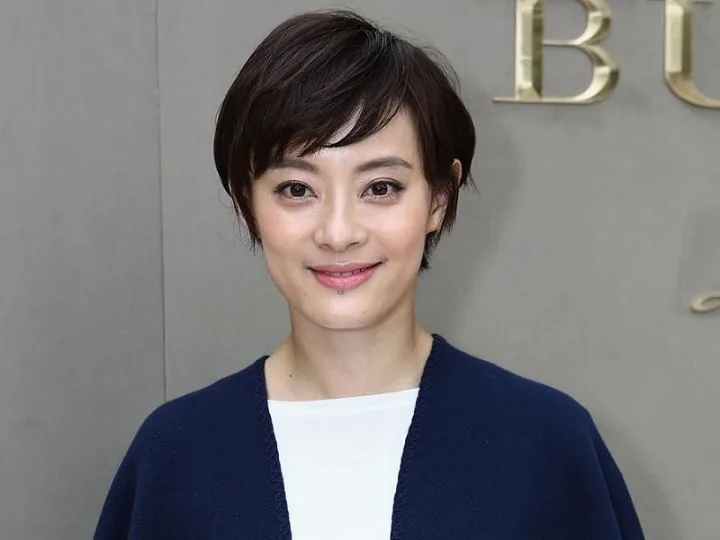 Step 1: Start off with the cleaning and blow-dried hair and apply some texturizing spray to the roots.
Step 2: Lift your hair up with your fingers to get some volume. Make crunching motions or use a round brush to get that lift on the sides.
Step 3: Part your bangs as you'd normally do and style them with a hair straightener. You can straighten them out, give them a slight S curl, or simply comb through and wear to the side.
Step 4: Once your bangs are in place lock them in with your favorite hair gel or pomade. Don't do a lot of pulling motions since you don't want to lose your gained shape.
Fabulous Asian Pixie Cuts for Women
Asian pixie cut will give higher cheekbones, will allow to wear minimal makeup due to its long bangs covering half of your face and will make you look a lot more youthful and playful. If you are thinking about getting this hairstyle, here are 18 options to choose from:
1. Blonde Textured Pixie Cut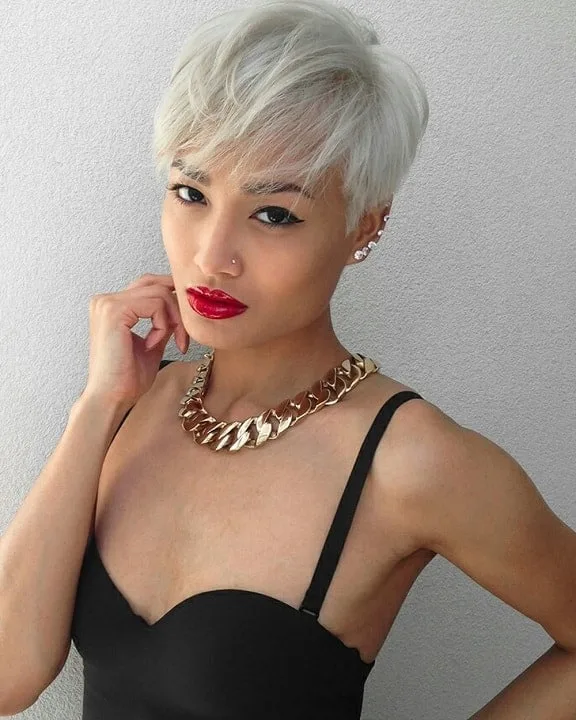 Asian women who are still experimenting with color or those who want a fun & youthful pixie cut, will love this silver option. Its relaxed vibe will suit women who are in their 20s the best, while its fluffy bangs will shine the light onto your cheekbones while giving you that slimming appearance.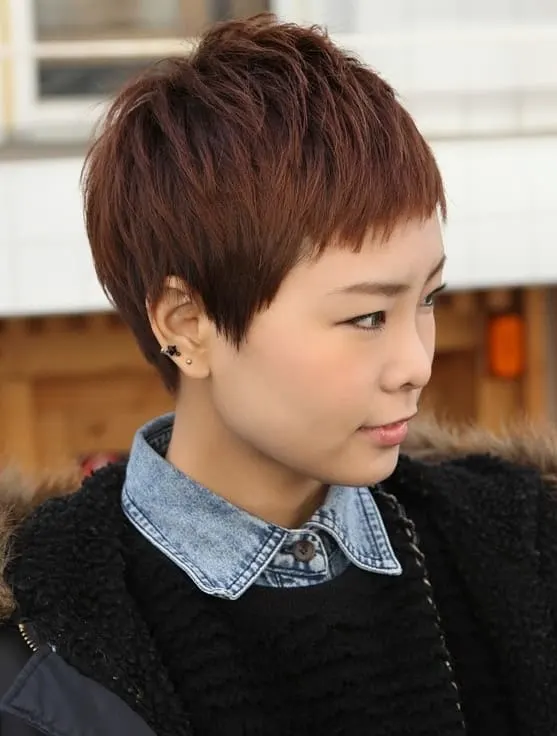 Light colored highlights or lowlights can look great on a short pixie cut with baby bangs! The look itself isn't too over-the-top and is ideal if you need a slight change in terms of color. Women who usually don't step out of their comfort zone should try out their luck with this Asian pixie hairstyle.
3. Pixie Cut with Full Bangs
This messy Asian pixie haircut is trending at the moment since it gives out an effortless yet playful vibe! Its longer bangs are very 'Victoria Secret', and are truly focusing all the attention to your eyes.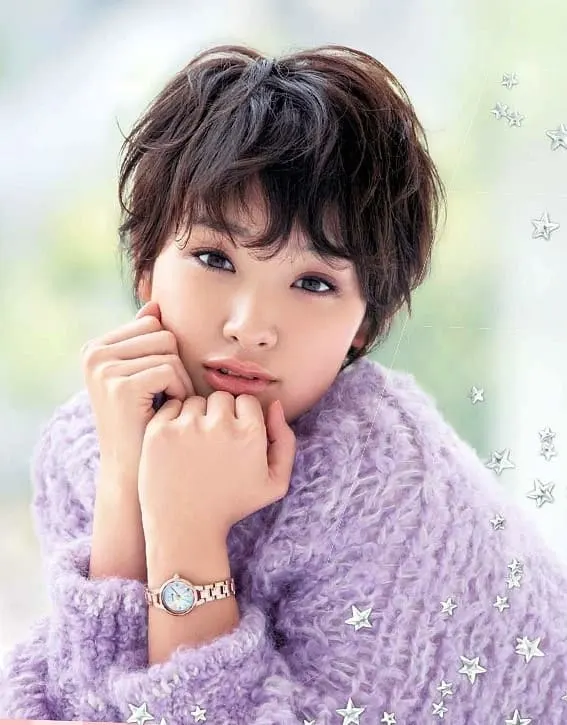 Pixie for Asian women which has a lot of volume on the upper portion will suit every woman, no matter her age. If you are stuck and you don't know what to do, turn to a voluminous & messy cut. This way you will gradually take away any 'excess' until your hairdresser doesn't get your hair to your desired length.
5. Honey Blonde Pixie Cut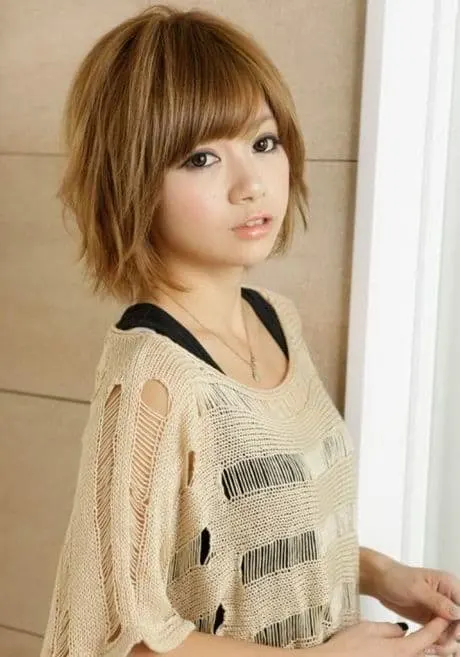 Light coloured Japanese pixie cuts will look the best on younger women, or those who have pale skin tones. This hairstyle is a bit on a longer side, and it will look amazing on girls who have just turned 18, and are all about that low-maintenance life, but with a bit of glam!
Amazing Short Hairstyle Ideas for Asian Women
6. Side-Swept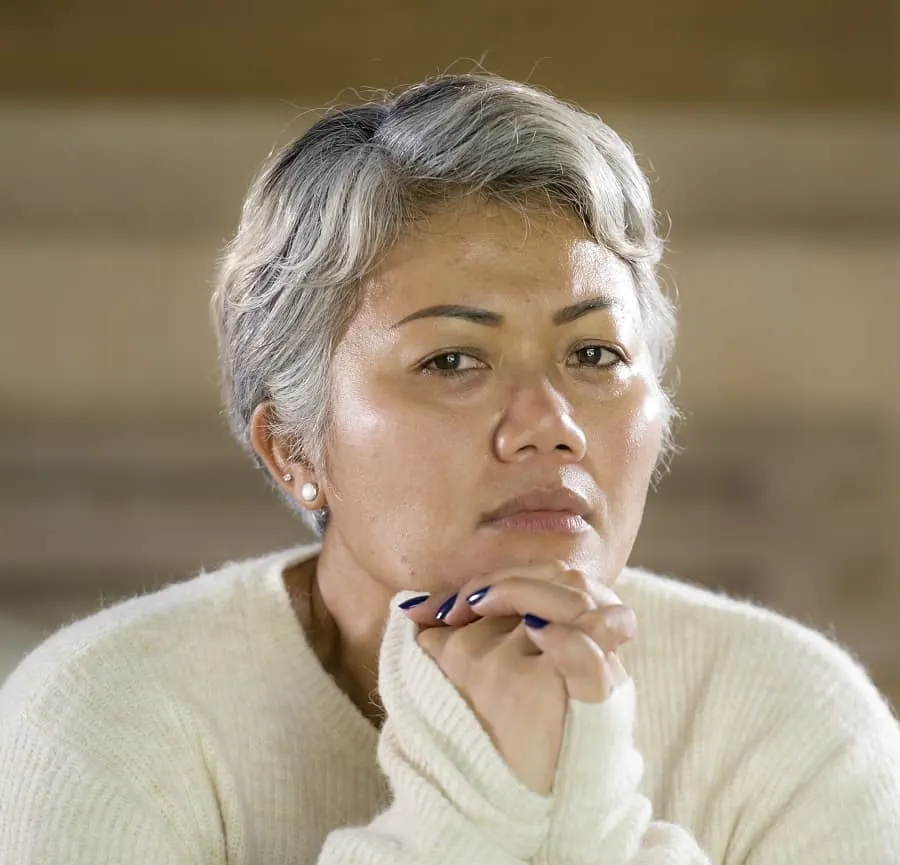 Asian ladies getting on in years can flaunt their salt and pepper mane with a short haircut like pixie. The long side-swept top tapers towards the sides and back while the front fringe is styled in a subtle S-shaped wave. Spice up the look with silver highlights and you won't regret it.
7. Highlighted Curls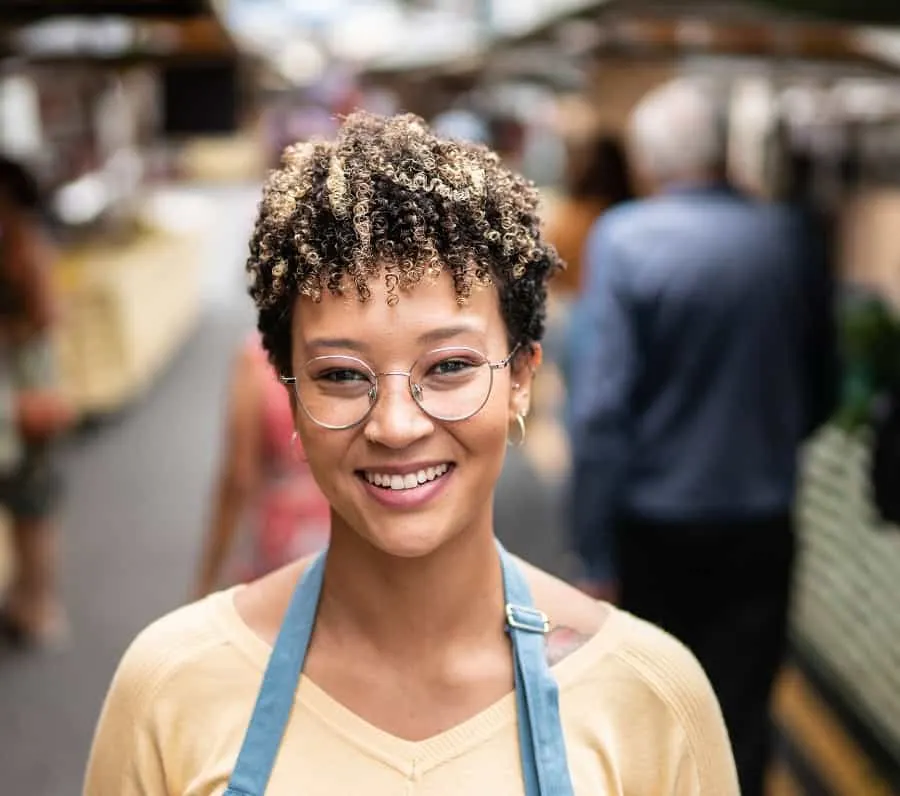 Lucky enough to be blessed with 4b or 4c curls? Flaunt them with utmost confidence by clipping the sides short keeping the strands long enough on the top to fall over on the forehead. Finish off with blonde highlights against a dark base shade to set the style truly on fire.
8. Angular Fringe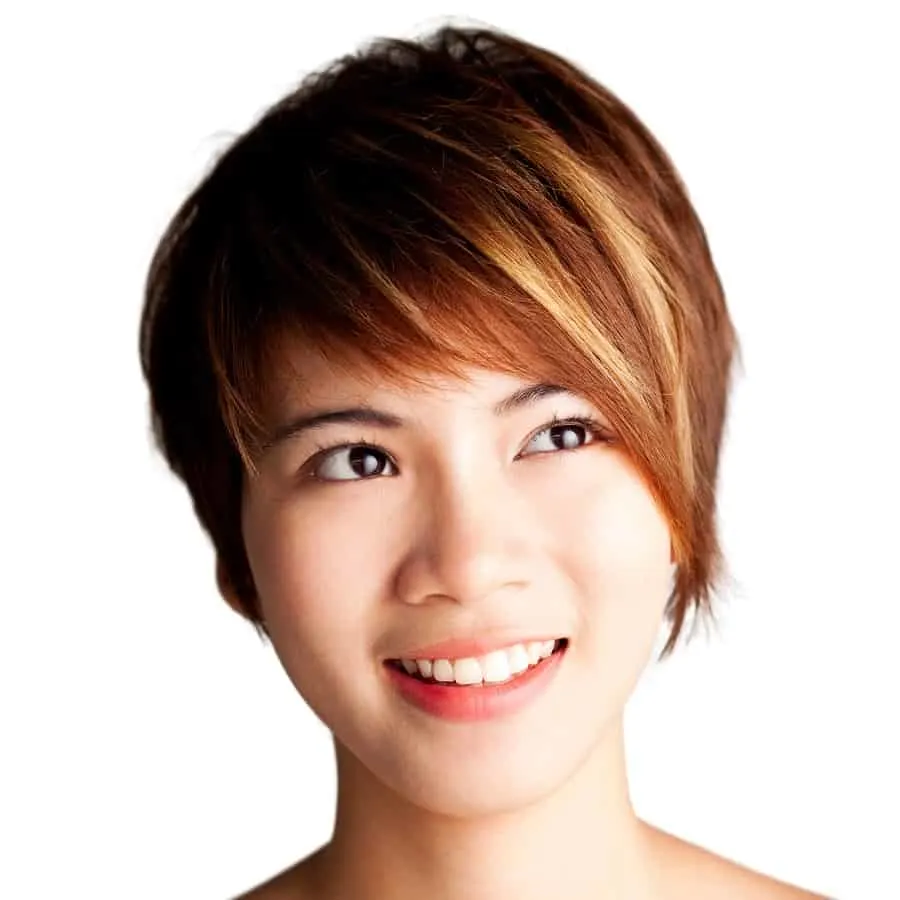 This Asian pixie cut is a must-try this season. Play with the symmetry of your hair while chopping it off and opt for an angular fringe that elongates towards one side of the face reaching the jawline. Add subtle layers and top off the style with blonde streaks. Sassy enough!
9. Bixie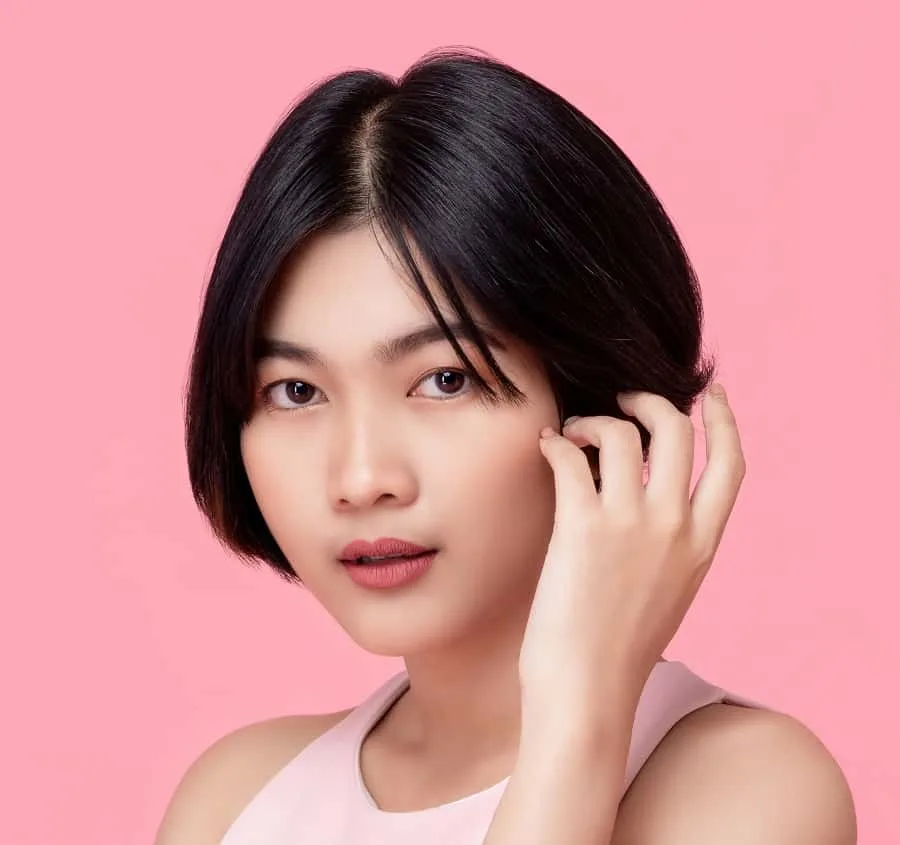 Combine the shortness of a pixie with the round shape of a bob and what you will get is a bixie that is sure to turn around some heads. Couple the style with short curtain bangs while keeping the tresses simply straight or adding curls. Whatever you like!
10. Extra Short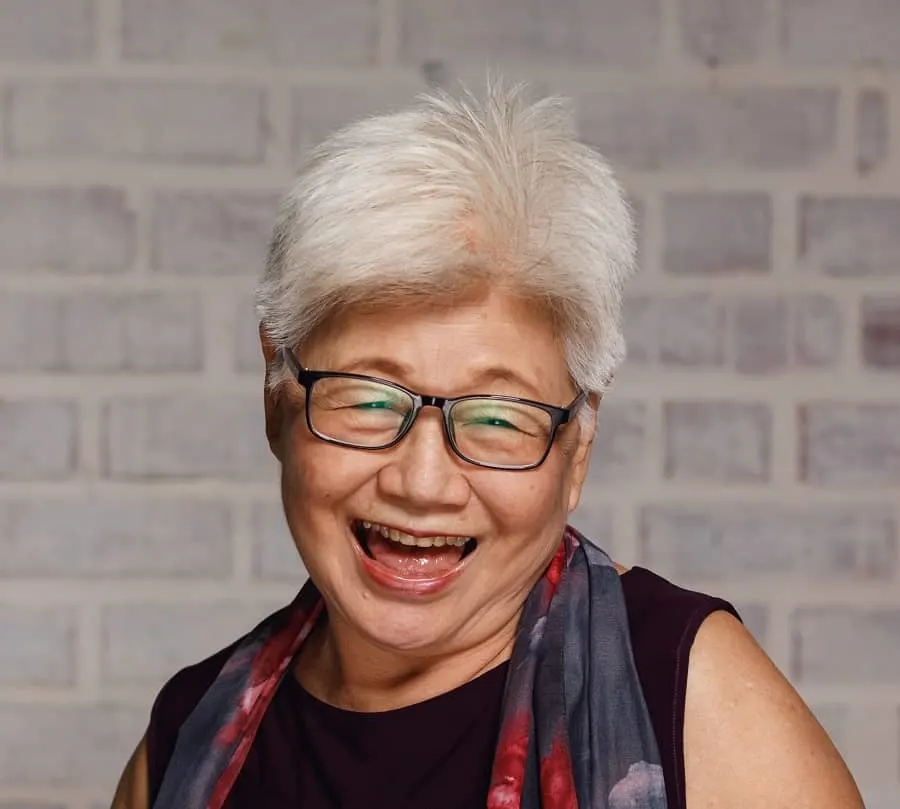 The shorter the hair is the easier it becomes to style. Elderly ladies can shed off some years by clipping their sides extra short with a slightly longer top. Comb the strands sideward sparing those standing upright on the top for a lively appeal or use some hairspray instead.
11. Pixie Faux Hawk
Asian girls can express their wild side with a sexy pixie faux hawk. Shave the temples and gather the long strands on top in the center creating razor-sharp spikes using some gel or pomade on the fingers. Amp up the look with purple highlights and get ready to rock!
12. Asian Pixie with Fringe Bangs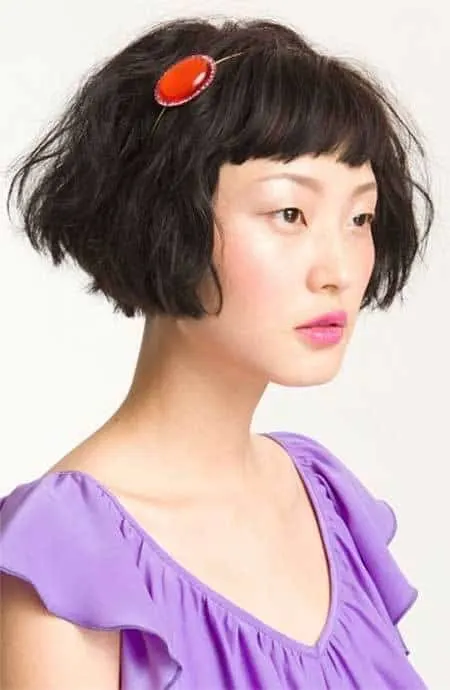 Fringe bangs once paired up with Asian pixie will look great on women who wish to stand out. If you prefer super comfy and easy to style hair designs know that this pixie cut doesn't demand any product and that it can fall loosely on its own and look this good!
13. Pixie Cut with Long Bangs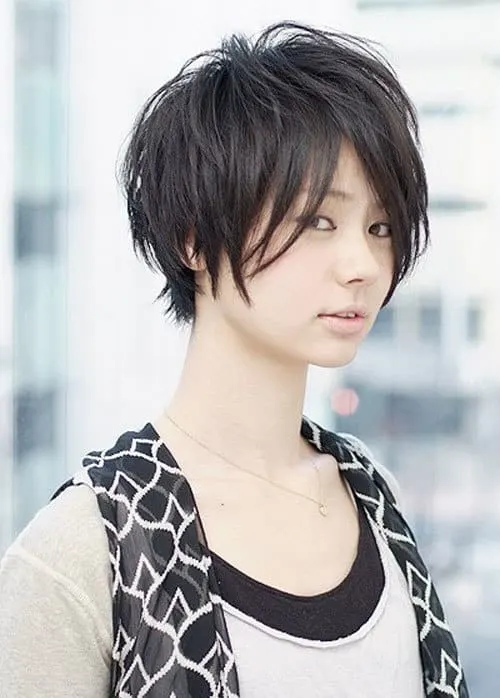 Longer bangs are ideal for women who want to seamlessly make their forehead appear smaller. Also, these bangs can hide away any redness, unwanted pimples and birthmarks while successfully giving you that fashion-forward vibe. Women in their mid 30s will look the best with this hairdo.
10 Trendy Hairstyles for Japanese Women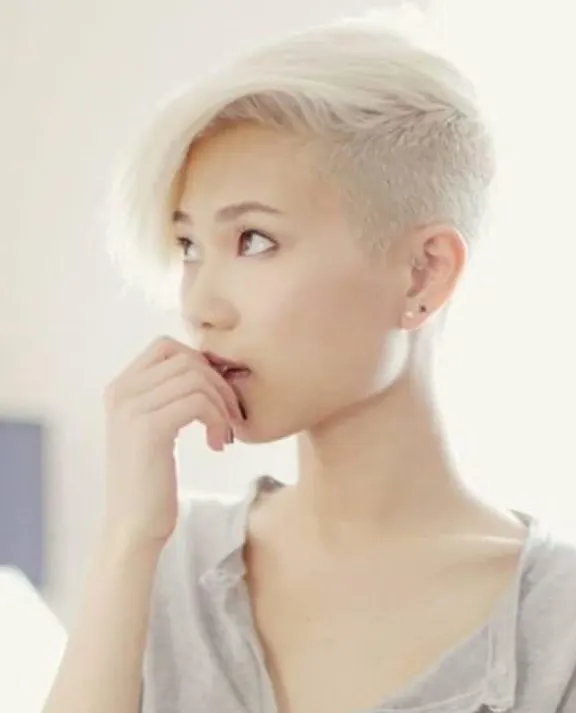 For Asian women who need a touch of 'them' and originality in their pixie cut, this haircut will do the justice! You can shave or feather out your lower bottom, or you can even do an undercut! Once that is done, try to part your hair to one side only and work that perfectly imbalanced, yet unique look.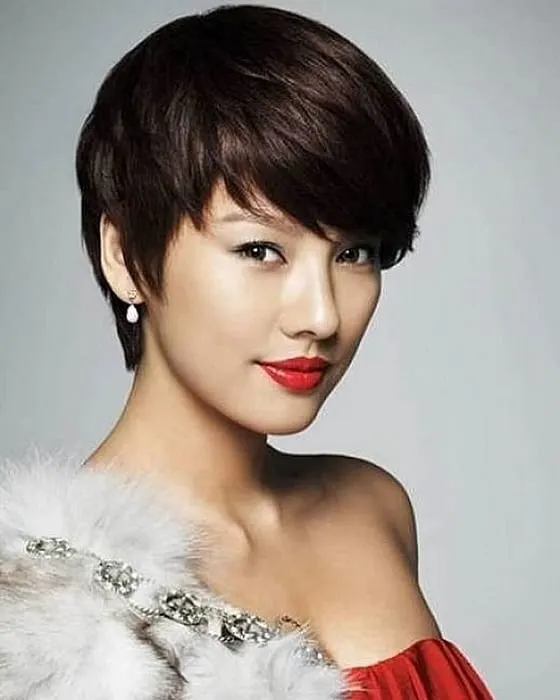 If you are a workaholic and yet you want to look presentable when at work, you can rock this Japanese pixie cut with side swept bangs. It is very strict and formal, but you can spice it up by adding a bright red lipstick and matching it so some silver jewelry. Once you do, you will look professional, yet polished!
16. Filipino Pixie Cut with Curtain Bangs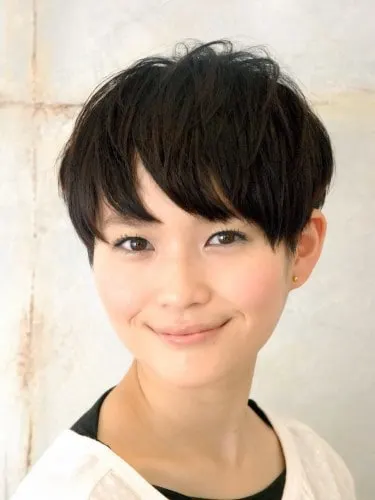 Since eyes are the window to the soul you can and should want to embrace them, and you can do that with curtain bangs. These are a bit more revealing and will focus the center of attention onto the middle portion of your face.
17. Natural and Short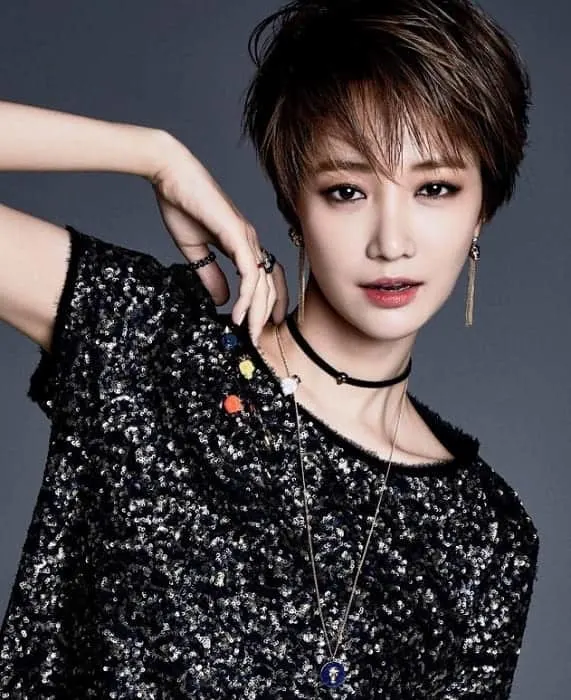 This Asian pixie is your everyday solution if you are a mom on the go. It can be blow dried in 5 minutes, and it doesn't even demand a comb, hairspray, or even some hair wax! It looks natural, and it should be worn by natural beauties.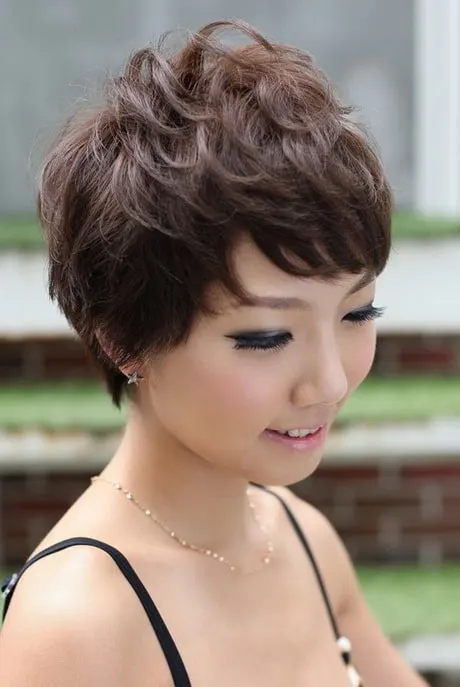 Lastly, this flowy Asian pixie cut is perfect for your next wedding, birthday party, or even for your prom! It has a bit more volume on the top with some slight waves which you can achieve by crunching your hair right after you wash it.
If you are against flat hairstyles make sure you don't forget to curl it the next time you get out of the shower.
Asian pixie cuts will never go out of fashion since every woman will always want to enhance her big eyes with a minimal effort, and the best way to do that is with a pixie cut. If you are someone who prefers minimalistic hairstyles, yet you want to feel feminine & sexy know that pixie is the way to go!