Are you looking for a natural way to color your hair? Henna hair colors are an excellent way for those seeking a more natural solution for coloring their hair. They are a great alternative to synthetic hair dyes and are far better for the environment.
Henna hair coloring offers hair a wealth of benefits, including manageability, increased thickness, improved texture, and glorious shine.
What Is Henna?
Henna is a natural permanent hair dye used worldwide for its hair benefits. It's free of chemicals and dates back thousands of years to Ancient Egypt.
Henna can also be used to dye eyebrows, mustache, and beard. It's becoming more popular in the West due to its natural benefits. While it can't achieve as much coloring as a traditional dye, henna can improve hair texture and treat dull and damaged hair.
The application process is longer than traditional dye and can take anywhere from 15 to 24 hours. First, the mixture must rest for about 8 hours, then sit on the hair for an additional 4-10 hours.
The Lawsonia pigment molecule will bind to the hair and over time improve its texture. As the color fuses, more molecules will interact with the hair, resulting in natural hair color.
Benefits of Henna Hair Dye
All-natural ingredients derived from the Lawsonia inermis plant ensure no chemical exposure.
It boosts hair strength, reducing breakage and hair loss.
Henna enhances hair shine, making it look healthier and more vibrant.
Henna promotes hair growth by nourishing hair follicles.
It balances scalp pH levels, reducing dandruff with its anti-parasitic and anti-fungal properties.
It conditions and softens hair, providing a smoother texture and improved elasticity.
Henna rejuvenates dull, damaged, and dry hair.
It fades gradually, avoiding harsh lines as your hair grows out.
Henna offers a natural color, with shades ranging from light red-blonde to orange hair tones.
It can be customized with additional natural ingredients for various shades.
Henna is suitable for all hair types, including curly and textured hair.
It's eco-friendly. Henna uses plant-based ingredients and has a low environmental impact.
Disadvantages of Henna for Hair
Henna is a permanent hair dye and doesn't fade off quickly.
Unless used with other natural herbs like indigo and amla, henna on its own is reddish-orange dye.
The application process is a bit longer compared to box hair dye.
Not all-natural products are suitable for everyone. It is best to do a patch test prior to the application.
Henna Hair Dye Vs. Traditional Hair Dye
There are three key differences between henna hair dye and traditional dye.
Henna coats the hair strands, while traditional hair dye penetrates the shaft and alters the pigmentation within the cortex of the hair.
Henna doesn't lift natural hair color but rather deposits color naturally onto the hair.
Traditional hair dye can be too harsh for sensitive scalps and allergies, whereas henna is a gentle and effective alternative to natural dyes.
Types of Henna Hair Dye
There are three main types of henna: natural, neutral, and black henna.
Natural Henna: Made from the leaves of the Lawsonia plant, natural henna produces a rich brown-red stain when applied to the skin, which can last for up to a week. It is a pure form of henna and is often used for body art and hair dye.
Neutral Henna: Cassia Obovata, also known as neutral henna, is not pure henna powder but rather a different plant called Senna Italica. It has a similar appearance to natural henna but does not change the hair color on its own.
Black Henna: Unlike natural and neutral henna, black henna is not pure henna. It is a combination of Indigo, natural henna, and other unlisted dyes or chemicals, such as para-phenylenediamine (PPD). It is often used for henna hair dye.
However, the use of black henna can lead to severe allergic reactions and scarring, and the FDA specifically forbids PPD to be used in skin and hair products.
How to Pick The Right Hair Hair Dye
When choosing a henna hair dye, consider the following factors:
Ingredients: Look for pure henna powder or henna mixed with natural ingredients like indigo, amla, and other herbs. Avoid henna products that contain synthetic dyes, additives, or chemicals.
Color: Henna comes in various shades of red, from copper to burgundy. Some henna products may also contain other natural dyes like indigo for a darker color. Choose a shade that suits your skin tone and hair color.
Quality: Opt for high-quality henna that is fresh, finely sifted, and has a high dye content. Poor-quality henna may result in a weak or uneven color.
Brand: Choose a reputable brand with good reviews and a track record of producing quality henna products.
Application: Consider the ease of application and the time required for the dye to develop. Some henna products require several hours to achieve the desired color, while others offer quicker results.
Sensitivity: If you have sensitive skin or allergies, choose a henna product that is gentle and free from irritants.
By considering these factors, you can select the right henna hair dye for your hair and achieve a beautiful, natural-looking color.
How to Apply Henna Hair Dye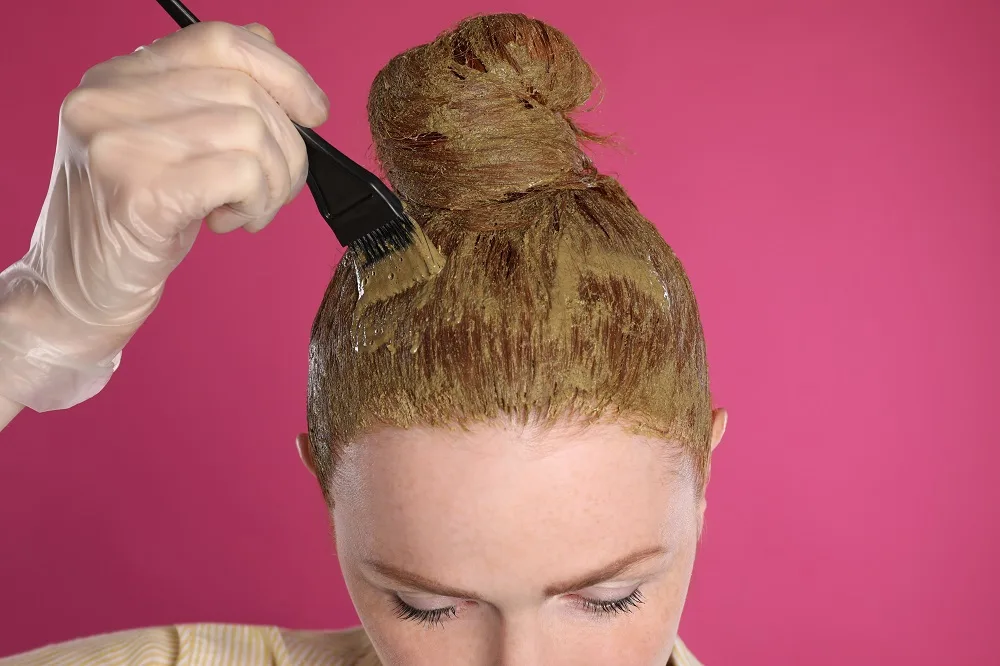 Here is a step-by-step guide on how to apply henna hair dye:
Clean your hair: Before applying henna to your hair, make sure it is clean and free of any oils.
Mix the henna: The amount of henna powder you need depends on your hair length and texture. Mix the henna with warm water until it becomes thick and homogeneous.
Wear old clothes: Wear an old shirt to avoid staining your clothes. Also, be careful of your surroundings.
Brush your hair and make partitions: Brush your hair to make it tangle-free and divide it into four sections. Tie three sections and leave one section down to color first.
Apply petroleum jelly and wear gloves: Apply petroleum jelly or Vaseline to your hairline and wear gloves.
Apply the henna mixture to hair: Apply the henna mixture with the help of a coloring brush, starting from the section you left untied. Apply the thick coat of henna on the hair, from the ends to the roots.
Wrap your hair: After application, wrap your hair with saran wrap for better development of the color.
Set the timer: Set the timer for 2-3 hours for henna and 1-2 hours for hair treatment or conditioners.
Wash your hair: Rinse your hair with normal water after the timer goes off. Use conditioner to help you out while rinsing. The henna color will continue to darken for 2-3 days, so avoid shampoo for 48 hours after rinsing.
How Long Does Henna Hair Dye Last?
Henna hair dye can last from four to six weeks, depending on hair porosity. The dye lasts longer on porous hair and fades nicely as it grows out. Regular henna use can build up color over time, resulting in a more vibrant and long-lasting hue with each application.
Trendy Henna Hair Color Ideas
It might surprise you that henna hair colors are not limited to brown for those considering henna hair coloring. This byproduct of a flowering shrub is available in many colors and benefits hair health. Here are 25 henna hair color ideas for you to consider.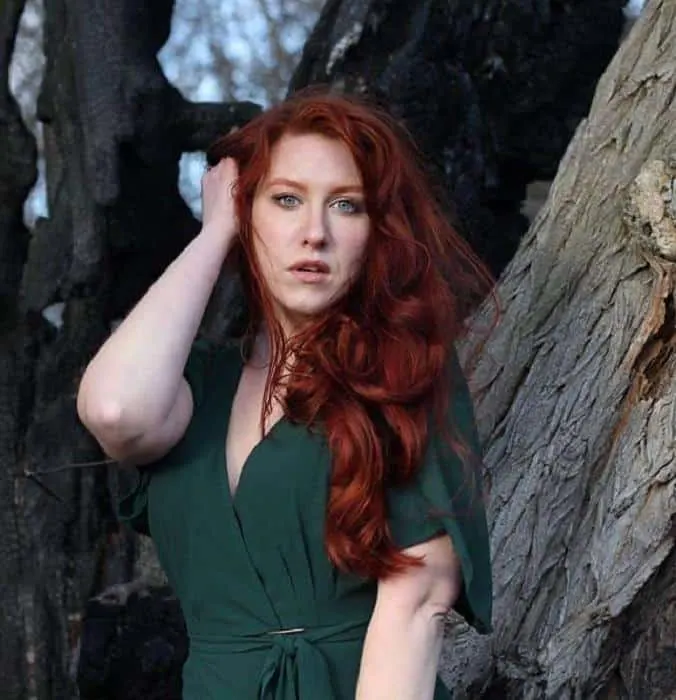 Wine red hair henna color is a member of the burgundy family. Those who want subtle hair color which will push them to the edge, this henna is a perfect choice. It's a perfect solution to all your holiday blues and gives your overall look a lively and sexy punch.
Wine red is more of a sexy mom's color! Make your long and sleek hair look more gorgeous. Note: if you are a GOT fan, this redhead look is waiting for you!
#2. Ginger Red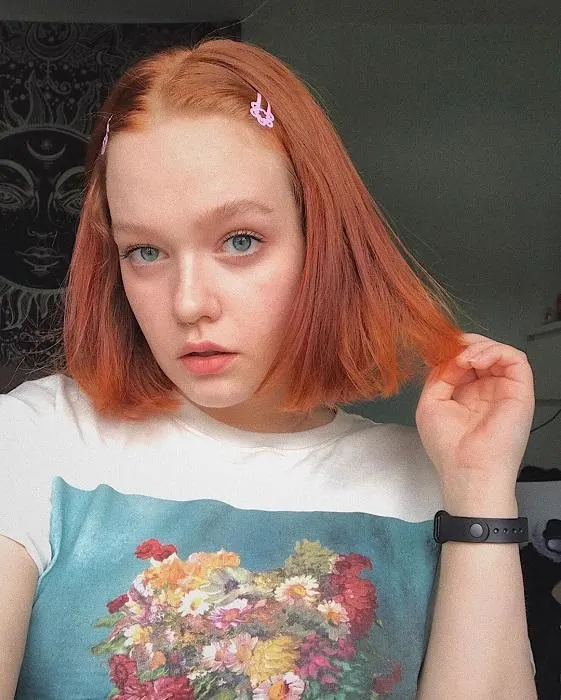 Want a chic redhead look? Ginger hair on a bob cut looks very classic and sensual. This henna hair dye is perfect for a sexy high-school look.
This color can accentuate your facial features and make you stand out in the crowd. Ginger red is a perfect winter blues' color that you can wear with almost any look.
#3. Walnut Hair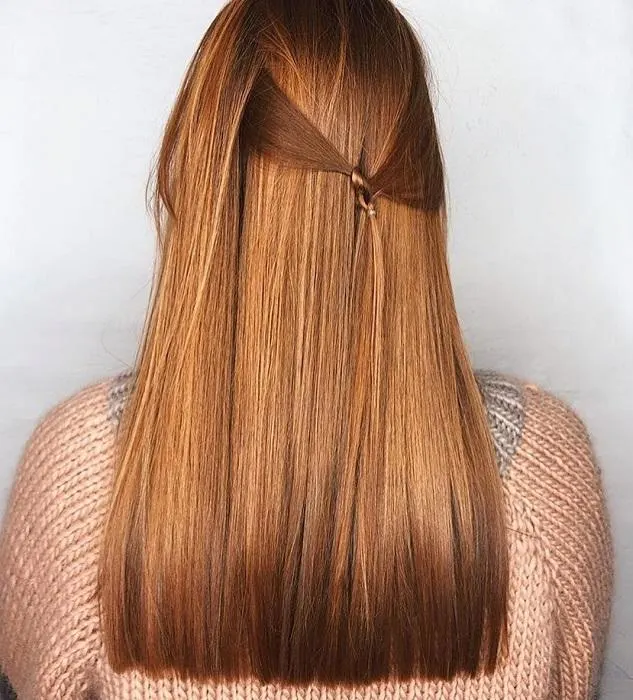 No color is more perfect for blondies than walnut hair. Long, sleek, straight walnut hair accentuates the fair skin color and features.
A perfect blend of blonde and brown, this color is fresh, bold and one of the most popular henna shades worldwide. Walnut hair color is the best way to enrich your natural blonde hair without looking overdone.
#4. Burgundy Hair
Burgundy henna color is getting more popular with time. The richness of this color gives one a royal effect that stands unmatched among all other hair colors.
Burgundy hair color has a certain sex appeal of its own. Also, if you are new to hair dyeing, this color is a safe option. Enjoy the subtle highlight with burgundy and go colorful.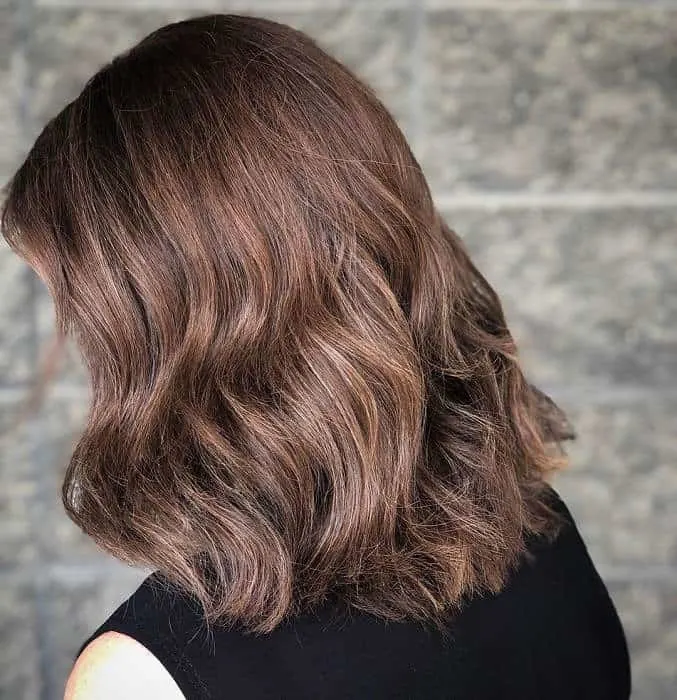 Olive-skin-toned women can perfectly enjoy vibrant chocolate hair. This henna shade adds more dimensions and depths to hairstyles.
You can choose any shade from the long list of chocolate brown dyes, ensuring it goes well with your skin tone. Chocolate brown henna is one of the beloved colors of brunettes with medium-length hair.
Adding more diversity to the family of blonde shades, copper blonde is yet another henna hair dye with a characteristic punch. This color is a perfect blend of blonde with yellow tint.
Blonde henna is the best option for those women who want to give a kick-out to their otherwise natural blonde base hair. It gives a subtle peachy hue to the blonde hair roots and intensifies the look.
Recommended For You:
#7. Fuchsia Hair
Fuchsia henna color is a punch of pink with a tint of red in it. It goes perfectly smooth on back base hair, creating a blend of dark colors.
Bold and young girls with sharp features must try this hair color because not everyone can do justice to this fantastic tint. Don't forget to maintain the look with high-shine products. It's time to embrace cool and funky hair!
Chestnut hair is perfect for summer, fall, and spring. The warm chestnut hue adds new dimensions to one's hair, making one's naturally black hair a sunkissed look.
Sleek medium-length hair gets more depth with chestnut henna ideas for women. Moreover, chestnut har is a perfect choice if you want a subtle hair color ideal for every look. Go natural and effortless with chestnut hair.
#9. Golden brown hair
A golden-brown dye is yet another subtle hair color for moms who want style with a natural look. However, young girls do not make any exceptions.
Shoulder-length dark brown or black hair makes the perfect base for golden brown henna. Like other shades of browns and blondes, this hair color is ideal for fair-toned skin.
#10. Sunset hair
Sunset hair looks terrific! The way this henna hair color gets brighter down the hair length will leave you in awe. Long and dark brown hair makes an ideal base for this henna shade, giving it enough length to evolve into a livelier shade. Ocean waves will accentuate the look and turn all the eyes towards you.
Copper brown henna hair color is a fantastic option for those seeking a vibrant but muted version of a blend of red and brown tones. Copper brown henna loves the sun and is an excellent natural color.
#12. Caca rouge henna
For those with strawberry blonde hair, caca rouge henna is a beautiful way to enrich your natural colors. Caca rouge gives hair a gorgeous red and auburn color.
#13. Indigo on black hair henna
Indigo on black hair gives a lively hair look as a result of this henna hair color. This color works well for most brunettes. The longer the henna remains on hair during the application process, the darker it becomes.
Does Henna Loosen Up Curl Pattern?
#14. Ginger blonde henna
Ginger blonde henna hair color is a definite rival of the copper, so choose your colors wisely. Know which end of the spectrum you're seeking.
#15. Persian blonde henna
Persian blonde henna color brightens hair and celebrates highlights.
#16. Platinum blonde henna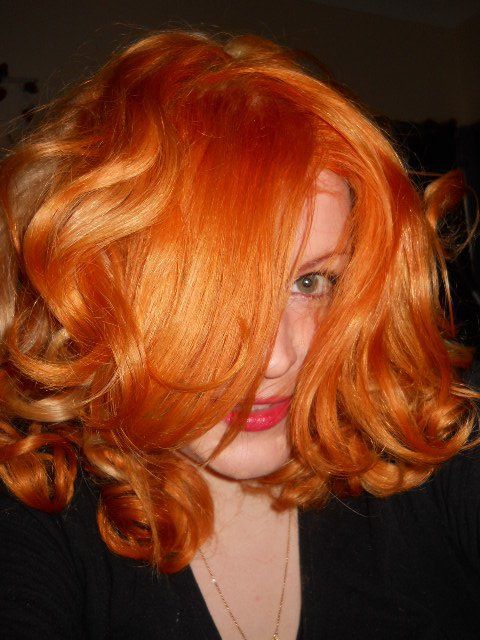 Becoming a platinum blonde is not easy. Platinum blonde henna coloring takes you one step closer to achieving that look.
Auburn color is yet another safe choice for those not looking to make bold statements with their hair color but looking for a change in their overall appearance.
#18. Mahogany henna
Mahogany henna hair color is a fantastic deep brown option for those not looking to be a dark brunette, but not trying to be a redhead.
#19. Basic brown henna
Looking for a pure henna color? Basic brown color might be the option for those trying to avoid drastic hair color changes.
Related: Can I Perm Henna Hair?
#20. Light brown henna
Light brown hair color can be complementary to those trying to lighten their otherwise dark tresses.
#21. Dark brown henna
The dark brown henna color, as seen here, gives hair a richer color that is flattering to those with lighter brown tresses.
#22. Black henna
A black henna hair color is a fantastic option for those seeking darker locks. This beautiful, smoky option is an excellent way to reinforce hair with additional depth that is already dark.
The perfect definition of plum hair is "Burgundy with a tint of brown accentuated by a sun-kissed look"! Long sleek hair with ocean waves and plum henna sounds like a fairytale.
The shine of this color makes it stand out. For those women who want to try subtle burgundy hair with added depth, plum hair is a perfect choice. Moreover, this hair color looks good on all skin tones and hair lengths.
#24. Maple Hair
Maple henna hair dye is a competitive rival of brown. The way it adds flow and depth to the natural hair color makes it one of the preferred hair colors. However, choosing a good-quality henna color is the basic condition for perfect maple hair. Give a natural maple punch to your hair and oomph up the glam.
#25. Bordeaux hair color
Bordeaux hair color is a subtle version of plum. It gives a lift to naturally dark brown base hair. Bordeaux is trending as one of the hottest hair colors; you need to get your hands on it before it gets mainstream.
High-shine products will maintain the freshness of this color and make it live long. Girls of all ages can enjoy this subtle yet elegant henna hair color.