Brighten up any room with a hairstyle that all celebrities, modern women and influencers adore to pull off: the exquisite blonde bob haircut.
It's pretty versatile because there are so many ways you can create it, whether we're talking about using your natural hair or a weave. You can style it with or without bangs, curls and waves, with undercuts or ombre, it's all up to you!
Blonde Bob Hair Looks
Blonde bobs are sexy, modern, and sassy! They can quickly transform you into a pretty hot girl and you can get your inspiration from celebrities like Kim Kardashian or Taylor Swift, who often get this hairdo!
Convince yourself by browsing through these fabulous hairstyles and book an appointment at your favorite hairstyler.
1. Blonde Balayage Bob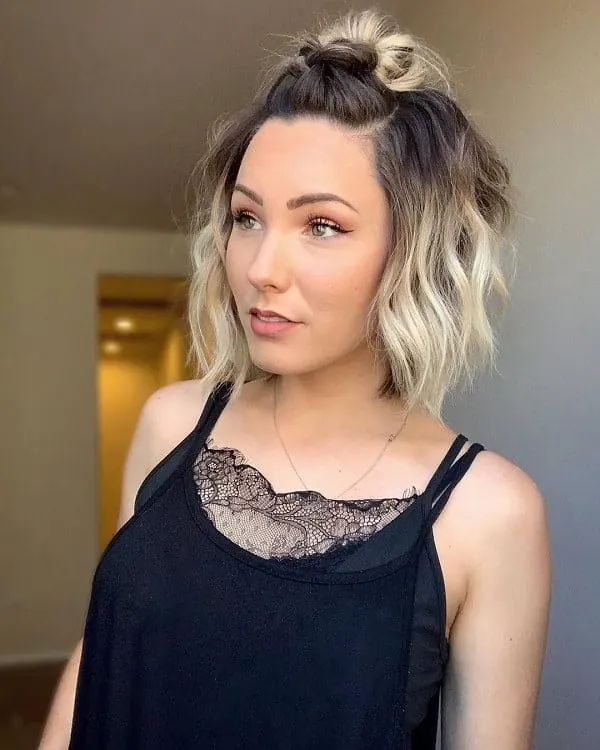 One of the best things about the balayage is that even if the hair starts growing, it will only look cooler! It allows you to rarely visit the hair salons because the ombre keeps the hair in gorgeous shape.
Get an inverted bob and style a bun on top of your head if you want a modern relaxed look!
2. Blonde Bob with Bangs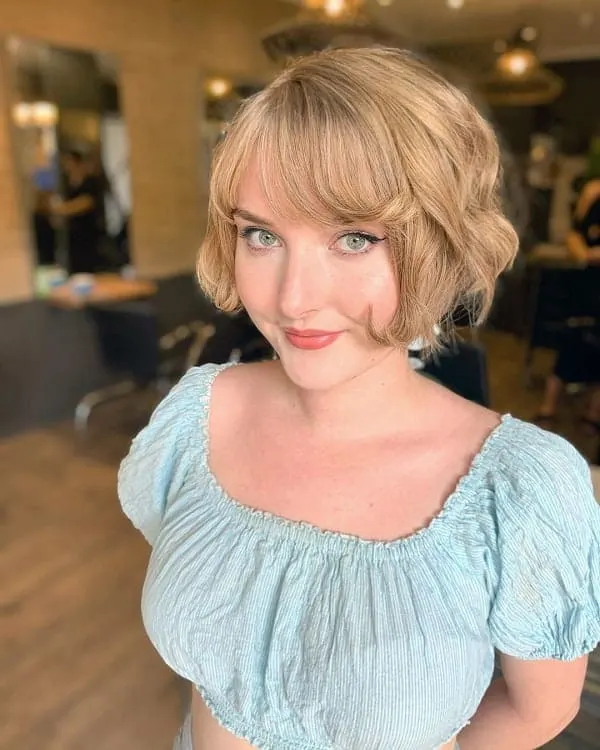 Champagne blonde colors marvelously suit women with pink or pale skin. This fantastic hue gives your hair a mesmerizing texture and the curled bangs and tips provide loads of dimension. Spread the fringe on your forehead to pull off this retro look.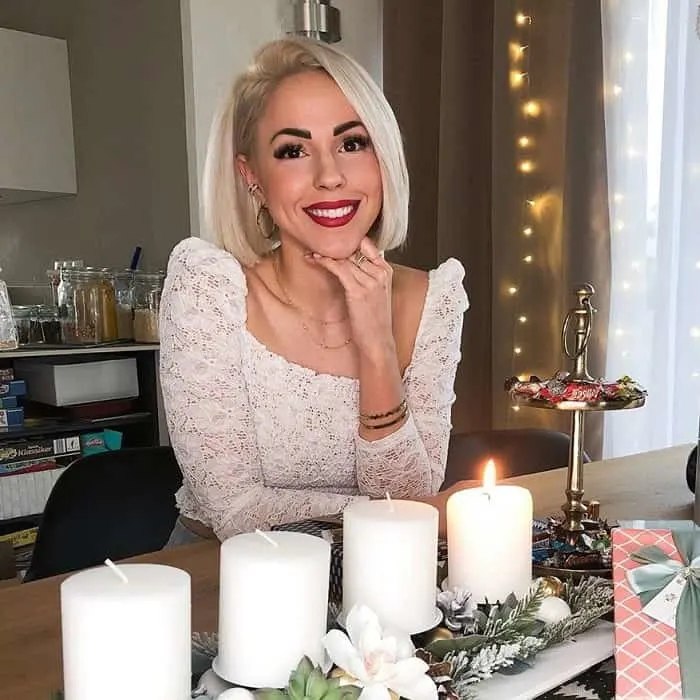 To recreate this fantastic shoulder-length platinum blonde bob look, get a blunt bob and flip the bangs on one side. Take the temple hair and flip it over the ear. Wear it with red lipstick if you want to obtain a breath-taking look.
4. Blonde Weave Bob
It's pretty hard to go from dark Afro-American hair to straight blonde strands. If you don't want to put pressure on your hair and damage it, you better start searching for a weave. If you apply it correctly, it will do the trick and radically change your look.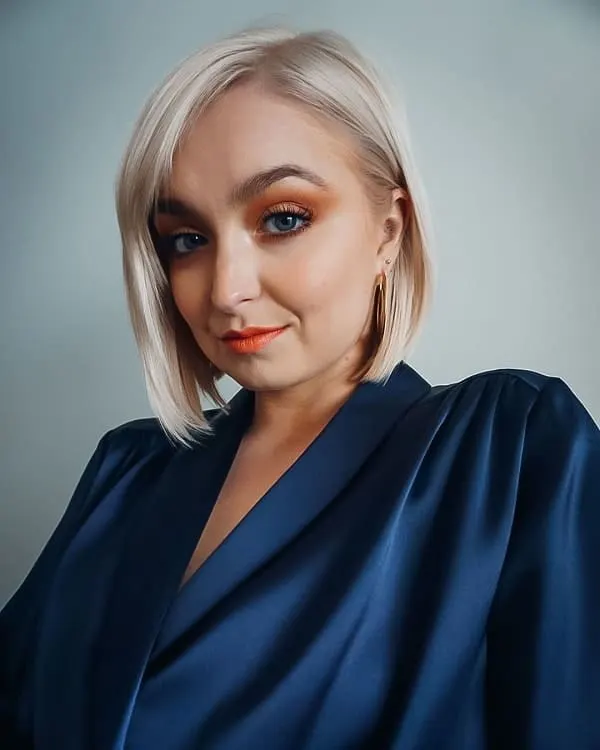 When having fine hair, you always have to find clever ways to make it stand out, while getting more volume and texture. With this blonde bob cut with layers and bangs, you will get that astonishing straight-line bob that gorgeously frames the face.
6. Bob for Women Over 50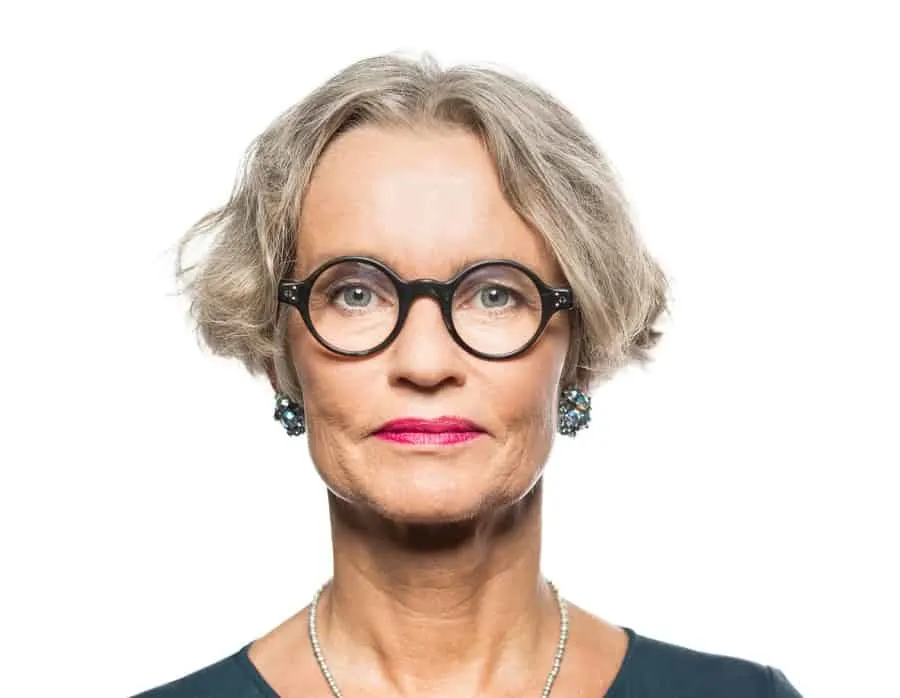 Blonde bobs are not only a young woman's game. Older women can rock a bob as well. If you want a bob cut but aren't interested in the sweeping side bangs, you can style your hair with a middle part. This style is great for framing your face and eyes.
7. Ponytail Bob
If your bob is getting longer, you might find yourself in that uncomfortable in-between where you can't think of new hairstyles for the added length.
Instead of staying stuck, try a cute ponytail or side-pony. In addition to getting your hair out of the way, it also shows off your length without changing the bob style.
8. Bed Head Look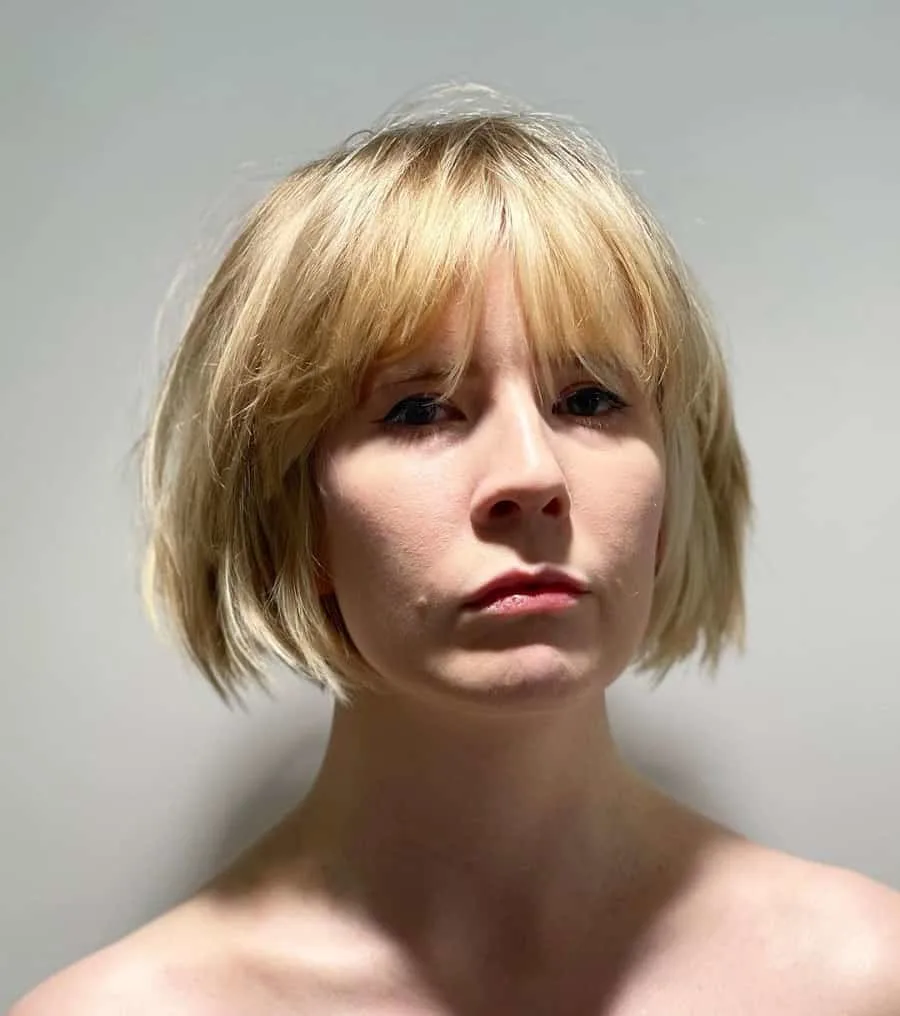 A messy bob is a perfect style for women who want low-maintenance hairstyles. With a bob, you have less hair to stress over. Run your fingers through your hair to muss it up, which adds body, bounce, and a little personality.
9. Box Braided Bob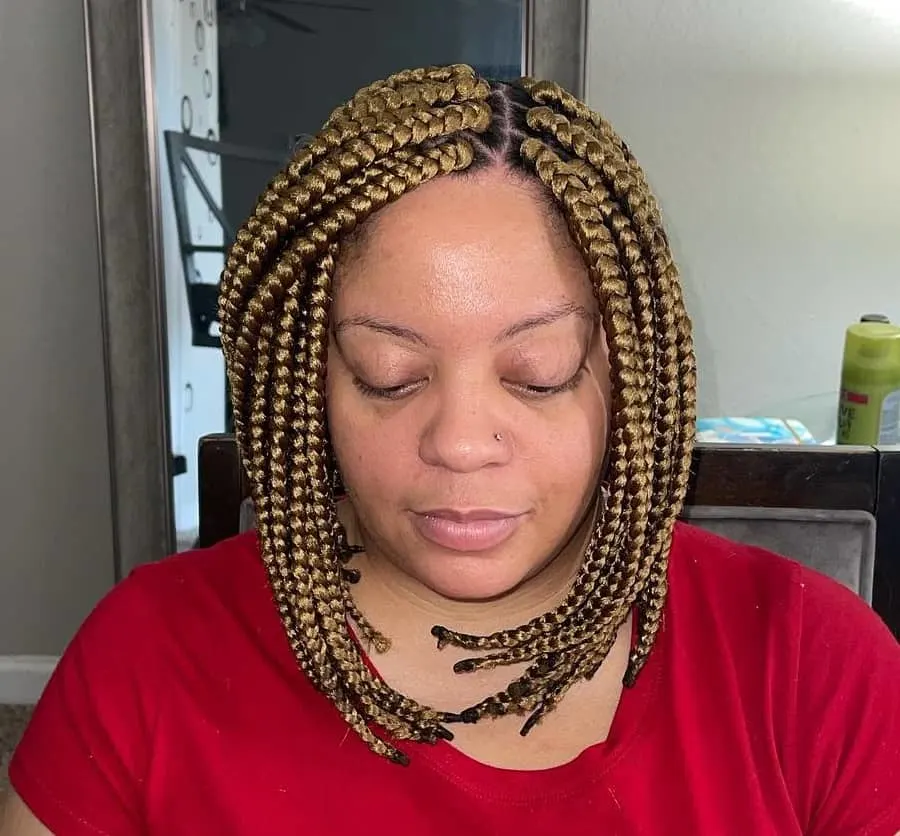 If you have box braids, you can style them into a bob. Shorter box braids are a great way to protect your natural hair while also keeping your braids manageable and out of the way.
You can layer your blonde braids to create a chunky bob or keep their length uniform if you want a sleeker look.
10. Undercut Bob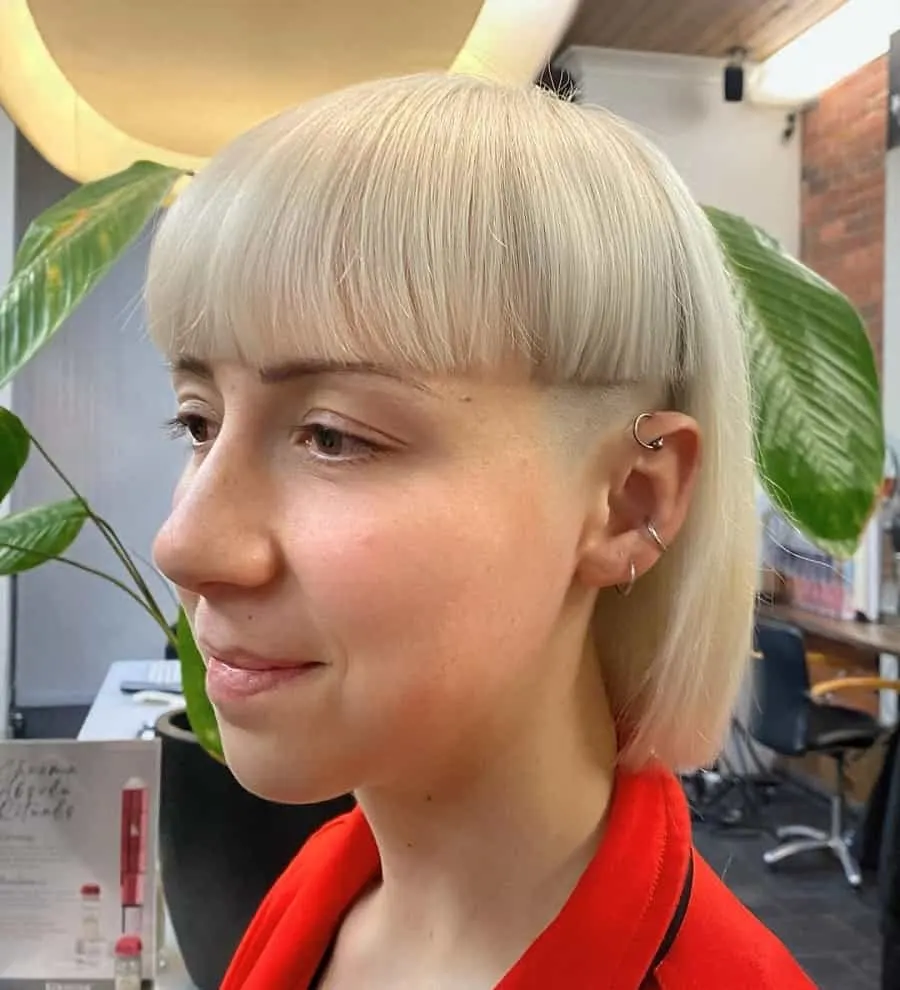 The undercut has become a popular hair trend with young millennials. In addition to giving women an edge and an androgynous look, undercuts are perfect for people with a whole lot of hair.
They keep women cool by thinning the hair, making it a perfect style for the summer. Try adding an undercut above your ear or at the nape of your neck to give your blonde bob an extra edge.
11. Blonde Dreads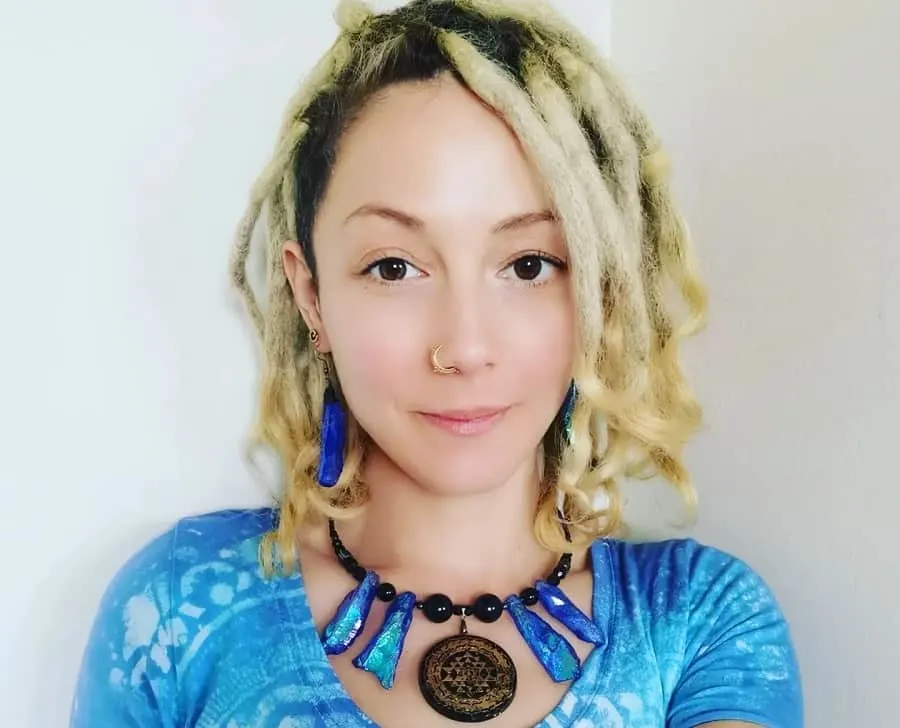 Anyone from a culture where dreadlocks are the norm knows how to keep their locs tidy, well-oiled, and styled.
If you like Viking-style locs, consider shaping them into a bob cut. You can maintain your blonde locs with ease while also being able to tuck them behind your ears.
12. Blonde Crochet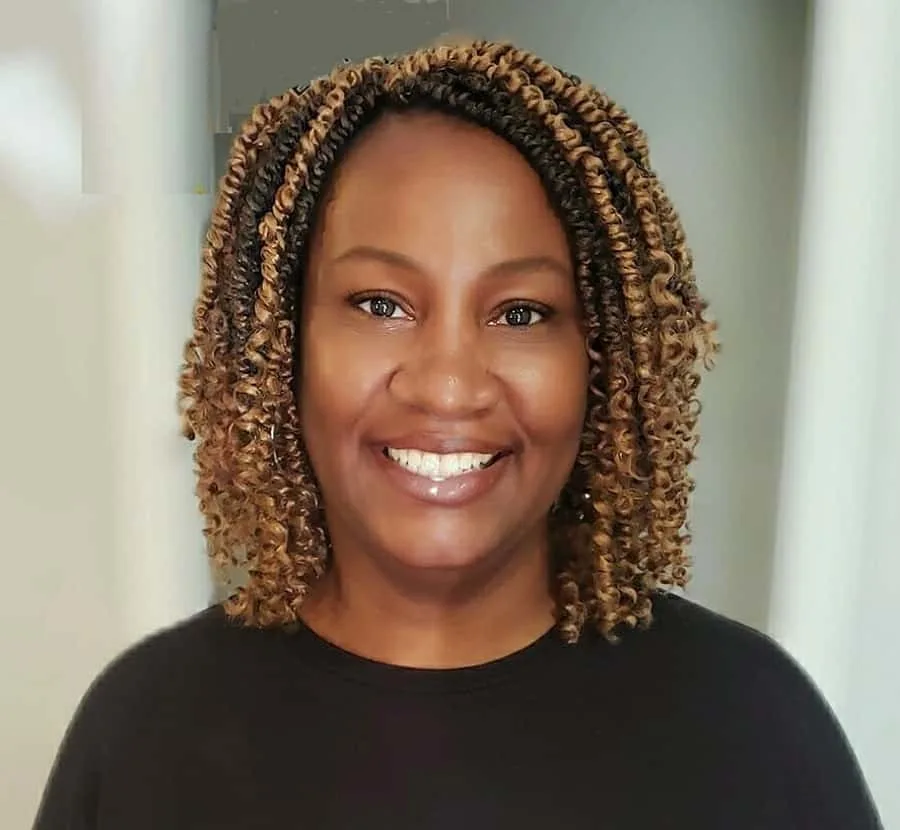 Crocheting your hair is adding extensions that crochet or knit the synthetic hair into your natural hair.
Slightly more natural-looking than something like a Havana twist, crochet braids are sometimes difficult to spot. You can style your blonde crochet into a bob shape for a youthful, bouncy look.
13. Pixie Bob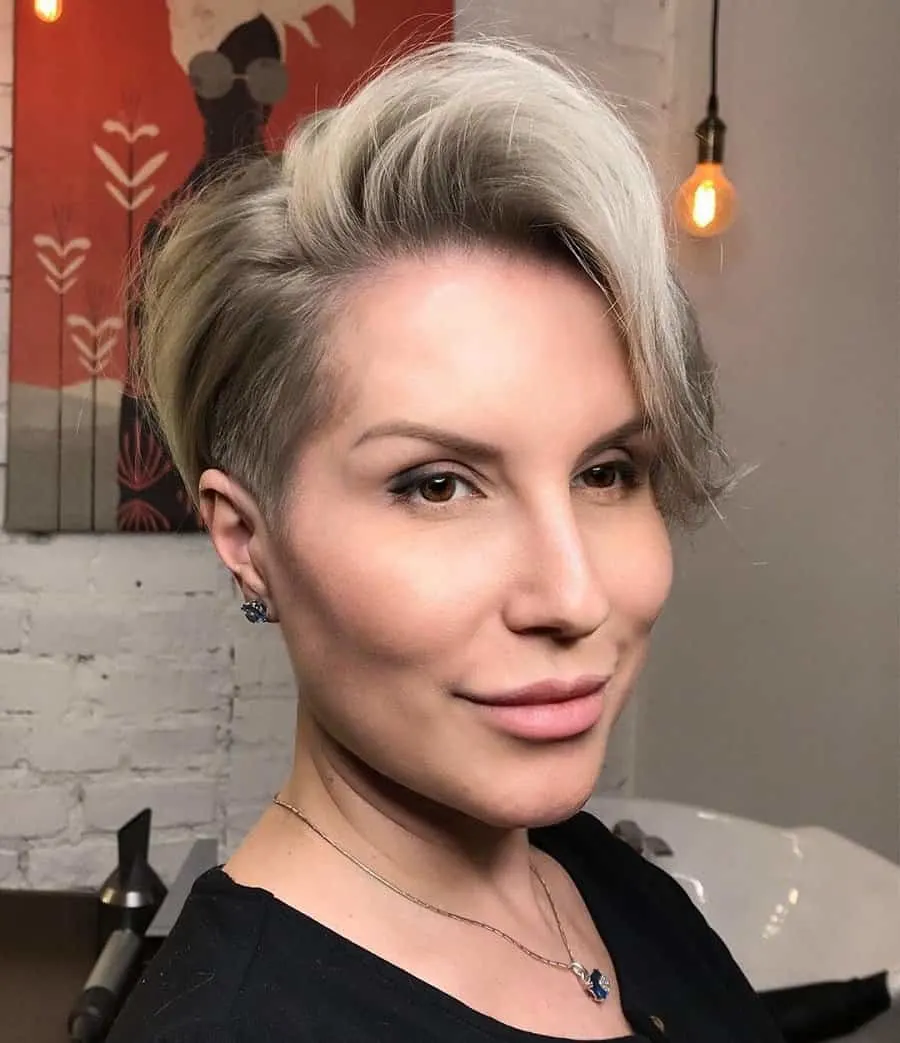 This blonde bob puts the best of both worlds together. Style your next haircut like this by cutting your hair in the front longer than your hair in the back.
You can also take a classic bob and turn it into a pixie bob cut by cutting away excess, as this is essentially a grown-out pixie cut in a bob style.
14. Front Braid
Adding a braid is the perfect way to style your bob while also keeping your hair out of your eyes. Add a small french braid or half-crown braid to the top section of your hair and sweep it down just above your temple. Either bobby pin it down or use a clear band to complete the tidy look.
15. Bridal Bob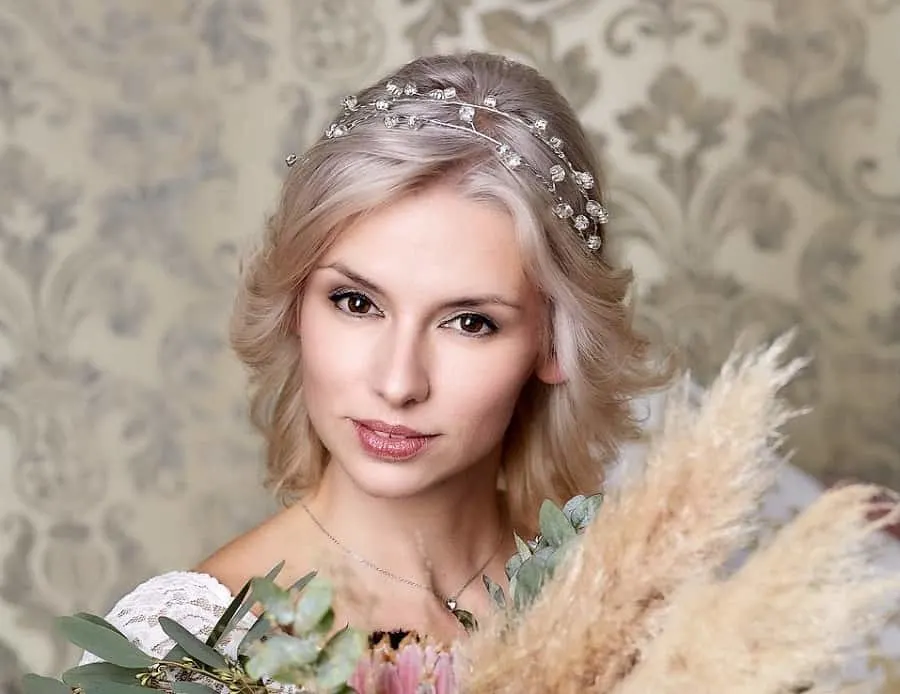 Planning your bridal hairstyle can be stressful, especially if you have less hair to play with than someone with princess-style locks that reach down her back.
Yet bob styles can look elegant and refined in wedding hairstyles, especially if you play with accessories. Try adding a matching sparkling crown or tiara to your blonde locks and curling your front hair around it.
16. Blonde Blunt Cut Bob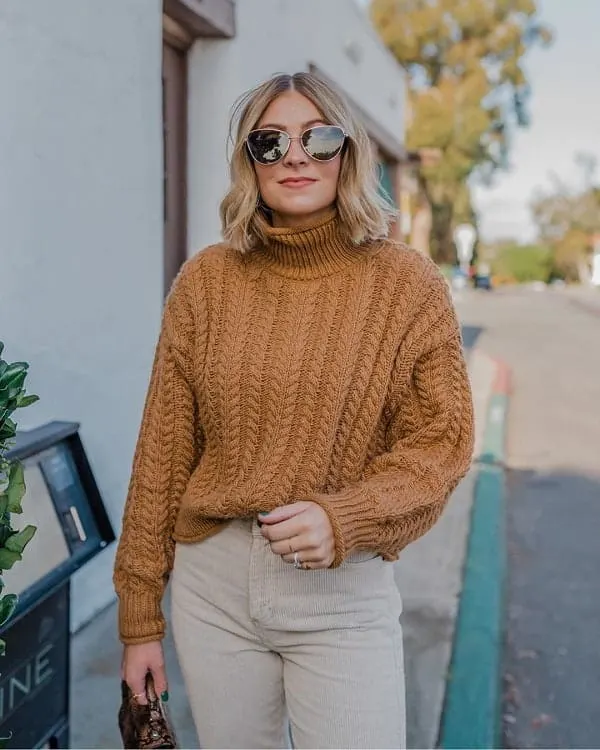 Style a creamy blonde blunt bob hairstyle and for the bangs, create a middle part. Slightly wave the fringe to obtain more volume.
17. Blonde Curly Bob
When you want to give your curls more definition, style a layered blonde bob haircut. Use hair foam to texture each ringlet and to give it movement.
18. Blonde Bob for Black Girls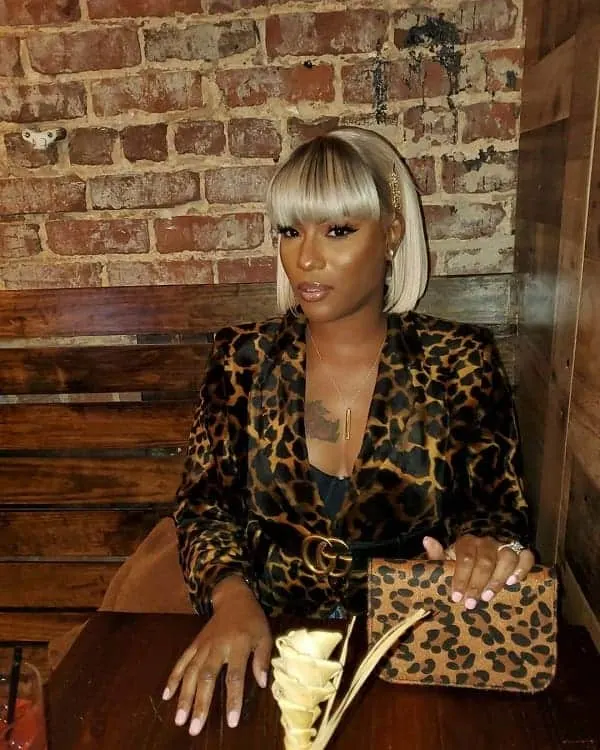 A blonde ombre bob hairstyle is ideal for black girls that want to pull off an elegant fashionable look. Style a blunt bob with bangs that cover the eyebrows and use a big golden pin to secure your hair on one side.
19. Strawberry Blonde Bob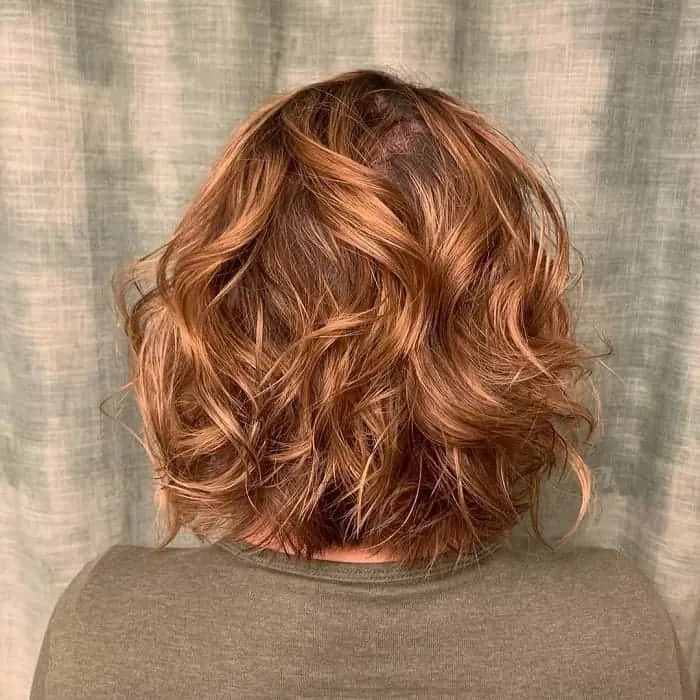 Strawberry blonde bob hairstyles look juicy and are perfect for any season! Every time you want a beautiful color that pops out and defines your hair, opt for this impressing hue and pair it with some loose messy waves.
20. Blonde Inverted Bob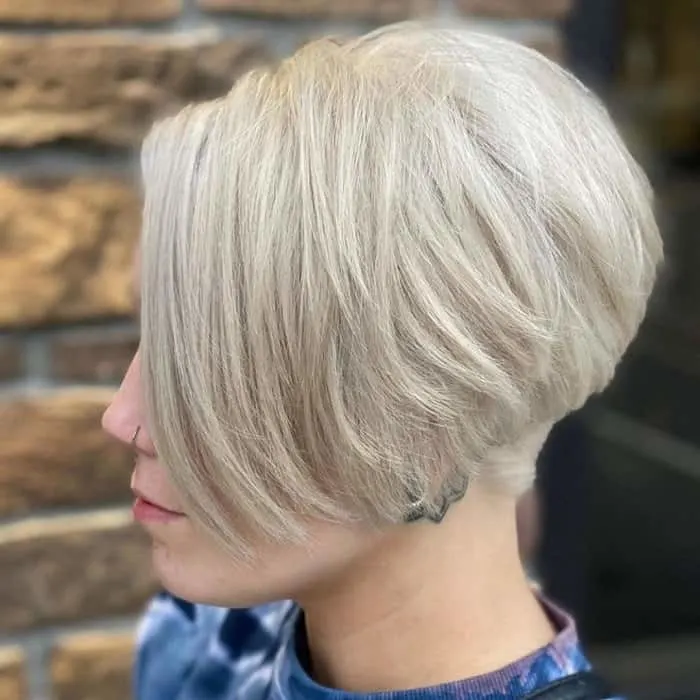 Inverted bob hairstyles have stacked layers in the back, where the hair is shorter than the bangs. Use an ashy blonde hair dye to gain a stunning hair color and toss the fringe on one side.
21. Blonde Middle Parted Bob
Keep your roots in their natural shade and opt for a blonde bob hairstyle that will gorgeously frame your face. Also, style a few loose waves to get the volume we all adore!
22. Choppy Blonde Bob
Loose waves and blonde bob haircuts go hand in hand with gorgeous stylish herringbone hats that keep you warm and, at the same time, look so damn fashionable.
23. Dirty Blonde Bob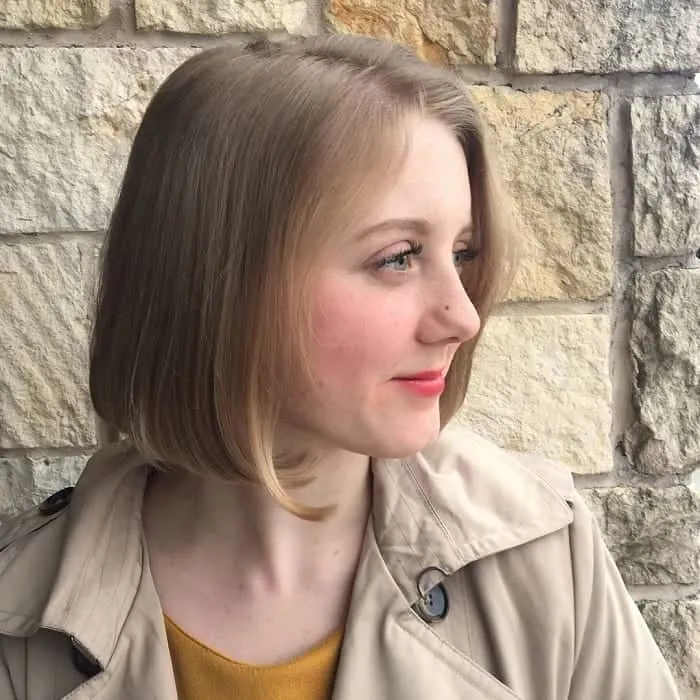 Dirty blonde hair looks so natural, and you can easily upgrade the hairstyle if you opt for a lighter shade to dye the long bangs. This way, when you toss the fringe on one side, you will get a gorgeous frame.
24. Blonde A-Line Bob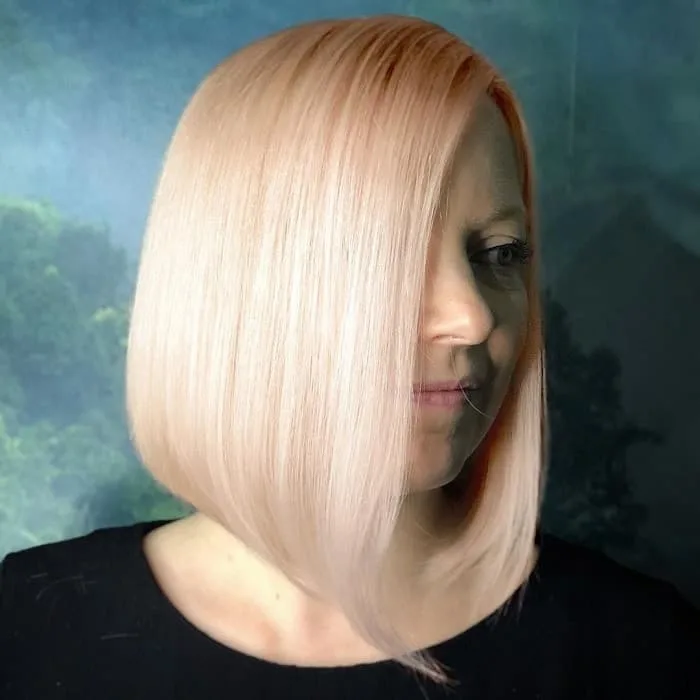 A blonde A-line bob that keeps the hair dyed in a platinum blonde color with a pinch of strawberry shades will certainly make an impression. Slightly round the tips of your bangs to give the hair an elegant effect.
25. Blonde Angled Bob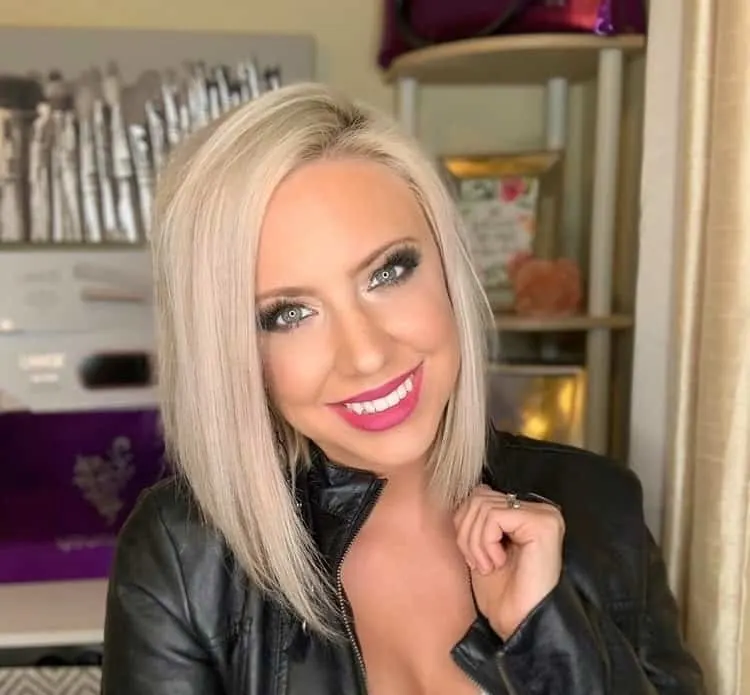 A sandy angled bob hairstyle is ideal for the summer. Keep the bangs longer than the back hair and wear a pink lipstick if you're craving for a sexy, fabulous look.
26. Straight Blonde Bob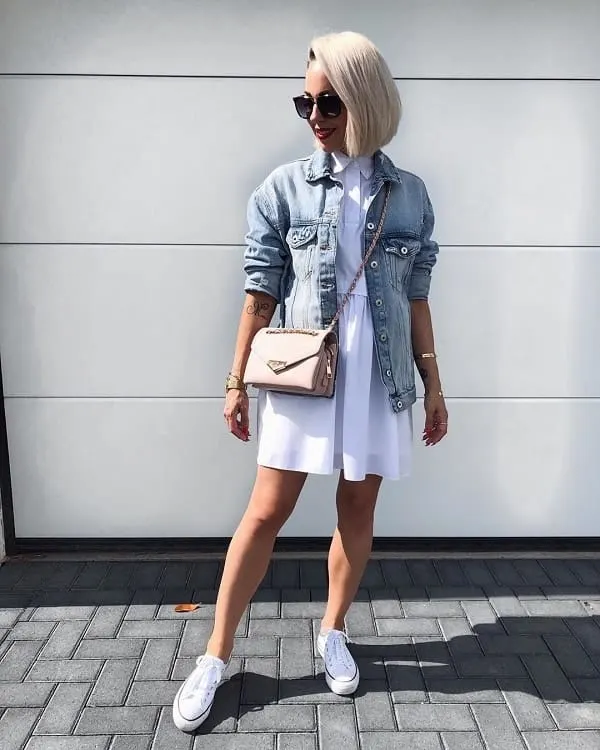 Keep the roots in a dark hue and beautifully transit to an ashy blonde color. Cut the tips in a straight line, make some layers to add volume, and toss all the hair on one side. This look is ideal for warm seasons when you want a cool image.
27. White Blonde Bob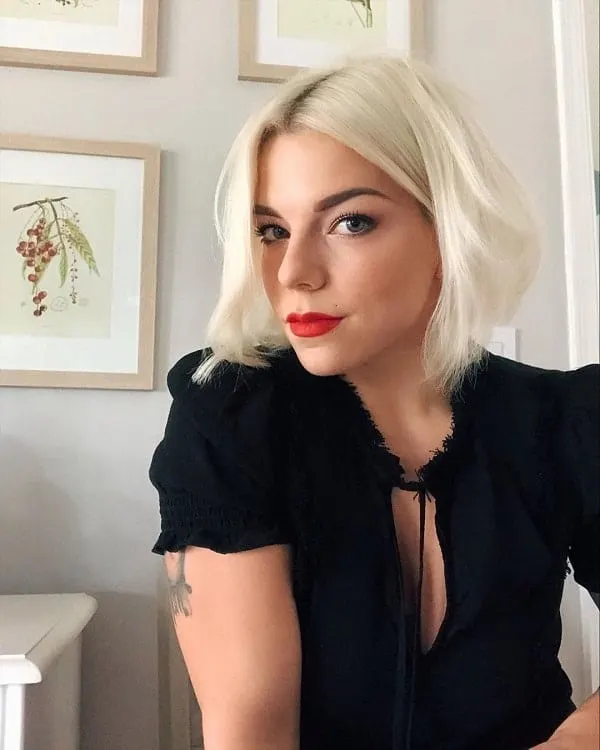 Marilyn Monroe had the most beautiful white-blonde hair color and you can get your inspiration from her by using that stunning shade for an inverted bob hairdo.
28. Blonde Swing Bob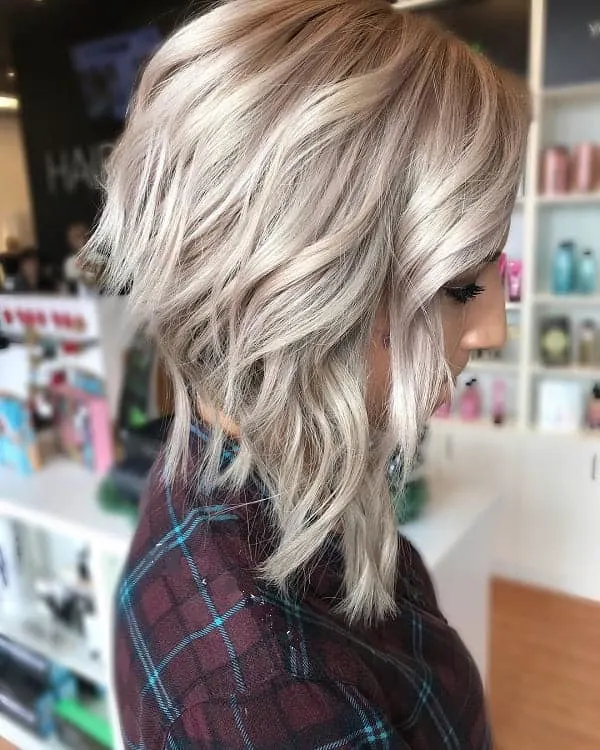 Such texture and movement for this stunning waves! That silver blonde color plays an essential role in creating this fantastic swing bob hairstyle. Tousle your hair a little bit and make it look messy.
29. Blonde Bob + Chinese Bangs
These blunt fringe that is also called Chinese bangs, covers the eyebrows and looks its best when straightened with an iron.
To create a gorgeous bob hairstyle, slightly wave the rest of your hair and wear a pale pink hat to pull off a relaxed summer look.
30. Icy Blonde Bob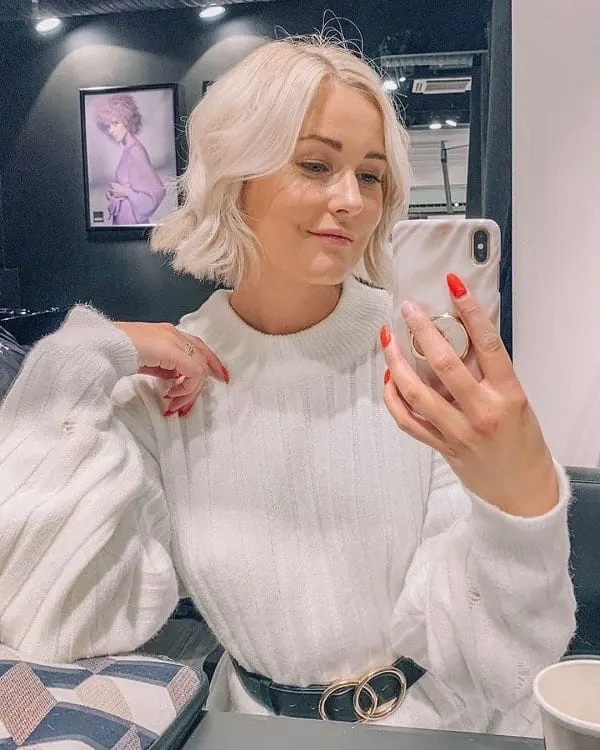 Icy blonde bob hairstyles make any girl with pale skin, and blue eyes look marvelous whatever she does. Get a short cut and wave the tips. Also, flip the bangs on one side to uncover the forehead.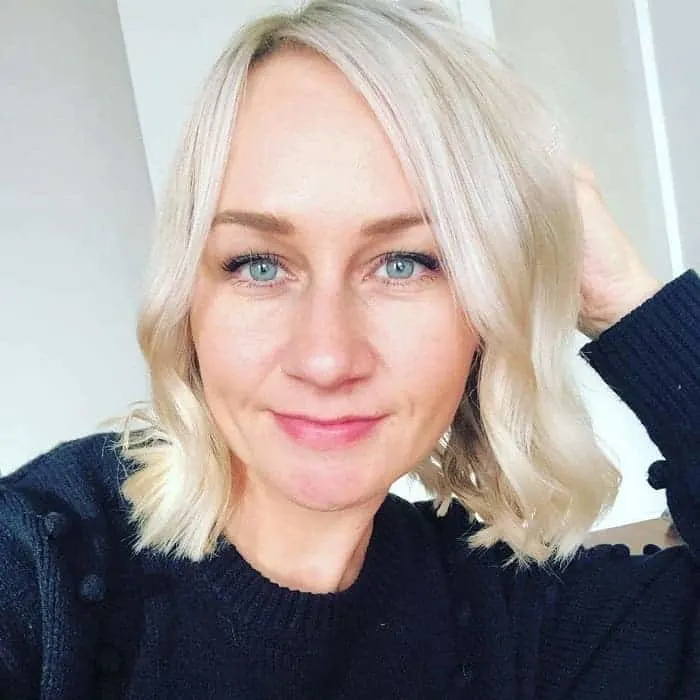 Bob does not have to be sleek and straight at all times. You can keep things casual, elegant, and playful by adding gentle or subtle waves. What makes this look so great is the supercut on both long and short blonde bob.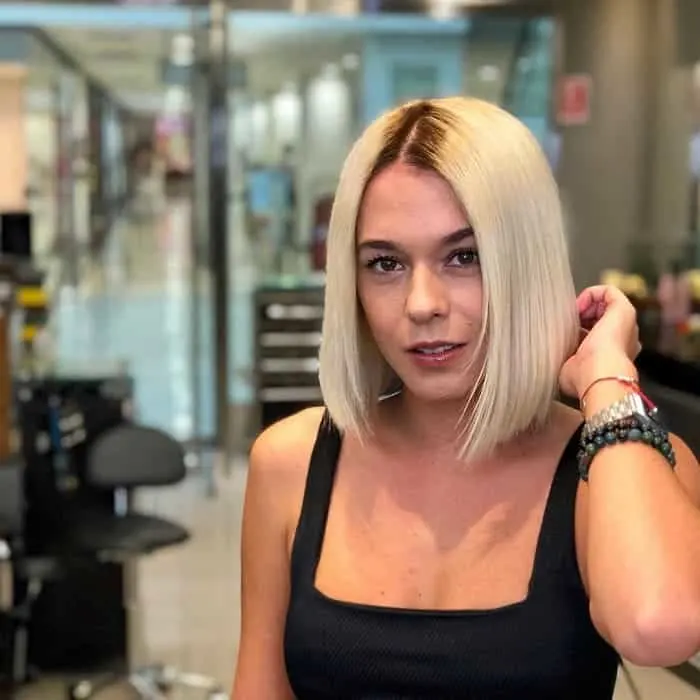 Ladies who are more into sophisticated styles may want to try this look. Here, the long blonde bob is straight and sleek. Darker roots give the haircut a new dimension and more depth.
What we love about this option is that it's elegant enough to rock it at a wedding, but it can also work when you're dressed down for some casual event.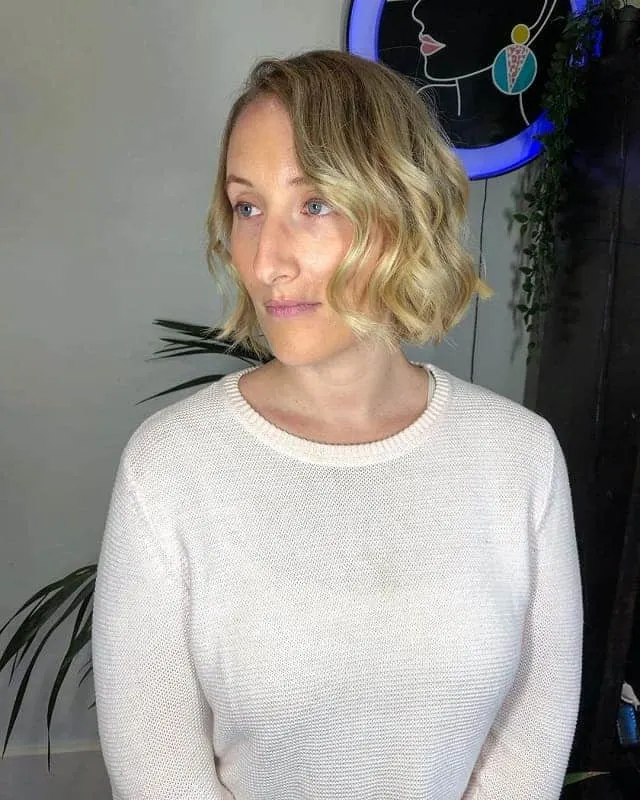 Summer is here, which means it's a good time to make short beach waves. Beach waves are the most recognizable summer style, but they look the best in blonde.
This short blonde bob hairstyle doesn't require too much maintenance. It will remain perfect throughout the day.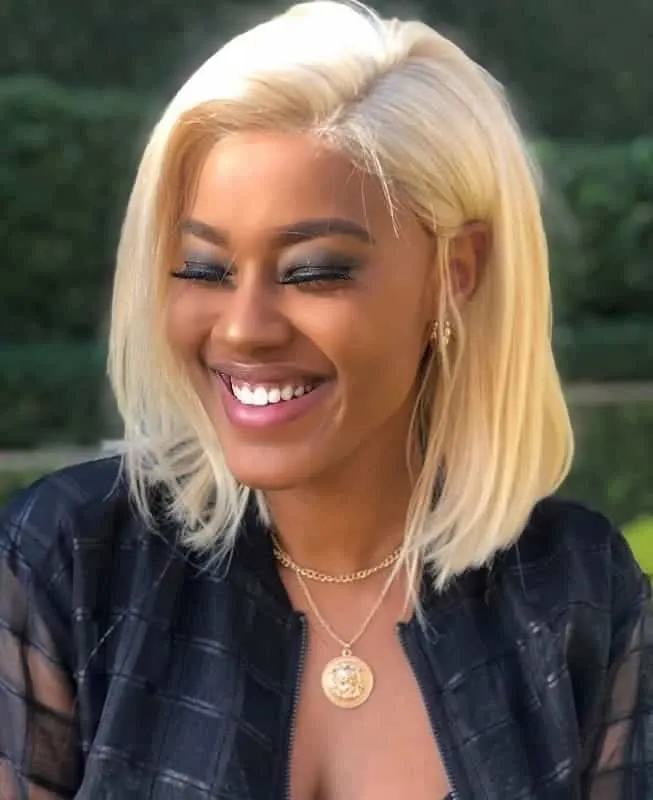 Do you have thick hair? If so, you've probably heard tons of times that it's good to stay away from short haircuts because they are difficult to control and tend to be puffy. Well, that's not true.
The easiest way to style thick hair is to opt for blonde bob cut, both medium-length and long cuts are ideal. Bob will give your hair more definition, but it reduces unwanted puffiness.
35. Two-Toned Bob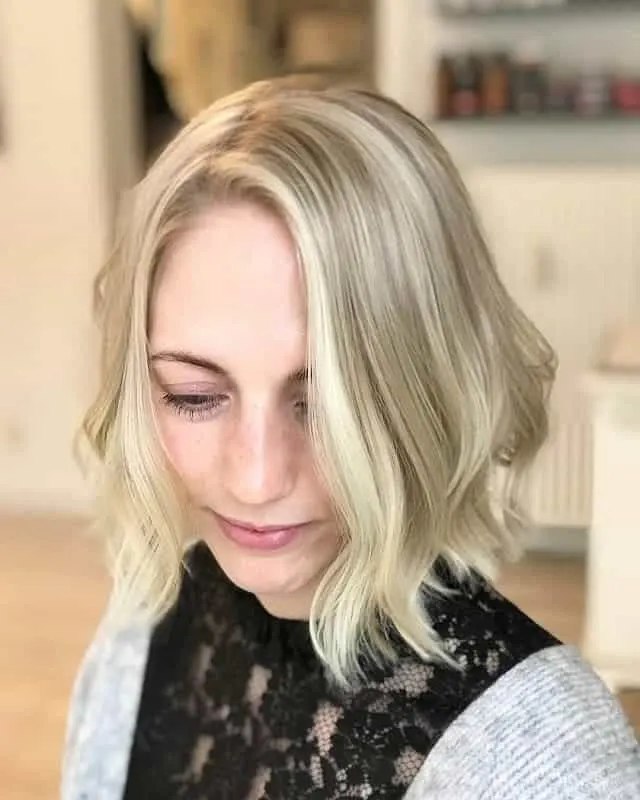 Women with fine hair usually dream about having a thicker, fuller two-toned hairstyle. You don't need expensive products to make that happen.
The trick is to opt for warmer shades that will give more depth to your thin hair. Go the extra mile with the two-toned look.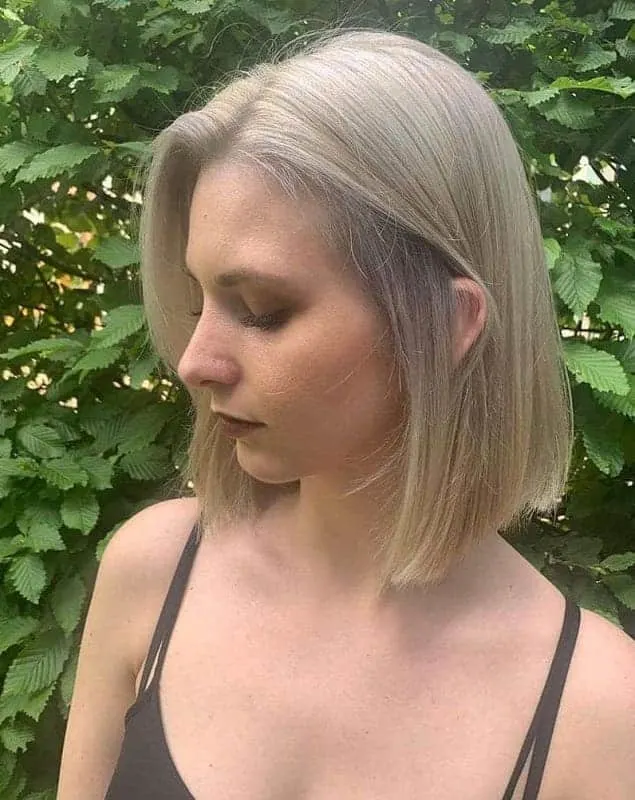 To some people, all blonde shades are the same, but we can go for lighter or darker hues. Go for the light tone of your long blonde bob and blow-dry your hair for a sophisticated yet effortlessly chic look.
You'll also need a good brush that will give you the haircut of your dreams.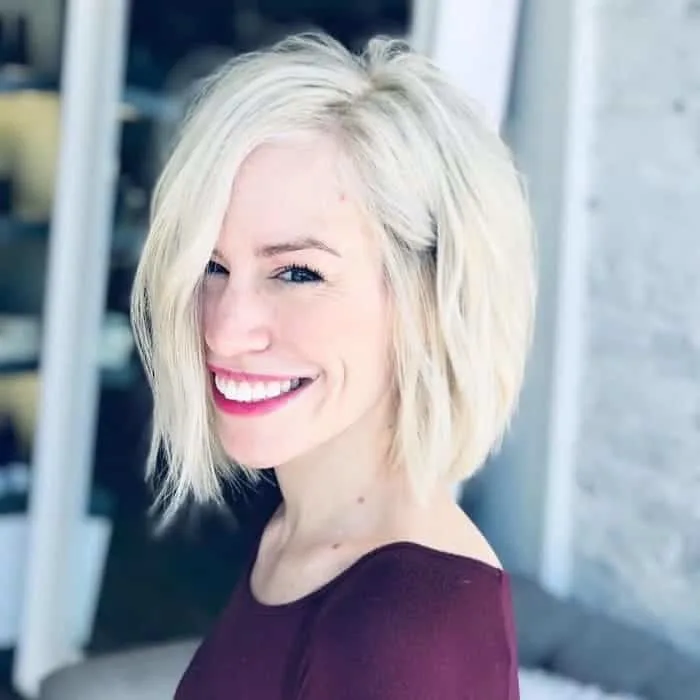 Bring more life and playfulness to your short blonde bob with a textured look. Texture gives you a casual vibe, but at the same time, it can also be paired with formal outfits whenever necessary.
As far as length is concerned, you can keep it short or at chin-length.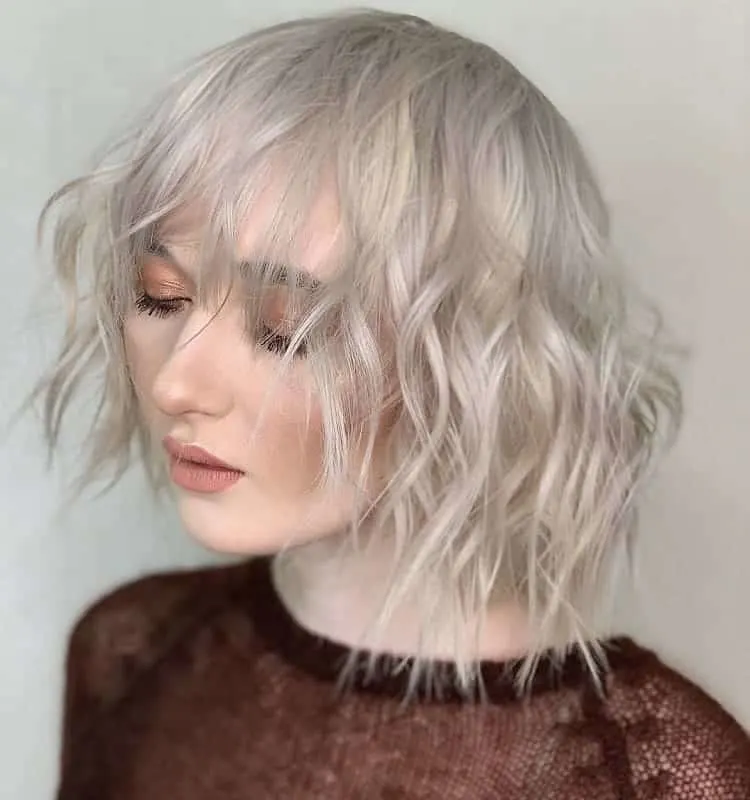 Are you tired of symmetrical hairstyles? Are you a type of woman who wants her hair to be edgy yet sweet? Then we have a perfect style for you. This choppy bob with blonde shade is the cutest thing you'll see today.
39. Ashy Blonde Bob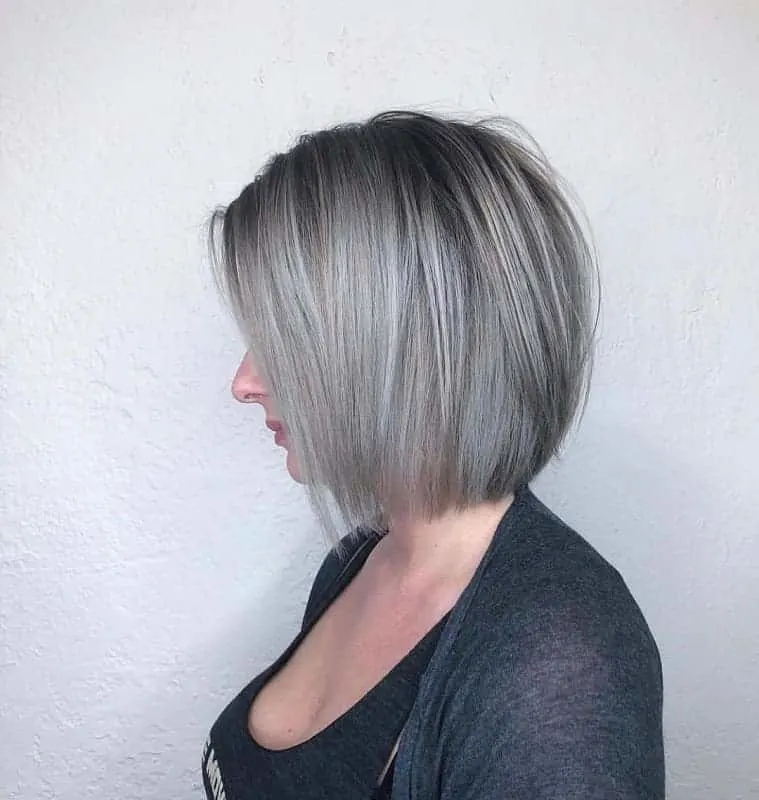 Cold tones are a major hit right now, and it's not that difficult to see why. Icy and ashy blonde hair ooze elegance and sophistication, but also make your hairstyle more unique.
To bring more attention to your color, you may want to try to keep your hair shorter.
40. Caramel Blonde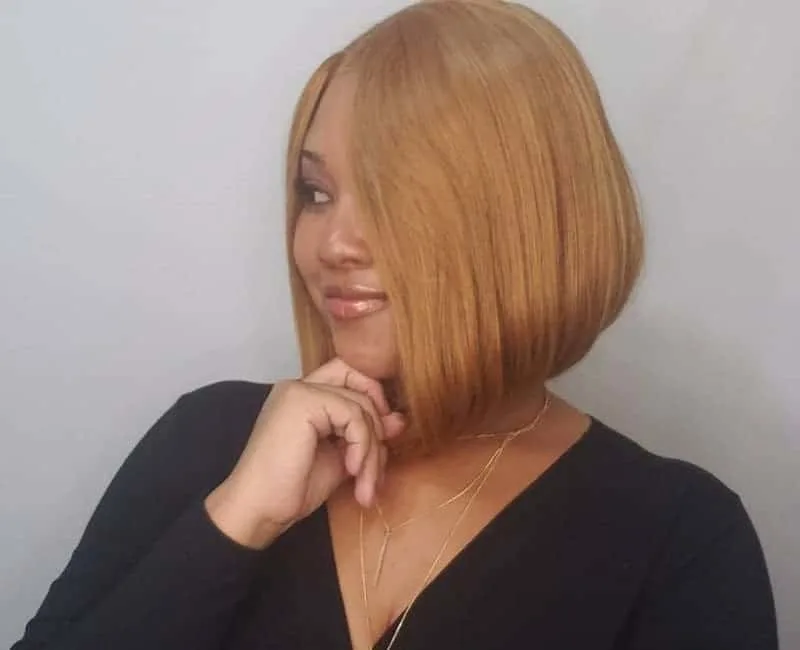 Caramel blonde bob hair is warm, inviting, and visually boosts the volume of your hair.
This shade is also ideal for women with darker skin tones because it beautifully matches your complexion and frames your face. Caramel hue works with long and short cuts alike.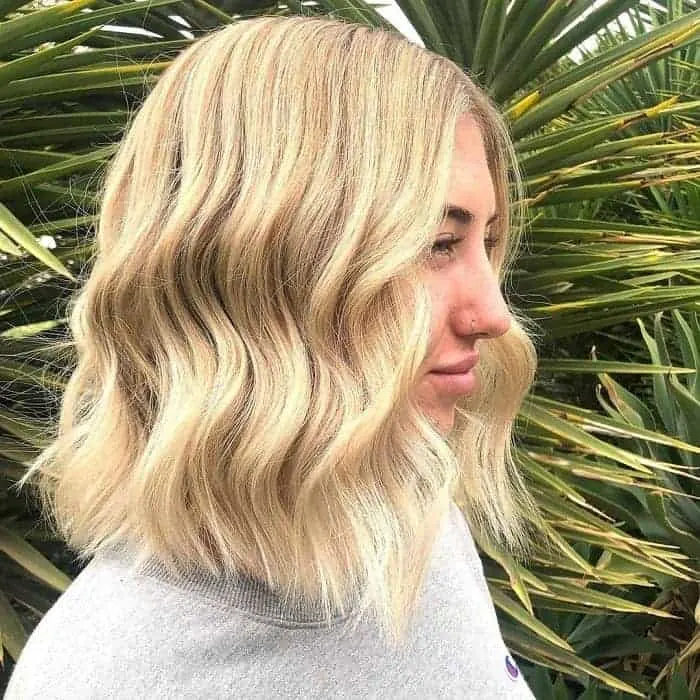 Long blonde bob cut done in both lighter and darker tones is ideal for women who want to shorten their hair, but they don't want to cut it too short.
You can pick your hair up in a mini bun if necessary. We love this kind of practicality in our hairstyle. Do you?
Most of us part our hair in the middle, which is exactly why this is the easiest route to choose for instantly dramatic effect.
Deep part that involves getting most of your hair to one side, and it can be the change you need when you're in the mood to do something new.
For instance, the deep part also boosts the volume of your hair, making it ideal for women with short thin hair.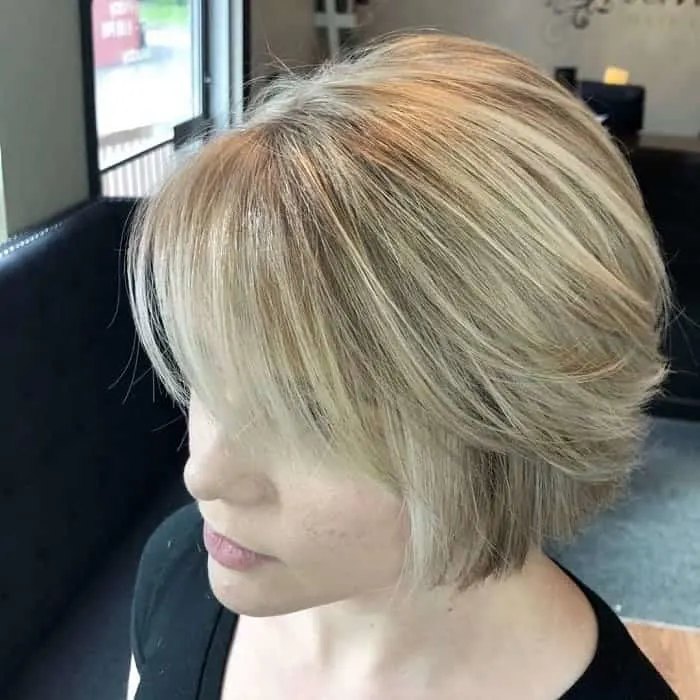 Women who would prefer a practical hairstyle during hot summer days may want to opt for a short blonde bob with bangs.
This cut gives your hair more definition while layers make it structured and elegant. Warmer tones visually enhance fullness, which is why we love this style.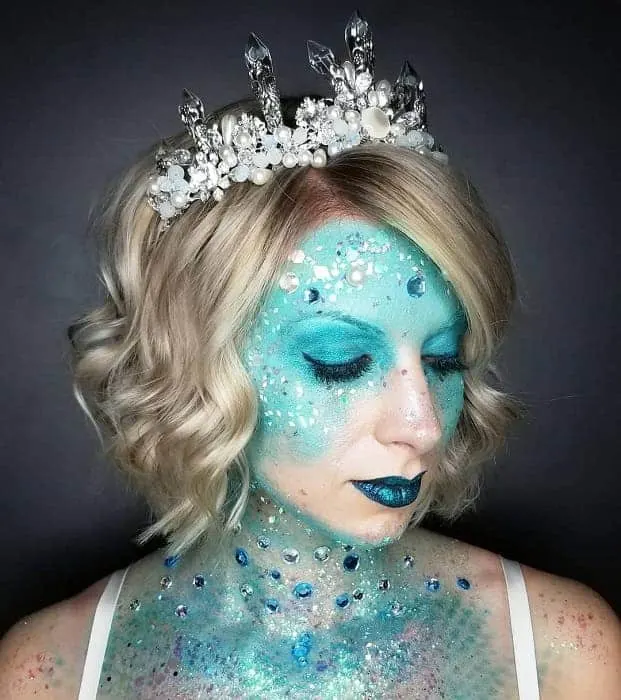 Fine and thin hair doesn't have to be straight or lifeless. We have plenty of options to spice things up.
Creativity is the only tool we need to change things around. Bring more life to your thin hair through curls and locks that will work just as good on a blonde short bob.
45. Honey Bob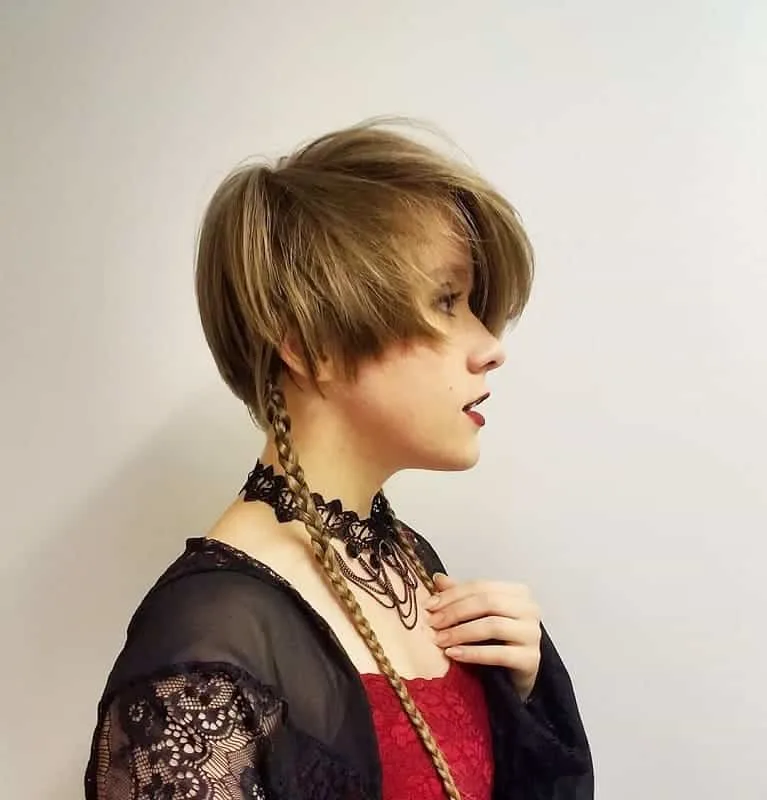 Creative women with a unique sense of style may want to try this look. What makes this style special is that it doesn't play by the rules.
We have long braid, pixie bob, bangs, everything. If you're looking for a hairstyle that will showcase your creativity, this is the one.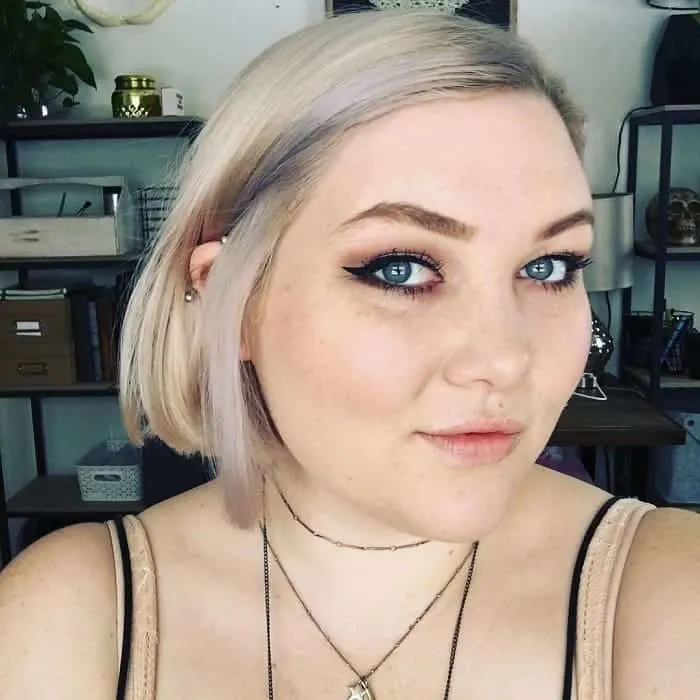 Spice things up by adding highlights to your blonde bob haircut. The choice of highlight colors depends on you and your personal likes or dislikes. For instance, you can opt for icy blonde, grey highlights, or some more vibrant colors.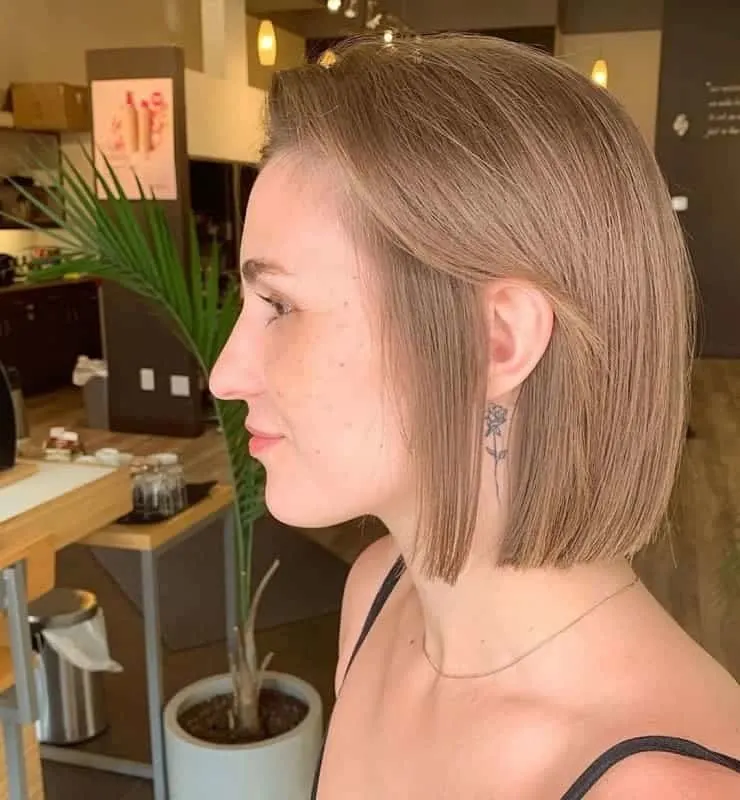 Dark blonde and other shades that are close to light brown hair are ideal for women who want to go for a blonde lob cut, but not classic shades. Give it a try, and you'll see how awesome this hair color really is.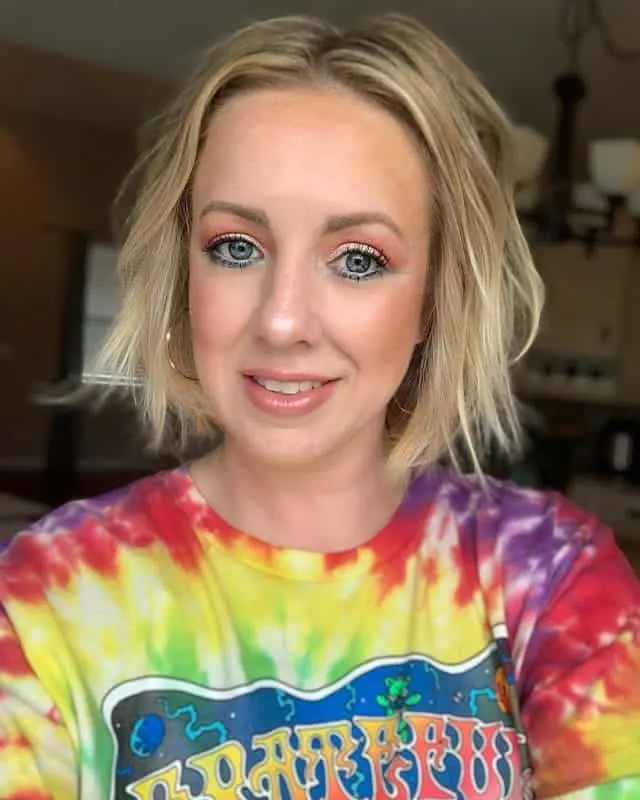 What every woman wants is to look effortlessly chic i.e., to look great while making it seem like you didn't even try that hard.
Well, this hairstyle can help you achieve that look. Effortlessly chic blonde bob with cute curls should be your go-to style.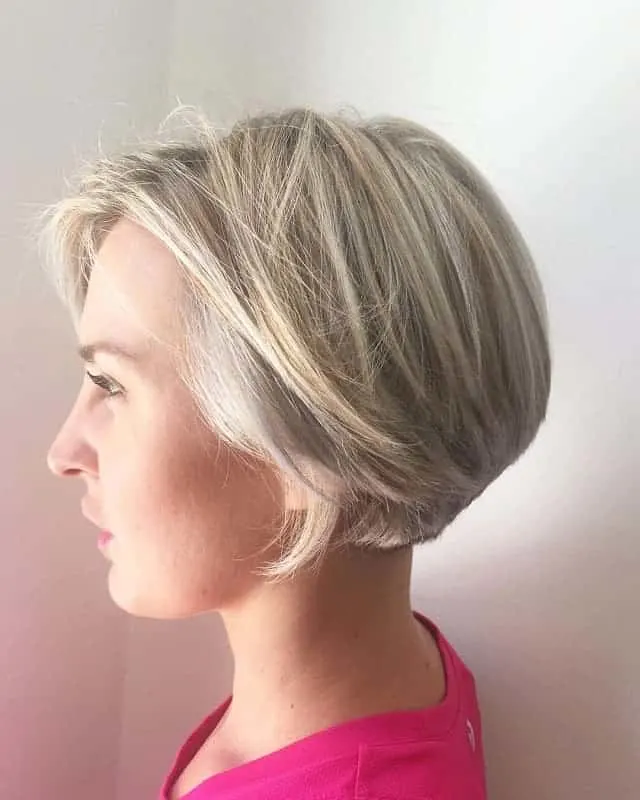 When you blow-dry your hair, instead of keeping it sleek you can tousle it with your fingers. This blonde colored bob will give you a messy and casual yet sophisticated vibe.
Women who love symmetry will love this razor-sharp precise look. Keep your hair short in order to accentuate the style.
How to Dye Your Bob Blonde
If you're not blonde now but are considering changing your hair color you're probably wondering how to go blonde. The first thing you need to know is that dying your bob hair blonde will require the use of bleach.
The darker your starting color, the more bleach will be needed, and it may take a while to reach the desired shade of blonde.
Once you've chosen the desired blonde hue, you can start the process. First, you'll need to lighten your hair. When your hair is lighter, you can dye it by following the instructions provided by the manufacturer.
The safest thing to do is to go to the hair salon where a professional will dye your hair blonde while making sure to avoid damaging your hair too much.
FAQs on Blonde Bob
Which blonde shades work on bob well?
The beauty of bob haircut is that it looks absolutely awesome regardless of the shade. For example, you can opt for platinum blonde, balayage blonde, caramel blonde, ash blonde with dark roots, golden blonde, light blonde, icy blonde, honey blonde, strawberry blonde, medium blonde.
Will dyeing my fine-haired bob blonde make it look thicker?
This depends on the shade of blonde. Warmer shades of blonde give the illusion of depth and make your hair appear thicker. On the other hand, colder shades such as icy or platinum blonde can induce the opposite effect.
As you can see, blonde bob haircut both long and short length options are truly numerous. You've probably found some style you like the most. Go for it, and you'll feel your confidence is boosting almost instantly.