Choosing a hairstyle considering your body type is crucial. Just as certain makeup and clothing styles can look better on certain people than others, hairstyles can have the same effect.
Before your next appointment at the salon, take some time to learn more about the best hairstyles for women by body type so you can leave the chair feeling like your most fabulous self.
Pick A Hairstyle That Resonates Your Body Type
You look in the mirror and you're no longer excited about the hairstyle you see. Perhaps you once loved it, but it's grown out and doesn't flatter the way it used to.
Or, maybe, you picked the haircut out because you saw it on a celebrity you love, but it didn't give you the same look you were going for.
When it doesn't feel right and it's time for a change, why not consider the best hairstyles for your body type that will highlight your best features? Choosing hairstyles for body type is a great way to find a cut, color, and shape that make you look and feel your best.
Best Hairstyles for Short Girls
Short girls with a more petite body need to be careful with their hair to make sure the style doesn't overpower them and their small frame. If this sounds like you, you want to avoid cuts that are too child-like, as this can make you look even younger than you are.
So, stay away from pixie cuts, tight curls, and overly bold colors is a good idea. You also want to be careful of looking too boyish or appearing even shorter, and short hair of any kind can accidentally make this happen.
The best hairstyles for a short, skinny girl, is one that is sophisticated with enough texture to draw the eye. For many, this means a textured or graduated bob. For smaller women with curlier hair, a medium-length cut is flattering as it provides a bit of volume without overpowering a small stature.
For short girls that are on the curvier side, something that hits around shoulder length can be extremely flattering and draw more attention to the neck and collarbone, which can exude femininity.
Kelly Ripa and Zoe Kravitz are two great short celebrities that know how to choose haircuts that emphasize their best features. If you need ideas, looking at different styles they've rocked over the years may be a good place to start.
Best Hairstyles for Tall Girls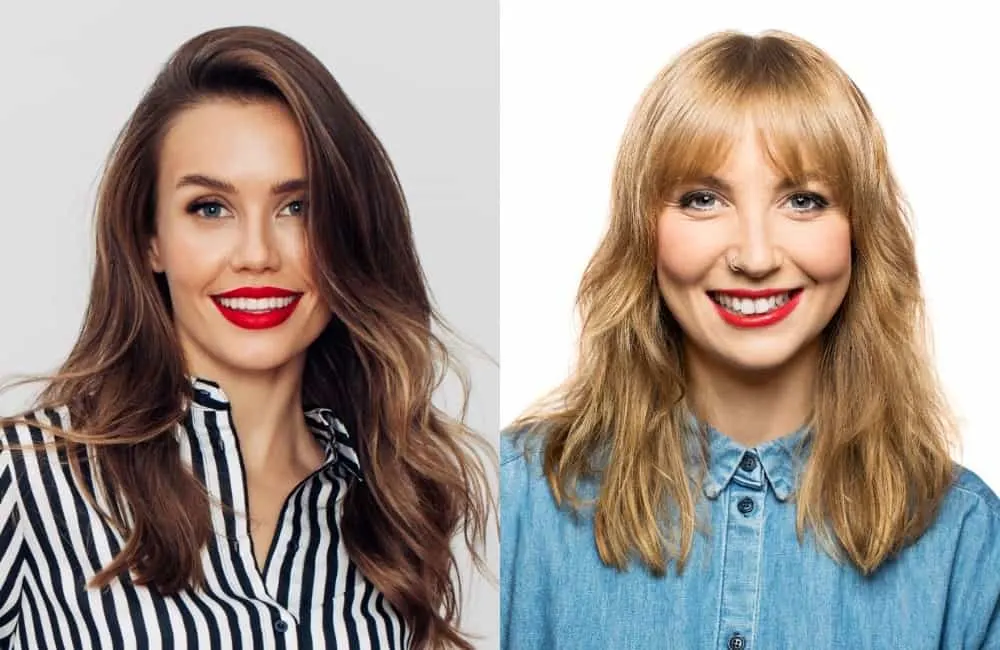 If you're a tall girl, you might think that the longer the hair length, the better, but that's not necessarily true. Tall women can handle a variety of hair lengths and cuts; it's all about finding balance and proportion to your size and frame.
First, you'll want to avoid pixie cuts or cuts that are more than a few inches above the shoulders. When the hair is too short, it can make the head appear smaller than it is, making you look even longer and a bit unbalanced.
You'll also want to be mindful of any stick-straight styles, as this can make you look long and slender and not always in the most flattering way.
Now, if you're a tall, skinny girl, you should use body, texture, and movement to your advantage. While a bit of length is on your side, choosing a style that is too long can elongate you even more. Choose a medium-length cut that goes past the shoulders but not beyond the waist, and if you have any curls or waves to add body, it's a great touch.
If you're tall with a more athletic body shape, you can get away with most hairstyles. Rather than focus on length, try to find a style that accentuates your hair's texture and thickness. Those with thick, curly hair, for example, will do better with a longer cut with layers, while someone with thin, straight hair could rock a shoulder-length lob with curtain bangs.
Blake Lively is the perfect example of a tall celebrity who knows how to pick hairstyles that work with her height. Between her signature wavy blond locks and her textured, casual up-dos, she knows how to play her height to her advantage.
Best Hairstyles for Curvy Girls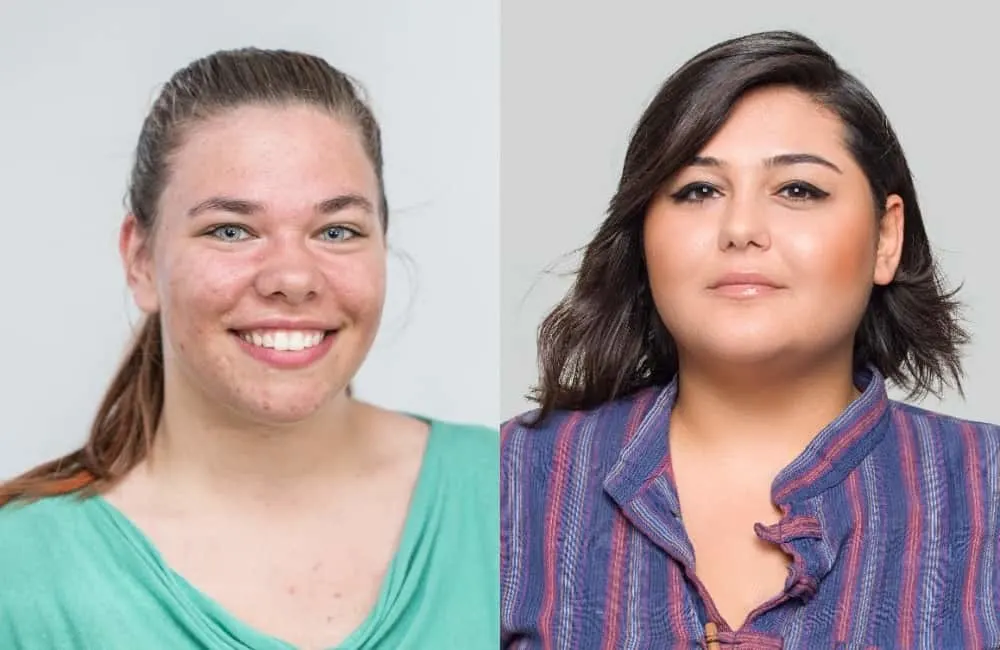 If you're on the bigger side of body types, know that you're curvy, not fat. It's just another body shape that people share throughout the world, and there are certain styles that you can pull off better than anyone else.
A soft, shoulder-length, or collar-bone length cut is universally attractive on curvy women. Add in some curls or a gentle wave, and you'll find the perfect balance. For other styling options, a sleek ponytail always looks good, and a few face-framing layers can be slimming.
You'll also want to know the cuts and styles that you should avoid that might accentuate the parts of your body that might not necessarily be your favorite. For example, if you have thick hair, too much volume on top might overpower your curves, so asking your hairdresser to thin it out with some layers can be a smart move.
You don't want a hairstyle that is too short – you want to embrace the femininity of your figure – but you also don't want one that is too long and overpowers you.
Need a celeb icon? Both Adele and Ashley Graham understand what looks best on them and have sported some of the best hairstyles for curvy girls we can find.
Best Hairstyles for Busty Girls
As far as hairstyles by body type go, busty girls might want to make some extra considerations before they select a style.
While being busty isn't a body type, it's definitely something you want to consider since it's an area that is so close to the hair. With so much volume already toward the top of your body, you want to be mindful about how much extra volume you're adding with your hair.
As a few general things to avoid, you should stay away from stick-straight hair or any updos that pull your hair back tightly. Instead, you should focus on adding soft texture without too much volume.
If you are a tall, busty girl, keep in mind the advice we shared for tall girls previously. You don't want a style that is too short or too straight, so finding something in the middle with some texture or body would be the best solution for you. To soften your appearance and strike a balance between your voluminous bust, try to add in some subtle waves for movement.
If you are a short, busty girl, you should consider yourself both a short girl and a busty girl and use advice for both body types to find the sweet spot for you. A shoulder or collar-length cut with textured ends or face-framing layers will look amazing on you, so try to ask for that look the next time you see your hairdresser.
Salma Hayek does a great job at finding hairstyles that work with her voluptuous bust, not fight against it. Christina Hendricks is another celebrity with a larger chest who knows how to strike the perfect balance between her hair and her features.
Best Universal Hairstyles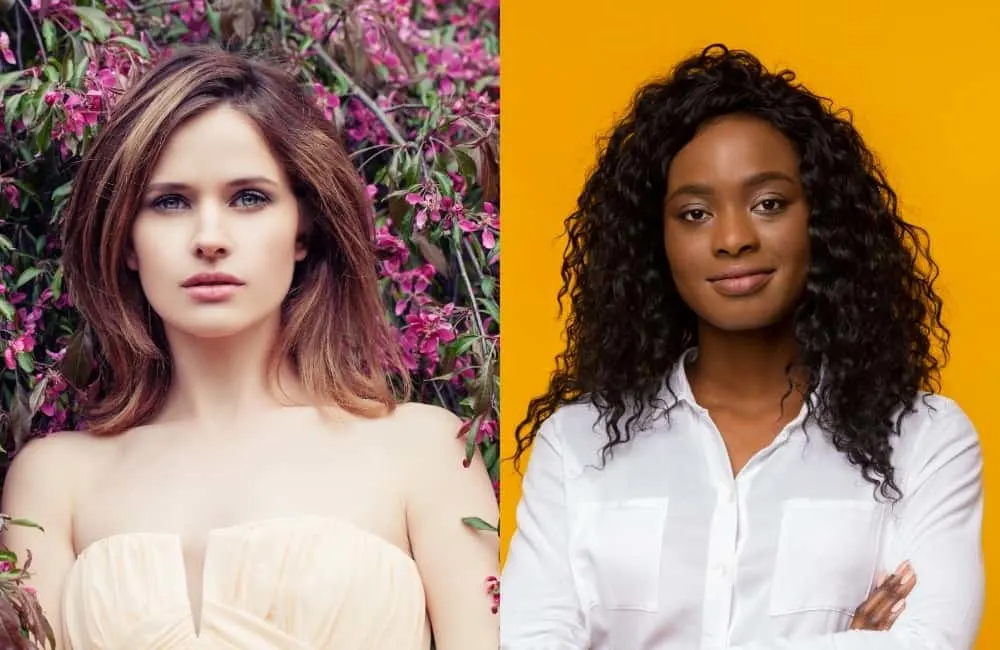 Now that we've covered all of the specific body types for women and the hairstyles that look best on each one, we should also take a moment to discuss the hairstyles that universally work on everyone. When in doubt, any and all of these hairstyles will look good on you! They are flattering on anyone, whether you're short or tall, curvy or petite, busty or athletic.
Universally flattering short hair cuts and styles include the long bob, coming about shoulder height or just above. It can include side bangs or a few short layers as well. A collar bone cut with face-framing layers is also a cut that looks good on just about everyone.
The best cuts across the board for long hair, then include a chest-length cut with long layers and some soft waves, a short length with razor-cut graduating layers in the front, or long, curly hair with shorter, textured layers throughout to add volume and body.
Wrapping Up
If you're stuck trying to find a hairstyle that looks good on you from every angle, perhaps you're approaching it wrong. Rather than scour the magazines, celebrity photos, and social media influencers for a hairstyle they look amazing in, try looking at people who specifically share the same body type as you.
When you choose a hairstyle based on body type, you're selecting one that has been specifically chosen to hide the features of yourself that you may be insecure about while accentuating and highlighting your very best aspects.
If you're tall, you want to look powerful and lean, not lanky and masculine. If you're short, you want to look feminine and sweet, not childlike or boyish. If you're curvy, you want to look sensual and professional, not round. And if you're busty, you want to look classy, not sexualized.
Work with what you have and accentuate your very best qualities when you select a hairstyle based on your body type, using the advice shared here. Cheers to your best look yet!