A unique way to add a pop of color to your dull and boring blonde hair is through a pink underneath hair color or what they call the peekaboo hair color. When you run your fingers through the top layer of your hair, a pop of beautiful pink color peeks through your hair, giving your hair an unexpected yet eye-catching look.
If you want to jump on the bandwagon, get your hair inspiration from the ideas for blonde hairstyles with pink underneath.
Benefits of Pink Dye Underneath Hair Vs. All-Over Pink Color
So why should you go for pink dye underneath hair when you can opt for an all-over pink color? Here are some amazing reasons why:
Less Subtle
As compared to full pink hair, pink peekaboo hair color is a chic hairstyle that's still modest enough to be worn to work or school.
Less Maintenance
Same with all the other vibrant shades, pink fades easily. The good news is it will cost you less amount of time and money to refresh your pink peekaboo highlights than to touch up full pink hair.
More Versatile
The subtleness of this hair color technique opens a lot of doors for experimentation. Since you can easily conceal it, you'll be more fearless enough to try out different highlighting methods or various shades of pink.
Various Ways to Wear Blonde Hair with Pink Underneath
Whether you're an adventurous soul looking to make a bold statement, or a chic fashionista wanting to add a pop of color to your look, blonde hair with pink underneath might just be the transformative style you're looking for.
Below are some inspiring blonde hair with pink underneath ideas to try in 2023.
1. Wavy Lob + Dark Raspberry Pink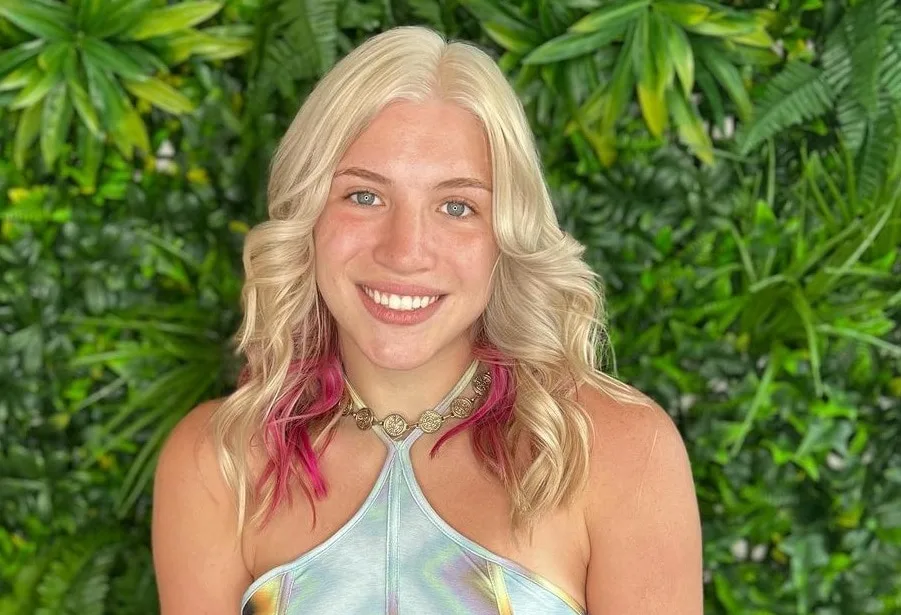 While blonde is beautiful, it can get quite boring so it certainly can use a pop of color. In this case, a pop of beautiful dark raspberry color. The rich reddish pink shade under can boost your hair color in the most stylish yet sophisticated way possible.
2. Choppy Blonde Bangs + Dark Pink Underneath
Did you think that your choppy and wispy bob already looks edgy? Well, it may be. However, we can make it a whole lot edgier by dyeing your blonde hair pink underneath. This time, let's go for a dark pink shade that's perfect for women with pale skin tones.
3. Long Creamy Blonde Hair + Magenta Pink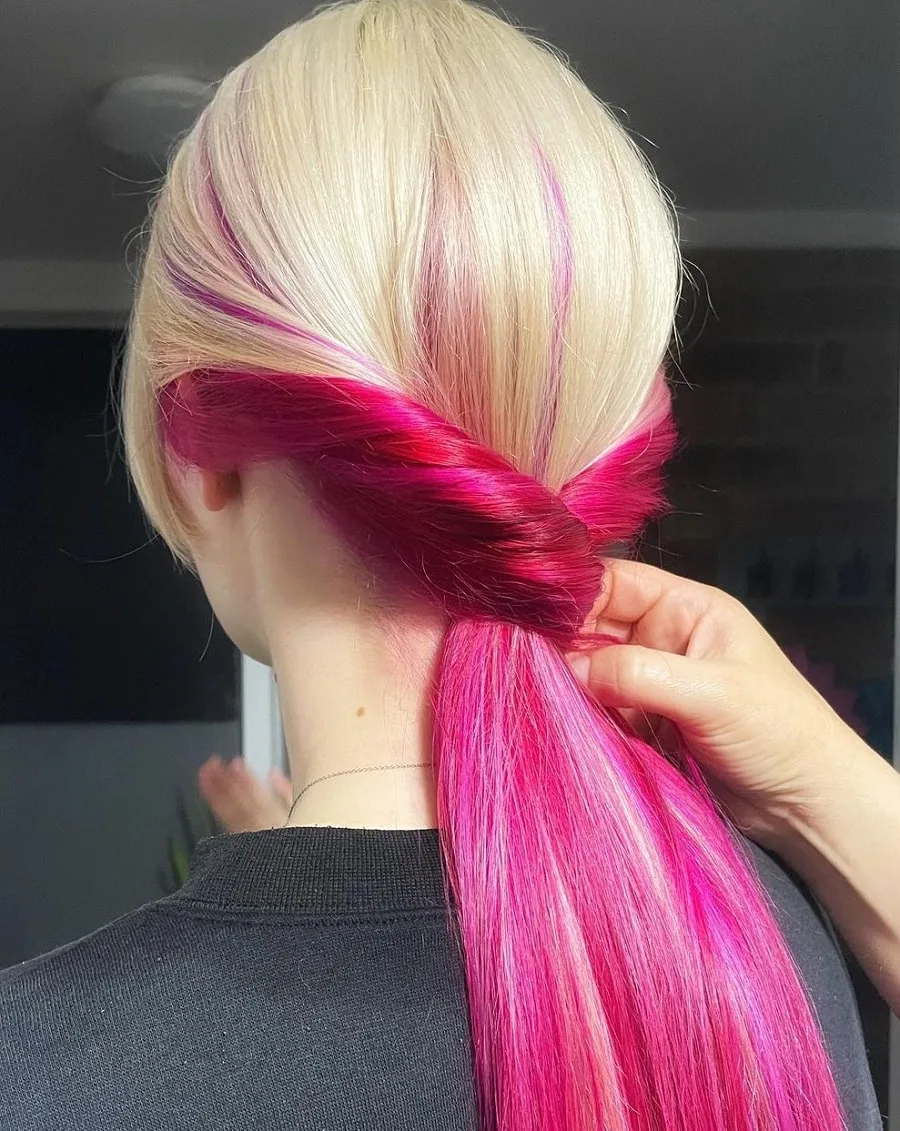 With its buttery shade and yellow tones, having creamy blonde hair is truly a blessing. But if you want to make it look more eye-catching, we highly recommend boosting it with a touch of magenta. This strong color looks better against dark skin tones and works well with fair skin tones.
4. Wavy Platinum Blonde + Different Shades of Pink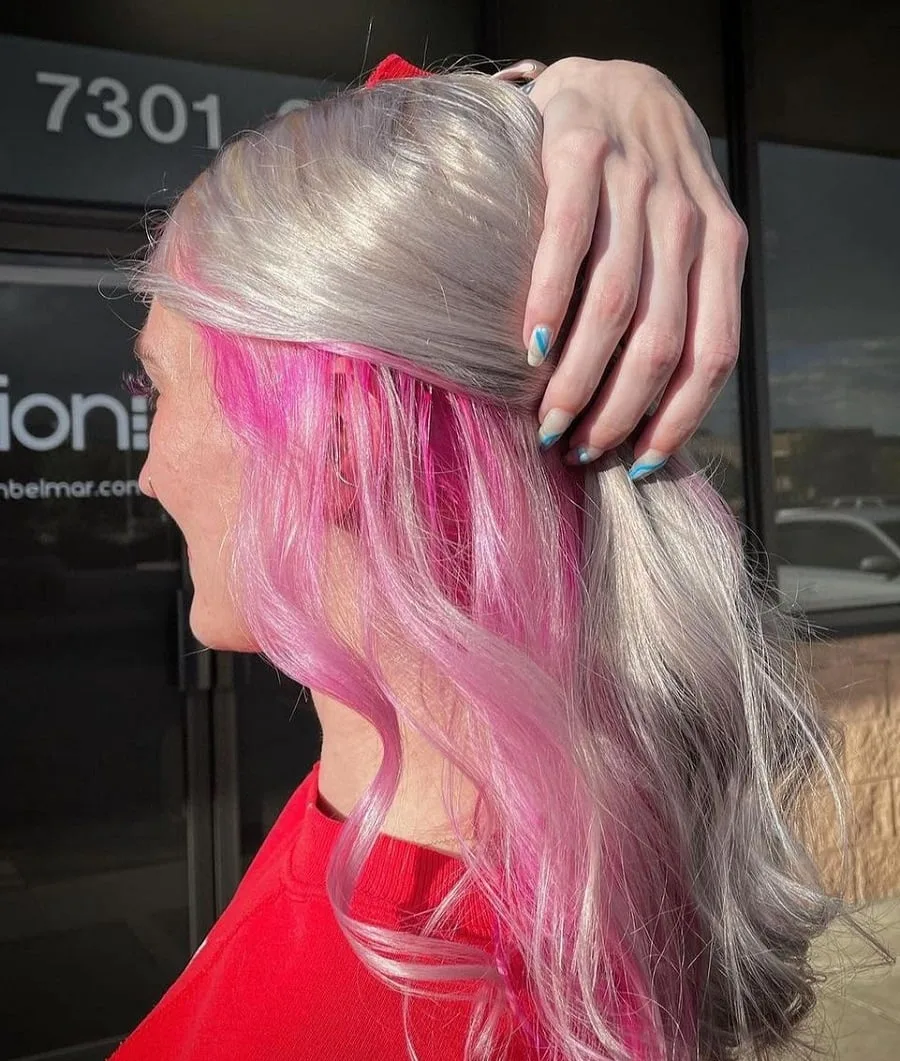 Platinum blonde might be all the rage these days but dyeing it with pink hair underneath will make yours look more unique and cooler. And instead of just sticking with only one pink shade, why not try a spectrum of pastels to more vibrant ones?
5. Silver Blonde Pixie + Vibrant Pink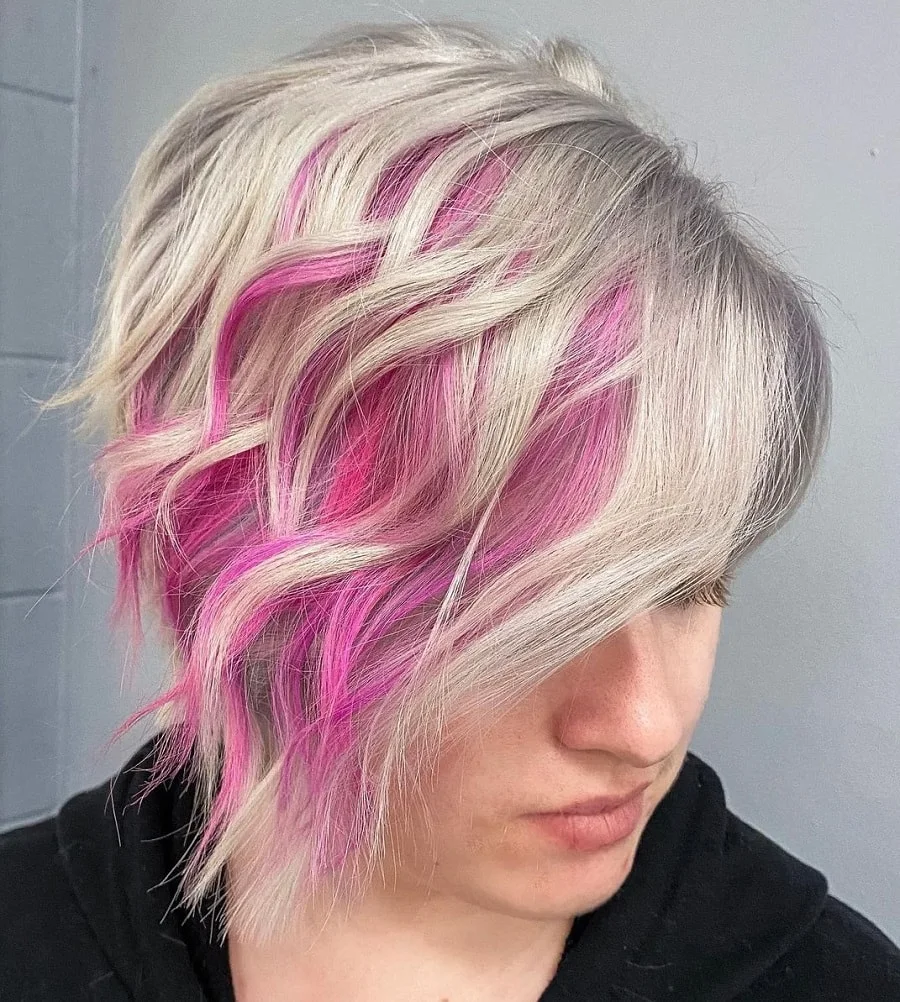 Add a feminine touch with edgy energy to your captivating pixie haircut with a vibrant pink color underneath it. The pink shade offers warmth that will balance off your cool silver-blonde hair.
6. Blonde Angled Bob + Fuchsia Pink
Adding a bright purplish shade underneath your hair is just the best way to style and refresh your gorgeous blonde angled bob. While this pink shade is not for everyone, women with fair skin tones can definitely rock this look.
7. Wavy Blonde Hair + Pink Highlights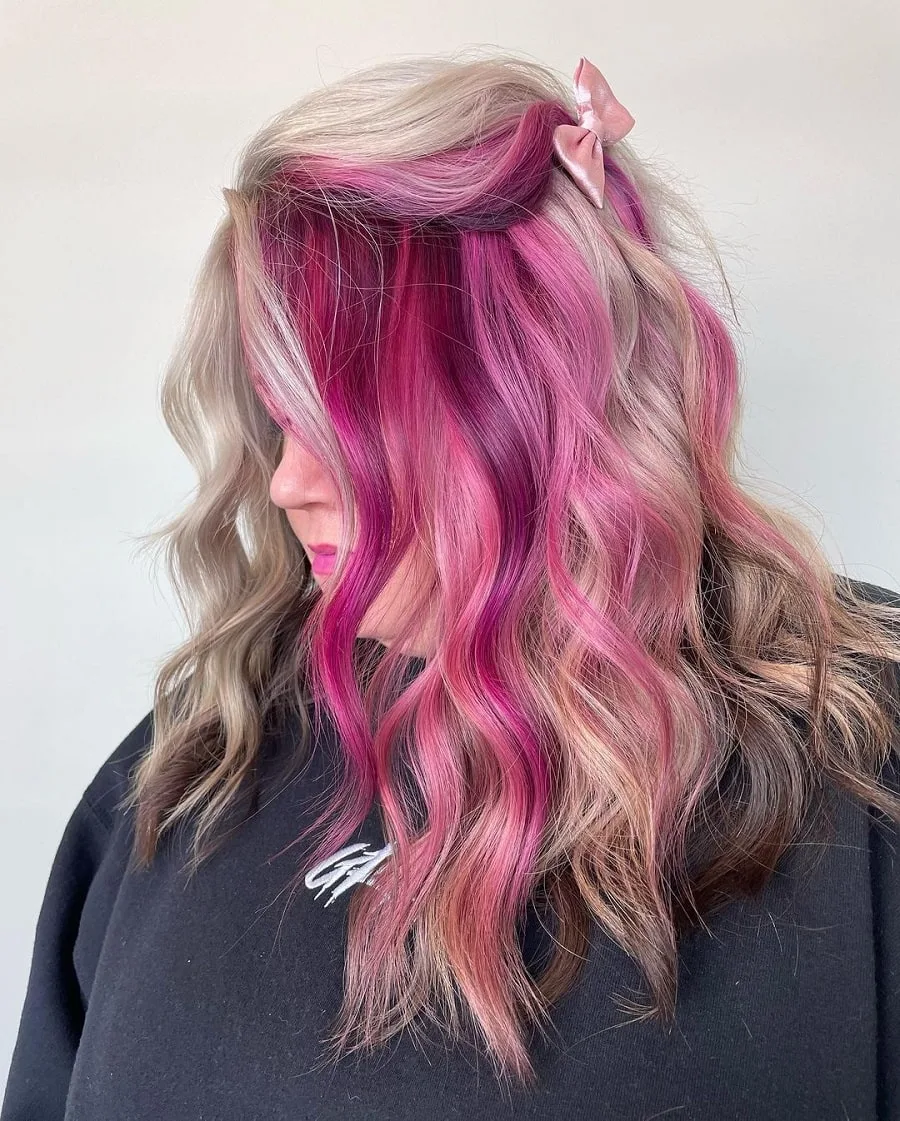 This blonde hair with pink highlights will make your look stand out. Long, wavy, and blonde- these are the things that make up almost every girl's dream hair.
If you want to take it to the next level, you can add different pink shades like magenta, coral, and pastel pink to achieve that ultimate Barbie look. A ribbon on top is definitely the best way to finish off this look.
8. Warm Blonde + Coral Highlights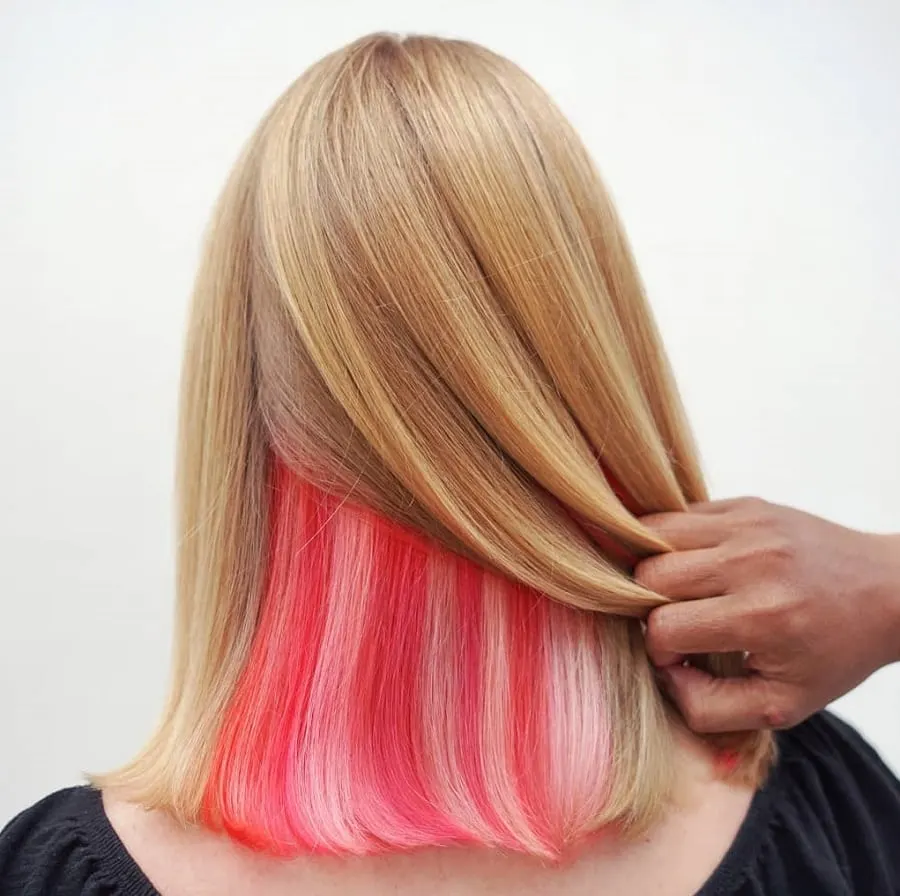 Why stick to different shades of warm blonde when you can also add shades of peachy pink colors to it? The good thing is coral looks oh-so-amazing on any skin tone.
The addition of pastel pink strands in between added an unexpected depth to the peekaboo highlights.
9. Blonde Layers + Side Peekaboo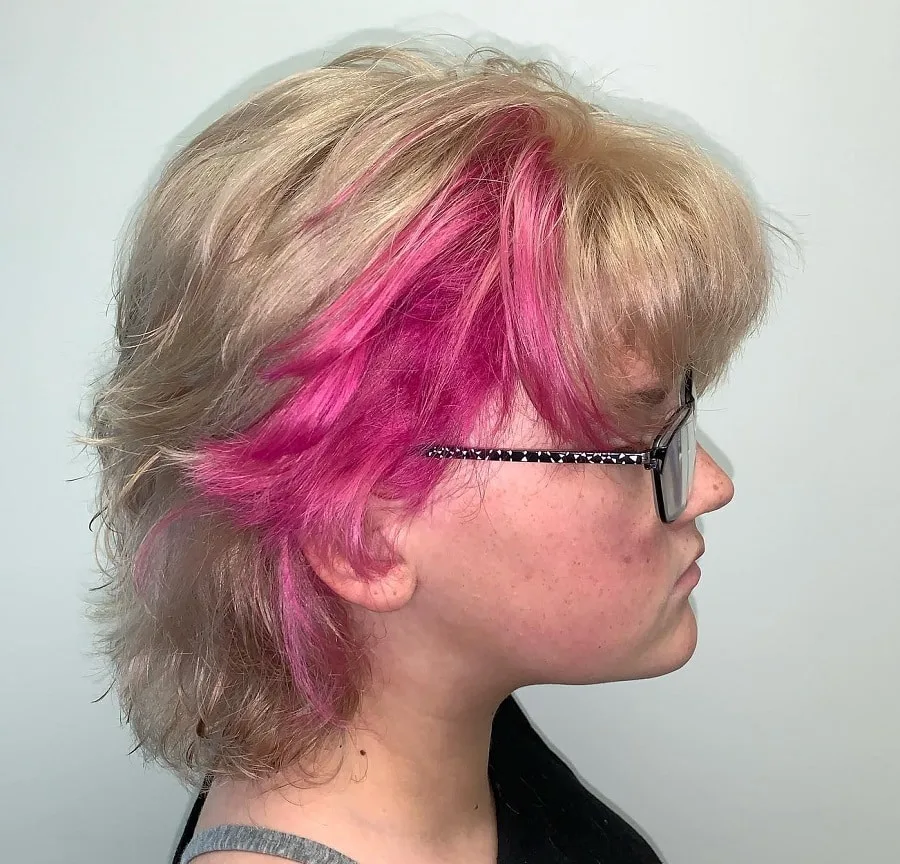 Dyeing your blonde hair pink underneath is a great idea, but here's an even better idea: place it on the side!
In this way, the peekaboo highlights are still subtle but a bit more visible so you can easily show it off whenever you want to.
10. Dark Rose and Medium Brown Highlights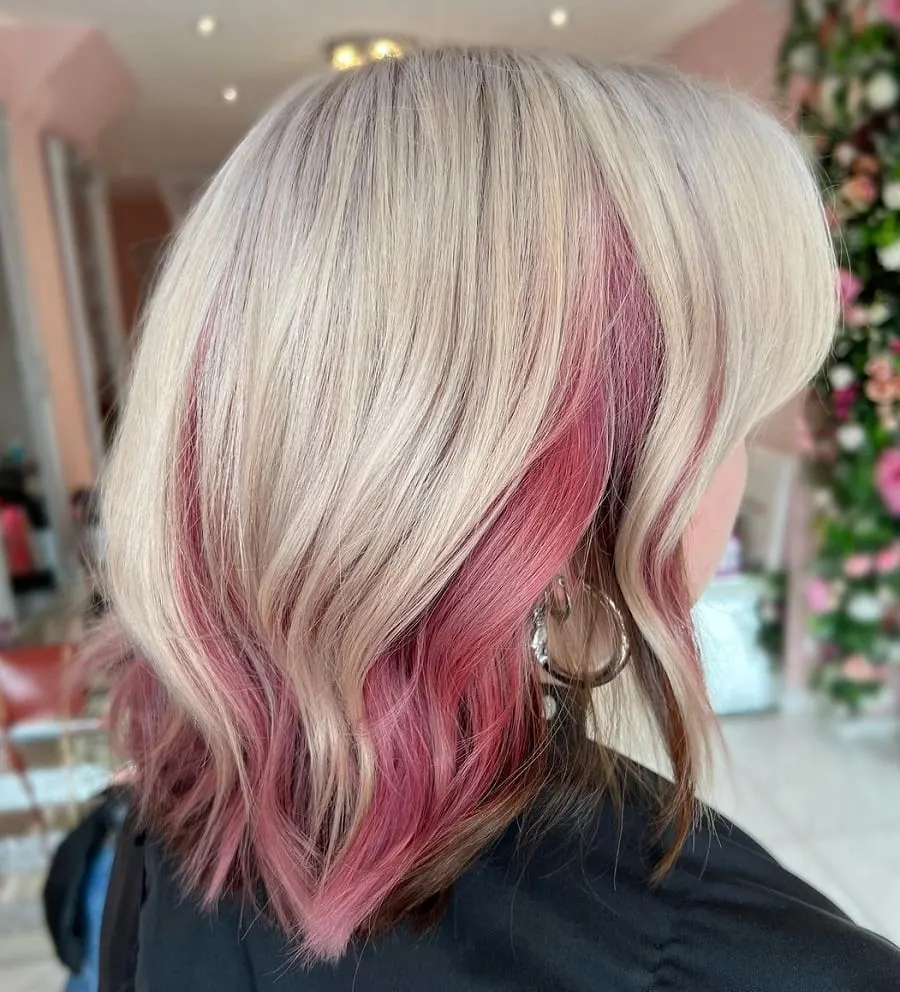 If you're considering matching your blonde hair with a deep rose pink, it's highly recommended that you throw in another equally beautiful dark shade.
In this case, we highly recommend going for a medium brown shade which will certainly do a great job in elongating and highlighting the face.
11. Blonde and Pink Peekaboo Braids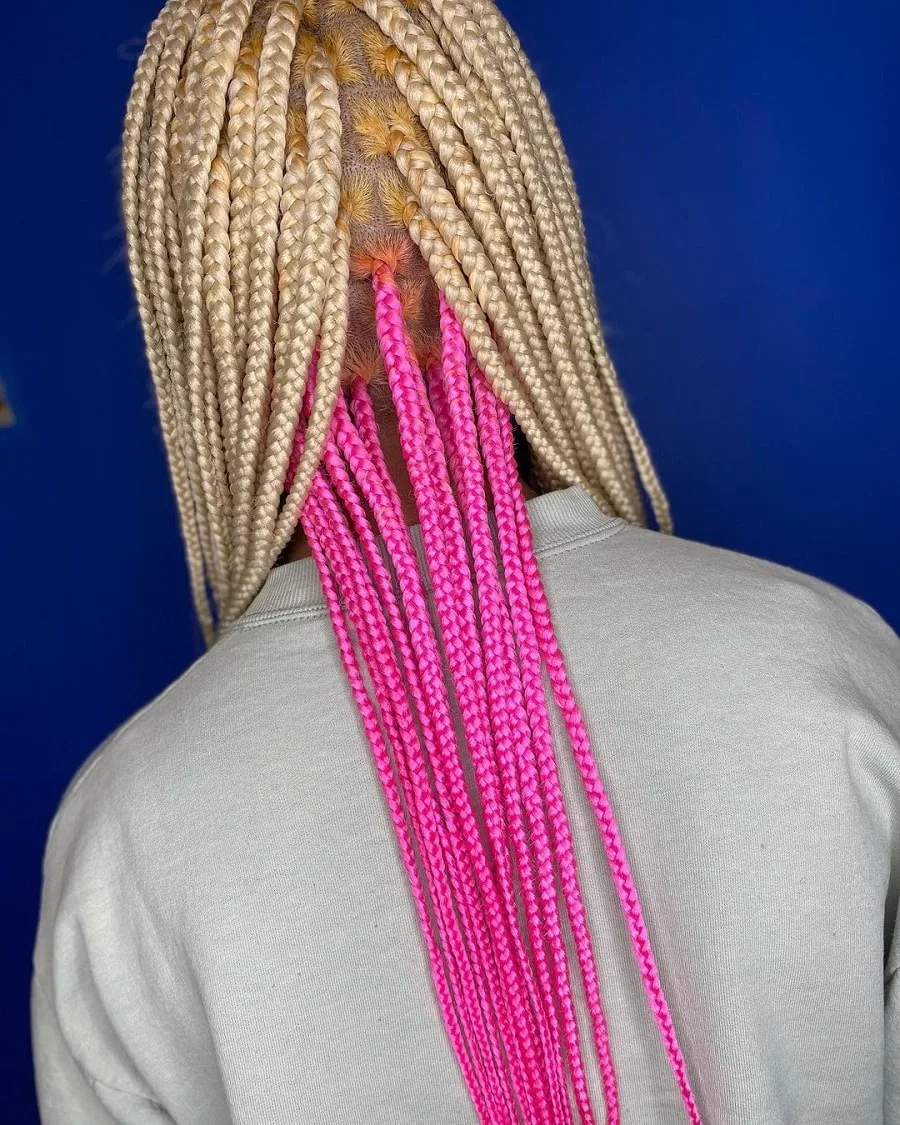 Knotless braids don't have to be just protective hairstyles. With the right hair color, they can be stylish hairstyles too!
Case in point: this vibrant pink shade underneath which is perfect for women with warmer undertones.
12. Grey and Blonde Hair + Reddish Pink
A neutral combination of blonde and grey hair deserved a pop of color. This reddish-pink shade below is just the perfect option for women with pale skin tones while the black roots make the entire look more natural.
13. Blonde Wavy Lob + Magenta Pink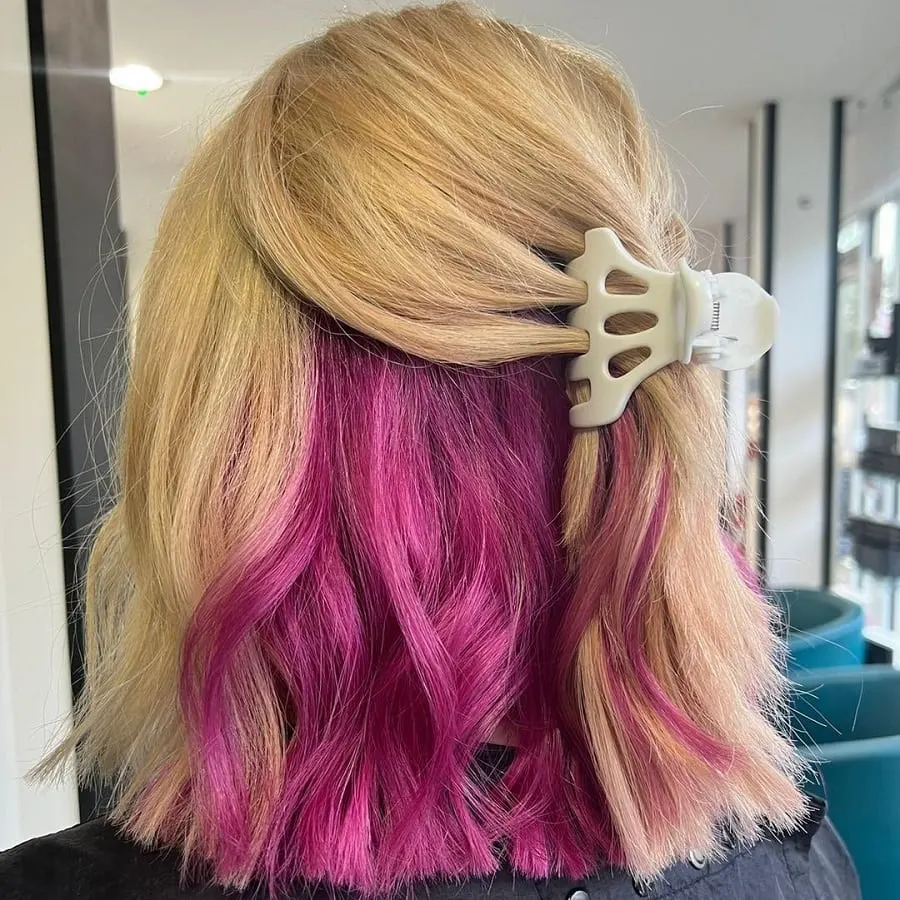 Show off your bold and creative side with a splash of magenta under your blonde hair. This vivid hair color is perfect for daring women who aren't afraid to experiment and get out of their comfort zone.
14. Blonde Hair with Bangs + Dark Coral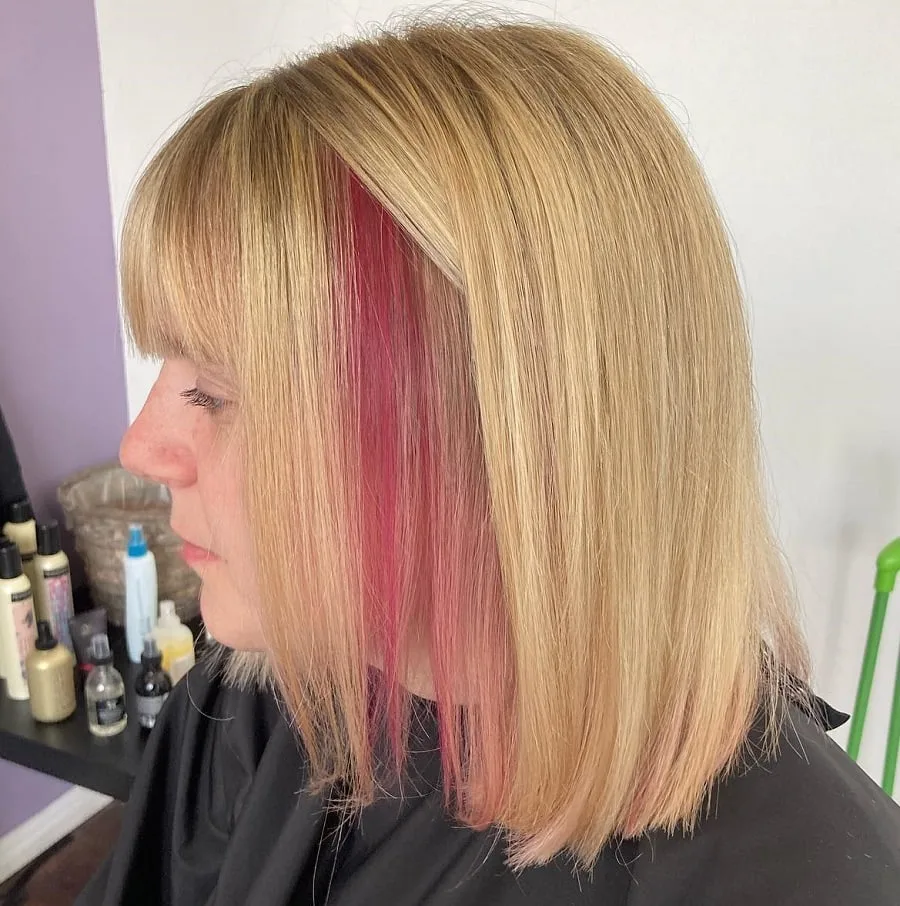 The underneath pink hair should not only be limited to the back portion. You can put it on the side as well. In this way, anyone can see how gorgeous it looks when you tuck your hair in your ear.
15. Braids with Fuchsia Pink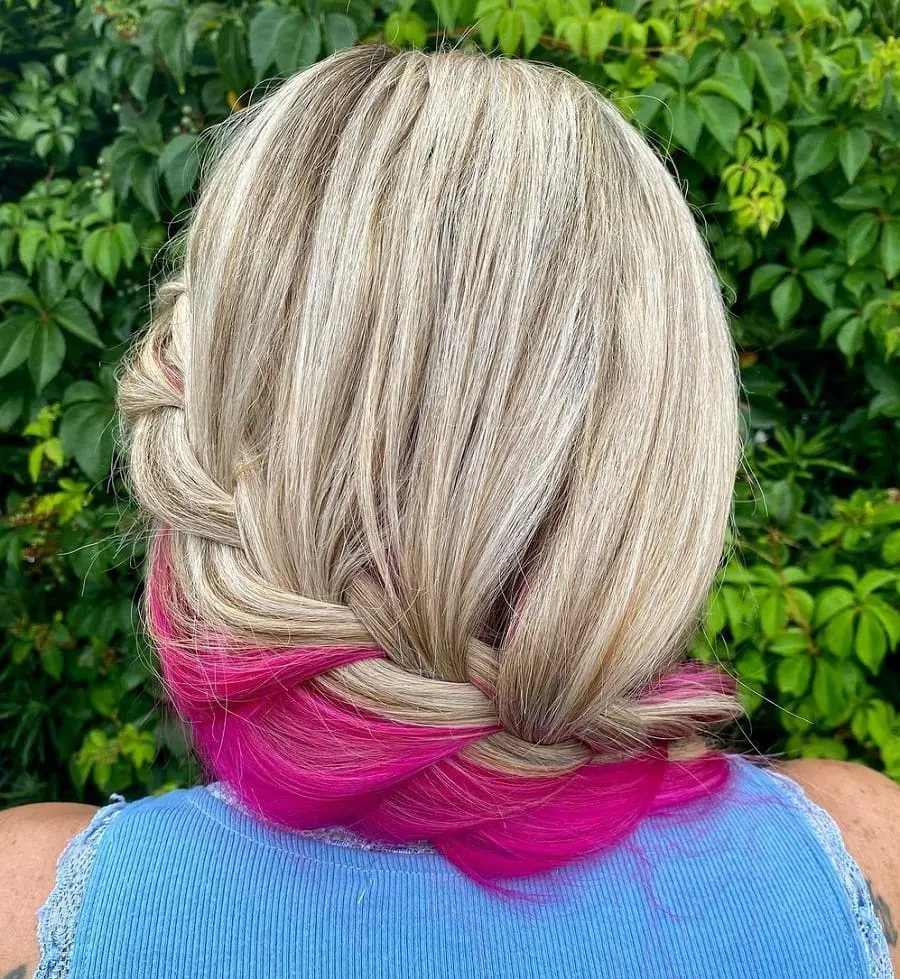 If you want to show off your pink hair semi-permanently, pull it into a gorgeous crown braid like this one. The bright pink shade adds a colorful touch to the blonde hair while the pale blonde shade balances off the eye-catching highlights.
16. Dark and Light Blonde Hair + Plum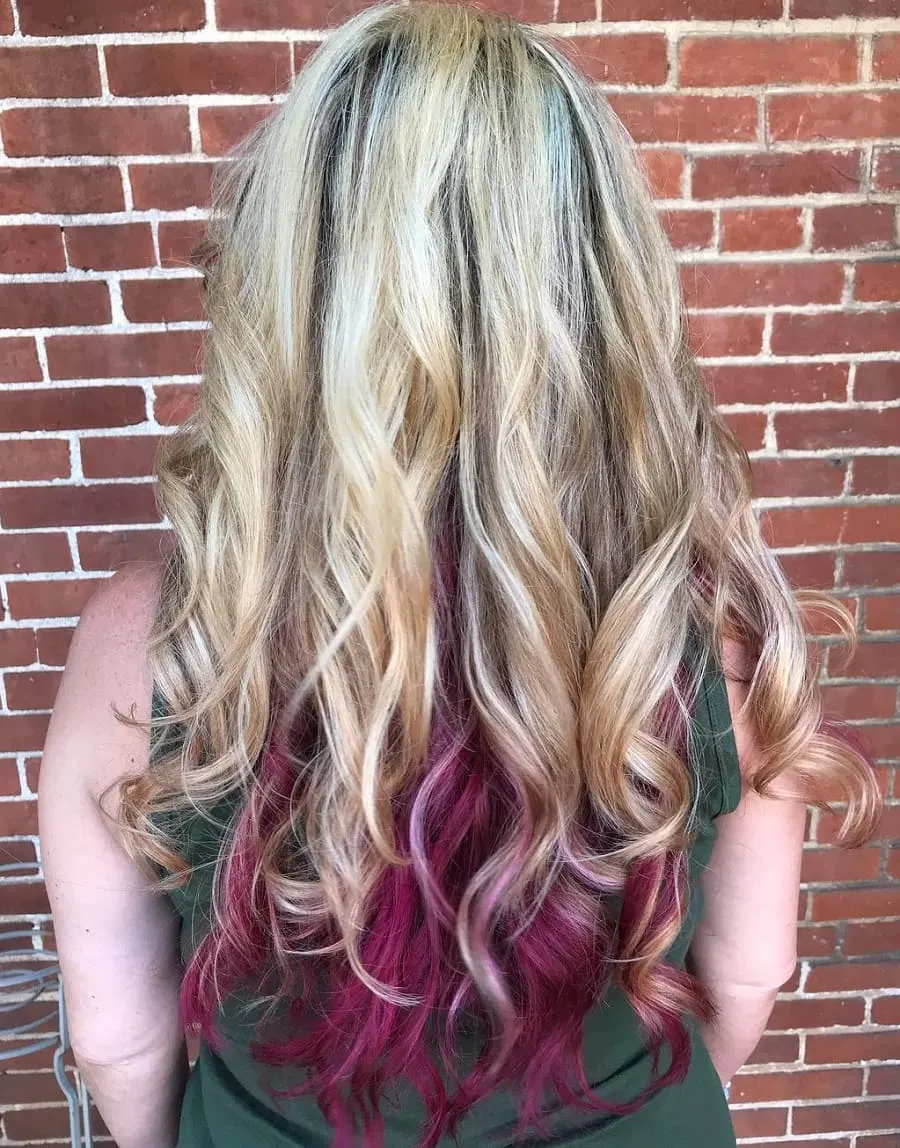 Plum is an amazing option if you're looking for a deeper and darker shade of pink. This rich color perfectly complements a warm blonde shade paired with dark roots.
17. Magenta and Pastel Pink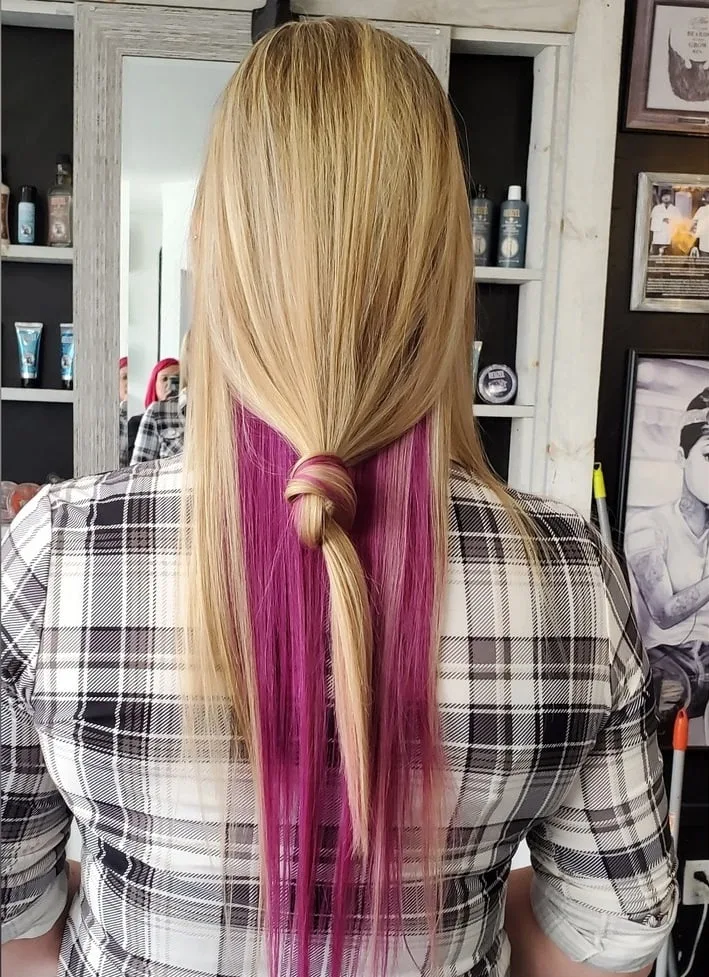 Adding highlights is one of the best ways to boost hair volume. If you wish to go down a more subtle route, these magenta underneath is the way to go. Adding in a few light pink strands will certainly make this gorgeous color pop even more.
Pink is one of the most eye-catching hair colors out there, and it certainly deserves a spotlight. But if you want to keep things subtle, dyeing your blonde hair pink underneath is the best way to go.
Related Topics