Transitioning from black to blonde tresses might not be a piece of cake for many as these two shades lie on the opposite extremes of the color spectrum. But you can surely add a playful spark to your mane by trying out the black Hair with blonde underneath or peekaboo hair color trend.
The underneath hair dyeing allows you to sport the brightest hues on your underlayers that are visible only when the hair is up, tousled forward, or when the wind blows through it.
Black Hair with Blonde Underneath
Hair length, texture, placement technique, and position of the underlayer all play an important part in determining the extent of visibility of your blonde chunks underneath black hair.
Consider the following black hair with blonde underneath ideas to relive the skunk hair moment with style.
1. Platinum Ice Surprise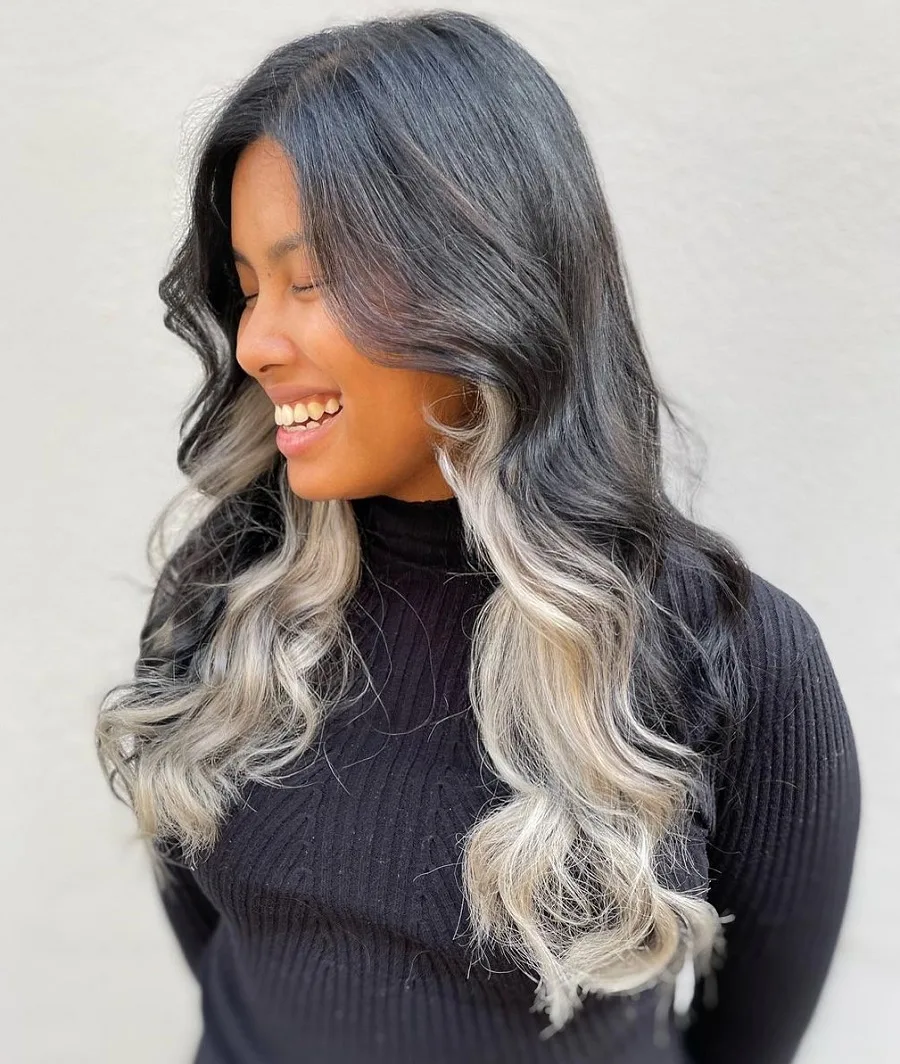 Platinum blonde looks exceptional whether tried as a balayage, ombre, or underneath hair color.
Make those shiny black tresses stand out by painting a layer in an icy tone keeping it nearest to the nape. Finish off with loose waves tousled at the front to get the change noticed instantly.
2. Peekaboo Ponytail
The higher the hairstyle, the more visible your peekaboo hair shade becomes. Take this chic high ponytail as an example that adds a slimming effect to the face.
Contrary, wearing the hair down will hide your lightened strands completely, and no one's ever going to know!
3. Color-Blocked Bob
Try black hair with blonde underneath on a straight bob as underdyes appear more distinct on short locks and vice versa.
Color blocking refers to playing around with contrasting nuances having a solid borderline in between instead of a seamless blend. And that is exactly where all the drama lies!
4. Black Over Strawberry Blonde
A straight underlayer doesn't surprise me anymore but a V-shaped partition surely will.
Strawberry blonde is one of the most attractive tones of blonde, with a magical hint of red. Ladies who wish to hide a soft surprise under their black mane should definitely give this shade a shot.
5. Underdye Lob with Beach Waves
Beach waves and curls make underneath hair colors pop a little more as compared to straight hair.
Keep in mind that the blonde chunks become more obvious as you place them nearer to the crown and vice versa. Try the look on a choppy lob, and you won't regret it!
6. Two-Toned Blonde Underlayer
Add as many colors to your underlayer as you want because why not? Place warm golden blonde and cool silver blonde on top of one another to turn around some heads. Blending is optional.
Set your new style on full display with a messy half-up braid, and voila!
7. Color-Split Half Updo
Black with blonde is one of the most captivating color combinations. Ladies who are bored of their monochromatic raven locks but don't want a drastic change can experiment with a blonde underlayer without worry.
Half-up half-down hairdos, like this loose bun, are ideal to set your mane on fire!
8. Black and Blonde Box Braids
African-American beauties can achieve black hair with blonde underneath without even adding a drop of chemical dye to their head.
How? The answer is box braids! Just incorporate golden blonde extensions when braiding down the lower sections to protect your natural hair with style.
9. Money Pieces + Underlights
Couple your blonde underlights with some magnificent money pieces to achieve brightness around the face.
Replacing a solid underlayer with fewer disconnected chunks also keeps hair damage at a minimum. Throw in some layers to allow the lightened strands to peek through long and short black sections for a funky finish.
10. Golden Side Chunks
As mentioned above, an ear-to-ear underlayer is not necessary when getting a groovy underdye. Instead, take out two big chunks of hair behind both ears and paint them blonde.
Try a simple twist-back hairstyle or a classic braid and see jaws drop on the way.
11. Bleached Peek-Through Curls
There is nothing much fascinating about plain black curls. How about hiding a blonde surprise underneath to turn them into one of a kind?
From light to dark, there are countless shades of blonde to choose from to accent your dark top layers. Again, half-up hairdos will work wonders for sure.
Women who don't want to refresh their haircut can try a new hair color instead. Carve out a suitable layer of hair and bleach it down.
You can always go over with any other vibrant hair color whenever you get bored of that blonde nuance. Can't get any simpler!
13. Just a Hint
Still reluctant to try black hair with blonde underneath? Keep it minimalistic by lightening a thin layer lying closest to your neck. This section will remain hidden most of the time, making it workplace-appropriate.
A dark blonde underdye will further help to achieve a relatively soft color contrast.
14. Flawless Dark and Light Interplay
Whether you have natural black tresses or blonde locks, this magical look can be recreated in both cases.
Produce the perfect light and dark interplay by dying your lighter mane black on top or lightening down your dark hair near the nape. The results will be equally stunning!
15. Metallic Shock Waves
Black and golden blonde might not look appealing to everyone, but you won't be able to say no to this shiny metallic silver tone of blonde.
Get creative and try an asymmetrical placement, a couple of underlights, or a central layer instead. Whatever the case, some bouncy curls are a must!
16. Champagne-Toned Bottom Layer
Whichever shade of blonde you opt for underneath your black mane, the resulting juxtaposition is sure to turn around many heads.
Champagne blonde has a barely-noticeable pink to peach undertone that creates a soft sun-kissed look. Place it under your raven mane with some babylights.
17. Long Black Hair with Blonde Underneath
The blonde section underneath black hair will remain concealed most of the time, in the case of long tresses, until you add texture like curls, partition the mane, or style it up.
It's a safe play for long-haired ladies who wish to upgrade their style with minimal risk.
18. Dusty Blonde Underdye + Bangs
Opt for a dusty ash blonde undercolor to end up with a low-key yet mystic color combo.
Women with bangs can set them on fire by painting their underside to match their bottom layer at the back. How about lightening your entire hairline? Worth a try!
19. Trendy Earloop Highlights
Earloop highlights refer to lightening and coloring the under-sections around the ears only hence further reducing any hair damage.
These bright streaks, though minimal, disappear and reappear whenever you want and are ideal for framing the face especially when hair is tucked neatly behind those ears.
20. Picture-Perfect Skunk Hair
This enchanting skunk-style black hair idea with blonde underneath is the outcome of a simple trick.
Pull your black top layers in a half-up bun along with a thin section of blonde, too and tug out uniform dark chunks to alternate with the lighter ones below. There you go!
You don't have to completely let go of your luscious dark tresses to look like a hot blondie for once with these black hair ideas featuring blonde underneath.
Create the drama at home by separating a continuous underlayer or a few chunks and bleaching/dying them. Seeking professional help would be the best option, though!
Related Topics