Are you looking for a new way to accentuate your beautiful blonde hair? If you haven't considered adding red underneath, we're about to show you 15 combinations that will inspire you to do so! Red is universally recognized for being a bold color choice and rocking it in your hair is a great way to make a statement.
Any shade of red under blonde hair will make a fierce style and the best part is you don't need to have a certain hair type to rock the two colors together. Whether it's dark red under platinum blonde hair or blonde balayage with light red underneath, you'll have amazing results you can't wait to show off.
Trendy Blonde Hairstyles With Red Underneath
You'll feel like a whole new woman once you try one of these blonde hairstyles with a splash of red underneath!
1. Long Bangs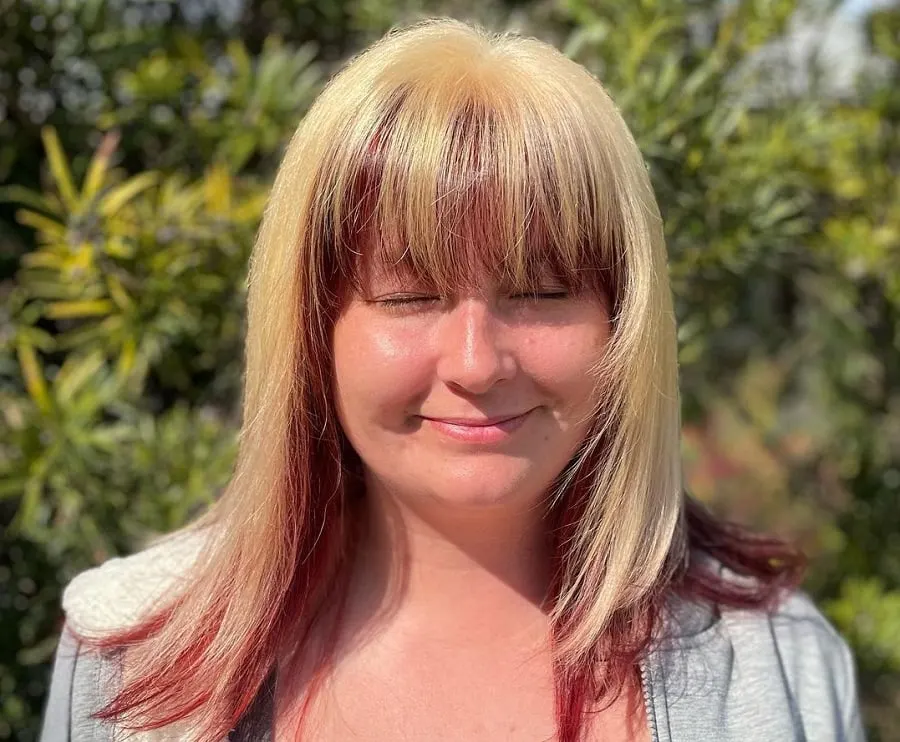 A long or shoulder-length layered haircut with straight bangs gets a refresh from a splash of red underneath. Give your fringe some character by asking your stylist to cut it jaggedly or uneven.
2. Partial Shave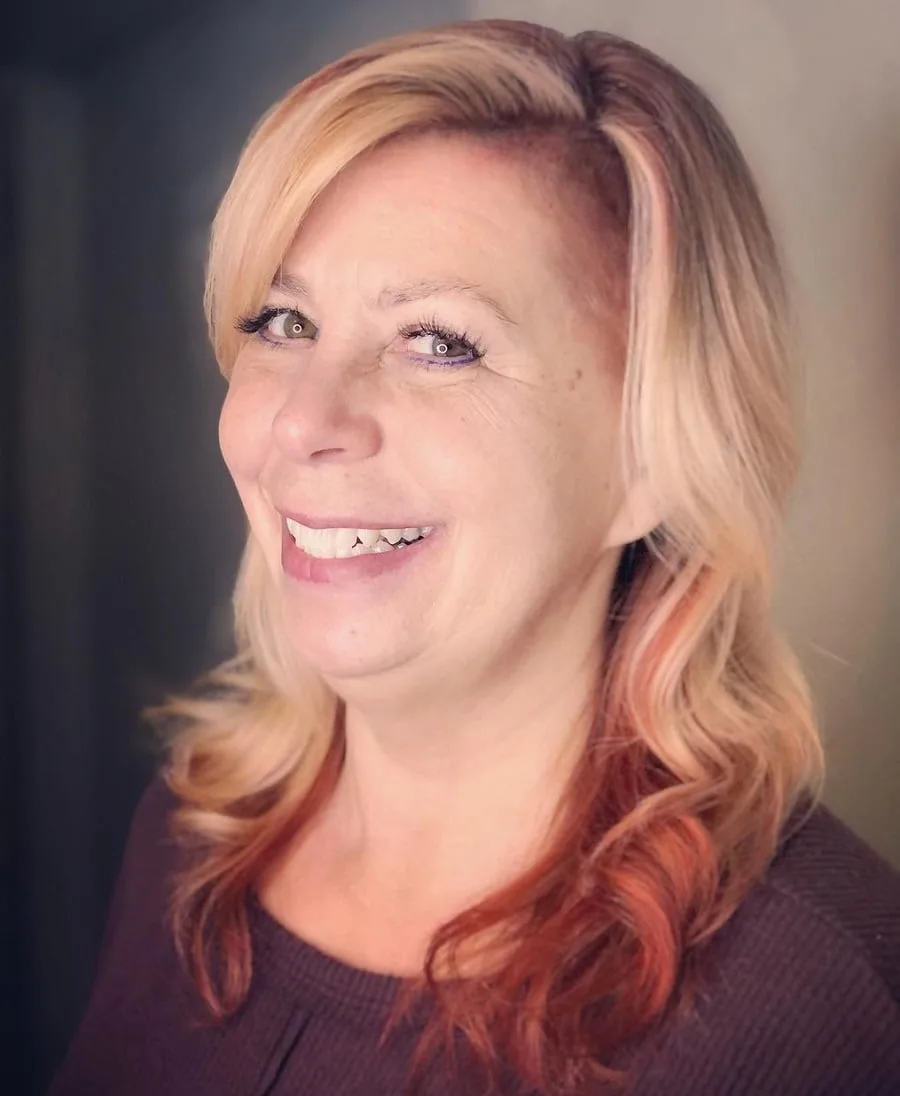 Between the light red underneath this long blonde haircut and the partially shaved area near one temple, this wavy haircut is both a beautiful and edgy option for women over 50. An off-center part and long side bang will help with dimension, too.
3. Formal Half Updo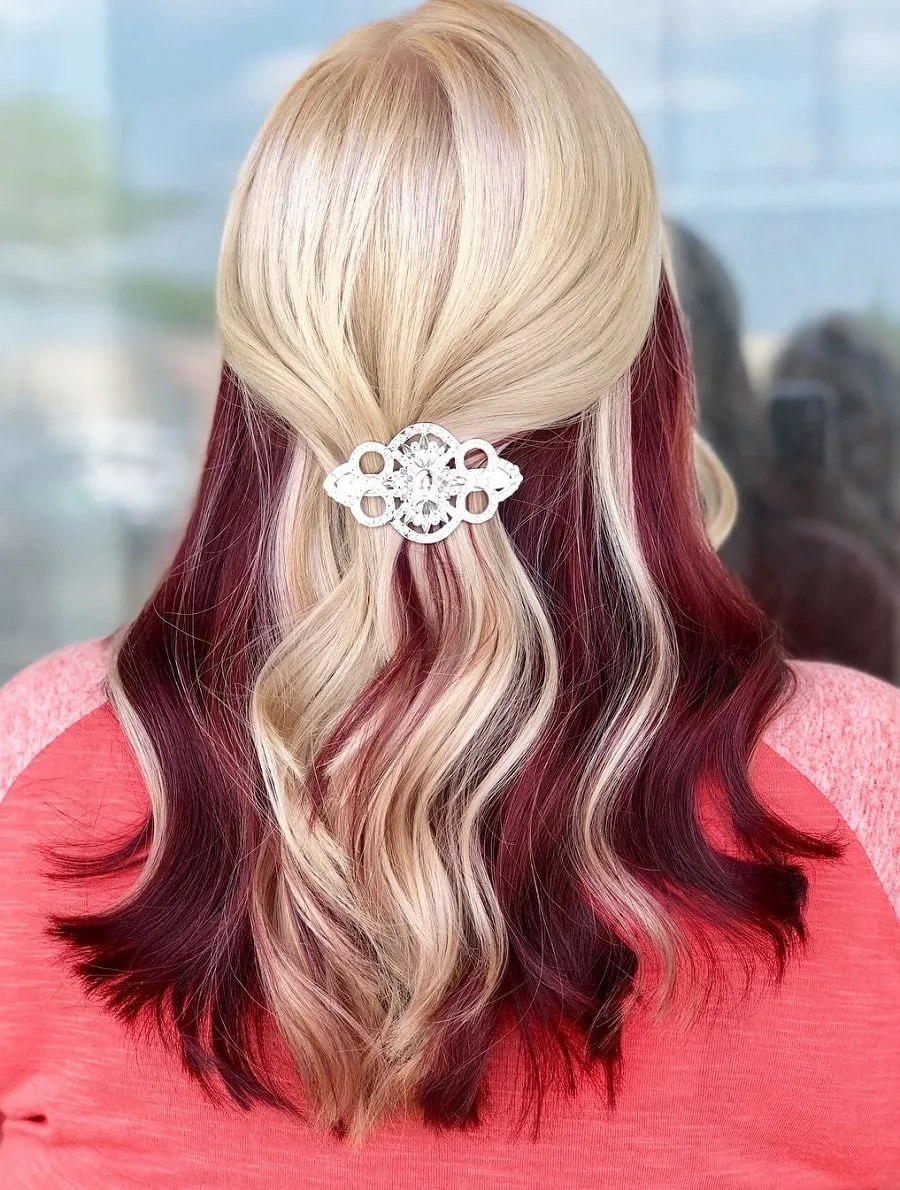 Any time you wear your hair in a wavy formal half updo, the red underneath your blonde hair will show through beautifully. For both long and short hair, smoothly comb back a small portion of hair and secure it with a jeweled clip.
4. Short Wavy Hair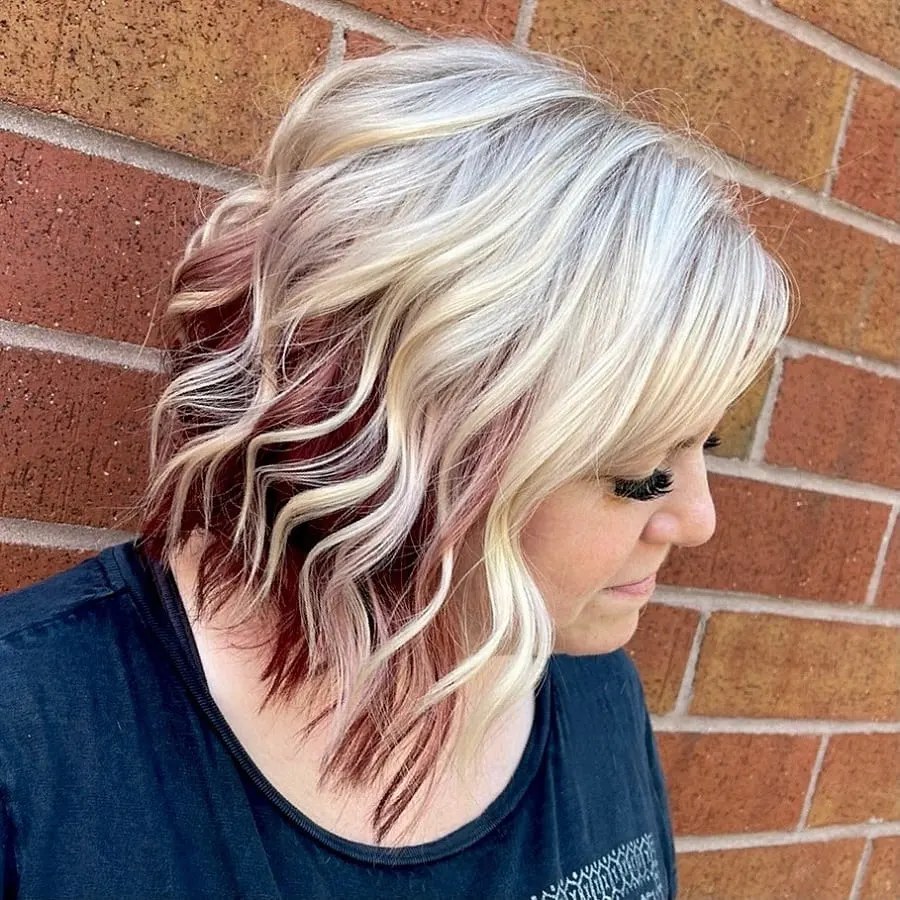 A short bob in an A-line or asymmetrical cut won't be short on detail when it features light blonde, dark red, and waves for a luscious texture. With or without side bangs, this hairstyle is a winner.
5. Layered Thin Hair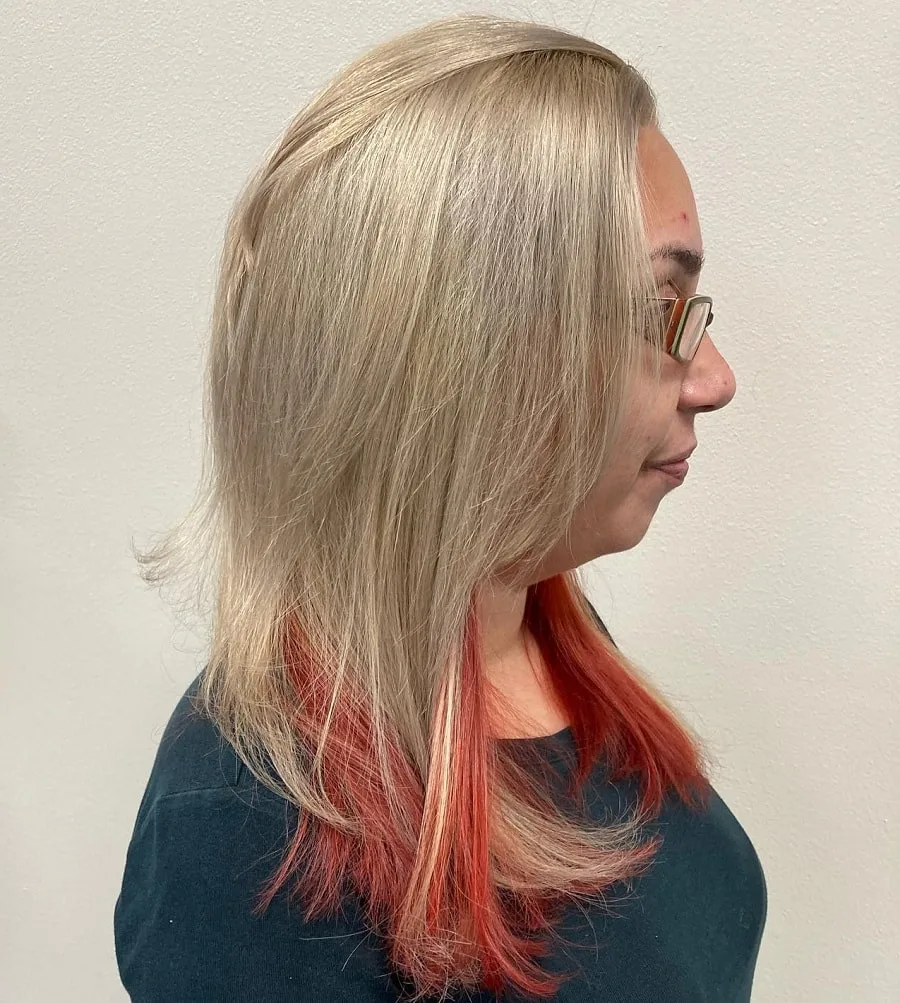 You won't need to worry about long layered blonde hair being void of style if you add an under color of red. In a medium or dark shade, it will give your whole look a pop of color.
6. Straight Blonde Hair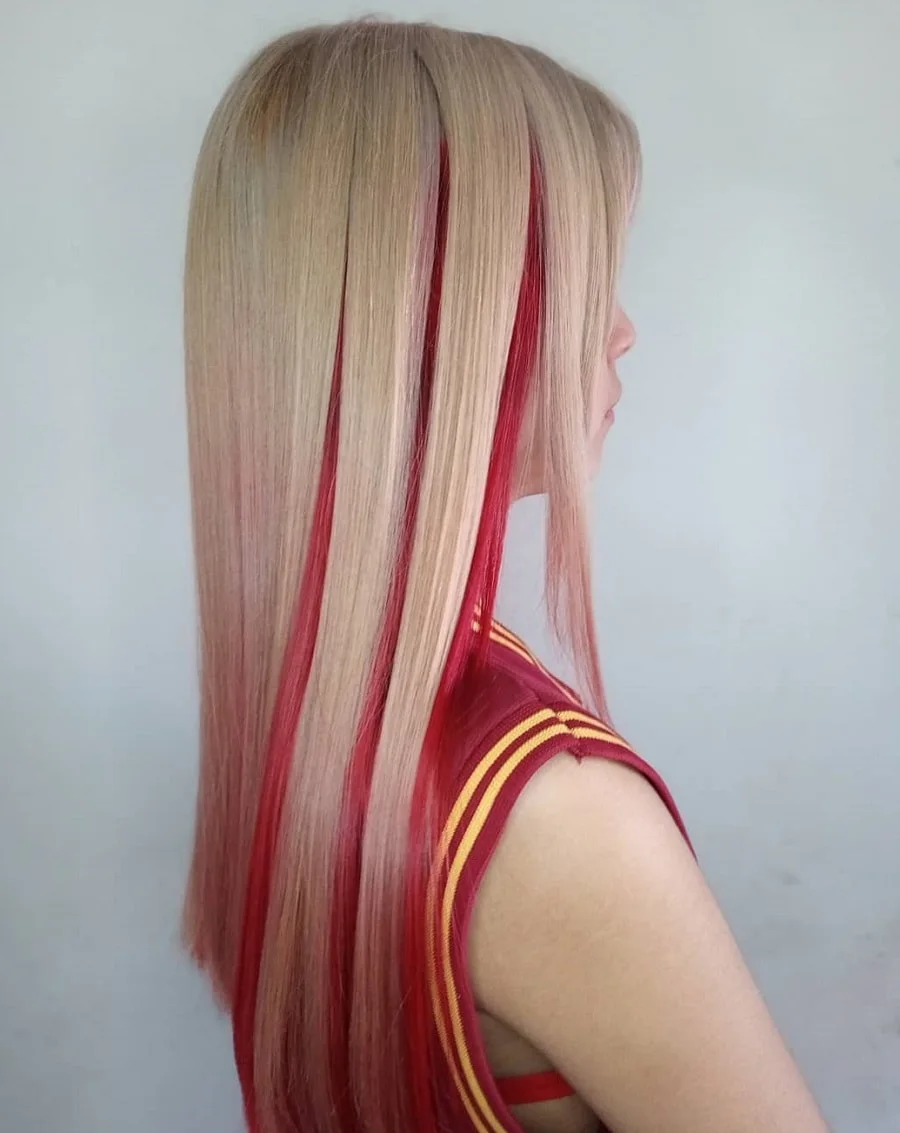 A brighter shade of red underneath long blonde hair is just the shade for women with a light or pale skin tone. For a sleeker style, straighten your hair to see the shiny color peek through.
7. Curly Hair with Red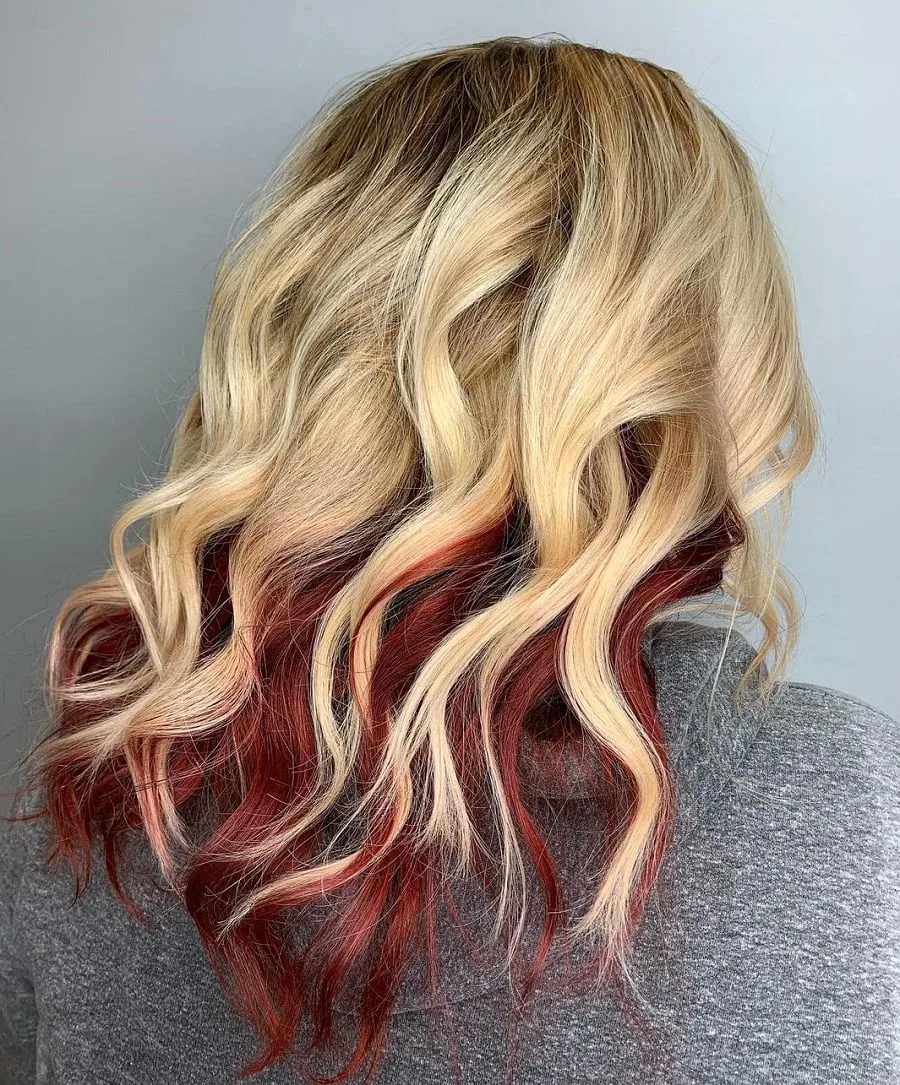 To create a moodier look, opt for dark red underneath blonde hair. These soft curly ringlets are even prettier with the addition of red to highlight their shape. You can wear your hair down or up in a loose ponytail to show off the color.
8. Blonde Bob
If you're looking for a short haircut for your blonde locks, a cute chin-length or other style of short bob is a stylish choice. You won't need to add too much red color underneath for it to show up either.
9. Long Braid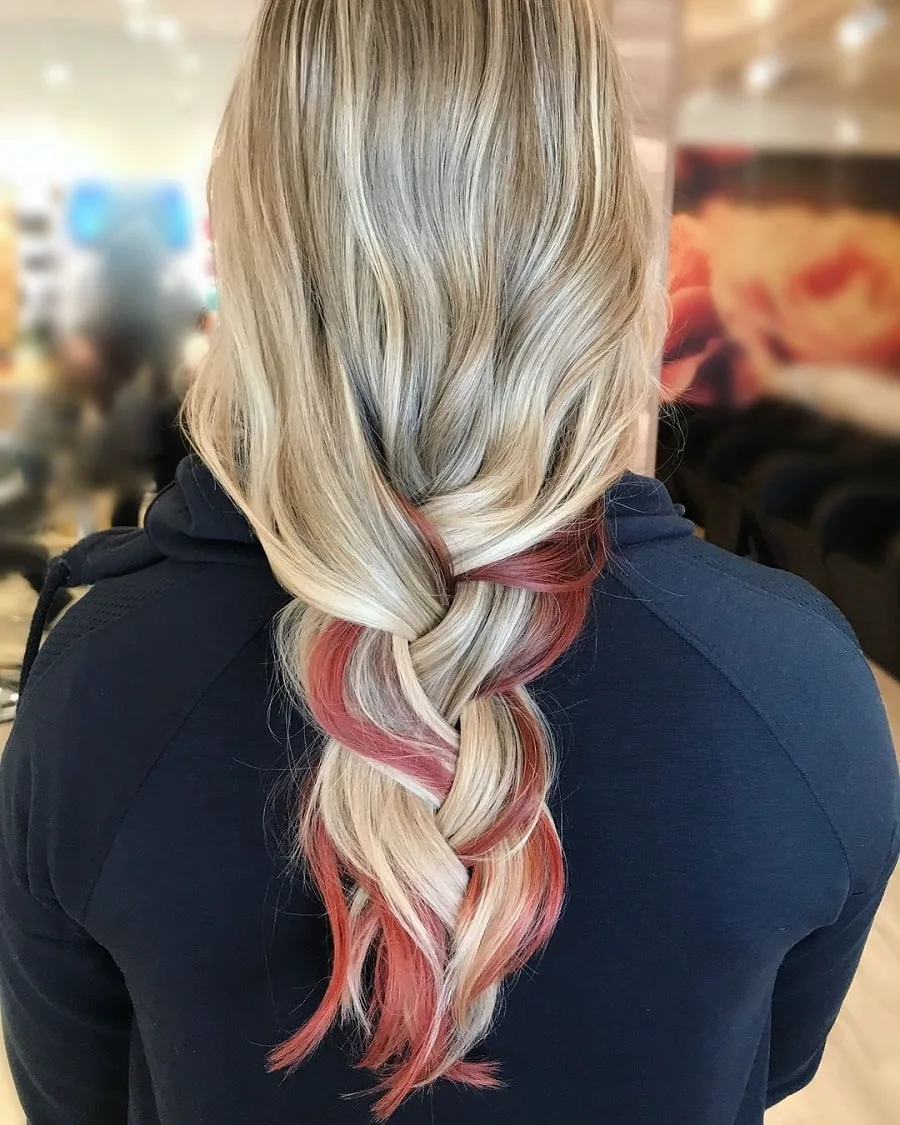 If you're feeling really gutsy, add a couple blonde highlights to your hair in addition to red under color. This blonde balayage is stunning on a loose long braid and picks up the red really well.
10. Feathered Hair with Red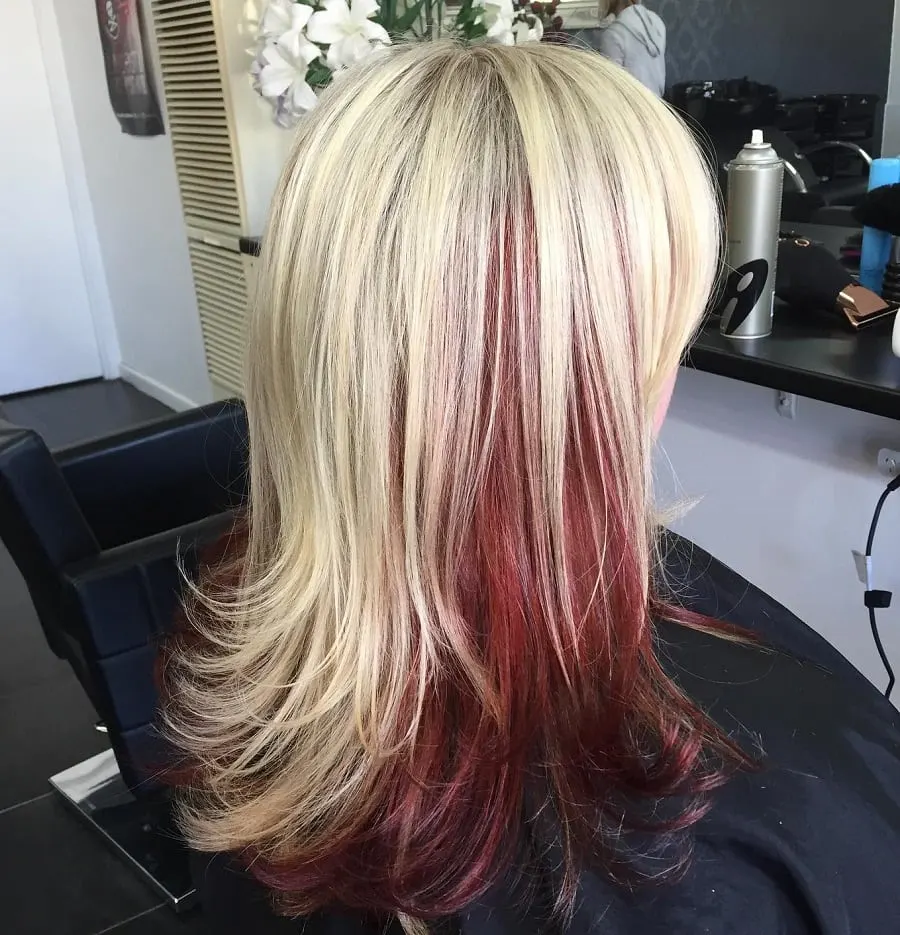 To get the beautifully layered wisps seen here on long hair, ask your stylist for a feathered haircut. Their slightly curled ends are gorgeous in dark red and the cut gives hair a built-in shape.
11. Platinum Blonde + Dark Red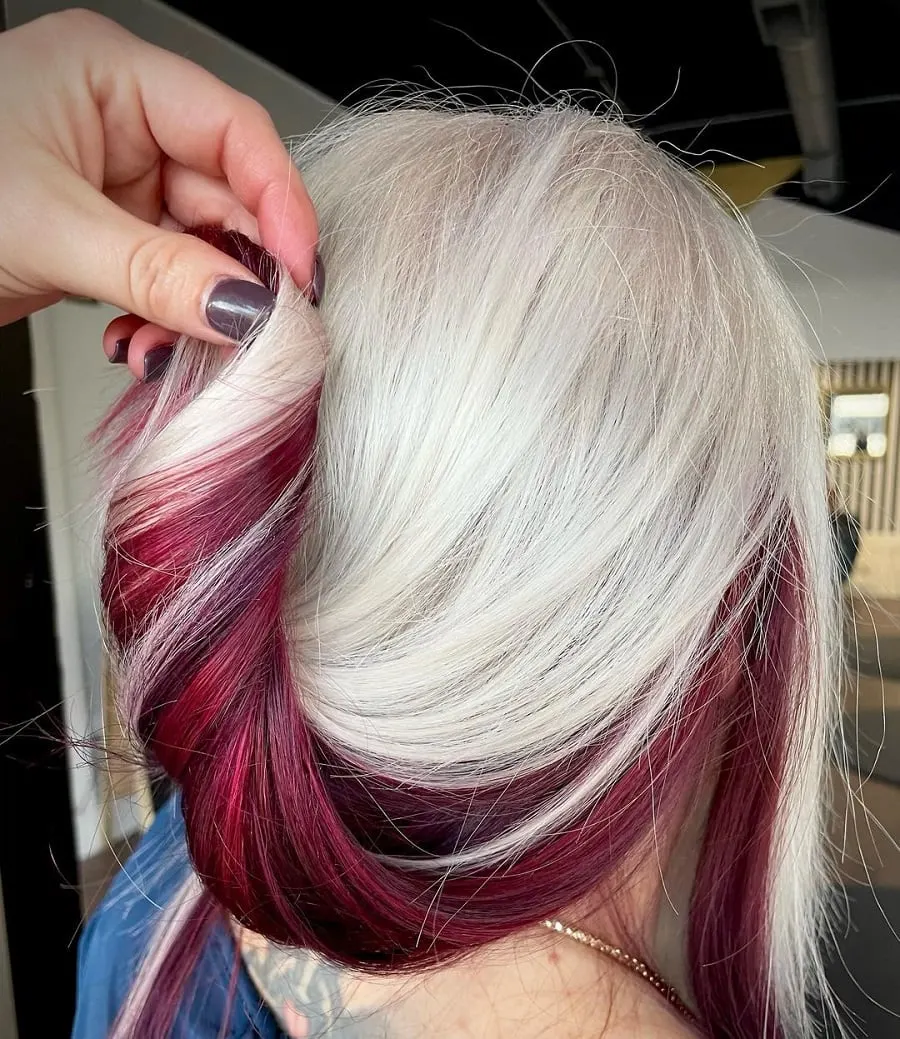 You can do any shade of blonde with dark red underneath, but a platinum blonde is the way to make a statement. The contrast of ultra-light with dark is beautiful no matter your hair length and texture.
12. Red and Orange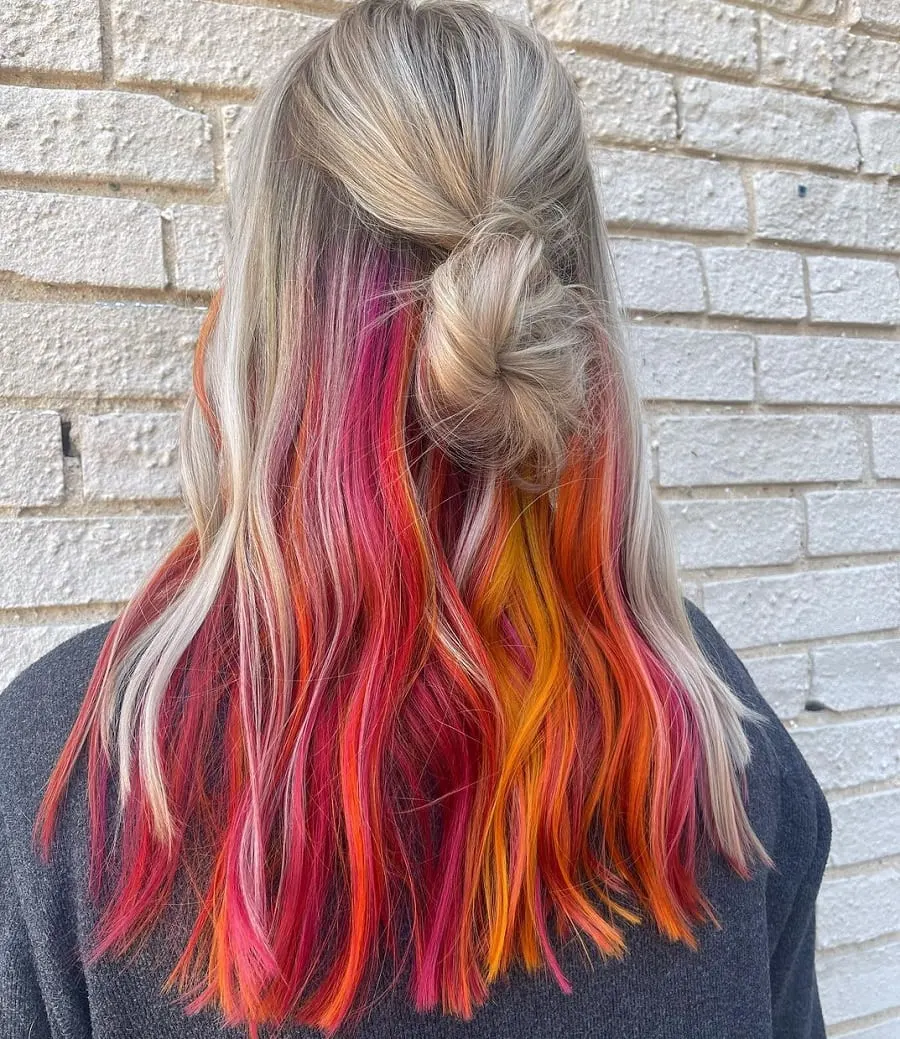 Whether it's summer or you're just feeling in the mood for an eclectic hairstyle, a beautiful blend of blonde, red, and orange will give you a tropical vibe. You can even take it one step further and add hot pink.
13. Blonde and Cherry Red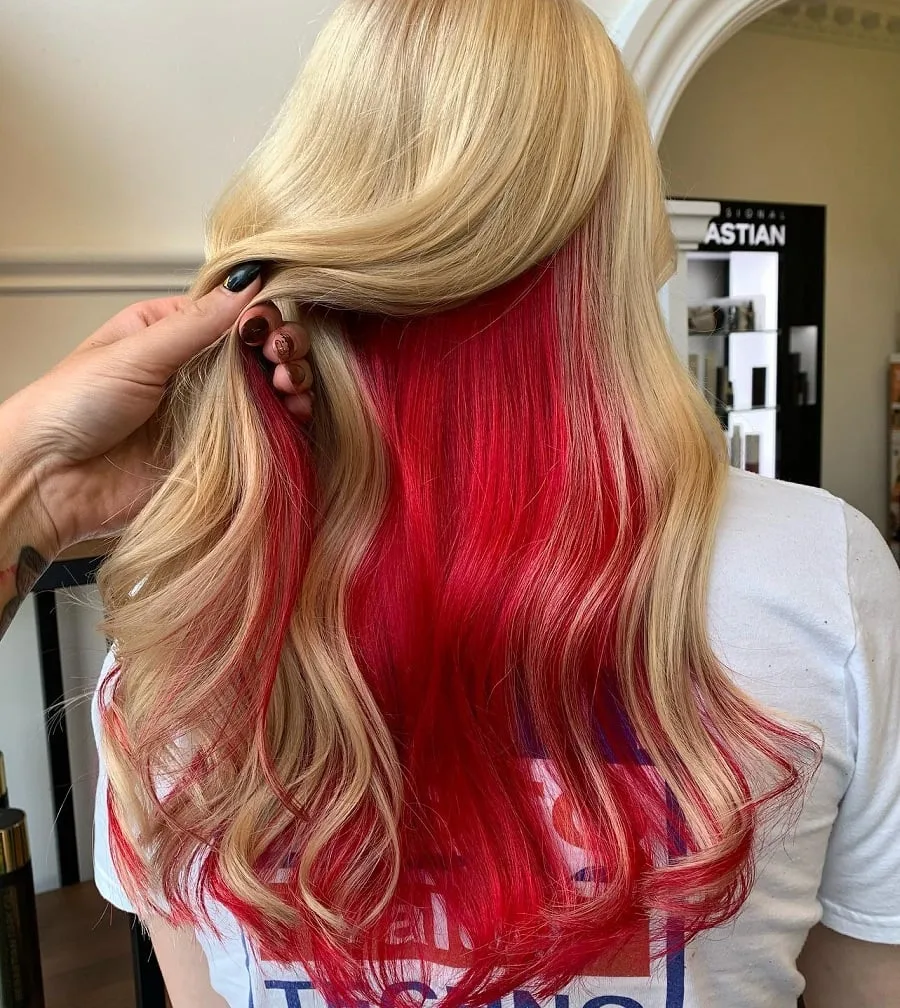 A sweeter style can be created by adding cherry red beneath blonde hair. For shoulder-length and long hair, dress it up with waves or curls to draw all the attention to your lovely locks.
14. Asymmetrical Blonde Bob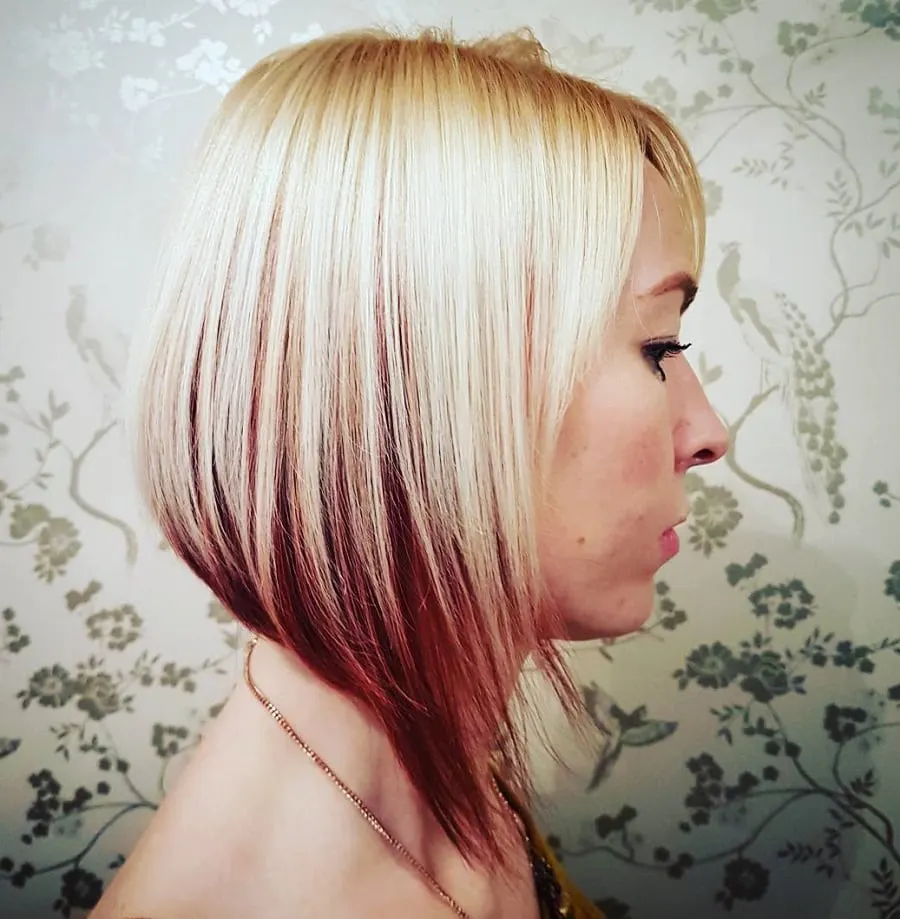 If you have a square face shape, asymmetrical bob is an ideal short haircut. Light blonde with dark red underneath will emphasize the angled cut and help to flatter your face. Wear with or without side-parted bangs.
15. White Blonde and Red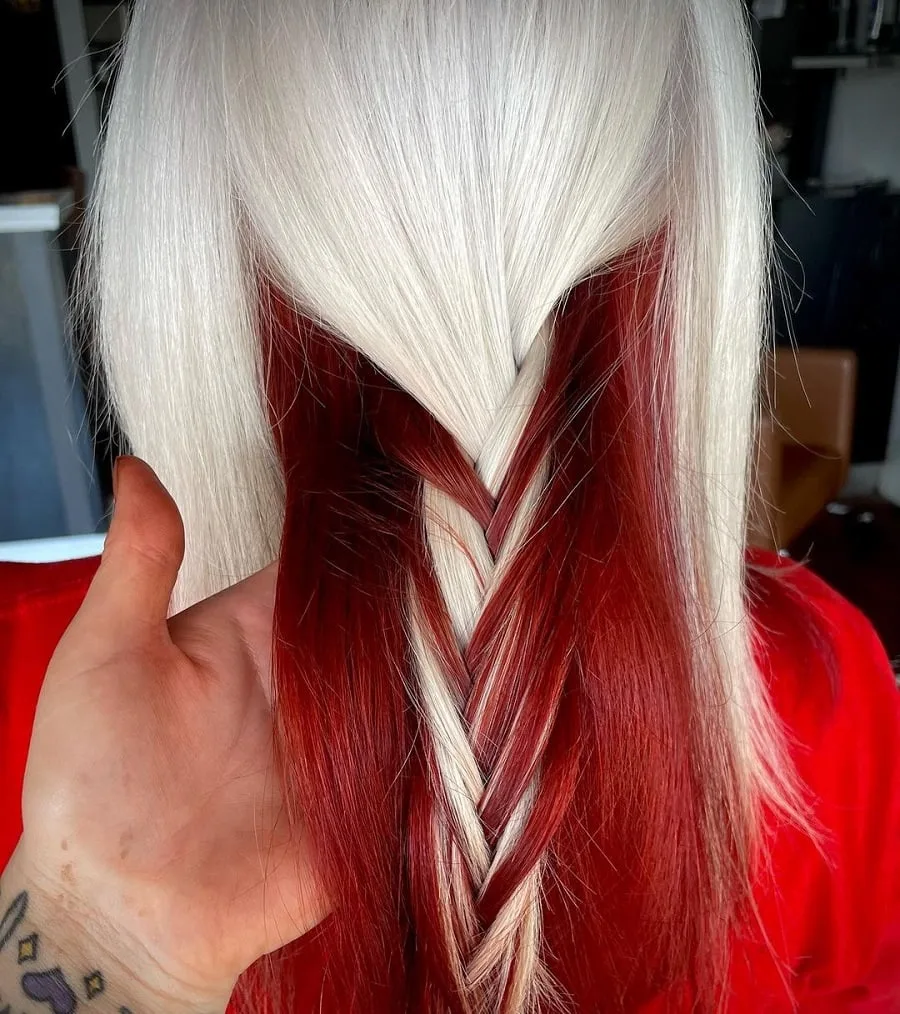 White blonde is another shade of blonde that, like platinum blonde, is perfect for making a statement with your hair. With a bright red underneath, the colors will be quite vivid and beautiful.
Which blonde hairstyle with red underneath is your favorite? Personally, we love them all and we wouldn't blame you one bit if you have trouble deciding on which look to try first. The light or darkness of blonde and red you choose depends on the look you're trying to create.
For moodier vibes, go with dark red. Medium to light shades of red under color will flatter all skin tones. Just know that no matter which style you choose, it will be gorgeous!
You May Also Like