Shading the hair with one or more colors have been in trend for the last few years, and blonde hair with brown underneath transition is the newest trend! The craze for hair coloring has always been on the rise ever since this fashion emerged.
One of the most preferred combinations of hair color is blonde at the top with brown underneath. This mix has experimented with different shades of brown ranging from dark deep chocolate brown to a warm hazelnut brown.
Mixing two colors for your hairstyle is one of the most popular styling directions in the contemporary fashion world. Among them, blonde hair on top and brown on bottom hairstyles are getting the highest scores. While the regular ombre has you leaving the dark hair on top and the lighter locks on the bottom, this particular style can be called a reverse ombre.
How to Match Blonde and Brown Hair
Matching blonde and brown has always been a fail-safe way to create a beautiful style. It's always up to you to decide how to make the mix, we can only give a few suggestions.
When you are choosing the perfect colors for your blonde hair on top and brown on the bottom hairstyle, you need to think about which colors to match. If you are leaving your own natural blonde or brown locks and just dyeing one of the parts of this reverse ombre, take a look at these amazing matches.
While these colors can create the best matches, you can still experiment with other color pairs. Remember, blonde and brown are the perfect mix. Just beware, when you are dying your blonde locks brown, you might end up with a greenish hue. Always read the instructions on the box carefully before starting to dye your hair or ask for professional assistance.
Watch this tutorial doing the opposite – brown on top and blonde on bottom:
Latest Blonde Hair with Brown Underneath Styles
There are a wide variety of hairstyles that go extremely well with this blonde hairstyle with brown underneath. The hairstyle that you choose must enhance the color pattern.
What with all the hundreds of hairstyles that come out every day, here are 25 beautiful styles picked out just to suit the charming blonde hair with brown underneath pattern.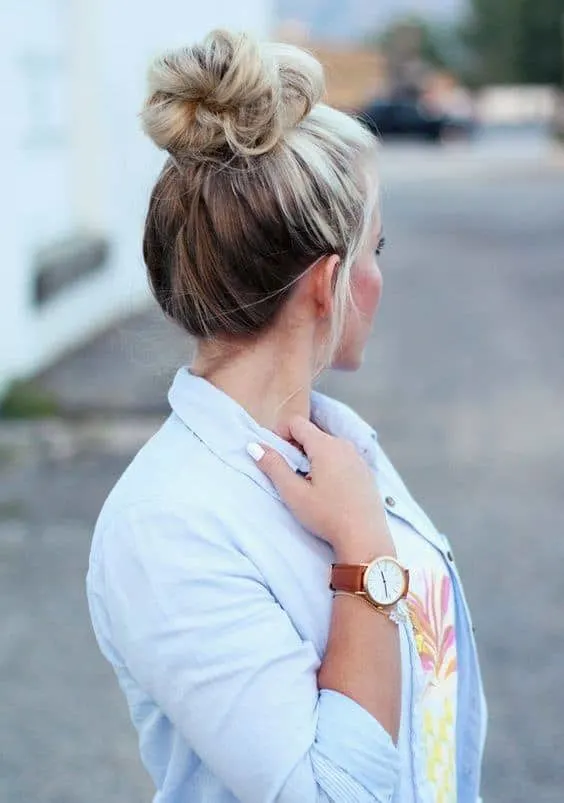 The high messy bun is an amazing hairstyle that portrays the beauty and elegance of the blonde hair with brown underneath transition. You can add intricate details to your chignons like a crown braid or twisted tongs.
Ideal for: This style would work well on long, layered and tough-textured hair.
How to style: With a messy chignon tied at the top of the head, the hair at the lower back exposes the brown. The hair at the front is a display of the blonde at the top. Keeping your hair long, tidy and straight would be the best way to style it.
2. Super Messy Curled Locks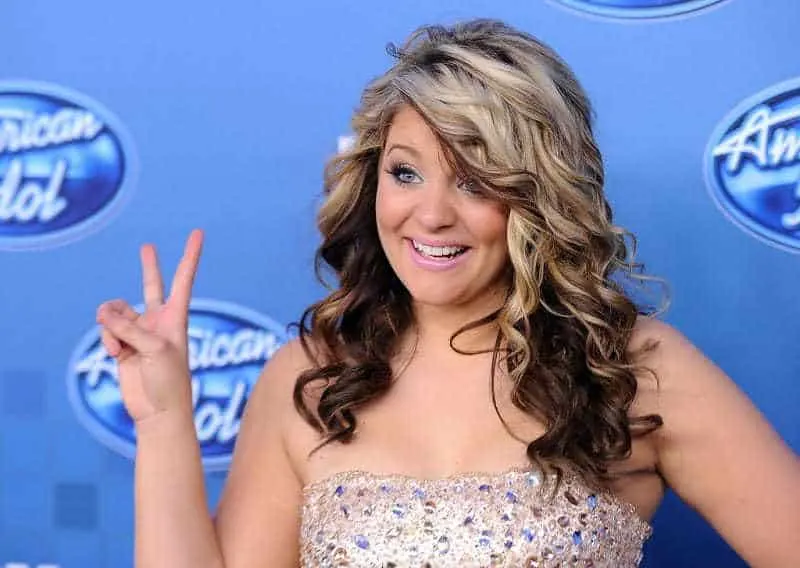 The blond highlight overlapping the brown curls are truly beautiful. The intense curls are spread across the entire hair. The most natural way to mix blonde and brown hair without spending too much time on the touch-ups is to integrate highlights. If your hair is dark brown, you start by making blonde highlights on the top part of your head and finish near the bottom where your locks stay natural.
Ideal for: This is a very fashionable hairstyle which would work extremely well on curly hair. This hairstyle would suit a round and even oval face shape. It will go well with medium to long hair.
How to style: The blond curls overlapping the brown curls are truly beautiful. The intense curls are spread across the entire hair. These curly tongs of hair are side parted are let loose in a messy fashion.
3. Straight Two-layered Lob
This is another variant of a lob which is straight and has two layers. The first layer end at the jawline and the second layer hangs just below the shoulders.
Ideal for: This style suits best for girls with fine, thin and straight hair. Also, if you have an oval face, opt for this one!
How to style: An interesting distinction in this hairstyle is that the blonde shade runs through the entire stretch of hair in the front. Then there is brown hidden on the inside. The latter just peeps out elegantly at the bottom of the lob.
4. Blonde to Intense Brown Twirls
This is a pretty similar variant of the super messy fully curled locks. The curls in this version are comparatively milder, and the tongs are not as distinct as in the other style.
Ideal for: It will look great for oblong faces with medium hair. The tongs are also layered at different lengths.
How to style: This is a very versatile hairstyle of blonde hair with brown underneath, layers at various lengths and curls in different intensities. It looks best with minimal jewelry and does not require high maintenance.
5. Side-parted Twisted Tongs
This is yet another impressive way of displaying your blonde to brown hair shade. This mix of shiny and soft colors can make any girl look fantastic. When it comes to using two colors for a reverse ombre, you have to decide where the transition will be.
The lower you make it, the less impressive the result might look but the more natural it will feel. This "half way" option is the most popular.
Ideal for: This blonde hair with brown underneath hairdo will work extremely well on silky smooth hair. You can try this style on medium to long hair. Also, it would look very nice on a diamond-shaped face.
How to style: A major section of the hair is parted to one side and then twisted to make elegant tongs halfway through the length of the hair.
6. Mild Loose Bottom Tongs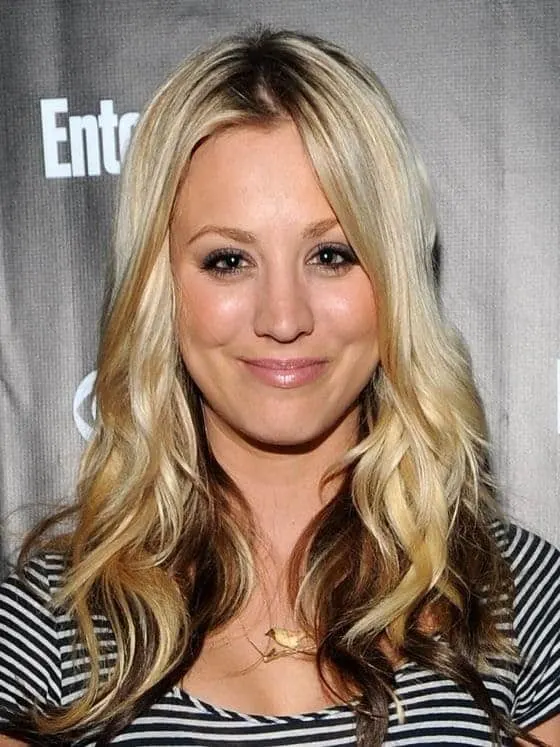 In this style, the blonde part of the hair remains straight, and the brown part is induced with medium beach waves.
Ideal for: It would go well with oblong and oval face shapes and medium to long hair.
How to style: The wavy brown bottom exposes the brown and blonde distinction in your hair. This is also a very convenient and pretty hairstyle. You can also center part your hair if that looks good on you. Keep your hair well-conditioned to get the best out of the cut.
Blonde Hair With Red Underneath: Styling Ideas
20 Trendy Gray Bob Hairstyles to Try in 2023

Gray bobs are versatile, low maintenance, and super modern. One can naturally achieve the color when the hair pigment starts fading, or by bleaching the hair and using a toner that colors your tresses. However, before doing this amazing transformation, you must know that the color change requires a great hair routine that keeps the…
7. Smooth Swirls from Blonde to Brown
The smooth swirls in this wavy blonde hairstyle run through the length of the hair ranging from intense curls on top to gentle, subtle waves at the bottom.
Ideal for: This is an attractive and pleasant hairstyle that best suits long, layered and tough textured hair. If you are a person with an angular face and sharp features, then this is the perfect style for you.
How to style: This style will not just enhance your brown under blonde hair shade but also make those attractive features of yours stand out. Keep the hair conditioned at all times to retain the shine and volume for the best look.
8. Warm Brown to Deep Chocolate Curls
This hairstyle is unique in terms of the shades of brown it incorporates. It is a very exclusive blend of a warm, light brown on top to a deep, dark chocolate brown at the bottom.
Ideal for: This style would be a perfect choice for fairly long hair and an oval face.
How to style: This hairstyle consists of elegant curls starting from big ones halfway through the length of the hair. The hairstyle really close small curls towards the bottom of the hair.
A lob refers to the long bob. This hairstyle is a long bob with blonde in the front and brown on the inside.
Ideal for: This hairstyle looks amazing on a face with a pointed chin. As an added attractiveness, this is such an easy and convenient hairdo.
How to style: It is a long bob and falls a little below the shoulder. The bob is parted to one side and tonged completely. These pretty tongs of hair expose the beautiful brown beneath blonde hair shades in their mellow curls.
10. Smart Side-parted Gentle Waves
This is a common but stylish hairdo preferred by a lot of women. It has side bangs and is side-parted. The blonde hair with brown underneath is not distinct in this hairstyle. Instead, they appear as streaks throughout the hair.
Ideal for: It is unique and is best suited for short shoulder-length to medium hair.
How to style: This hairstyle doe not ask for much styling. Opt for a simple high ponytail or leave them loose for the best look.
This hairstyle is the interpretation of the traditional side pinned style in a blond to a brown pattern.
Ideal for: This hairdo suits best for round, square and heart face shapes.
How to style: This is a simple and widely used style that carries a grace and class of its own. The look of this hairstyle gets even better with the layers at different heights.
12. Simple Slender Lazy Waves
This is a simple and appealing hairstyle with lazy waves at the bottom. This hairstyle has the blonde shade for more than halfway down the length of the hair, and the brown shade is seen in the rest of the hair.
Ideal for: For those of you with a heart-shaped or an oblong face with long hair, go for this blonde hair with brown underneath hairstyle.
How to style: You can side-part or center-part your hair according to your preference. As the name suggests, this is a lazy hairdo where you just let those subtle waves loose to do their magic.
This light blonde and honey brown mix looks great in this special hairstyle. The inside part of the mane is colored to create an impression of two completely different styles. As opposed to the top natural option, this one allows you to use your imagination and really stand out from the crowd.
23 Angelic Above The Shoulder Haircuts for Women
14. Platinum Complement
This is the classic blonde on top brown on bottom option, which involves mixing platinum blonde and dark rich brown. This short platinum blonde hairstyle looks truly fantastic. The only downside is touch-ups. No matter what your natural hair color is, you are in for frequent touch-ups in order to keep it shining.
This is one of the smartest approaches you can adopt when going for the ombre options. Take a close look at the photo. At first glance, it seems as if the girl has an ombre. When you look closer, you see that only a small part of her hair is actually blonde. The location is everything when it comes to dyeing!
16. Chocolate Brown Underlayer
The trend of peekaboo/hidden hair colors is still going strong. Ladies trying it for the first time can opt for a natural-looking appeal by opting for a blonde shoulder-length hairstyle with brown underneath.
Keep the color contrast and division very distinct to turn your lob haircut into a one of a kind.
17. Seamless Reverse Balayage
Instead of going for a usual balayage, blonde beauties can experiment with its very reverse technique. Ask the hairstylist to hand-paint dark sections, just as the golden chestnut brown ones depicted here, that concentrate towards the ends.
Bouncy curls will further help achieve a seamless finish.
18. Color-Blocked Rachel Cut
The iconic Rachel cut has made a strong comeback this season. Apart from getting distinct wispy layers framing the face at shoulder level, turn this classic look into something more contemporary by placing brown beneath blonde or vice versa.
Tousle all the hair at the front to make your new hairdo more noticeable.
19. Two-Toned Half-Up Braid
Half-up half-down hairstyles are a must-try when having a hidden hair color. Take this one as an example featuring a very basic braid that reveals a gorgeous brown surprise concealed underneath a sun-kissed blonde top.
Loosely knit the strands from your crown region only for a relaxed look.
20. Romantic Side Bun
Create the perfect light and dark interplay with a romantic side bun on your night out. Tousle all of your hair on one side and wrap it up into a flirty loosely-twisted updo.
Pull out some light tendrils along with a few dark chunks and there you go!
21. Highlights + Loose Curls
A blonde hairstyle with brown underneath can be as wild or as subtle as you want. Maintain a soft appeal by asking the hairdresser for honey blonde highlights on top of a brown base.
Finish off with loose curls to put both the contrasting shades on full display.
22. Perfect Bronde Tresses
Another way to keep it low-key and minimalistic is by playing around with babylights. These lightened streaks are fine and more sparsely placed as compared to the usual highlights to achieve a seamless blend.
The result is a bewitching mane that's neither brown nor blonde but, in fact, bronde!
23. Color-Split Beach Waves
Choosing the right shade is the most important whether adding a dark nuance underneath your blonde locks or lightening down the top of your brown tresses.
Go platinum if you haven't tried out a frosted metallic hair shade yet and set it on fire with beach waves.
24. Skunk-Style Waterfall Braid
Skunk-style highlights have a place of their own. Women more into 90s hairdos can relive those good old days with a similar-looking hairstyle; the waterfall braid.
The beauty lies in the way those brown chunks from below overlap the blonde parts on top all the way to the back.
25. Ombre Crinkle Dreads
Go from light to dark rather than transitioning from dark to light for a change. African-American ladies can give themselves a style shake-up by recreating the reverse ombre look on their crinkle dreads.
The key lies in perfectly blending both the nuances to avoid a sharp color shift.
If you found the above blonde hair with brown underneath styles interesting and helpful, do try them and have fun!! You have plenty of blonde hair on top brown on bottom hairstyle options to choose from. The above hairstyles are the preferred ones among many contemporary women. You can add your own special touch!
Trending Topics