Underneath hair colors, also called 'peekaboo hair', are by far the quirkiest hair trend you can ever try. If you want a bold unique look, go for black hair with pink underneath. The technique involves adding the brightest nuances on the underside of the mane that remain hidden by the natural top layers until the hair is styled up.
While there are countless color combinations you can opt for when getting an underneath color for black hair, pink will never disappoint! This hue, alongside its various shades, has never left the fashion industry and probably never will.
Black Hair with Pink Underneath
Spice up your deep black tresses with just a few disguised strokes of pink to enjoy the peekaboo hair moment like never before! That said, go through the following hairstyle ideas for black hair with pink underneath to bring some drama into your life.
1. Wavy Bubble-Gum Pink Underdye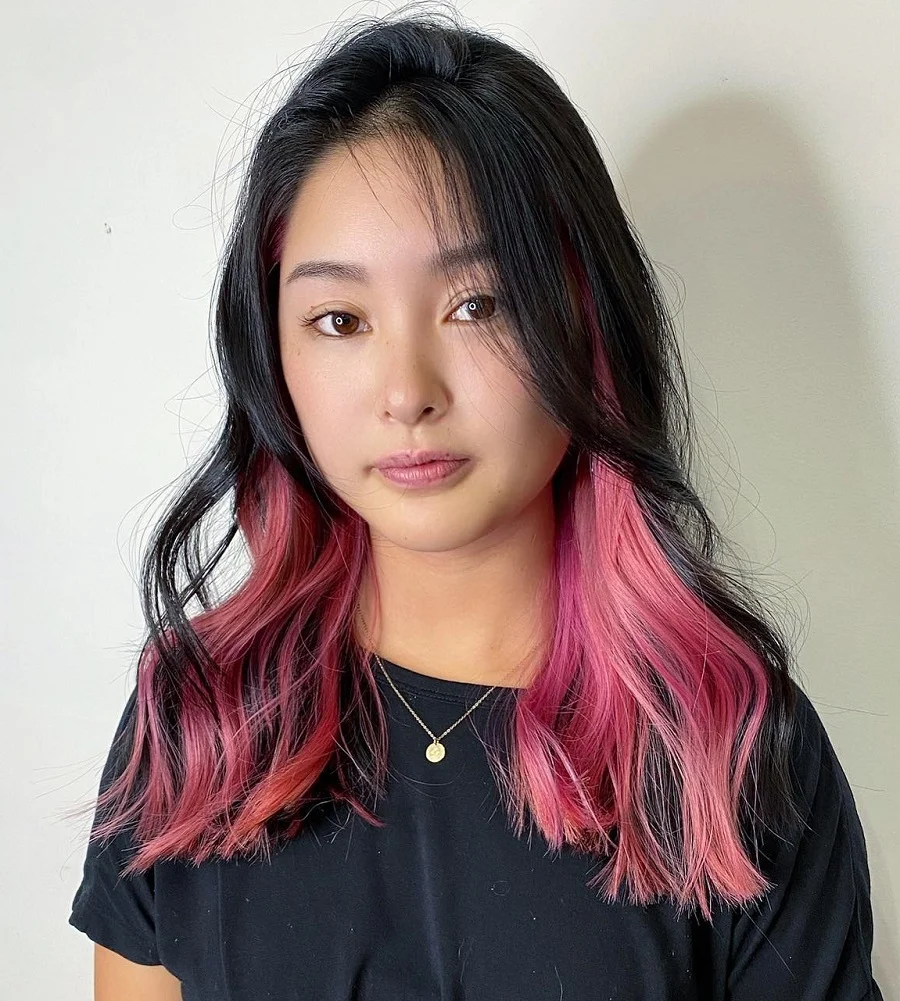 Hide the prettiest surprise under your raven tresses by opting for a feminine bubble-gum pink underdye. Brighten the strands along the hairline beneath the temples while moving towards the nape.
Finish off with loose waves and tousle them at the front to flash your new hair shade.
2. Disconnected Ombre on Angled Lob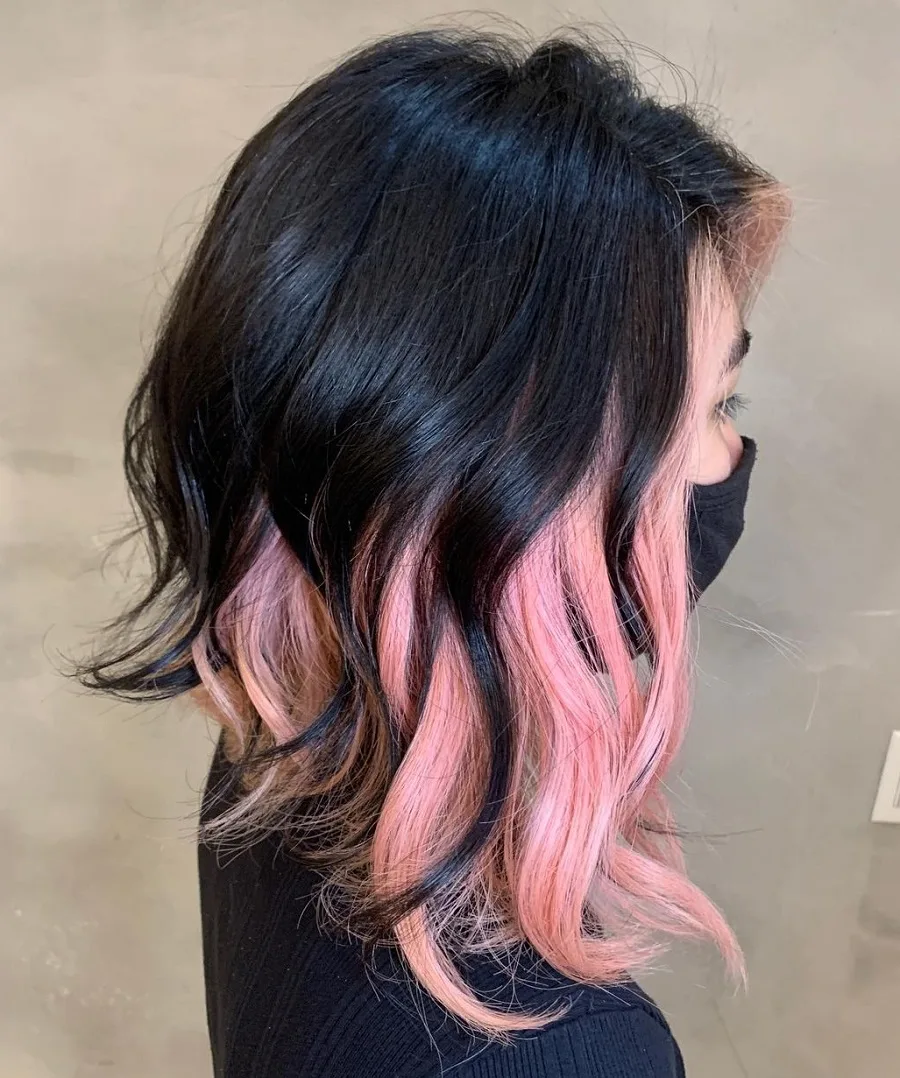 Ombre hair colors look gorgeous when blended in seamlessly, but a sharp disconnection is sure to turn around some heads too.
Spare the topmost chunks while going pastel pink on the remaining tresses. Try this idea on an angled lob with layers, and you won't regret it!
3. Halo Braid + Pink/Purple Underlights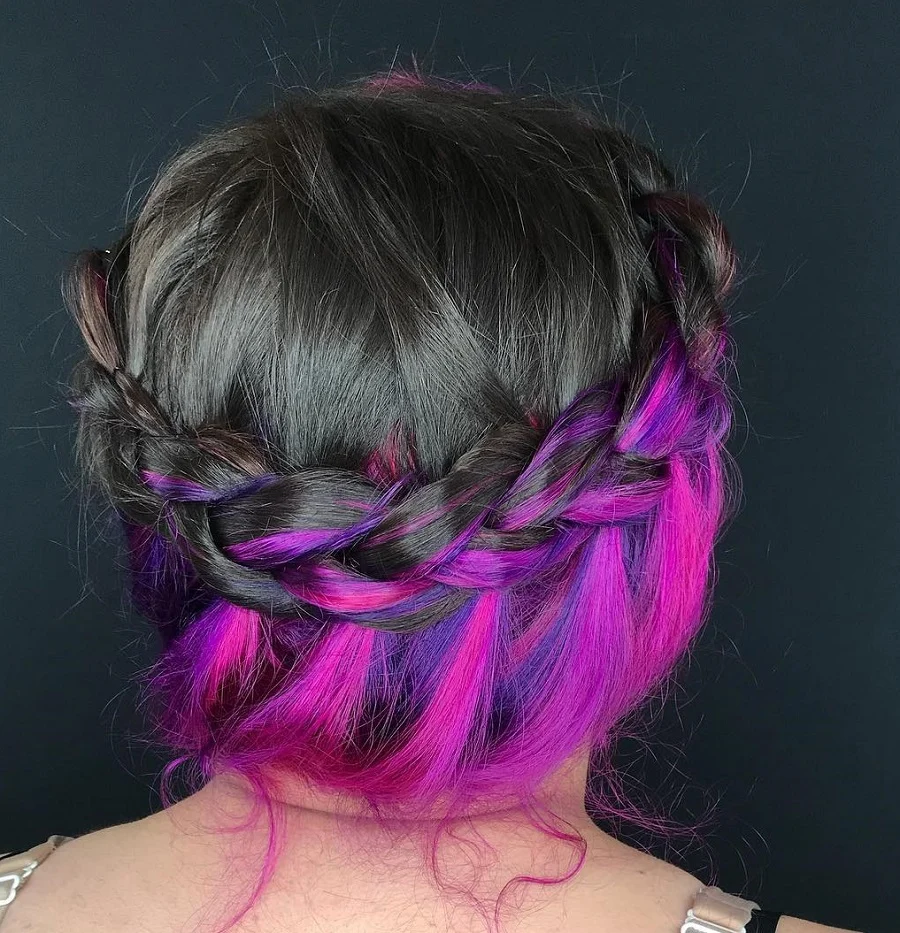 Underlights allow you to rock the most vibrant hair shades without fully committing to them.
Consider accentuating your hot pink underlayer with a few streaks of purple in between. A classy halo braid will be the best way to flaunt your concealed mermaid tresses.
4. Color-Blocked Pixie-Shag
The shorter the hair is, the greater the under color will be visible, and vice versa. Bold ladies can try a color-blocked pixie shag to turn themselves into an unrealistic anime character.
The crown region remains untouched while those rose-pink tendrils frame the face.
5. Black Over Flamingo Pink
Show off your black hair with pink underneath with a basic half updo that won't look that basic anymore!
Opt for whatever shade of pink you like to brighten up those dark tresses. Place the nuance closer to the top if you want it to be more noticeable.
6. Split-Dyed Square Bob
Black is ideal for balancing out the vibrancy of pink while making it stand out even more when deposited on the bottom layers.
Here's another chic half-up half-down hairstyle featuring a blunt square bob. Instead of dying the strands in a straight line, try a diagonal arrangement to drop some jaws.
7. Peekaboo Afro Curls
A pink underneath hair color is all about the drama. Black beauties can amp up the craziness by going for an uneven chop where the top black curls are cut significantly shorter to put the longer pink ones below on full display all the time.
You'll surely enjoy the stares along the way.
Stay on the darker side by asking for a juicy raspberry pink hair dye. Place it on your bottom strands as a solid layer, localized chunks, or uniform fine underlights instead.
Straight hair keeps the nuance hidden, while a half-up pony will do the exact opposite.
9. Dyed Peek-Through Curls + Money Pieces
Take a step further and couple your black hair with pink underneath with some groovy matching money pieces, and you'll never go back.
Waves and curls allow your bright underlayer to pop through those black chunks more than usual. Who wouldn't love that?
10. Flipped Bob with Dusty Pink Underlayer
Here's another peekaboo hair idea that won't go ignored. Get a cropped bob with micro bangs for a Parisian charm, and throw in some wispy point layers.
Flip out the ends and split the black top layer into several parts to reveal a beautiful pale pink nuance underneath. Simply wow!
11. Dreamy Coral Surprise
Coral is a unique orange-toned shade of pink that is a must-try when playing around with underdyes. Place it midway between the crown and nape and let it shine with a pinned-back hairstyle.
The best part? Coral pink fades into a gorgeous blonde leaving you with your second underneath color without the effort. Consider trying one of these blonde hairstyles with pink underneath.
12. Two-Toned Wolf Cut
The wolf cut is still going strong and is a lifesaver for thin-haired ladies. It is defined by short choppy layers on top that elongate and thin down towards the ends.
Let those long wisps stand out further by painting them pink. It can't get any easier!
13. Long Black Hair with Hot Pink Underneath
Concealing those dyed sections is easy when your tresses are long. Skip getting an entire layer painted and color the sections between the temples and ears only.
Throw all the hair at the front, tuck away your black strands, and let those bright pink chunks steal the show.
14. Pink Rainbow Bottom Layer
Make sure the pink underneath your black hair is one of a kind by experimenting with a rainbow effect rather than a solid underlayer.
Choose your favorite pink tones and place them in whatever order you like. Blending is the key to achieving a seamless transition!
15. Underdyed Cerise Bangs
Don't leave behind your bangs when getting pink underneath hair color. Give them a makeover too, by painting their underside to match your hidden hair shade.
Try a vibrant cerise pink tone and loose curls to get noticed from a distance.
16. Metallic Pink Peekaboo Hair
Getting a reflective metallic hair color requires significant effort and maintenance. Minimize the struggle by going for a metallic pink underlayer to peek through your raven tresses.
Again, a half updo with some beach waves will set the look on fire!
17. Black and Pink Half Updo
Underdyes turn even the simplest hairstyles into super unique ones, just as the half-up hairdo depicted here.
Hide a deep burgundy-pink surprise under your pitch-black tresses to enjoy a peekaboo effect with style. The matching butterfly clips are just everything!
18. Localized Rhubarb Pink Streaks
Underneath hair colors are super versatile, allowing anyone to customize them according to their own preferences. You can place the pink nuance at whatever depth in the form of hidden highlights, an ombre, balayage, or simply as a monochromatic underlayer.
These rhubarb pink side chunks are worth a try, too, because why not?
19. Pink Goth French Braid
Give off a goth-girl vibe by showing off your color-blocked tresses with a basic French braid. All you need is to entwine the chunks, and the pink underlying ones will automatically overlap with the black ones.
Add a tiara on top or some shiny hair rings instead for a fancy finish.
20. Stylish Earloop Highlights
Earloop highlights can help you achieve the most perfect black hair with the pink underneath look. The technique involves lightening the chunks around the ears, only bringing all the focus to the face.
Try a pink-to-purple gradient effect that may disappear and re-appear whenever you want.
Black hair with pink underneath is not something you see every day. Such underdye ideas are the least damaging as the colors are restricted to one layer only, which can be hidden or flaunted depending on your mood. Hence there's no reason not to try this groovy hair trend!
Related Topics