#11: Short Corkscrew Curls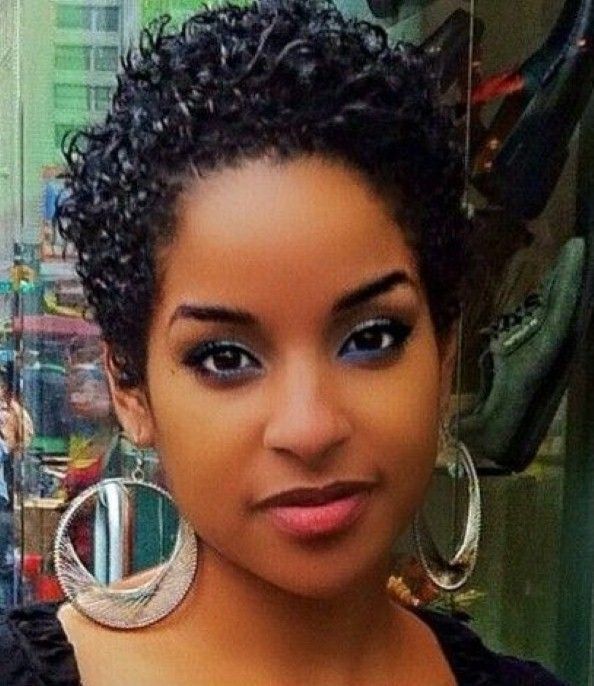 Short corkscrew curls are not as tight as an afro and can require more maintenance. When you style your hair, you may need to apply anti-frizz products to keep each curl defined.
#12: Downwards Quiff
This hairstyle is commonly seen among african american women. Draw attention to your face and eyes by styling in a downwards quiff. Draw hair from the back and sides to create a voluminous quiff at the front of your hair.
#13: Short cut
Black short haircut like this looks fantastic and it is great for people who want a style which requires very little maintenance. Short natural styles like this are perfect for people with strong facial features.
#14: Highlights
Whichever hairstyle that you choose, adding highlights is a great way to alter any short haircuts for black girls. Caramel highlights are the most popular, but reds and chocolate browns also look great.
#15: Bronzed
This eye-catching bronze coloris great for people who want to step away from their natural color. The bronze color will help to enhance your eyes and your complexion.
#16: Lopsided Fringe
A lopsided floppy fringe looks great on a natural hairstyle. It looks even more effective as part of a style with short shorn sides.
#17: Short back and sides
This caramel boyish cut looks absolutely striking on black girls who is bold enough to wear it. Keep the back and sides short but not shaven to add a soft touch to your style. Team up with big earrings to show off your feminine side.
#18: Grey Goddess
Silver or grey produces a fantastic contrast from your natural shade. Either let your hair age gracefully or dye it for effect. Colour all of your hair or leave some black to produce a two-tone style.
#19: Tight Tapered Curls with a Mohawk
Short tight curls at the side and the back of your head graduate up to longer tight curls in the center of your style. Brush your curls forward to add an amazing floppy fringe to your style.
#20: Shocking Pink
Dye your natural hair a vibrant shocking pink colour for a style which will really turn heads when you walk into a room. To achieve this vibrant colour you may need to bleach your hair first to prepare it.