#41: Close Cut with line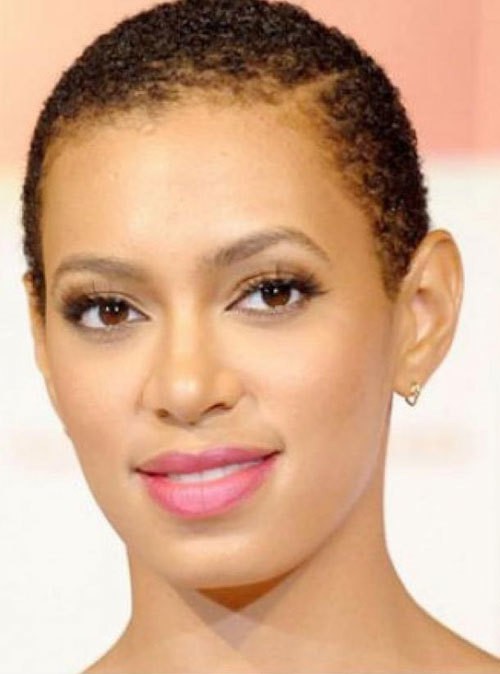 Close cuts look fantastic on people who have strong bone structure. Make a statement with your style by having a line cut into your hair which starts from your forehead.
#42: Straight with Volume
If you have straight hair, add volume to it by brushing upwards from the roots. Natural short hair is thick and has a tendency to hold its shape, however you may want to add a little product to help it if you want extreme upwards volume.
#43: Queen of Frizz
Another gorgeous example of natural black hairstyle. Go against the grain and work with the frizz, rather than fighting it. The frizziness of this style helps the afro to look amazingly thick and voluminous. This style just screams big, bold and natural.
#44: Short Mohawk
Add an extra fashionable twist to your short Mohawk by shaving clear lines into your hair at either side of the peak. This helps to enhance the Mohawk without meaning that you need to completely shave the sides of your head.
#45: Afro with Large Curls
Afros look fabulously fashionable with larger curls or spiral curls. To keep definition in bigger curls like these, make sure that you use anti-frizz products as part of your hair care routine.
#46: Pixie Cut
Pixie cuts are classic hairstyles for black women with straighter hair. Add a few tapered layers to the top of your hair to add texture and volume.
#47: Patterns
If your stylist is competent with a razor, then you can ask them to shave amazing patterns into your hair. Either cover your whole head, or just style a small area. The only real limits are the artistic skills of your stylist!
#48: Extreme Side Parting
An extreme side parting gives hairstyles for black women extra volume. Brush your hair upwards and across from the roots if you want to achieve even more lift.
#49: Soft Springy Curls
Make a big impression with soft, springy curls. Although your hair is short, your volume will be huge. If you cannot wait for your natural hair to grow this long by itself, springy curls are a popular choice for a weave.
#50: Short Caramel Afro
Contrast your short caramel afro with big bold black lashes. Don't worry about your roots starting to show through as your afro grows, because your roots will add texture and volume as your hair increases.