Blonde Layered haircuts always look more interesting because they offer a lot more versatility. As women who appreciate and value femininity, we all want to look well-groomed.
Whether you're a student, a professional, a mom, a wife, or a combination of all the above, you won't always have time to dedicate more than half an hour to your looks. That's why having the right haircut is very important.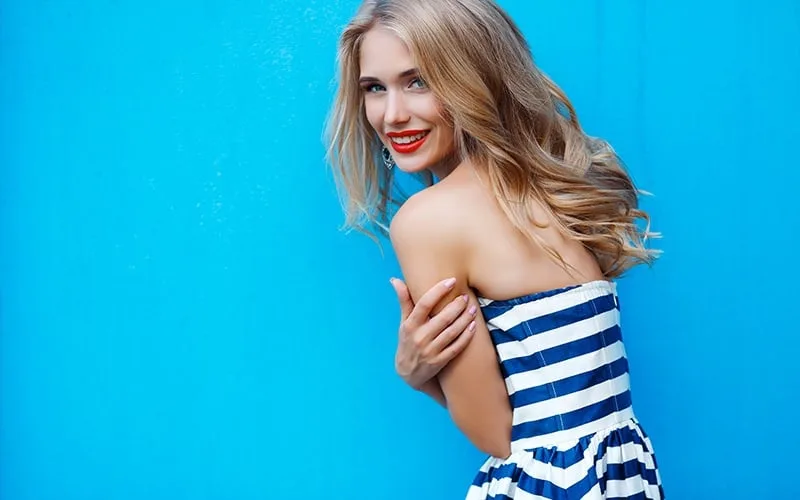 If you make sure your hair has volume and fun layers, then you won't have to do much to make it look good, no matter the occasion. That's why today I want to show you some of the best blonde layered haircuts to keep in mind. If it's time for a change of style, then any of these choices will be great.
Best Blonde Layered Haircuts for Women
The way you get your tips trimmed also adds a lot of detail and texture to your layered blonde hair and this will help you stand out.
Layered haircuts flatter all women; for example, if your hair is thick, layered haircuts can provide lightness, if your hair is thin, layered haircuts provide volume, and if your hair is curly, this type of haircut can help you give the structure of your curls.
Without further ado, here are the 23 best blonde layered haircuts for women. Have fun!
1. Medium Hair with Long Layers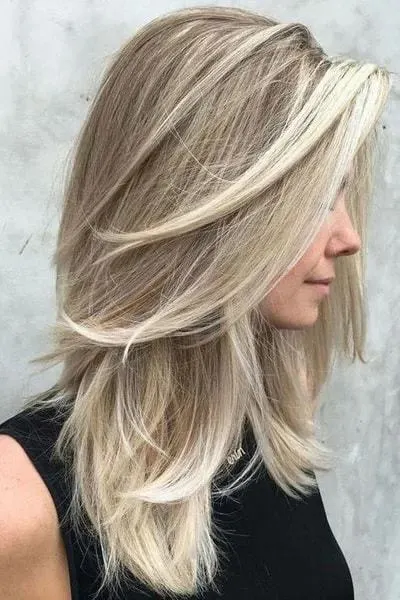 Long layers look amazing on medium length hair and they are the answer when it comes to dealing with damaged ends. Long layers will give your hair life and they also provide that stylish, carefree look you're looking for with minimum effort.
Long layers with blonde hair are easy to pull off and they're classic, so they never really go out of style. At this length, you will still be able to experiment with different hairstyles, which is always a good option to have!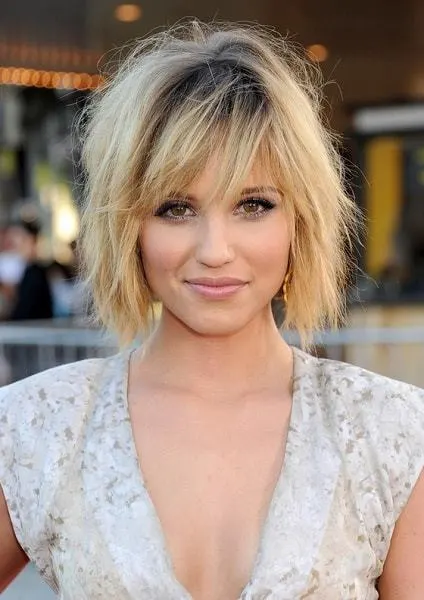 Choppy layered blonde haircut is similar to the shag, but these provide a lot more texture because there are even more layers. As you can see in the picture, long bobs look amazing with this kind of layers.
Overall, the choppy layered haircut is effortlessly sexy and easy to style, not to mention it makes women look radiant and carefree.
3. Layered with Side Bangs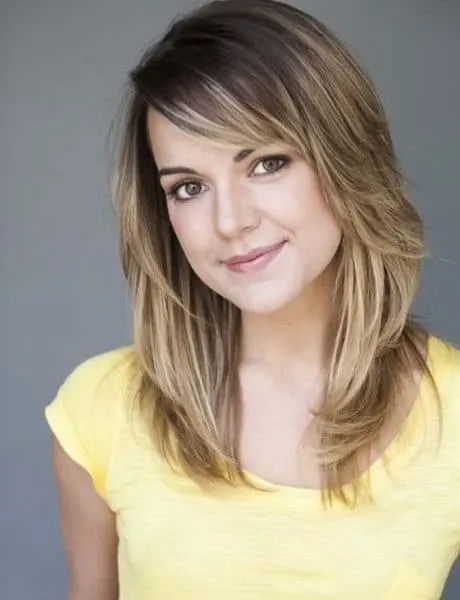 Adding a side bang to your blonde layered hair will help you frame your face beautifully. This is a classically layered haircut and it's super flattering, easy to style and at medium length it will allow you to try many different hairstyles for everyday life.
4. Feathered Bob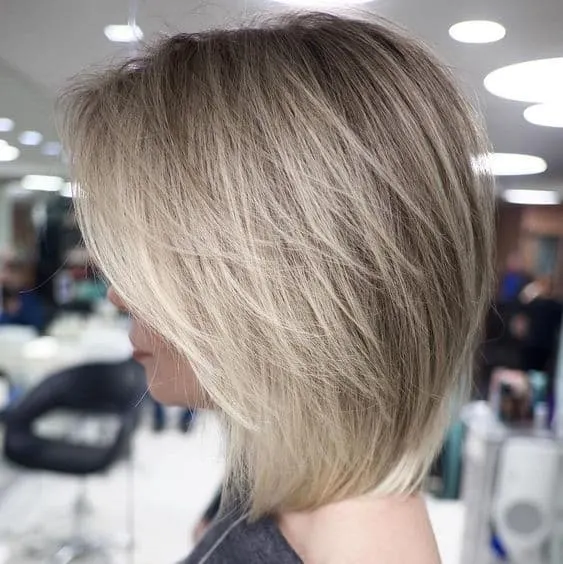 If it's texture and body you want, this feathered long bob with long layers will provide just that. The bob is pretty basic, but if you add layers like this, you will completely transform the look.
The graduation that this haircut provides makes for this kind of fluid effect, as you can see in the picture, and it just looks wonderful.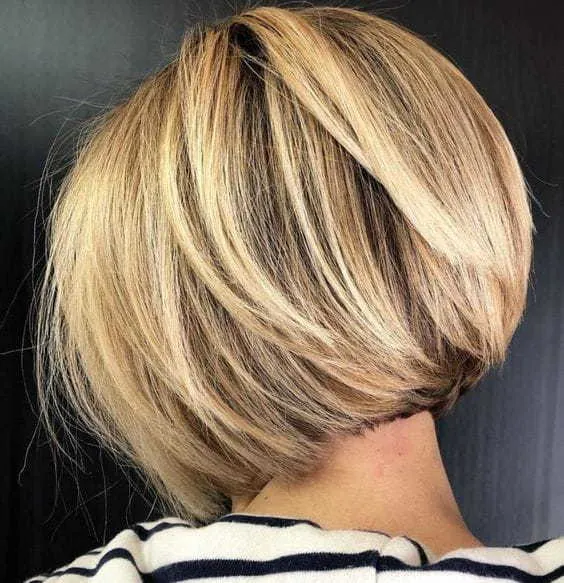 The bob is yet another classic and many women love it. It's not as short as a pixie, but it still provides the same practicality without failing to look stylish and elegant.
Adding layers to your blonde bob will only make it look better and it will add a lot of movement and complexity to it. This is another layered haircut that will require little to no effort on your end!
6. Medium Shaggy Layers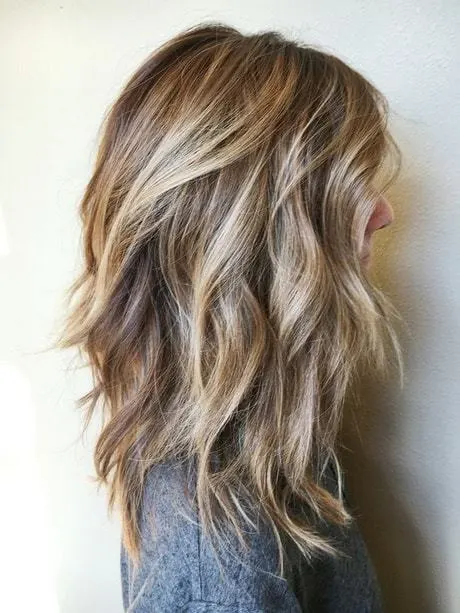 Yes, ladies! The shag is one of the hottest options out there and they're flattering on both medium and long hair. The shaggy layered haircut with blondes looks amazing and it's super easy to wear. The shaggy layers add a lot of texture and movement; if your hair is naturally wavy, it will look even more incredible.
7. Layered with Flipped Ends
The blonde layer haircut with flipped ends works best on medium to long hair and it simply looks amazing. The little detail and effect provided by the flipped ends will spice up your haircut without making too much of a fuzz. Flipped ends work best on thick hair so they can provide the wanted effect!
8. Feathered Medium Hair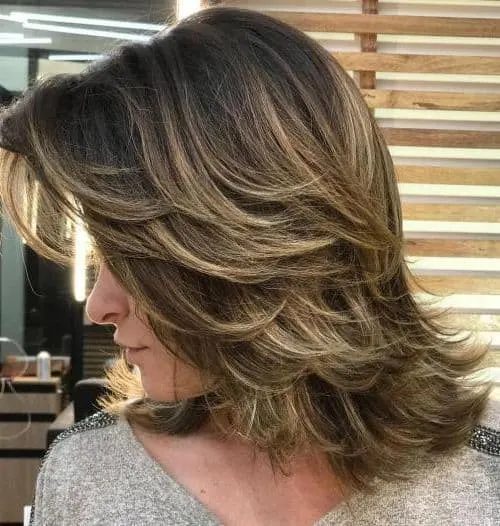 If you like to keep your hair medium to long, feathered layers are still possible for you. This haircut looks very different from the feathered bob haircut, but it still provides that kind of fluid effect we like while adding extreme texture and body.
9. Two-tier Layered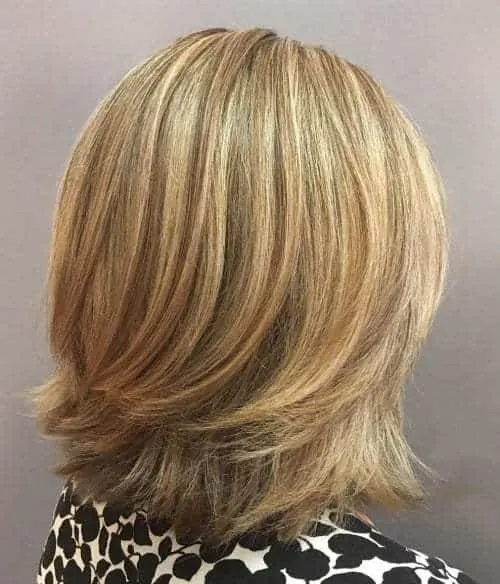 This two-tiered layered haircut will allow you to give your medium honey blonde hair that extra something it might be missing. If you're not a fan of shaggy, choppy or messy layers, this two-tiered layered option is a good compromise.
10. Three-tier Layered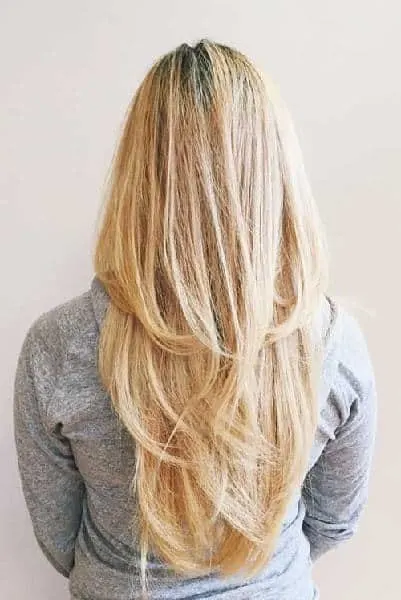 If you have a beautiful long head of blonde hair and you don't want to do anything too extreme to it because you enjoy the length, this three-tier layered haircut with blonde is the right option for you. It adds a bit of texture without compromising any length.
11. Layered Pixie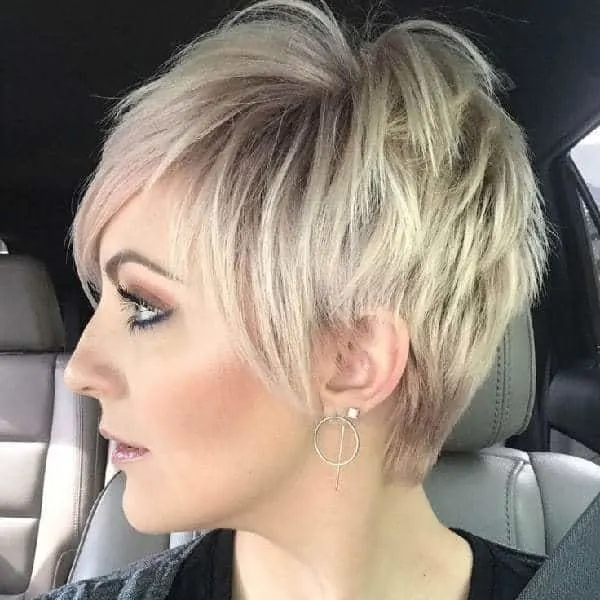 Pixies are one of the most classic and edgy haircuts there are. Add some layers and you'll have a wonderful combination of classy, elegant, cool and stylish. If you've always wanted to try what having short hair feels like, this layered blonde pixie is a great option.
As you can imagine, pixies are super versatile and, because of the layers, you won't have to work hard to style it. Plus, you'll rediscover the value of hair accessories!
12. Wavy Layered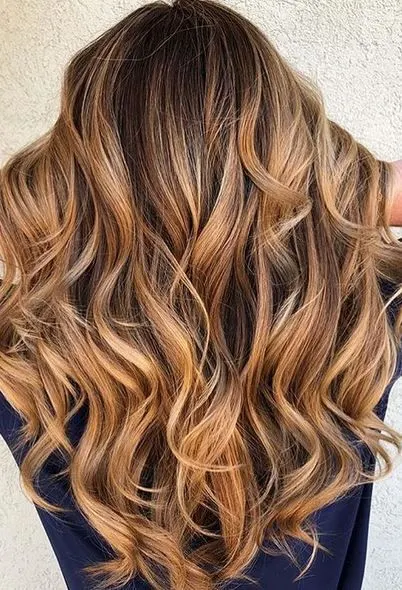 Wavy layered hair with blonde color looks amazing, it doesn't matter what length you like. Layers add volume, body, and texture and they allow your waves to look even better than they normally do.
13. Long Layered Straight Blonde Hair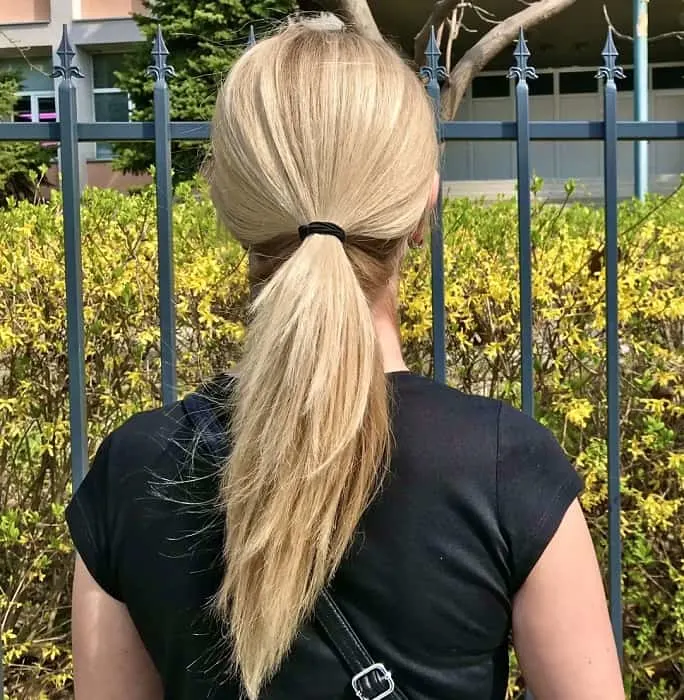 For both manageability and beauty, long layers are a great option for long straight hair. When it's combed into a ponytail, it'll create a cool pointed effect.
14. Long Layered Blonde Hair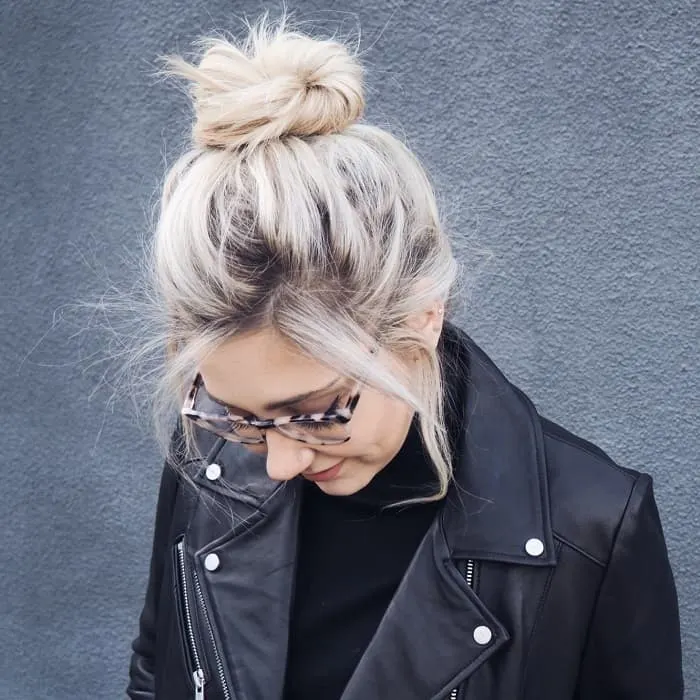 Gather your blonde layered hair into a messy high bun with a few loose pieces of hair around the face for a gorgeous look when you're on the run.
15. Short Layered Blonde Hair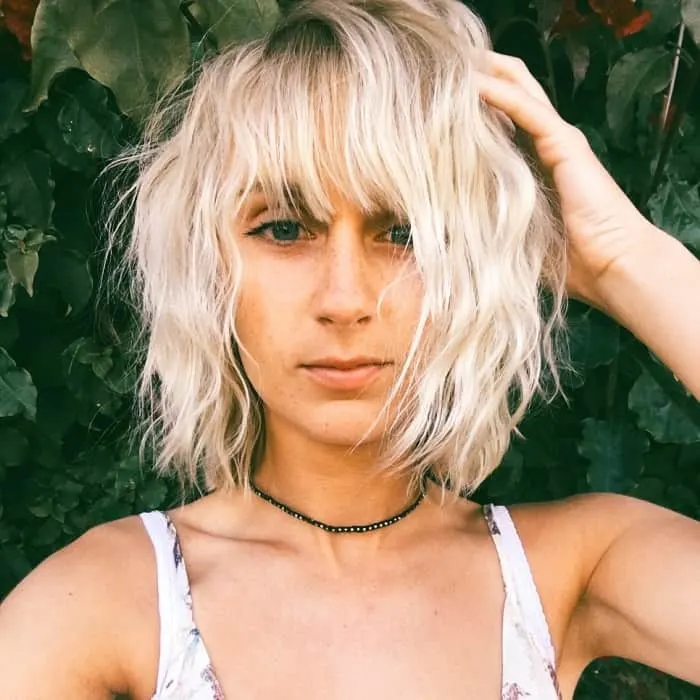 To get a shaggy effect with short blonde hair, have your stylist cut in layers. Then you can simply finger comb hair for a gorgeous beachy effect.
16. Layered Blonde Curly Hair
Cut down on annoying bulky thick hair with layers. Combined with caramel or light blonde highlights on a dark base, your curly hair will look rich and healthy.
17. Layered Blonde Side Fishtail Braid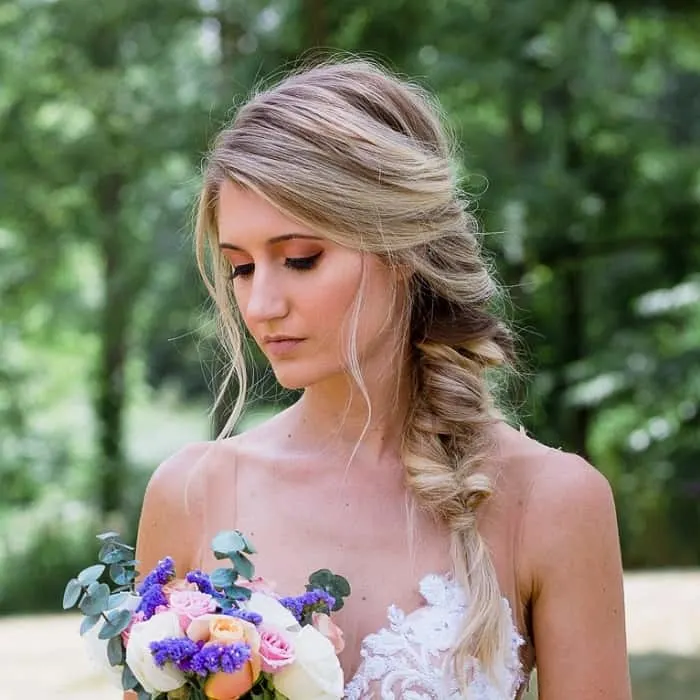 Light blonde color highlights a slightly darker base for a final wedding or bridal look. The low side fishtail braid is pulled loose to thicken it up.
18. Layered Dirty Blonde Hair
Dirty blonde is an appropriate choice for older women especially. The youthful color adds class to a layered long hairstyle.
19. Layered Dark Blonde Hair
For a medium length hairstyle with dark blonde layers, the layers create feathering for flattering framing of any face shape.
20. Layered Blonde Hair with Bangs
To add more shape and movement to thin hair, give it some long layers and bangs. Straighten it all for a sleek chic look.
21. Layered Blonde Hair with Lowlights
For hair that is already blonde, give it some sporadic lowlights to offset the color. On this straight medium haircut, the layers catch the light beautifully.
22. Short Blonde Curly Pixie
Oval faces are easy to flatter when you add in choppy short layers. For curly hair, you'll get plenty of height all in a low maintenance style.
23. Ash Blonde Layered Hair
Ash blonde may look like it's for older people, but the color is making a comeback for edgy young women. Try it on a choppy layered medium length style with bangs.
Layered haircuts are a great option for everyone. They're not only flattering for your hair, but also for your face. Blonde layered haircuts, when done right, can frame your face beautifully and you can customize the haircut to your face shape.