Red highlights is a classic look that looks great especially on black hair, and today, we're going to show you not one, not two, but ten different black with red highlights hairstyles for you to try on. Let's begin!
Black Hair With Red Highlights
Here we have put together 10 best red highlights ideas that you can rock with your naturally black hair.
1. Maroon Red on Black Hair
This is a classic take on black and red highlights. Of course, your natural dark color should show off and the highlights that is done in maroon red hair dye should only be visible right on the bottom of your hair.
Once that's done, ask your hairdresser to blow dry your hair and, with the same round comb, twist your hair around and pull it away from your face to give you the same waves you are seeing in the picture.
Pizzaz Silver Highlights Ideas for Black Hair
Who said you needed straight hair to get highlights? You can still show off your red color in your natural curls and it is very easy to do as well.
However, this time, make sure the red highlights are done across your hair in an almost random way so the color really pops out from your pitch-black hair.
This is more of a bold take on the short hair with highlights style. This time, you will have to cut your hair in a short bob, with one side being longer than the other.
Then simply get a lot of red highlights – across your black hair. Make sure the highlights should blend extremely well with your natural hair.
Amazing Black Hair Ideas with Blonde Highlights
If you are looking to go almost fully redhead this is the black and red highlight style you need to try on.
For this one, make sure to ask your stylist to give you a very vibrant blood red hair color that is actually lighter as you reach the tips of your hair. Also, remember to curl it with a curling iron so the color can show off more.
This is a classic black hair with red highlights idea. To get it, ask your stylist for very subtle highlights all over your head that blend well with your black natural hair color. Then simply ask them to cut it a little bit below the shoulders and that's it.
This style is similar to the one above, however, this time your hairdresser should let your hair in the length that it is (don't cut it!) and then curl it using a curling iron to the let the red tones be seen across your dark hair.
If you are looking for a much more subtle style, then this one is the right one for you. To get it, your highlights should be done with a tone down red dye instead of a vibrant one.
Also, don't forget to ask your stylist to give you some front highlights right on the hair that is framing your face to the whole style can seem more put together. Once that's done simply wave it with a flat iron and you're done.
Chic Short Dark Hairstyles with Highlights for Women
If you are looking for a natural red tone instead of a vibrant or cherry one, then this is copper red hair color is for you. To get it, make sure you are using a hair dye that leans more towards a copper undertone.
Once you've dyed your hair simply put in a half up half down ponytail and add a little bow tie/scrunchie to keep it all together.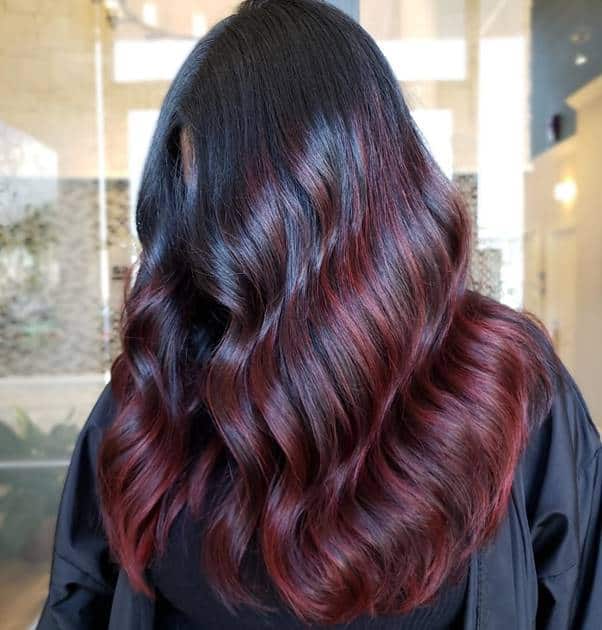 This is another classic take on the red highlights on wavy black hair that's also very low maintenance and easy to do.
Your highlights should start very high on your head and fall down naturally with the rest of the bottom part. Lastly, don't forget to curl it using a curling iron and you're done.
Super-chic Black Hairstyles with Pink Highlights
Last, but not least, to get this highlighted hairstyle you will need to cut your black hair right down to your shoulders and curl it with a flat iron so the vibrant red colors can be seen.
Make sure your hairdresser uses a very deep and colorful red tone to achieve the same effect as in this hairstyle.
Mixing Black Red and Blonde Hairstyles
Mixing different colors together gives you the opportunity to express yourself. Because you are adding small sections of each color, you have a lot more control over the way that your hair will look. You can really let your personality shine through with your hair choices.
If you want to give your red and black hair more vibrance, add black red and blonde hair colors! These ideas are just for inspiration because you should try to choose your own unique mix.
Try out lots of different mixtures of black red and blonde hair until you get the perfect color palette for your style. This is a great way to express yourself and be seen.
11. Short Sleek Hair With Heavy Bangs in Black and Red
Must-Try Bangs for Medium Length Hair
12. Highlights and Lowlights with Perfect Curls
13. Sleek Hair with Red Tips
14. Black Hair with a Purple Spectrum
Luxurious for Hairstyles Long Layer
16. Long Flame Effect Style
17. Chunky Highlights
18. Orange Ombre Hairstyle
19. Blonde Black and Red Hair

Blonde On Top & On Bottom Hairstyles
Black hair looks flattering with red highlights! Remember, all you really have to do to achieve any of these hairstyles is to have naturally dark hair and a bottle of red hair dye.