Blue curly hair is one of the rarest looks that can be seen among women. This is because women with curly hair don't opt often for strong colors because it may damage their natural curliness.
However, blue hair dye can look interesting if it comes with the right tone and flatters the skin tone and eyes.
How to Dye Curly Hair Blue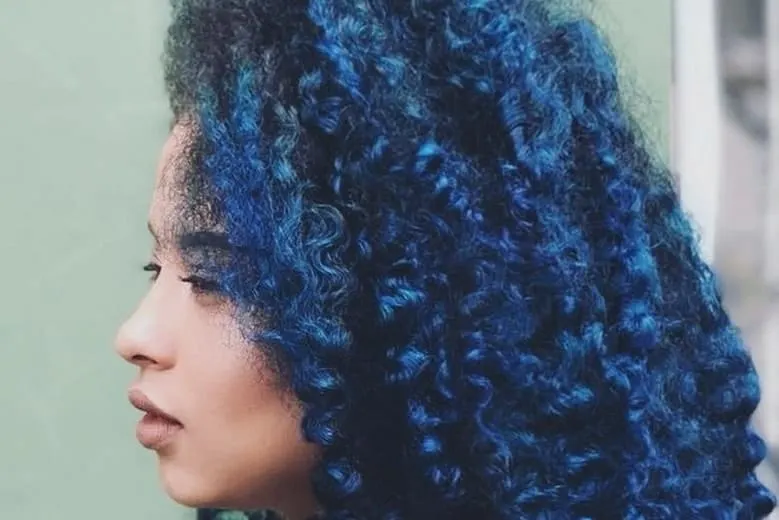 Blue is a vibrant and strong color that need a proper base so that the tone can be exactly blue. This means, that if you have dark hair, you will need to bleach your hair from dark to blonde or any lighter shade. This is required for the dye to hold and be like you want.
The color won't stay long and the hair will not take the color if it is done without the bleach. Blue is a color that fades quickly so if you want to wear blue, you will need to visit your hairstylist more regularly than usual.
If you want to apply dark blue hair dye on the unbleached curly hair, then you will get only a subtle blue effect and it will fade very quickly.
For the color to take the best effect, do the bleaching but half the recommended time. That way you will protect your hair as much as possible and the blue will hold better.
If you are decided to do a drastic color change, then blue should be your choice. it can be sky blue, midnight blue, teal, denim hair – whichever it is it will be cool.
However, blue hair is a commitment which means that it might be currently interesting for you, but you cannot keep wearing blue all the time. This requires time and money.
To get a nice blue shade the base color must be blond which will most certainly damage your hair and regular touch ups will only contribute to that. It is best to do the blue shades at the salon because if you do it home you can easily turn your hair to green.
Watch The Following Video to Learn How to Dye Curly Hair Blue
Vibrant Blue Curly Hairstyles
Following are the trendy curly blue hair ideas to name a few. You can experiment more with other blue hair color shades!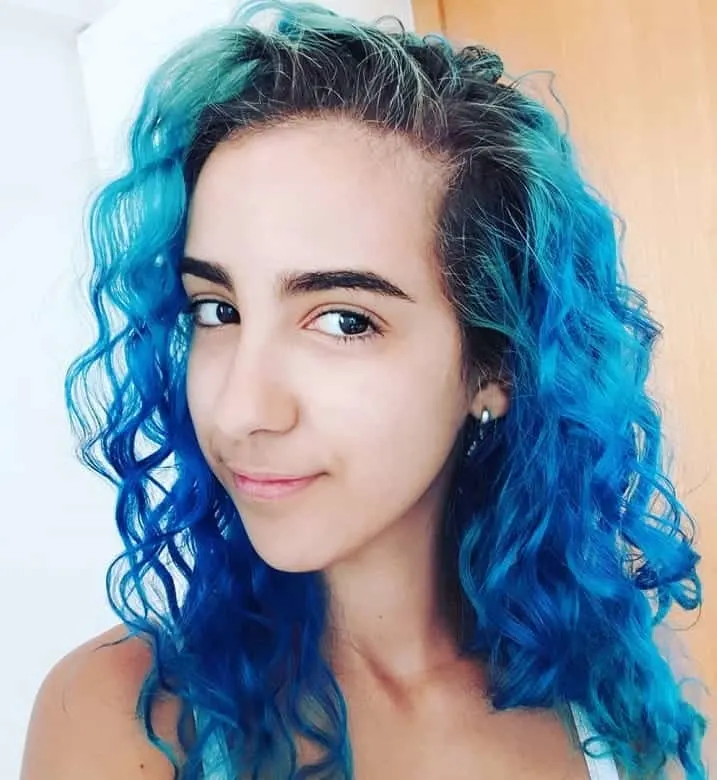 The blue curly hair is parted to the side and the curls are loose, falling to the sides. The color changes starting from light blue at the roots, moving to darker blue and ending in aquamarine vibrant blue.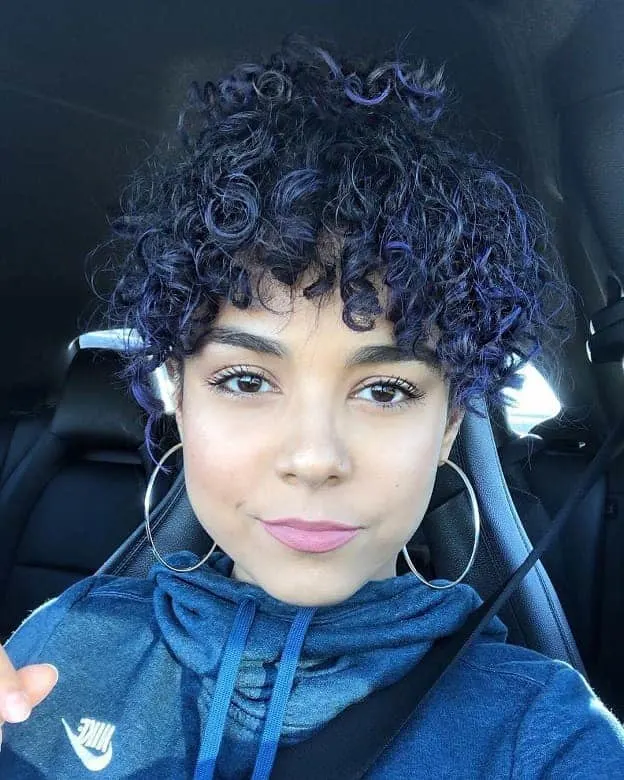 This is extremely curly midnight blue hair, looking like an Afro haircut with curly bangs. The blue color is bright and vibrant, shiny and attractive. The roots are dark.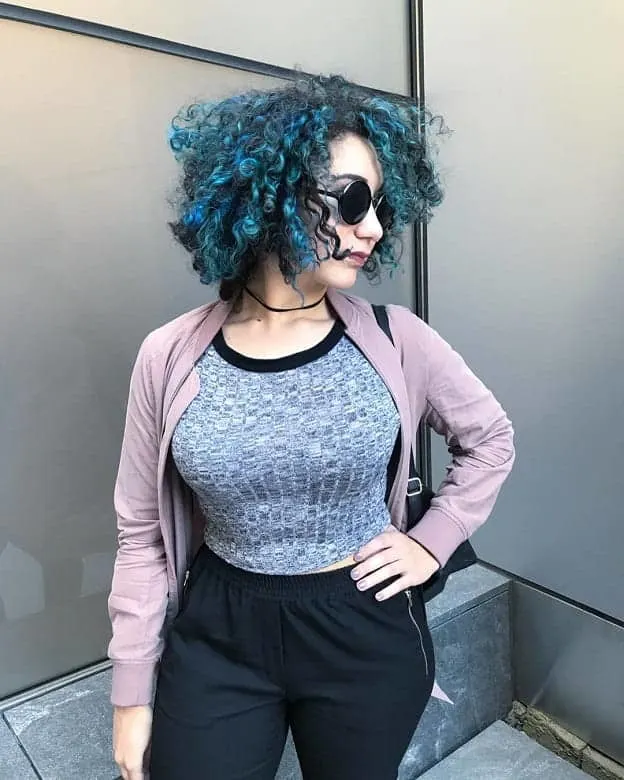 The curly bob is a very feminine and lovely hairstyle. The blue hair color hear appears in a form of blue highlight, not as an overall hair dye. The highlights are subtle and look great on dark hair.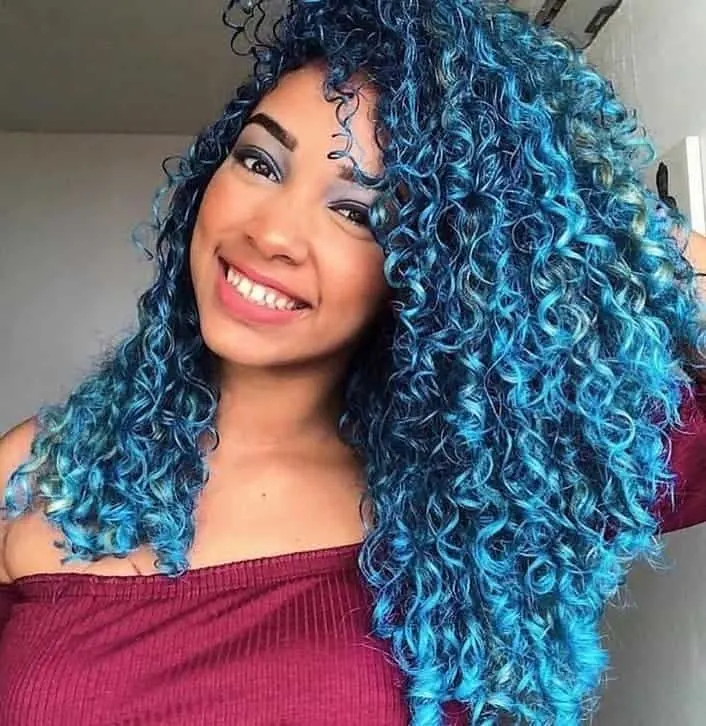 Highlights on the hair don't have to be done in the usual colors. Those who love colorful looks can try doing highlight in shades of blue.
The technique is the same while the blue comes in a lighter and darker shade. A gorgeous blue curly hair idea to rock this year.
5. Black to Blue Ombre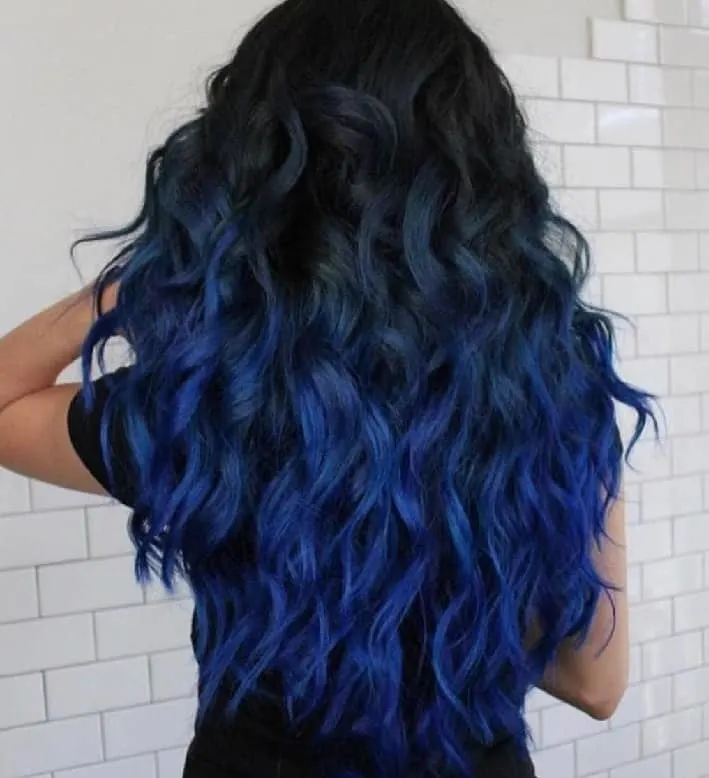 Blue is a choice for doing an extraordinary blue ombre on dark curly hair. It is best done on long hair, worn wavy. The black base turns to midnight blue ombre which is accented by the waves.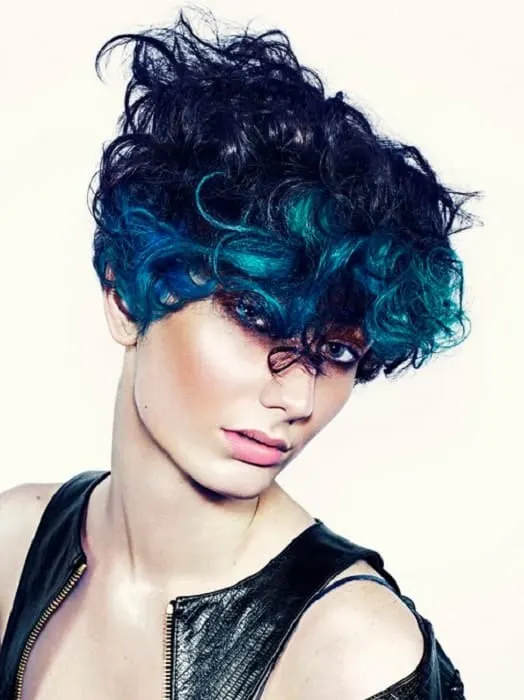 This punk and an edgy blue curly hairstyle is a daring look that only the bravest choose to wear. The hair is dark, while the blue changes from turquoise to teal blue only at the front part – on the bangs, and to the sides.
7. Short Afro Hair with Dark Roots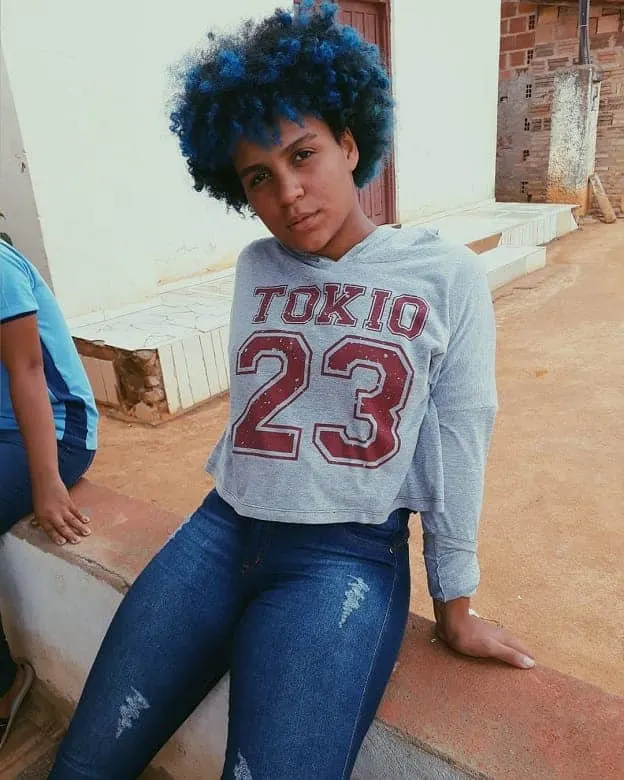 Those who want to show the original color of the curly hair but still flaunt a blue color can do that with leaving the roots and coloring the rest of the hair. The short blunt bob is suitable for it.
FAQs on Blue Curly Hairstyles
Can I lose my curl pattern if I dye my curly hair?
If you treat your hair over and over again, with harsh chemicals, it is most probable that the curl pattern will be lost.

If you want to keep your curls, don't overdo and over treat your hair with chemicals. Do regular touch-ups and use products especially for curly hair.
Can dyeing make my curly hair frizzy?
Dying, bleaching, coloring and other techniques that require the use of chemicals can make your hair frizzy if they are not applied properly.

This means that coloring curly hair is different than straight hair because it can damage the curls. The proper protection products must be included in the process as well as the products for daily use.
As a hair color, blue comes as a colorful refresher for those with curls looking for a change. Add a more unique and interesting look to your next hair look with these blue curly hairstyles. Everybody will love them!