Box braids are a great hairstyle for women with African textured hair, but they can be improved with lots of styling choices. Beads look fantastic with box braids, so they are a popular choice for women with this hair type.
Why are box braids with beads so popular?
Beads are a popular addition to braided hairstyles because there are lots of fantastic alternatives. There are plenty of different colors and textures of beads available to buy. It is even possible to buy beads with engraving. This allows women to express their individuality with every hairstyle. If you are confused about using beads – you can also browse short and long box braids, box braided ideas with curly hair, styling ideas for kids, bob box braids, different colors like purple and grey, blonde, red and burgundy, blue or colorful box braids etc.
#1: Simple Metal Beads
Metallic beads are a really simple way to enhance a classic box braid hairstyle. Only add metal beads to a few box braids for a really clean and easy hairstyle.
#2: Face Framing Beads with Bangs
Use colorful beads to frame your face. In order to put in a line of beads above your eyes, you should cut bangs into your hair. Add beads to your bangs.
Popular Read: Stylish Medium Box Braids
#3: Sideswept Style

Give your beaded box braids an extra fashionable edge with a sideswept hairstyle. Simply draw most of your hair over to one side so that it sits on the same side of your head.
#4: Two-tone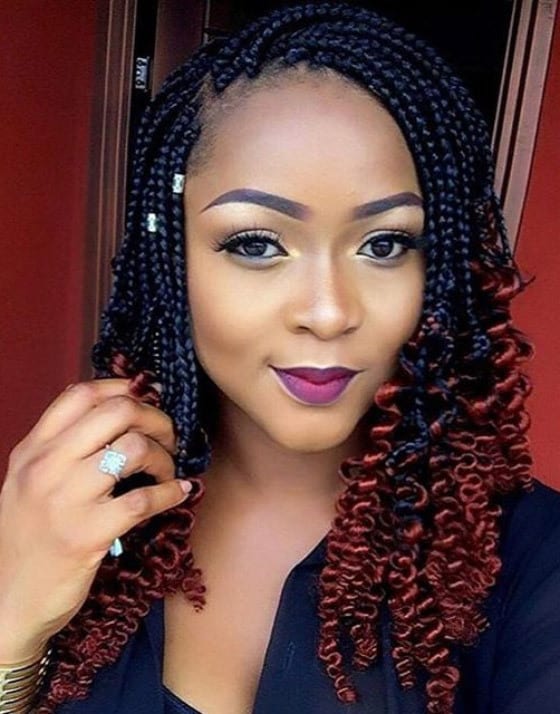 Create an interesting new style by adding different colors and textures of hair to your box braids. Copper and brown colors go really well with black box braids with beads.
Although beads are a great way to change box braids, there are plenty of other ways to give your hairstyle an edge. Try some of our other classic hairstyle lists to see great choices for women.