We love brown hair! It comes in different shades, and it's easy to find a perfect hue for any face shape and tan. But, have you ever tried mushroom brown hair color? This particular shade has become a huge hit, and all trendy women want to rock it. Scroll down to get 20 amazing hairstyle suggestions.
What Shade Is Mushroom Brown?
The term "mushroom brown" doesn't seem pretty, but the actual hair shade definitely is. So, you're probably wondering what kind of shade it is exactly. Think of Portobello mushrooms or more precisely that "hairy" section under.
Mushroom brown is that shade exactly, and it appears semi-ashy and multidimensional. The best thing about mushroom brown hair color is that ashy undertones conceal grey hairs perfectly.
How to Get Mushroom Brown Hair – Step By Step
In order to give your hair mushroom brown shade, a hairstylist usually applies lowlights and highlights on top of the ashy brown base for a multidimensional look.
That's why the best thing to do is to see a professional colorist who will know exactly what to do to give you mushroom brown hair. However, if you want to do it on your own, then you'll need to follow these steps:
Step 1: Find an ashy brown hair coloring kit
Step 2: Divide hair to smaller sections
Step 3: Apply hair color onto each section evenly
Step 4: Wait for 30 minutes and rinse without shampooing
Step 5: Apply a conditioner
Remember, your hairstylist uses various colors and shades to give you the signature mushroom brown look. Highlights and lowlights are used for a multi-dimensional vibe which is not that easy to achieve at home.
Do's And Don'ts for Mushroom Brown Hair
When it comes to keeping your brownish mushroom hair perfect it all comes down to proper care. Without adequate care, your hair might lose its shine, smoothness, and gorgeous look. So, here are dos and don'ts you need to bear in mind:
DO wash your hair with lukewarm water.
DON'T wash your hair every day.
DO choose products that are specifically created for color-treated hair.
DON'T heat style your hair too much.
DO buy products that protect hair before heat styling.
Coolest Mushroom Brown Hairstyles
Fashionable women love the mushroom brown hair color, and you'll definitely want to try it when you see these 20 amazing styles. Scroll down and check them out.
1. Short Brown Hair
Mushroom brown hair color is one of the hottest hairstyle trends, and you'll want to get on board. This short cut is cute, elegant, and mushroom shade is accentuated perfectly.
Plus, you can style your short hair any way you'd like, e.g. wear it straight, make nice curls, rock it asymmetrically, get bangs, you name it. Look how amazing this ashy version of brown is, so unusual yet so lovely.
2. Long Mushroom Brown Hair
Women with long hair who are thinking about doing something new may want to consider mushroom brown hair. The multidimensional hairstyle like this one will perfectly accentuate your lovely locks that make your look playful and voluminous.
To keep your hair smooth to make sure you care for your hair and its color properly. Instead of curling your hair all the time you can simply opt to let it loose and free with its natural curls and waves.
Thinking about some practical hairstyle for warmer temperatures and want to change your color too? Then mushroom shade brown hair and wavy cut could be the change you're looking for.
This particular shade adds a new dimension to your hair while shorter cut will be incredibly useful during hot temperatures. Waves add more playfulness and volume. Basically, you get everything you want in a haircut with this particular style.
Here's yet another great way to rock your brown mushroom style – mid-length haircut with side bangs. What we love about bangs is that they frame our face and add more texture to the whole look.
Instead of straight and symmetric bangs, you can opt for asymmetrical ones which make your haircut modern and fun. It's impossible not to notice that brownish mushroom hair color blends in with every type of complexion perfectly.
You can never go wrong with braids. They are romantic, practical, and sexy all at once. One way to style your mushroom brown hair is to make a braid and let the remainder of your hair loose.
When it comes to braiding you may want to choose looser kind for a casual look and tighter braid for more formal occasions.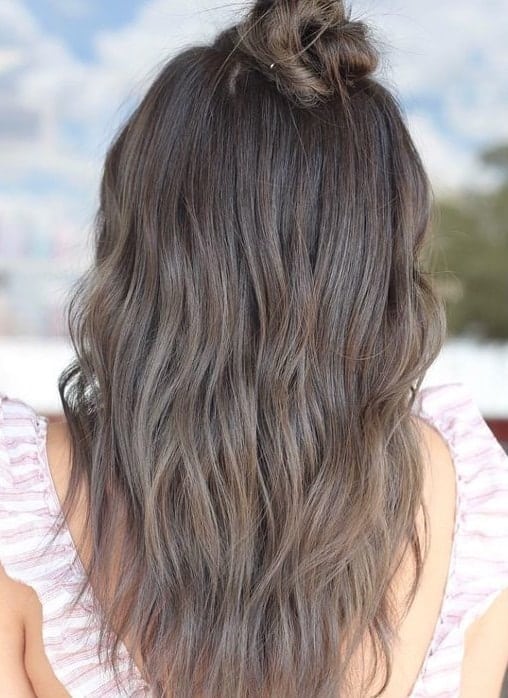 Top knots have become quite popular, and we absolutely love them. They're fashionable and simple to make.
The best thing about top knots is that they look great on both short and long hair. It's needless to mention they're ideal for casual settings when you want to look effortlessly cool.
If you're looking for an edgy twist, then you may want to consider this particular look. The style combines dark brown that gently transitions into mushroom brown hair and finishes with grey tones.
Your hair will get more structure and texture, but at the same time, it's a unique approach to this cute trend.
Not only your hair colorist may use different shades to create this particular look, but mushroom shade can also be an addition to some other hair color.
For example, a combination of dark brown or black with mushroom brown balayage is extraordinary. To accentuate your hair gently curl them in long, sensual locks.
Mushroom brown hairdos do not necessarily have to come in light tones, and it can also appear darker. Just take a look at mushrooms in the nearest supermarket, you'll see their shades vary from lighter to darker, and that's the beauty of it.
Girls who prefer dark hair shades but don't want to dye their hair back may want to consider lighter chestnut brown too.
Lob is a sophisticated haircut that you can style in a sleek and elegant way or casual or layered, depending on your preferences.
You may want to consider mushroom brown ombre and sleek lob for a fashionable, yet super stylish appearance. Make sure your long bob is straight, precise, and on point.
Mushroom brown hair usually appears somewhat cold due to ashy undertones. But, you can choose warmer hues as well.
This brownish mushroom style is sexy, warm, inviting, and trendy all at the same time. It looks great on both short and long hair which you can liven up with locks and curls.
12. Ashy Blonde Tones
Give your ashy mushroom brown hair a brightening touch with a hint of blonde. We love this on babes with lighter skin and an overall penchant for blonde tones as opposed to brunette ones.
13. Light and Natural
If you're lucky to have natural light mushroom brown hair, then good for you! You can always have your stylist add a toner or babylights to the hair that surrounds your face to kick up the dimension and enhance the cooler tones.
14. Straight Bob
Don't settle for a dull straight bob, create a mushroom brown balayage hairstyle that feels super modern and fresh. It will add instant lift and life to straight and fine hair.
15. Dark Mushroom Curls
Brighten up your mushroom brown curly hair with stunningly perfect highlights. What better way to enhance your medium curls than with touches of lightness on your rounded hairstyle?
16. Warm Mushroom
This might be the sunniest dark mushroom brown hair on the list. If your skin is particularly golden, however, you will want to try this look. Start with a darker base and work your way up with lighter tones from there.
17. Cool Mushroom
This Asian mushroom brown hair is particularly ashy, making it stunning on perfect pale skin. The cool tones feel particularly current given today's trends.
18. Soft Blend for Straight Hair
A fine, subtle blend is ideal on mushroom brown straight hair that is medium-length. Ask your stylist for a light and seamless brunette tone.
19. Touch of Auburn
The auburn influence is very light here, but that touch of red is what we're going for here. A light auburn tone takes a different earthy spin on mushroom brown and makes it great for warm and golden skin tones.
20. Warm Ombre Blend
A blend like this is so beautiful that the eye hardly registers the difference between ashy mushroom blonde highlights and the deeper brunette color at the scalp. choose this sexy blend for medium to long tresses.
Trendy and fashionable women across the globe absolutely love mushroom brown hairstyles, and you'll adore it as well. After all, this multidimensional and sophisticated look is easy to rock and style, as you've seen in this article. Just keep in mind that proper care is important.