Bun hairstyles are ideal for women over 50 who want to maintain a professional and elegant look. Whether they're placed in the low section, most commonly in the nape area, or on the top of the head, these constructs are so easy to pull off.
Bun Hairstyles for Women Over 50
Bun hairstyles for women over 50 will make you feel glamorous and refined. This simple yet sophisticated hairstyle is perfect for weddings, events, and even workdays. You can make simple messy bun hairstyles or opt for more great hairdos depending on your personal preferences.
To make a bun look more voluminous, you can even use small special donut sponges. With a little practice, your DIY hairstyle will compete with any buns styled in a hair salon.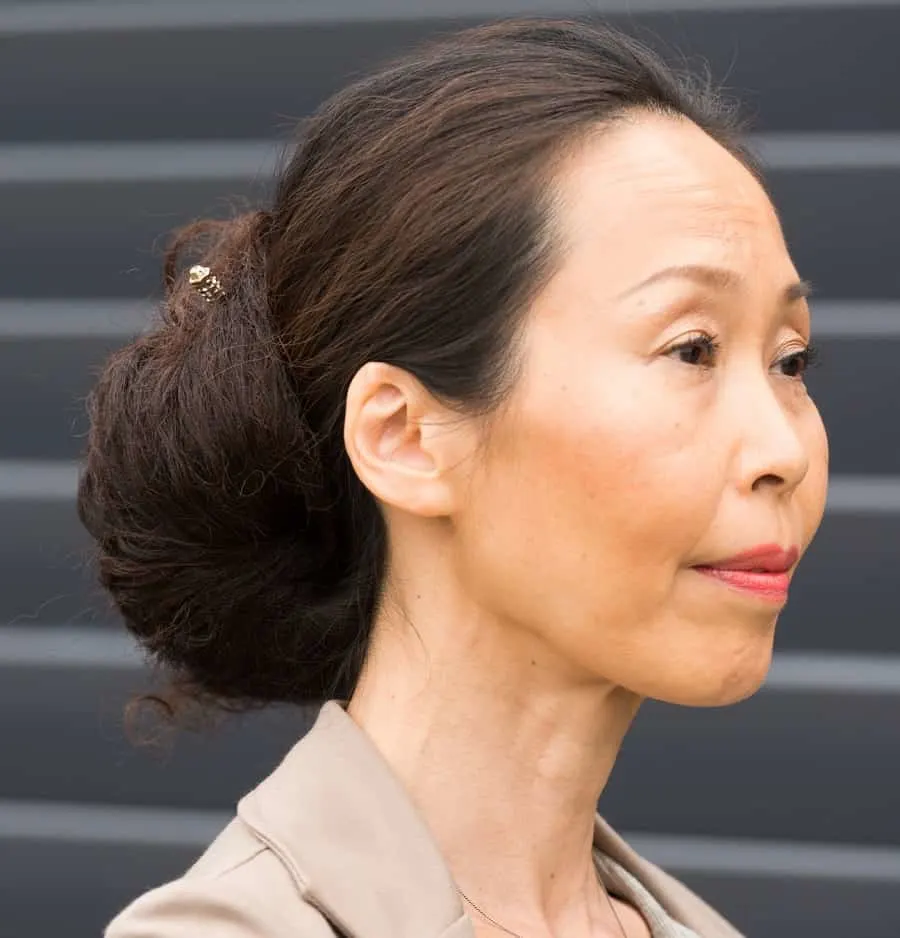 Asian women are experts in styling the most beautiful bun hairstyles. And most of the time, all they need is a long hairpin. These can be simple, or with fabulous decorations and a tassel at one of the ends.
2. Voluminous Top Knot Bun
If you love a classic bun hairstyle for women over 50, opt for this top head coiffure. Wear pearled earrings and decorate your bun with bobby pins. Moreover, if these have gorgeous applications, even better!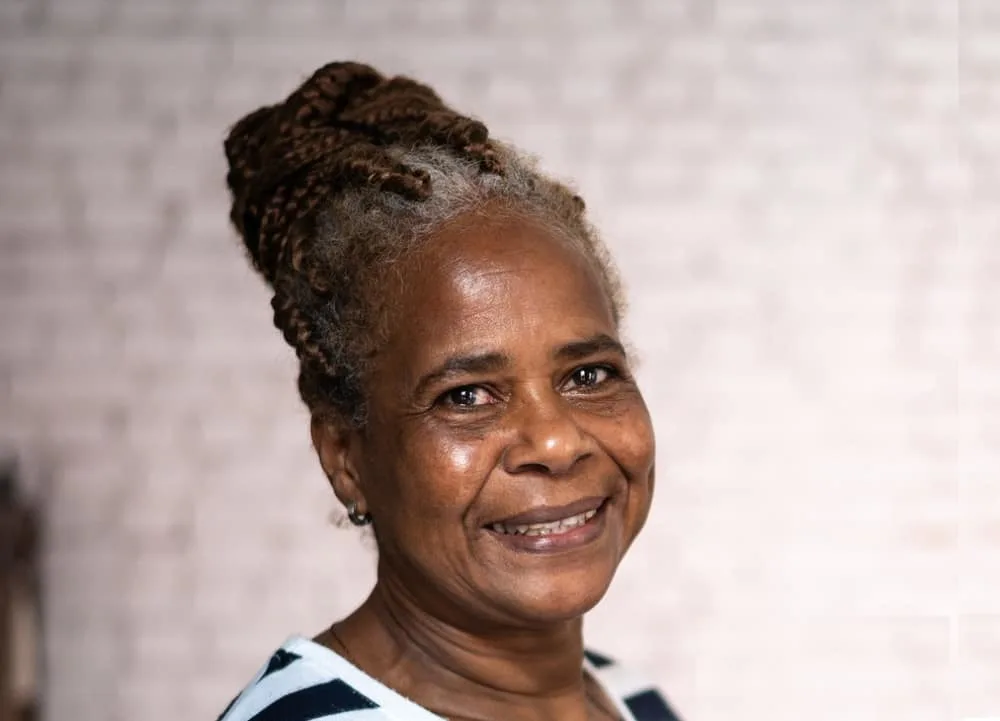 Protective braids are the perfect material for creating a voluminous bun hairstyle for women over 50. Firstly, tie all the knits up on top of the head. Secondly, roll them around the base and tie them again with a scrunchie or a hair elastic. You can get more braided hairstyle ideas for women over 50.
Ballerina buns are so cute and professional. They impose respect, just like the artist herself. To make the bun look this perfect, use a sponge donut. Lastly, roll your strands on the device, and your bun will look more than just presentable.
5. Salt and Pepper Bun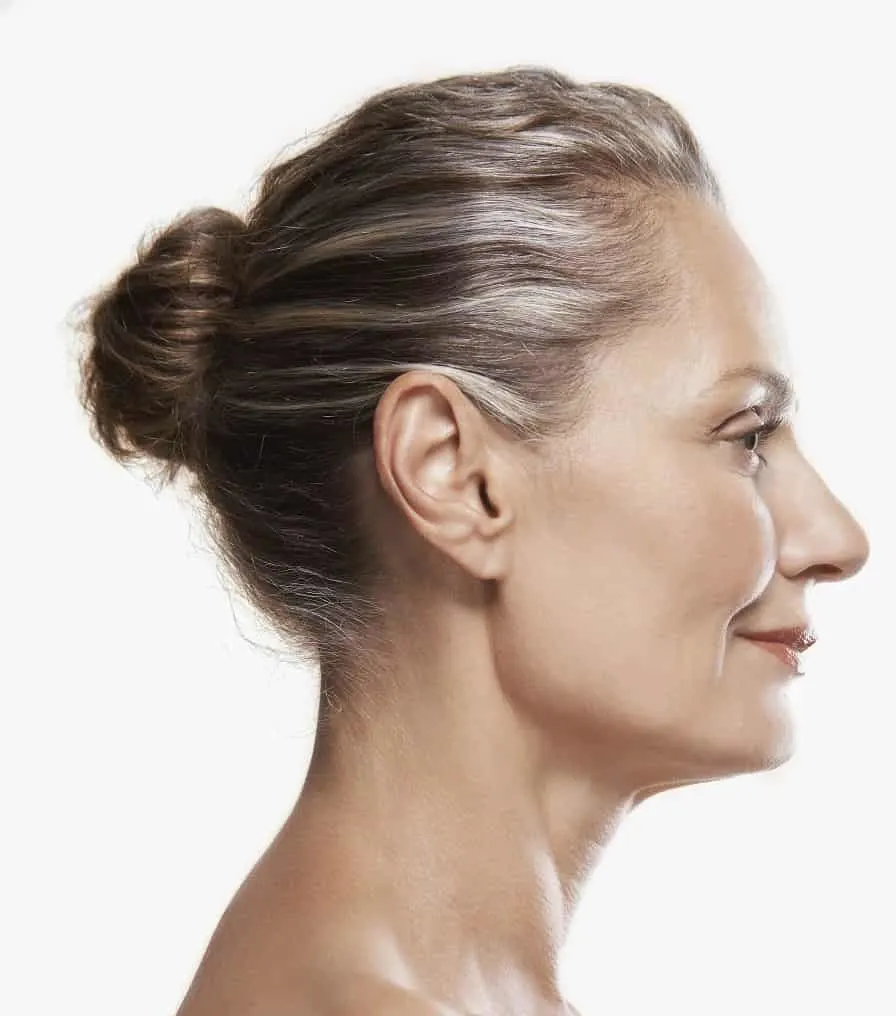 When you reach your 50's, getting white hairs every day is not something out of the ordinary. However, embrace your fading locks and use them to create stunning hairdos like this small low bun.
6. Bun for Business Women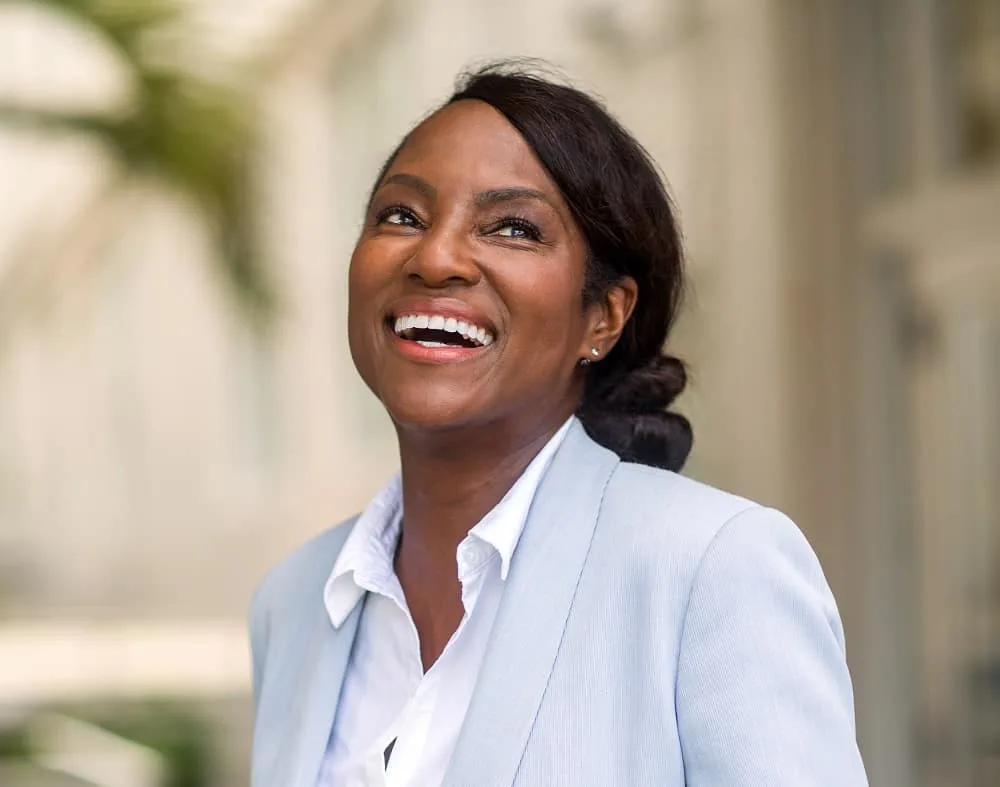 As a businesswoman over 50, a bun hairstyle will make you look professional and respectable. If you want to make a statement, get a side part and a double bun on the same side.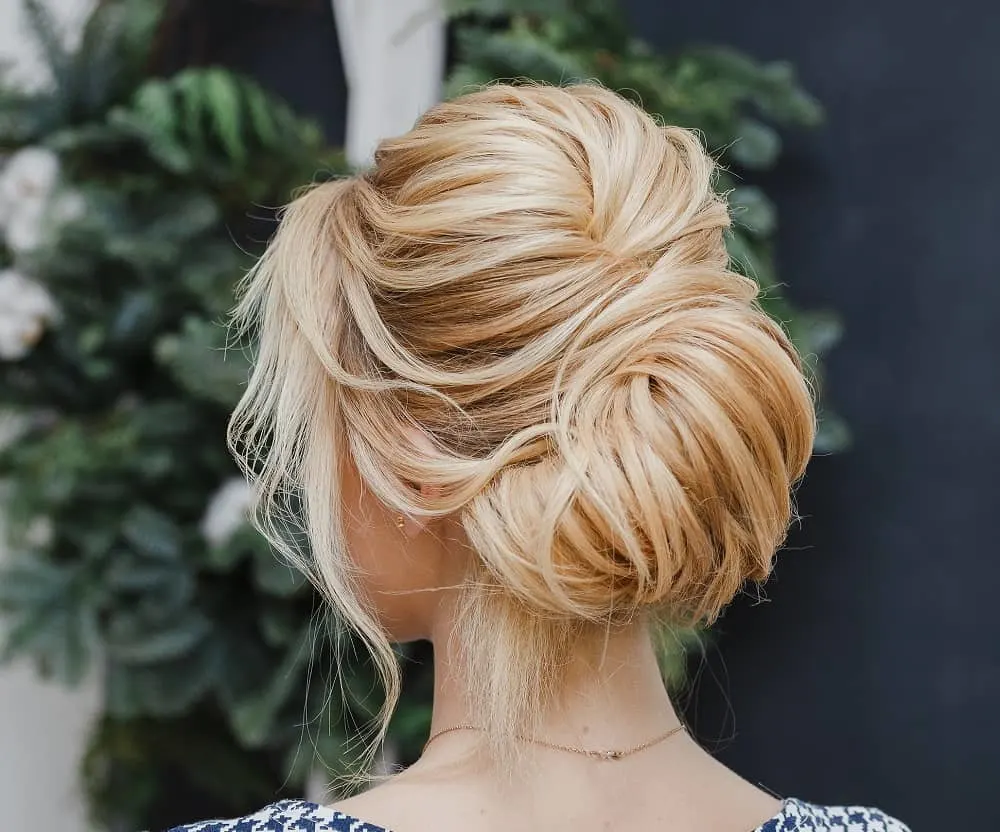 If you are attending a wedding, your hairdo must be flawless. Choose a bun hairstyle that is sophisticated and glamorous. Also, to recreate the example above, we recommend you visiting a hair salon. Ask for a voluminous bun that is placed in the nape area and features a fishtail braid.
8. Messy Bun with Highlights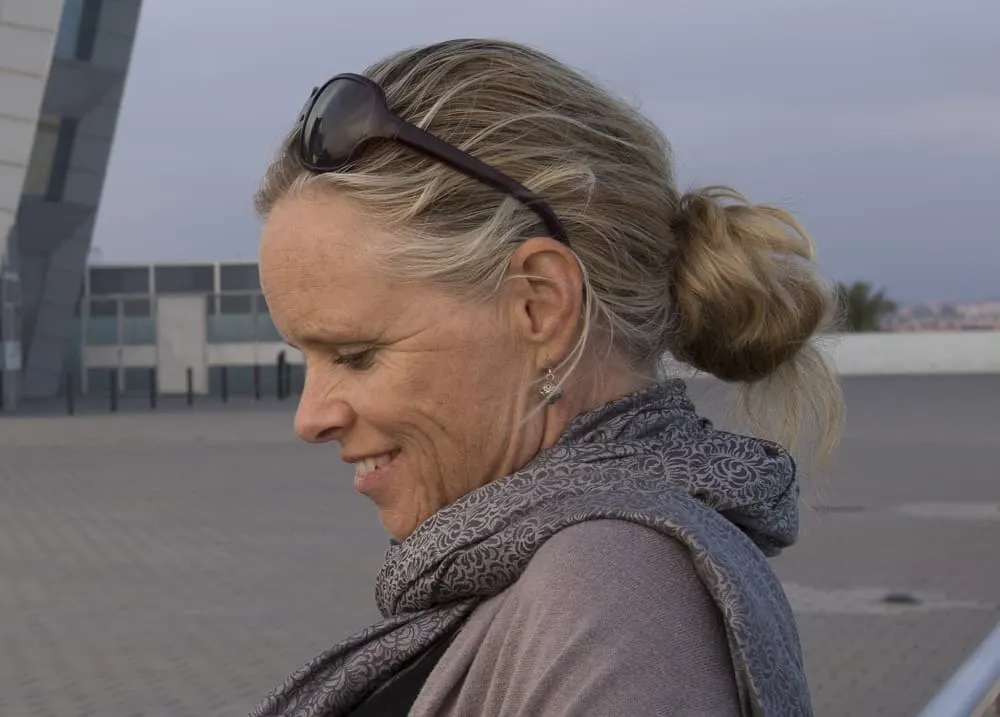 Not in the mood to style your hair? No worries, a bun always has your back. Get all your mane in the back, and in a few seconds, you'll have your hair pinned with a hair elastic. When you don't want those strands falling on your back, a bun keeps the hair up, and better secured.
9. Pencil Bun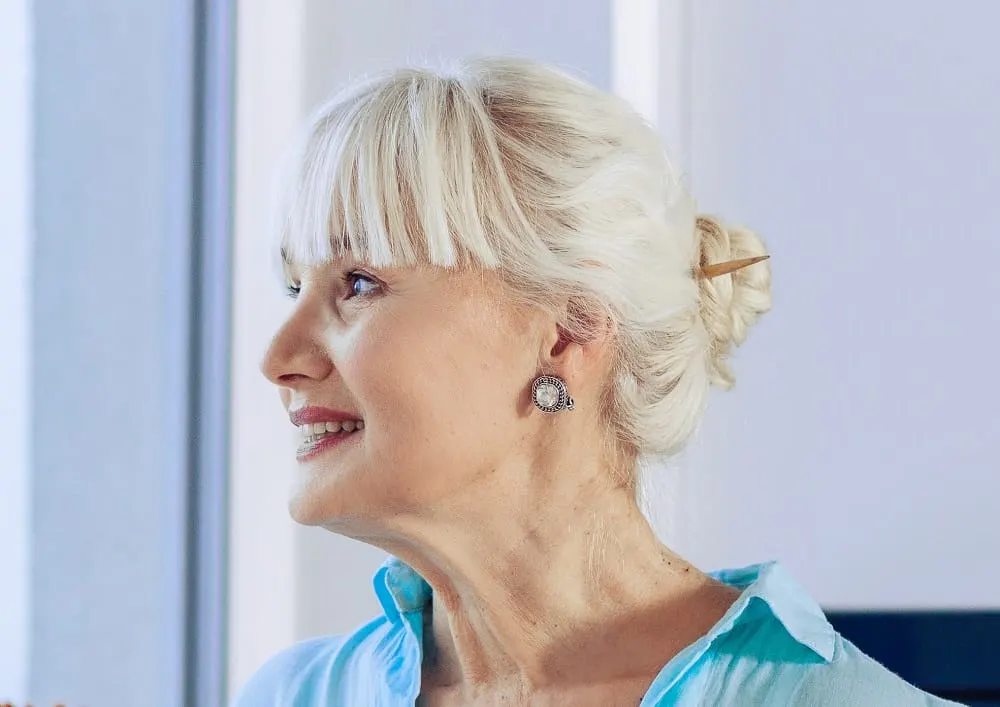 Buns can be easily styled, and you don't always need an elastic to pin them. So if you didn't bring one or can't find it in your purse, a pencil will definitely help. Build the bun and pierce it with the pencil. It will hold the whole hairstyle.
10. Low Fluffy Bun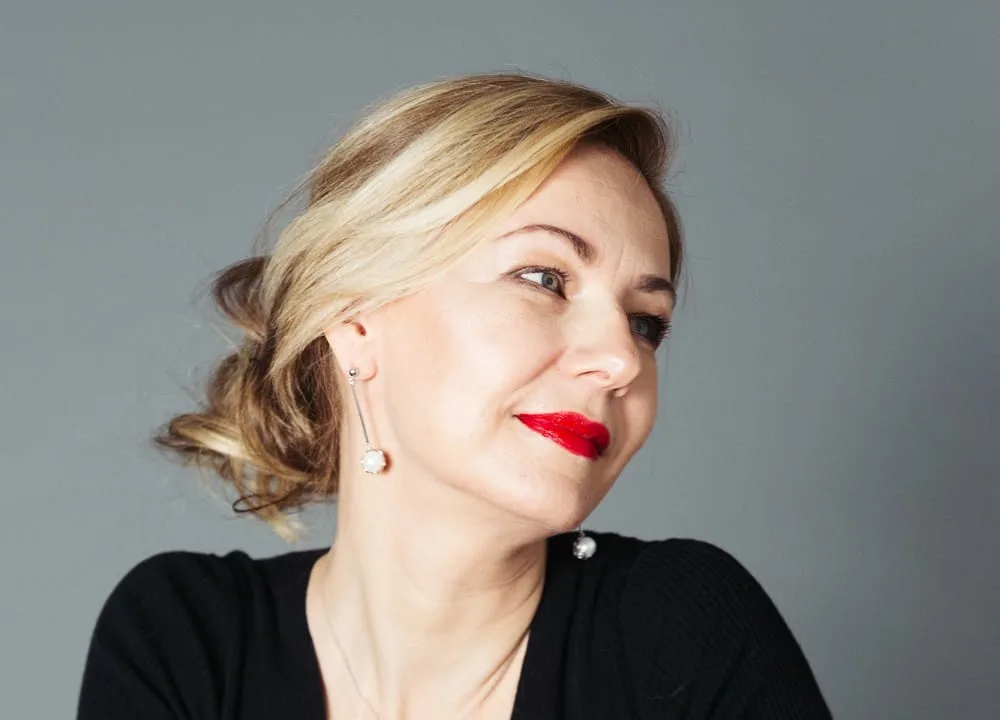 As a woman over 50 with fair skin, a blonde and brown bun is exactly what you need to look elegant. You won't need too much makeup because the hairstyle and some accessories will get you the look you aim for. Pin the tresses in the back and roll them without pulling too much effort.
11. To Go Bun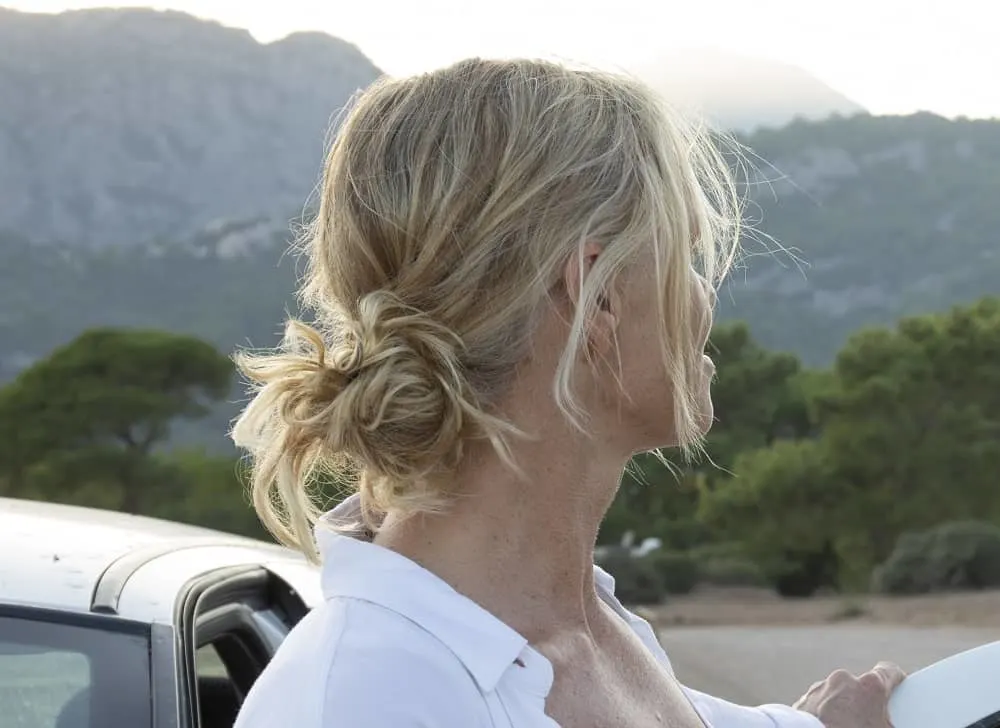 Boho hairstyles are ideal for women over 50. To build this careless hairdo, use a volumizing spray with Panthenol that swells the hair fiber and makes it look thick and full. Use an iron to curl it and pin it in a messy low bun in the back. If your hair is short, some strands will get out. Style them or tuck them back in.
12. Salt and Pepper Bun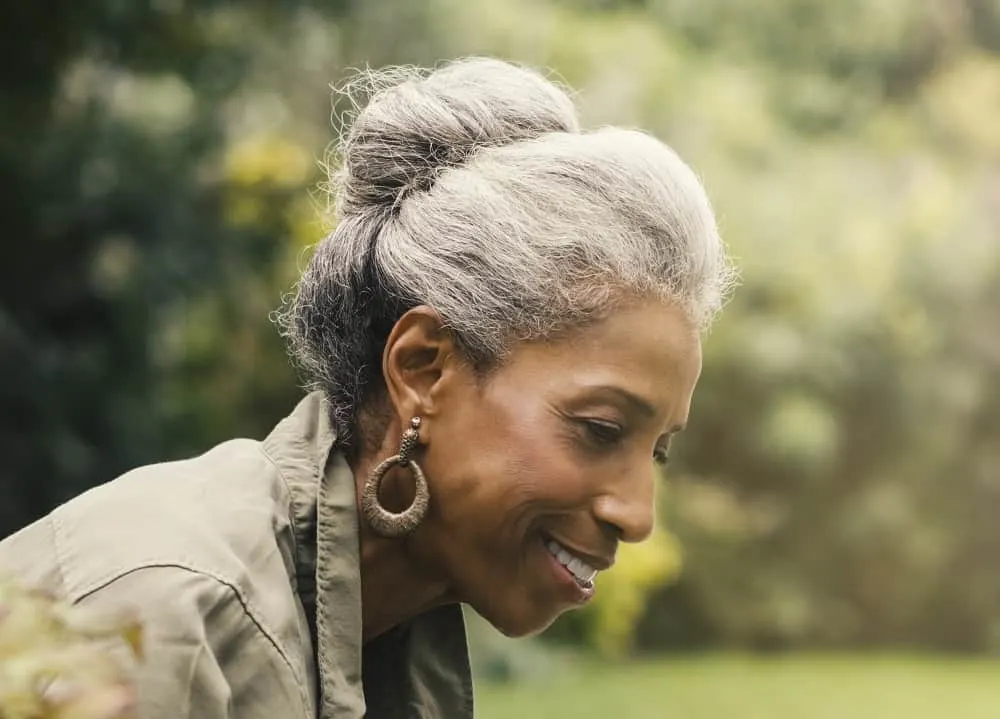 When you have coarse hair with too much volume that gets all over the place, you need to find a hairstyle that looks cute and keep your tresses in one place. When building your bun, don't pull the hair, allow it to make a bump in the back and in the crown area. Roll it and pin it on the top.
13. Hairstyle for Thin Hair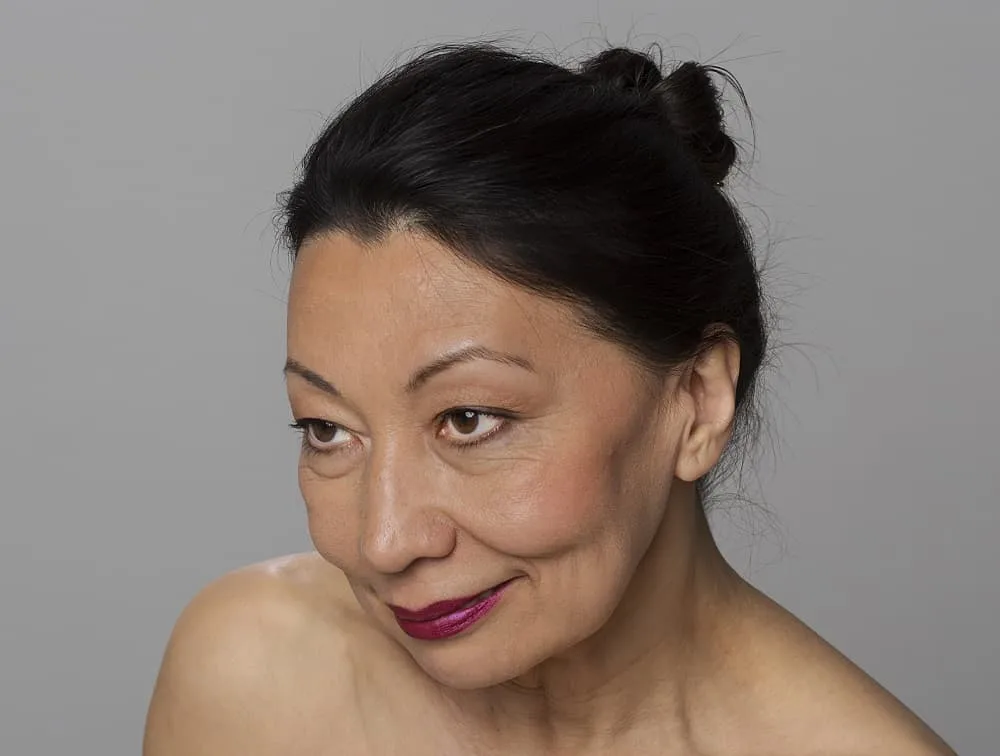 Volumizing hair spray is your best friend when you have fine hair. Loosely tie the hair in the upper back. You can create a ponytail that you'll roll around the base to build your bun. Or, you can create a gorgeous bow bun. For that, you will need a medium to long hair.
14. Bun with Side Bangs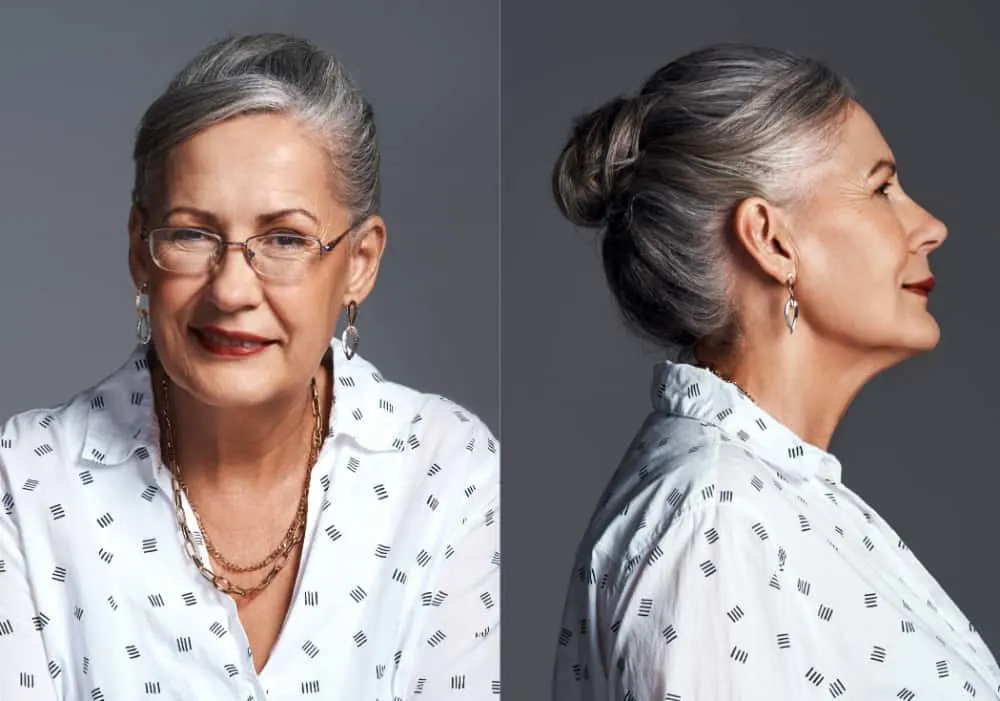 Bangs swiped on the side are a beautiful idea when styling a bun for a woman over 50. Sectioning is necessary for this hairstyle because the rest of the hair will go up, toward the back. Keep the nape area looser when pinning the bun.
15. Top Knot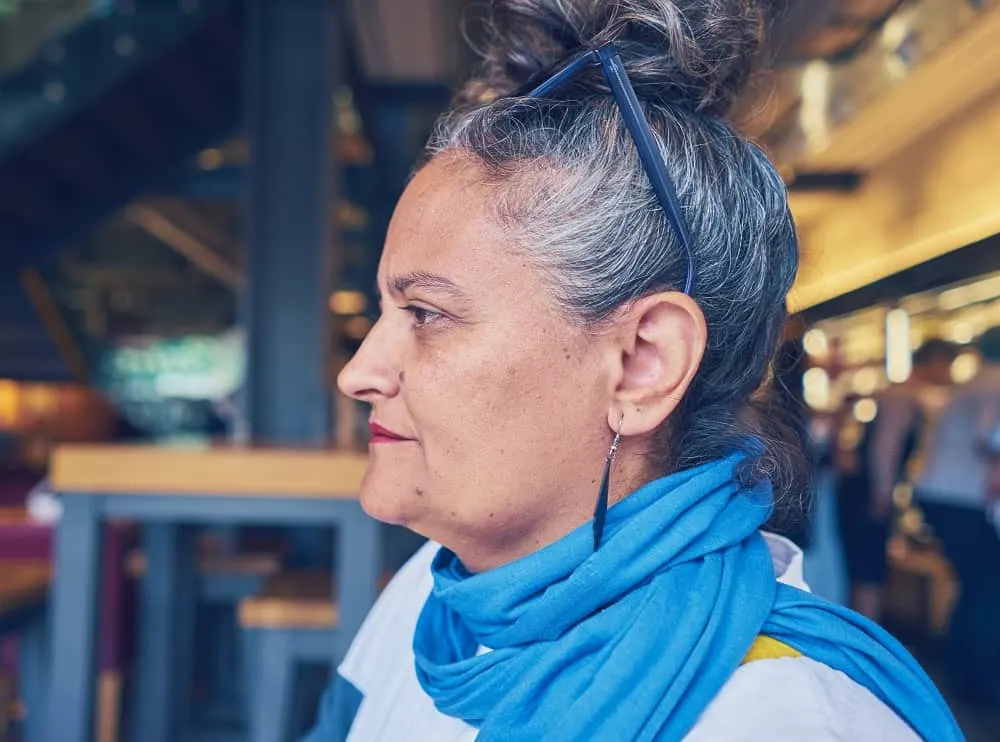 This top bun is messy, and perfect for mornings when you have a lot of things to do. If you don't have time to arrange your hair, leave it all up and pull it in an updo. Place your sunglasses on your head and add earrings for a quick good looking styling.
16. Messy Bun with Bangs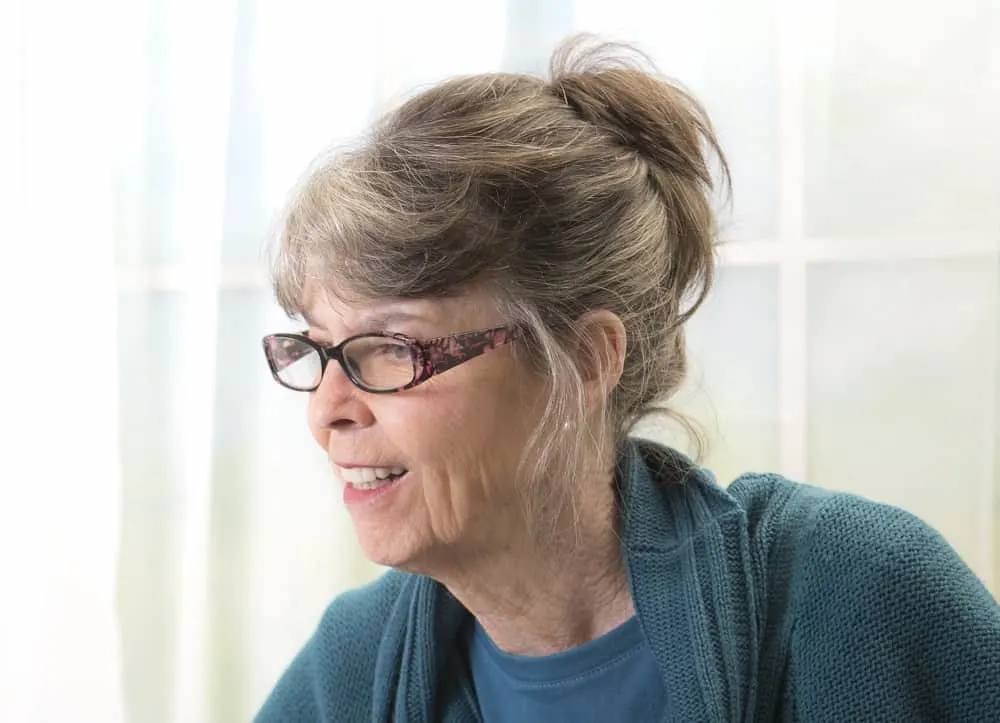 A great technique to make those white strands become more visible is to pull off some blonde highlights. Maintain your brown color and pin those strands in a back bun. Swipe your bangs to the side but keep them on the forehead. Choose a proper color frame for glasses so they'll match your hair tones.
17. Professional Hairdo
A side bun is an ideal hairstyle for women over 50 who want to look sharp at their jobs. Comb towards the back of the whole mane and build a bun. Spare a thick strand that you will wrap at the base, giving it more volume.
18. Sponge Bun
If you don't mind those white threads blending with your natural black-pigmented hair, you can really pull off a wonderful bun on top. Since your hair is now thinner and with less volume, you can use a small sponge donut to give your bun more dimension. Use volumizing and texturizing spray and wrap those tresses on the donut.
19. Hair Elastic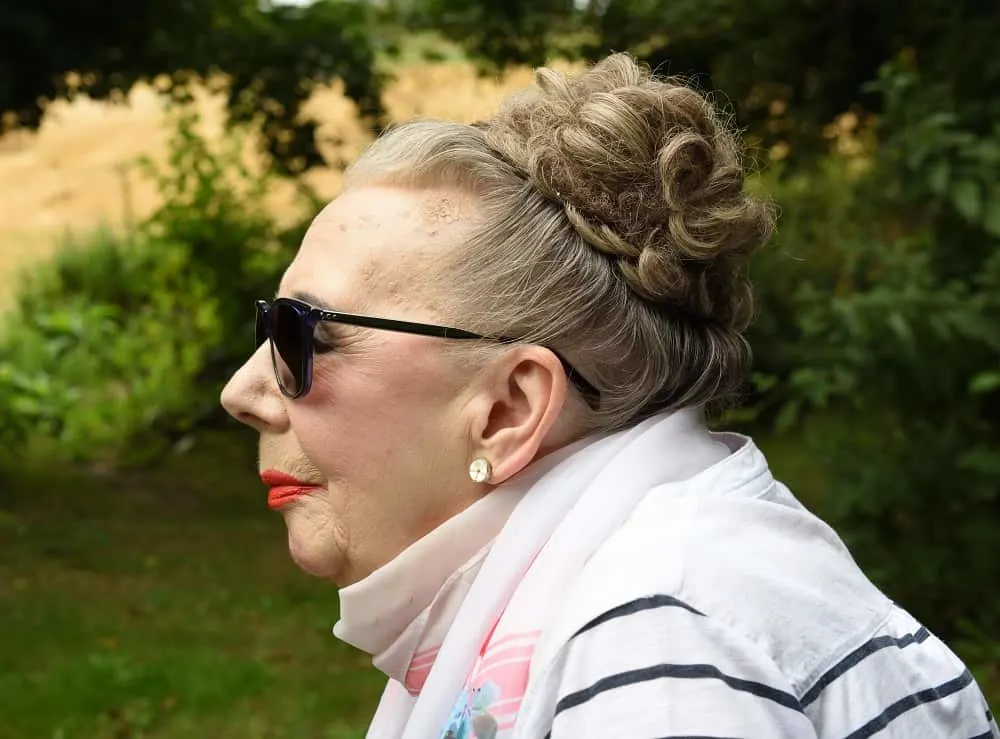 As you get older, your hair starts falling and loses its volume and thickness. However, if you still fancy a bun, you can opt for a hair elastic that you will wrap at the base of your existing bun. Make sure you choose a product that is close to your regular hair.
20. Party Bun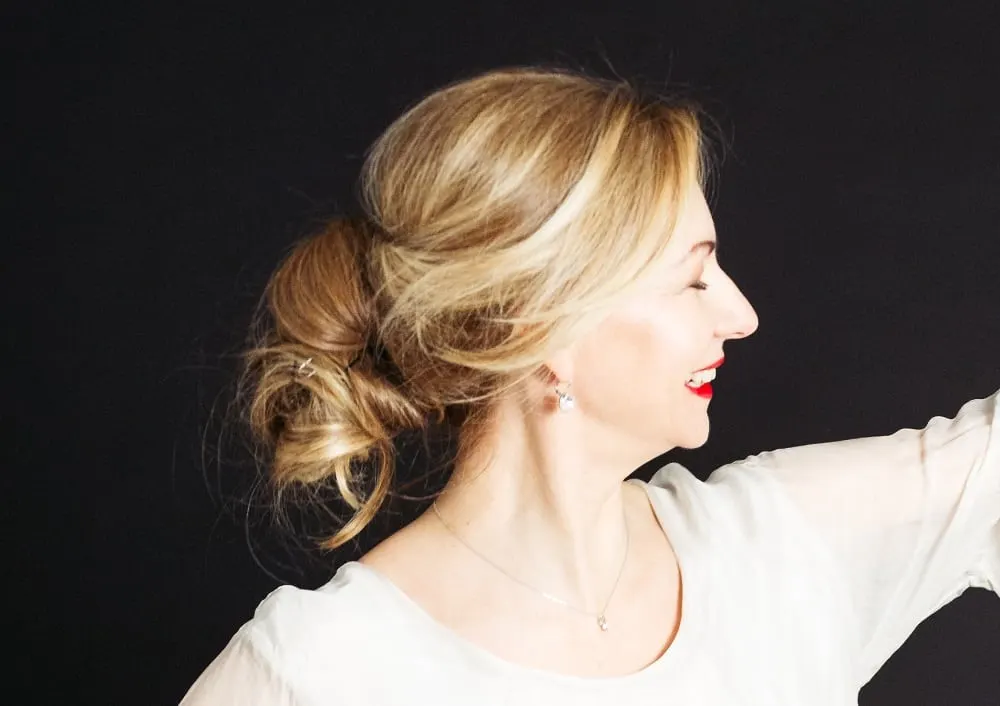 When you have a chocolate with milk hair color with wide blonde highlights, a big bun in the back will look mesmerizing. Those blonde pieces will stand out, and you can easily secure them with bobby pins. Make it look voluminous and messy.
21. Messy Top Knot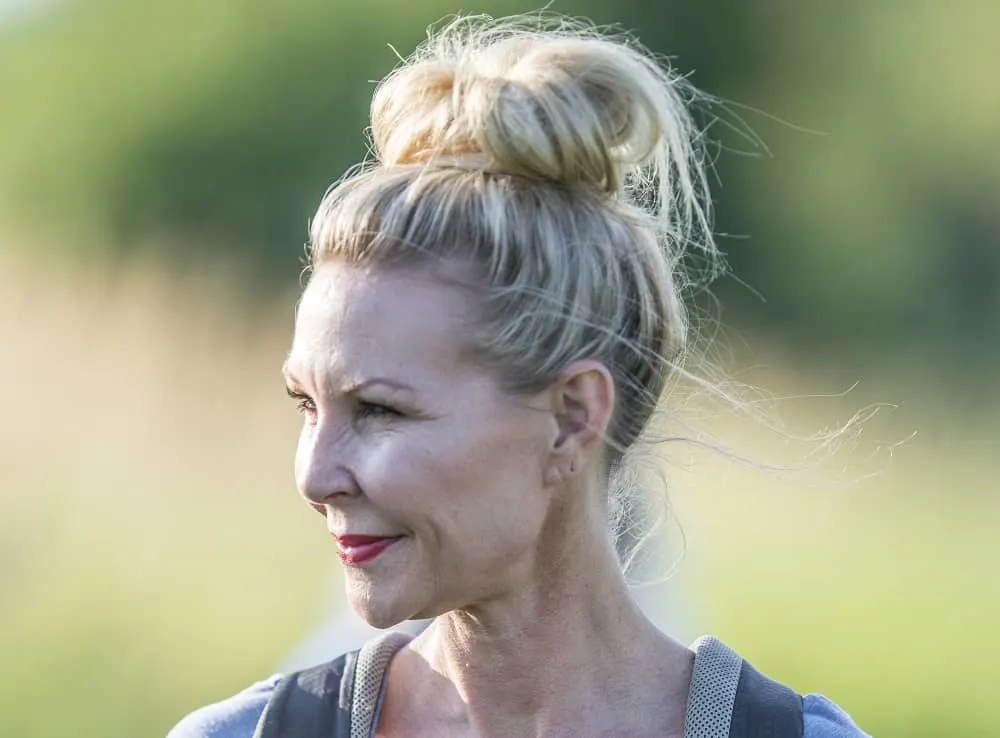 Having a busy day? Then you need a simple hairstyle that makes you feel comfy while running errands. A top messy but on top of the head is a great way to keep those trees out of your way. Spare a few strands on each side and let them fall.
22. Low Bun for Black Woman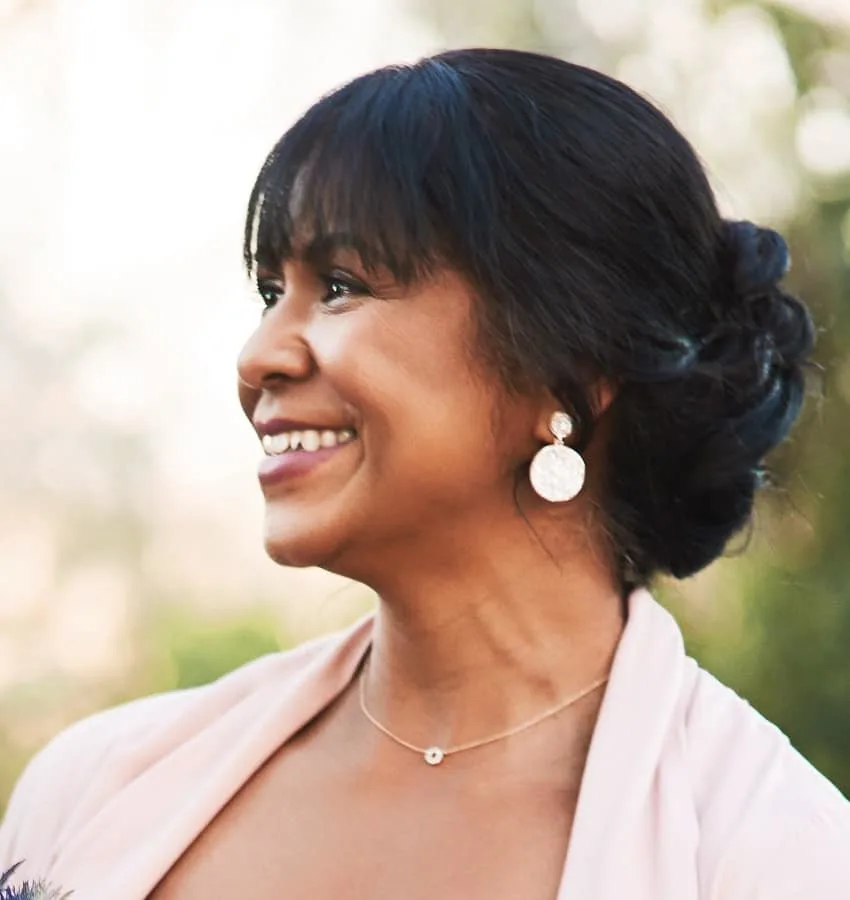 Buns are suitable for any occasion, especially weddings or events with a certain classy glamorous dress code. Go for a hairstyle with bangs that cover the eyebrows, and get a stylish bun in the low back. You can go for a braided bun or a hair elastic with fake extensions.
23. Rolled Updo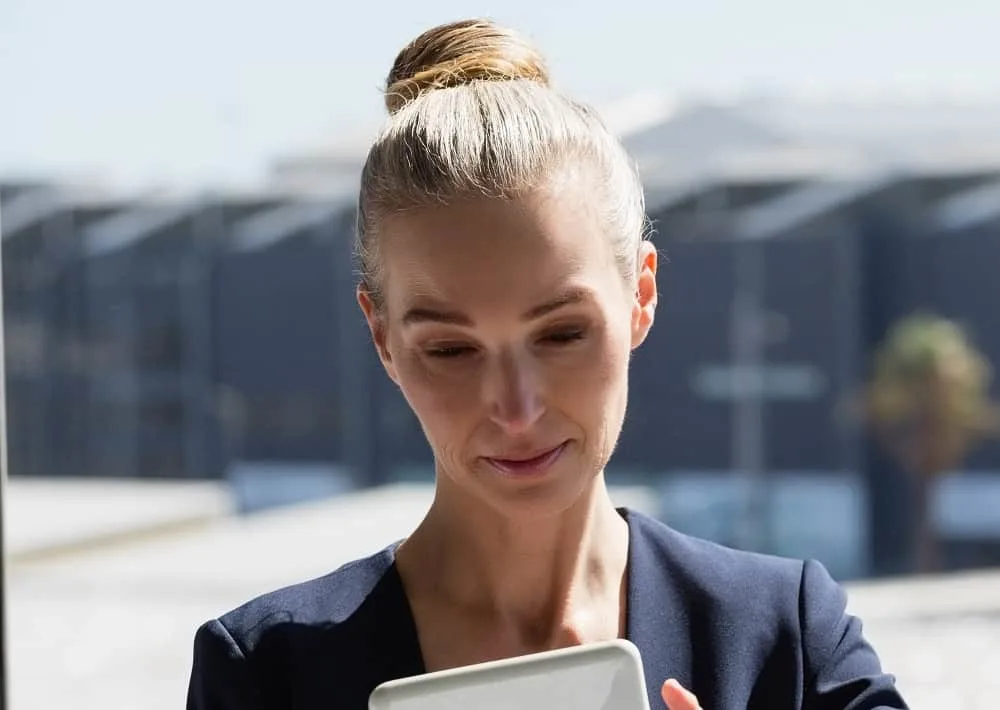 If you're going for a business look that makes you look professional, your hairstyle must be flawless and not too extravagant. A simple yet effective rolled bun on top of the head, with no bumps or untucked threads, is one of the best options.
24. Twisted Hair
When you donțt want something too fancy, you can always sport a simple bun on top of your head. All you need to do is keep your bangs on the forehead, perfectly comb all the hair up and wrap it around the base. Secure with a hair elastic.
25. Low Bun with Glasses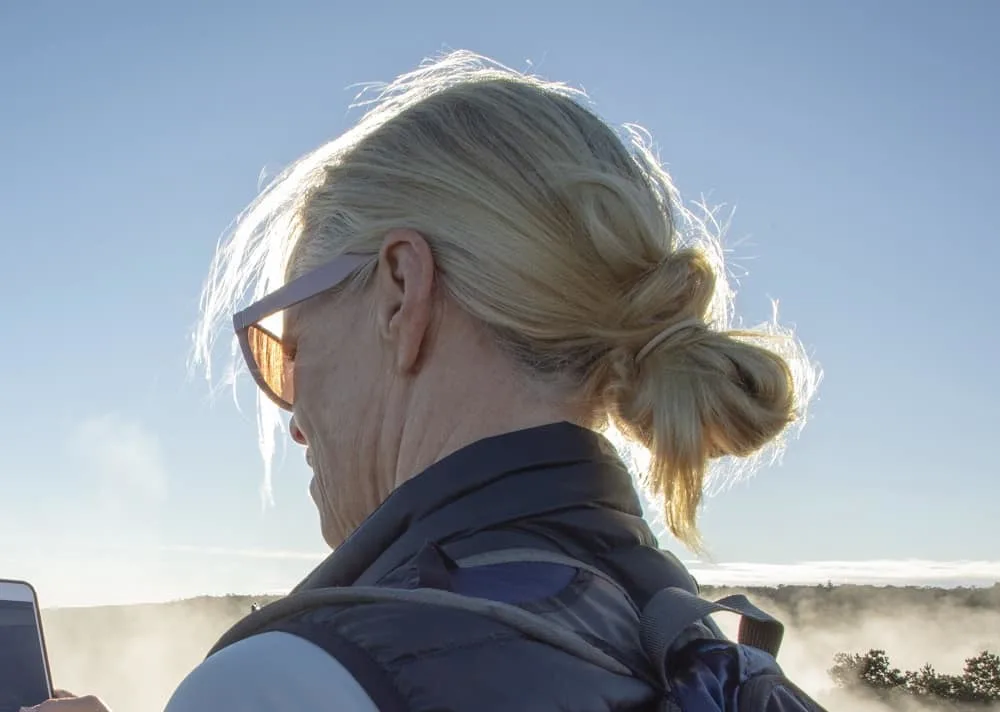 One of the simplest bun hairstyles for women over 50 can be done in just a few seconds. Use a hair elastic and wrap it around the hair like you're doing a ponytail. Instead of pulling all the hair off, draw out only half of it, keeping the ends secured and creating a loop.
Women over 50 like you can look spectacular with different bun hairstyles, bringing you into the spotlight & drawing all the attention to you.
Also, buns make any woman more elegant and highlight the neck and shoulders line. By opting for a bun, you will also draw all the attention to your jawline, lips, and cheekbones, so make sure you use it if this hairstyle is a favorable decision for you.