The old rule that women of a certain age had to trade in their long locks for a short hairstyle is being beautifully broken by millions of mature women. Long hair after 65 is no longer a style faux pas, nor is it aging.
Many older women opt for loose, casual waves and longer layered looks that can spotlight silver hair or any color they want to flaunt.
Today senior ladies wear whatever hairstyles they want, from pixie cuts to long beachy waves. Hair does change after 65, though, so a woman over 65 should consider her hair's condition, lifestyle, face shape, and sense of style when choosing a hairstyle and length.
Can a 65-year-Old Woman Keep Long Hair?
Yes, even if you're over 65, you can keep hair as long as you want if the hair is in good health.
But, some hairstyle experts recommend against it. As women age, experts note that long hair tends to harden aging features rather than soften them. Therefore, hair stylists encourage older women to sport hairstyles that soften their features and seemingly slow down their aging appearance.
However, hairstyle websites and fashion magazines are filled with photos of stunningly beautiful photos of women over wearing long hair. Chances are, you probably see women in your community rocking longer locks far past age 65.
But along with aging comes general changes in how the body functions, including the hair. So, what changes occur after age 65?
What Changes Happen to Your Hair After 65?
As people age, their hair changes in multiple ways. The haircare and hairstyle you used to swear by may need to change along with your locks. These changes include:
Gray Hair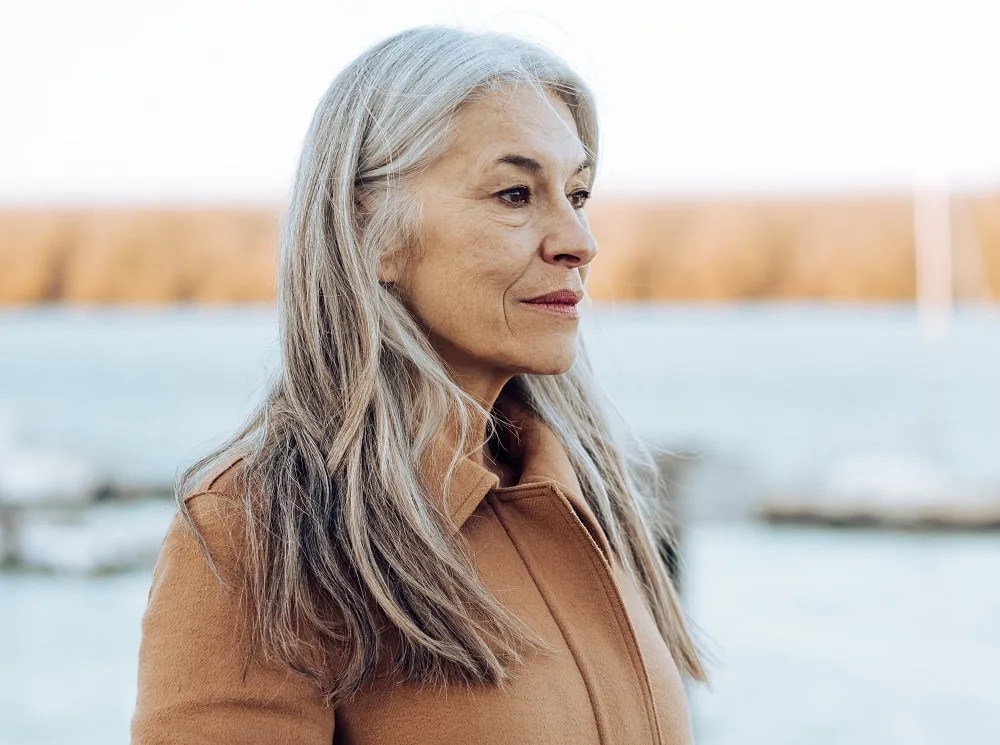 As hair follicles age, they produce less color. After age 35, gray hairs begin to come in. Matured women either embrace their silver hair or color it.
Hair Loss or Thinning
Endocrine and thyroid disorders can be common as people age. These physical problems can result in thinning hair in the scalp and eyebrow areas.
Menopause can also cause hair loss and thinning since the loss of some hormones reduce hair growth.
Dry, Brittle Hair
Another problem that can result from issues in aging, such as hypothyroidism, is hair that's dry and brittle. Dry hair can inspire changes ranging from coloring hair less to not using heated styling tools as often.
If you're over 65 and rocking long hair, call for hydration through hair oils and deep-conditioning hair masks.
Loss of Body
Another way hair changes during the aging process is that it loses body and volume. Less body can make longer hair weigh down the looks of some long-haired older women over 65.
Changes in Texture
Anyone who's gone gray can tell you that aging hair will change texture, becoming coarser and rougher.
Why Do Senior Women Tend To Cut Their Hair Short?
Mature women often trade their longer tresses for pixie cuts, bobs, and asymmetrical styles, but why? While women can wear any length they like, here are a few reasons why senior women tend to cut long hair after 65:
Getting Rid of Damage
Cutting hair can automatically leave hair looking healthier since damaged ends are trimmed away.
More Volume
Women lose body in their hair as they grow older, but shorter haircuts add fullness and have more volume. Wearing long hair when you're over 65 years old can weigh hair down, making it look thinner.
Hide Thinning Hair
Shorter hairstyles will camouflage thinning hair, while longer styles can show where hair is thinning at the scalp.
Going Gray
Women who want to let their permanent hair color grow out often speed the process by cutting color away. A pixie cut can be a chic way to let go of hair color that's no longer flattering.
Wash and Wear
Many mature women over 65 want a look that's easier to maintain. Shorter hair lets women have a wash-and-go hairstyle.
More Flattering
Some senior women lose fullness in their faces and can have loose skin. Shorter hairstyles can be more flattering, framing a mature face and drawing the eye upward. But this isn't always the case, it depends on the shape of your face.
Is It a Good Decision To Grow Hair Long After 65?
Whether it's a good idea to grow hair long after 65 depends on whether you like having long hair.
The versatility of long hair means you can always wear long hair in a ponytail, messy bun, or chignon. Women over 65 can also adopt long layered hair to add volume and shape.
Growing your hair long after 65 can be an experiment. Talk with your stylist and look through hairstyle collections online to get ideas. If you decide you don't want long hair, you can always get a haircut.
How To Maintain Healthy Hair Growth After 65
You can't avoid the changes your hair goes through as part of the aging process, but healthy habits can help you keep long hair even when you're above 65. Try these tips:
Don't Wash Your Hair Every Day
Washing your hair frequently will leave it dry. Reduce shampooing to about twice a week.
Hydrate Your Hair
Use a volumizing conditioner to add moisture and body to your hair and leave it shining and healthy.
Avoid Heated Styling Tools
Curling irons, flat irons, and blow dryers can leave hair dry and damaged. Use them sparingly, and if you do use heated tools to dry and style your hair, apply a heat-protectant spray to your hair first.
Feed Your Hair With Protein
Eating a diet rich in protein will make your hair look healthier because protein makes up most of the hair follicles. Lean meats, eggs, and deep, leafy, green vegetables are good for your hair and the rest of your body.
What Haircuts To Pick and What To Avoid When You're Over 65?
Women can enjoy many different hairstyles, but there are a few they should avoid after 65.
Hairstyles To Pick
Hairstyles that flatter senior women include styles that are layered and soft instead of severe. These can include:
Wavy Layers
Long or short, wavy layers make hair natural, loose, and youthful. The carefree look of layers also makes beautiful haircuts for senior women easy to style.
Loose Curls
Mature women are embracing their natural curls instead of straightening their hair. This adds up to an easy-care hairstyle that won't damage hair with heat.
Medium Length
A compromise for mature women who like the thought of long hair but worry that long locks will weigh them down is a medium-length cut with layers.
Hairstyles To Avoid
Women who want to look younger with long hair after 65 should stay away from these hairstyles to avoid looking older:
Long Hair With No Layers
Long hair that's one length can make senior women look older.
Severe Buns and Ponytails
Pulling hair back tightly into a severe hairstyle will highlight thinning hair and may promote breakage.
Does Long Hair Make Senior Women Look Older?
Not necessarily. Long hair with layers or loose waves can give mature women a youthful, carefree, and sexy look.
We hope we've inspired women who have celebrated their 65th birthday to wear the hairstyles that make them feel beautiful. Long hair at 65 can be stunning, but so can short and medium-length styles, so wear the hairstyle that is the most flattering on you.