As women over 60 age, they become more aware of how precious time is, including time spent styling their hair. This often leads to looking for a haircut that is easy to wash and wear.
Contrary to what you might think, you don't have to go short to get a low-maintenance look. There are plenty of hairstyles of all lengths to suit your hair preference.
Whether you have naturally curly short hair or long thin hair, let's get started finding the easy-to-maintain hairstyle that will give you your time back to enjoy the better parts of life!
Chic Wash-And-Wear Hairstyles For Women Above 60
Looking for a way to cut down on time spent in front of the mirror styling your hair? Check out these 25 great options for wash-and-wear hairstyles for women over 60.
1. Short White Bob
If you have a small face, opt for super short bangs on a short bob. The cut is perfect for women with all white hair, as it still gives you a youthful look. Just comb and be on your way!
2. Thin Bangs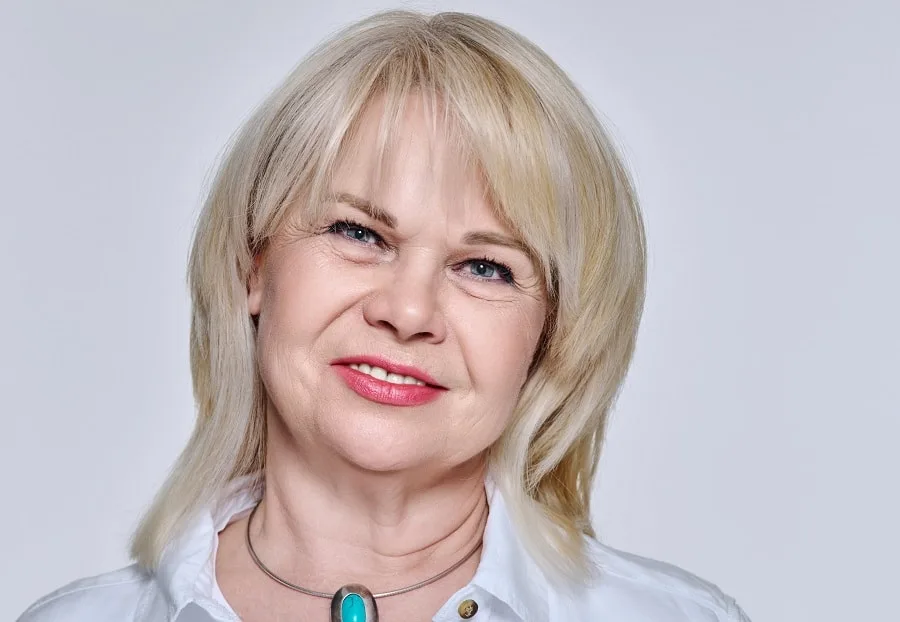 If you have a chubby face, look for a haircut that has thin and piecey bangs. This shoulder-length cut features side-swept fringe and soft face-framing layers that simply require a finger comb to wash and go.
3. Feathered Short Hair
If your hair is naturally thin or fine and you want some body, go with a chin-length bob with bangs and ask for a feathered cut that will easily pick up any mousse you sweep through it.
4. Swept Back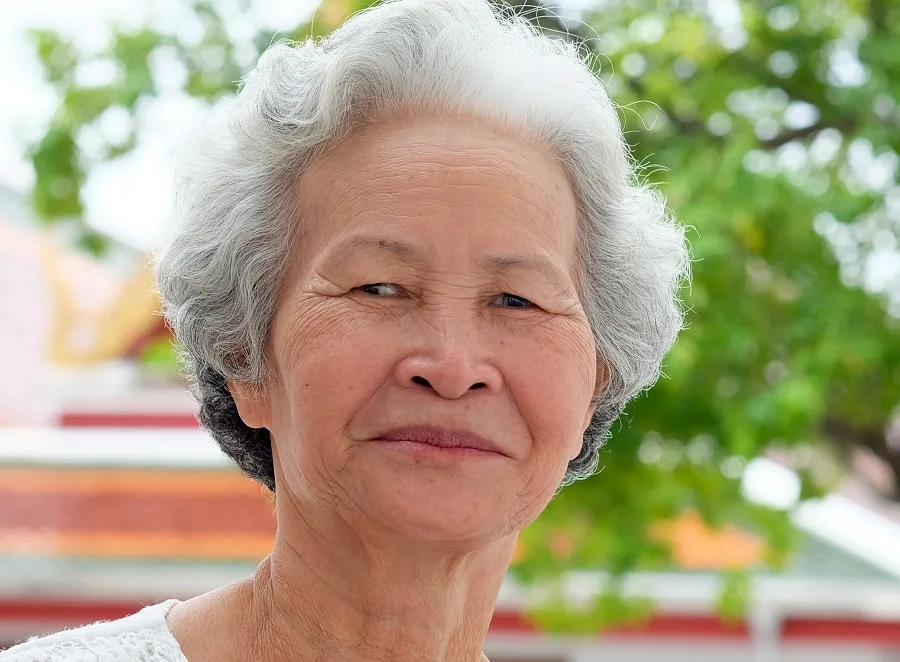 For women over 60 who prefer short hair with no bangs, this one is super low maintenance. Hair is about the same length all over, shows off natural waves, and is easily swept back off the face with fingers.
5. Long and Gray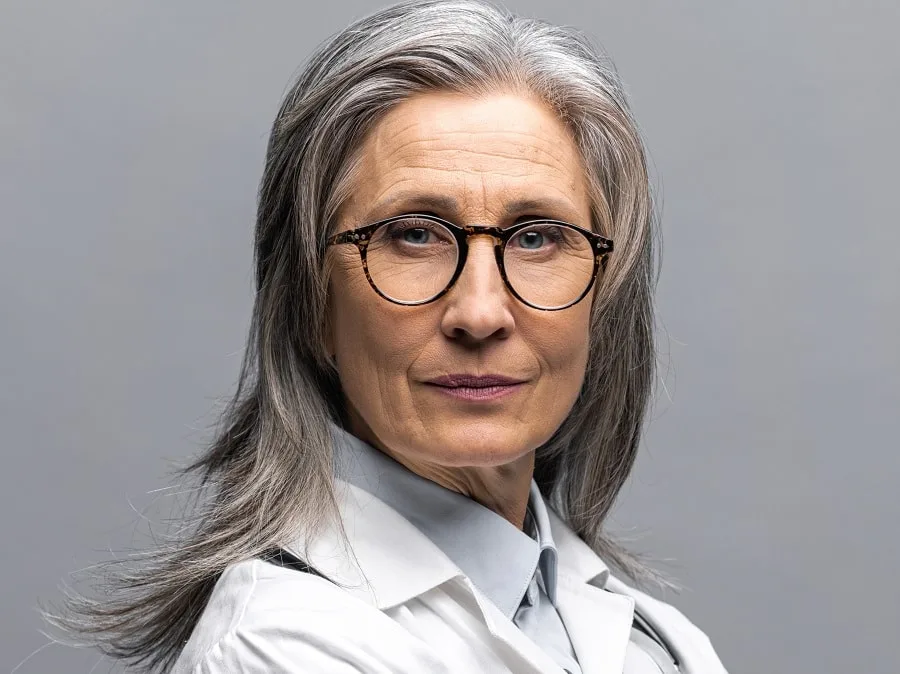 Some women like to keep long hair even in their older age when grays are showing more prominently. If that's you, we recommend an off center part for wash and wear style, leaving hair down and loose.
6. Springy Curls
Naturally curly hair is coveted by women everywhere, so don't hide it! A shoulder-length cut with no bangs is easy to care for with a little curl-formulated shampoo.
7. Wavy Layers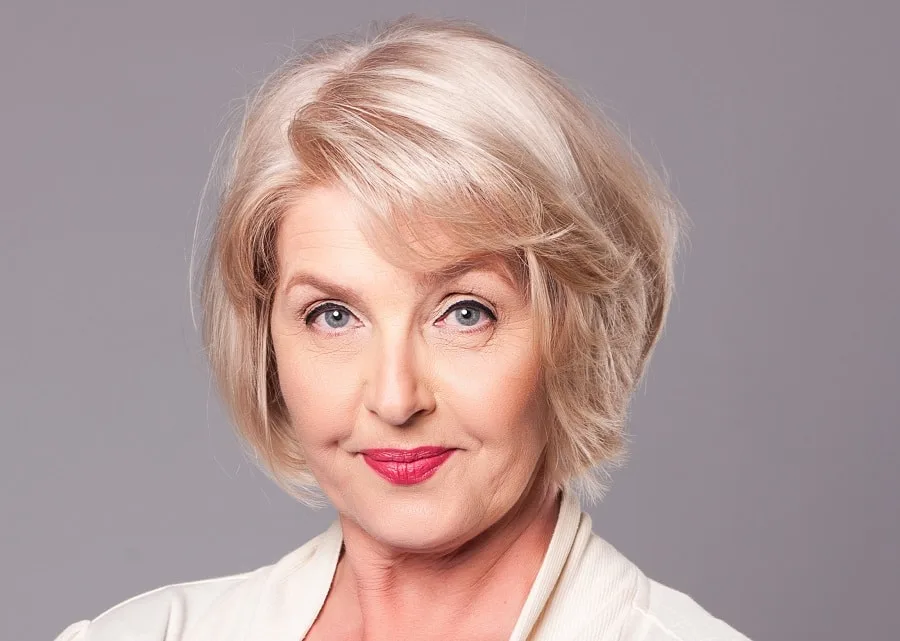 Layers are a great style technique to get built-in texture and shape you can wash and wear any day of the week without worry. Add layers to short wavy hair and opt for a side-swept bang if you like fringe.
8. Medium Purple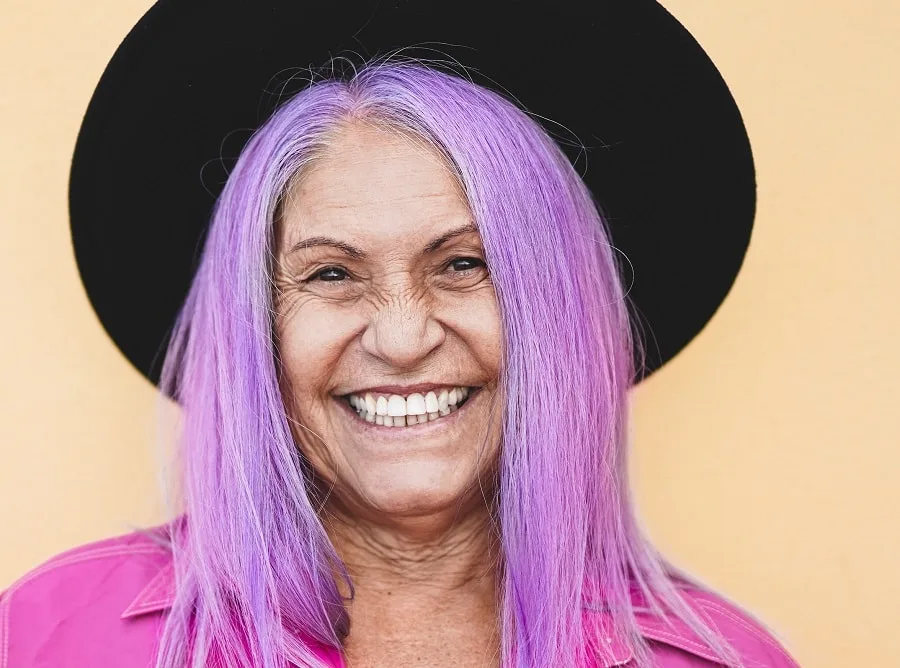 When your hair color is this bold and beautiful shade of purple, there's no need for anything extra. Long layers are suitable for any face shape. Wear hair down and add a cute, over-sized hat!
9. Side Parted Blondie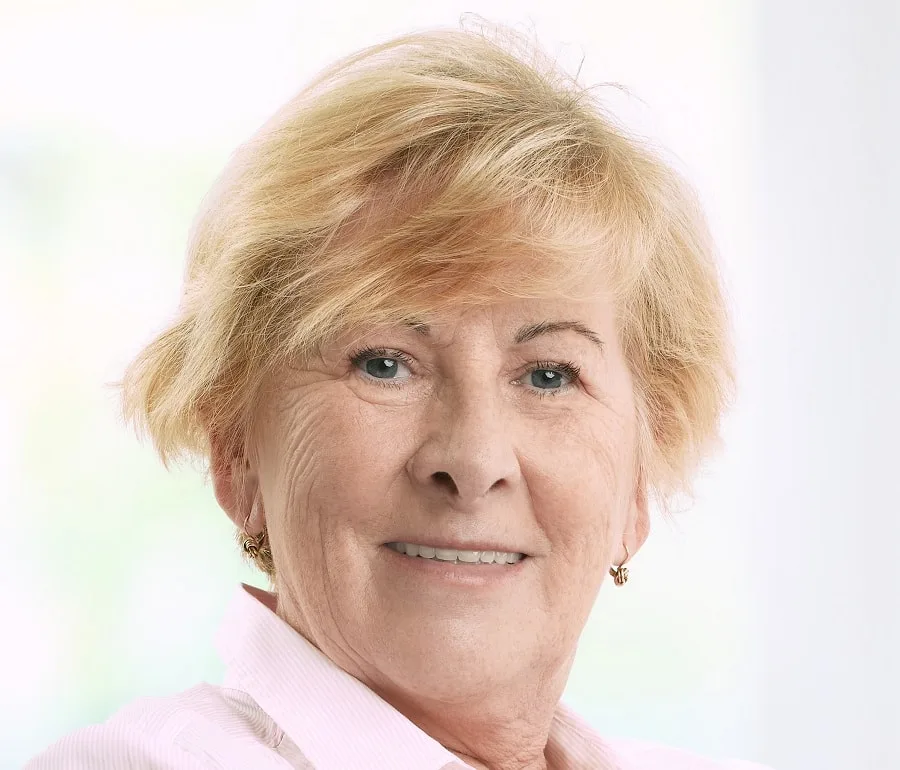 Whether your natural hair color is blonde or you're just looking to go lighter, a short blonde style with wavy layers is the way to go. A long side bang is ideal for creating a soft look.
10. Curly Black Hair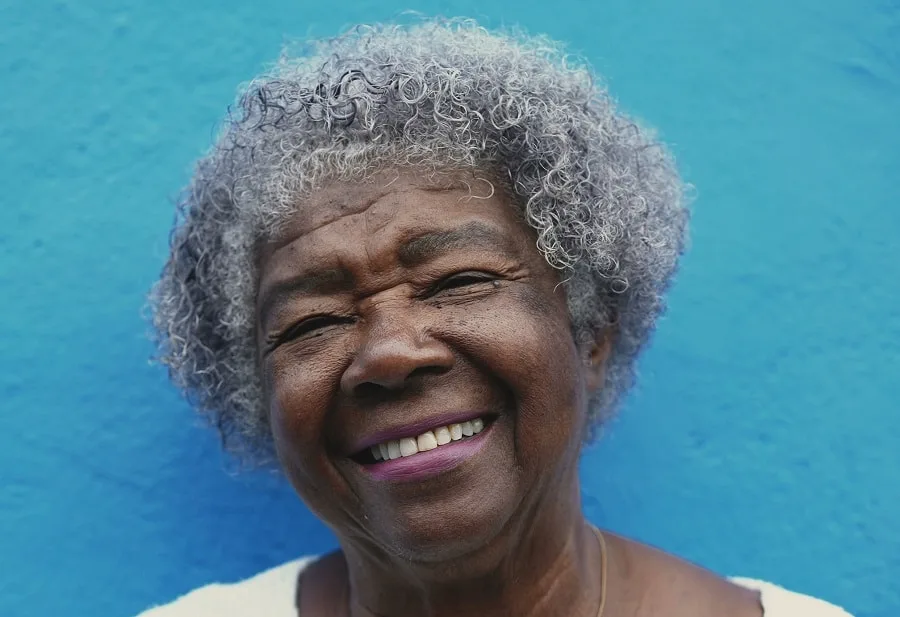 Does your natural black curly hair have a few grays or whites peeking through? Show it off in a rounded short haircut you just have to wash and wear. You can even add short bangs, as seen here, to cut up face dimension.
11. Medium with Side Bangs
Actress Susan Sarandon serves as inspiration that women over 60 can still look youthful with their medium-length wavy hair. Just add side bangs! Wear hair down to show off your soft texture.
12. Blonde Ombré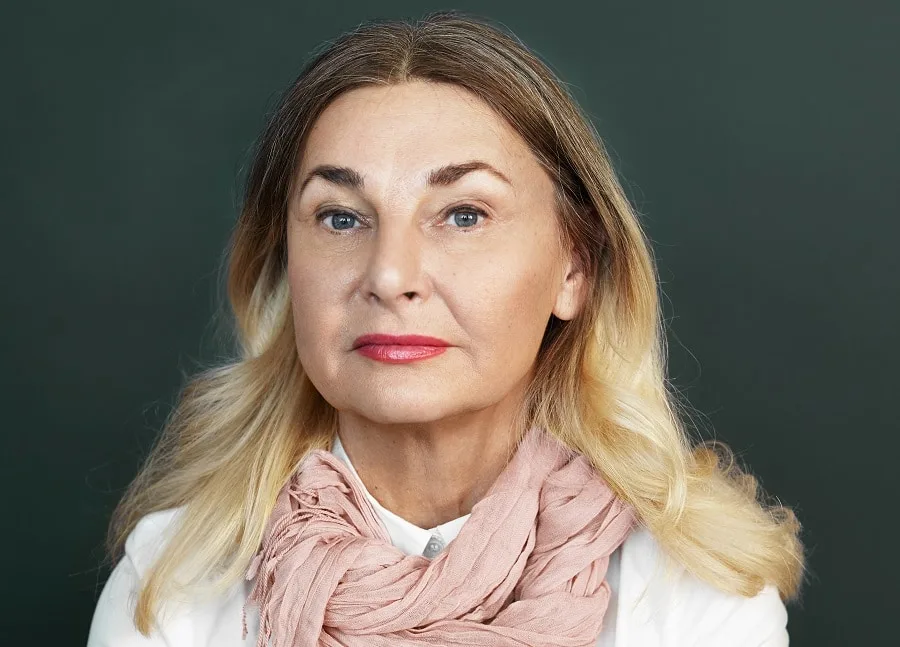 Ombré has no age limit, so if you're over 60, feel free to try it! This long hairstyle features a simple middle part, so it will only take a minute to wash, comb, and wear!
13. Choppy with Bangs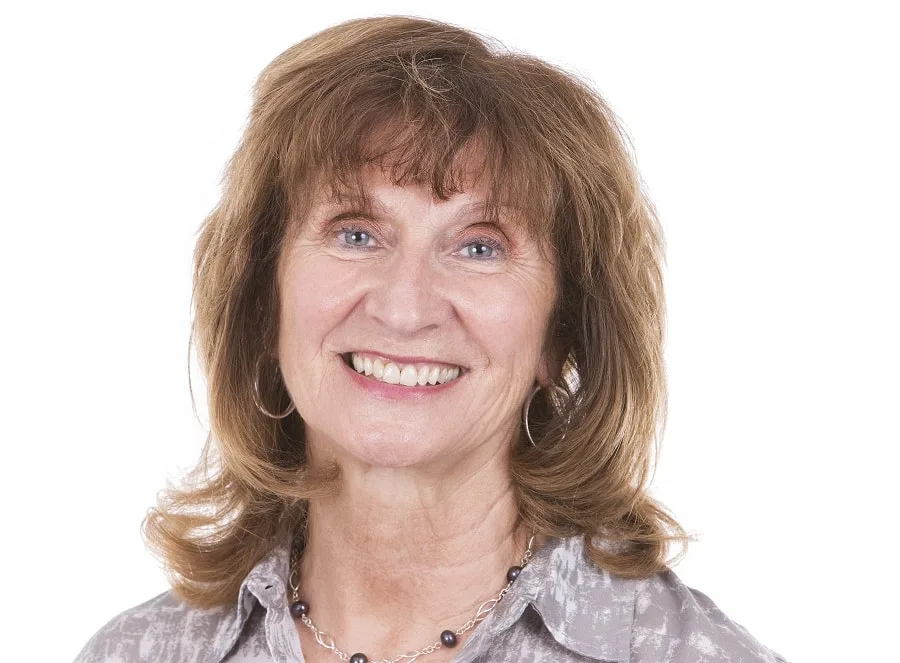 Instantly give thin or fine hair a boost of volume by asking your stylist for choppy layers. This will make curls and waves curve inward. A thin bang can help nicely with framing.
14. Short and Straight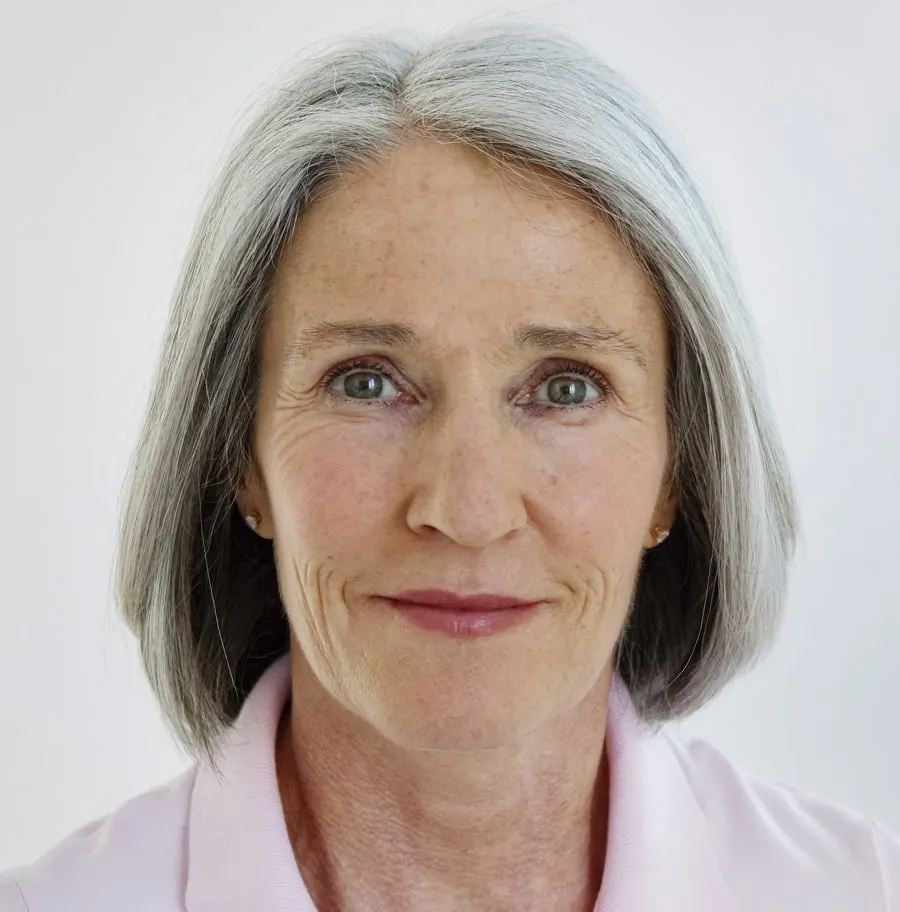 For hair that is naturally straight, maintain a wash-and-wear style by opting for a medium-length bob. This one is so chic with a blend of gray and white. Part it slightly off center if you have a wide face.
15. Thick White Curls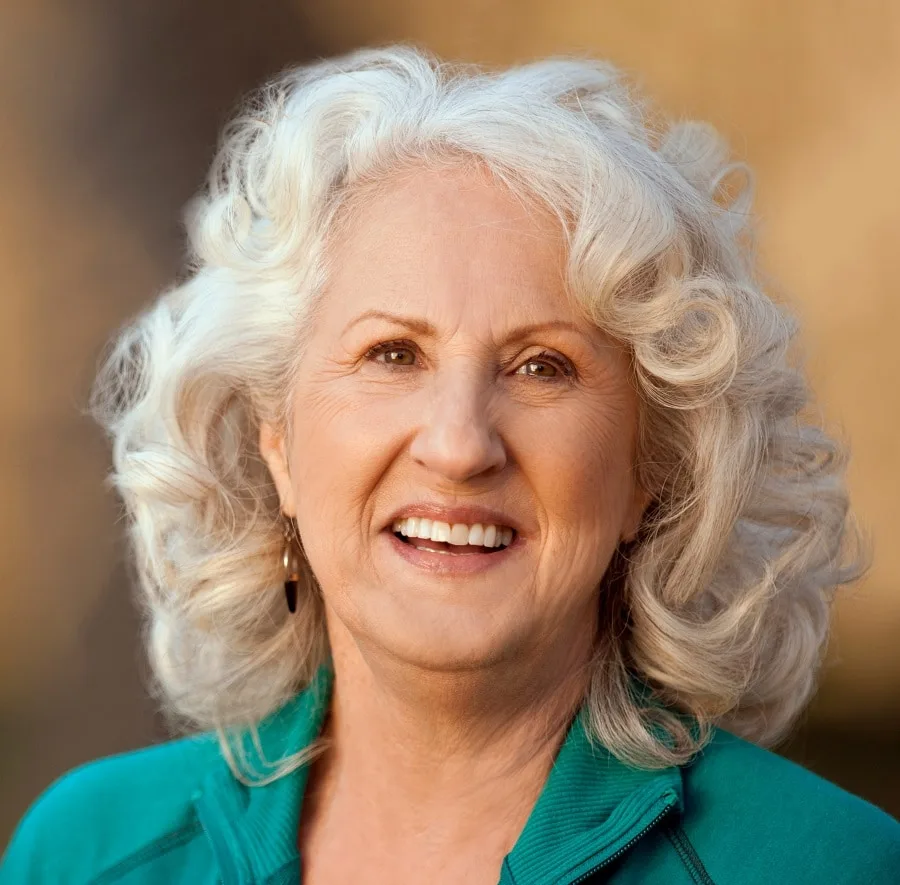 If Marilyn Monroe hadn't passed so young, we imagine she would be a huge fan of this thick curly haircut for women over 60. Keep your beautiful eyes visible with a soft side bang.
16. Pixie with Baby Bangs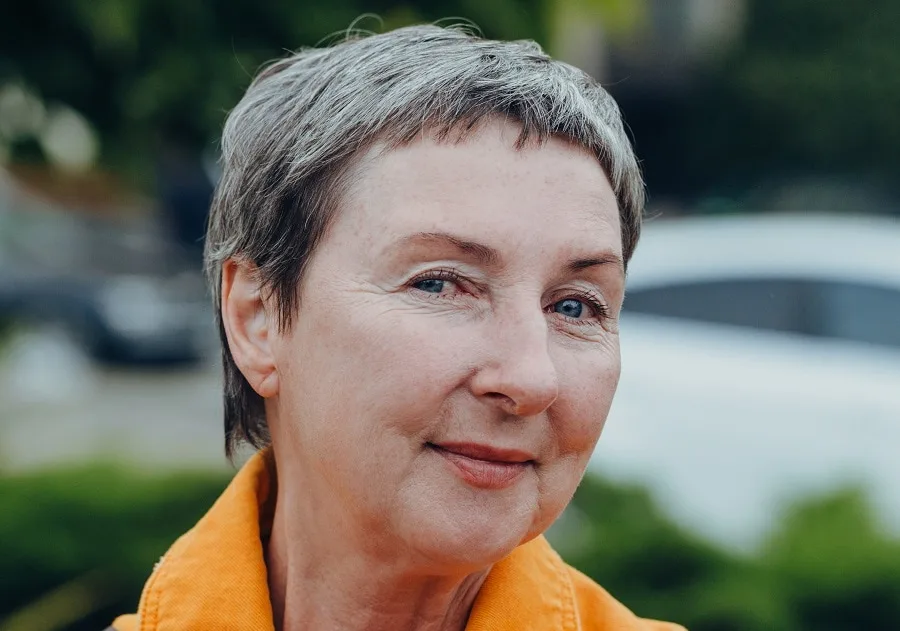 Looking for an edgier haircut for women over 60? Wash-and-wear hair has never been easier than with a pixie that packs all the attitude with its baby bangs.
17. Highlighted Curls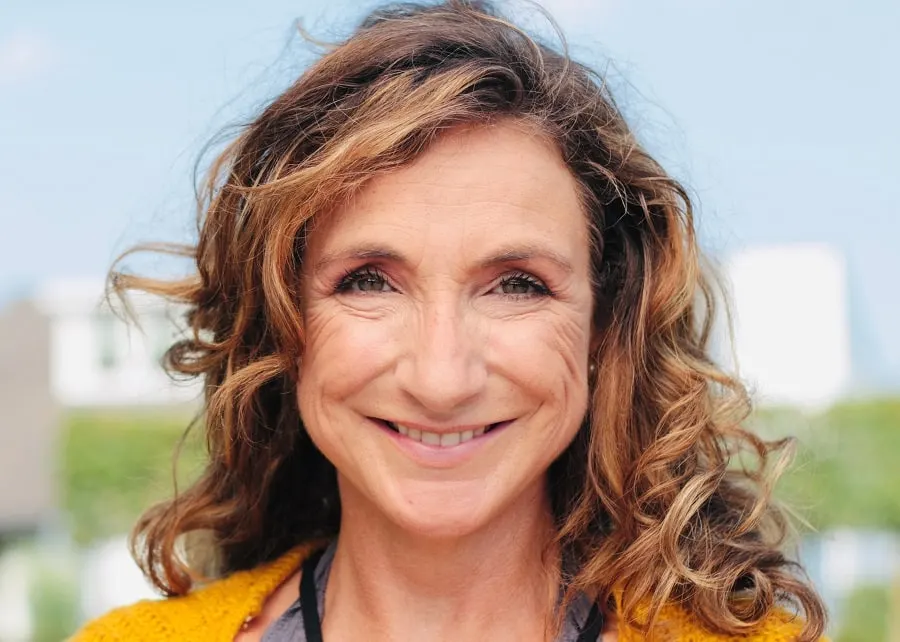 With beautiful warm blonde and caramel highlights to define your curly hair, no one will guess you're in your 60s! Just wash and air-dry your hair and viola!
18. Teased Light Blonde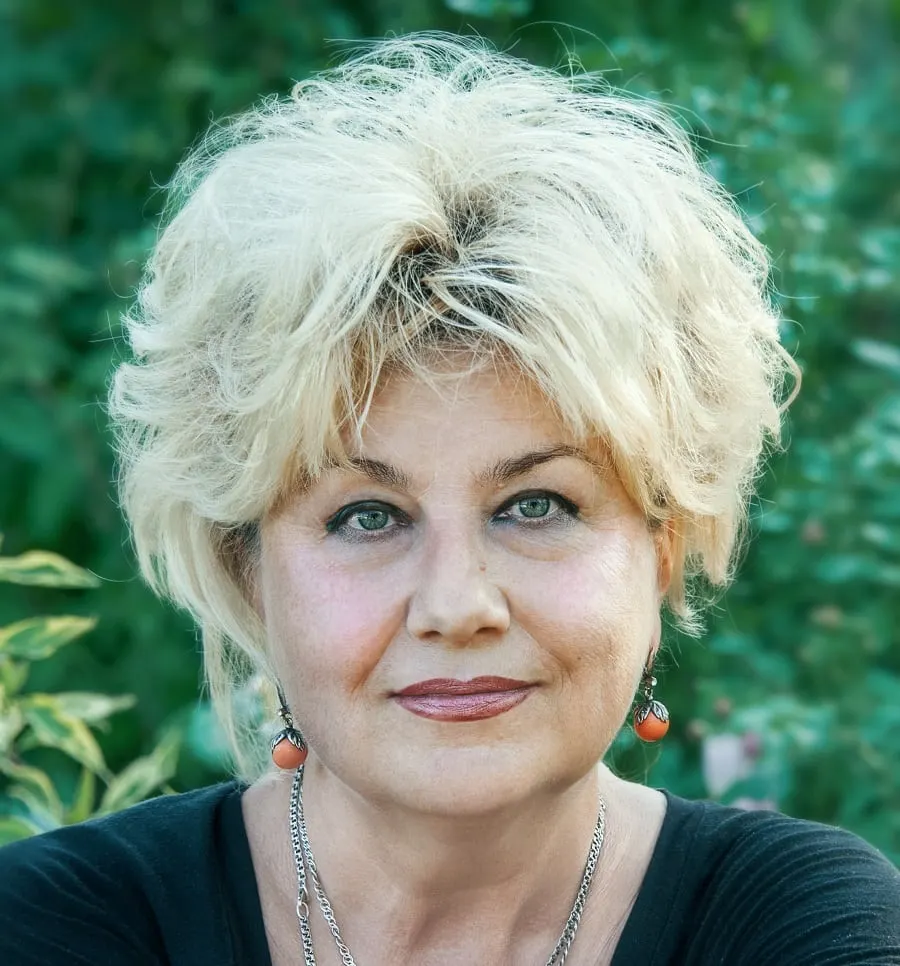 When you like a shorter hair length, you can't go wrong with a short bob or long pixie featuring plenty of teased texture and youthful light blonde coloring.
19. Pale Pink Bob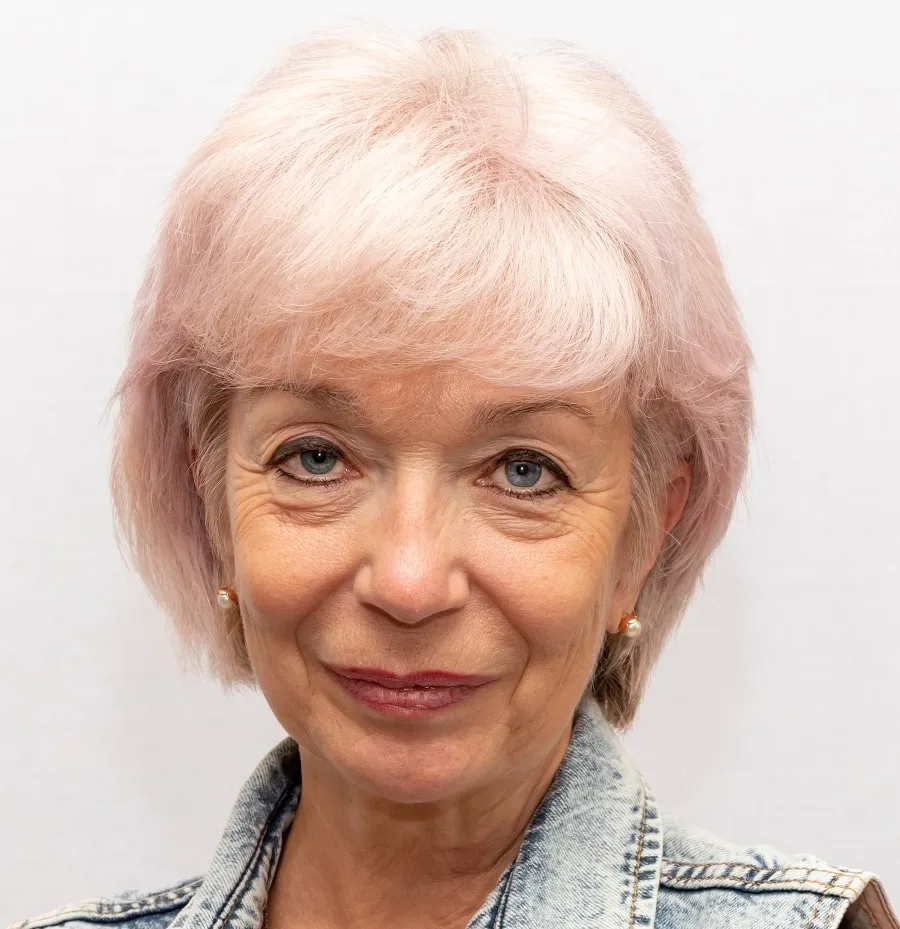 How cute is this fashionable bob with soft bangs for older women? If your base color is blonde or white, add a tinge of light pink to stand out. Wear as styled above for low maintenance or straighten a few pieces before going out.
20. Layered Red Bob
Ginger women unite and flaunt this adorable layered bob! Wash and wear after finger combing to get hair to lay the way you want.
21. Wavy Hair with Glasses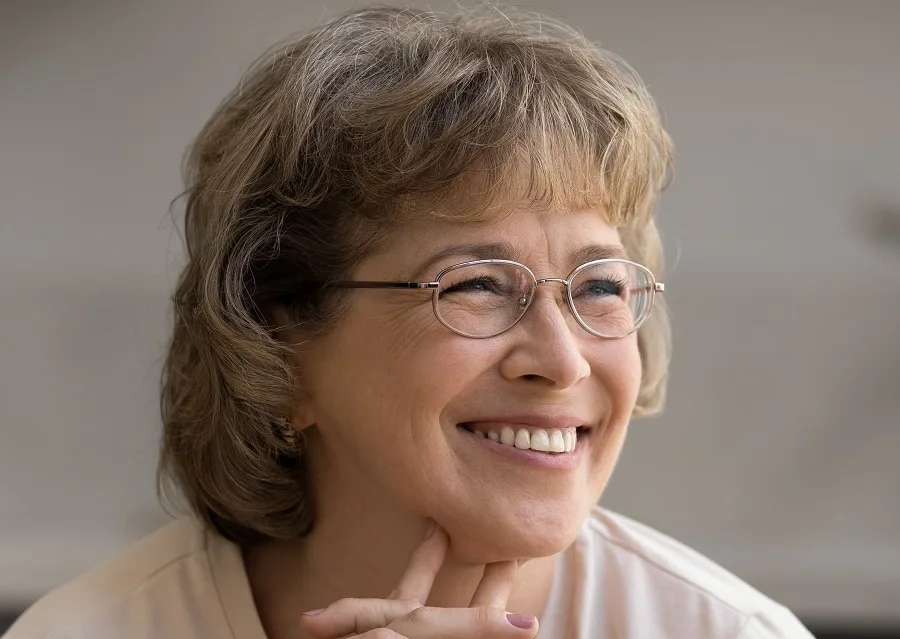 If you're over 60 and are rocking glasses these days, choose lots of wavy layers for face framing. Medium, thin bangs are easy to maintain. You can even scrunch in a little product to get more volume.
22. Short Hair for Round Face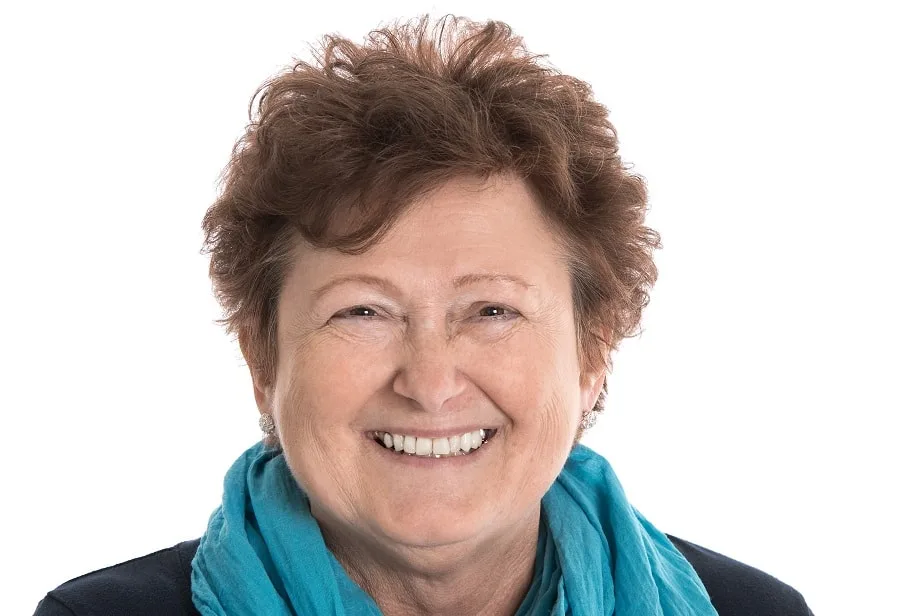 Not sure how to style your hair to flatter your round face? We like this short hairdo, which gets help in the volume area from waves and layers.
23. Simply Straight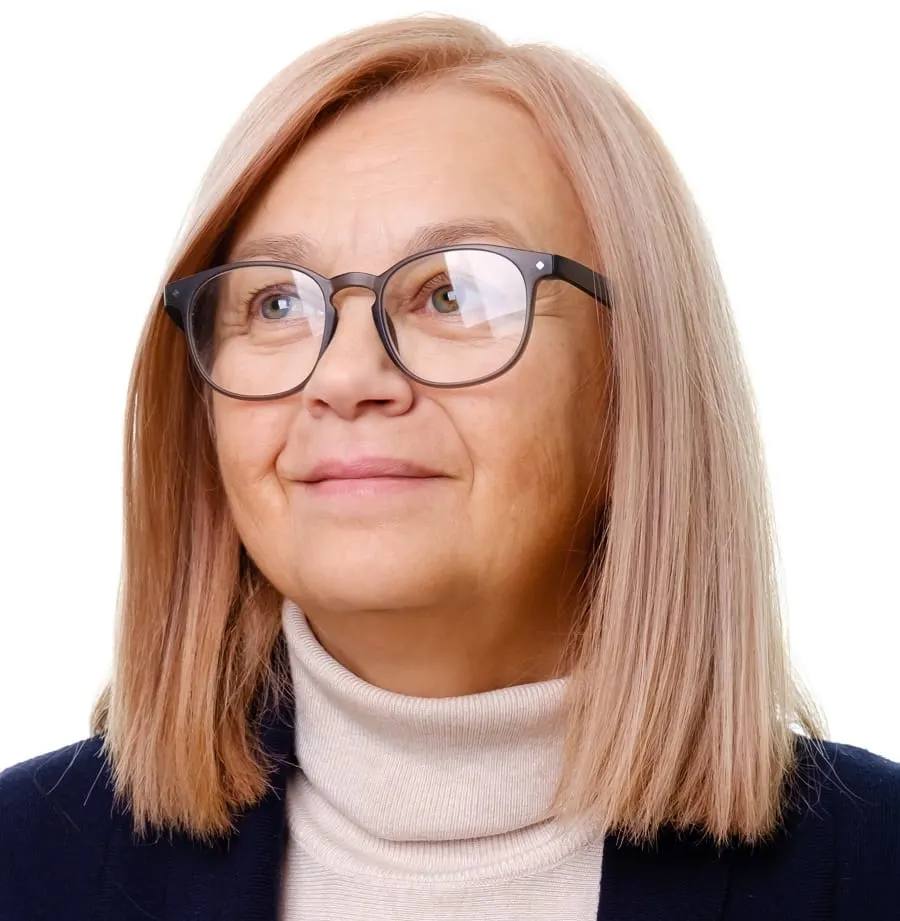 There's no shame in going blonde when you're over 60. Just do it in a tasteful way, like this straight shoulder-length cut does with its light rose gold ends.
24. Wavy with Blonde Highlights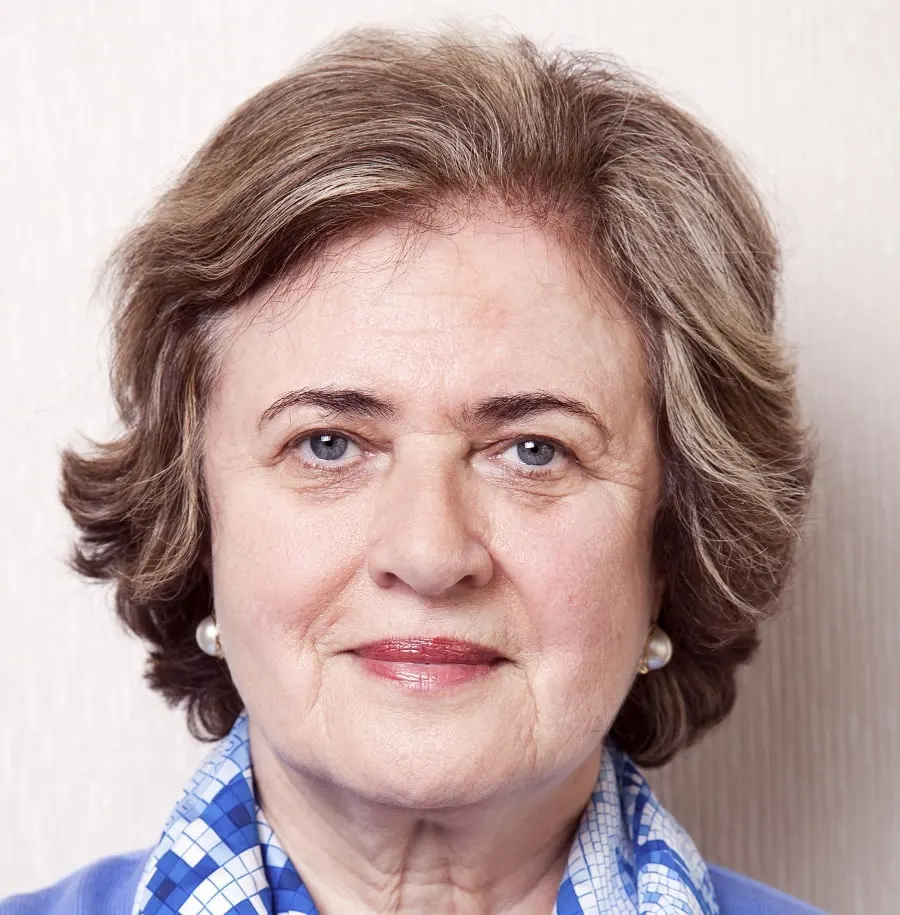 One of the best ways to welcome in older age is with an easy-to-style short haircut that gets its shine from blonde highlights. Thin or thick highlights will give you an easy wash-and-wear style.
25. Wavy White Hair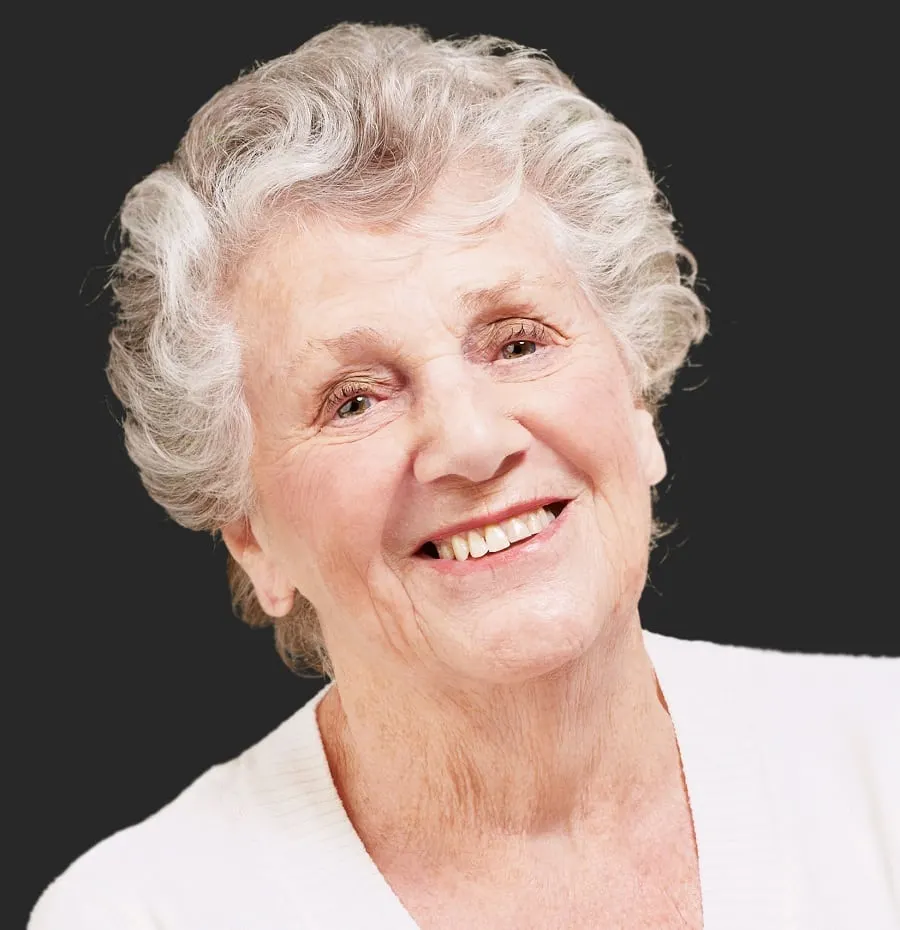 Wavy hair is super easy to style when short, making it the ideal choice for a wash-and-wear look for women over 60. Just let your hair dry naturally, and you are good to go.
It's easy to see that with any of the above wash-and-wear hairstyles for women over 60, you'll feel beautiful and stylish all the time. Some may require a little styling cream and some won't – you get to pick the one that will best suit your life!