Blonde hair dark roots – this is a combination many girls wear or wore even once in life. Sometimes, it is intentional, you let your roots grow, or you leave them undyed. However, sometimes you learn to love your dark roots just because you didn't have enough time to go to the hairdresser.
Either way, blonde hair in combination with dark roots look gorgeous. Many celebrities adore this trend and tend to wear it for some time. It is quite practical as well. You can forget about dyeing your hair for more than two or three weeks.
If you are interested to see how to blend dark roots for blonde hair or to get inspired by some of our examples, then you have come to the right place.
How to Blend Dark Roots with Blonde Hair
Blending your dark roots with blonde hair shades is great because it saves money and time. When you leave your roots be darker than your hair, you can grow your hair without any worries you look dull.
You can absolutely pull off this process at home. It's not hard. On the contrary, as long as you keep your root color similar to your virgin hair, you won't have problems.
You will need a bowl for color and a brush. Hairdressers recommend using a brush, not applicator bottle. The brush is much easier for painting only your roots.
By using a comb (a pointed end) section your hair so it will be easier for you to apply dye on.
The flat brush is perfect for painting your roots. Make sure not to use too much product.
Blend the color to prevent creating straight lines between dark roots and blonde hair.
The key to do this perfectly is not to be precise.
After some time, wash your hair, put on a conditioner or products exclusively for blonde hair.
You can also apply a cool toner, to prevent your roots from becoming brassy.
Watch The Following Tutorial to Learn How to Blend Dark Roots into Blonde Hair
Which Shade to Pick?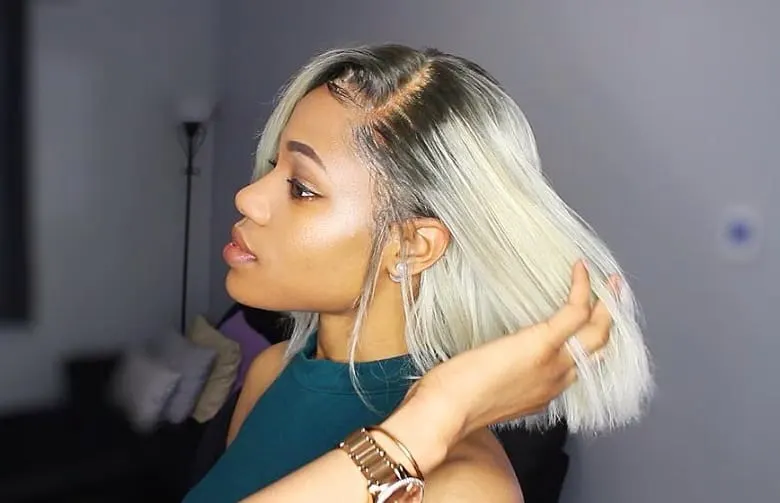 If you ever have wondered which shade your dark roots should be dyed in, the answer is – whatever tone you like. If you want to make, more significant contrast do dark brown or black roots on blonde or even platinum blonde hair. For light brunettes, our suggestion is to go with their natural brown hair.
Tips to Maintain Blonde Hair with Dark Roots
Here are some tips on how you can control your dark roots, and make your blonde hair always looks fantastic and healthy.
Even though your roots will be darker from the rest of your hair, you don't want your hair to turn to become an ombre. You should watch how fast your hair grows and determine how often you should go to see a hairdresser or dye it alone at home.
After dyeing your hair blonde, you need to take good care of it. Use shampoos and conditioners that are made only for blonde hair treatments. You can use purple shampoo two times a week to prevent your blonde hair from getting brassy.
Excessive use of iron or curler can damage your hair even more. Simply, after you have bleached your blonde hair don't use these tools for styling. Although, if you still decide to use your curling wand, make sure to treat your hair with some heat-protecting products.
Best Blonde Hairstyles with Dark Roots
Many celebrities couldn't resist the blonde hair dark roots trend. So couldn't we! These are some of the best examples of how you can rock blonde hair with dark roots.
A beautiful hairstyle, perfect for everyday wear is with those waves. They look even more interesting when two-toned, right? If you opt for this blonde with dark roots technique, make sure to take good care of your blonde hair ends.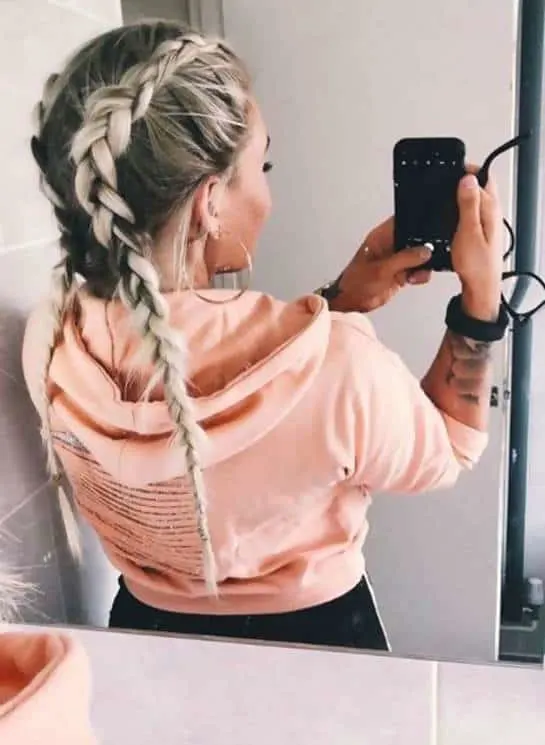 There is nothing more beautiful than long blonde hair. However, when you rock dark roots, you can make it look even more interesting by braiding your hair. Those braids are fantastic when your hair is two-toned.
Honey blonde hair looks perfect on girls with both fair and warm skin tone. If you leave your roots darker and blend them into lighter hair, you will get a fantastic look that won't pass unnoticed. Use purple shampoo to stop your hair from getting brassy.
4. Golden Hues
Dark brown roots on golden blonde hair can look nothing less than perfect, right? This is an excellent hair color for spring and upcoming summer. Just imagine this situation – your blonde hair dark roots style and you at the beach. Amazing, right?
Ashy blonde tones are perfect for all the occasions. You should be careful though. They tend to become brassy more than any other shade of blonde. To prevent that, leave your roots dark and stop dyeing it every three weeks or so.
This platinum hair won't pass unnoticed, that is for sure. Dark roots make it look more attractive. Just make sure to use purple shampoo and a good conditioner to keep it shiny and in the right shade. All girls with long hair should try this.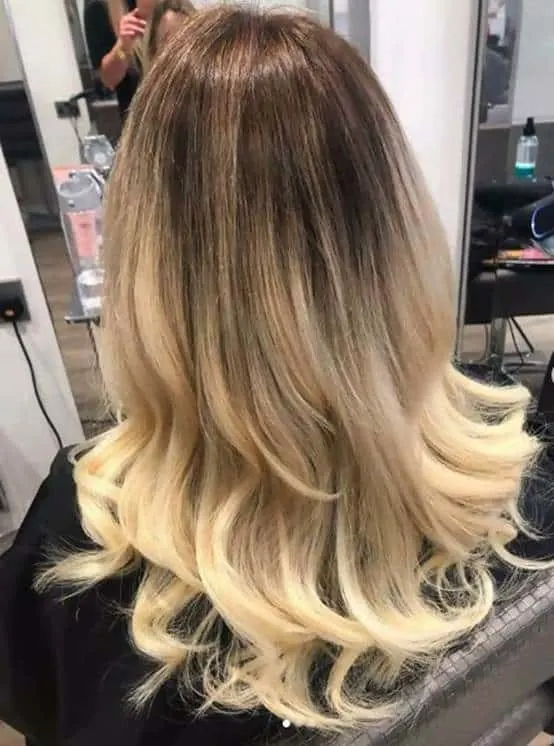 When you say dark roots blonde hair, it doesn't necessarily a few inches of hair at the top of your hair. Dark hair can cover more than half of your hair, and then it becomes a balayage. You should try it, it is utterly trendy at the moment.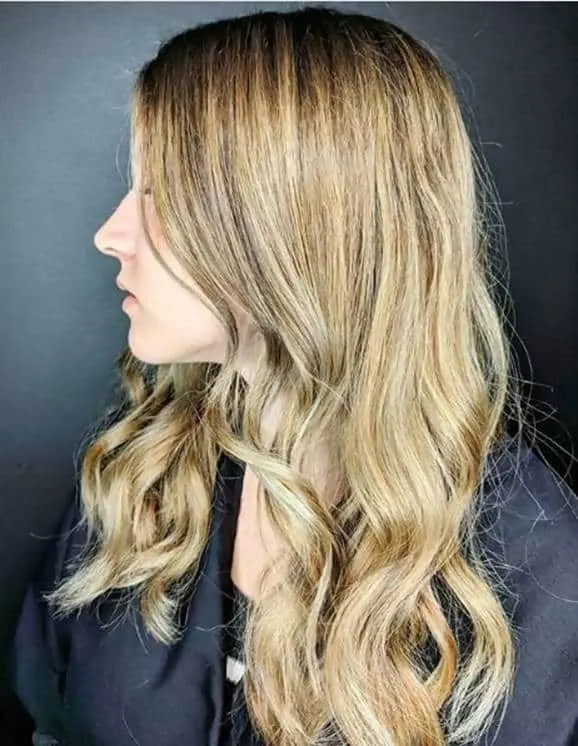 Beach waves are perfect for summer. Yes, they even have the noun beach in it, but the thing about these waves is that they are simple to make and maintain. They are great for blondies with dark roots. It will add even more messiness in your hairstyle routine.
When your natural hair is brown, and you want to make a slow transition to blonde, there is no better way than this to do it. Leave your dark roots natural and dye the rest of your hair in blonde aka bronde hair color. This will give your messy bob totally new look.
10. Summer Hair
Balayage is one of the most popular techniques in the hair industry lately. Many girls have fallen for it, and it is not a surprise. It is looking amazing. You can wear it as your summer blonde with dark roots hair and rock it for beach and pool parties all season long.
11. Honey Toned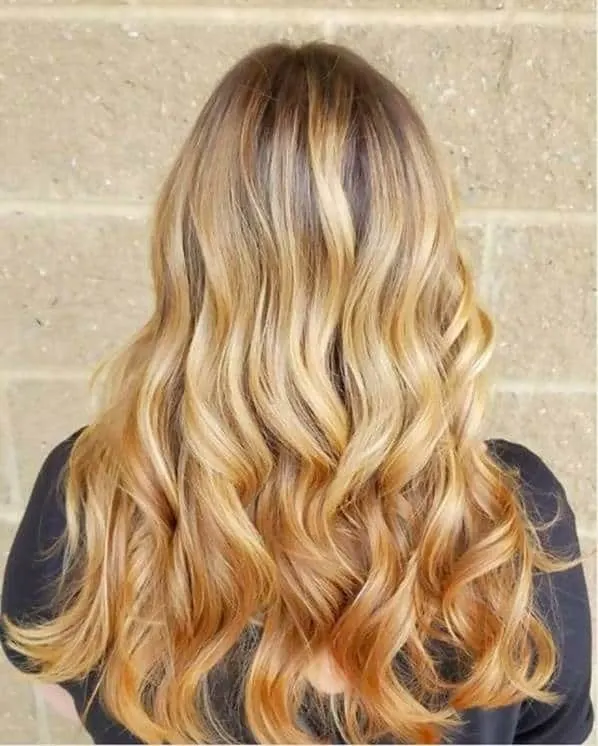 When you get tired of two-toned hair, do it in three tones! It is pretty simple. Let your roots be in the dark shade, the middle of your hair in honey hues and the ends in a brownish blonde shade. Lovely idea, don't you agree?
Bangs and medium length hair look simply fantastic. For all the girls who love platinum hair – you can achieve this dark rooted blonde hair at home! It is not even so hard to maintain.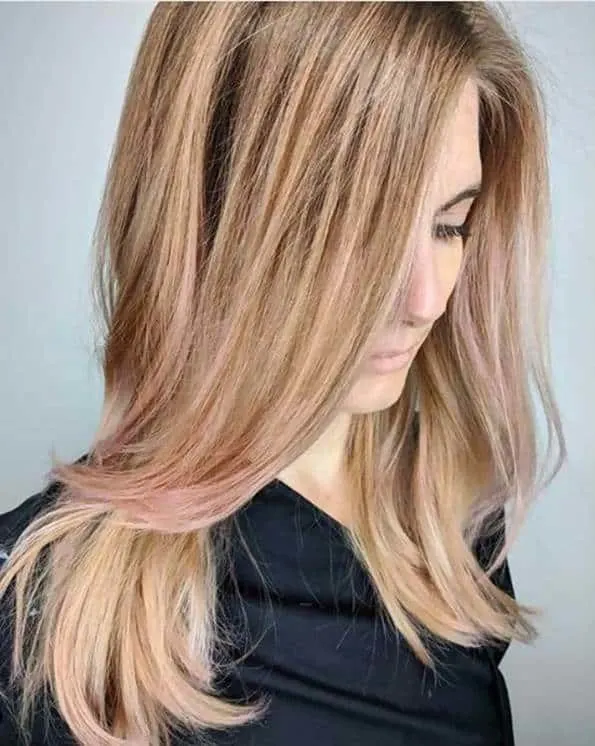 Strawberry blonde hair became popular not so long time ago. Since then, most celebrities have tried this trend. However, if you were wondering how to rock blonde hair with dark roots trend with a twist, this is exactly how you can do it.
14. Ashy Platinum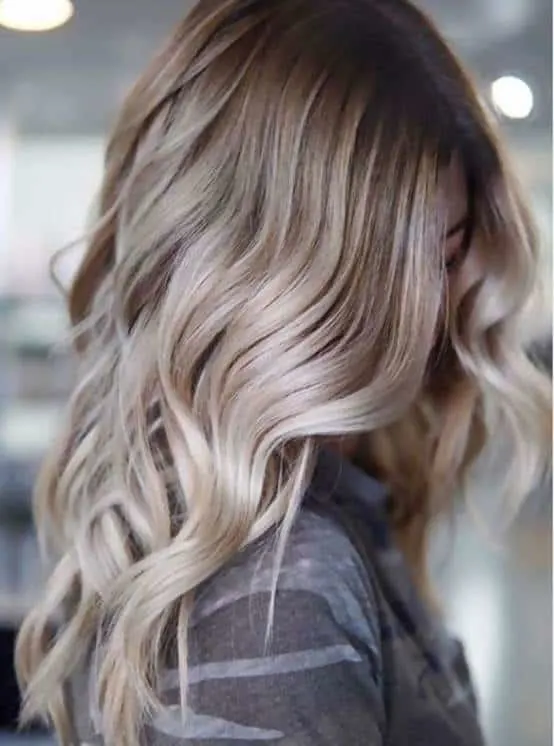 Dark brown roots might be dyed and natural. However, this platinum ashy hair is surely very carefully got. It looks more than perfect, but you need to take care of it.
If you have blonde hair and dark roots you need to know something – it looks the best with some style. For instance, if you braid your hair like this, it will highlight the contrast even better. Try it – you will be amazed by the results.
Kim Kardashian was one of the first ones that tried blonde with dark roots trend, and it looked so good on her. She rocked her long platinum hair with dark roots for some time now. Even though it requires proper care and some special products, you will be amazed at how fantastic it looks.
Along with the popular messy bob, Haley has tried blonde hair with dark roots as well. This hairstyle goes well with her style and with her warm skin complexion. Messy look like this is great for everyday wear.
Pastel pink hair or rose gold is a trend that nobody could resist. Bella Hadid is one of the supermodels that have tried this blonde dark roots hair and absolutely loved it.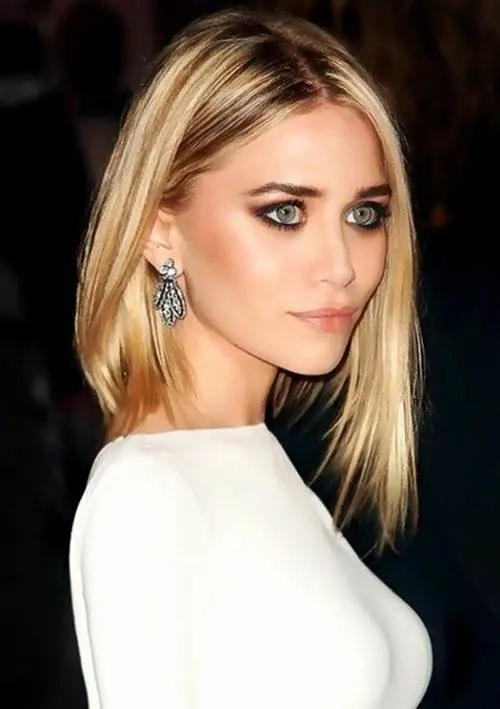 Olsen sisters are known for their lovely hair and unique style. Here, you can see how Ashley is rocking this blonde hair dark roots haircut that absolutely suit her.
Selena Gomez tried dark roots blonde hair as well. We have to admit that after her dark hair this was a real refreshment. Sweet and cute, don't you agree?
Blonde with dark roots look more than an attractive combination. You should definitely give a try. However, take good care of your hair. Appropriate products, shampoos, and regular trimming – do all this and you will always have great and healthy looking hair.