The long straight hair with bangs are hot in 2022. The bangs are an upgrade on every look. Many women choose to wear bangs if they want to cover the forehead for any reason, but bangs are stylish and very cool to wear. The straight bangs can look different on everyone's face, and that mainly depends on the shape of the face and the hair quality.
If you are afraid of wearing bangs just in terms of further styling, don't be. The bangs are easy to style, and no matter if they are straight or side, you will only need a round brush and a hairdryer to make them look good.
What is also good is that if you do not have time to wash all of your hair, the option is only to was the bangs and style them. As they are at the front and define the whole look, they will look clean and tidy and no one will know that you did not have the time to do the rest of the hair.
How to Cut Bangs on Long Straight Hair
If you want to try out bangs on your long straight hair, it is best not to do it yourself, but to ask for help from a professional. This means making an appointment at the hairdressers who will tell you what is best for you and you will decide the best length. The beauty of the straight bangs is in the precision of how they are cut.
This means that if you are going for blunt bangs, they should be cut in a perfectly straight line. When you have straight bangs, you can style them with round brush and hairdryer, and finish the straight look with straightening them.
Watch The Following Tutorial to Know How to Cut Bangs on Straight Hair
Beautiful Long Straight Hairstyles with Bangs
The long straight hair with bangs can be easily and variously styled. You can wear it straight, layered straight or with bangs. Each style gives a different look to your face. Check out our top 17 list of long straight hairstyles with bangs.
1. Long Straight Hair with Side Bangs
These side bangs work especially well for women with long thick hair because the layering cuts down on bulk. Wear the rest of your hair slightly wavy for contrast.
2. Long Blonde Straight Hair with Bangs
For long hair, try these equally long bangs that are straight, statement making, and come past the eyebrows. Wear a side braid for easy yet classic style.
3. Piecey Bangs for Long Hair
To balance out long straight hair in a ponytail, go for long piecey bangs. They're soft, flatter all face shapes, and are easy to maintain.
4. Long Straight Hair with Wispy Bangs
To cover up a large forehead or even just to maintain a soft look for your long hair, try wispy bangs. They're sort of thin, piecey, and you can cut them to any length you desire.
5. Long Bangs for Updo
These long bangs are fanned out across the forehead in a way that makes a high loose bun updo super chic. Don't focus on making them perfectly combed, the slightly messy look is in!
6. Thin Bangs and Pigtails
Bangs will work great for your thin hair by creating that piecey look that's always in. Pair them with low pigtails and straightened hair.
7. Long Straight Black Hair with Bangs
If your hair is super long and you're wanting a dramatic look, straighten your hair before asking your stylist to cut in these extra long bangs that cover eyebrows. Gather the rest of the hair in a high twisty bun.
This long straight hair with bangs hairstyle is perfect for those who want to give the face more elongating effect. The bangs are French cut, while the hair is cut with choppy layers.
9. Long Straight Hair with Blunt Bangs
The blunt bangs in this look come in a thick version, which means this bangs look is suitable for women with long straight hair. The hair is thick, with subtle layers at the front.
Another great long straight hair with bangs style for women with thicker hair. The layering is subtle just at the front ends, while the bangs are parted at the middle.
The beauty of the bangs is that they can be worn in many different styles. The feathery and layered bangs of this look gradually become longer and longer, starting from the middle.
This bangs on long straight hair look accents the layered hair, starting from the bangs on the side, and ending with sharp ends. It gives the hair even longer look than it really is.
This popular long straight hair with bangs look accents the fringe and the length of the hair.
This straight long hairstyle accents the face-framing bangs and the layering. The bangs are cut and styled starting from the side part. From there to the very end, the hair gradually becomes longer and longer, accenting every single layer.
Girls with long straight hair can try different bangs styles, that do not involve just plain hair let down. This is one of those looks, that actually is very cute. The bangs are on the side, while the upper part of the hair is done in a voluminous updo and fastened at the back. The rest of the hair falls freely down.
16. Bangs Twisted to The Side
This is a unique and trendy long straight hairstyle with bangs. Bangs do not need to be styled in the usual way. With this look, you will still have them, but they are twisted to the side while the rest of the hair is straight. The side part is deep.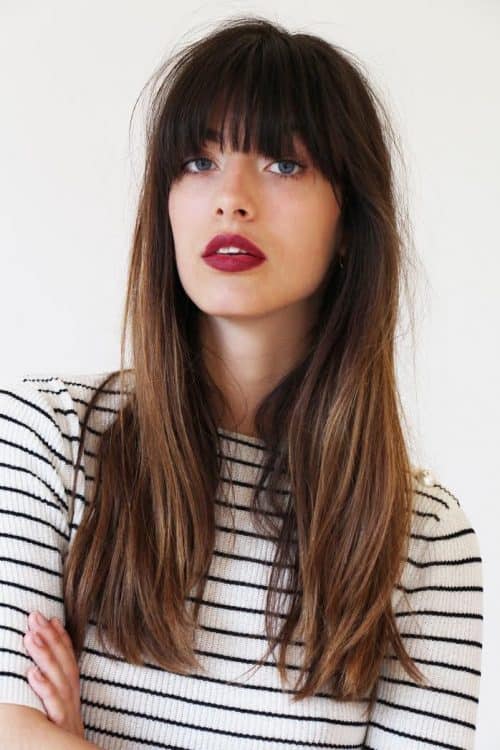 The layering in this hair is subtle and is in both the bangs and the hair. The straight bangs on long straight hair give a nice frame to the face. The more naturally the style is the better the look will be.
How to Make Long Straight Hair Wavy
The wavy hair is a more relaxed and casual way of wearing curls. The curls are round and accented, whereas the waves are looser and currently very trendy. If you want to make your straight hair wavy, it is best to use a curler, straightener or a round brush and a hairdryer.
With this, you will get nice locks but the way to waves is to let the curls fall, get looser and straighten them a bit. With your hands make them messy and voluminous and then use a bit of product to define them.
FAQs on Long Straight Hair with Bangs
Side Bangs Or Fringe Which Is Suitable for Long Straight Hair?
It depends on the thickness of the hair. The fringe bangs are better for thick hair, while the side bangs are more suitable for thin hair. however, you can always choose whatever suits you best and what you like more.
Long Bangs Or Short Bangs Which Goes with Long Hair?
Long bangs are somehow more stylish and fashionable when it comes with wearing them with long hair. the short bangs are associated with other and different hairstyles. If you want to achieve a look that will visually make your face and hair longer then you should go with the long bangs.
With so many different options of wearing bangs, you will transform your look and upgrade your hairstyle. The bangs are an addition to each haircut that goes well with all cuts especially the long straight hair with bangs style. They never go out of style and now is the effect time to make the change to your look.