Ready to rock your new mid fade comb over hairdo? This hairstyle is universally stylish and very easy to achieve. If you want to know the right way to cut, style & maintain your hair, this article is for you!
Oh, and also, you can check out 10 stunning comb over hairstyles with mid fade, ideal for those who are still indecisive.
What is a Comb Over Fade?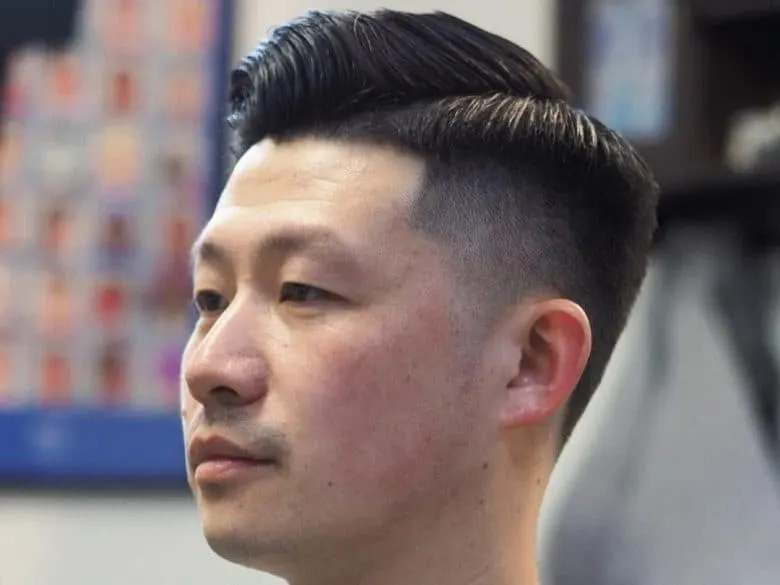 A comb over fade is pretty much self-explanatory. This is a comb over haircut (parted particularly on one side of the head) and pushed into one direction.
Then, it is cut and faded on the sides gradually & seamlessly. The top is left looking very fluffy & voluminous, while the sides are tapered & a lot thinner than compared to the top.
How to Do Mid Fade with Comb Over
Step 1: Start off with growing out your hair. You will need to have a lot of hair at the top, especially around the center of your head. Once it gets to your preferred length visit your barber.
Step 2: Tell them to cut the sides and to gradually let your hair fade. They will achieve this part the easiest & fastest with a trimmer, while it won't be as precise with scissors.
Step 3: Leave the top very fluffy & voluminous. This haircut is also ideal for guys who have bald patches or a thinner hairline and they want to cover it with their long comb over.
Step 4: Push the hair in one direction where you prefer it more. Remember that your fade will come to a mid-length of your head, which means that you will have a lot of material to work with.
Step 5: Use a hair gel that is not too waxy to set your hair in place. Also, use your favorite small tooth-comb to evenly distribute the product through hair, but leave the sides & the fade untouched, it looks a lot cleaner and sharper like that.
Comb Over Taper VS Fade: The Difference
A tapered haircut means that you will have at least 2-4 inches of hair at the top and that the rest on the sides will gradually begin to thin down the ends. Also, the comb over effect lets you push your hair to one preferred side.
The fade, on the other hand, is the same thing where your hair gradually thins & becomes faded on the sides, but the top itself is not as voluminous.
In fact, you will have around 1-2 inches of hair at the top, and you won't style it on one side only, but rather let it stay in place firm & straight.
Mid Fade Comb Over Hairstyles for Guys
These are the trendy mid fade comb over hairstyles for men to rock this summer.
1. Pompadour Comb Over
Pompadours are super stylish, and adding a comb over to it? Absolute trendsetter stuff, my friend! This style is all about volume at the top, with a slick comb over for that sleek edge. Pair it with some skinny jeans and a cool tee and you're all set for that casual day out.
2. Curly Comb Over with Mid Fade
Got curls? Rock them with a comb over! This style adds a twist to the regular slick look with your natural curls popping out on top. Plus, the mid fade keeps things neat and tidy on the sides. This look is all about embracing your natural texture, while still looking fab.
3. Side Part Comb Over with Beard
This one's for the guys who love a classic. A side part with a comb over and a nice, full beard – it's like the Holy Trinity of hairstyles! It's a timeless look that works great for any occasion, whether it's a business meeting or a night out on the town. Trust me, you can't go wrong with this one.
If you love some little details which can round up the entire look, why not add an undercut next to your mid fade and comb over hairstyle? It looks so chic, and it only takes around 2-3 minutes for your barber to achieve it.
If you have a lot of facial hair and you are worried that this style won't suit you any worries; you are in the clear.
This look is very rapper or Hollywood-like and is often spotted on big hip-hop stars & men who don't mind the jealous looks, as well as the attention.
Asian men can definitely pull off this mid-fade comb over look, it is all about jewelling it up to the right way! Get your perfect pair of sunglasses, a cool leather jacket, as well as a whole-lot-of hair gel and enjoy this reckless vibe.
7. Mid Fade Comb Over with Beard
Light-colored hair can also look great with a mid-faded comb over hairstyle, especially once you pair it up with the beard. This look is great for teens & students since it gives out a relaxed vibe.
If you want a classy comb over hairstyle with mid fade & you want to incorporate your long beard along, this look is for you!
It looks and means business, and is also very manly. If you have naturally long hair, as well as your facial hair, simply grow it out to round up the look.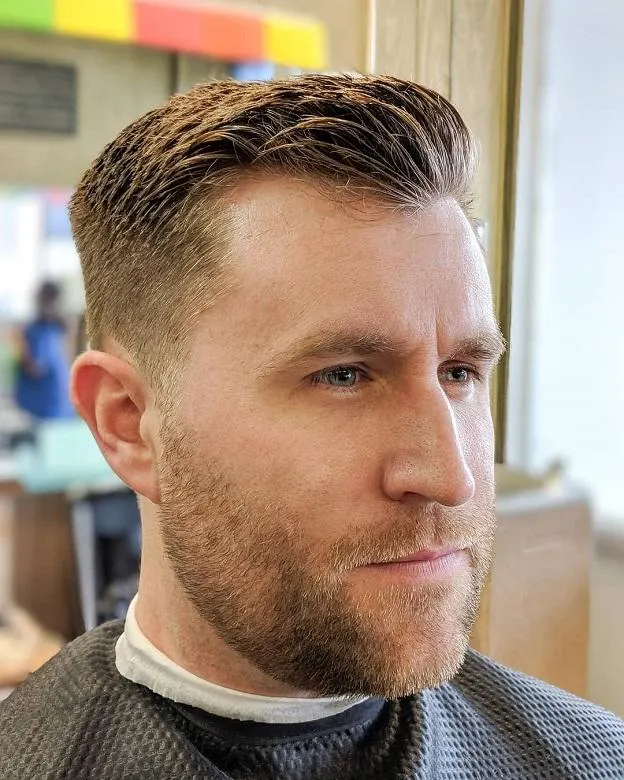 Guys who are still into simple & approachable looks: the ivy league cut is the one for them. This style will suit guys who have defined jawlines the best and will definitely seek attention from the ladies.
10. Comb Over Fade for Thick Hair
If you have naturally darker & thicker hair show it off by matching it and pairing it up with your facial hair.
This defined & sharp beard goes so well with your comb over and mid fade, ideal for any upcoming formal events!
If this is your first time experimenting with a mid fade comb over know that you cannot go wrong with any of these 10 hairstyles.
It is ideal for guys who want brave, sleek & bold styles, and who have an amazing fashion sense.
FAQs
Which face shape is suitable for comb over fade?
Many hair experts believe that men who have oval faces will rock a mid-faded comb over the best. If your face lacks some definition in the forehead, cheek or jaw area you should get this haircut.

Oval faces will also look good with a slick back comb over since it will give them some dimension.
Which fade type suits comb over well?
Well, since with a typical comb over you'll probably have a lot of hair to work with at the top, why not accentuate it with a dramatic fade haircut?

In most cases, a high fade will look very rebellious and attention-seeking, while allowing you to incorporate this bold look into your daily life.

A high comb over looks very slick and is usually paired with a nicely trimmed beard since it truly does round up the look. However, men who prefer simple looks will go for a mid fade and no facial hair.