Short layers on curly hair are a labyrinth of complex combinations. Be it texture, styling, and even hair color, you see a variety of factors that make a great style.
That is exactly why the range and potential of options are quite expansive here. It is all about application and creative execution that can give the much-needed leverage to a style.
But if you are overwhelmed by the problem of plenty, we have an easy solution for you. This handy guide with some of the most striking styles can help you opt for a complete makeover and totally realign your hairstyling sensibilities.
Best Short Layered Curly Hairstyles for Women
Check these amazing short curly hairstyles with layers that modern women are incorporating in their hairstyling these days.
Styling curly hair is never simple. It is all about combining the right style with the most appropriate hair color and texture. Short layers achieves this balance to perfection.
The platinum blonde highlights further enhances the appeal and the finish of the style. It is all about keeping it simple, cool and casual for best effect.
Messy, wavy and layered, this short curly haircut is an epitome of cool style. It is the type of style that is versatile and easy to maintain.
Whether you are in the office or heading for a party, this style ensures you don't have to battle with bad hair days that often. Sleek and sophisticated, comfort is the middle name of this styling.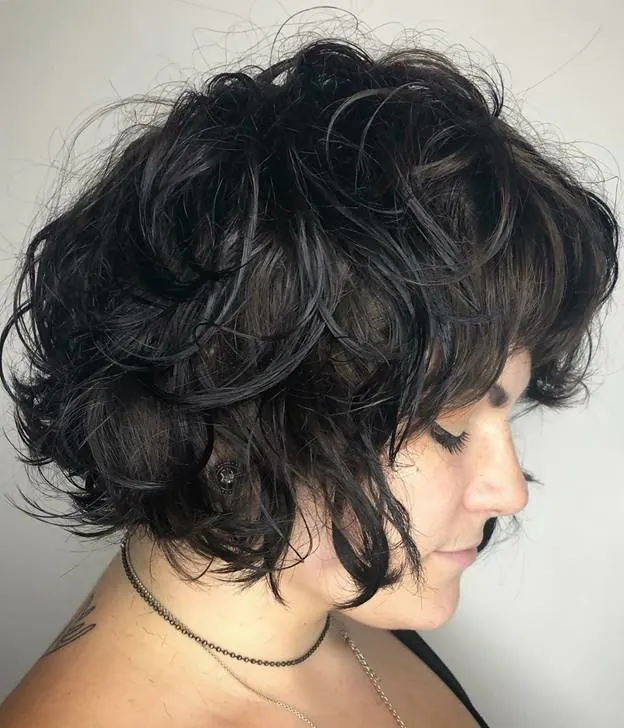 Messy is cool, and this hairstyle is all about celebrating the utterly sleek sophisticated urbane styling. It is the kind of style that will ensure that your hair does most of the talking about your styling sensibilities.
Just sit back, relax and enjoy the admiration and appreciation that follows.
This is a rather functional style that can look good on both young and old women. The side-swept bangs in the front coupled with the layers in the back make this curly short hairstyle conventional, classic and creatively stylish. It is all about looking and feeling comfortable.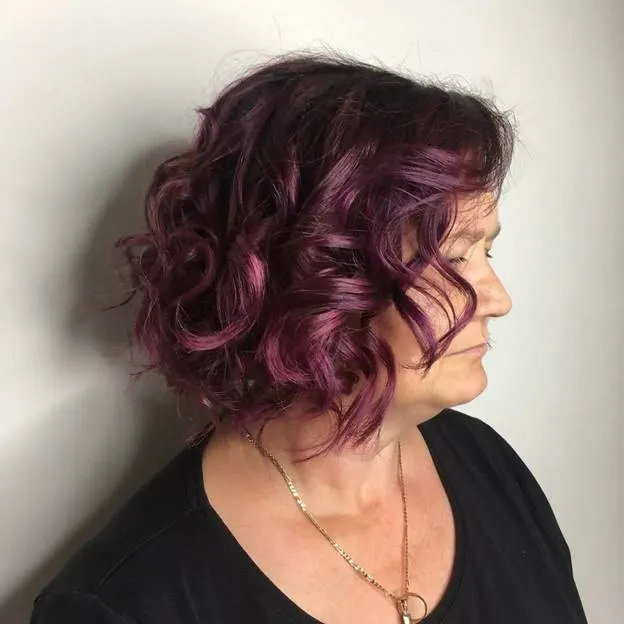 The purple balayage instills a new life in this otherwise short layered curly hairstyle. It introduces aspects like quirky, cool and creative. It gives you a definitive edge in terms of styling as well as managing the fall of the hair in a creative fashion.
6. Undercut + Red Highlights
The undercut and the red highlighted streaks grab attention in this curly hairdo. If you enjoy experimenting with layers and color, then this is a style that you will absolutely love.
It highlights your delicate features and yet remains unobtrusive.
This bob is interesting and more so on a curly hair. It is short and voluminous at the bottom, and that creates a clearly striking and interesting hairstyle.
The jet black color also plays a role in maintaining this intensity in a meaningful way for an extended period. It is all about subtle, understated grace.
This again is for those who love the messy style and enjoy the order in disorder. This well-structured mess is all about celebrating the natural fall of your curls in a qualitative manner.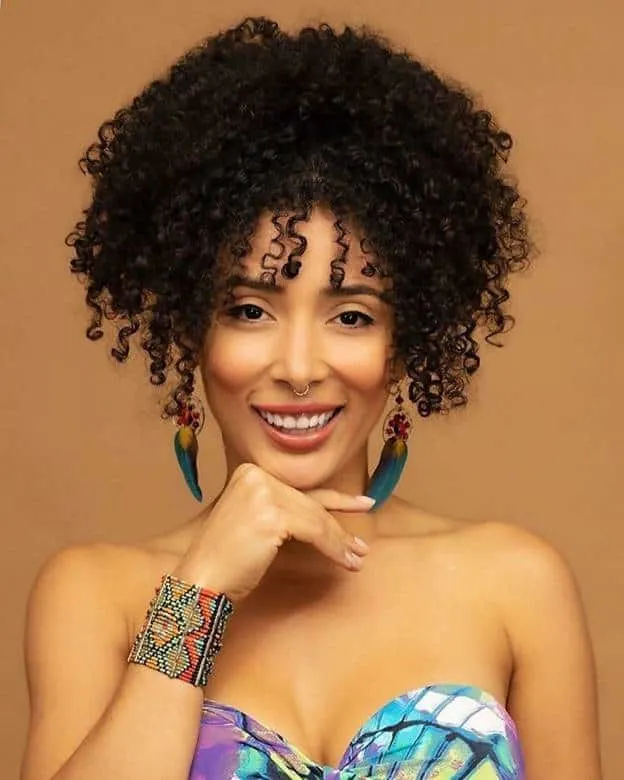 The interesting part of this curly bob is the asymmetric side. That is what gives this short layered haircut a sense of uniquely attractive styling. It is an understated hairstyle that is versatile and functional in terms of its long-term appeal.
10. Vintage Bob
When you are looking at short and layered hairstyles, this is one of the most common and popular options. It is straightforward, stylish and retains the youthful quality of your face in every possible way.
It is a style that stands out in terms of its consistency and creativity.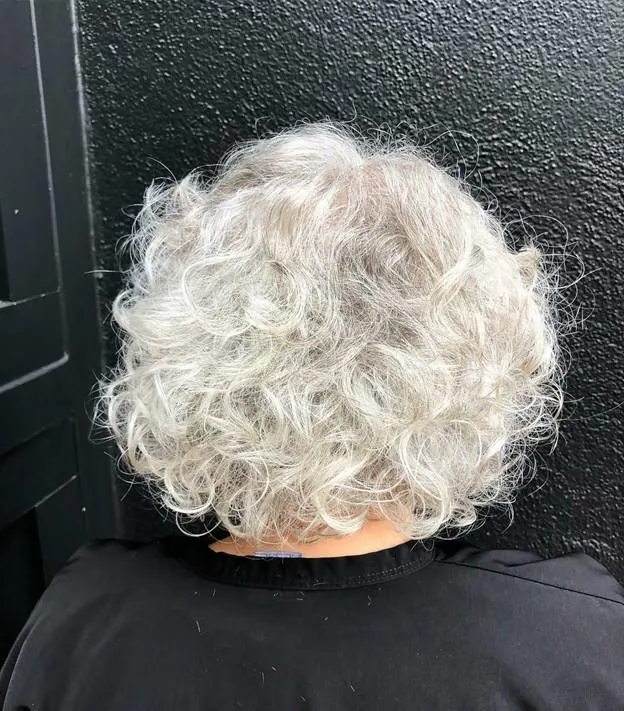 What really sets this layered curly bob out from the other hairstyle is the platinum blonde hair color on short locks. This makes the style stand apart and grab eyeballs wherever you may go.
It also lends a degree of intensity to the style and makes it definitive in every possible way.
This is a way more relaxed version of the bob and looks good on women with light curls or wavy hair. This short layered style is all about creating a complex maze of texture, and that invariably highlights the styling in the best possible light for you.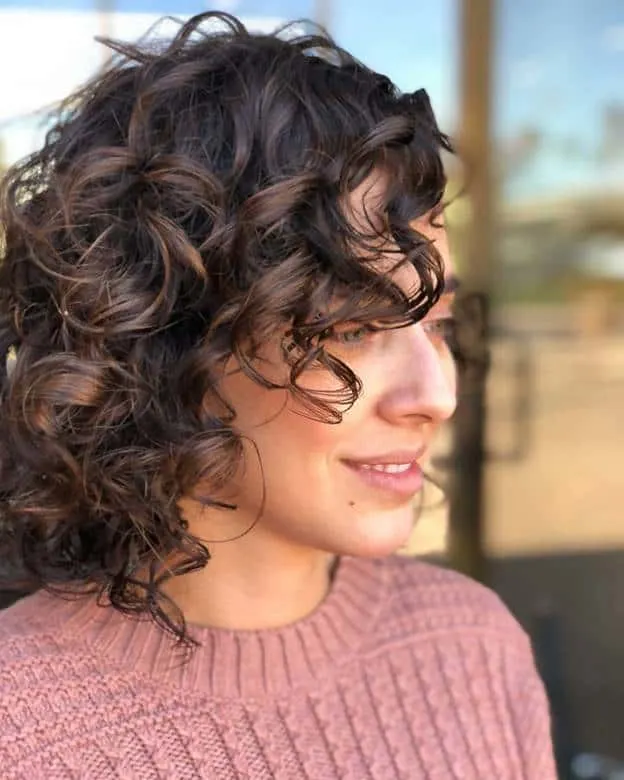 The interesting thing about curls is that different people have different degrees of curls. For some, it bothers on the wavy side while for others, it is absolutely coiled and intense.
In case you have curls like coils, this is a style that can flaunt the natural fall of your tresses in the most flattering way. It is also an easy maintenance style, and that means you don't have to struggle to care for it.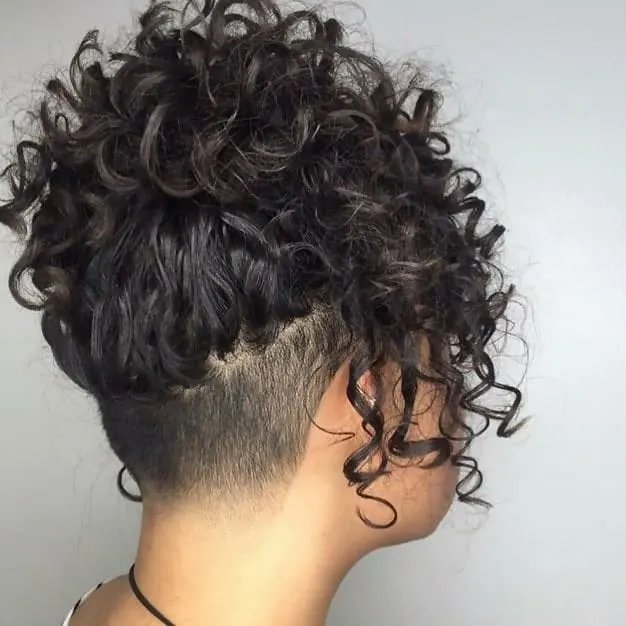 If you are the type who loves a bit of fun and games with your hair, then this style will absolutely floor you. This short curly hairstyle with layers intelligently incorporates the undercut for women.
This does not just offer an interesting variation but also lends a distinct vibrancy to the styling.
15. Mop Crop
I am sure that you have seen many variations of the mop crop, but this avatar accommodating short layered curls is just stunning. It celebrates the volume of the hair and also the bounce.
At the same time, this is a versatile style that looks beautiful for formal as well as casual gatherings. This is because it aligned with the natural fall of the hair. The jet black color reiterates the intense styling.
Therefore you can understand that a short curly hairstyle with layers is all about application. The same style may look diametrically different for two people with different hair texture.
Remember whether you have curly hair or straight ones, layers always look good if you can execute them beautifully. The trick is to look for a great designer and deciding firmly on how well you can flaunt your assets. That is often the secret to the best hairstyles.