Ombre on medium hair looks stunning & feminine no matter what your age is. You can easily rock this hair color and match with your skin tone, but you have to know some hair styling & coloring rules.
Popular Medium Ombre Hairstyles
These are some of the ravishing ombre on medium hair to explore with pride.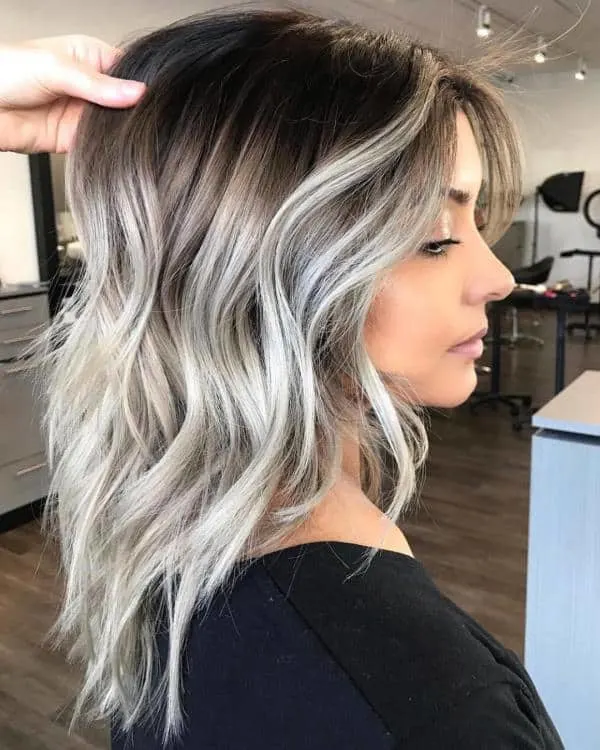 This medium-length ombre hairstyle will suit those who have a cool undertone. This grey hair color looks very attractive, and it should be worn by women who are in their 30s.
If you are a fan of color and you love pink; voila, this style is for you! This seamless ombre blend looks almost Barbie-like, and will make you the star of the show, no matter where you go.
This purple color ombre, when paired with the medium hairstyle, looks playful and appropriate for cool skin toned women. If you are in your 20s and you need something innovative, this is definitely it!
You can play around with your hair & tie it in some funky hairdos & knots, such as this one. If you have washed out highlights know that they can look beautiful, as long as they are ombre highlights tho.

Pastel pink hair color looks feminine & playful, ideal for girls who love romantic looks. Get these soft curls and round up your medium ombre hairstyle. If you have curly hair, try these curly ombre hairstyles and you'll look amazing.
6. Medium Brown Ombre Hair
Dark-to-light brown ombre gives medium curly hair extra texture and bounce. But do you know what's the best thing about brown ombre? It's a low-maintenance color choice, especially if you choose a shade that's closest to your natural hair color.
7. Straight Red Ombre
Add oomph to your medium-length straight hair with a gorgeous red hair shade. If you're not into the dark and rich red shades, this lighter color is your best option. It looks as gorgeous as other red hues but is a lot easier to style and work with.
8. Two-strand Twist Brown Ombre
Make your beautiful twists more eye-catching with an ombre brown shade. Keep your hair naturally dark at the top and go for a lighter brown shade to emphasize and add depth to the ends of your twists.
9. Half-up Yellow Ombre
Now, here's one ombre shade you don't see on a regular basis. But if you want something different, this is one combination you should definitely try.
Pair your attention-grabbing yellow ombre with a mysterious platinum shade to keep the overall look well-balanced.
10. Shades of Green
If you'd like to play with bright colors, green should be your first option. Why? Well, it comes in different shades that you can play around and experiment with. Just take a look at this yellow-green to blue-green ombre. Doesn't it look fantastic?
11. Medium Curly Hair Ombre
Ombre and curly hair just work oh so well together. That's because the light-to-dark contrast of ombre hair adds definition to curly hair's natural volume and movement.
12. Medium Ash
If you want to join the bandwagon but in the least dramatic way possible, ash is the color of choice for you. This simple ash shade is discrete enough to be worn to your workplace or at school but still stylish enough to add a fabulous touch to your medium-length hair.
13. Medium White
White ombre hair is the most versatile of them all as it flatters any skin tone or hair color combination. However, it's also the color that's difficult to achieve.
To produce this, you need to bleach your hair so make sure that you hair strands are healthy and strong enough for the treatment.
If you have something important & semi-formal to attend to go for these golden-colored highlights. Also, the side-swept hairdo looks stunning, and will definitely swoop men off their feet.
You can style your shoulder length hair with ombre hair color with some cute knot hairstyle ideas at the top. This hairstyle is wearable and ideal for younger women, even those who are still in school. If you have more than short hair and considering ombre, try this one.
16. Caramel Ombre Highlights
If you are a fan of caramel highlights and you want to have this stylish ombre hairstyle, make sure you curl your medium-length strands. A feminine touch as this one can't hurt, right?
If you have light & washed-out hair, or some coral/pink vibes to it make sure you cut it to a medium length and pair up with ombre highlights. This is very unique and playful at the same time.
This is the ultimate hairdo for women with warm undertones. It is covered in bright & warm highlights and is the ideal ombre on medium hair for the office! If you are a workaholic woman who loves to go out on the weekends; this hairstyle is for you!
This medium haircut with fiery red ombre is cute & will suit workaholic women the best. The cut is easy to maintain, and the highlights are not too eye-catching.
If you have naturally darker brown hair and you want a pair of ombre to make sure you get these hot brown ones. These shoulder length ombre hairstyles are easy to achieve, and they can look quite natural.
How to Choose Suitable Ombre Hair Color
If you need beautiful ombre hair color make sure to follow these 5 rules:
Look at your skin tone and try to compare it to your favorite celebrity. Do you resemble Beyonce, Adele, Lady Gaga, Kim Kardashian? If so, check out their hair pics and see if you can find something similar which you'd also love to rock in the future. Since if it looks good on them, it will probably look great on you too.
The most important part when it comes to hair & highlights is understanding your undertone. And the best way to do that is by checking and looking at your wrist and the veins underneath. If your veins are blue or purple, your skin tone is cool-toned.
However, if they are green, you have a warm undertone. Women with cooler undertones should get washed out, cool & slightly grayish highlights. However, women with warmer undertones can go for Auburn, oranges, hot & fiery yellow & anything that has some warmth in the color.
If your wrists are a mixture of blue & green, this means that you are somewhere in between and that you can go either way.
Lastly, think about your natural hair & your strands. If they are prone to breakage then rather go for seamless highlights. If your hair is thick & strong, you can color it completely. Also, another important factor is your natural color. Consider its natural pigments and think about how they'll blend along with your new set of highlights. If your hair has previously been bleached, the highlights might not stick on as easily, nor show off for that matter. But if you have virgin hair you are more than welcome to experiment with different color options.
FAQs on Ombre Medium Hairstyles
Straight or wavy hair: which ombre looks better?
Ombre will look seamlessly blended in both ways. However, almost every hairdresser will advise you to go for medium beach waves once you get the ombre hairstyle.

Why? This way the blend will look natural & effortlessly beautiful, while once your hair is straightened it can look a bit too harsh and not as attractive/exotic.
Does ombre damage hair?
Any hair coloring method can damage your hair, which also goes for ombre highlights. However, you can visit a hair expert and a professional colorist and ask them to minimize the damage by using high-quality products. For instance, many experts will use Olaplex when dying your hair.
The medium length ombre hairstyle can look so cute, right? If this is your first time coloring your hair as dramatic know that it will suit you, just make sure that you go to a well-rated and trusted hairdresser.
Many women also love mid-shoulder length since it is perfect for those who need low-maintenance hairstyles. If this sounds like you, tell us which of these 20 beautiful designs are you going to get?