Curly Stacked Bob Haircuts
The curly stacked bob is one of the highly admired hairstyles in the curly hair community. Here are 20 of the best stacked bob curly hairstyles!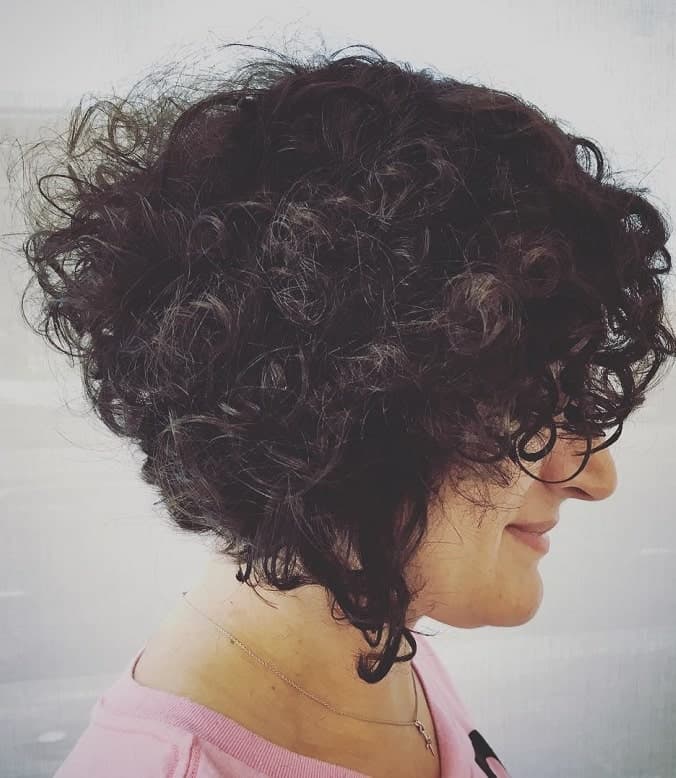 Try the classic style with a twist. The super curly head adds volume to your head while channeling the bold, short stacked bob cut.
Ideal for: The style looks amazing for women looking to own a carefree hairdo every day. It suits the round and diamond face cuts well and serves to freshen your outlook instantly!
How to style: If you have short curly hair most of the job is done with a good cut. All you need to do is apply some texturizer and add hairspray for volume!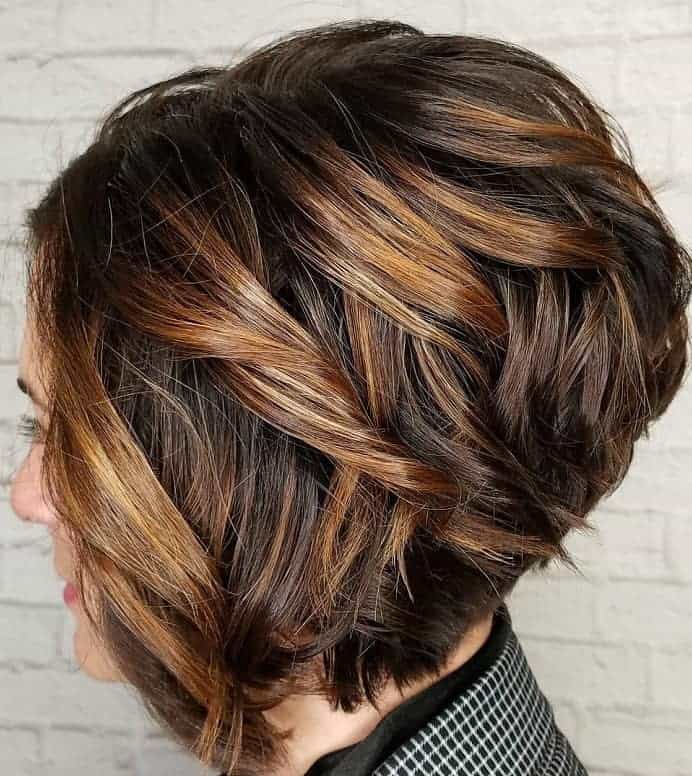 Another short curly stacked bob hairstyle that channels your inner diva. The rolls complement your prim and perfect nature and make a great hairdo for most women.
Ideal for: The sophisticated style is an office favorite. Wear it for formal and casual events without worrying about your look.
How to style: Start with a fresh cut and add a volumizer to plump up the hair. Use a curling iron to wind your hair around the rod and make thick curls. Take care not to open them and preserve them with hairspray.
3. Auburn Curly Hair
Sometimes the curls stay constant but the different color really makes all the difference. The flaring red of this hairdo gives a stunning look.
Ideal for: Daring women looking to step up their hair game should give this style a look. The vibrant colors bring out the best of the stacked bob with curly hair.
How to style: Choose an auburn red hair color to turn your hair a flaming red. Use a thin curling iron to add in delicate curls and finish your perfect look.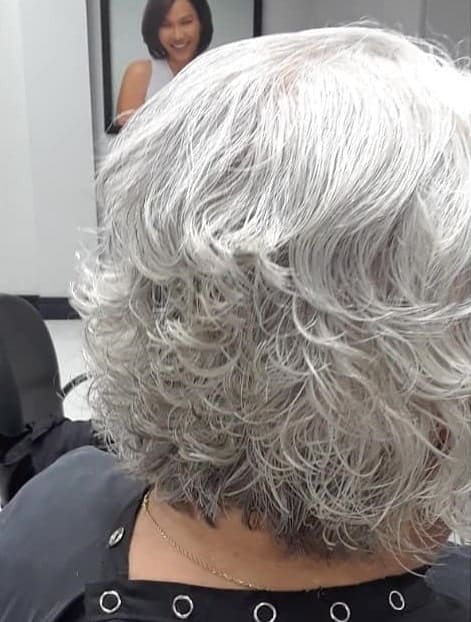 We adore this symmetrical curly stacked bob with intriguing curls. The short platinum blonde hair only adds to the look.
Ideal for: The style goes well with any age group and really looks mesmerizing with most face cuts. It may take some time to style in the morning but the effort is worth it.
How to style: Use a roller brush and blow dryer to slowly work the ends of your hair into neat curls. Try to make them curl in a single direction instead of curling all the way to get the sophisticated look.
5. Blonde Stacked Bob with Undercut
This is an interesting take on the stacked bob curly hair. A good style for the everyday woman, wishing to channel her feisty self.
Ideal for: The woman looking to make an impact through her hairstyle is best suited for this look. It is crisp, trendy, yet feminine. Although we do recommend giving it some thought before you go off to shear your hair!
How to style: The curly stacked bob starts a little higher than usual. The part close to the neck is shaven to give a rogue touch.
6.
7.
8.
9.
10.
11.
12.
13.
14.
15.
16.
17. Curly Stacked Bob With Highlights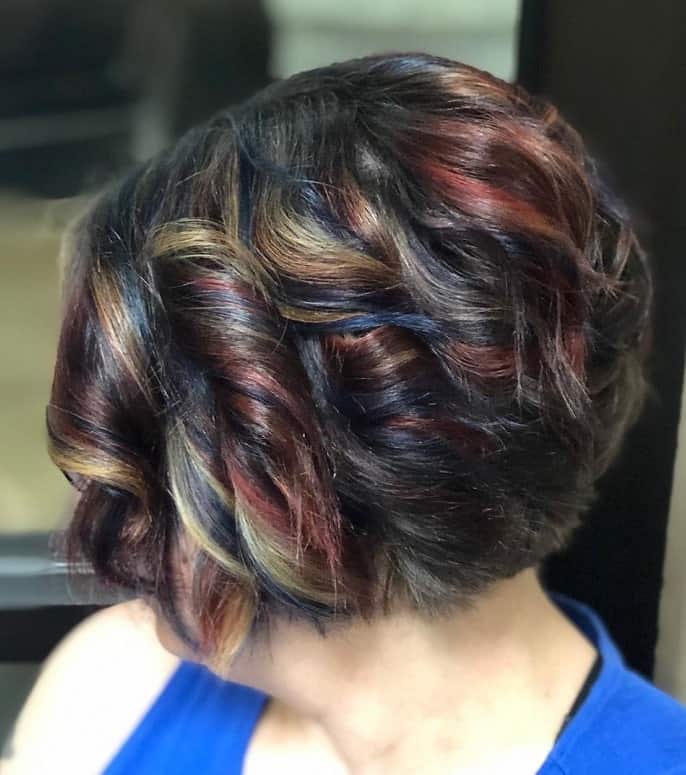 You can also bring out your curly haired stacked bob adding some highlights. It's amazing what some contrast can do to your hair.
Ideal for: We recommend the look for all the ladies out there. This style is an easy way to step up your hair game, without having to go to extreme lengths! Plus, it suits everybody!
How to style: Add in some ash blonde hair highlights to your hair. Remember to choose a good transition color. Use some no-heat curlers to add in that curly wave for a mesmerizing look.
18. Two-Toned Cury Stacked Messy Bob
A rogue look for the lady. This style channels the careless hairdo and when done right, it is a sight to see.
Ideal for: We think this style is best for the teens and the ladies looking for a look that is on the edge. The style wouldn't do well on formal occasions, but can surely achieve many syle goals on a daily basis.
How to style: The good thing about this short curly stacked bob is it is maintenance free. Add in a few curls here and there and allow your natural curls to come through.
19. Frizzy Curly Stacked Bob
If you have naturally super curly hair, this is the style for you. Make the most out of your curls with this iconic look.
Ideal for: The style is an asset for the working mom as it does not require much effort. Being easy, yet chic, you can wear it to any occasion and look amazing!
How to style: If you have natural curls, some volumizer would do the trick. However, to create the tight curls, use the small lumen no-heat curls overnight to get the super curly look.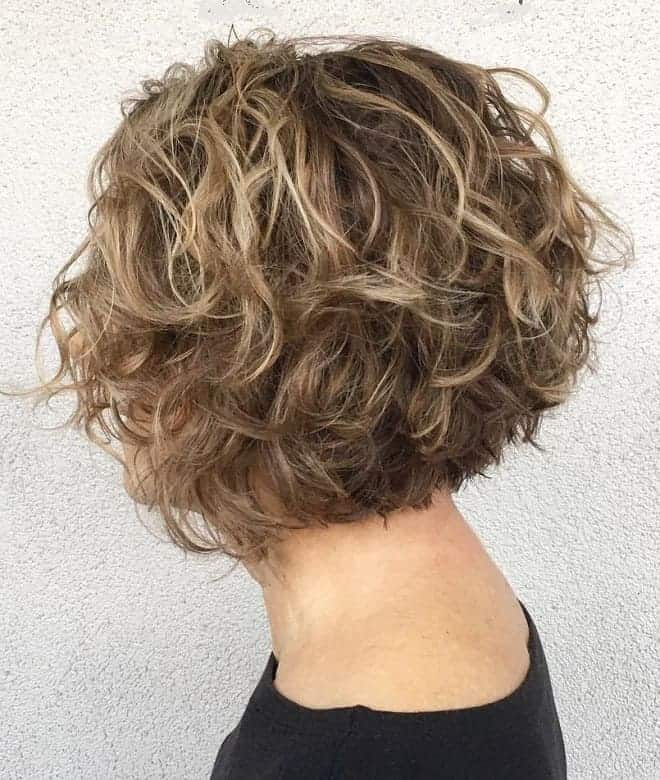 Care for a modern do? These vintage curls are just the inspiration for the fresh summer look. Try out the beautiful curly stacked bob yourself to step up your style.
Ideal for: Women of all ages can channel the look. It is very versatile and tends to suit most face cuts. Moreover, the style works well for casual and formal events.
How to style: Achieve this stacked bob curly hair look with a straightener. Give your hair that crimp in the middle by gently curling your hair around the straightener.
These stunning curly stacked bob cuts speak for themselves. Each style is a unique way to manage your hair. Although they vary slightly, these small changes completely change your look.