Asian women are highly seen around with glamorous curly hairstyles and they know how to wear it well! Are you are an Asian woman tired of styling straight hairstyles and looking for ways to have a change? Well, you can curl your hair!
Asian Curly Hair
Curly hair is a popular trend among Asian women these days. Setting the old look aside, it brings out the quirky and fun side of the woman. Check out a few of the most popular curly hairstyles for Asian women:
1. Mellow Chocolate Curls
If you have dark-colored hair that is of about medium length, this hairstyle with chocolate brown curls at the bottom will bring out the perfect modest side of you. It will give your Asian curly hair a voluminous look and bring out a rich and classic look.
Are you a quirky girl who likes it all a little messy and clumsy? If you like your hair pulled back better, this Asian curls with bandana hairstyle are perfect for you! Dye your hair tips a rich burgundy or plum shade and put it up in a bandana and let it look messy. Let your youth shine from within!
3. Free-Spirited Gold Curls
For those Asian women with relatively long hair, the small and fairly tight curls looking a bit like crimps will bring out the best appearance for your hair. The best part about this style is- you can rock it with any look! Whether it is a dress that you are wearing or a loose, sporty t-shirt with jeans, these gold curly Asian hair will look classy!
Curly Hair Color Ideas for Women
Do you have blonde hued hair? Be proud of it and style it right! Opt for rough curls and add more volume to your hair with the right hair spray. This look will make you look independent and fearless. Sport these blonde Asian curls look with a clothing style that brings out the best in you.
5. Evergreen Black Waves
Carry yourself with pride in these rich black loosely curled medium length hair. This is undoubtedly one of the best Asian curly hair looks that we have shared in this article! Whether it is a professional look that you wish to pull off or that of a party girl, this hairstyle is just apt in all ways.
Let your hair enhance the naughty and girly side of you. Short and medium length hair looks lovely in this beachy and bohemian Asian curly hairstyle. Wear a tiny sundress or put a floral beach dress on with some boots or flip-flops and you are all set to catch all the attention with these looks.
7. Unicorn Curls
Do you like to break all the rules and stand out amongst the crowd? If your answer is a yes and you feel you are bold enough, go for this unicorn curly Asian hair look! Be free and pretty as you steal all the eyes with your cute pink and purple curls dancing with the wind as you walk the street!
8. Curls of Solitude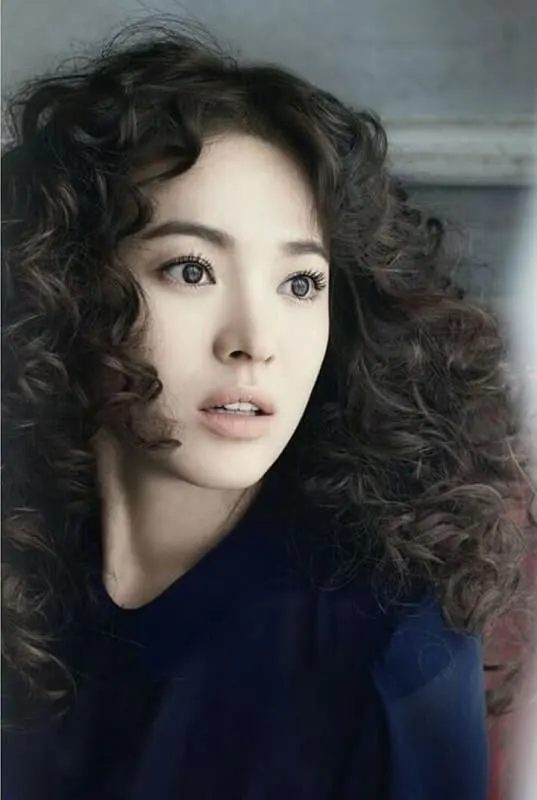 If you have dark brown or black colored hair, this look will bring out the modesty and elegance in you. You don't always have to go all bold and colorful to stand out amongst the crowd. You can carry your own style with confidence and outstand all!
9. Tightly Coiled Hairstyle
Be the light and cheer of the event with your tight curly Asian hair. The best part is, you don't even have to comb our hair much! Just leave them free and let them be as messy as they seem to be. Put on a big smile, chic outfit, classy footwear and rock your look!
10. Pop Star Look
If you have light brown hair that is loosely curled and stay messier most of the times, this look is best for you! Medium length hair pulled back in a bun, and short hair left messy and loose in the front give you a look that matches a 90's pop star, making you look like an everlasting Asian beauty with curly hair.
11. Silver Vixen
Asian women over 50 can flaunt their greying curly hair with confidence. Choose this cropped pixie bob haircut with subtle layering along the length. Finish off with a curly fringe falling on the forehead. A hand tousle is enough to style this look.
12. Dark to Light Ombre
A classic short lob is trending this season and looks stunning on curly hair. Layer the hair to accentuate the curls with the light brown top melting seamlessly into the bright honey blonde hue. This look is low-maintenance as the emerging dark roots add up to the style.
13. Chic High Ponytail
Keep up with the hot summer days by styling the long chestnut brown mane in a high ponytail. Wrap a chunk of hair around it to achieve the top knot look. Let the curls bounce at the back without worrying about the flyaways creating a carefree appeal.
14. Hint of Purple
Here is another idea for Asian women with curly hair who want to express their bold personality. The dark brown zigzag strands transition into a deep plum shade reaching the ends creating a gorgeous ombre effect that will surely turn around some heads.
15. Side Tousled
Those who want to keep it simple can consider this Asian curly hairstyle. The dark chocolate brown hair is layered creating a fluffy rounded bob sitting on the shoulders. The curly coils are tousled on one side of the face with a deep side parting for a funky finish.
16. Top Knot Bun
A top knot bun looks effortlessly classic and can be achieved in a flick. The dark brown lowlights add a subtle shine to the hair that is slicked up on the top of the head and secured in a messy bun with the curly ends sticking out in all directions.
17. Adorable Pigtails
Young Asian girls can show off their curly tresses by styling their hair in adorable pigtails. Section the hair in the middle securing with hair ties for the curls to fall at the front. Top off with a middle-parted curly fringe falling on both sides of the face.
18. Curly Fauxhawk
Get noticed from a distance with this bold yet cute hairstyle. It is suitable for women with short curls that are slicked back on both sides creating a messy fauxhawk in the center. Some coils falling on the forehead with flower hair clips along the sides complete the look.
19. Princess Curls Hairstyle
A princess look doesn't always mean long braided hair. You could pull off a princess look in short Asian curly hair too! Light and loose curls, more like waves look pretty and authoritative on the same side. They bring out the innocence of the face enhance the facial features too.
20. Spring Curls
Spring season is all about the aura of freshness and cheers all around. And, that is exactly what this hairstyle is going to feel like. The brownish hue of the hair paired with curls is going to bring out the best charm in you.
This curly hairstyle for Asian women will surely steal all the eyes as you walk around leaving them free to spread their charm.
Ombre is the new black! The color looks chic and summery! If you are an Asian woman with short length hair, this short ombre look will enhance your face and bring out the cheerful side of you. Put on a bold lip shade and warm makeup. You are good to go for the day in this short ombre look on Asian curly hair.
Dreamy Hair color ideas for Asian women
22. Wild Forest Curls
Let your hair look wild and free in Asian curls. If you have got hair that is thick and are voluminous, this look will suit you best. For those of you with a fairer skin tone and broad face, this hairstyle will look beyond perfect!
23. Curls of Modesty
Bangs with curls is the ultimate combination! Who says you need to have sleek and straight hair to look pretty in bangs? Curls did right, and medium length bangs complement each other really well too. Pull your Asian curly hair back in a tight bun to get this ideal look.
Related Curly Hairstyles:
Asian Women… Curl Your Straight Hair
Curling Asian women's hair can be a bit of a task because of the soft texture and pin straight nature. It's really hard to get them right. When you curl them fresh, they stay. A couple of hours later, the curls are gone!
Here's your quick guide to get your desired curly hair.
The first step is to wash your hair the night before you plan to curl them.
Next, apply a good quality thickening spray to the hair.
Divide them into small sections and comb them smoothly.
The final step is to apply hair spray before and after the curling to have the best effect.
Curly Hair Care Tips for Asian Women
It is essential to take good care for your curly Asian hair. Carrying the perfect curls around in style is one thing, taking care of them rightly is another! Here are a few tips to help you take the right care for your Asian curly hair:
For natural curls, use a protein treatment to maintain curls and mitigate frizz every 2-3 weeks. Flaxseed is a great natural option to make into an at-home hair treatment.

If you do not have natural curls, use a thickening spray. Often straight Asian hair is not thick, so this spray helps your hair hold curls.

Wash your hair the day before you want to curl your hair. Freshly washed hair that is naturally straight does not hold curls well.

Apply a good hairspray before and after the curl if you use a hot tool to make your curls.

With both hot tool curls and natural curls, you should invest in a good pomade. It will help keep your curls in place and give your hair a shiny look.

A mix of apple cider vinegar and water in the ratio 1:2 is good for hair. Use the mixture to nourish your curly hair at least once a week.
Make sure the conditioner you use is rich in Vitamin E and all the other essential nutrients.
Always keep a good volumizing hair spray handy to enhance your Asian curls.
Don't fall for hair gels. They make your hair crunchier and dull.
FAQs
Do Asians have curly or straight hair naturally?
People who are Asian come from many countries and backgrounds. In general, the majority of Southeast Asians have naturally curly hair. East Asians have straight hair.

Asians are the ethnic group with the fastest hair growth rate, whether their hair is naturally straight or naturally curly.
Which Asian countries have curly hair?
Asians from India and other Southeast Asian countries usually have naturally curly hair. Korea is known for its population having curly or wavy hair that is almost curly.

Not all Koreans have this type of hair, but they are more likely to have it than their Chinese or Japanese counterparts. Chinese and Japanese people can have curly hair too. Curly hair depends on the combination of genes present in a person.

Ethnicity is a factor in this, but it is not a foolproof way to predict if someone will have curly hair or not.
Are Asian curls high-maintenance?
Asian curls, occurring naturally, can be hard to maintain because Asian hair has more compact cuticle cells than other ethnic types of hair, which makes it thicker and denser. The thickness and density can make it a high-maintenance hairstyle.

Once you find the right mix of products and techniques to keep them looking flawless and tamed, They are not that difficult to maintain.

If you do not have natural curls but have Asian hair, you will need to find the right mix through experimentation to find the best method to achieve your curls.
Related Hairstyles:
Pick your favorite Asian curly hair look and try it for yourself today! Why stay out of fashion when you can follow the trend and style yourself right accordingly? Enhance your Asian curls with the tips and tricks shared in this article along with the popular looks.