Edgar cut, which is also popularly known as 'takuache' in Mexico is all the rage now. This short haircut is a popular style among Latino males, and it consists of short sides and a longer top.
The Edgar haircut is ideal for men seeking a trendy, shorter cut that exudes masculine confidence. It's the type of cut that favors long faces, but can be used by anyone. It's also a good choice for men with a receding hairline as it can hide it.
What is Edgar Cut?
The Edgar hairstyle has its origins in Mexico, where it is also known as the 'takuache'. The Edgar cut is a short-haired style for males that features short sides, a short back, and a short top. This hairstyle is adaptable to any taper fade or undercut.
Typically, the most sought-after variations have a skin fade somewhere between the middle and the top of the head, with short, dense hair on top and a few inches of length at the crown.
The front fringe often called bangs, is styled in a front, downward sweep that conceals a portion of the forehead. Applying a mattifying hair product like pomade, wax, or powder will give men's hair structure and fullness.
Modern and ruggedly handsome, Edgar's hairstyle is reminiscent of the traditional Caesar cut or the European French crop.
Manly Edgar Cuts to Get Inspired
Let's now look at some variations of the Edgar cut to make your style unique.
1. Edgar Plus Beard
A thick beard brings out the best in the current Edgar hairstyle. Maintain a neat beard with clean lines to set off your hairstyle. A full beard is a great alternative to a new haircut if you're looking to update your appearance.
2. Wavy Takuache
This cut is ideal for males with waves because it highlights their natural texture while also providing a stylish edge.
It's versatile enough to go with a low, medium, or high skin fade, just like an Edgar hairstyle for curly hair. This haircut is stylish and functional due to the asymmetrical contrast between the short sides and longer top.
3. Choppy Edgar
Combining this cut with jagged hairstyles results in a fresh look that is both masculine and alluring. The straight fringe and natural choppiness create a playful and contrasting style.
This style requires a jagged uppercut and a precise frontal shave or fade. Then, for a more rugged appearance, combine the sides with a taper and use a matte pomade to style.
4. Curly Fade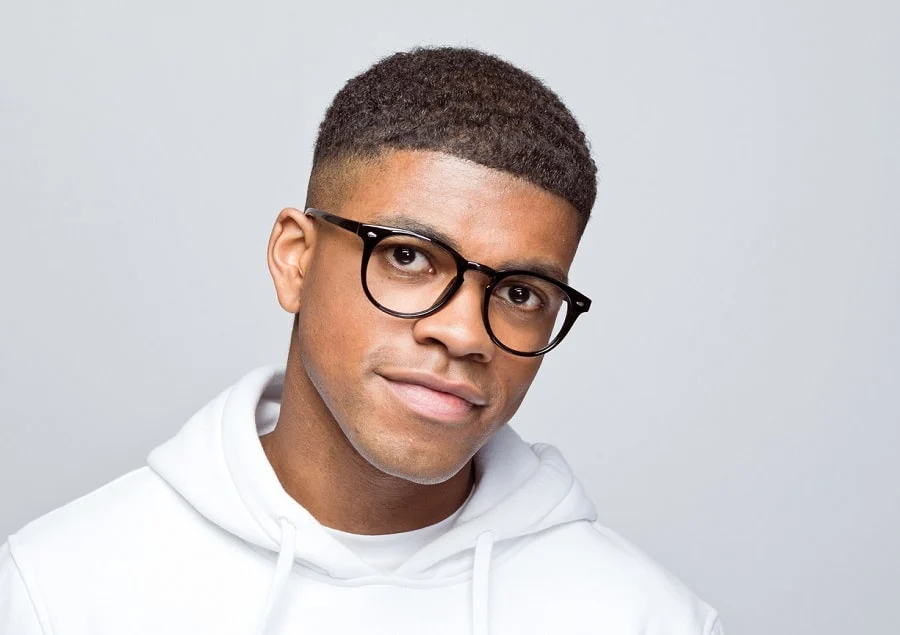 If you want to put your own spin on the Edgar hairstyle, give the mid-fade a shot. In this variant, the straight line that divides your forehead from the rest of your head is drawn all the way around your head.
This cut is ideal for black men with medium-length hair who are looking to make a bold fashion statement.
5. Blonde Edgar
When you put together an Edgar haircut with platinum blonde hair, you immediately stand out. It is already daring cut will seem much more daring with platinum hair.
The trend of having pop artists and celebrities color their hair blonde is back, so now is as good a time as any to try it out.
6. High and Tight
Another short, edgy haircut that plays off the classic military look is the high and tight Edgar, which is ideal for guys with thick hair.
In this short style, the straight fringe is trimmed extremely short and wrapped around the skull. The line of the haircut on top will meet the end of the buzzed sides, creating a distinct visual divide.
7. Textured Takuache
Teenage boys and young men who wish to express their individuality via their hairstyle will love the haircut.
Simply let the top hair grow out while maintaining your regular fade on the sides. If you've grown your hair long enough, a flat part across your forehead can be achieved by combing your hair forward.
8. Short Messy Layers
You may upgrade your standard Edgar by leaving the front uncombed and teasing the rear with a styling product.
Your hair will look amazing styled straight on the front and messed up in the back. A dramatic undercut may be achieved by having your fade left unblended by your barber.
9. Temp Skin Fade
Those who want to keep their hair short and like the clean, modern aesthetic that the bald fade adds to the Edgar cut might consider getting it. This skin fade hairstyle consists of a skin temp fade on the sides and a short top with a little roughness.
In order to keep the full effect of the haircut, the line between the sides and the top should be kept crisp.
10. Classic Edgar
Combining the Caesar cut's forward-combed top with a high fade on the sides, we get the classic Edgar hairstyle. The classic Edgar's angular, defined appearance gives you a confident image.
11. Ginger Layers
Show of all the vibrance of your ginger color by getting some layers and styling the top layers upwards with your fingers in a messy style. Get a hard line shaved into one side of your head just below where your bangs stop if you'd like a more unique style.
12. Fluffy Cropped Texture
You can create this fluffy cropped texture by having the longest part of your hair towards the front and having it gradually shorter towards the crown of your head. Opt to pair this edgar cut with the full beard and a fade on the sides of your head.
13. Defined Natural Curls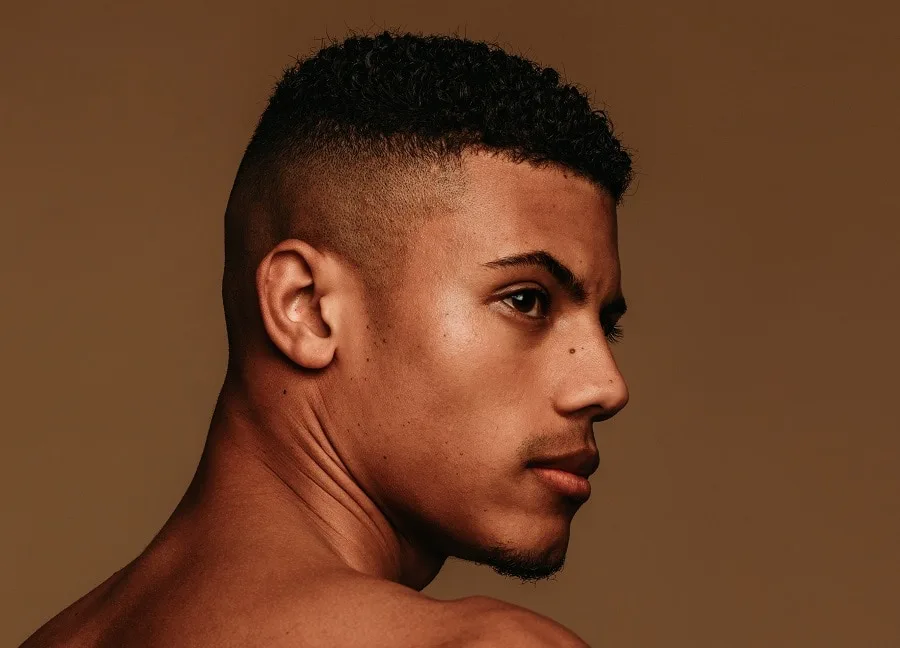 The Edgar cut looks very different on guys with a natural hair texture, but the premise is still the same.
Get a high fade with some contrast on the sides and let your hair be thickest towards the crown of your head. Use some styling cream so it's easy to pick out definition in the tops of your curls.
14. Simple Look with Hardline
Sometimes it's best to keep it simple. Get your hair so short that you won't need to style it and the bristles will stick up by themselves. On the side opt for a fade with a curved line shaved in. Pair it with a line shaved through your eyebrow.
15. Thick Silver Edgar
This Tukache or Edgar cut is fantastic for guys with thick hair. You can show off lots of texture and some layers on the top while keeping the sides very trim.
Want to stand out? Go for a bold color like silver as not a lot of people have it, and you'll be the highlight of every crowd.
16. Bald Fade and Messy Spikes
Getting a bald fade will make sure you stay on trend with your haircut. Style the top however you like, but adding a few messy spikes near the crown of your head will give your look a lot of life. Soft hold gel works best to create this look.
17. Edgar for Big Forehead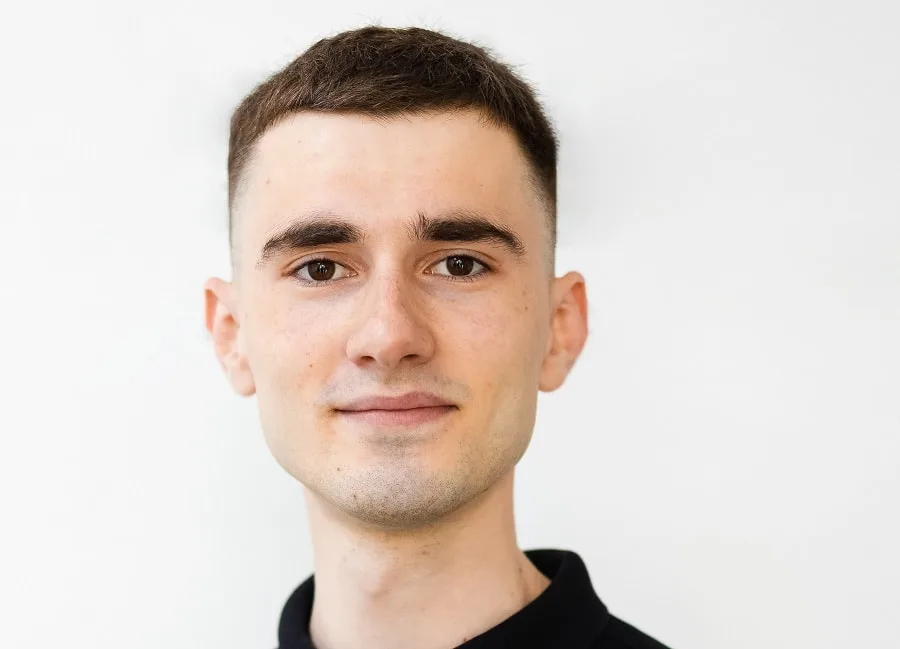 Got a larger forehead? No problem. Try to keep texture in your hair minimal and style it towards your forehead, obscuring your hairline and as much of your forehead as you wish to hide.
Get a bald fade on the sides around midway down your forehead to help it look shorter.
18. Wet Look + Taper Fade
Wet and greasy styles are in. They can be done on naturally greasy hair before you wash it, or by using styling products that create this look. Most of the texture should be in front of your crown. On the sides, get a taper fade.
19. Soft Wavy Mullet
These days mullets are all the rage. Have your hair shortest in the front with some volume. Don't let it be much longer than the nape of your neck at the back.
Wear a thick and soft wavy texture and create a streamlined look on the sides with a bald taper fade low on the head.
20. Slick Bangs and Messy Top
Want a Tukache look that is a little chaotic? Make sure your bangs are slick and straight, then mess up the top sections of your hair to create a style with a lot of contrast.
21. Tall Green Bristles
Green hair makes you stand out, and an Edgar cut is a great way to show it off. Get a low fade so some of your natural color shows. On top, wear your hair bristly but with a little length to run your fingers through.
22. Spiked Bangs with Design
Spikes usually protrude upwards, but here there are three sharp spikes created lying on the forehead. The side features a line shaved in that ends with a little design. On top, opt for thick but neat hair.
23. Mid Fade with Lines
A mid-fade is just what you need to create a very even cut that highlights the top doesn't make the sides look too plain. There are two sharp little lines shaved into the side that can add some variety.
24. Gentle Waves with Straight bangs
Pairing two textures is a sure way to draw attention to your look. Have your Edgar bangs straight across the forehead, but the top layers should be wavy and brushed forward from the crown of the head.
25. Straight Fluffy Locks
There's something about straight hair that can look so fluffy. A few layers towards the crown of your head will add volume, and a perfectly shaped and faded hairline will keep you looking totally on trend for the younger generation.
Edgar is a great hairstyle for men who want to look good and stand out from the crowd. It's a versatile style that can be worn in many different ways, so you have plenty of options.
The best part is that it looks great on all face shapes—so no matter your facial structure, you're sure to find an Edgar hairstyle that works for you. So, have a look at our list, see which variation you prefer and suits you best, and head out to your barber to get this trendy look.