When you think of emo hairstyles, are you reminded of your middle or high school days? For rebellious teenagers who felt misunderstood, emo fashion was one of the ways kids felt they could express their emotions.
Emo hairstyles are typically characterized by teased hair, straight bangs that cover half the face, and bold colors. If you like fierce hairstyles that express your emotional side, you'll love emo hairstyles.
Things to Consider When Styling Emo Hair
It's easy enough to recognize the emo hair. Asymmetrical haircut with choppy layers, a long fringe that cover one side of the forehead and one eye. The main color is black or blonde, mixed with bright colors such as pink, purple or blue.
It's easy to style the emo hair in few steps. But each step has its own subtleties, which are important to know.
Styling
First of all, start with a deep side part so the hair would cover one eye. This will create the illusion of one side fringe, even if you don't have one. Use hairspray or wax to hold your hair in the direction. You can also use colorful bobby pins or barrettes with bows. They can be very helpful too.
Volume
Emo hair means volume at the top. But what to do if your hair is fine? Just use the backcomb close to the roots and fix it with hairspray. There are also many professional products for volume, such as powder, foam, or spray. Try to be careful while doing the backcomb. If you'll do it wrong, it'll just tangle your hair.
Color
Don't forget about the color. Color is the key to success when creating emo hair. The most popular color combinations are black with violet or red streaks and blonde with pink stripes.
To achieve that bright colors hair should be bleached first. And if you've never dyed your hair before, visiting a salon would be the best option for you. Because hair dyes can be damaging to your hair and cause allergic reactions. Therefore, it worth asking professionals to help.
In case you're not ready to commit to any color, there are colorful clip-on extensions of different shades and lengths. Consider also hair chalk or colored hair spray for temporary hair color. They stay until the first shampoo.
Whether you decide to go through all the steps or make small alterations you have to take good care of your hair. Emo hair is known as smooth and shiny, therefore, it should be clean and styled.
Since emo hair is mostly dyed it's better to use shampoo and conditioner for colored hair. Proper conditioning will also help when detangling the backcomb.
Straight Hair
Straight hair is an important part of the emo image. Even if you have wavy hair, the fringe must remain straight. You can style it with the help of a brush and blow dryer or use the flat iron to straighten your hair.
Heat Protection
That's why the next "must-have" is heat protection. It helps prevent hair damage from the straightening. Remember to use the flat iron only when the hair is fully dry. Finish your routine with a few drops of oil for the ends. All that remains is to style the hair with hairspray.
Emo Hairstyles for Girls
To be a trendsetter, try one (or all) of these unusual 80 emo hairstyles!
1. Short Emo Hairstyle for Girls
A pixie with an undercut and pretty pink color packs a lot of punch in one hairstyle! Comb the hair smooth and down toward one side of the face, covering the forehead partially.
2. Emo Girl with Punk Hairstyle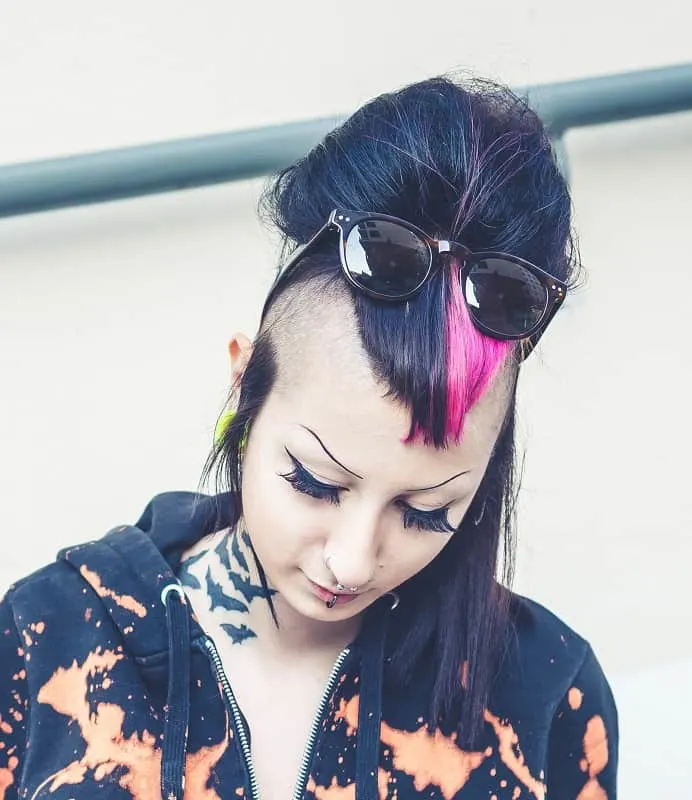 Amy Winehouse herself would be proud to rock this emo hairstyle. A V shape is created by buzzing the head and leaving a middle strip of long hair. The combination of black and pink with uneven layers of hair creates the ultimate edgy hairdo.
3. Girl's Emo Hair with Undercut
Didn't you know you can be emo and feminine? Just look at this platinum blonde long pixie with its ends tipped in light blue! The long bangs cover half the face for the emo effect and look great with a buzzed side and bold matching eye makeup.
4. Dreadlocks for Emo Girls
There's a reason dreadlocks are a popular hairstyle for women these days. Their ability to give off emo vibes and work with a combination of other hair features, like braids and cropped bangs, make them versatile to the max.
5. Emo Bangs
You don't need to go full black hair and hair in the face to be emo. These long bangs are layered and straightened to fall just so across the face. You can wear the rest of your hair down or in a low messy bun and trucker hat.
6. Black Emo Hair
The 90s were full of young girls sporting the traditional emo haircut: long black hair and short side-swept bangs. This style is both cute, edgy, and particularly flattering on women with light or pale skin tones.
7. Layered Emo Hair
Everyone knows that adding layers is the easiest way to create body and texture. Concentrate your layers near the face for choppiness, then try blending light and dark hair colors on straight locks.
8. Goth Hairstyle for Emo Girls
Keys to a dramatic goth hairstyle: fierce eye makeup and a glam hairstyle. This one features silver and gray on long curly hair. Curtain bangs frame the face when pulled loose from a half updo.
9. Rainbow Emo Hairstyle
Is it all about color for you? Wear the rainbow on a medium-length straight hairstyle with short bangs that just meet the eyes! Whether you wear your hair down or up, it's a bomb look!
10. Forest Green Bob for Emo Girls
Why wear only green makeup when you can wear it on a bob too? Blended with a lighter shade of green, the overall style with its short bangs will look fab.
11. Emo Hairdo for Girls
You can't say you've done the emo thing if you haven't tried these lop-sided buns. Combining platinum blonde and black, make your buns using the back section of the hair while leaving the front to be loose around and slightly across the face.
12. Thick Red Emo Hairstyle
Girls with thick hair can easily rock emo hairstyles. Create the emo mood by teasing the hair so your waves or texture stays all day. This deep red is one of the best dark colors you can choose for an emo haircut.
13. Straight Black Emo Hair
If it's not straight, it's not emo! On this shoulder-length look, hair is layered mostly up top to create thickness. Create a deep part and brush bangs across the forehead – your eyes will peek out for that mysterious, misunderstood vibe.
14. Pink Emo Updo
Just because you're going for the emo look, that doesn't mean you can't wear your hair up. This super cute bright pink side pony features light blonde highlights, a straight side bang, and tons of texture.
15. Electric Green Emo Hairstyle
If you've ever wanted to rock an electric hair color, now's your chance. Mix this loud shade of green with pitch black on a straight medium hairdo, straighten locks, and you're done.
16. Over and Under
Layer your hair so that it is long underneath and much shorter on top. Dye the bottom layer a dark color, then color the top layer a much lighter, contrasting shade.
17. Choppy Bob
Cut your hair into a short bob, and then cut in lots of spiky layers. To give the hairstyle a real emo feel, add a splash of color.
18. The Blue Emo Hairstyle
Blues and blacks go well together in hair. Use different shades of blue dye to "highlight" sections of your black hair.
19. Accessorise
If you already have the perfect style, why not change up your look by adding an emo hair accessory? There are thousands of skulls, spiders, and bows out there which you can use to enhance your style.
Best curly wavy haircuts with short hair for girls
20. Show your roots
In an emo hairstyle, showing your roots does not have to be a bad thing. If your new hair color is not a strong enough contrast to your natural color, you can ask your stylist to put in artificial root colors for you.
21. Pink Emo
Dye your hair a vibrant pink color to really make a statement. In order to get your hair to look so bright, you may have to bleach it before you color it.
22. Subtle Streak
If you don't want to make a drastic change, just add a subtle streak of color to your hair, either in your fringe or around the back.
23. Emo Haircut + Layers
Cut in lots of layers, keeping the base layer long, then add a sweeping fringe. Give the look an emo touch by keeping some of the under-layers as a darker color.
24. Emo Mullet
This emo haircut takes on the mullet has a fashionable edge. Cut your hair short at the front but leave it longer around the back. A sweeping side fringe and spiky layering will help to make the look breathtaking.
25. Hint of pink
If you don't want to go for an all over pink, add a signature streak somewhere in your hair. If you don't fancy pink, choose any other color that complements your style and personality.
26. Grey Hair
Many women are afraid of going grey, but you can make a statement by dying your locks a silver-grey color. If you don't want to make the change all over, just dye sections and leave the under-layer a contrasting dark color.
27. Emo Bob
Cut your hair to shoulder length and then cut in lots of shorter layers over the top. The shortest layers can be fluffed up give your crown a spiky, punky style.
A long pixie cut is perfect if you want to keep the focus on your lips. Cut your hair to jaw length and put in a sweeping fringe.
29. Just got out of bed
Choppy layers near the top of your hair can help to create a straight out of bed look, especially if you run your fingers through your hair as it is drying, rather than running a hairbrush through it.
30. Kinky Emo Haircut
To achieve very subtle loose waves like these, you should plait your hair before bed and when you take them out in the morning, your hair should stay in these kinks. Add a little product to help them to hold all day.
31. Rainbow Warrior
If one color just won't do, add individual streaks of lots of different colors to your emo hairstyle. If you want your colors to really stand out, use a blonde base layer.
32. Colored Tips
One of the most attractive emo hairstyles for girls in recent times. Rather than going for streaks that run the entire length of your hair, color just the tips. Before adding color to your tips, give your hair a quick trim to make sure that you do not have any split ends.
33. Straight and Sleek
Straighten your hair using ceramic straighteners or blow dry it by pulling your hair taut as you move the hot dryer down your hair. A heavy sweeping fringe complements this style.
34. Brilliant Blue
Make a dramatic change and dye all of your hair a brilliant shade of blue. This can help to enhance the color of your eyes if you have natural blue or green eyes.
35. Animal Print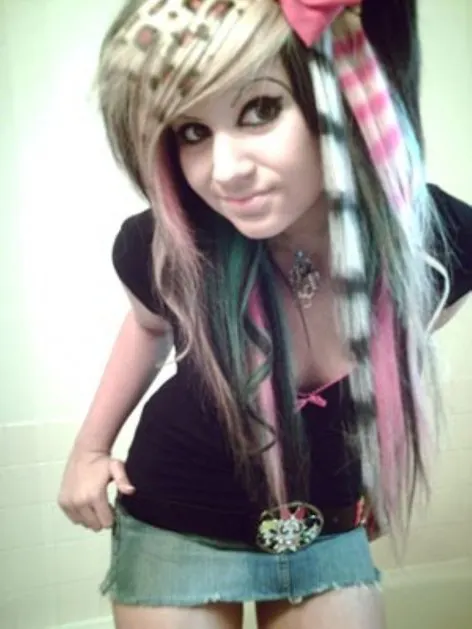 Although stripes are easy, leopard spots can be a little harder to achieve. Bleach your hair blonde to produce a clean "canvas", then use a round piece of dowel rod to dot brown spot across your hair. Use a piece of celery and black dye to create "frames" for the dot.
36. Face-Framing Color
Use color to frame your face. Either just color your bangs to draw attention to your eyes, or frame your whole face by coloring your bangs and the front portion of your hair too.
37. Back in Black
In this dramatic incarnation of two-tone emo hairstyle, you should dye the back section of your hair midnight black, whilst bleaching the front portions a beautiful platinum blonde color.
Sweeping fringes are a popular choice for emo hairstyles. If you style in an extreme sweeping fringe, keep it out of your eyes when you need to by securing it up with a bobby pin.
39. Long Shag
The long shag is a great choice if your hair has more volume. Soften the look by putting in very loose curls, by wrapping your hair around a barrel brush whilst you are drying it.
40. Punky Pudding Bowl Emo Hairstyle
Give an emo twist to a pudding bowl hair cut but cutting in short layers on the top. Short sides looks perfect with a fringe which is nearly as long.
41. Volume Volume Volume
This style proves that bigger can be better. Add layers and comb from underneath whilst you are drying to help to maximize your volume.
42. Half and Half
If you can't decide what color to dye your hair, why not make a real statement by choosing a half and half style, and dyeing one-half of your hair in one color, and the other half in another color?
Give your hair a "just got out of bed" look by letting it dry naturally after you have showered, then scrunching a little product through it to help it to keep its tousled look.
Ask your stylist to cut in a lots of choppy layers, and team up with a sweeping side fringe. This fabulous emo look is very easy to maintain.
45. Punk Rock Princess
Let the world know that you are a princess with a difference by accessorizing your emo cut with a simple crown. The crown will help to lift your top layers, and give you a little volume for the top section of your hair.
46. Long, Straight and Layered
This triple whammy cut is perfect for women who don't want a dramatic chop. Chin length layers help to frame your face, whilst keeping it straight and sleek gives your hair color the best chance to make an impact.
47. Long and Short
Another cool emo hairstyle for teen girls. Cut in cheekbone length layers over your long hair to help flatter your face, without compromising on the overall length of your locks. If you do not already have waist length hair, you can get extensions put in.
48. One Sided
Wear all of your hair over to one side with an extreme side parting. Keep a few sections of hair at the other side if you want to frame your face or draw attention to any of your facial features.
49. Signature Fringe
Let your fringe do the talking with a sweeping fringe that is longer than the rest of your crop.
50. Dark Beauty
All-black or dark, dark brown hair is perfect for the emo look. Keep your hair straight and sleek for the most intensive color.
51. Textured Bob
A textured bob haircut with emo style is perfect if you want an eye-catching style that is low maintenance. Simply build up your volume before you head out by scrunching product through handfuls of your hair.
52. Side Parting
Put in a side parting and use layering to help to give your hair the illusion of more volume. This is a great trick if you have thinner or shorter hair.
53. Emo With Shaven side
Shave or close crop your hair at one side, and leave the other side as long as you want it. This emo hairstyle looks brilliant if you have multiple ear piercings that you want to show off.
Most popular haircuts for women above fifty
54. Shaggy Long Crop
A shaggy long crop is a great option if you have thicker hair but still, want a cropped look. Cut in lots of layers, and dry your hair with a diffuser to help to give your hair the shaggy texture.
55. Black and white and red all over
Create an amazing medium length emo style by teaming up black, white and red. Using black (or dark blue) as a base layer put red and white (or blonde) streaks over the top.
56. Spike Layers
Spiky layers which are short near the crown and much longer at the base layer are a brilliant choice for those who want statement emo hair. Add sharply contrasting streaks to enhance the effect of the spiky layers.
57. Hot Mess
Combine a number of the different emo staple to create the "Hot Mess" look. This style teams up a thick layered shaggy style at the top, with extensions that go all the way down to your waist. Add colors for an extra dimension.
58. Emo Pixie
A short emo hairstyle for both girls and adult women to look elegant and fashionable. This pixie cut utilizes a breathtaking, sweeping fringe, which comes down to the jaw line and draws the eye to the lips.
59. Deep Purple
Choose a subtle shade of dark purple which almost looks black until the light catches it.
60. Lovely Lilac
Lilac is a great color to choose if you want to dye your hair an unnatural shade because it has a wonderful softness to it. Use other shades of purple to add highlights and lowlights.
61. Spiky Bob
This spiky cut is a really edgy look for punky girls. Cut lots of sharp layers into your hair starting with short sections towards your crown. Run a little bit of styling gel through your hair to give it a little extra punkiness.
62. Choppy layers and choppy bangs
An all over choppy cut is a brilliant choice if you have thinner hair. Ask your stylist to chop away using a feathering technique to achieve this kind of look. The choppiness will help to give your hair a more voluminous look.
63. Crop Plus
In this style, the majority of the hair is cut to a long crop length which is about cheekbone length. However, a few sections of hair should be left as long as chin length to give the style a modish emo look.
64. Choppy Crop
A short crop style looks cool if you have petite facial features. Crops can be given a modish emo twist by cutting in some really choppy layers and adding a splash of contrasting color to your fringe.
65. Thin Bob
Even if you have very thin hair, your hair can still suit a bob style. Layering your hair by cutting shorter sections in at the top will actually work with your thin styles, rather than working against it.
66. Aquamarine
Aquamarine is a beautiful shade of blue which is perfect for people who have naturally blonde hair. The color is also a great emo choice for the summer months, as it will not get as hot as a darker style could.
67. Long hair with twists
Leave the front section and fringe section of your hair poker straight. Loose curl small sections of the rest of your hair using curling tongs. Separate each section out into two, and arrange so that the curls are falling in opposite directions like a DNA helix.
68. Bold Bangs with Volume
Voluminous hair looks amazing with heavy bold bangs. Either use a blunt cut for your bangs or ask your stylist to cut in a slightly asymmetrical style for you.
69. Peaches and Cream
A peachy pink shade is a great color for a modish emo hairstyle. Team this color up with a creamy blonde color. This dye job works with lots of different cuts and styles.
70. Bowie Cut
This style is reminiscent of a haircut made famous by the late David Bowie. An arched fringe helps to give the hairstyle a softer, more feminine look.

A Fishtail braid is created by weaving four sections of hair together. Bring the furthest left section over the other sections and then under the furthest right section. Then repeat going left instead. Do this all of the way down your plait. Side-plaiting will make the style look more emo.
72. Oranges and Lemons

A warm shade of vibrant orange contrasts perfectly with a cool lemony blonde. Coloring your whole hair with a vibrant orange could be a little full on, so overlaying sections with the blonde will take some of the intensity away.
73. Neon Queen

Dark colors look great with a mixture of bright neon shades. This style seamlessly mixes the modish emo style with the neon cyberpunk look. Mixing multiple neon shades prevents each individual color from being too loud.
74. Spiky Style with Mixed Bangs

Cut in lots of short and spiky layers at the top of your hair, but leave the rest long and straight over your shoulders. Mix a sweeping fringe with some choppy bangs. Put a few contrasting highlights into your fringe and bangs.
75. Blues and Purples

Dark blues and bright pinky purples look perfect when used in combination with one another. Put the lighter colors into the underside of your hair to dilute the color slightly.
76. Boho Babe with an Emo Twist

Combine boho flower hair accessories with emo style by dyeing sections of your hair a gorgeous shade of pink. A subtle pink underlay looks stunning underneath a top shade of platinum blonde.
77. Alpine Emo

Whatever shade your hair is, you can channel your inner Alpine girl by braiding the longest sections of your hair into traditional Heidi braids. Leave the shorter, choppy sections free to portray your emo stylings.
78. Dusky Shades

Dusky shades can look just as good as the vibrant shades do. In fact, choosing dusky shades of hair dye rather than "sleek and shiny" shades can actually help your hair to seem slightly more voluminous. Dusky shades are also the antithesis of everyday girly glamor.
79. Double Bun

Divide your hair into two main sections and twist each section up and around onto the top of your head. Secure it in place with a hair elastic. Leave the front down in a sweeping side fringe.
80. Bouffant with Colored Fringe

A multicolored fringe which sweeps across the front of your head will really help your bouffant to stand out. Different colors in your fringe will soften the style by making it look less blocky.