French bobs are a safe choice for women over 50 who want a younger-looking appeal without the fuss. These cuts are easy to maintain and style compared to very short or long hairstyles.
The French bob is the cropped version of a classic bob where the hair is cut at chin length with characteristic bangs grazing the brow line. Although this is the basic definition of the Parisian women's cut, it can be customized according to the hair texture and face shape.
Keep scrolling to level up your hair game in your golden years.
French Bobs for Women Over 50
Get that mind-blowing Parisian charm by recreating any of the following french bob hairstyles for women over 50.
1. Sleek Platinum Crop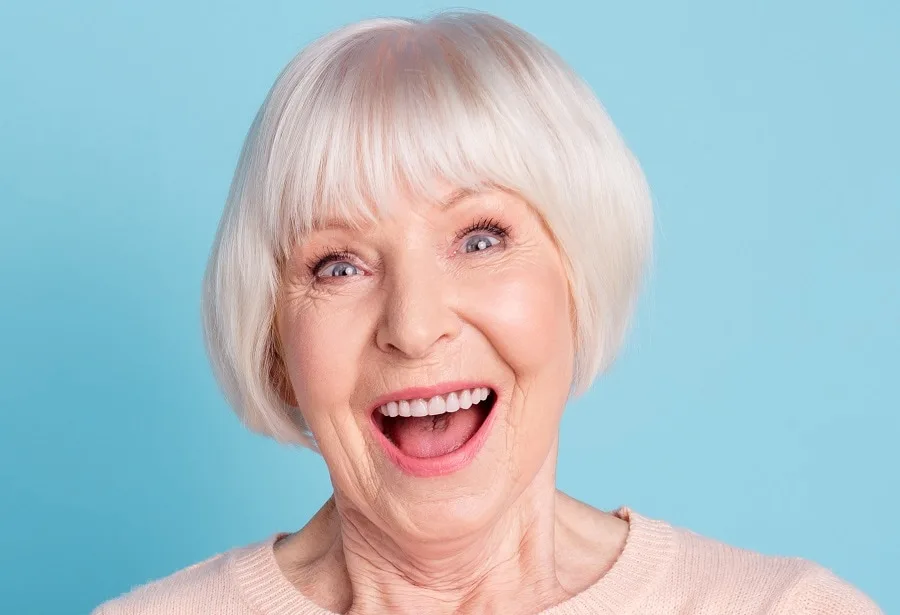 Look much younger even with a white mane by opting for a cool platinum blonde hair color. The French bob is slightly angled with the longer strands at the front falling at jaw length. Cover those forehead wrinkles with soft bangs and nobody will ever know.
2. Perfect Frame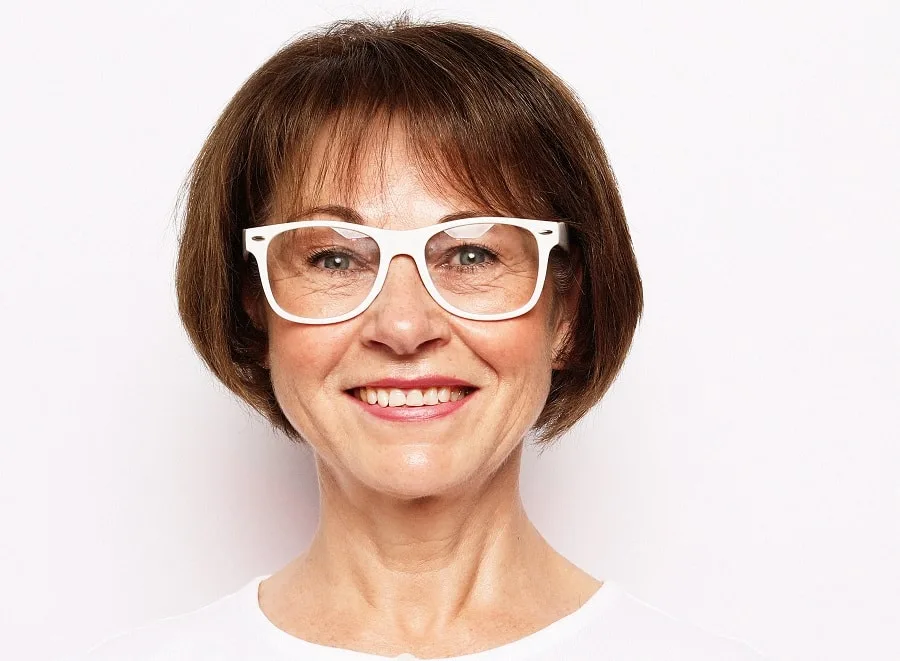 This French bob is ideal for women over 50 with glasses or those who want to bring their best facial features under the spotlight.
Opt for wispy fringes for a light and airy appeal and use a round brush to bend the ends inward while blow-drying for a soft elegant finish that won't be overlooked.
3. No Bangs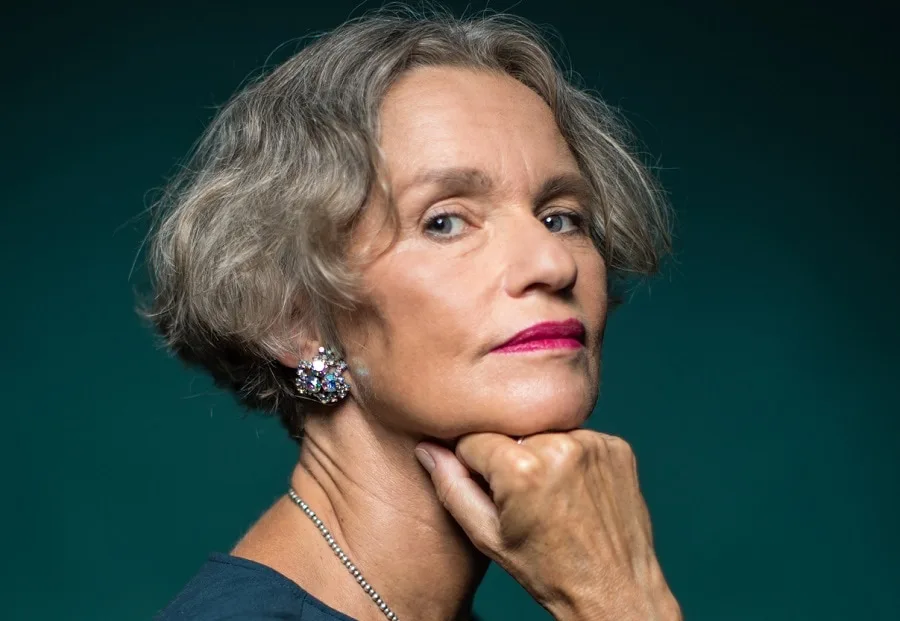 Wear a classic French bob with a modern twist to stand out from others. Ask the hairstylist to skip the bangs keeping the front strands long with stacked layers at the back. Part your wavy mane in the middle to give off some edgy curtain cut vibes.
4. Curtain Fringe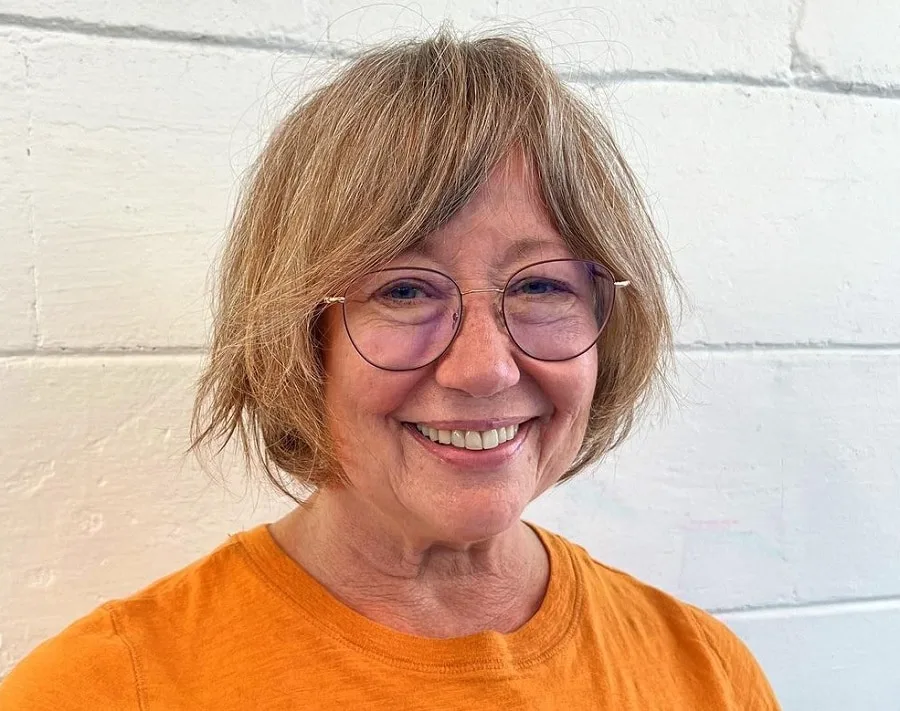 Talking about a curtain cut, curtain bangs look exceptional when paired with a short bob. These fringes are shorter in the middle and elongate outward to blend in seamlessly with the remaining wispy tresses. Avoid a boring blunt look by finishing off with choppy layers.
5. Curly Glory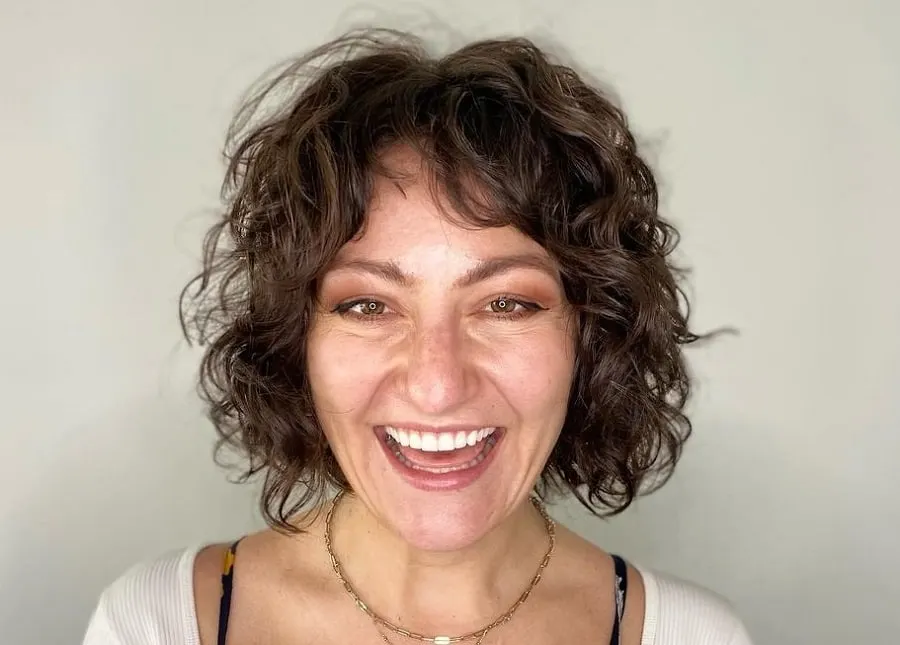 A curly take on a traditional French bob is all you need if you are thinking of embracing those natural curls after years of heat styling.
Cut the hair straight across at chin length, with layers of course, while the front chunks are arched resulting in a messy yet sexy shag.
6. Salt and Pepper Micro Bob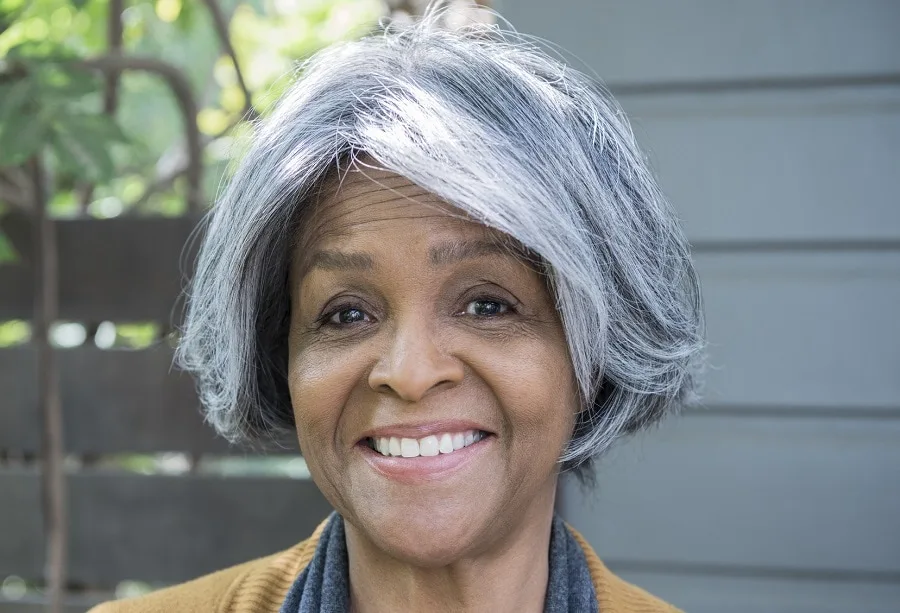 Silver highlights or black lowlights can help elderly ladies achieve the most perfect salt and pepper look.
Accentuate an oval face with a cropped bob and a barely-there fringe that'll both take away excessive bulk from thick hair and make even the thinnest tresses appear healthy. A good blowout is a must!
7. Side-Swept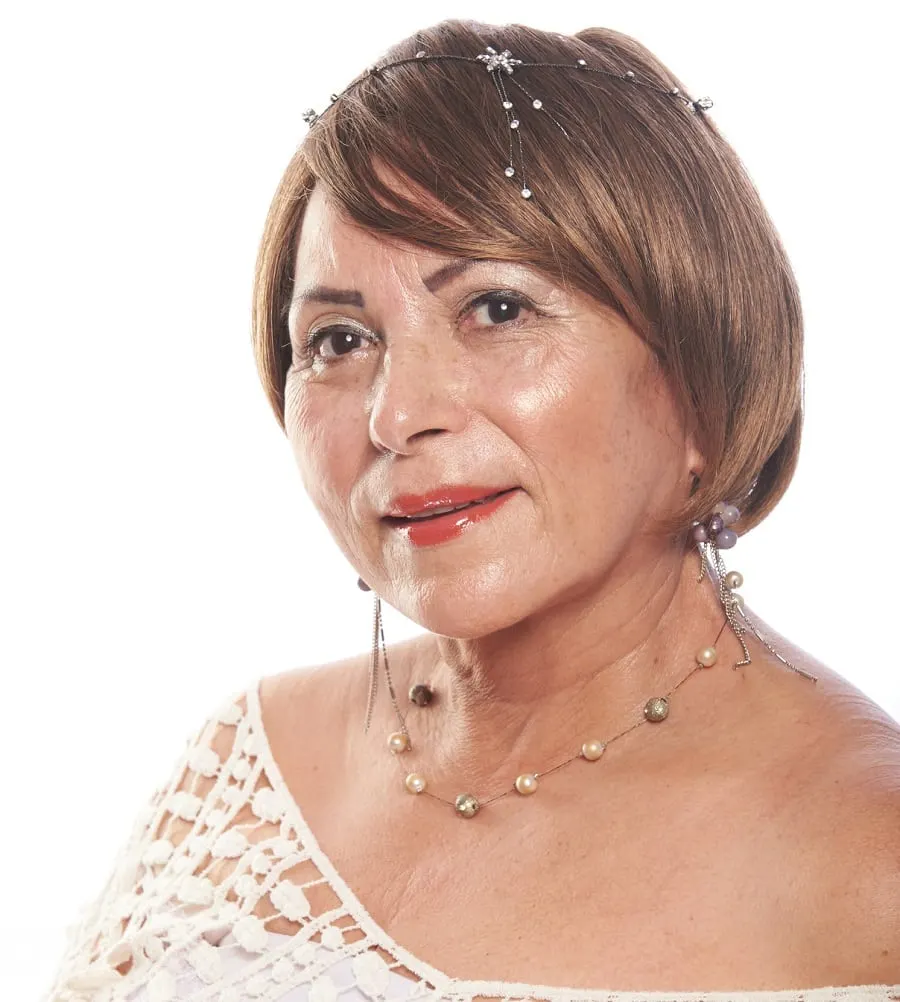 A classy short hairstyle for women over 60. Keep it neat and tidy by chopping your silky straight tresses short enough to bend inward naturally just below the ears.
Add a French touch by skipping layers keeping most of the hair at the same length. Instead of going for straight bangs opt for side-swept ones for a change.
8. French Pixie-Bob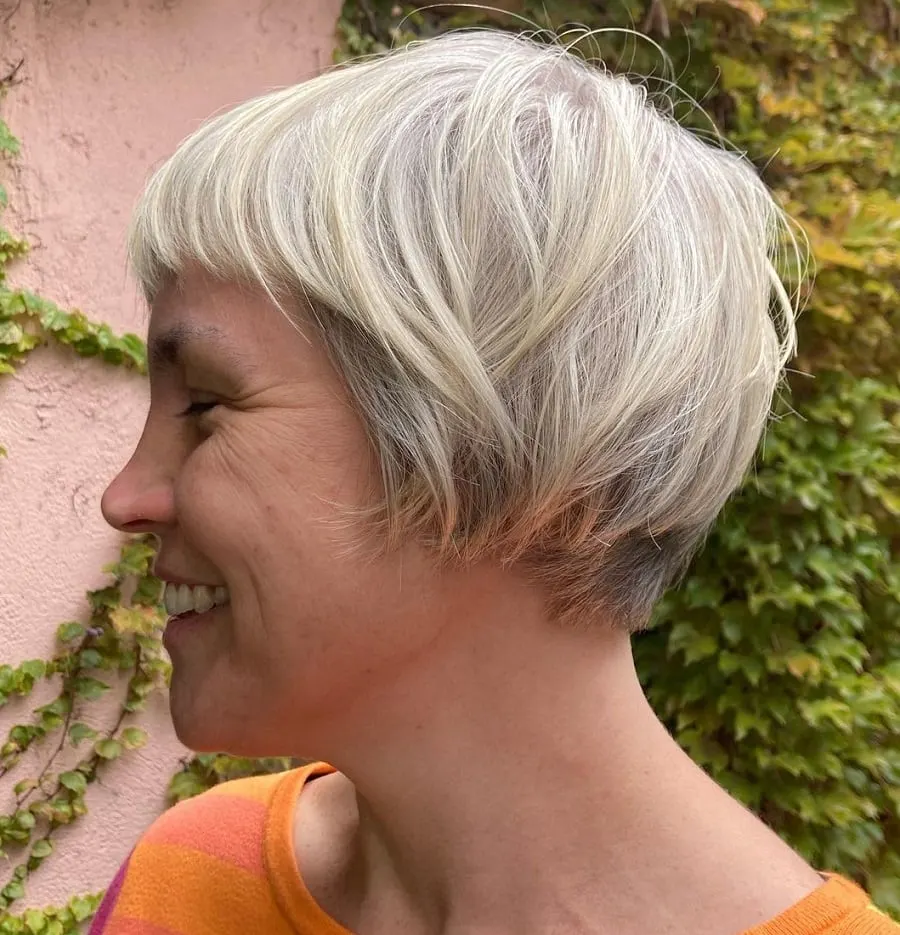 A French pixie bob with a sexy wedge shape is ideal for ladies who wish to go extra short. Get wispy layers and uneven micro bangs that merge into the shorter side with a clean cut at the nape. Dye the tips in a slightly different hue for a playful appeal.
9. Blunt Cut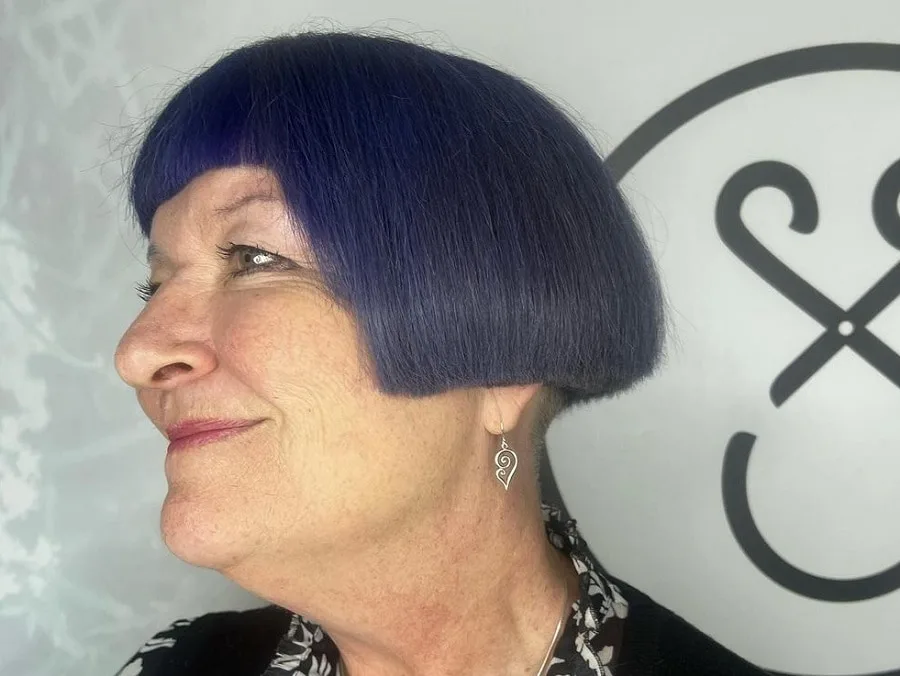 Another French bob for older ladies over 50 who are ready to make a bold move. Get a super straight blunt cut for the strands to end at the cheekbones with funky baby bangs at the front. Finish off with an undercut at the back and an eye-popping midnight blue hair color.
10. Heavy Texture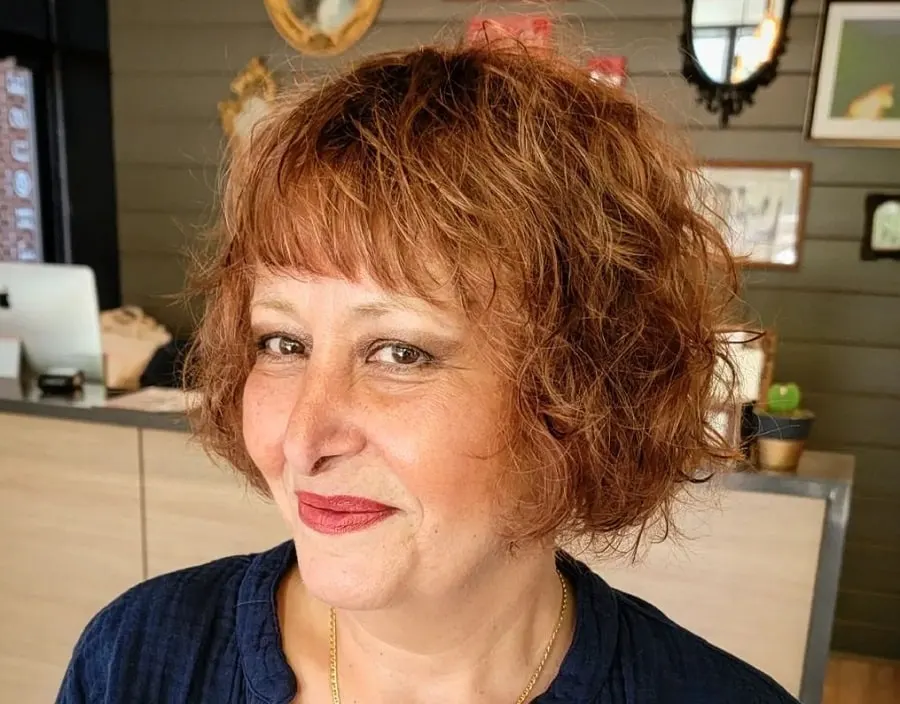 Heavy texture can create lots of movement and volume in the hair. It can be achieved ideally with razor and twist cutting techniques. The objective is to produce bouncy layers that when tousled and scrunched produce a fuller-looking mane. Couple your messy layers with smooth straight bangs and you won't regret it!
11. Tousled Waves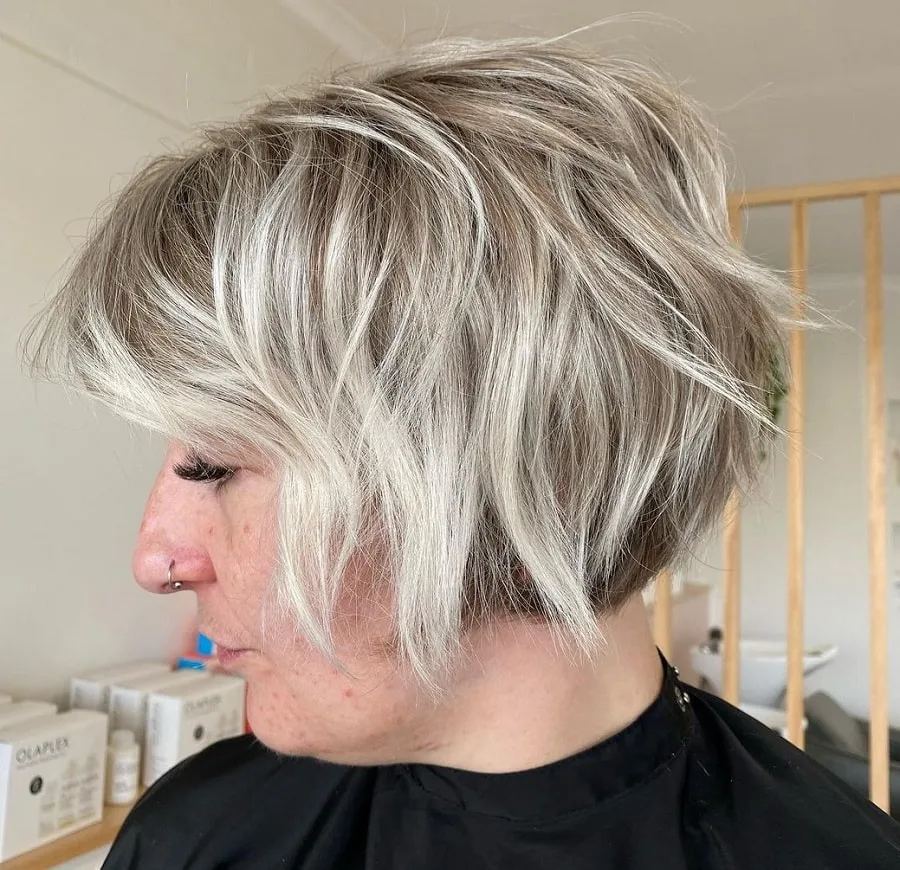 Who's going to believe you're over 50 with a stunning choppy cut like this?
The jagged jaw-length layers break down the bluntness of a French bob while the hair at the back is cut straight to rest against the back of the head.
Complete the look with a platinum blonde balayage and beach waves.
12. Lived-In Look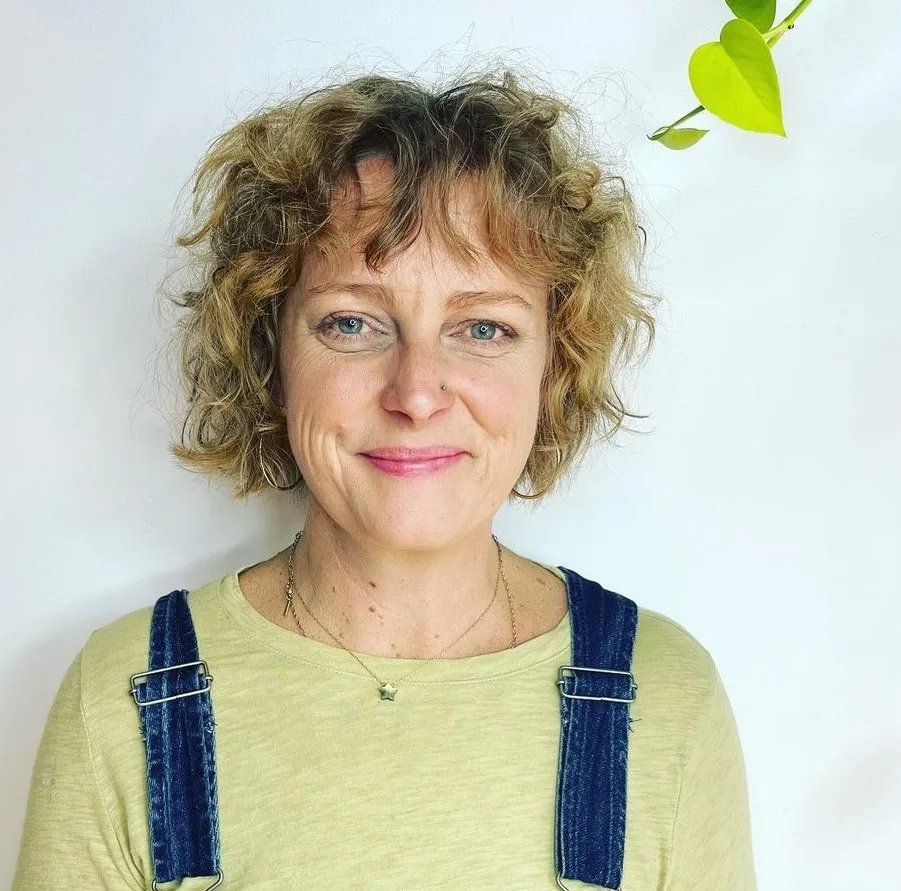 Choose a cut that goes with your natural texture to avoid elaborate hair styling that doesn't remain easy when getting on in years.
Consider this lived-in look with curls that are layered all the way to fall anywhere between the chin and jaws. Go blonde and let those dark roots emerge without worry!
13. Color Pop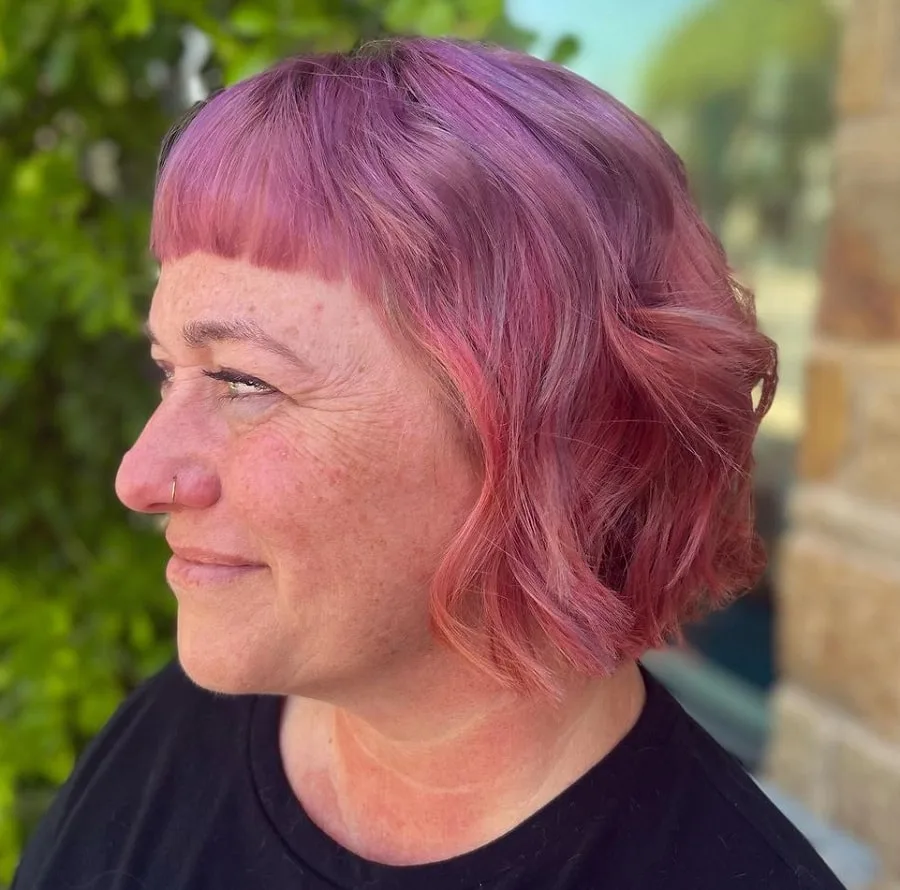 Minimal layers, bouncy waves, and uneven micro bangs are what define this ultra-groovy Parisian cut apart from the vibrant colors of course.
Choose one or more of the brightest hair shades and add them on top of each other just like the purple and pink depicted here.
14. Rounded Off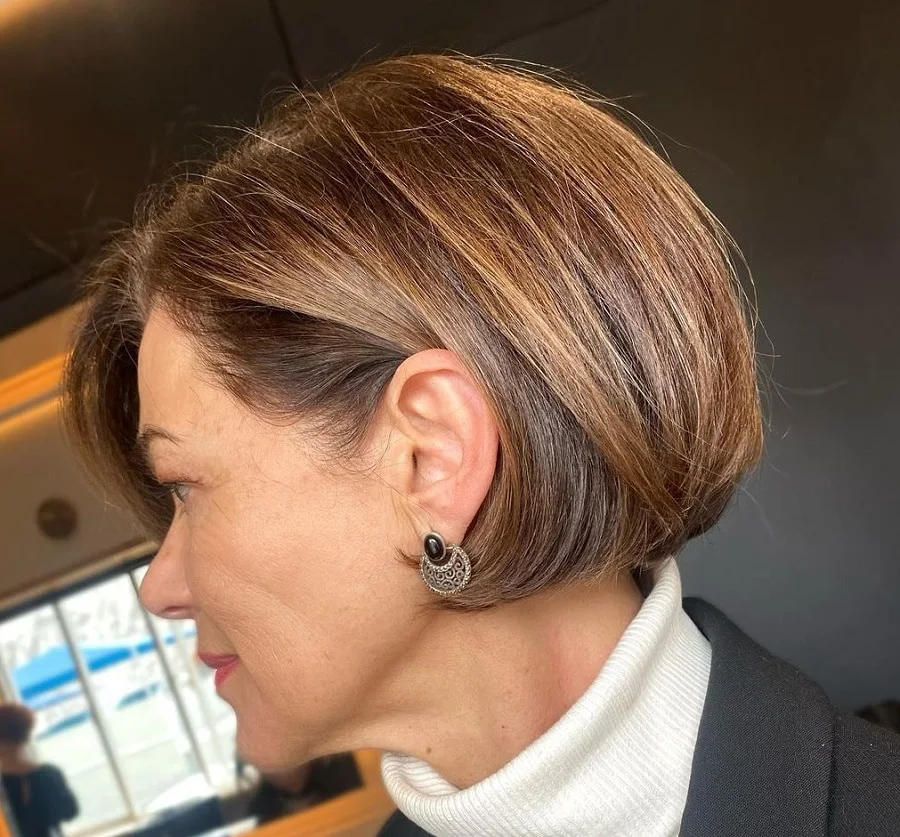 Achieve the fullness of a bob by asking the hairdresser for tapered layers creating a perfectly round shape at the back of the head.
Accent the face at the front with a soft side-swept fringe and throw in some highlights to set this chic bob cut for women over 50 on fire.
15. The Classic Cut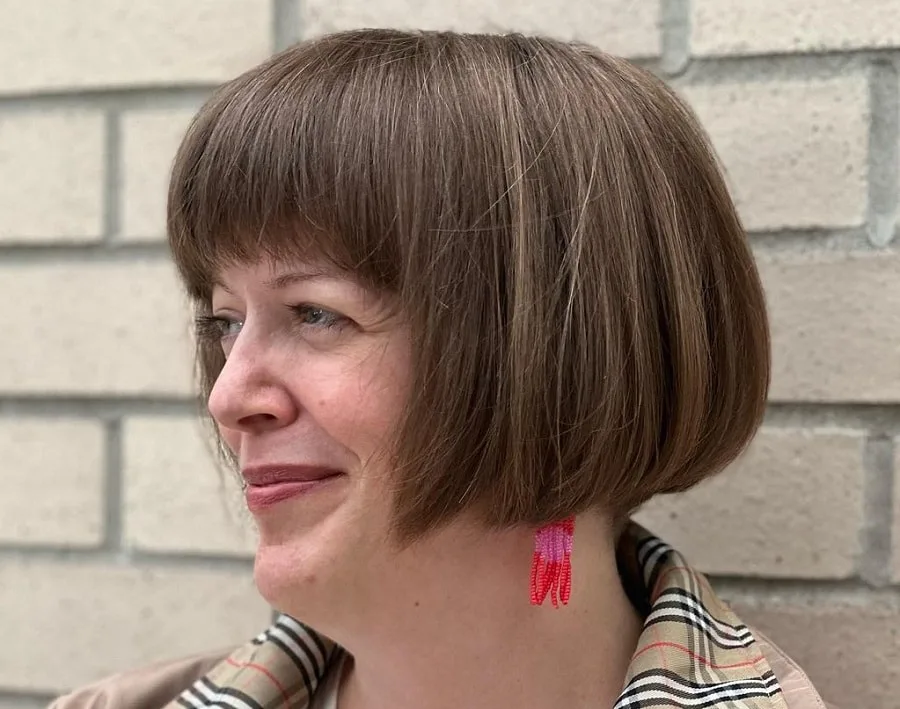 Senior ladies can keep it simple and classy by snipping their mane straight across the back anywhere between the chin and jawline. Opt for brow-grazing blunt bangs for women over 50 and use a barrel brush to curl the strands inwards for a bouncy appeal that will grab many's attention.
Modern French bobs for women over 50 can be soft, choppy, messy, or anything else you wish for. They can be worn with or without bangs to shed off a few years with just the first snip. Therefore, instead of going for traditional pixies and conventional bobs, turn around some heads with a chic Parisian bob.