The curly bob with bangs as a hairstyle is always considered elegant and classy. Even though it is genetic, having naturally curly hair is rare and that is why it is so beautiful.
Curly hair is different from woman to woman. Depending on the hair type, the curls can be big or small, thicker or thinner. Having curly hair means that you always have a nice hairstyle, but that hairstyle requires care and regular touch up the salon.
It is important to treat your curls appropriately because the hair can easily become messy and difficult to comb, which will lead to breaking.
There are special care lines designed specifically for curly hair and they are very effective. Women with curly hair most frequently wear their hair long, but those who opt for a shorter and much trendier version choose the classy bob with bangs.
How to Get a Curly Bob
Wearing a curly bob is one of the most fashionable and trendy haircuts for women with curly hair. The length of the bob varies so you can always choose your desired one. It can be a short bob or a long one, however, you like it. It is important to know that the lock tends to squeeze and make the haircut look shorter, so if you are going for a short cut, be aware of this, and always make it a bit longer than your first idea.
Cutting a curly bob is best to be done by the professionals – at the hair salon. It varies from a straight cut to short stacked bob with blunt or side bangs. There are so many options and they all look very nice and fashionable. Choose the perfect cut for you by following your face shape.
The curly bob suits all hair colors and each color has a different beauty in the final look. Young girls and women tend to go for edgier looks, while the other who do not want to experiment go for the classic well-known cuts. The bob is tricky to cut so do not do it yourself because the curls tend to move in all directions and you cannot fixate them.
How to Style Curly Bob with Bangs
There are few options in styling and wearing a curly bob with bangs. The bangs can be worn straight or curly. When you wear a curly bob with straight bangs then you create a look that has a balance. The straight bangs are easy to style. You just need a hairbrush and a hairdryer.
When it comes to wearing curly bangs they should follow the rest of the hair. Styling curly bangs and the overall style requires using a special hair product that will soften the curls. Apply a little product on the hands and go over your hair, defining the curls and making them shiny and bouncy.
The same goes for the curly bangs. When washing your curls, use a special shampoo and conditioner for curly hair because they have ingredients that will make the combing easier and the lock will remain in their natural shape.
Watch The Following Short Tutorial to Learn How to Style Curly Bob with Bangs
Curly Stacked Bob vs. Curly Choppy Bob
The difference between the curly stacked bob and the curly choppy bob is in the ending of the hair and the final look. The stacked bob cut gives the style a more voluminous look and it is accented at the back of the head. The choppy bob cut has different lengths of the hair, giving a more elongating look at the face and defining the shape of the face.
Stylish Curly Bob with Bangs
The women with natural curly bobs have a certain unexplained look that those with straight hair cannot achieve when making curls. The natural looks have proven to be the best and the trendiest and that goes for the hairstyles too. When wearing curls, it is important to find the perfect cut and the length which reflects your personality, style, and appearance. Check out these curly bob with bangs for 2023.
This curly bob with bangs look is very relaxed and casual, where the natural short hair is in loose curls. The length is just above the shoulders and the bangs are falling over the forehead. It is appropriate for those with thick hair.
The curly bob with side bangs is usually a natural hair and style worn by those who have naturally curly hair. The bangs come in an undefined way, with a side part, falling freely to the sides.
3. Ultra-Curly Bob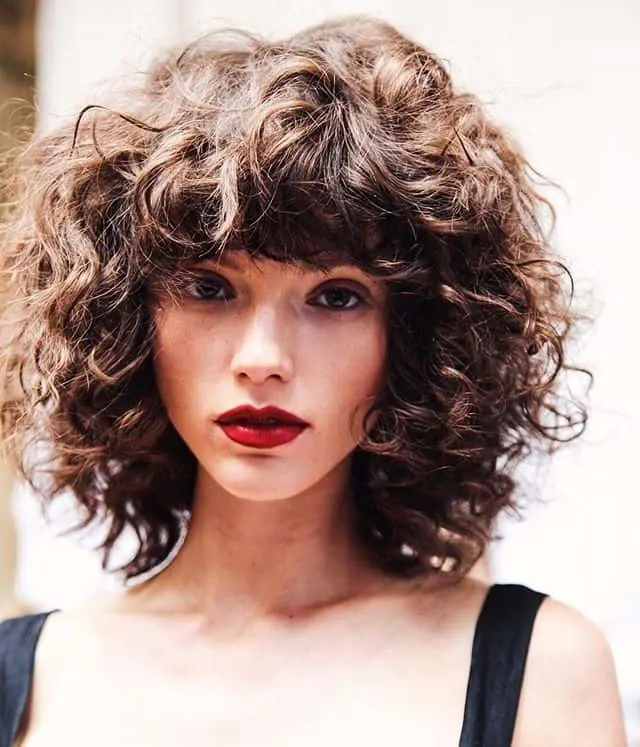 The ultra-curly bob and bangs style is associated with women with very curly and thick hair. The locks are small and they define the whole look. The bangs are also curly with small tiny locks. The sides are layered.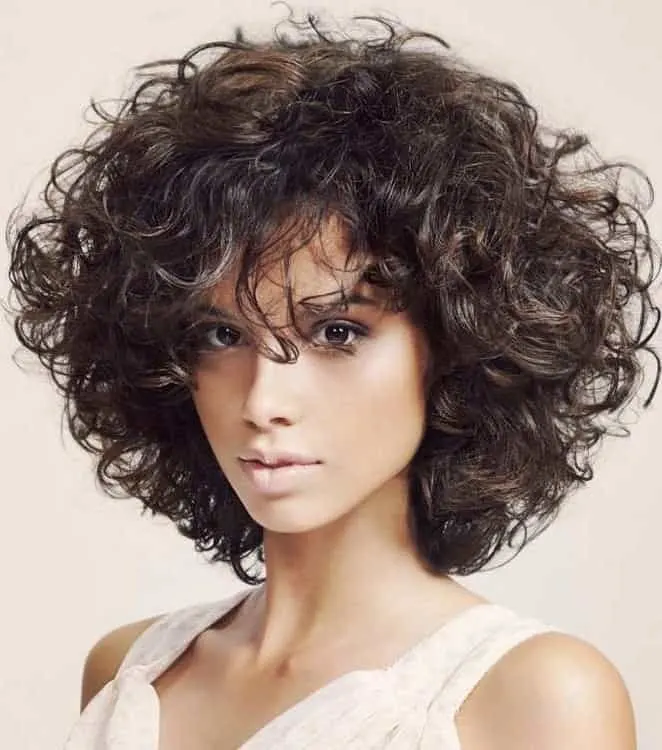 This short curly bob with bangs hairstyle looks like a shag, with gradual layering on the sides and a hidden middle part which defines the bangs.
5. Messy Bob with Curly Bangs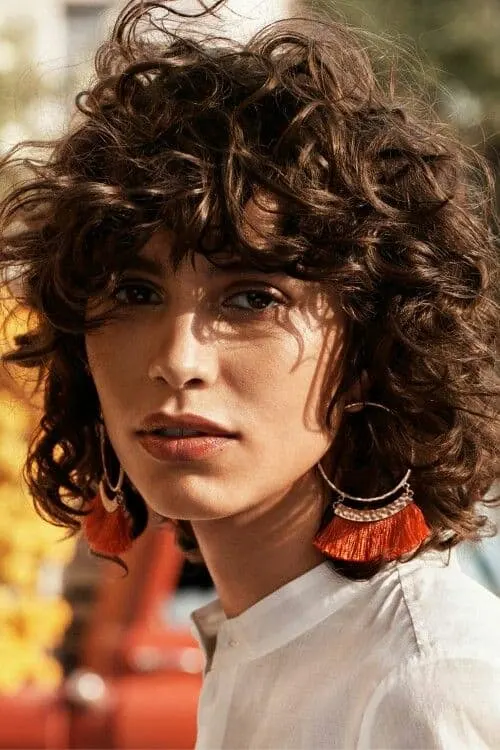 This is more of a retro look, with a long curly bob and bangs. The layering of the sides gives a completely new meaning of the bob, making it follow the lines of the face and giving it an elongating effect.
6. Crochet Curls
Crochet curls tend to be tightly coiled and kinky. Their beautiful shape makes them versatile for either a playful pony or this chic bob with just a few coils as fringe.
7. Bob for Women over 50
Women over 50 with curly hair looking for an easy hairstyle to maintain should definitely consider a bob with bangs. Bangs are timeless and put your curly texture right up front where it's sure to be seen.
8. Long Curly Bob
If your mane is thicker, a long bob is for you. You don't want to immediately chop away all your beautiful texture, so a little length is perfect. These thin bangs are easy styled with some curl cream on your fingers.
9. Gray Bob with Bangs
Women who still use hot styling tools will be better suited for a bob with curtain bangs. A chin-length bob full of curls is flattering for the face, while contrasting straightened bangs can be parted in the middle to help with framing.
10. Shaggy Bob
A shag haircut is a winner for any girl who likes attitude and fullness in their mane. If you have thin or fine hair, opt for a shaggy curly bob. The bangs can be shorter and trimmed at an angle to highlight your eyes.
11. Green Bob with Bangs
Green is a very eclectic hair color, and we love what it's doing for this short bob with curtain bangs. For women whose curls are mostly at the ends of their hair, this style will put them at the perfect height for everyone to notice.
12. Baby Bangs
For a heart-shape face, pair your curly bob with baby bangs. The cut of the bangs helps accentuate the angles of the face. Make a statement by straightening your entire mane, or wear the body curly with straight bangs.
13. Orange and Red Curls
Are you a natural ginger? Play up that beautiful red color with some orange and yellow highlights. Warm-toned colors can really liven up a hairstyle, as seen on this curly bob with short wavy bangs.
14. Blonde Ombre Bob
Looking for an edgy update to your short dark hair? Try a blonde ombre! Whether it's a simple light blonde or a bold platinum blonde, it is sure to accentuate your naturally curly hair.
15. Messy Curls with Side Bangs
If you're going out, you won't need to do much to style up your curls. Use a little texturizing hairspray to scrunch in gorgeous messy, bedhead texture. Get even more punch out of long side bangs that hang lightly over the eyes.
16. Dyed Curly Bob
Is your skin tone light or porcelain? If you're ready for a bold change, we can't recommend this beautiful dark red enough. A dyed bob is a guaranteed attention-grabber. Arrange your bangs so they meet the tops of eyebrows.
The tousled short bob with bangs is perfect for those who like wearing their hair short. The length does not go over just a bit over the ears, the curls are soft and the bangs are blunt.
The center of this curly bob is the baby bangs. They are short, curly are leave the face open. The length of the bob the vary.
Another version of the curly bob is the one with straight bangs. It is more appropriate for women with thin hair, who have naturally curly hair just at the ends.
The wavy bangs on short curly bob is a hairstyle that has defined curls at the end of the hair, while the upper part of the hair is wavy or straight. It can be worn with a middle or side part.
Graduated bob presents a hairstyle that has different length of the hair which ends in a beautiful hairstyle. The cut is short at the top, and as it goes towards the shoulders it becomes longer. The bangs are long and fall freely on curly haired bob.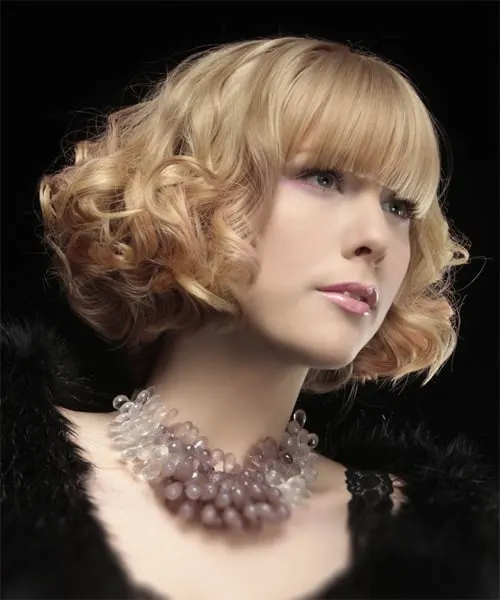 The layered curly bob with wispy or blunt bangs is a look that is not seen very often and it a bit vintage. The locks are finely defined, while the bangs are cut and styled straight.
23. Blunt Bob with Short Bangs
The longer your face shape, the more you'll want to work with a fringe. A curly blunt bob with bangs is ideal on a long and narrow face, as it widens the appearance of your chin.
24. Choppy Pixie Bob
A curly pixie bob with bangs is for the laidback chick that doesn't want to waste too much time styling her hair. Short choppy layers at the top of the head create instant style so all you have to do is nourish wet locks and you're ready to face the day.
25. Loads of Volume
Working with lots and lots of volume? A long curly bob with bangs may be your best bet for evening out extra bulk. Instead of short bangs, mirror the longer lengths of your hair and let them fall slightly over the eyes.
26. Ultra Thick Curls
Roundness is perfect for a curly bob with bangs for Black girls. This shape lets your gorgeous curls stand on display while adding envious volume to your look, especially if you have an oblong or oval face shape.
27. Loose and Messy
Try a thick and heavy fringe on a curly messy bob with bangs. This forward focused look frames a sweet face and gives off a fun and energetic vibe.
28. Bowl Cut Bob
90s babes certainly know about bowl cuts. Did you know that they work amazingly as a curly chin-length bob with bangs? That beautiful roundness is easy to achieve if you possess naturally thick and curly hair.
29. Wispy Bangs
Soft and wispy is the way to go for a curly bob with bangs for thin hair. If your face shape is square or round, see-through bangs will help to slim and lengthen the appearance of your face.
30. Short Curly Bob for Women Over 50
The shorter, the better when it comes to a curly bob with bangs for older women. Not only does hair lose volume as we age but our face does, too. By cutting hair so it hits at the cheekbones, you're plumping up the appearance of your face for a youthful vibe.
31. Short Shag
A shag or curly inverted bob with bangs is great for distributing hair if yours is rather thick. A shag uses layers to drastically thin out hair as you move down the head. Beautiful curly bangs complete the look.
These are just some of the bob suggestions that you can try if you have curly hair. Different hair thickness and curls provide different hair looks. You should find the style that follows your face lines and is easy to style. The bangs of this hairstyle give a completely new dimension of the bob. The curly bob can vary in many different lengths.
Using the right tools and products for hair care can make your curls look healthy, bouncy and shiny. The curly bob with bangs is appropriate for all ages and face shapes and is cure, trendy and fashionable hairstyle. Do a makeover and turn heads with your new hairstyle.