When you become a girl mom you get to do all the lovely 'girlie' things like dressing up your little star, matching her accessories, and obviously doing her hair.
If you're a mother of a 3-year-old girl, finding an adorable hairstyle that'll suit your little princess is a big task. Well, creating different hairstyles is easier said than done, especially when your little girl jiggles and wiggles around all the time.
Still, that does not mean cutting the hair short or wrapping it in a boring ponytail all the time.
Your toddler is soon going to start school and deserves a cute hairdo every single day and so we have brought it down to 18 easy hairstyles for 3-year-old girls and above.
Adorable 3-Year-Old Girl Hairstyle Ideas
If you are looking for a cute hairstyle idea for your 3-year-old girl, try out any of the below ideas!
1. Loop Buns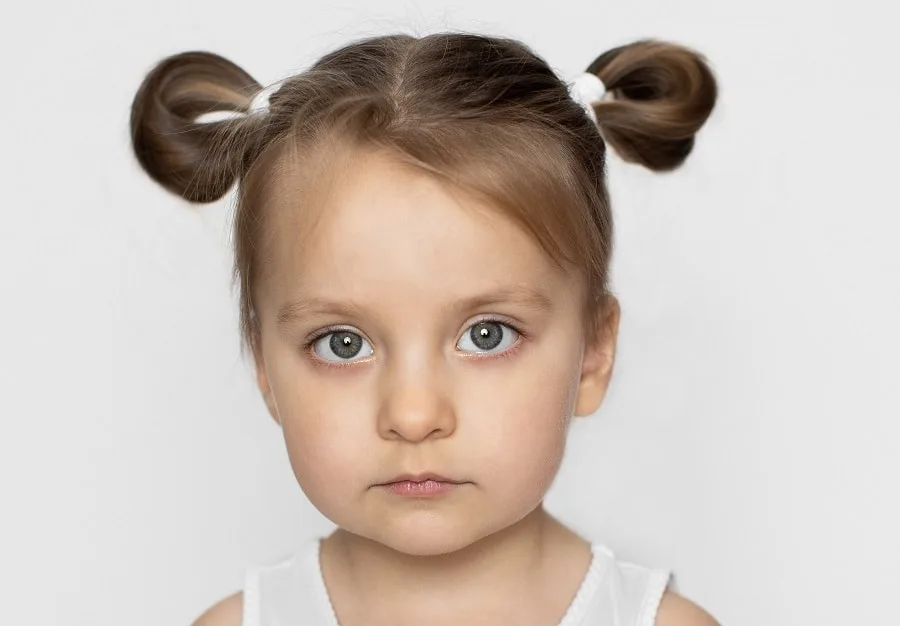 Pigtails are an ideal hairstyle for three-year-olds but can look boring at times.
Add a fun twist to them by pulling the hair halfway through the hair ties creating cute Minnie Mouse ears on your toddler's head.
Keep the rubberbands a bit tight for the loops to last the entire day.
2. Short Curls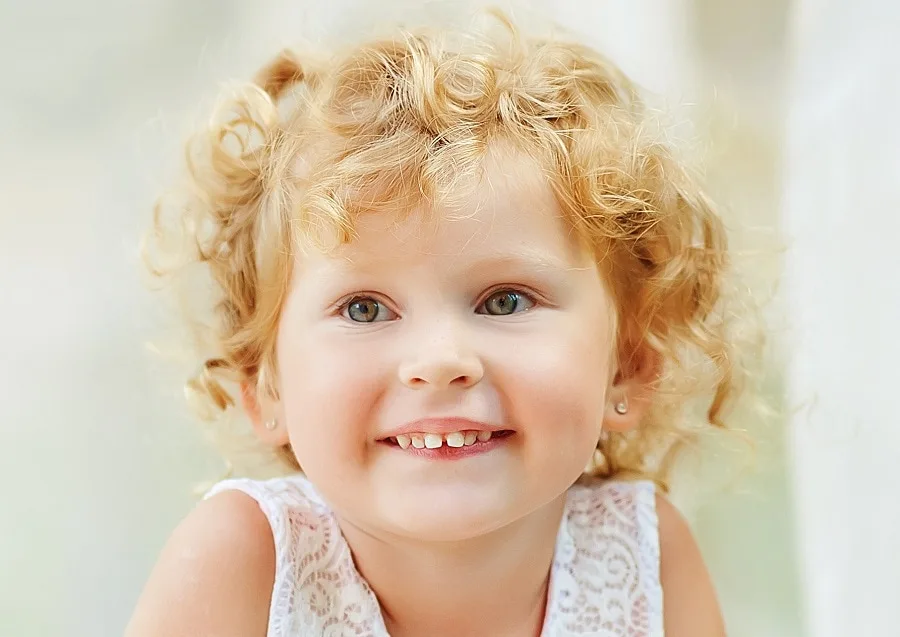 Little girls often have delicate tresses that need time to grow before they can be shaped into a particular style.
Be patient and keep those curls short in length with a bit of layering. You can add some pins or a cute headband to avoid a boring look.
3. Stacked Layers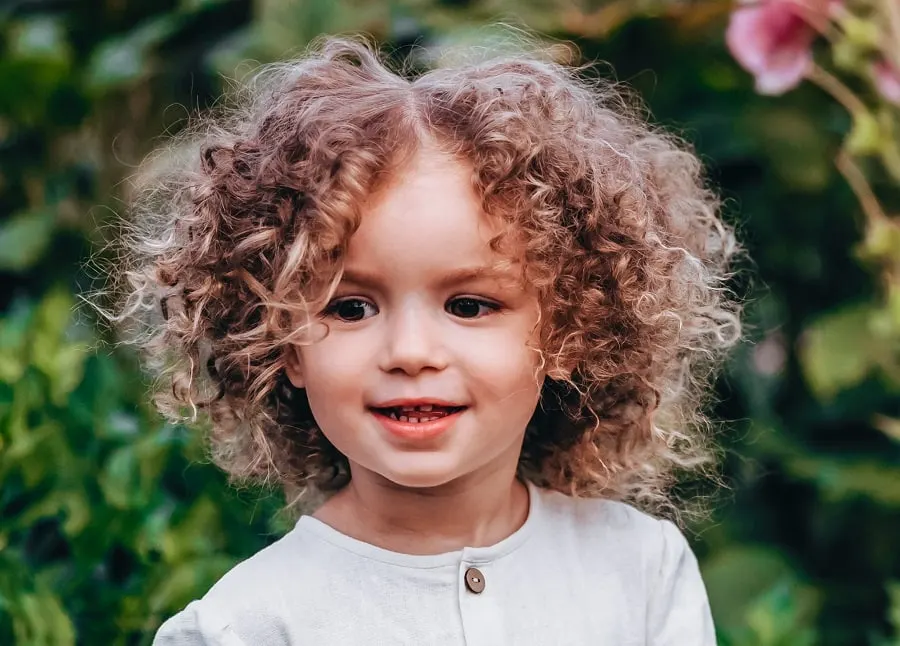 If your young one is blessed with a head full of curls the best way to flaunt them is by opting for stacked layers with the shorter strands on top falling over the longer ones below at shoulder length.
Fluff up the mane or pull it back in a bun whenever your baby feels irritated.
4. Rapunzel Vibes
Long hairstyles for little girls require commitment and care, but it's worth turning your girl into a tiny little Rapunzel!
Follow a good hair care routine and get rid of those split ends with a soft U-shaped haircut. The number of hairstyles you can try on such long tresses are endless too.
5. High Updo
Don't let all that hair annoy your child, especially during the hot summer days. Pile up all the strands on top of the head and whirl them around into a simple bun or fold the chunks over and inwards, resulting in a chic messy updo. Don't forget to add a bow or two!
6. Curly Bob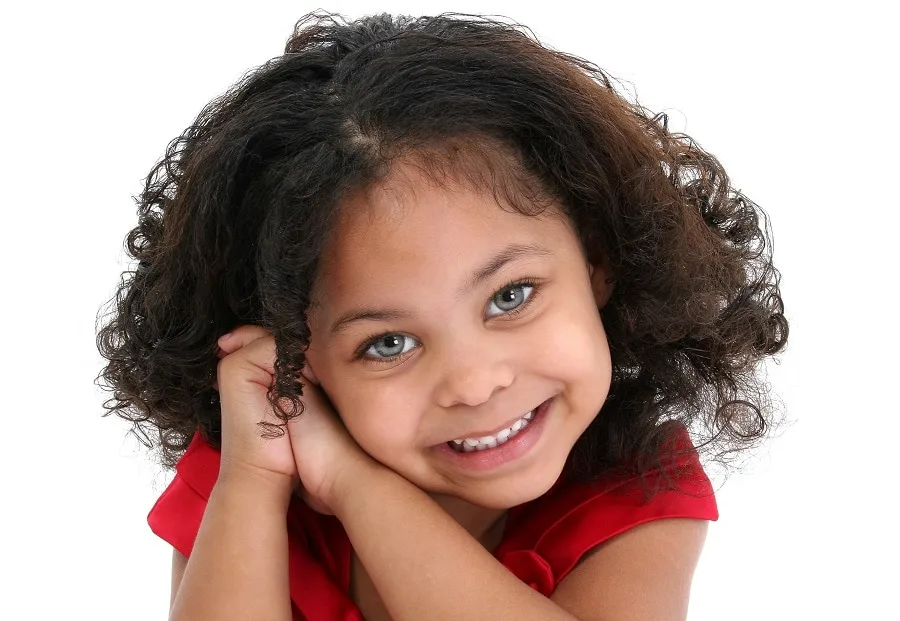 Everybody knows that the messier the curls are, the better they look. So instead of pulling on and taming all that natural fluff chop it off into a layered bob with or without bangs to accompany that innocent face. A hand-tousle and done!
7. Baby Bangs + Lob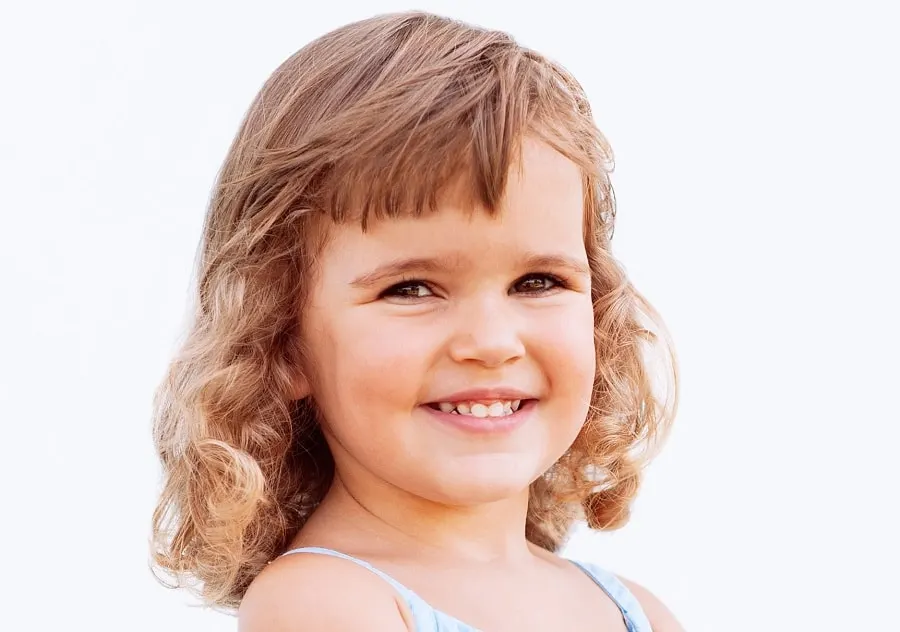 Every girl has rocked bangs at least once during her childhood and if yours hasn't yet, she is truly missing out.
Opt for choppy baby bangs covering half of the forehead and sweep them sideward with a classic long bob i.e. lob sitting on the shoulders.
8. Front Braid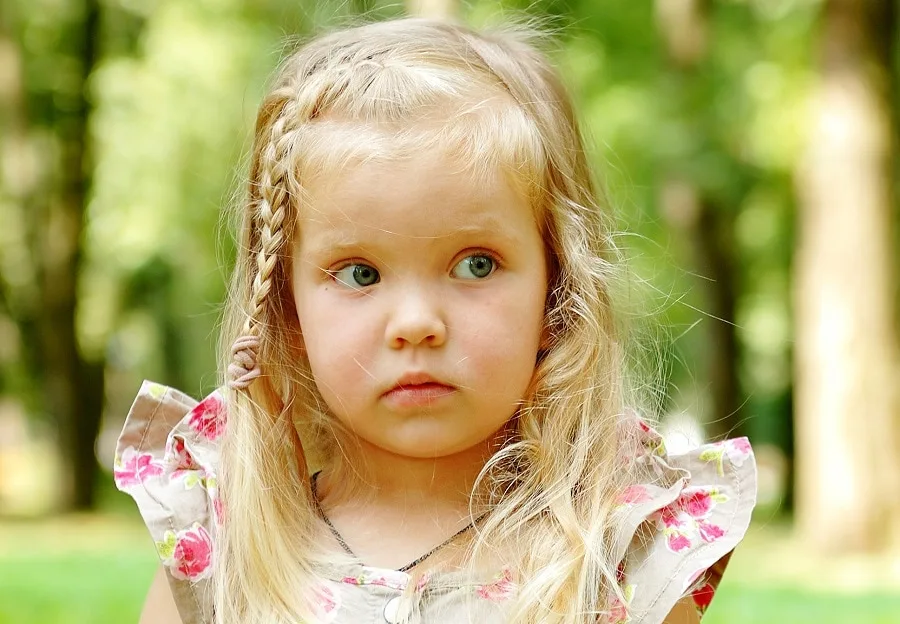 Keep the hair from getting into the eyes with this lovely hairstyle perfect for any 3-year-old girl.
Take the front chunks and entwine them into a simple braid on one or both sides of the face. Secure with a hair tie leaving the remaining mane loose.
9. Afro Fluff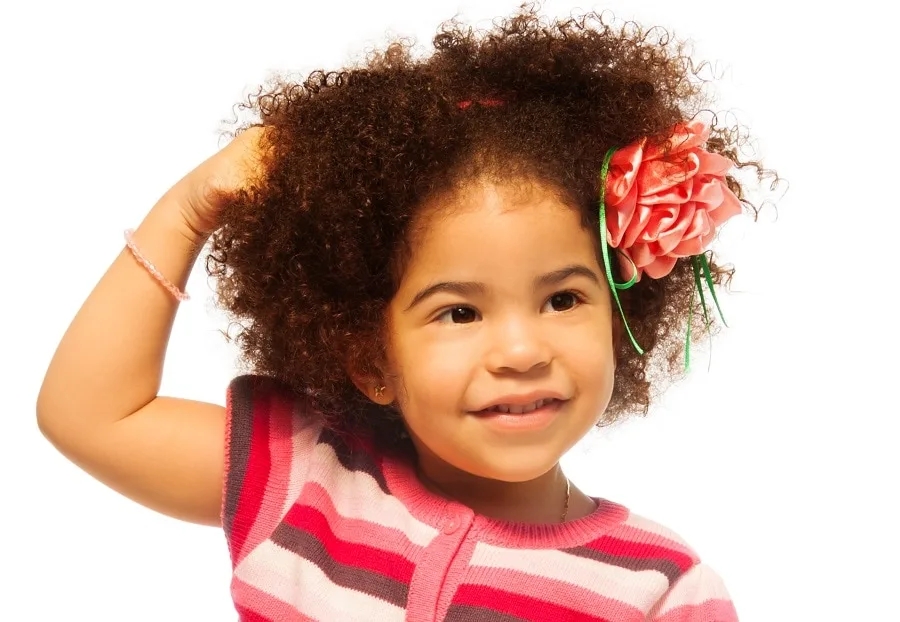 Teach your kid to show off her natural afro curls from the very beginning. It is best to keep the fluff at medium length as too short or too long curls might be difficult to style and handle.
Go for subtle layering and adorn with a floral headband matching the outfit.
10. Long Bowl Cut with Wispy Front
In the case of straight sleek locks, snip them into a long bowl cut for the strands to fall just below the ears.
Couple the look with wispy bangs grazing those eyes or keep them a bit short to avoid the need for repeated trimmings for a while. Lovely!
11. Thick Straight Bangs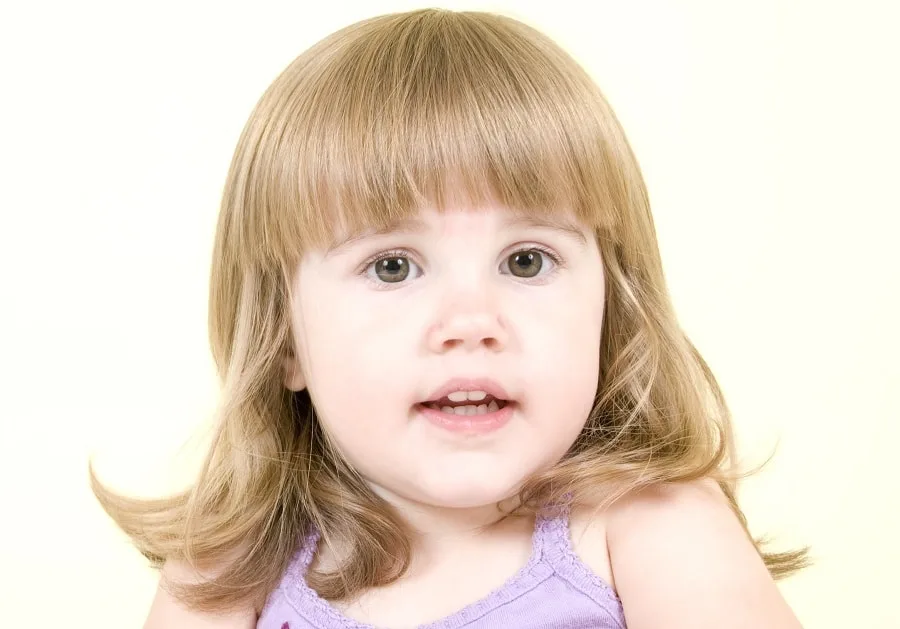 Thick bangs cut straight across the forehead are suitable to frame that cute innocent face. Pair with a little girl bob, lob, or medium-length tresses with some layers.
Try a high ponytail or bun, sparing the front strands and your 3-year-old little girl will love it!
12. Pin It Up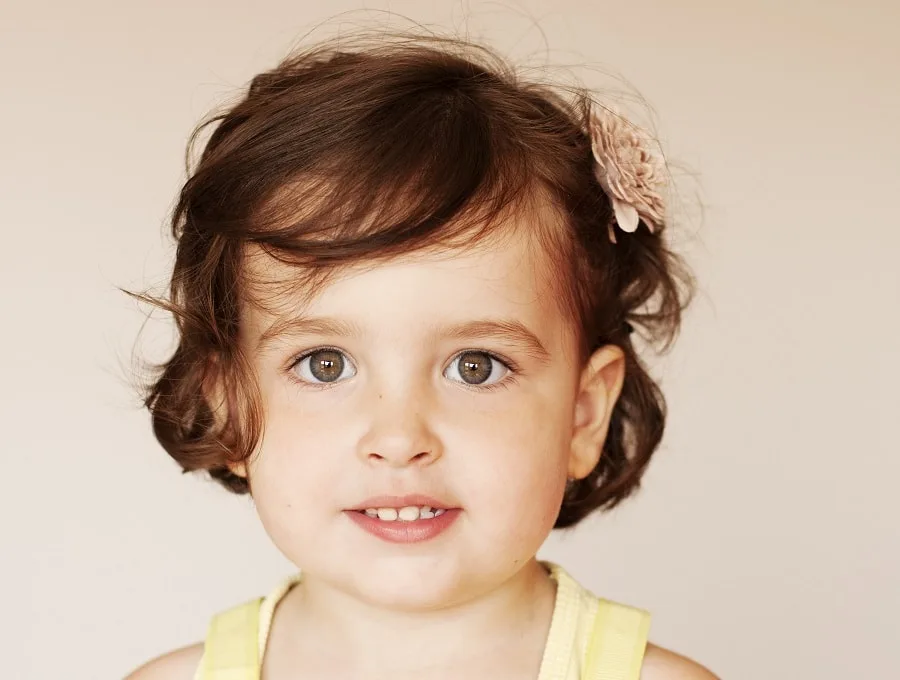 One of the cutest hairstyles for 3 year old girls. This pretty look features natural curls cut into a short bob with feathery bangs at the front swept on one side.
Recreate the hairdo by pinning up one or both sides with floral pins or butterfly clips and call it a day. Easy-breezy!
13. Half-Up Ponytail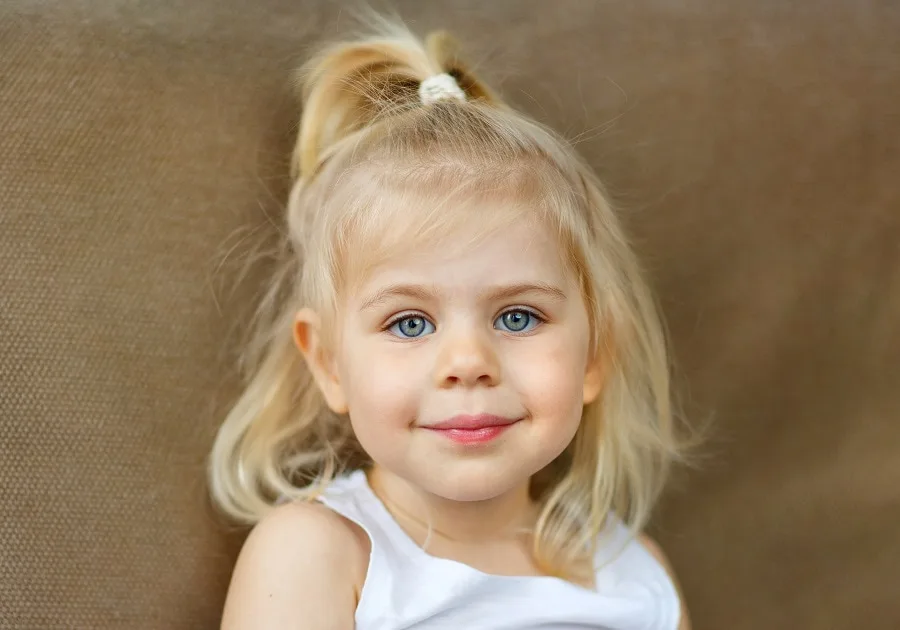 Half-up hairstyles never disappoint no matter your age, hair length, or texture. Take the front strands and secure them in a ponytail or bun, leaving the remaining hair loose to sway with the wind.
Want something more playful? Try space buns!
14. Colorful Crown Braid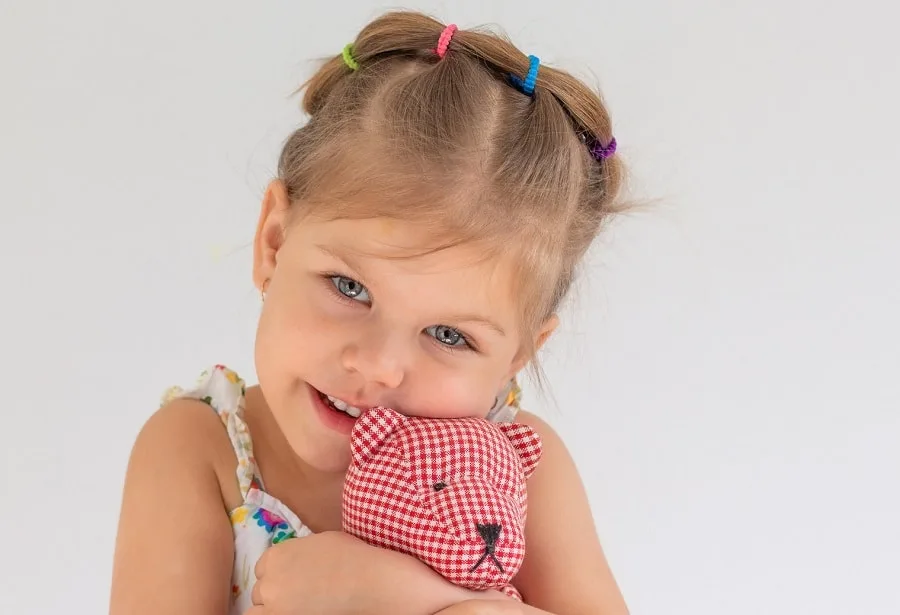 Plaiting a 3-year-old's hair can be quite a task for some moms. Opt for this simpler version of a crown braid updo by merging the sections together while moving around the head and adding colorful hair ties all along. You can also create a single bubble braid and wrap it on the head.
15. Timeless Pigtails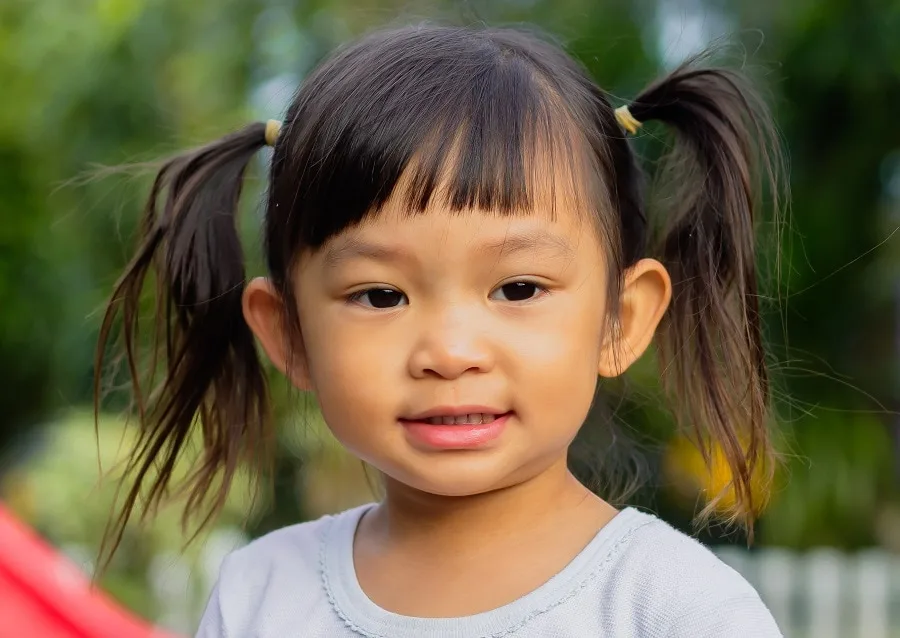 Sticking to the basics, little girls just look delightful when running around with pigtails.
Avoid the same dull look every day by alternating between low, medium, and high ponytails and braiding them in between. Throw in some bangs and voila!
16. Middle-Parted
Ditch a visit to the salon by snipping the strands at the same length all across the back. Carve out a middle part and tuck some strands behind the ears.
Use those unruly baby hairs as light bangs by stroking them down on the forehead using your fingers.
17. Knotted Bun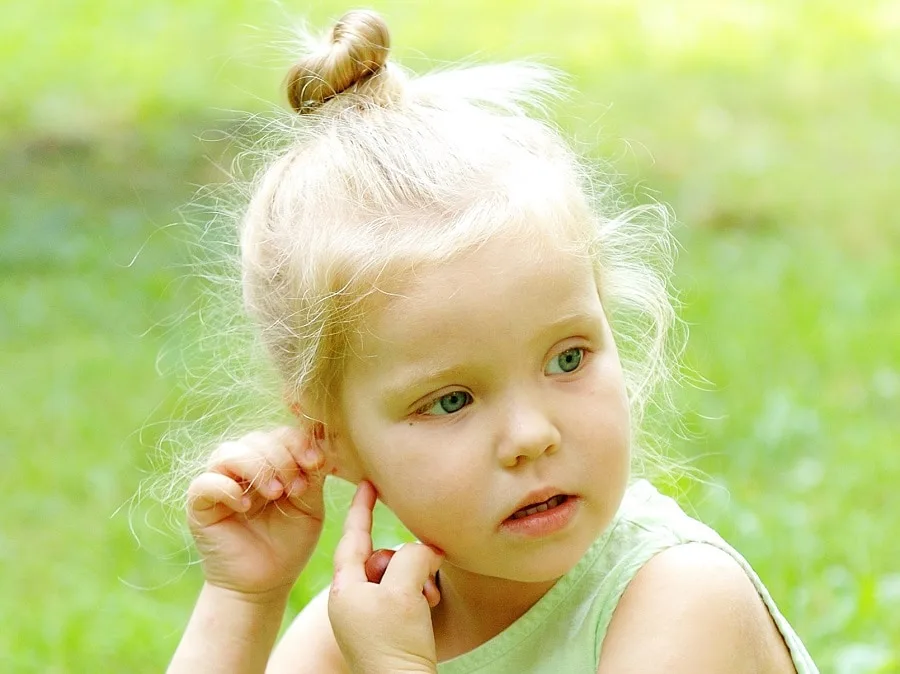 Make your daughter look like a little model by gathering all her hair in a high ponytail. Ponytails are always one of the cutest hairstyles for little girls.
Twist it along the entire length before it swirling it around in a bun to create a knotted look. Add a scrunchie on top or a tiny bow instead. Your call!
18. Multiple Rope Twists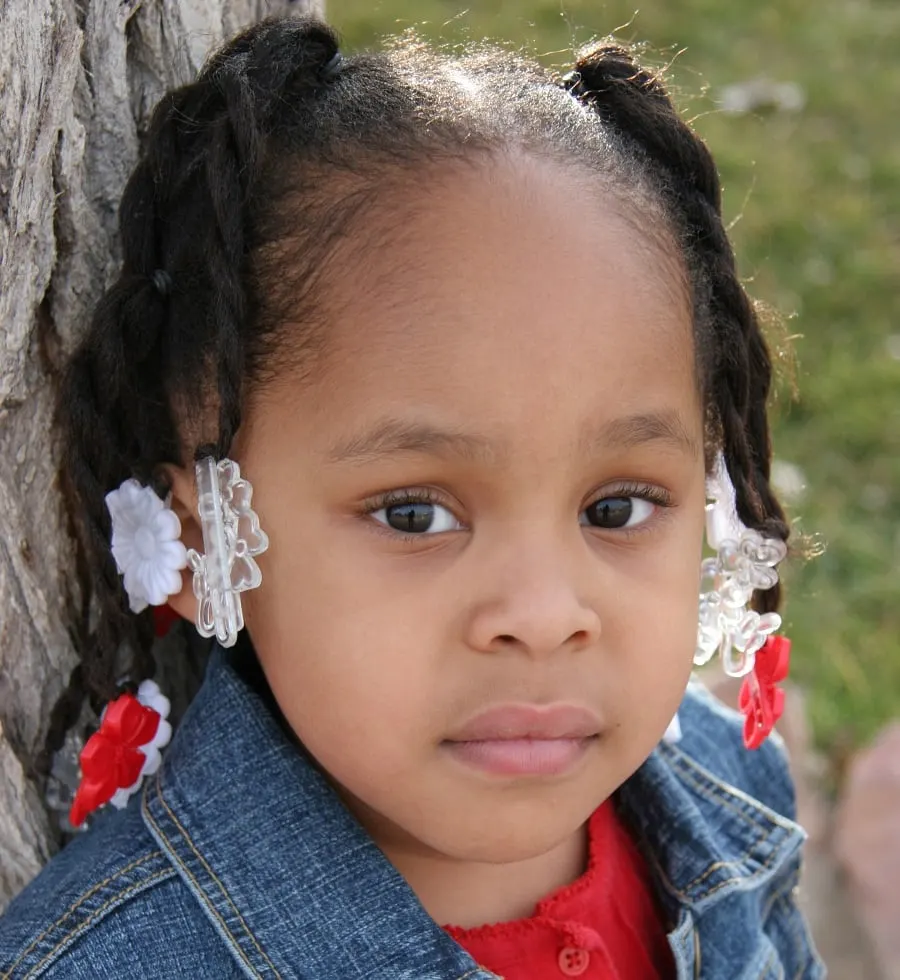 Black mothers can consider this hairstyle for their 3-year-old girls to make them stand out from others.
Create multiple ponytails and twist their sections around all over the head. The oversized clips at the ends are sure to grab some attention!
We hope your 3-year-old fashionista will be attracted enough to these hairstyles in order to stand patiently still till you do her hair.
Apart from trying out different little girl hairstyles, keep in mind to follow a good hair care routine and avoid pulling those delicate strands tightly at any cost.
Related Topics: