The 'quiff', is otherwise known as the hair at the front of the head that is brushed upward and back. Made popular in the 1950s, the quiff is a contraction of the pompadour, the flat top, and a Mohawk.
The Best Quiff Haircuts for Men
It has been deemed one of the sexiest styles a man with long hair could possibly wear. If you're worried about looking dated like Elvis, don't be as the modern quiff can be achieved in many different ways. With that being said, here are 45 of our favorite quiff hairstyles for men.
1. Super Quiff
This impressive quiff hairstyle can be achieved by leaving the crown relatively longer than the rest of the hair. This will allow you to achieve more height and even a little curl action if your hair is particularly wavy.
2. Innocent Quiff
Here's a great quiff hairstyle option for younger men who are interested in a more sophisticated look. The crown is left at a moderate length and styled up in a playful, carefree fashion.
Stylish Top Knot Styles for Men
3. Long Bouffant Quiff
This particularly striking quiff has achieved a remarkable amount of height and body. You can get the same look by leaving the crown long, teasing the hair at the base, and securing it with hairspray so that it stays in place.
4. Short Bouffant Quiff
Bruno Mars has brought this classic look back to life by sporting an impressively full quiff hairstyle. While Mars has his hair cut shorter than most classic quiff hairstyles, he still pulls it off effortlessly by giving it that much needed ethnic flare.
5. Faded Quiff Hairstyle
This aesthetically pleasing modern version of the quiff is one of the best and most unique styles we've come across so far. The precision of the faded hairline coupled with a perfectly styled quiff shows just how edgy and modern the quiff can be.
6. All-Star Quiff
Soccer star David Beckham has mastered the art and classiness of the quiff. The crown has been left long in order to achieve such a dramatic effect. Although Beckham's hair isn't thick, this quiff hairstyle has given him the illusion of thick locks which is perfect for those men with particularly fine hair.
7. Messy Quiff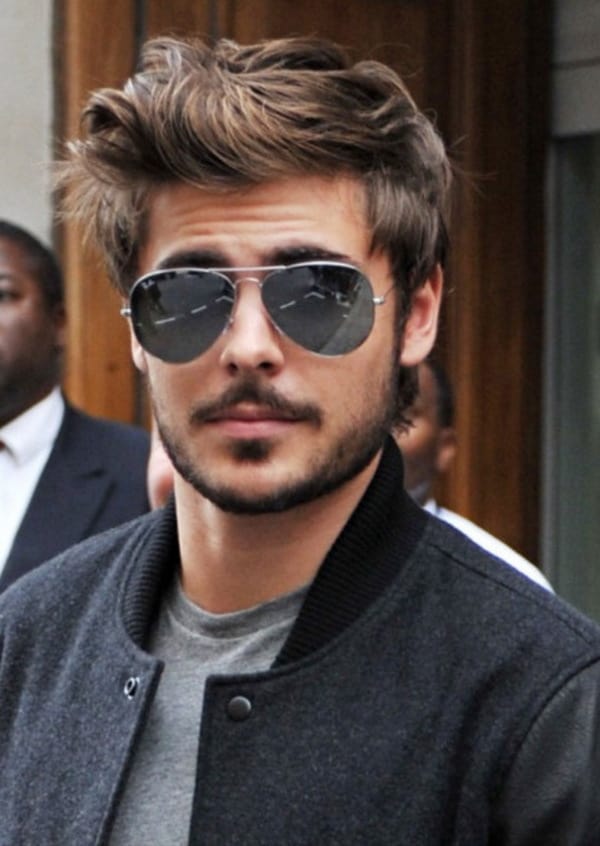 Zac Effron has been spotted rocking a particularly laid back version of the quiff which is another display of the versatility of this hairstyle. The crown has been styled up and back in normal quiff fashion, while the perimeter has been left messy, giving this style a more effortless look.
8. Layered Quiff
If you're looking for a more classic version of the quiff, then this look might be perfect for you. The crown is left long and layered and has been styled to the side for a "feathered" appearance.
9. High and Mighty
This high style is a really great choice for those with shorter hair who are looking for some height and volume. The layers of the cut make it possible to achieve a fuller look, especially if your hair is fine.
Short Spiky Hairstyles for Men
10. Edgy Quiff hair
If you're not really into the whole stuffy "polished" look, then this style is probably the best choice for you. This quiff has been styled up and to the side in a spiked fashion that is a perfect look if you're a bad boy.
11. Gentleman's Quiff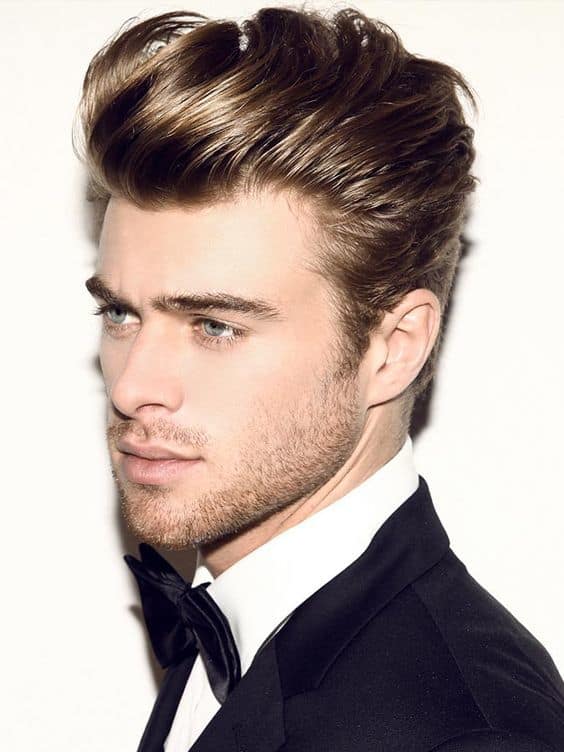 This quiff hairstyle is the perfect look for the red carpet and other professional or black tie events. The sleek, polished cut makes this perfect for both work and play.
12. Carefree Quiff
Here's a great everyday style that can be rocked in both professional and casual settings. The hair has been cut into short layers that give the look some much-needed movement and personality.
So whether you're a fan of sleek, professional styles or hardcore rocker styles, you can successfully rock a quiff no matter where you fall.