Jungkook, a member of the famous K-pop band called BTS, has been conquering millions of hearts over the past few years.
While the vocalist's exceptional singing skills have taken him to the heights of fame, Jungkook's unique hairstyles have made him a fashion icon too.
Jungkook's hair is seen changing every single time he makes a public appearance. Whether it's long or short hair, straight or curly tresses this Korean singer knows how to slay them all.
The best part is, all his hairstyles are gender-neutral. So both men and women can add a touch of Korean cuteness by recreating any of his Korean hairstyles, especially if you've got a heart-shaped face like him.
Having that said, we've got his best hairdos for those who wish for a dapper yet cute and romantic appeal this season!
Jeon Jungkook's Latest Hairstyle in 2023- Half Ponytail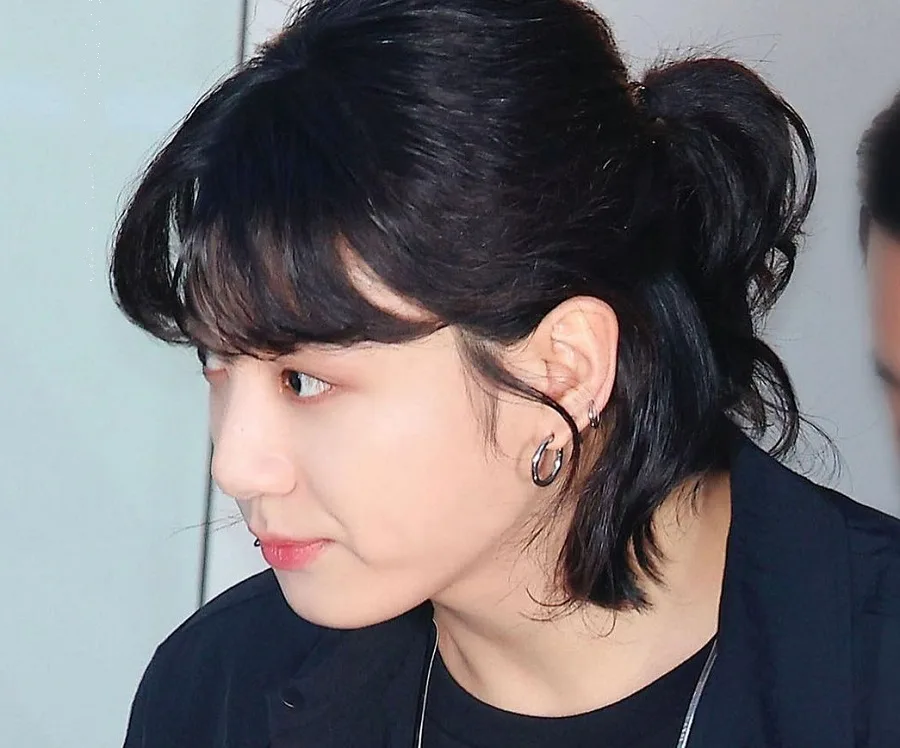 Jungkook went for a soft half-up ponytail hairstyle for his most recent appearance in the Calvin Klein show with another BTS member Jimin.
His long hair coupled with slightly off-centered curtain bangs frame his gorgeous face making a style statement worth remembering.
1. Wavy Bangs
Jungkook rocked this super sexy man bob at the 'Dream' movie premiere in 2023. His neck-length hair is full of layers tucked behind the ears and balanced out with thick bangs at the front with a beachy wave.
2. Korean Two Block
Jungkook's hair is naturally straight and the singer likes to put it on full display every now and then.
His classy Korean two-block haircut features long strands on top with shorter ones along the sides and back hence the name. That wispy fringe is to die for!
3. Long Wavy Curtain Bangs
The Korean heartthrob made fans swoon all over him by sporting the good old curtain bangs with wavy hair. We have seen him with this hairstyle even at the FIFA World Cup 2022 opening ceremony.
Jungkook customized his look by opting for middle-parted bangs disconnected from the remaining hair and a wavy perm that's even though high-maintenance but worth the effort.
4. The Bro Flow
The bro flow haircut works best for medium to long tresses with any hair texture.
The strands are brushed away from the face to fall naturally along the sides just like Jungkook's, as depicted here, while the neatly buzzed sides can make any face appear slim and smart.
5. Color-Split Mullet
The Golden Maknae carried his mullet haircut like no one else. He went for a light golden blonde hair shade that made his long top pop against his naturally black buzzed sides.
If you want to copy this hairstyle, highlight the top and back of your hair blonde leaving the undercut sides natural. Finish off the style with plenty of layers and a side fringe. You won't regret it!
6. Classic Comb Over + Temple Fade
Jungkook went all handsome and classy with a timeless undercut comb-over hairstyle.
His long top tapers towards the sides and back with a soft temple fade creating a neat and clean appeal. Brush the strands back with a side parting and let them settle on their own.
7. Clean Middle Part
Many of Jungkook's hair ideas feature a middle parting. This is because a center part works wonders with a strong jawline.
His soft bowl cut with flipped curtain bangs and the magical teal balayage are all worth a shot! The emerging dark roots will add up to the look too.
8. Soft Violet Layers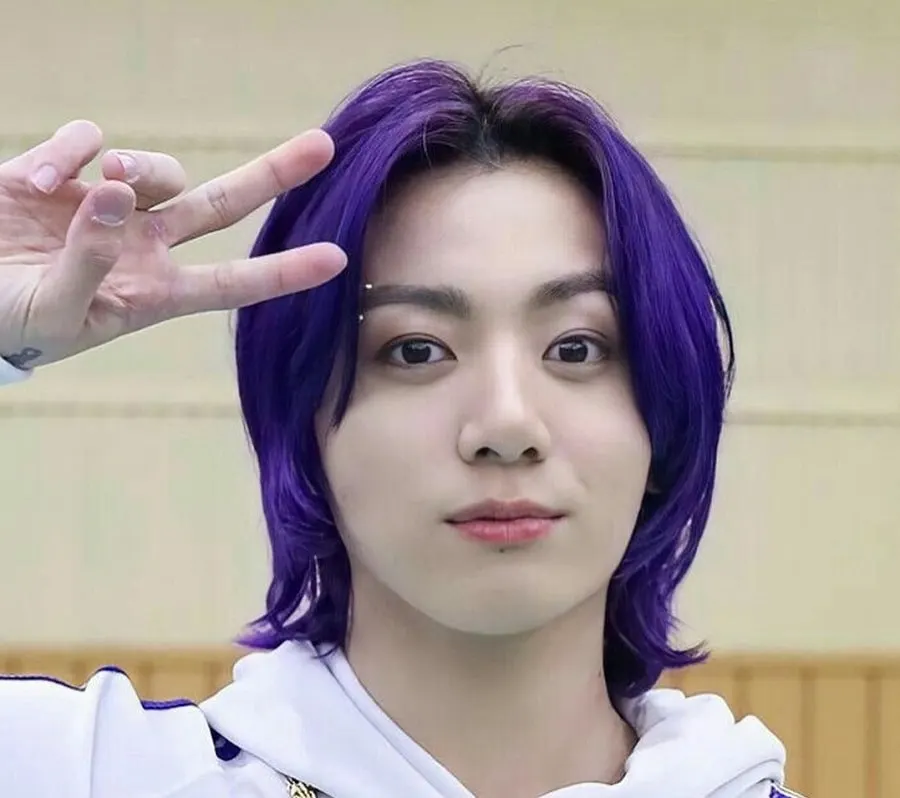 The South Korean vocalist is never afraid to try on the most unique hair colors and changes them often much like a chameleon changing its skin.
Here Jungkook expressed his wild side with flowy layers grazing his nape and shoulders paired with a vibrant violet all-over hair shade.
9. Pretty In Purple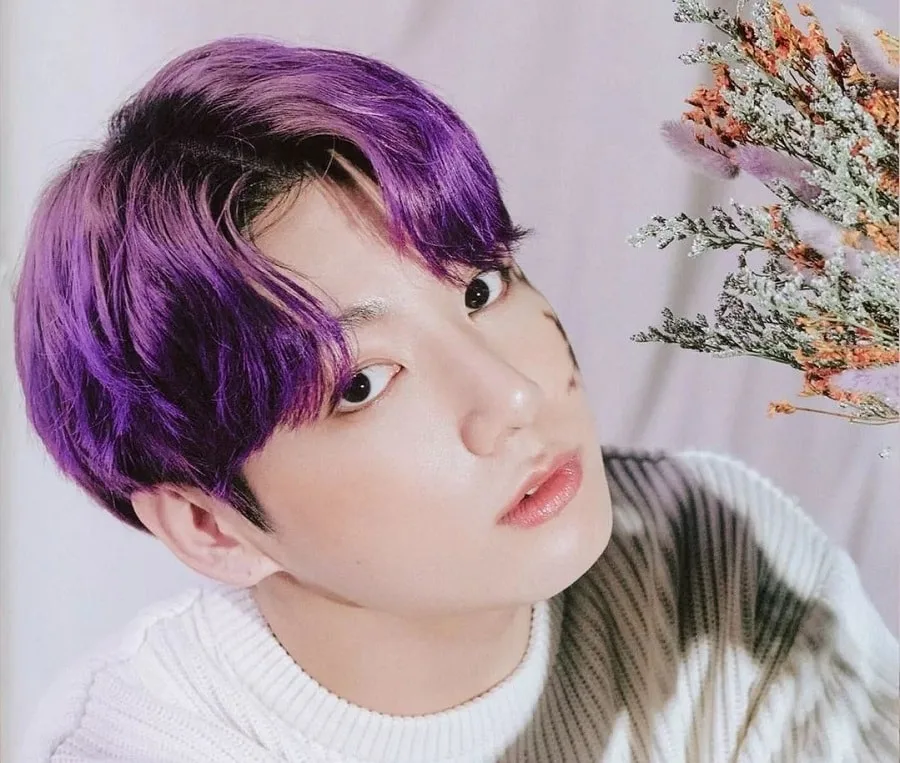 Men can rock purple and pink hair as well as women and here's an example to prove it.
Recreate the singer's modern e-boy look by opting for a subtle wavy perm, two-block medium haircut, and a finely done lavender hair color. That's it!
10. Ashy Wolf Cut
Many celebrities have gone for the wolf cut this year bringing it back into trend and this BTS member is surely one of them.
This time he went for an ash-blonde mane with shorter layers on top and longer ones along the sides and back. Soft yet fierce!
11. Long Blue Top with Undercut
Jungkook's hair looks flawless whether long or short. He took a break from his long tresses by buzzing the sides bringing all the attention on his long textured top.
That pastel blue hair color is sure to pop some eyes along with that sexy chunk of strands falling over the forehead intentionally.
12. Grapefruit Pink Hair
Hair colors are never gender specific and that's exactly what the singer has expressed here. In this styles, his hair color looks exactly like Jimin's pink hair.
He spiced up a usual side-swept haircut full of texture and soft layers with a not-so-usual light grapefruit pink hair shade. This style is high maintenance but worth the effort!
13. Middle Parted
The middle-parted hair is another androgynous hairstyle featuring bangs at the front that elongate all around the head much like an inverted bowl.
Jungkook kept it subtle with tapering along the sides and an eye-catching black to red dip-dye that made his fans scream with admiration.
14. Blonde Maltese Hair
On one occasion the Golden Maknae bleached his mane to a light golden blonde tone with a flawlessly layered curtain haircut.
This was referred to as Maltese hair by his followers as he looked just like an adorable puppy upon shaking his head.
15. Electric Blue Shag
Referring to all the lazy guys out there, recreate Jungkook's wavy shag to maintain a messy yet sexy appeal for a change.
Ask the hairstylist for a wavy perm, a curtain cut, a thick medium-length fringe, and an electric blue hair color to see jaws drop all around.
16. Cherry Red Messy Mop Top
The mop top hairstyle features grown-out hair with choppy layers shortening toward the sides and back.
Try it with bangs and a vibrant cherry red hair dye just like the Asian singer did here to stand out from the crowd.
17. Mint Green Half Bangs
Even the most common haircuts look exceptional when rocked by Jungkook just like this half-bangs hairdo.
Half of the fringe is pushed back leaving the remainder to fall on the forehead. That mint green hair dye with lowlights is a must-have too!
18. Long Black Tresses
Jungkook's hair made headlines when the singer debuted long tresses in one of his latest teaser videos.
The hairstyle is more of a long wolf cut featuring ear-length bangs, short sides, and the longest strands with plenty of layers at the back.
19. Bad-Boy Mullet
The Korean vocalist went for a bad boy vibe by buzzing off the sides retaining maximum length at the central top, front, and back achieving a one-of-a-kind mullet hairdo.
Set it on fire with the funkiest hair colors or go black. Whatever you like!
20. Trendy Bowl Cut
If you are Asian, probably you can remember getting a bowl cut that looked horrible. But look at Jungkook's hair! He looks gorgeous even with a mushroom haircut.
Jungkook added a sun-kissed glow to his hair by playing around with a light golden brown base shade and a handful of highlights.
21. Over-The-Top Spikes
Although the young singer is mostly spotted wearing his hair down, he went for some dramatic spikes just like any other boy.
Plenty of styling product is needed to keep that long top standing like flames of fire but you won't be able to hate it!
Jungkook's hair has proved him to be a true hair chameleon. The singer has rocked all sorts of hairstyles and hair colors making it clear that there are no gender and age restrictions when it comes to styling one's mane. So which of his iconic hairdos are you going to recreate this time?