Korea has long been known for its emerging trends in fashion and when it comes to hairstyles, it has taken over the industry. Seoul, in particular, is known for its emerging haircut trends for Korean guys.
And to keep you updated of the latest K-pop trends, we bring to you the top Korean haircuts to try this season.
Latest Haircuts for Korean Men
Here's a list of popular Korean hairstyles that men are swooning over. Have a look:
1. Long Top, Short Side
Break up your facial dimension by combing in a heavy part. Brush the hair to the opposite direction, and clipper one side. You'll end up with this edgy Korean men's hairstyle!
2. Combed Back with Buzzed Sides
If you have long or medium length hair, it's the perfect length for this handsome haircut! After combing back the top hair and using hair product to help with volume and securing style, clipper or buzz the sides for definition.
3. Spiky Mohawk
If your hair is straight in texture, a punk, edgy style like this Korean men's hairstyle will work handsomely. Clipper the sides, but use product to spike up the middle. The spikes don't have to be perfect, just prickly!
4. Half Man Bun with Undercut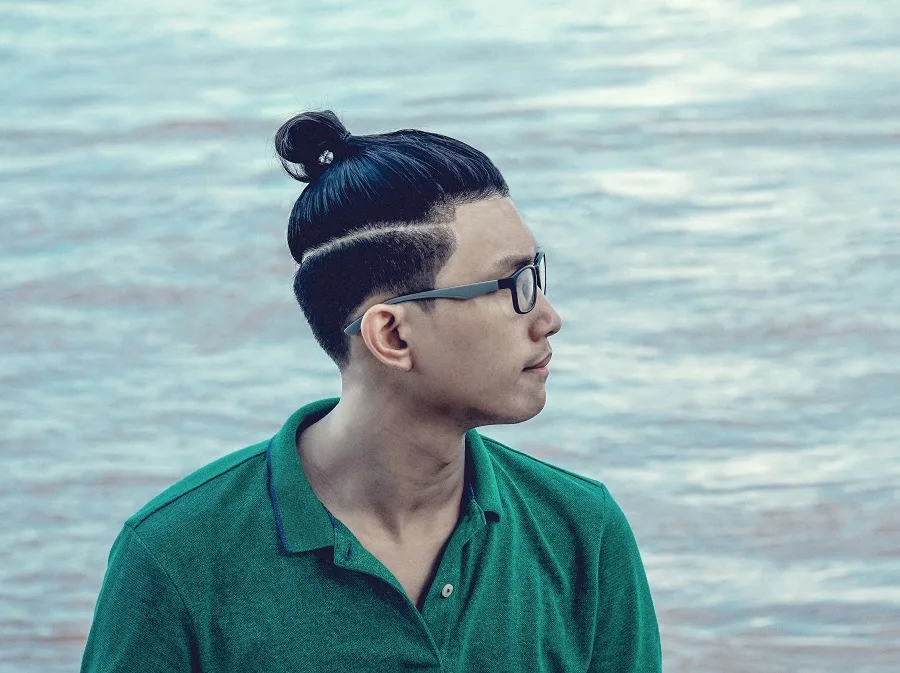 For hair that is chin-length or shoulder-length, you can put a cool twist on it by clipping or buzzing in an undercut! Then gather the top half of the hair into a slicked back man bun. It's a sleek Korean men's hairstyle perfect for casual or formal settings.
5. Short with Soft Center Part
For men with short hair that is fine or thin, using just a little bit of mousse on fingers and working it into the hair will give you quick style that will last all day! To get the movement and extra built-in body, ask your stylist for short layers.
6. Shoulder-Length with Glasses
Do you wear glasses regularly? A shoulder-length cut will work with your specs to create flattering face-framing. This low-maintenance Korean men's hairstyle takes just a couple minutes to style in the morning!
7. Coif with Fade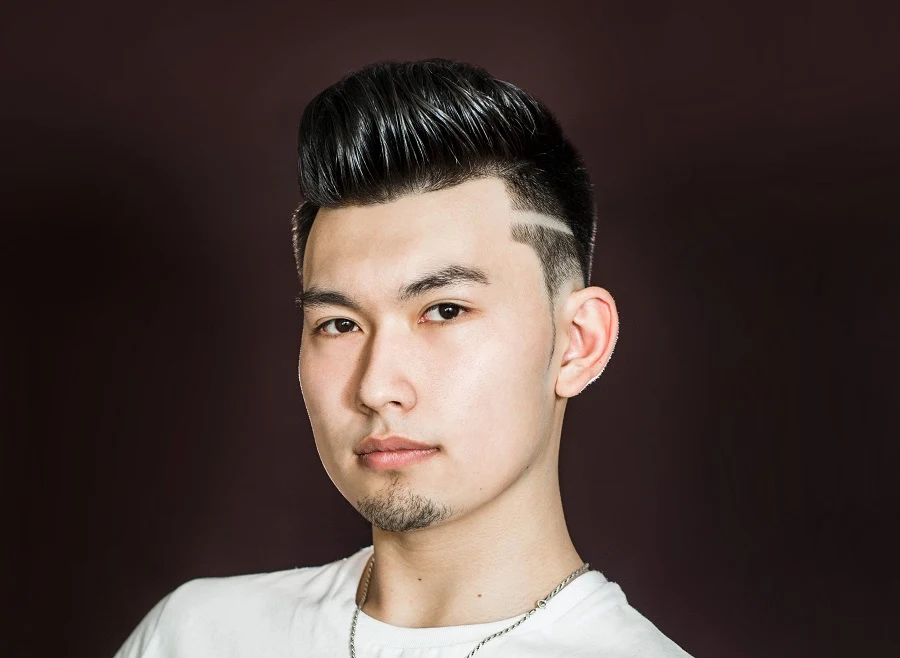 If you're lucky enough to have a thick head of hair, you definitely need to try a handsome coif! The Korean men's hairstyle shows off thick hair in a sleek centered shape. Add a fade to the sides with a shaved design for added definition and personality.
8. Men's Bob
Just in case you thought bob haircuts were only for women, take a look at this Korean men's hairstyle featuring the classic bob. Hair is chin-length and only needs a center part for wake-up-and-go style!
9. Thick Hair with Color
Not sure you want to go with a full fade on your haircut? Try out the style without too much commitment by opting for a fade on just one side of your head. It will show off thick hair and add another cool dimension to your face. Bonus points if you try out a vibrant hair color like blue!
10. Blonde Hair with Long Bangs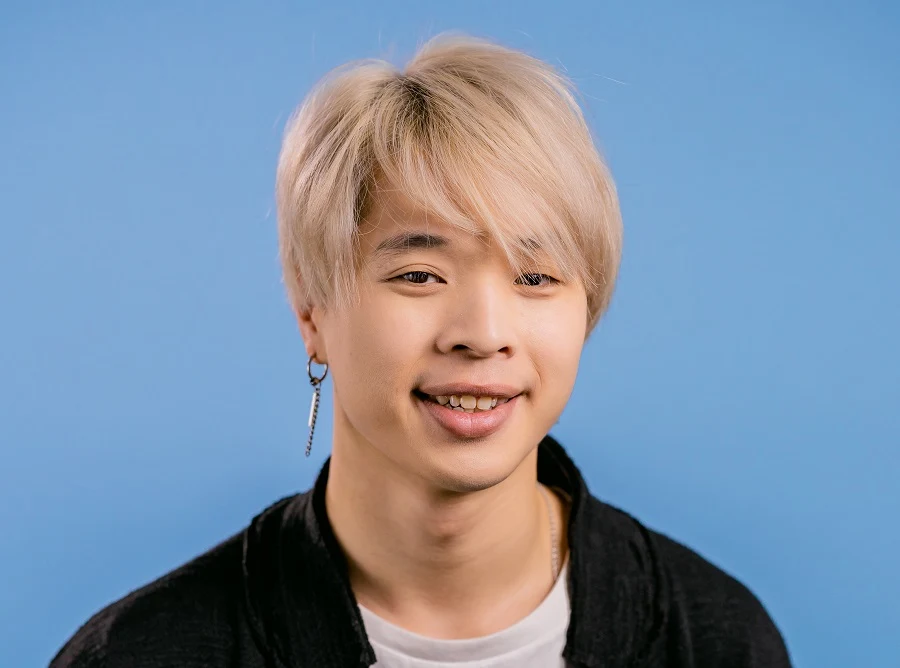 When it comes to hair that's long, straight, and somewhat piecey in texture, opt for a Korean men's hairstyle with long bangs. You can just your fingers to arrange them softly across the forehead.
This top hairstyle on our list is the most popular amongst Korean males. The haircut can be styled in a number of ways and is essentially an upgraded version of an undercut.
In this cut, the sides and the back are cut to short length whereas the length is kept at the crown. For our version, we have few choppy layers and a fringe to finish of the look.
12. Mid-Length Layered Cut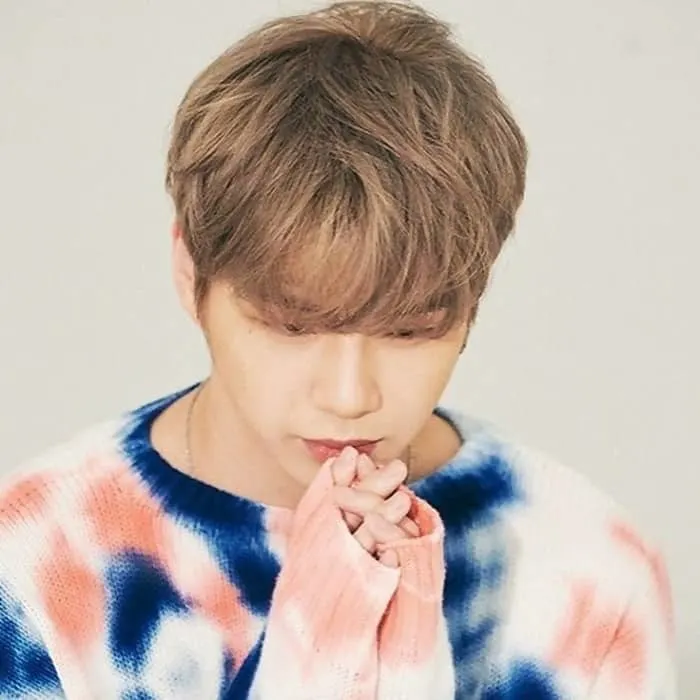 This style is our favorite one on the list. It is adorned by many Korean sensations and is extremely chic and trendy. It's a layered style with the length falling off equally on all sides and a great volume left in the crown.
The rich layers also cover the temples in a stylish way only Korean boys can pull off! In order to achieve this men's layered haircut, blow-dry your hair and apply some wax through it to make them set in the place.
13. Tousled Blonde
Another version of the two block cut mentioned earlier is to have the mass on the crown to be tousled. Instead of having the layers and the fringe straight and fall over the temples, the crown hair can be a bit messy, to give a cute yet trendy Korean look.
This look is famous among the K-pop idols. So if you are a fan, it's worth trying then.
Effortless Short Hairstyles for Asian Men
Korean people are known for experimenting with a number of ways to style the hair. One perfect example of this is this Asymmetric bangs hairstyle.
It is a sleek look with slightly long side-swept bangs. The look is elegant and charming and a must-try for those looking for deep razor trim lines to create a sharp effect on one side of the head.
15. Soft Layered Mid-length Hair
If you have thick hair adding some soft layers around the ears and through the crown will take out some of the weight, whilst also giving the Korean inspired hairstyle a great shape.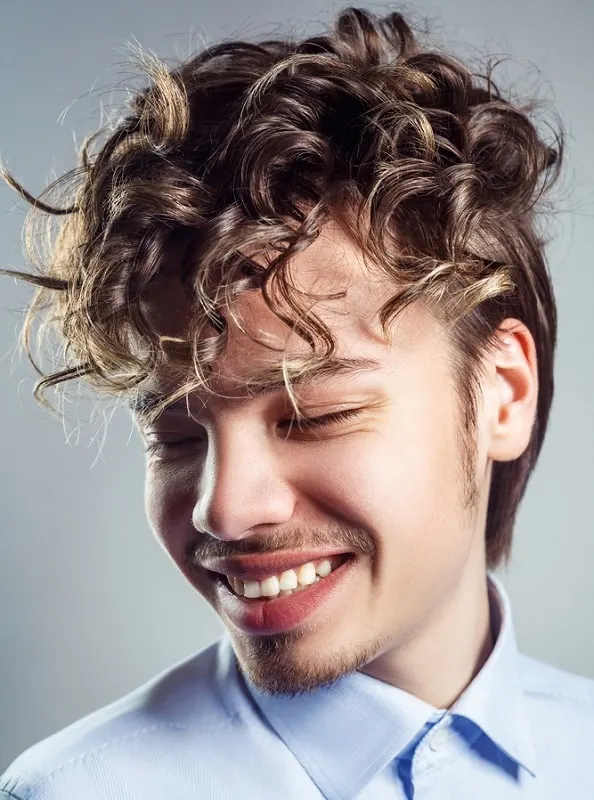 If you do not want to wear the crown layers straight or have them cut as a fringe on the forehead, then this might interest you.
This hairstyle allows you to have waves in your hair. It features a short back and length towards the crown to allow for the natural messy waves to fall.
This style is recommended to the teen boys looking for some chic Asian boy hairstyles.
The center-parted style for men from the nineties never gets old. And in the Korean edition, the style comes with some layers and a fluffy pink look to complete it off.
If you like to experiment with different shades of color, then this hairstyle is a must-try for you. You can have some layers showing too and with the center parting you can manage hat cool look through and through.
Yet another improvisation to the two-block cut. You can get the length at the front as well as the back with this unique haircut, however, the sides are to shaved short.
This style is recommended for men with thick hair, to show off the texture and the volume.
Top Fade Haircuts for Robust Asian Guys
People in Korea love to experiment with hair color and this guy's platinum blonde hairstyle is a perfect example of some successful experimentation.
Plus the combed back style in itself is classy apart from the platinumdye. A cool combed back look can be achieved by applying some hair product to the hair and then combing them back to perfection.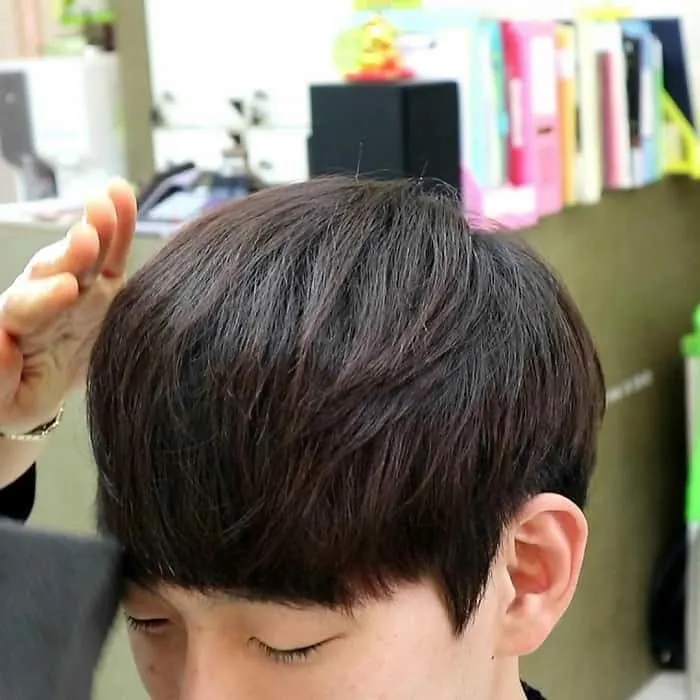 This is another quite common yet popular haircut amongst Korean men. In this style, the length is kept short overall, but the fringe in the front is kept slightly longer, along with the sideburns.
If you are looking for some sleek neat cut, then this is a perfect option for you. It elegant and classy with the right amount of length to the hair.
Not a fan of the center part? Then try it out with a side part. This twist of shag and sleekness features some length at the crown with chopped offsides and the back. You can play with the haircut depending on your preference and mood.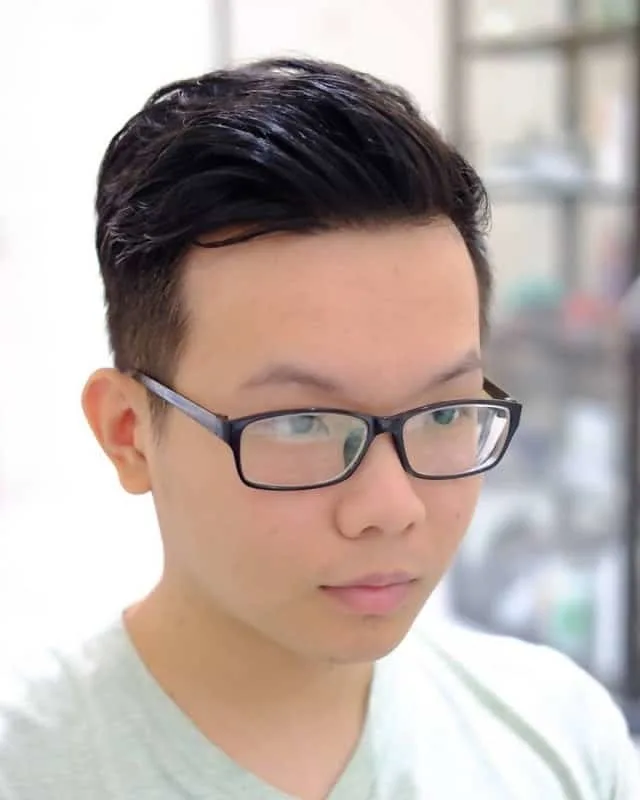 Not all Korean hairstyles feature a funk look for guys; you can opt for a classy preppy look by adorning this hairstyle. Somewhat similar to the Ivy League haircut, this style screams class and elegance.
It's perfect for those who want to spend minimum time on their hair when dressing up.
Another unique look on the list is this short messy hairdo for guys. It features mass on the crown part with shaved offsides.
The hair at the crown has been blow-dried and messed up to give a chic look. You can apply some wax or gel to get a textured look for this hairstyle.
Some More Related Articles
24. Multi-Colored Hair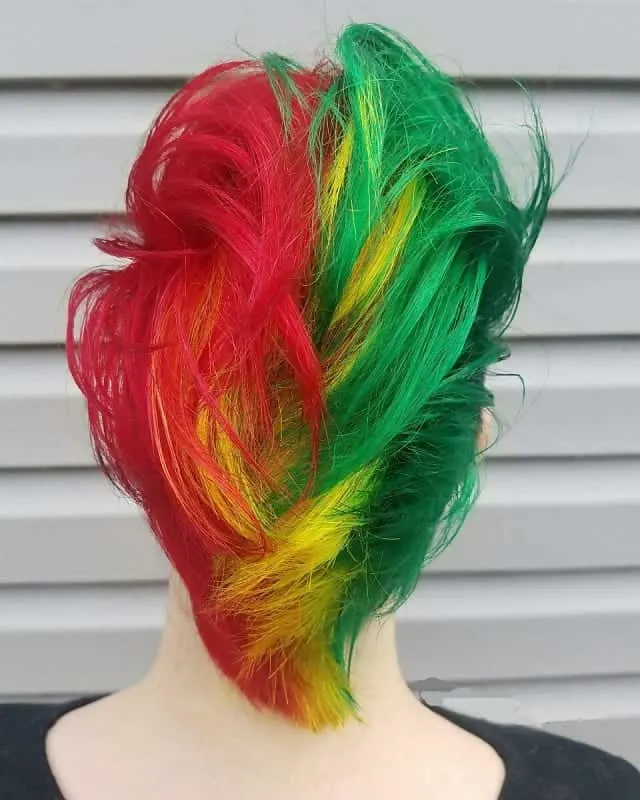 A style with a lot of zings to it. If you are looking to make a bold style statement this multi-colored slick back hair is your best option.
25. Long and Straight
A classy long haircut for Asian men, that screams innocence and sophistication. You can enjoy the length of your hair in this style and having them parted at the side gives you a neat preppy look.
These are the modish Korean haircut for men that are so popular among youngsters for their eccentric look.