Kelly Clarkson's hair has been as versatile as her music career! From her 'American Idol' days, she's tried it all: waves, updos, and now long hairstyles.
The winner of the first 'American Idol' caught everyone's attention not only with her singing but also when she appeared with chunky highlights and wavy hair in 2002.
Now, we know her as a hilarious and intriguing TV personality. Yet, through it all, one thing has remained the same – her beauty. And that includes her awesome hairstyles, haircuts, and colors.
Beautiful Kelly Clarkson Hairstyles, Haircuts and Colors
Let's take a closer look at some gorgeous hairstyles rocked by Kelly Clarkson!
1. Straight and Sleek Ombre
In more recent years, Kelly Clarkson has jumped on board the ombre trend – and we're loving every second of it!
This particular hairstyle shows off a stunning blonde ombre blend. It's a dirtier, darker blonde toward the top, with striking platinum ends that can't be missed.
To ensure every inch of color is put on full display, she keeps her look simple by straightening her strands and indulging in a trendy middle part.
2. Long Honey Blonde Hair
Sometimes, the "simplest" hairstyles can be the most effortlessly glamorous, as seen in this "Since U Been Gone" singer's look.
To achieve this style, the singer starts with a honey-blonde shade. Then, she adds subtle texture from top to bottom. Not curls but not waves; the slight tousling adds sleek volume ready for any event.
3. Short, Tight Ringlets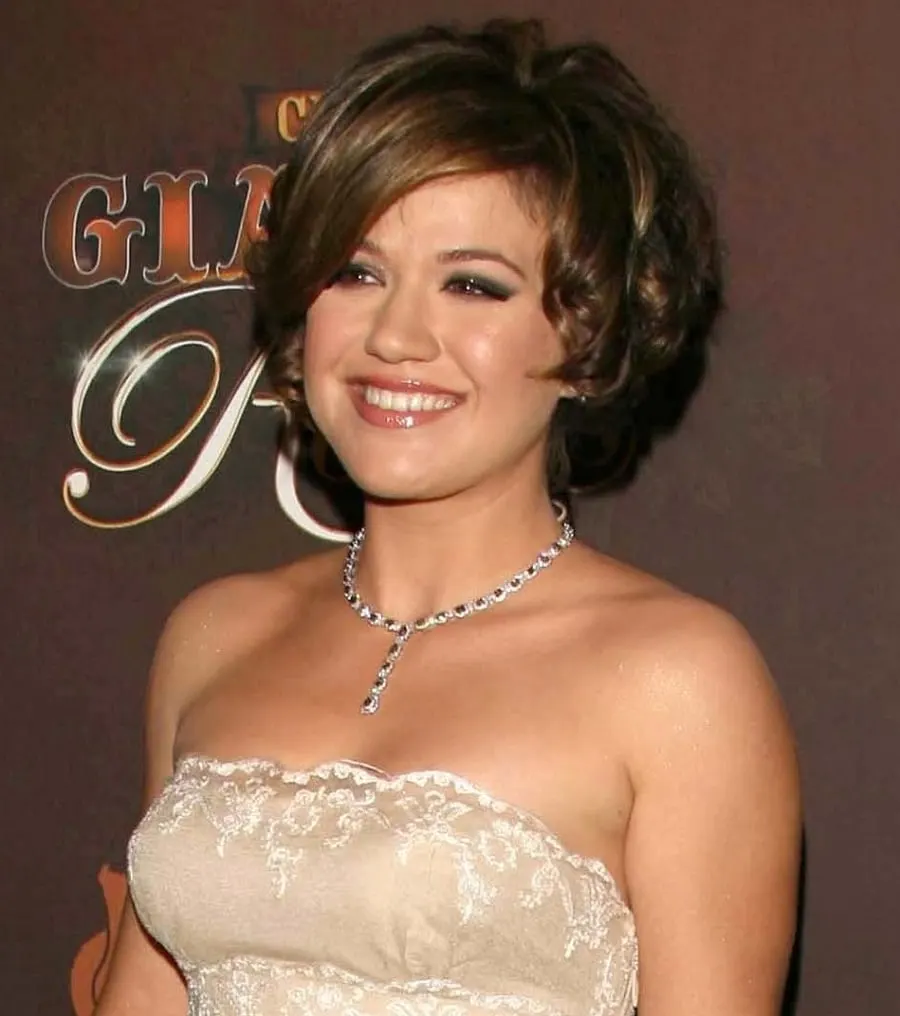 This dark brown hairstyle of the singer is undeniably Red Carpet-ready.
It starts with a bob haircut that's right above the shoulders. Then, the stylist takes a very small barrel to create gorgeously tight curls loaded with bounce and body.
We love this style because she leaves long, luscious bangs loose up front, pulling them off to an extreme part and straightening them for a high-fashion finish.
4. Slick-back Superstar
When you think of a woman about to win a Grammy Award for her music, you think of this look.
Not only are we in love with her sparkly black dress, but we're also mesmerized by her slicked-back 'do. It's fancy, classy, and loaded with volume – the ideal combination.
5. Cute Topknot
The last hairstyle was clearly Kelly Clarkson at her finest. But even this pop diva has to relax from time to time. And when she does, she's usually wearing a cute hairstyle like this one.
Featuring a 2023-friendly topknot at the crown of the head and messy, side-swept bangs, we can confidently say this is a look we'll be returning to regularly.
6. Casual Face-Framing Bob
When you're a busy superstar like Kelly Clarkson, you don't always have time to fiddle around with your locks.
Do you agree? Then this fashionable yet casual, face-framing bob may be the perfect 'do for you!
Kelly keeps things simple with a short bob haircut snipped right around the jawline. She wears a pair of somewhat lengthy side bangs and curls the ends of her tresses inward to frame her face exquisitely.
7. Bubble Ponytail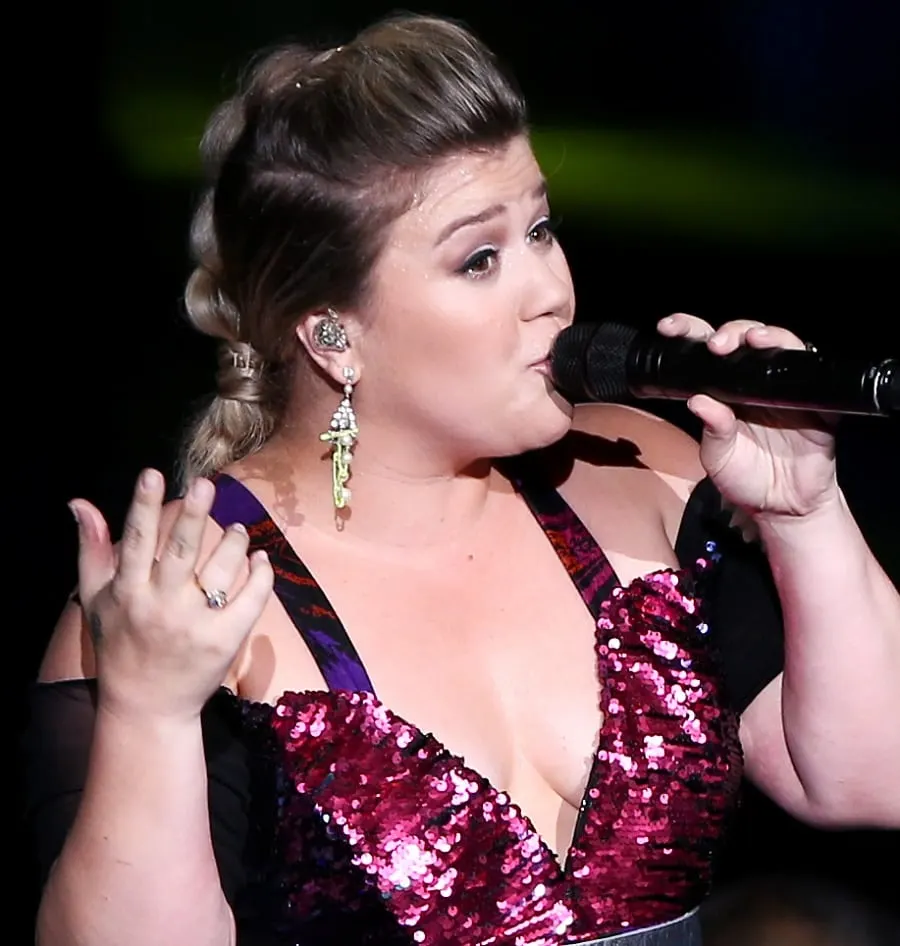 Did Kelly Clarkson come up with the bubble ponytail? Probably not. But she sure knows how to work it!
This cool and unique hairstyle shows off an exciting ponytail with a series of "bubbles" – which is actually simply her hair knotted to look like them. Pretty awesome, right?
She's also sporting a pompadour up front, only adding to the incredible dimension this ponytail offers.
The next time you think about wearing a ponytail, why not try something out of the box like this?
8. Straight Shoulder-Length Bob
There's just one word to describe this look: chic. Yet, we can also use a slew of other words, like smart, stylish, and elegant.
Truly, this is a top-notch look that's surprisingly easy to achieve. Just chop your locks to shoulder length and straighten them. That's it!
9. Hollywood Waves
Hollywood waves are a classic look for those in the biz (and those out of it, honestly).
That said, we couldn't help but add this stunning photo of Kelly Clarkson adorning the famous Hollywood curls. She looks fab!
10. Brown Crimped Locks
Here is another iconic 90s look from Kelly.
Here, she goes a bit lighter with a chocolate brown shade. Then, she uses a crimping iron to add those lovely crimped waves from top to bottom.
Overall, the 90s child in us gives this look two thumbs up!
11. Tousled Bob
Those looking for a sexy style to pique their partner's interest will love this Kelly Clarkson hairstyle.
First and foremost, she chops her hair short into an adorable bob. Then, she adds layers of all different lengths to add some definition.
The layered short haircut makes it easy to style her hair playfully and attractively.
12. Romantic Curls with Choppy Bangs
To say that this look is the complete amalgamation of cute and classy would be an understatement.
Honestly, we can't get over how charming this look is, and it can easily be worn to even the finest events.
From the adorable choppy bangs to the glamorous ringlets on either side of her face, we give this look a 5 out of 5!
13. Chunky Streaks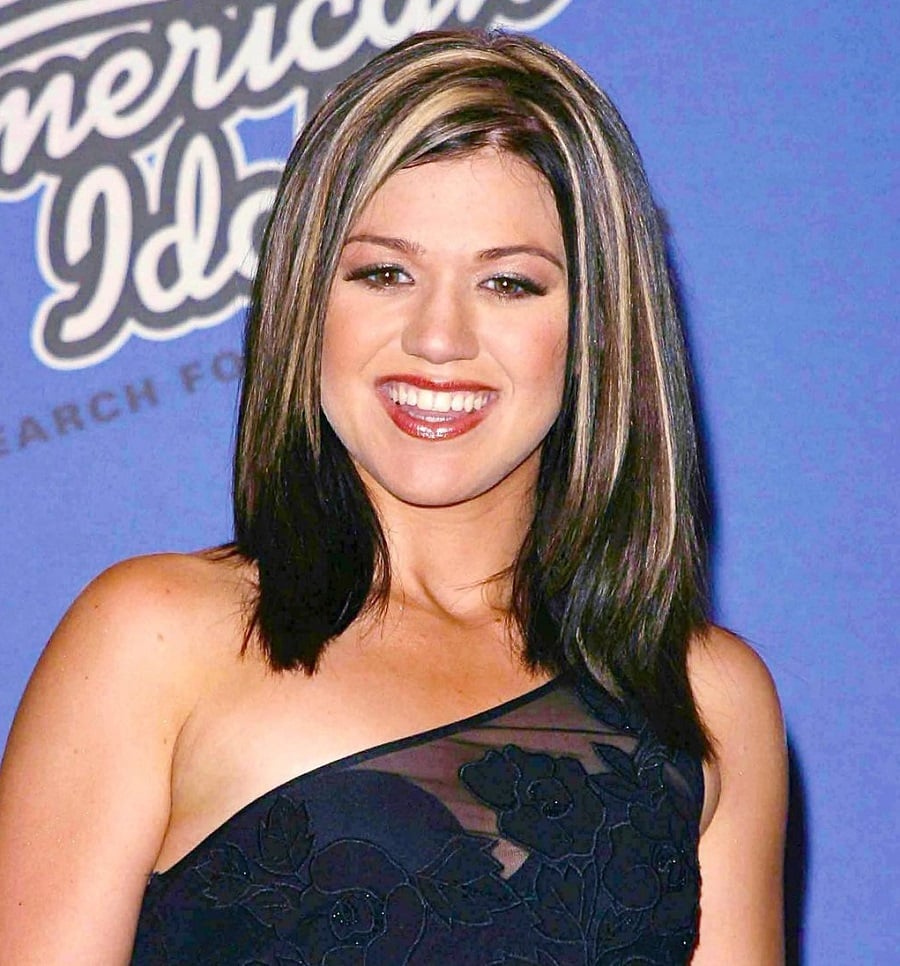 This look is a definite flashback to the 2000s hairstyles. Kelly pairs jet-black strands with golden chunky highlights, creating the iconic 90s hair color we all know and love.
No doubt Kelly has shown off plenty of different hairstyles, which are all masterpieces. We've loved every single one, from the chunky streaks of the 90s to the side-swept lengthy pixie cut. But which one is your favorite?
Trending Topics