When it comes to trying a new hairstyle without making the big chop, blonde ombre is where it's at. If hot celebs like Chrissy Teigen, Drew Barrymore, and Ashley Benson are rocking the color in their locks, it's a sure sign you need to try the trend too.
Whether it's a sleek lob, an asymmetrical wavy bob, or a long side ponytail, blonde ombre looks great with any hairdo and you'll love the way it makes you feel! With more than 20 shades of blonde to choose from, there's no reason you can't rock an ombre hairstyle any time of the year.
What is Blonde Ombre?
Blonde ombre is when the hair is dark at the top and light on the bottom. Ombre creates a gradual shift of color from dark to light.
Many women typically leave the hair at the roots their natural hair color and have lightener applied from the bottom half down, but other women choose to purposely color their roots a dark color and then apply a light color at the bottom.
How to Pick the right shade of blonde Ombre?
Before you pick a blonde ombre hair color shade, consider answering these questions to yourself or to the stylist.
What's your skin tone?
What's you natural hair color?
What's your face shape?
Can you commit to high maintenance shades?
Have you picked a few of your preferred blonde ombre hair shade before going to the stylist?
Warm or cool tone?
How many levels you want to lighten hair?
Are you looking to change color permanently? If so, have you done the strand test before committing to a permanent change?
Once you answer these questions, head to the stylist and let a professional decide if your hair is right for your desired shade.
Blonde Ombre Hair
A blonde ombre hairstyle could be just the switch you need to make you feel like a whole new person. Get ready to fall in love with our 35 favorite blonde ombre hair ideas!
1. White Blonde Ombre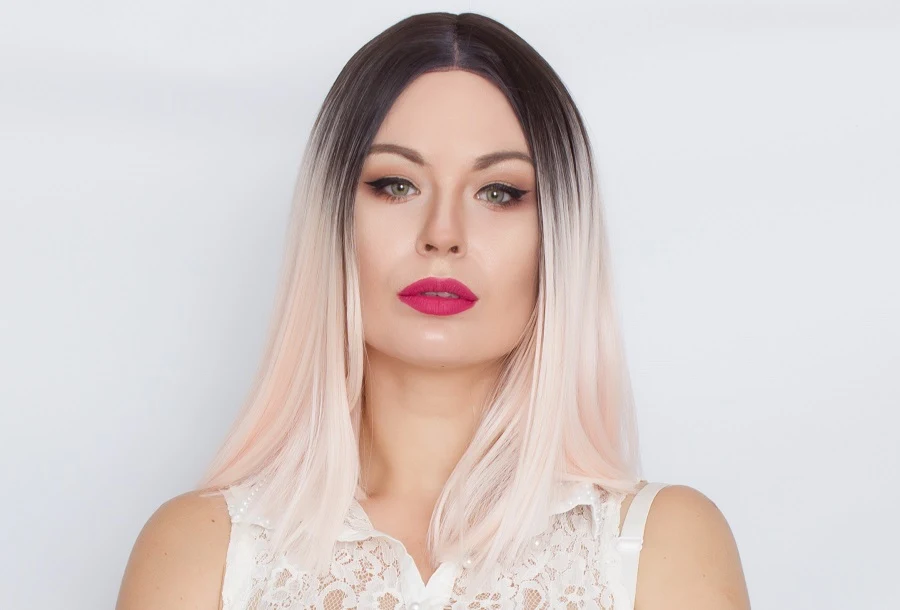 A sleek and straight medium-length hairstyle in white blonde ombre with a touch of light pink or peach is just the combination to create a modern, chic look. With the shift of color starting right at eye level, your peepers will pop.
2. Ombre Curls
Your long thick curls or waves will never look more glamorous than with the addition of light blonde below dark blonde roots. Enhance body and volume with a curl cream or use your handy curling wand for perfect spirals.
3. Straight Blonde Ombre Bob
Are you all about a low maintenance short hairstyle? A straightened bob parted in the middle doesn't need any help after you give it blonde ombre.
4. Half Up Waves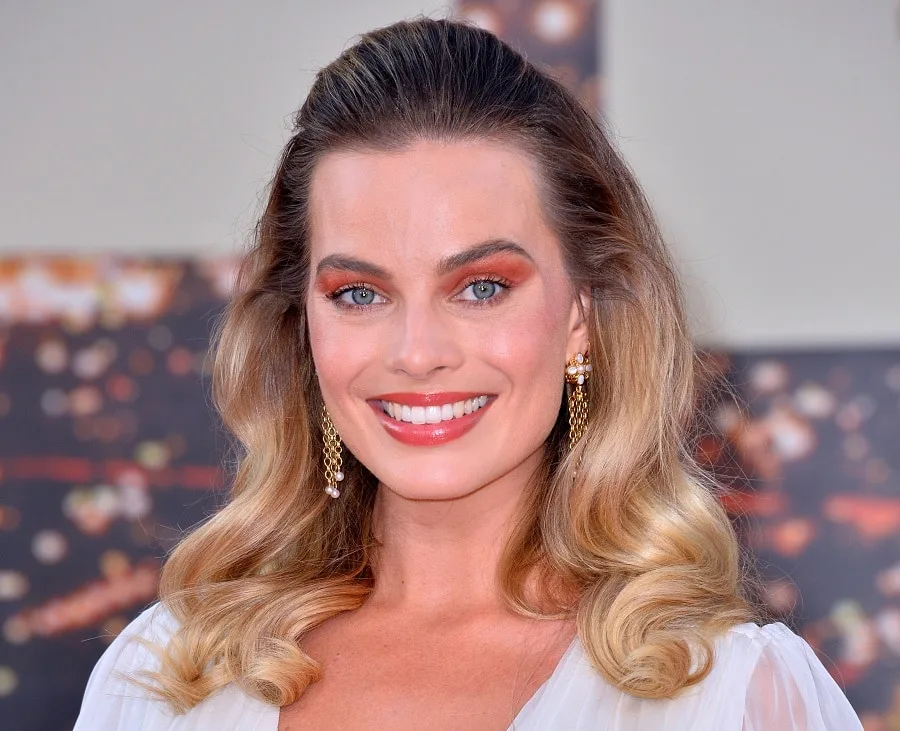 Actress Margot Robbie proves what a great technique blonde ombre is for growing out your roots. Just look at how gorgeous the color is in a half wavy updo. Secure your ponytail with a colorful scrunchy or wrap the base in a section of hair.
5. Pink and Blonde Ombre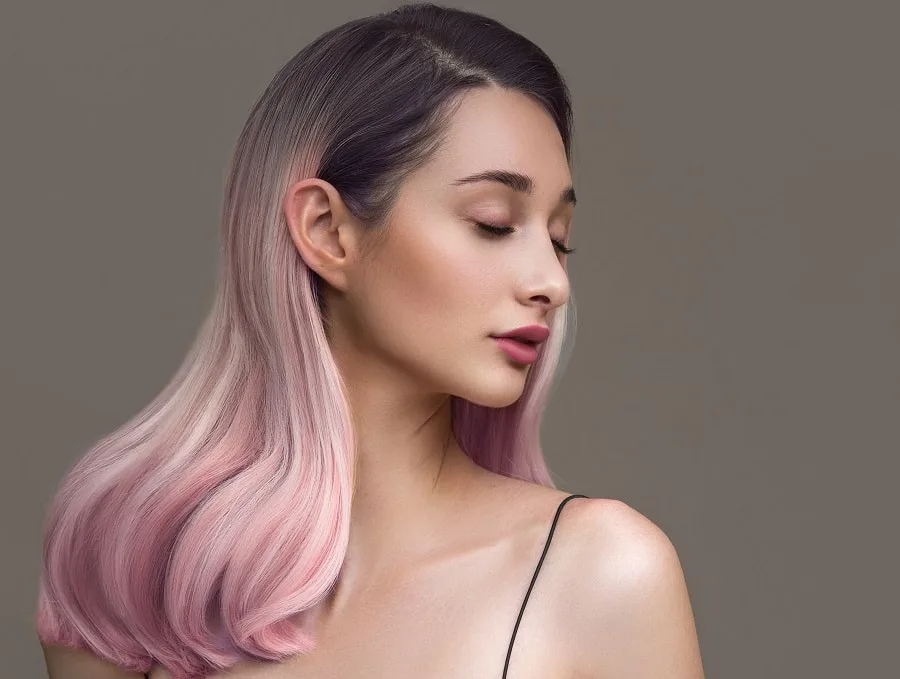 Set your hairstyle apart from all the others by weaving in a bit of purple or pink with blonde. This long mane parted off-center features soft waves and muted ombre colors that will be flattering to all skin tones.
6. Braided Pigtails
What woman doesn't love having her hair in braids? These pigtail braids take only minutes to style and are a gorgeous way to flaunt blonde tresses. Secure each braid a couple inches above their ends.
7. Blonde Ombre with Accent Braids
When you aren't in the mood to braid your entire mane, try two tiny braids that frame your face. Start them right at the hairline or further back at the crown to line a middle part. Add soft, loose waves to the rest of your hair.
8. High Ponytail
Cara Delevinge demonstrated how perfect a high ponytail is for flaunting warm blonde ombre. Slick back your hair from your face, gather it up at the crown, and secure with an elastic. You can wrap some hair around the base to cover the hair tie.
9. Wheat Blonde Ombre
The only tools you need for this chic hairstyle are a hair straightener and heat protectant. Part your hair off center before straightening your locks so they're sleek and shiny.
10. Asymmetric Wavy Bob
An asymmetrical bob is super cute and fun to style. To dress it up and give it some movement, add in large spiral waves or tight curls. Their shape is perfect for displaying blonde ombre.
11. Long Blonde Ombre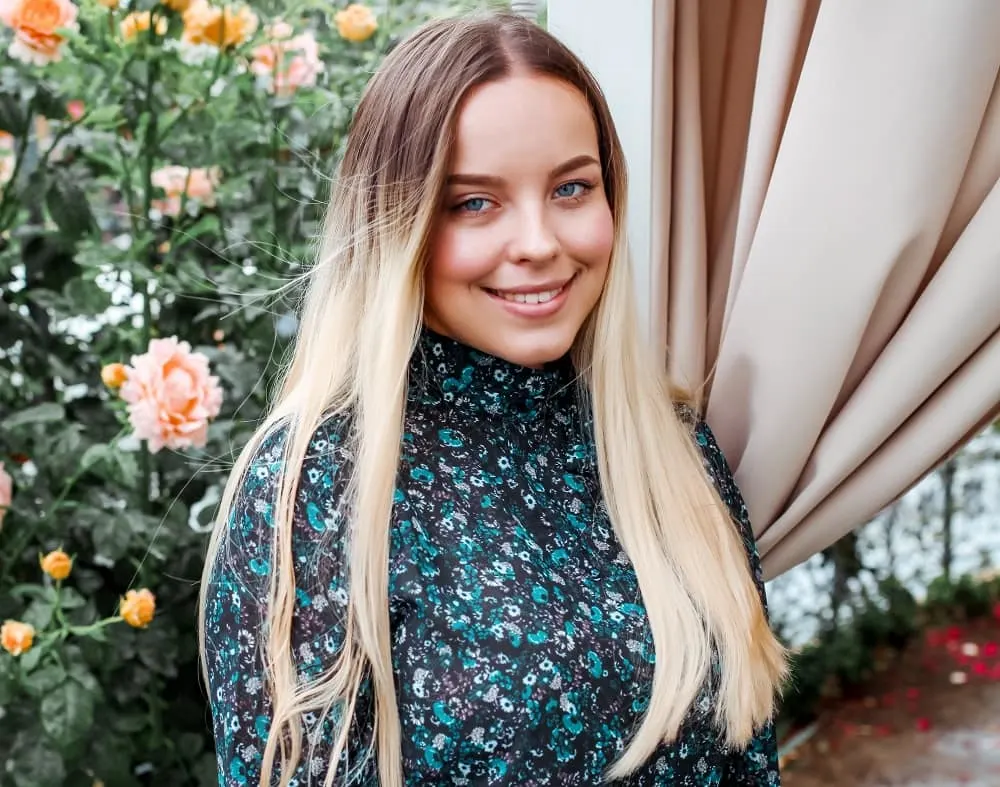 If your natural hair color is medium to light brown, go with this beautiful light blonde to make your long locks look their best. With this amazing color pairing, you won't need to do any fancy styling other than comb in a classy center part.
12. Wavy Bob with Blonde Ombre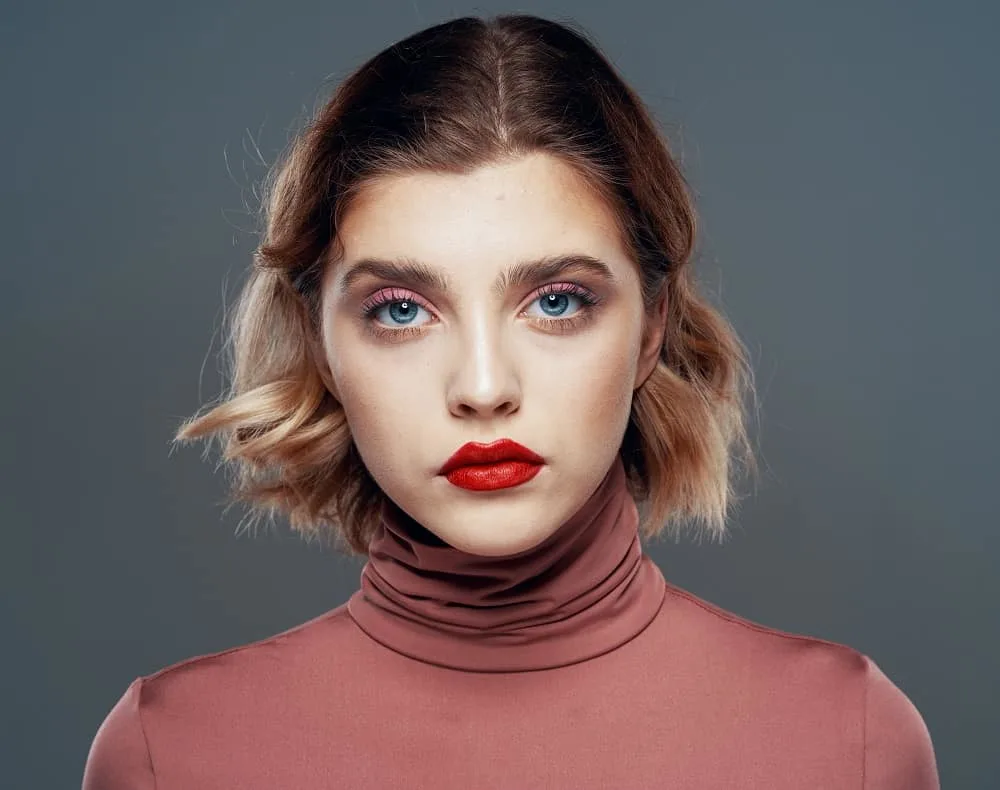 Can't decide which shade of brown will look best with blonde ombre? You don't have to choose! This choppy bob with waves features dark brown that fades to light brown and then blonde for a beautiful melting of color.
13. Thin Hair with Side Bangs
The way a light brown melts into light blonde on this shoulder length haircut for thin hair is sexier than chocolate melting in our mouths. Go with layers and heavy side bang to really show off the color.
14. Blonde, Thick, and Curly

On very curly dark brown hair, take those curls up to their sexiest notch by adding blonde as ombre! This thick curls are better seen with that beautiful blend of color to show them off.
15. Ombre Pixie Bob

Emphasize the cut of an edgy long pixie hairstyle by adding blonde ombre just to the longest part of the hair. Leave a fade or undercut to be your natural hair color and you've got a hit hairstyle!
16. Crimped Blonde Hair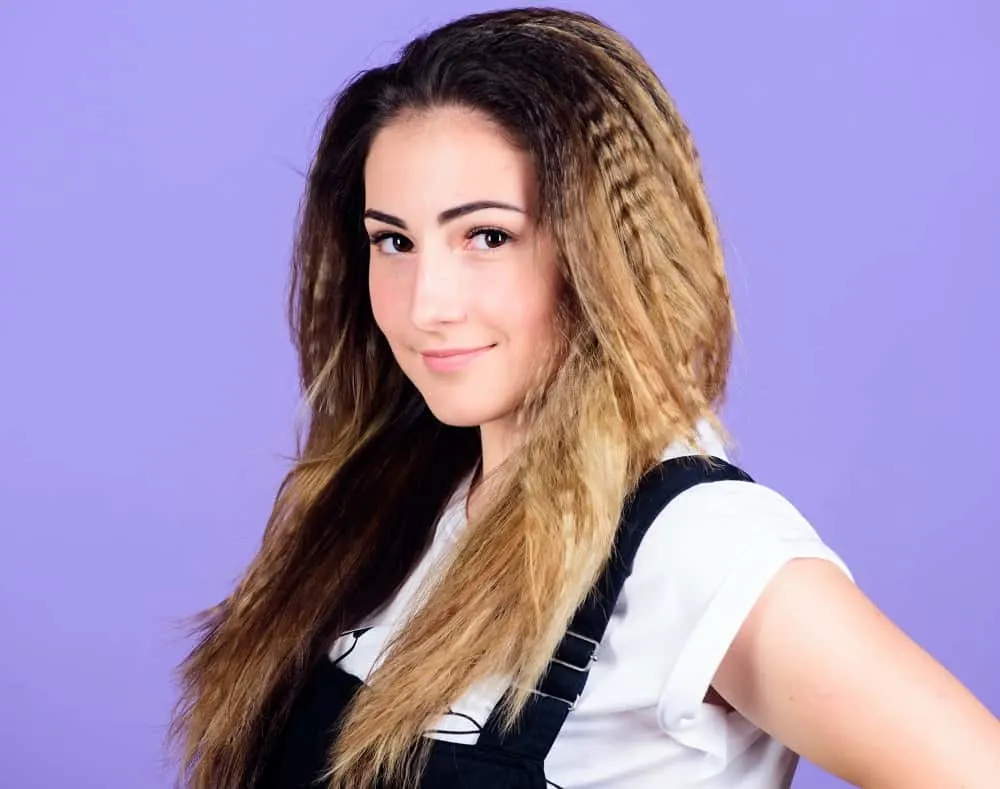 While many ombre hairstyles only feature the added color from halfway down to the tips of the hair, this look is unusual because the blonde creeps up a little higher. It lets a natural base color take the stage near the hairline and the crimped texture creates a relaxed beachy vibe.
17. Voluminous Long Bob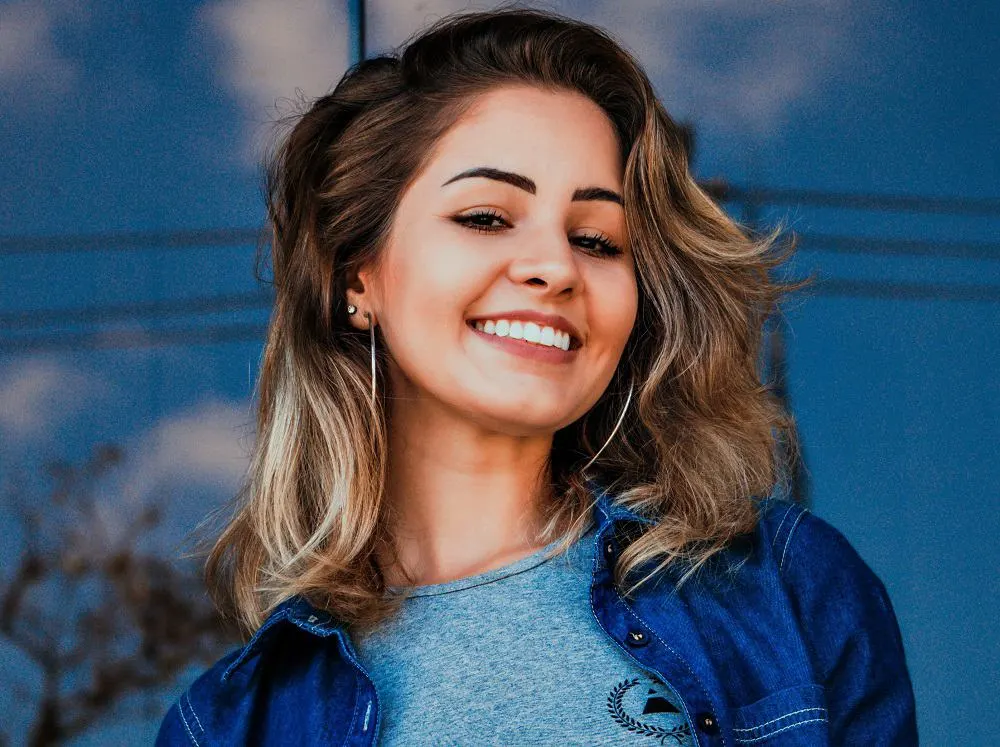 If you're a fan of volume and height in hair, you'll love how a blonde ombre bob with long length makes you a total bombshell. A heavy side part will help you out with a variety of styles.
18. Two Tone Brown with Blonde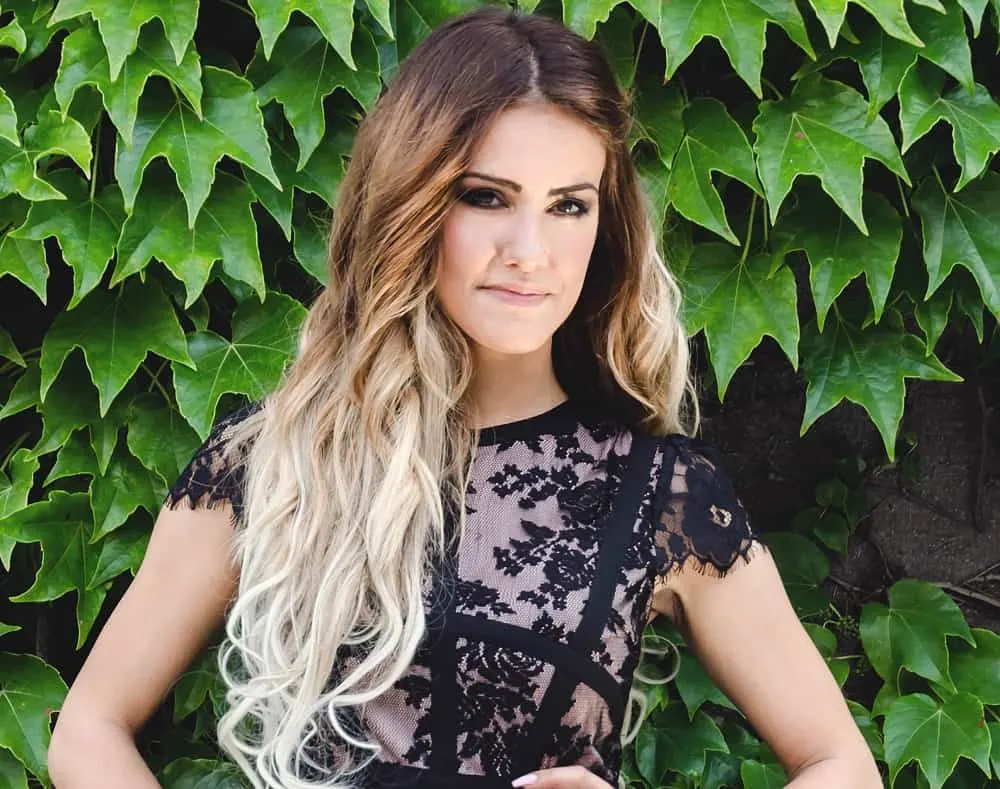 The subtle separation and blending of a dark brown, light brown, and blonde on this long hairstyle has us falling in love. No matter what outfit you wear, you'll be the star of the show with this look.
19. Textured Blonde Ombre

To really draw attention to your blonde ombre hairstyle, ask your stylist for long layers. These will emphasize waves when you scrunch in product on just the bottom half of your hair.
20. Blonde Ombre on Short Layers

If you have short layers in your haircut, like this wavy bob seen above, give them a lift of color with blonde. You can even mix in a good amount of light brown to get this fabulous coloring to go with dark brown or black hair.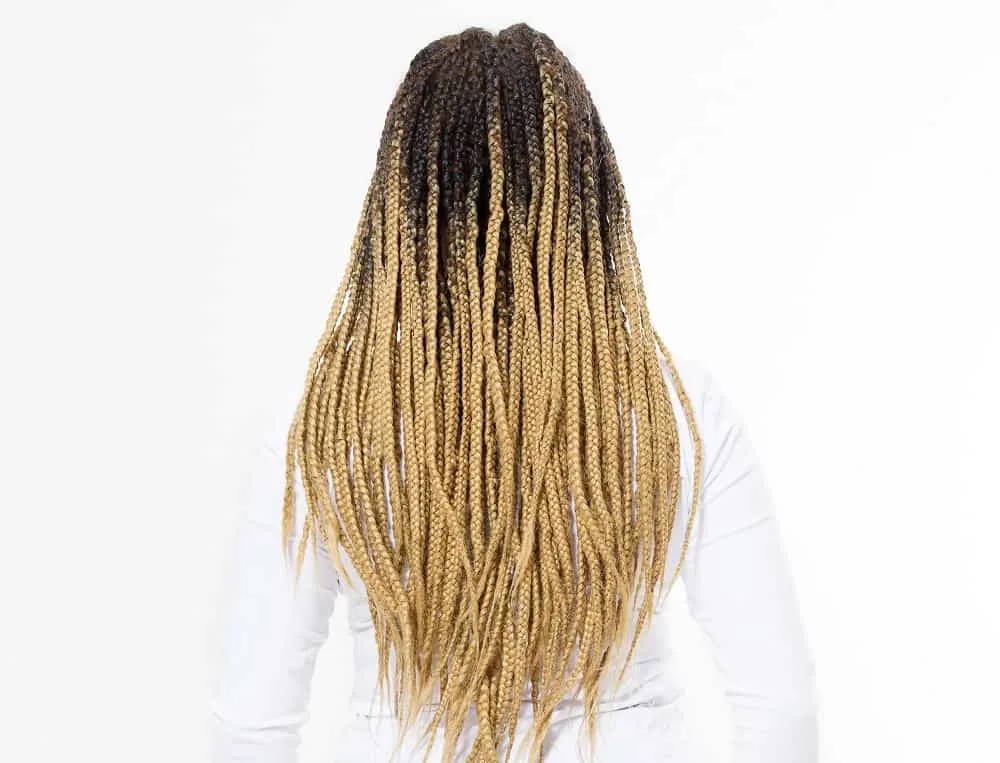 If you're rocking a box braid hairstyle these days, it'll be easy for you to make the golden switch to a blonde ombre hairstyle! Whether you choose blunt braids that are all one length or you choose layers, the result will be stunning.
22. Asymmetrical Bob with Blonde Ombre
We don't know where the edge stops and the femininity begins on this asymmetrical bob! Its dark colored base says you're a badass, but the light flirty blonde hints at your softer side.
23. Long Hair with Curtain Bangs

This summer, get a flirty look instantly by adding gorgeous thick curtain bangs to your long ombre hair. Wear your hair loose over your shoulders. Get sexy beach waves by scrunching in a little mousse.
24. Large Waves with Ombre
Thick hair can be a pain to deal with and it takes a lot of color! Get a new look more quickly by thinning out your long locks and adding blonde for that color lift!
Do you prefer a sleek, straight hairstyle? Then you'll love how utterly chic a shoulder-length cut with blonde ombre is. You may want to consider some face-framing layers if you don't want to accentuate a long face shape.
26. Long Mermaid Waves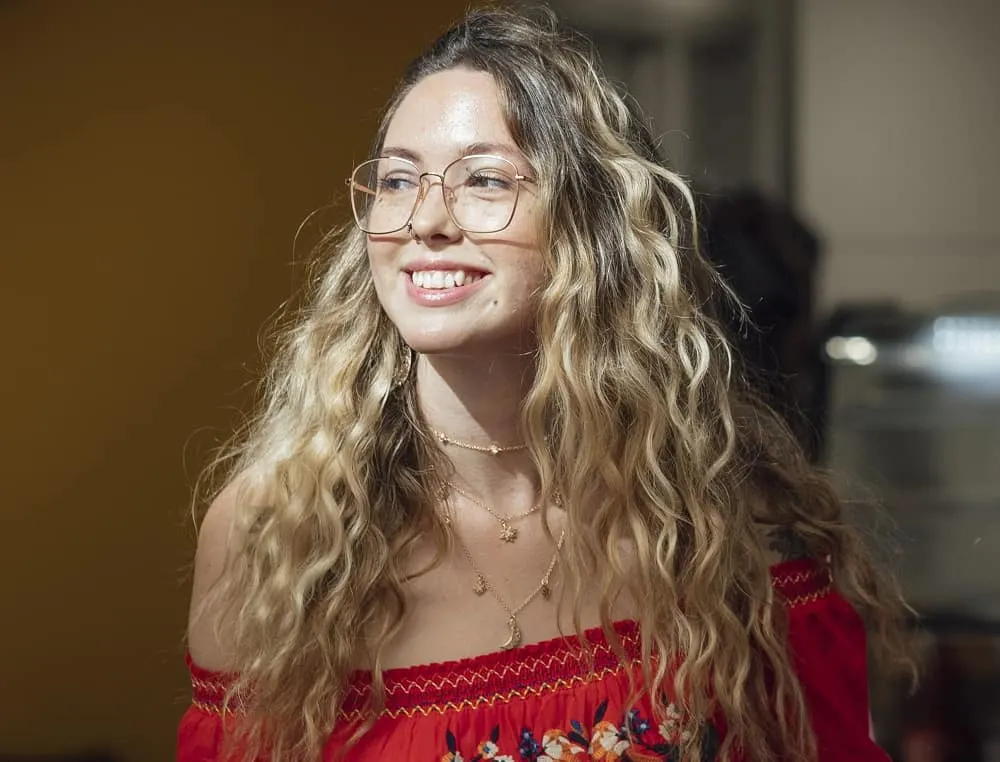 If your hair is anything other than straight, we'll just say we're completely jealous. It would be a crime not to try a beautiful blonde ombre hairstyle to show off curls and waves. Wear it all down or gather the top half in a cute ponytail!
27. Thin Straight Hair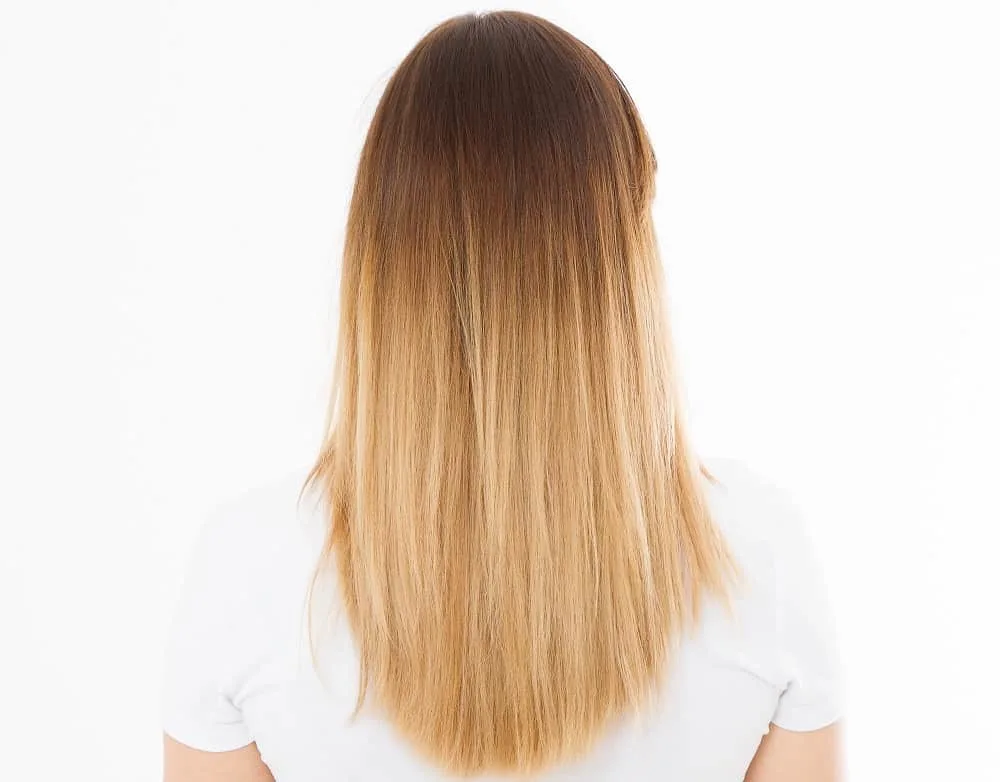 For the plain Jane's out there (we don't judge!), adding color to your daily do will brighten up all aspects of life! Blonde ombre over a brown base will make it easy for even your laziest hairdo to look amazing.
28. Center Parted Blonde Ombre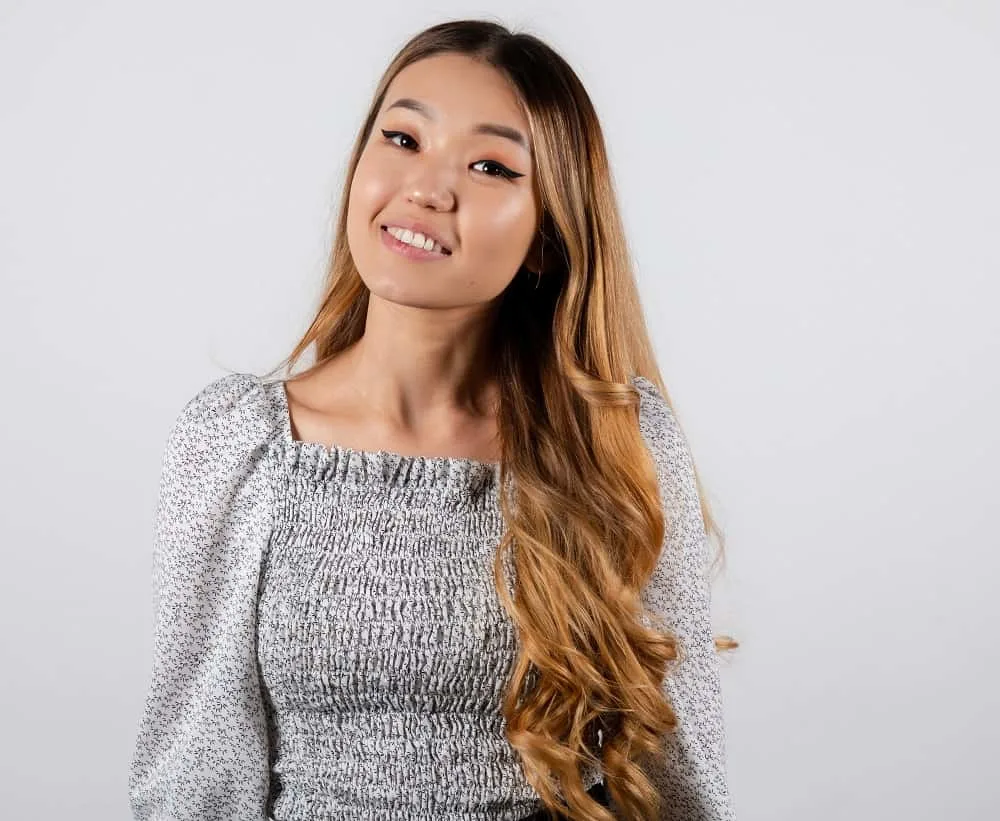 Your mane can just as easily shine with sleekness when you opt for a caramel blonde ombre hairstyle! These long ringlets are stunning in the color. Wear hair down or in a long side ponytail for best results!
29. Dark Red and Peach with Blonde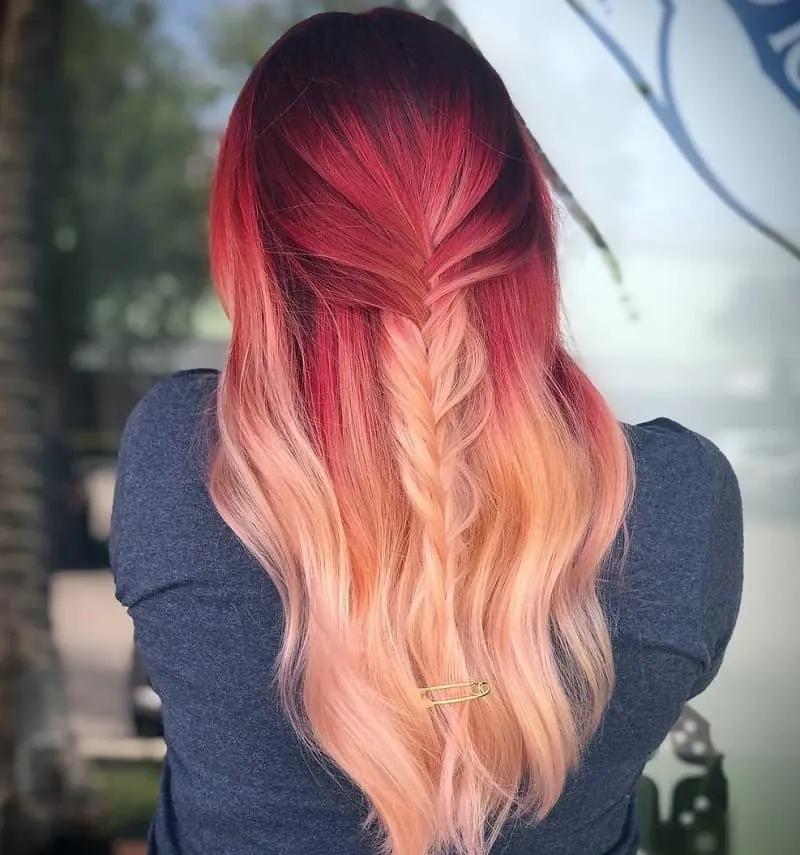 Where do we start with this ridiculously gorgeous ombre hairstyle? From the dark red or magenta top to the peach coloring in the middle and the blonde melted within, there's no mistaking the fishtail braid updo for anything less than brilliant!
30. Silver Blonde Ombre
The ombre added to this fancy wedding updo is very strategic. The stylist focused on adding a silver blonde only to the straight bangs and at the bottom half of a mane filled with large soft waves.
31. Baby Pink and Blonde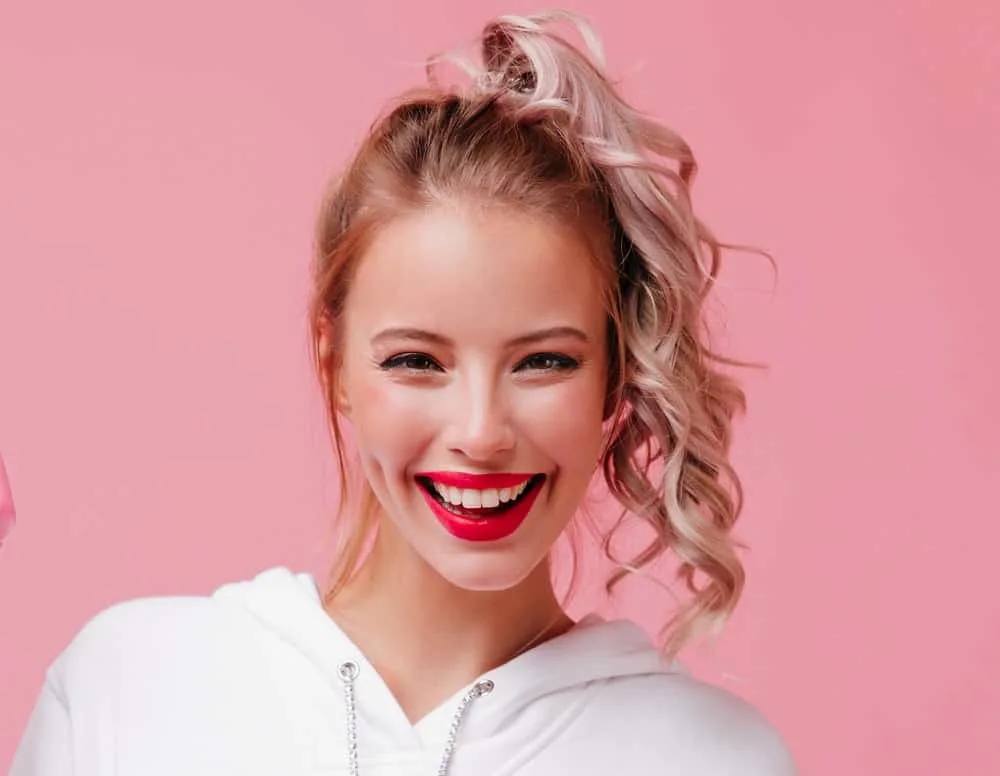 A flirty, girl-next-door ponytail is just the hairstyle to bring out your sassy side. Soften it up a bit more with a baby pink hair color. These two colors combined are the sweet mix you didn't know your hair needed!
32. Blonde Bridal Hair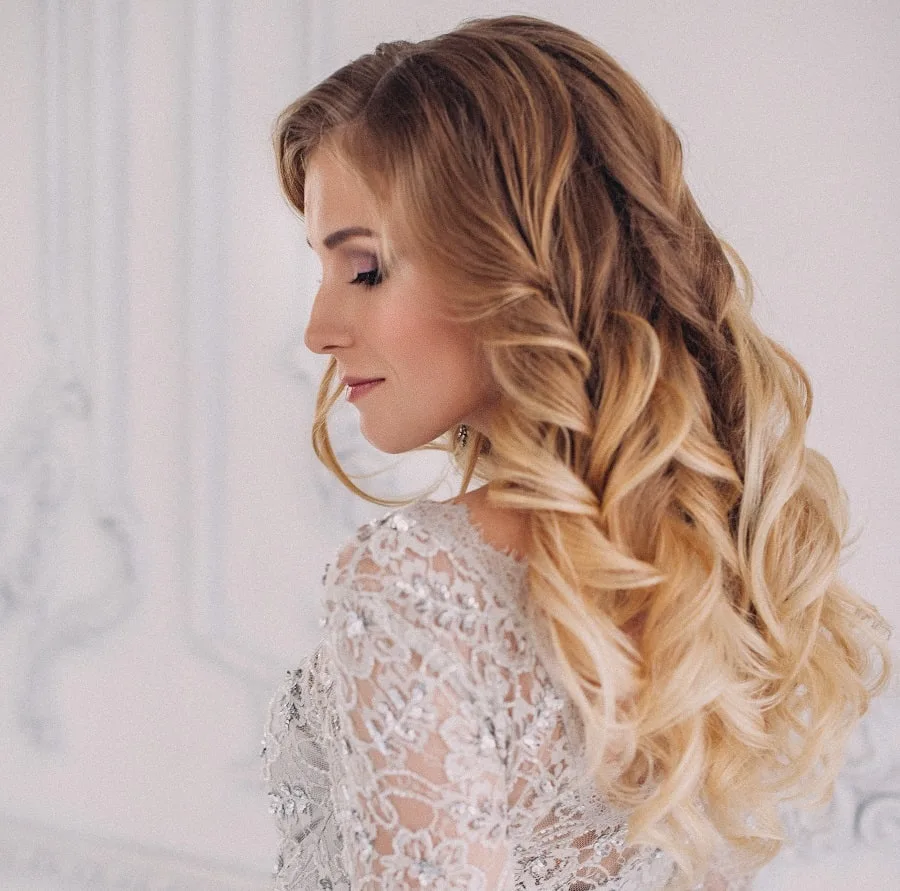 Whether you're the bride or the bridesmaid, this ombre updo with romantic, blonde waves is a no-brainer! Wear the hair just as seen above, or throw in a few thick fishtail braids for even more texture.
33. Crimped Half Updo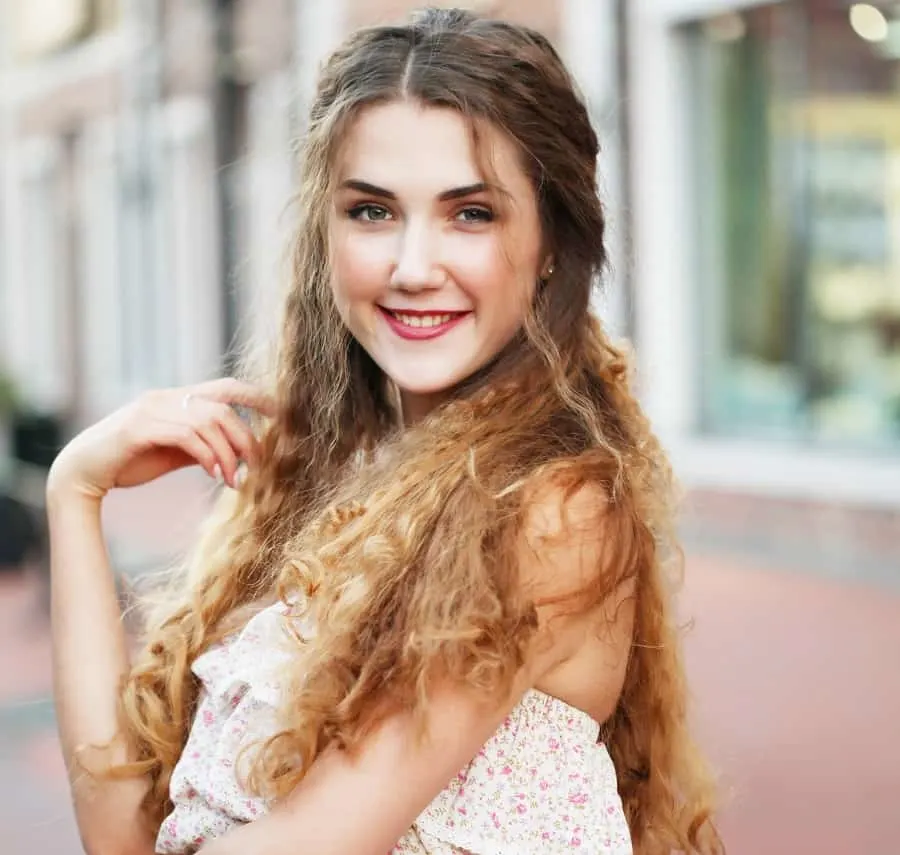 There's nothing typical about this crimped hairstyle and its sweet, loose half ponytail. For the girl whose hair is naturally curly, a soft blondish ombre is a must try!
34. Purple Blonde Ombre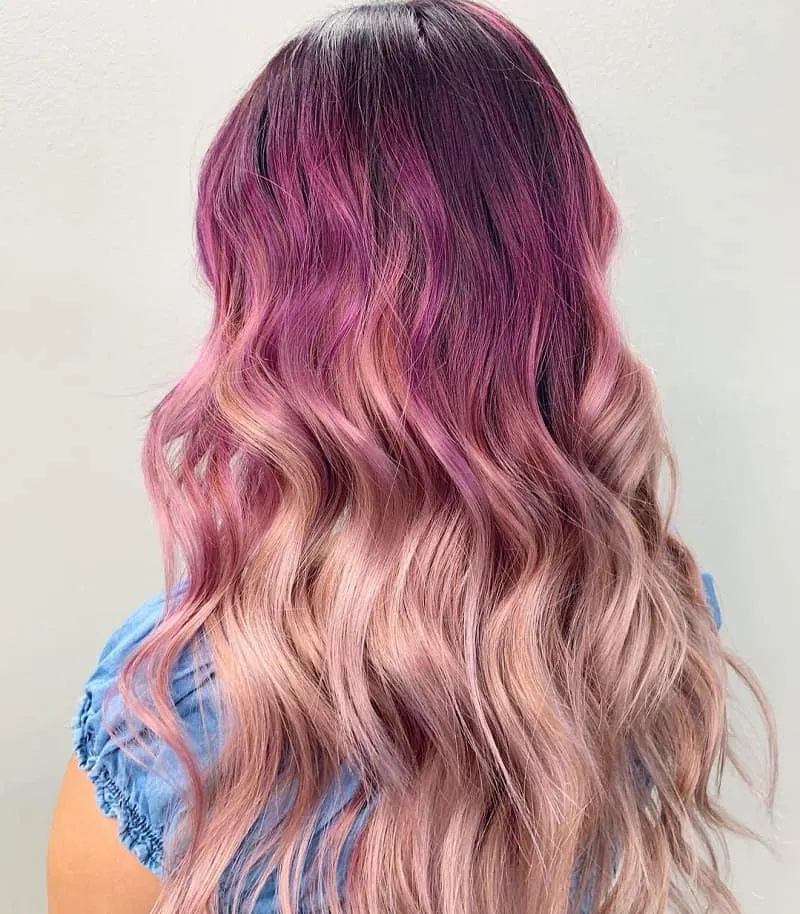 If you aren't afraid to play with color, we dare you to try this magnificent duo of dark purple and blonde in an ombre. The dark top shade cascades to light rose gold and blonde. You'll wonder why you didn't try it sooner!
35. Light Pink and Blonde
When flaunting a blonde as ombre hairstyle with light pink under color, you'll feel like a total movie star. Be sure the base is completely light pink before adding those blonde highlights for the prettiest results.
So, how many of the above blonde ombre hairstyles are you dying to try? If we're honest, there isn't a style on this list that we wouldn't be unhappy with! Be sure to share your gorgeous results in the comments!
Blonde Ombre vs Balayage
Ombre is when lightener is applied in a more intentional way to a large area of the hair about halfway down through the ends. It is throughout the hair, not just on the outer layer.
With blonde ombre, we see dark blonde near the scalp, and light blonde from the mid section of the hair down to the ends.
Blonde balayage is when blonde highlights are applied to the hair in random sections only on the outer layer through a process known as 'sweeping' or 'painting.' Balayage gives hair a natural sun-kissed glow.
FAQs
How much does blonde ombre cost?
The cost of blonde ombre will vary according to your hair length, but the average starting cost is $80. From there, it can be as much as $200 or even more if you go to an upscale salon.
Can blonde ombre turn orange?
Yes, it can, but if you go to a professional hair colorist, then the chances of this happening are low. An at-home blonde ombre comes with more of a risk of your hair turning orange since your hair has to be lightened to a certain level.