The long-standing stories that fat women are ugly are fabrications of the mind. Beauty is the state of the heart. It is the mind that implores the body to go out with elegance.
There are many stunning hairstyles for plus size women trending around. That is enough proof that fat women are gorgeous. Likewise, follow suit and step out of the door with elegance and style.
Your feminine side is your treasure. It is high time you explore it. In this article, we will give you 15 hairstyles for fat women to sample.
How to Pick Hairstyle for Plus-Size Women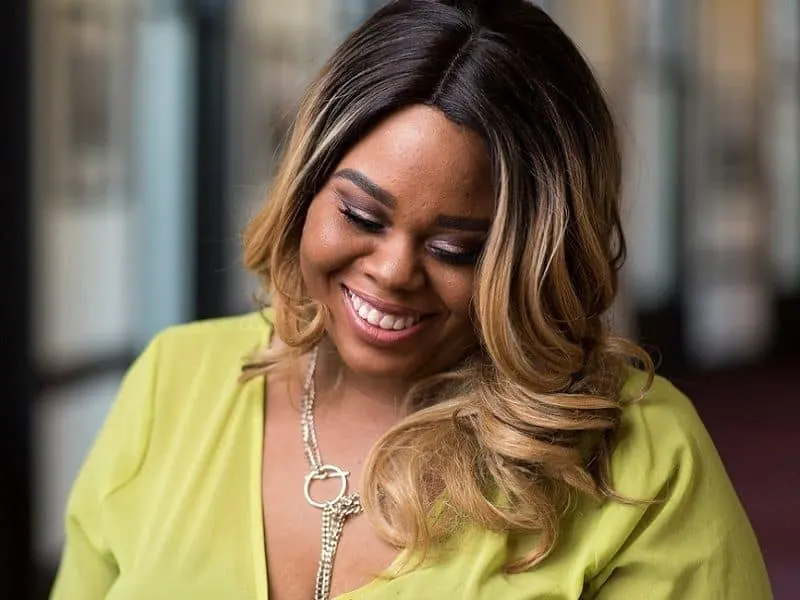 As all people, not all hairstyles are fit for you. You need to know yourself. Similarly, get the haircut that makes you feel great. Furthermore, there are some things you must consider when choosing a hairstyle if you are an overweight woman.
The first thing is your facial features. You must consider your eyes, cheekbones, and shape of your face. Secondly, check on your neck. Short and long necks have different hairdos to boost their appearance.
The last thing is your body size. If you are a little chubby, you must get something different from a woman with curves. Ultimately, the decision is with you.
Suitable Haircuts for Fat Women
Have a look at our top list of haircuts and styles that fat ladies can try without hesitation.
1. Short Afro Curls
This women's buzz cut is pretty amazing on the kinky or hard hair texture. The curls will come out with a perfect exposure of the fat face. A beautiful round face is a gemstone to show off.
Thus, you should settle for a hairstyle that compliments your gorgeous facial features. In fact, even a bald hairdo will settle well on a round face. This is an excellent short haircut idea for fat women.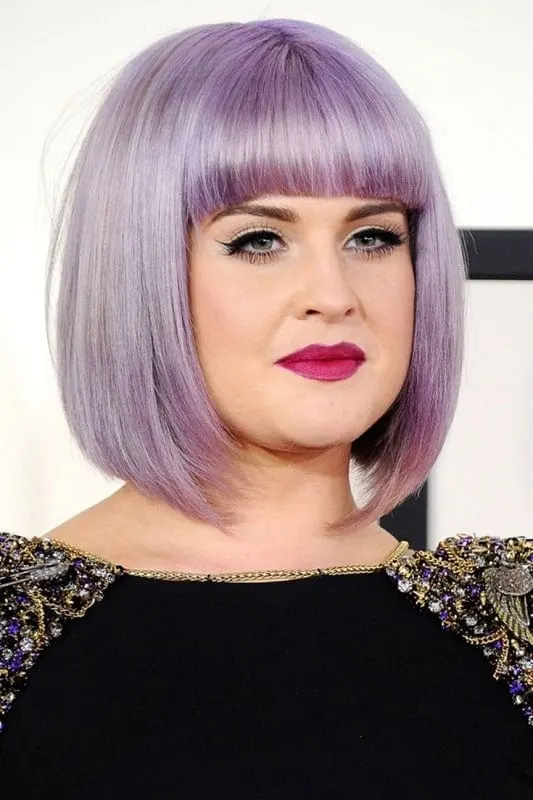 If you have a fat face and double chin, you need this short hairstyle to enhance your seemingly long face. Having a classic bob hairstyle makes that look easy. The flowing sides of your hair act as the contours for your face.
In addition to that, the bangs on your face highlight the other features of the face. Thus, the eyes look prettier as you drop down to the cheeks and the chin.
For fat women with an oval face, braids that flow to your shoulders can amplify your personality. It is good to have some cover over your neck, especially if you have a shorter neck.
This gives the other beautiful features the chance to showcase. Indeed, you can also style the braids into what makes you comfortable for the day.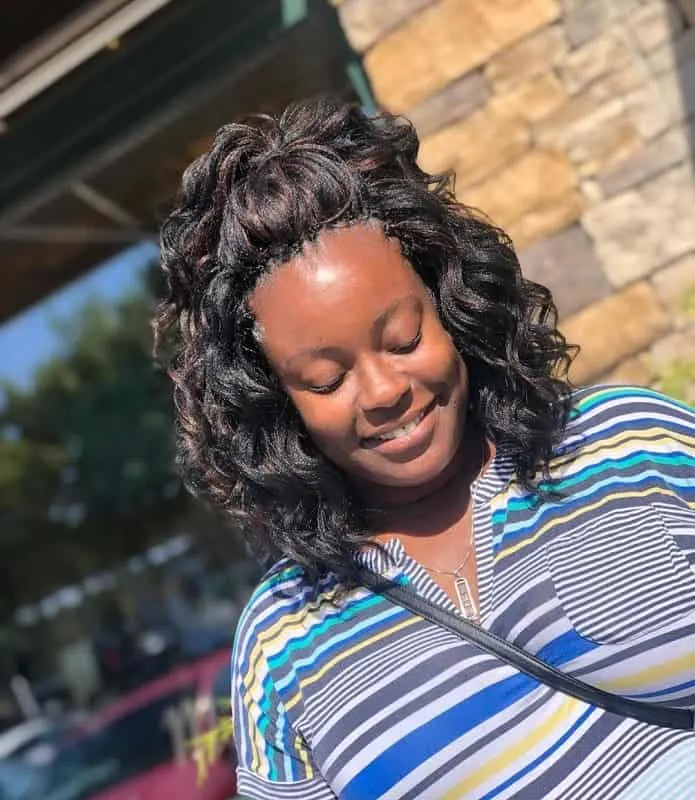 If you are a plus-size woman with a long face, this high ponytail will match perfectly with you. It is always prudent to identify with your body. The curves on your body give you a feminine look.
Blending the curves with a pony and side waves showcases both your body and your facial appearance. If you are in the mood to prove a point, then today is your day.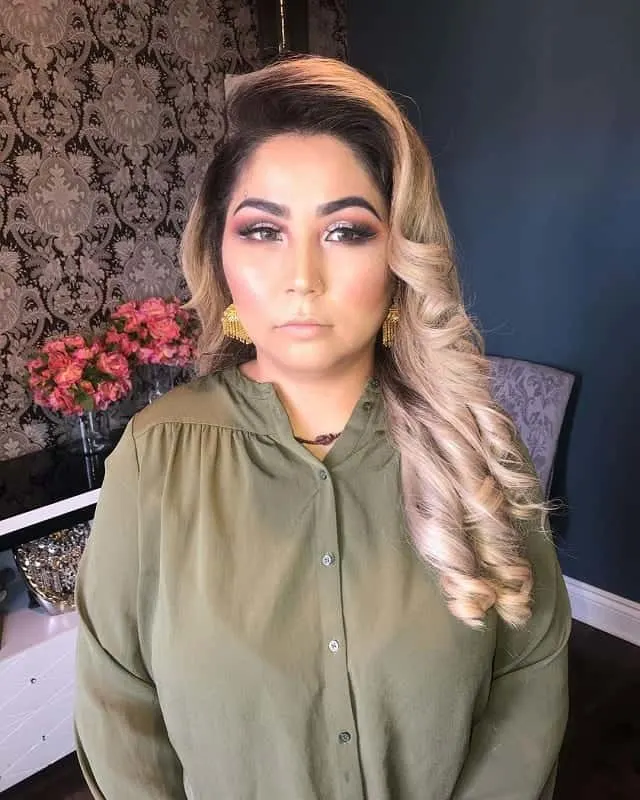 The thing that stands out in this hairstyle for heavy women is elegance. The base, midsection, and the edges transcend from darker to lighter color shades.
This lets your hair speak for you. Again, the styling of the curly tips and the sweeping of one side to the back lifts the confidence of the fat women.
From the look, it is a bold statement of the inner strength of a woman. Fat is never ugly. This waxing of the head and a low ponytail is standard for all seasons. It is flawless and helps the facial features stand out for them.
This hairstyle is best suitable for women with longer necks. Since it exposes the neck, you will come out with a longer slimmer neck.
Sometimes you need what gives you the confidence to move around. Simple straight hair is a traditional reserve of classy chubby women. It is easy to maintain and style.
Besides that, you can wear it on any occasion without the need for styling. In case you need to experiment, you are free to juggle around with many ideas.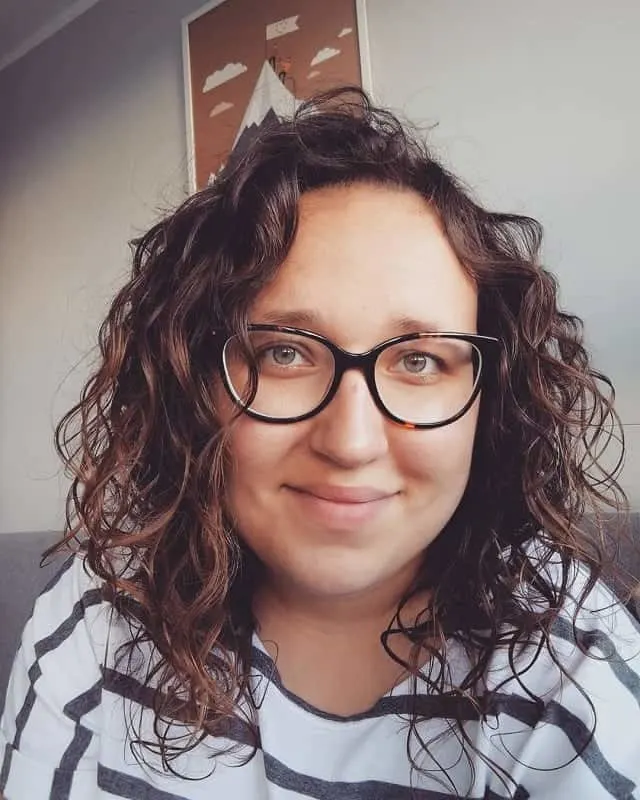 This is a long-serving hairstyle that women with fat faces can rock. It helps camouflage the facial features when you have to do it.
That helps the fat woman experiment with many haircuts & styles for different occasions. Better still, you can leave the curls flowing down to the neck and enhance that sparkle in the face.
This is for the woman who knows her value. If you are an overweight woman with outstanding body curves, you need to flow with the perfect hairstyle. This short black bob will enhance your facial outlook and give you the feminine touch you wish to expose.
10. Pink Waves
There comes a time when you need to step out in style. Choosing a color that makes you feel sexy is an opportunity to explore. This pixie hairstyle is suitable for women with fat faces.
Enhancing the hair with some waves and exotic colors gives you a young, carefree heart full of adventure. If you feel caged, try this as a way of experiencing freedom.
11. White Fringe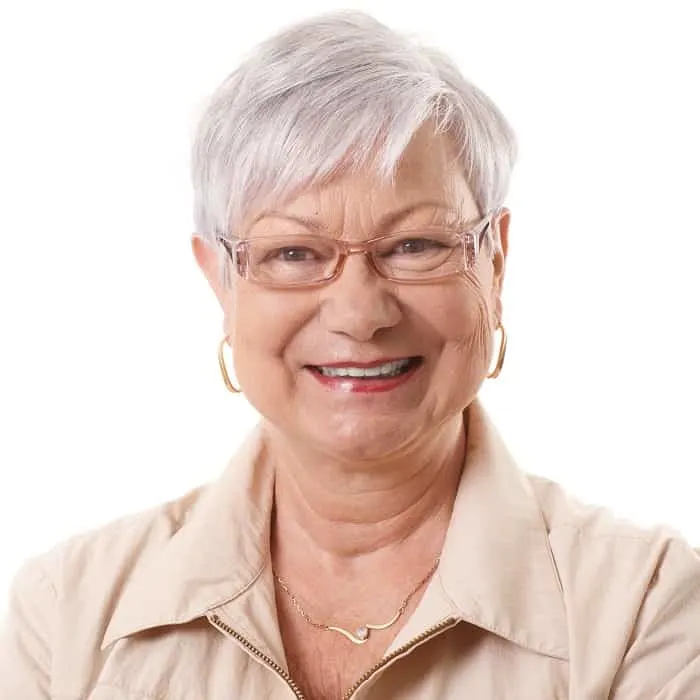 When having a round face or some extra pounds, the goal is to create an illusion. Side-swept bangs will help you shape your face, and a pixie cut can be the best haircut for fat older women.
12. Long Honey Blonde Hair
As a plus-size woman, your face tends to be circular and round, and you need a haircut to create angles that work to your advantage. So one of the best haircuts for a fat woman with a round face will certainly include bangs.
13. Braid Buns
A round face doesn't have sharp jaw harsh lines; everything is very soft. If you love braids, this might be a good occasion to get a few packs of ombre teal jumbo hair and knit some box braids.
14. Dreadlocks with Undercut
Section the hair and use your natural locks or attach hair extensions. If you want it to look more eccentric, an undercut is something that won't pass unspotted.
15. Beehive Bun
A beehive lookalike bun placed in the head's midsection will make your face look slimmer and elongated. It will reveal your face and show that you still have the sass even as a plus size girl.
Fat women have glamour and elegance. It is never correct to assume that slimmer women are more beautiful. That fallacy ends at the fashion runways.
With these 15 hairstyles for fat women, we believe that you have the best ideas on how to enhance your beauty and confidence. So step out with your esteem higher than before.