Have you worried about sporting a pixie haircut though you have a round or fat face? Don't worry anymore. The pixie is a bold and daring look that can be made to suit your body type and face.
Pixie haircuts for a fat face is a challenging and rebellious look. Cutting the hair so short on the scalp might put some women off. But for others who are willing to take up the challenge, your face shape or weight shouldn't be a barrier for you.
A pixie cut comes in many types and forms. The pixie haircut can be dyed, saved with an undercut, or emphasized by jewelry and accessories. There are pixie cuts for thick hair and thin hair. A fat round face with a pixie haircut can make a strong jaw seem thinner. It can also make a squat face seem longer. There's a lot you can do with this sharp look.
There's a misconception that short haircuts don't suit fat or round-faced women. That's not true. There are certain styles that will and will not suit every human being. While that's sad, there are undoubtedly many women's pixie haircuts that will work well for a body type.
But of more concern is often how to cut the pixie itself. The pixie is a look that can be reversed, once cut, all of the beautiful mops of hair you had will be gone.
It's, therefore, essential to be very sure of the look you're going for. You must be sure of hair length, undercuts, haircut shapes, and such things beforehand. Else, if you find that you've cut the pixie wrong or don't like it, there just won't be enough hair to work with and make it better.
Unusual Pixie Cut for Ladies with Fat Faces
Here we'll go through twelve styles of pixie haircuts for ladies with fat faces and chubby body types. Find one you like and stay confident.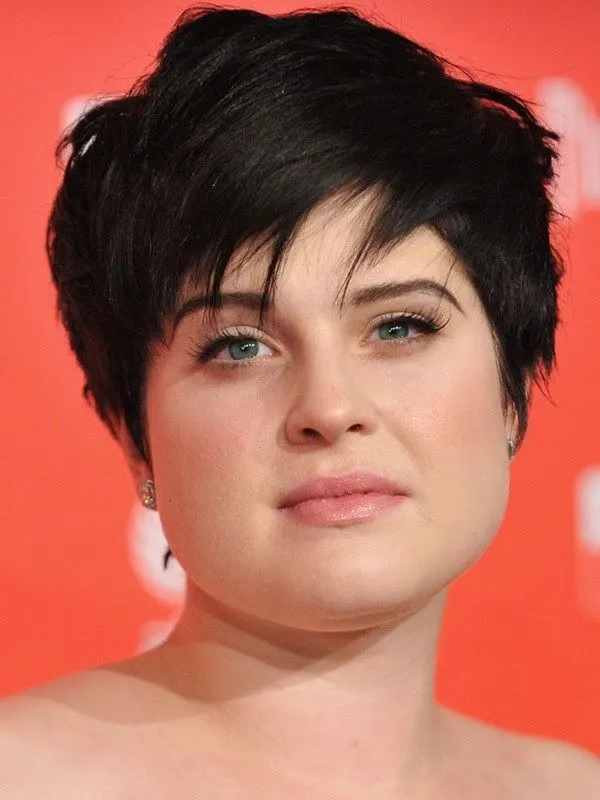 This asymmetrical pixie cut leaves bangs long enough to be swept aside. The raven black hair keeps things simple. This women's pixie cut for fat face is very chic in its simplicity.
Suited to: Broad and square jaws.
How to wear: This look is a simple pixie cut. The long bangs can be swept to the side easily and styled however you want. Letting the sideburns touch the sides of your face will make it seem smaller too. It can be worn with any kind of clothing.
2. Sharp, Distinct and Elegant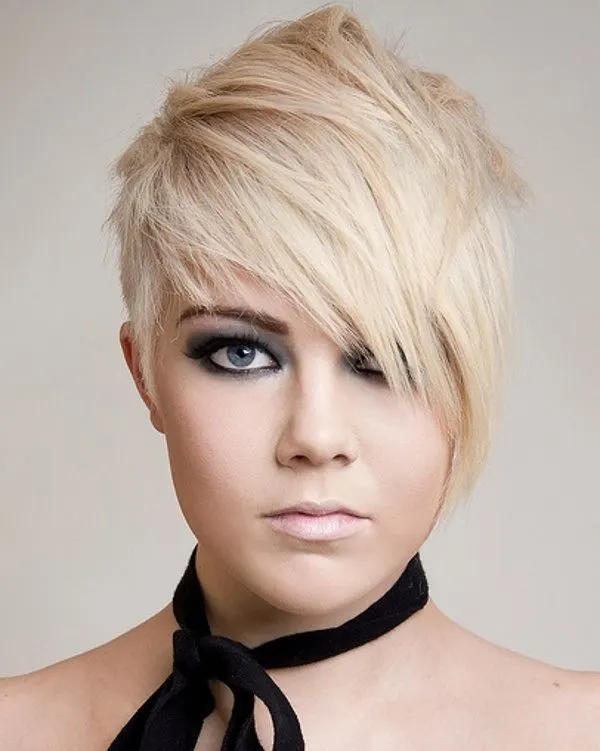 This haircut is sharp and distinct. It can either be styled back to seem softer or let down like this to be intimidating.
Suited to: Long faces, square jaws.
How to wear: This look is asymmetric. The pixie is cut longer on one side and short on the other. Such a drastic pixie cut for fat faces is emphasized by lighter colors. It surprisingly suits elegant dresses very well. The longer hair can be swept aside or left ruffled and messy.
3. Red Mess
This haircut is a pixie on one side and leaves long wavy bangs down the other. This is a cute and refreshing look.
Suited for: Women with round or pointed faces; chubby cheeks.
How to wear: This pixie cut can be dyed in different colors or styled however you like. The longer hair will typically taper as it moves away from the forehead. It works best with bangs. These pixie cuts for fat faces suits cutesy and rustic themes. It packs both sweetness and daring in a single punch.
4. Short Cropped Style
This fat faced women's pixie haircut is no-nonsense, short-cropped style. It is simple yet bold.
Suited for: Long faces, square jaws.
How to wear: This pixie haircut is short near the forehead and longer at the base of the neck. The short crop of the hair doesn't reach the eye. It is a haircut that will suit many kinds of dressing styles because of its simplicity.
5. Elegant Pixie Cut
This simple pixie cuts for fat faces is pretty and extremely elegant. The haircut complements all kinds of outfits.
Suited for: Round faces, chubby cheeks.
How to wear: Ask the stylist for a pixie that leaves a swathe of hair to comb to the side. Then specify you'd like to proceed with the pixie haircut. Have the hair cropped close yet small and nice. It suits all kinds of seasons and clothing styles.
6. The Evergreen Formal Cut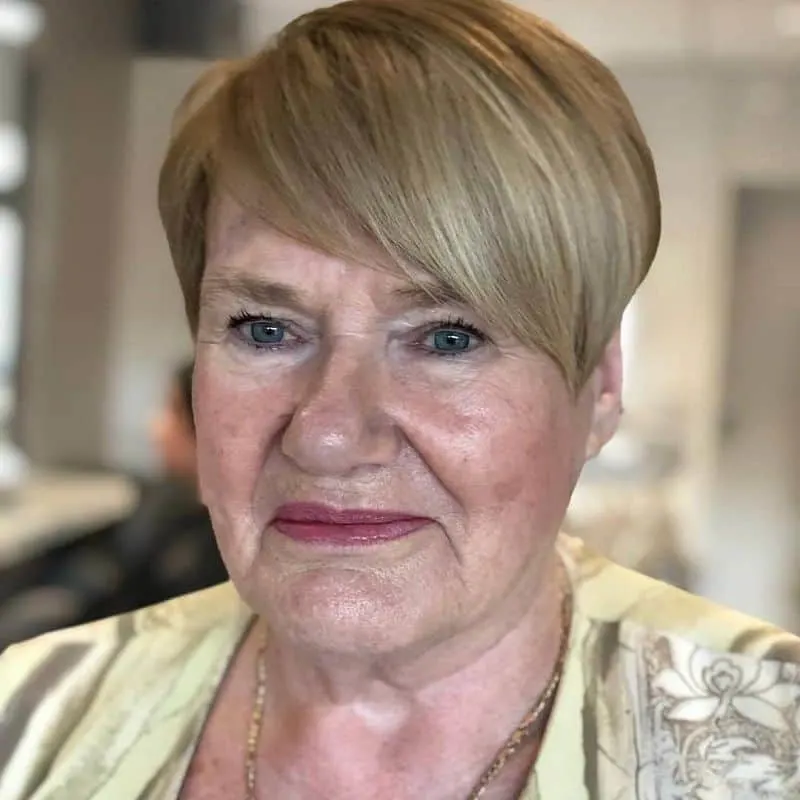 This long pixie is surprisingly formal for such a daring look. It's sported by women of all ages because of its simplicity and elegance.
Suited for: Long faces, square and broad jaws.
How to wear: The pixie is simply cut long over one side of the head and shorter everywhere else. The tapering locks of hair are easy to style and suit corporate, chic events.
7. The Casual Look
This pixie haircuts for a fat face is long everywhere except the front of the head. This long-short pixie is sure to grab the attention of bystanders.
Suited to: Round faces, soft chins.
How to wear: The haircut needs to be left long almost enough to call it a short bob. The only place your hair is cropped is at the front of the forehead. The different lengths will give you space to explore hair dye options as well.
8. The Intriguing and Admiring Look
This women's pixie cut for fat faces is a fresh yet intriguing look. The pixie is uneven, which means the shorter hair is found atop the head and the long hair around the sides.
Suited for: All kind of face shapes.
How to wear: This haircut is versatile. It will suit different kinds of themes, dresses, and most importantly, is easy to style by sweeping the long hair to the side. The thicker hair at the back of the neck gives some volume to the haircut.
9. The Perfect Pixie Cut
This haircut is tasteful and playful, too. This women's pixie haircut for women with fat face is styled to show volume and shape. Dyed blonde highlights bring out the specialty of this haircut.
Suited for: Long faces, strong jaws.
How to wear: This haircut is cut longer at the top and much shorter underneath, almost like an undercut. Then this hair is styled upwards to create a voluminous feel. This hairstyle is extremely chic and well-refined.
10. Messy but Formal Pixie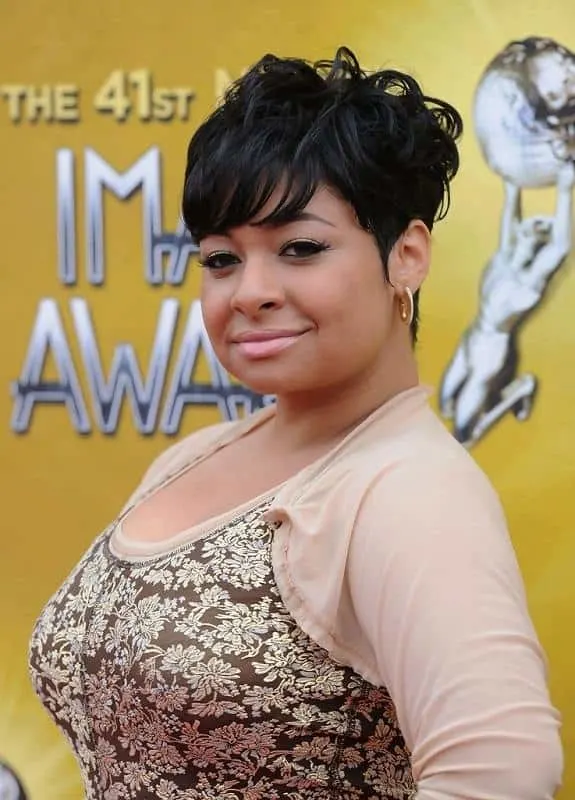 The pixie haircut for fat faces here is a messy and yet, charming look. It can be styled messily or neatly to sit atop the head — either way, they look great.
Suited for: Square-jawed, round faces.
How to wear: Simply style the pixie in messy curls. The longer hair falls over the forehead, creating the impression of bangs. It is chopped unevenly, which adds to the charm.
11. The Beautiful Extended Pixie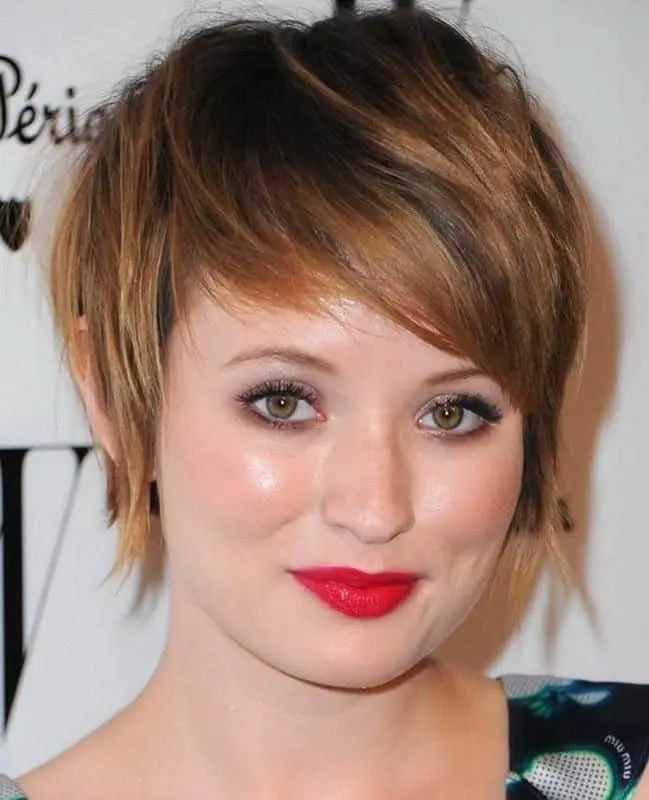 This look is cheeky, mesmerizing, and fun all at once. The fluffiness of such hair can be seen in photos. It is almost a bob and can be styled to fall over the face in such a way so as to make a face feel smaller.
Suited to: Round faces, chubby cheeks.
How to wear: Simply style this pixie cum bob into a fluffy, flowing style. It can be dyed or fitted with cute accessories. This women's pixie haircut will suit everything from posh dinner parties to a pair of comfortable overalls.
12. Short Cropped Pixie Hairstyle
This pixie cut is a non-nonsense, short edgy haircut. It keeps the scalp cool. And what's more, it's chic and elegant enough to suit all kinds of outfits.
Suited to: Square-jawed and round faces, soft chin shape.
How to wear: This women's pixie cut for fat face is cut close to the scalp. The hair atop the head is kept a little longer than the rest, so it seeps to the side easily. Round the head, the pixie is close-cropped.
Don't let anyone stop you. There are innumerable variations to the amazing pixie haircut. A careful study should find you a fat face with a pixie haircut that you would love to wear!