Did you know that the Indian women are known to be probably the most beautiful ladies on the planet? Their dressing, hairstyles, and elegance, all radiate a feeling of eminence. It is no big surprise then that the manner in which Indian ladies do up their hair is flawless and full of dynamism.
Most of the Indian women are a fan of long hair. But, long hair can be somewhat exhausting at a time. Be it for a gigantic Indian wedding or an easygoing outing, you will find something yourself on this rundown for sure.
So to escape the worry of how to style them, you can read on to find the best Indian hairstyles for long hair. Give them a shot and discover for yourself. You would dote on to experiment with these trendy long length hairdos.
Best Long Hairstyles for Indian Women
If you are having beautiful long hair and want to try some trendy gorgeous hairstyles, here are the top 45 Indian hairstyles for long hair that will look charming and flawless.
1.
2.
3.
4.
5.
6.
7.
8.
9.
10.
11. Wavy Long Hairstyle for Indian Women
The traditional Indian saree has gorgeous colors and designs and you have to wear it with a proper hairdo. A very long hairstyle is the ideal choice for Indian women who want to stand out. Wave your glorious mane and section it in two parts. Create a loose twisted braid and decorate your hair with three white roses.
12. Braided Half Up Half Down Hairstyle for Indian Women
A half-up long hairdo looks so much better when you also style braids. Use your bangs to create a fishtail knit and wrap it around half of your head. Use it to create a bun on top.
13. Voluminous Bun Hairstyle for Wedding for Indian Women
When you have thick hair that reaches your waist, there are lots of long hairstyles for Indian women that will help you get all the attention your mane deserves. A voluminous bun is complex enough to make you look glamorous for a wedding, even if you are a guest or the bride.
14. Socket Bun for Indian Women
Sometimes long thick Indian hair can require too much styling, and there are days when you don't have a lot of time to get ready. A bun on top of the head is a great alternative, and it's so easy to arrange.
15. Natural Wavy Hair for Indian Girls
All women are jealous of Indian girls, mainly because they have thick long healthy hair. The long mane provides a lot of styling options, but sometimes less is more. If you have natural undulated strands, just use a fixing spray that helps you maintain the wave the whole day.
16. Twisted front with a low bun
The foremost traditional dress of Indian women is a saree. A lovely bun is a great choice of hairstyle to wear when dressing in a saree. The twisted bun adds a striking on-trend touch to it. Don't forget to blow dry your hair before you make this elegant updo.
1 7. Loose curls
Indian women are crazy about accessorizing their hair with head jewelry, especially at fancy occasions. Loose curls give a flowy and smooth space for the headpieces to look more beautiful. Indian women can wear a lehenga and pull off this long hairstyle effortlessly.
18. Bangs and a loose side braid
What could be more stunning than a side braid on long hair? Once you get your hair into a simple and loose side braid, you are sure to have all the eyes in the room on you. To glam it up, let your bangs subtly sit at your forehead. No pins or hair sprays needed!
Gorgeous Short Hairstyles for Indian Women
19. Braided crown with French/simple braid
Doesn't a braided crown look too cute to not to be tried? Not only it looks good on long hair, but also on medium length hair too. All you have to do is make a crown with a rough French/simple braid.
20. Half tied hair with loose curls
Considering that loose curls on long hair look absolutely gorgeous, tying half of them appears very becoming. You could use a claw clip or a headband to tie top half of your hair for this long hairstyle. Let the rest cascade down for a glorious look.
21. Indian Beehive
A 60s inspired beehive hairstyle looks amazing on Indian women, exclusively when they dressed in traditional apparel. You can increase or decrease the height as per your wishes. It is the vintage long hairstyle for Indian women of all, still looks spectacular.
22. Three-strand Fishtail Braid for Indian Women
For all the Indian women searching for some spunky new long hairstyle to wear at a celebration, this is the one for you. A long triple fishtail braid takes a lot of time and effort when styling Indian long hair, but the finished look is utterly magnificent.
23. Puff and voluminous curls
It's time to flaunt off your beautiful hair at the gatherings. Since center headpieces are very common at Indian celebrations, you can opt for curling your silky long hair and add a puff at the top. Glamorize it with a center headpiece and voila!
Beautiful Curly Hairstyles for Indian Women
24. Curls and flowers
No wonder the floral hairstyles are a big thing amongst Indian women. If you're bored of simply styling your hair into curls, then here is how you can reinvent your hairstyle.
Pull your curled hair back and secure them with bobby pins. Add a couple of flowers in a way that hides the pins. A completely flamboyant long hairstyle for Indian women to attend a wedding!
Fancy hair is more or less taken as awe-inspiring hair adorned with flowers. This ritzy Indian hairstyle takes a fancy updo, an exquisite ringlet bun. To prettify it, a large flower is added. It is entirely suitable for women of all ages.
26. Indian loose curls and a braided tiara
If you want to look like an Indian princess, then maybe you can try styling your magnificent long hair this way. Just make thin braids forming a tiara, and curl the ends of your hair. Make sure you make a grand appearance at a function with this outstanding Indian hairstyle.
27. Fishtail Braid for Indian Teenagers
A classic fishtail braid is all you want for a charming and easy-going look. It is such an aesthetic version of plaits that nobody can keep away from trying it. Tie a ribbon at the end to add more brio to it. The flair is irresistible, right?
28. Messy double bun
Indian women are truly fond of buns. But sometimes, a single messy bun isn't enough and it all gets boring. There is always room for creativity in every hairdo. Try a glorious mess of double bun. It is a creative and modish long hairstyle for Indian women.
29. Ponytail with a double French braid
Nobody wants to wear a simple ponytail even in their homes anymore. Looking for a fresh ponytail hairstyle for your long hair? This is a chic and versatile ponytails style for a lovely day out on streets. It looks adorbs on young Indian girls.
30. Mermaid French Braids for Indian Women
There is no way you will ever get to see an actual mermaid. But you can always style your shiny long hair into a mermaid French braid for an oomph look! It might take your time, but the finesse is breathtaking.
31. Straight hair and a half knot
How many times in a year do you get bored of watching tutorials on Youtube for an easy-going hairstyle? Thankfully, you won't need one for this hairdo.
For someone looking for a sultry evening hairstyle, then try this sassy hairstyle. It is a beguiling combination of straight hair with an immaculate cute knot tied back and the rest of the hair down.
Who knew one could reify a messy and a sleek look in the same hairdo, do you love putting up a poker face with an I-don't-care expression? Try this sensational Indian long hairstyle including straight hair ending with a rough ponytail. Indian women can totally seize this defiant look.
33. Puff with straight hair
Although puff adds more elan to your appearance when prettified with curls but, straight hair looks great too. If you wish to take your straight hair to newfangled heights, here is your go-to hairstyle. Indian women who have long hair to style for a wedding can absolutely carry out this traditional look.
34. Twisted Strands
Believe it or not, twisted strands are the most majestic long hairstyle for Indian women of all. They have a royal exquisiteness hidden in their outlook. Garb your favorite sundress with twisted strands hairdo. Going out on a Sunday for fun? Settle on for this hairstyle!
35. Messy bun with bangs for teen girls
Wondering how to manage your lush long hair and cute bangs at ease? Make a messy bun and let your bangs cover your forehead nicely, giving your face a frame finish.
You can even blow dry your bangs to have them appear more sensual and natural. This is the kind of look an Indian lady would love to have to dance fearlessly without worrying about their hairstyle getting ruined.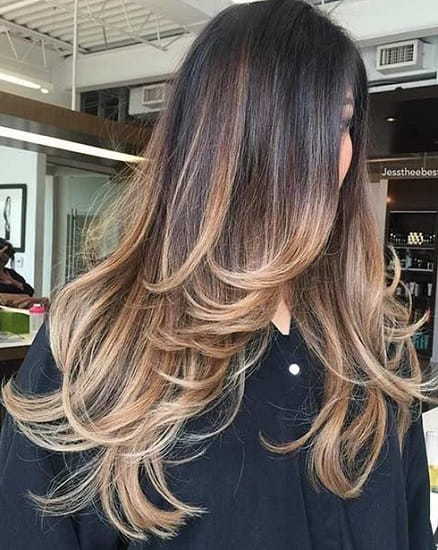 A lot of Indian women are smitten with open hair, especially the ones who have beautiful long hair. In that case, go for a layered balayage haircut and a blow-dry. No pins, no headpieces, no headbands, just your silky smooth blow-dried layered hair falling down. It looks even more attractive on highlighted hair.
37. An asymmetrical without an asymmetrical cut
Call it a cheat asymmetrical if you like to, because you can totally achieve an asymmetrical hairdo out of your layered hair. It is super-easy; straighten your hair, and spray an anti-frizz. After that side part your hair; longer hair at one side and the shorter ones at the other. Who knew an asymmetrical hairstyle would be that simple to pull off?
38. Intricate updo
There is a wide variety of intricate updos when it comes to traditional Indian style buns. From a bouffant bun to a braided and ballerina bun, you can select any. So if you're heading out for a night long celebration then stop by at a salon first and get your hair done into a regal updo.
39. Muddled side bun
There are so many Indian occasions where you all one got to do is make a state appearance and hold up a nonchalant hairstyle. A muddled side bun will help you rock a bolshie look at a party full of strangers. With this tousled long hairstyle, you can conquer the party room with full confidence.
40. Ponytail with puff
No doubt puffs not only look amazing with open hair but also look incredibly sassy with a ponytail too. Imagine your stylish ponytail swirling around whilst you sway around, it'd definitely draw all the attention towards you.
For a magical look with front bangs and long hair, you can put in tight or loose curls (whichever you like the most on your face) and side sweeps your bangs. This is a flawless long haircut for Indian women for the times you aren't feeling like putting in too much of effort.
42. French Braids
Who says you can't wear a classic French braid? Neither the classic hairdos had never gone out of style, nor they ever will. So if you love braids then settle down for a French braid to take your panache to a next level.
43. Daisy Braid
It might sound like an actual daisy flower braid but that's not how it goes. It includes a simple straight and rough plait, with daisy flowers added on it for a cutesy look. Perfect for all Indian women who are looking forward to a picnic day out with friends!
44. Ribbon weaved pony-braid
In case you don't want to wear those bobby pins again or don't want to go through the trouble of using a hot curling iron and hair sprays, you would love this hairdo. Grab a couple of ribbon strands and a headband, tie a high ponytail first and then weave your ponytail with ribbon into and a la mode braid.
45. Ultimate flat long Indian hairstyle
When in doubt, take advantage of your splendid long hair and turn them extra flat. Who wouldn't love an extreme sleek straight hair look? Flat- ironed hair with rich shine spray look would totally flabbergast the peeps around you.
Young Indian ladies are highly motivated to make new and intriguing conventional or up-to-date Indian hairstyles for their long hair in the merry and wedding seasons. Whenever you are wearing a truly, conventional or a modern outfit look no more distant than this post.