Wait, you don't think long layered hair can be for men at all, let alone manly? Well, you can't be further away from the truth.
Classic Long Layered Hairstyles for Men
Here are 17 of the coolest long layered haircuts for men out there. Go through the list we have made and be ready to be convinced otherwise and maybe even try one yourself.
1. Shoulder-Length Haircut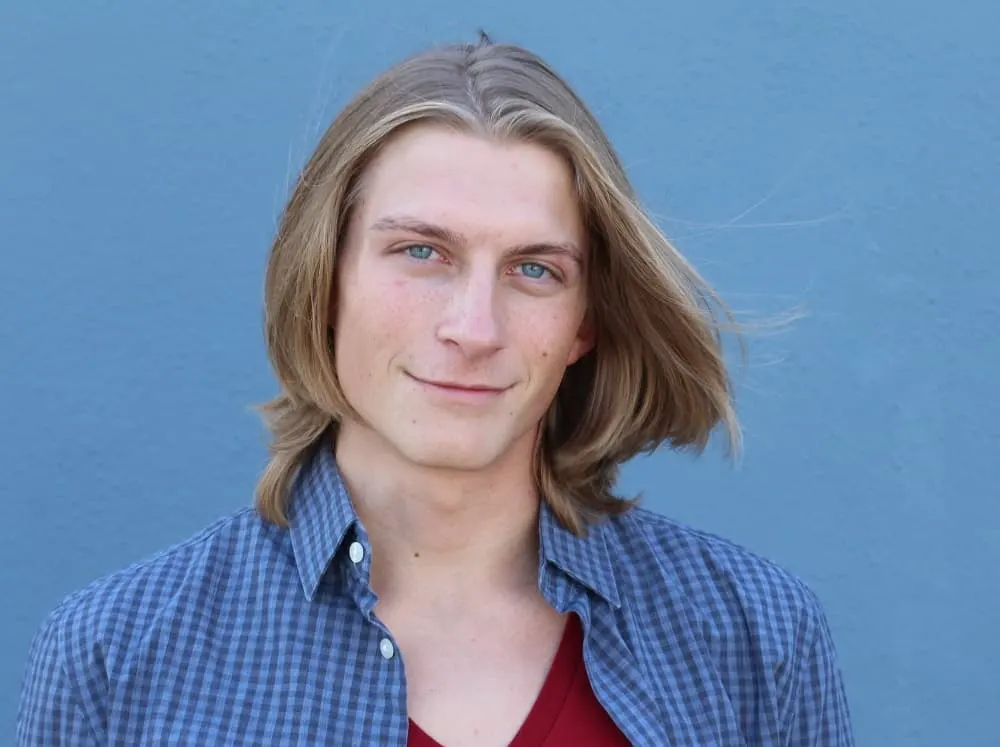 Long blonde hair looks masculine and impressive. Get a shoulder-length hair cut and add layers with front strands ending at the chin. This hairstyle is ideal for guys with wavy hair. Subtle light blonde money pieces at the front will complete this dreamy look.
2. Layered Afro Curls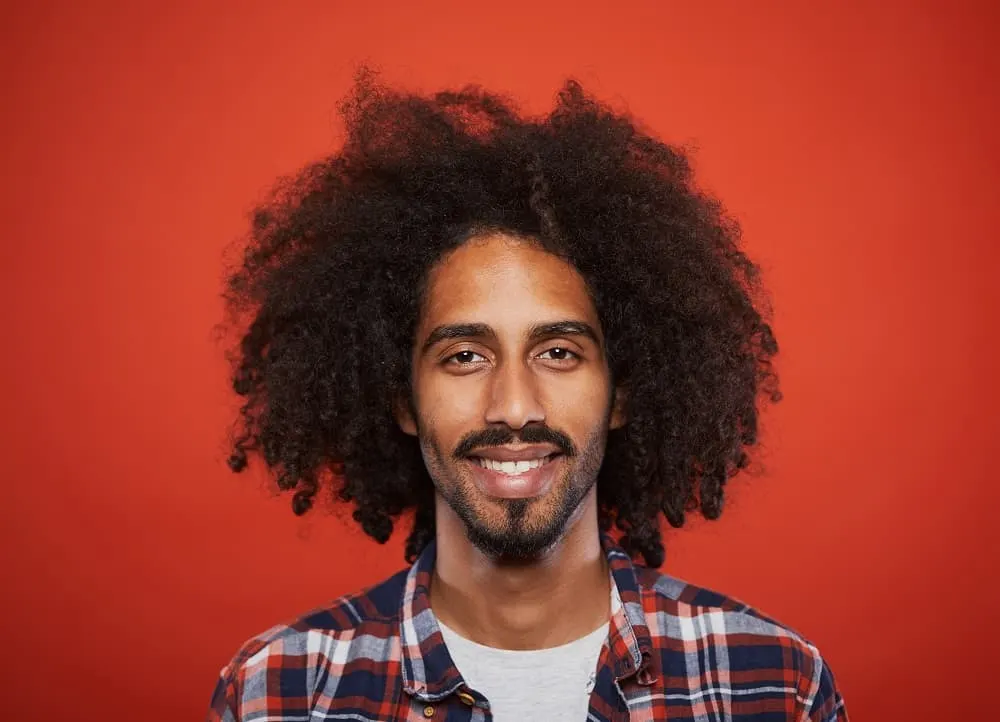 This style is ideal for black men who want to rock long hair. Grow out your afro curls long enough and then get a layered haircut. The strands are shorter at the top and longer below. This carefree look is easy to achieve and maintain.
3. Tousled Look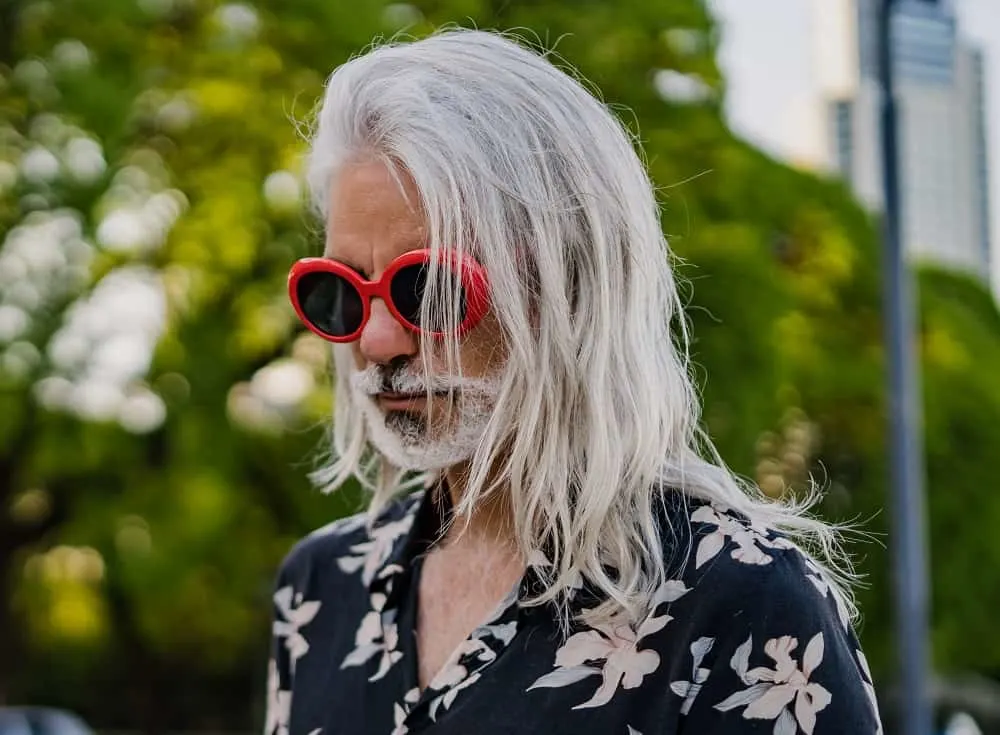 Bearded men over 50 can go low-maintenance with this long layered hairstyle without any worry. To get the tousled look, grow out the hair and cut it just beneath the shoulders. Finger brush them with a subtle side part.
4. Sleek Ombre Hair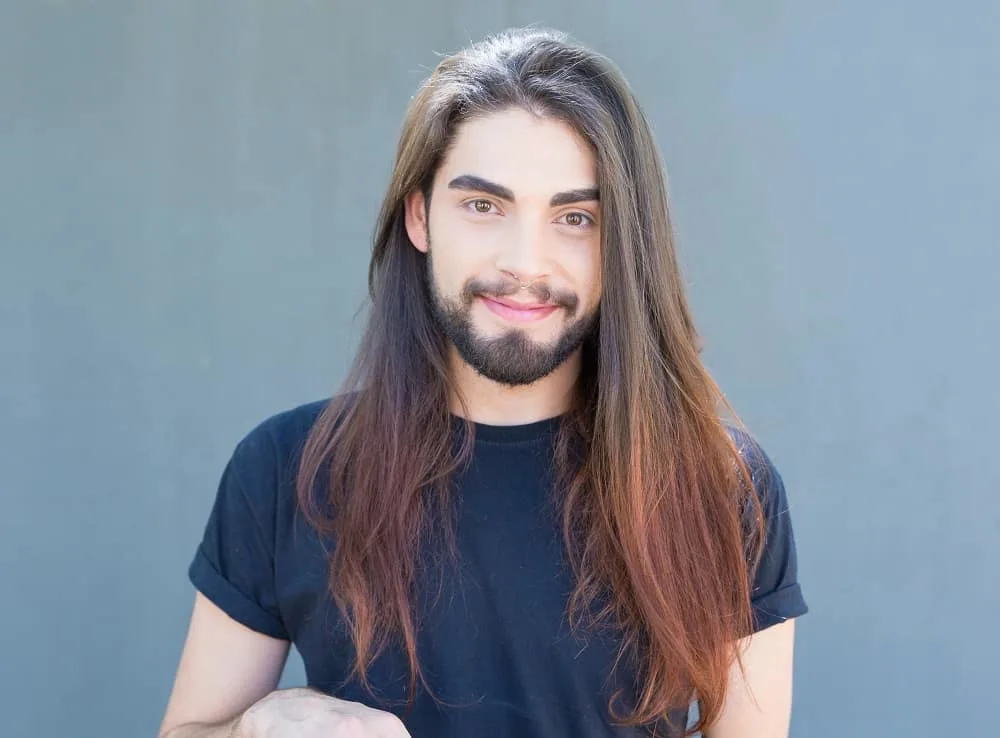 Tired of your monochromatic locks? Experiment with them by adding an ombre. The top is kept in a natural light brown hue that merges into a copper shade midway till the ends. Add subtle layers with a middle part and beard to complete this romantic style.
5. Curly and Shaggy Layers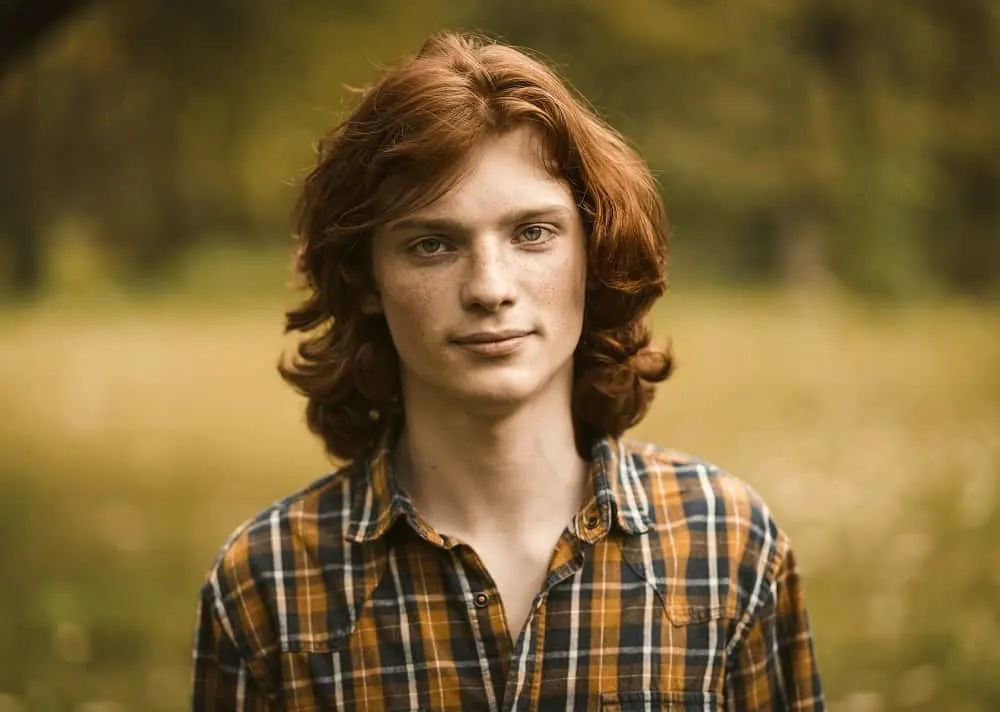 Rock this shaggy lob if you have curly ginger hair. Ask your hairstylist to add a lot of layers with side-swept bangs at the front. Allow your loose strands to curl in all directions. This is a classic look for the laid-back men out there.
6. Extra Long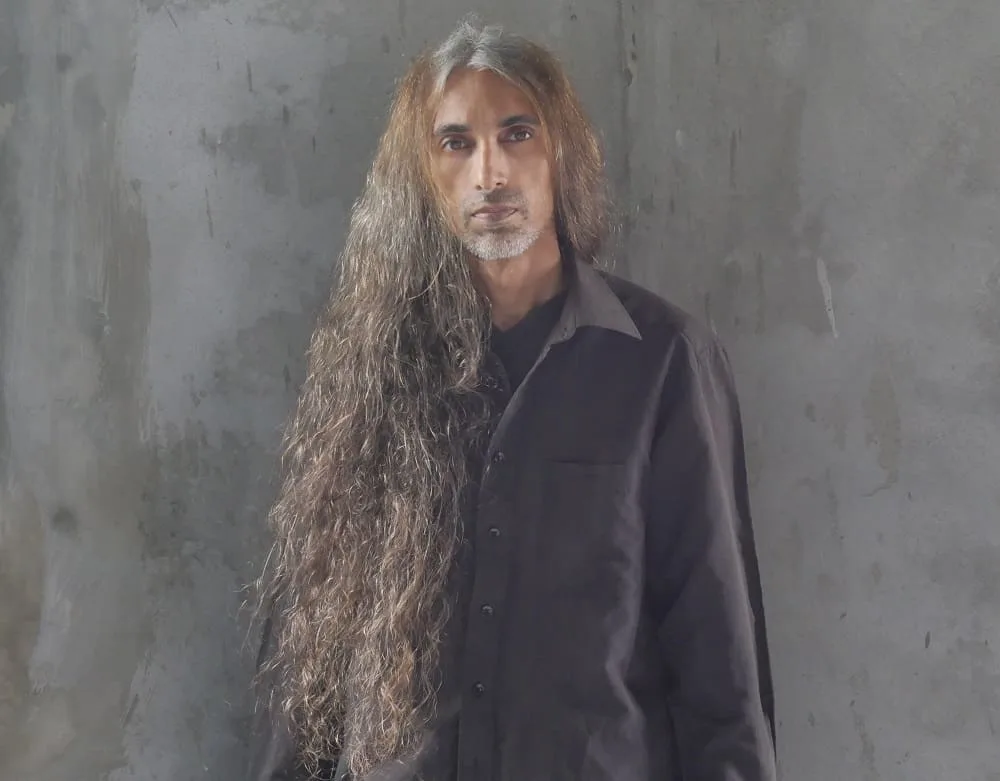 This look is for guys who want to go an extra length with their hair. Add layers to your tail bone-length hair. Dye them in a silvery hue with copper shades in between. This hairstyle will make your natural hair texture stand out.
7. Wet Look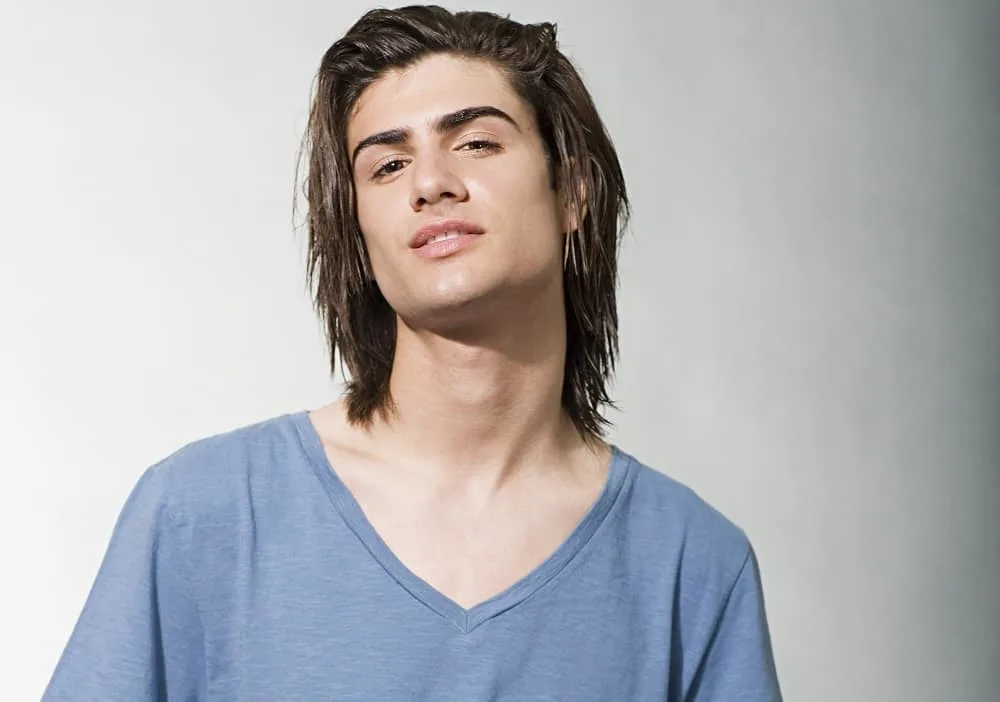 The wet look trend has been going on for a while now. Shoulder-length straight hair can be styled ideally in this way. Use some gel or pomade and slick back your hair with an unseen side part. This hairstyle keeps long strands under control and out of the face.
8. Contrast Look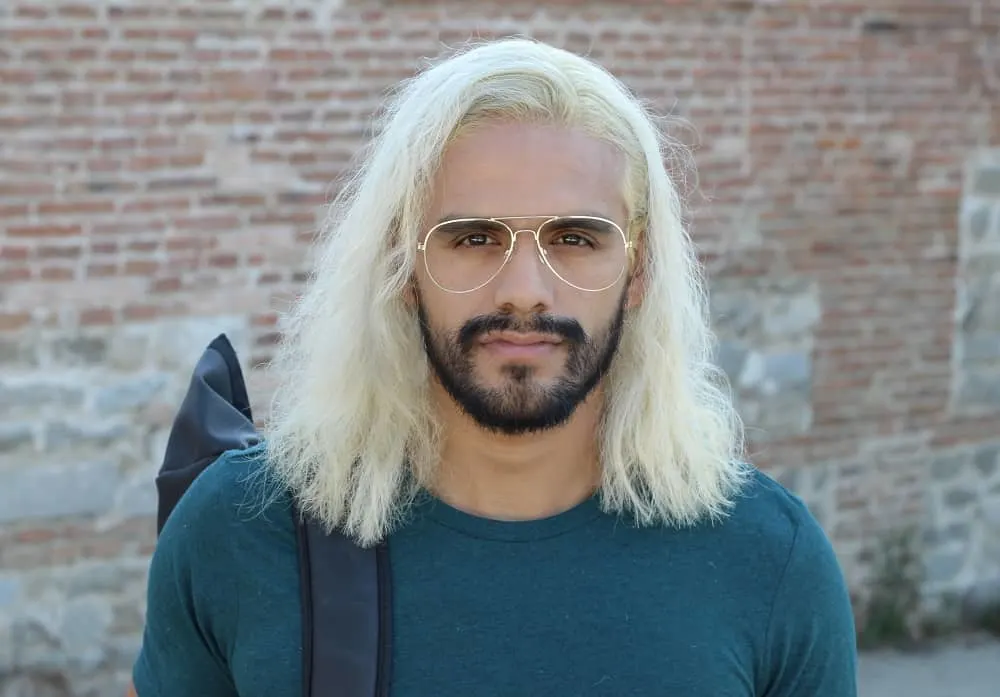 Embrace long hair with style with this black and white look. Add layers to the front of the blunt cut lob. Bleach it down and add a platinum hue to it. A rugged black beard completes the look. This sharp contrast will turn some heads around you.
9. Layered Dreadlocks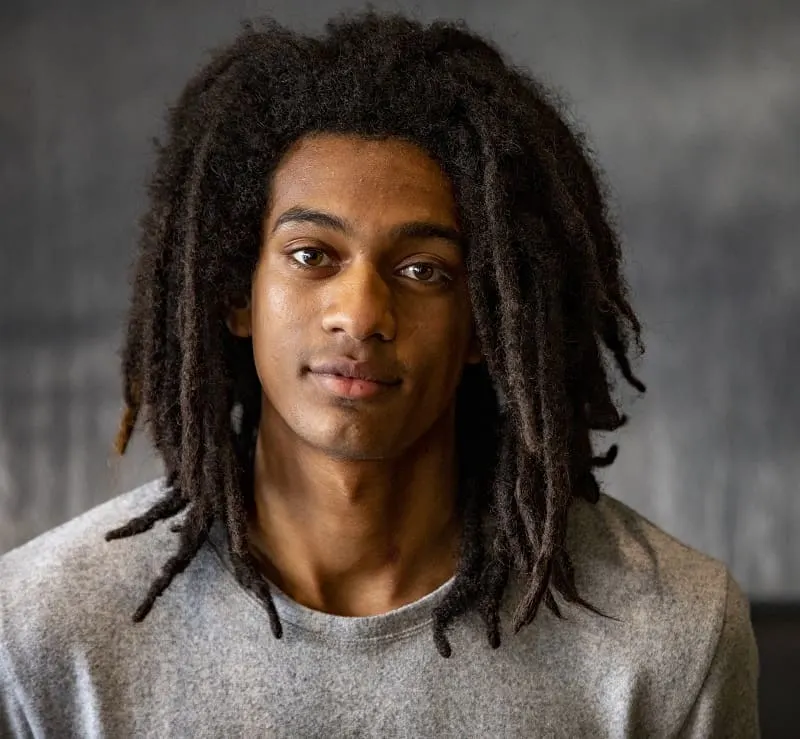 Tame your long hair by styling them in dreadlocks. They are timeless and go with every kind of skin tone and hair texture. Grow out your hair to the length you like, shoulder-length is preferable, and dread them to achieve a rebellious look.
10. Side-Swept Textured Waves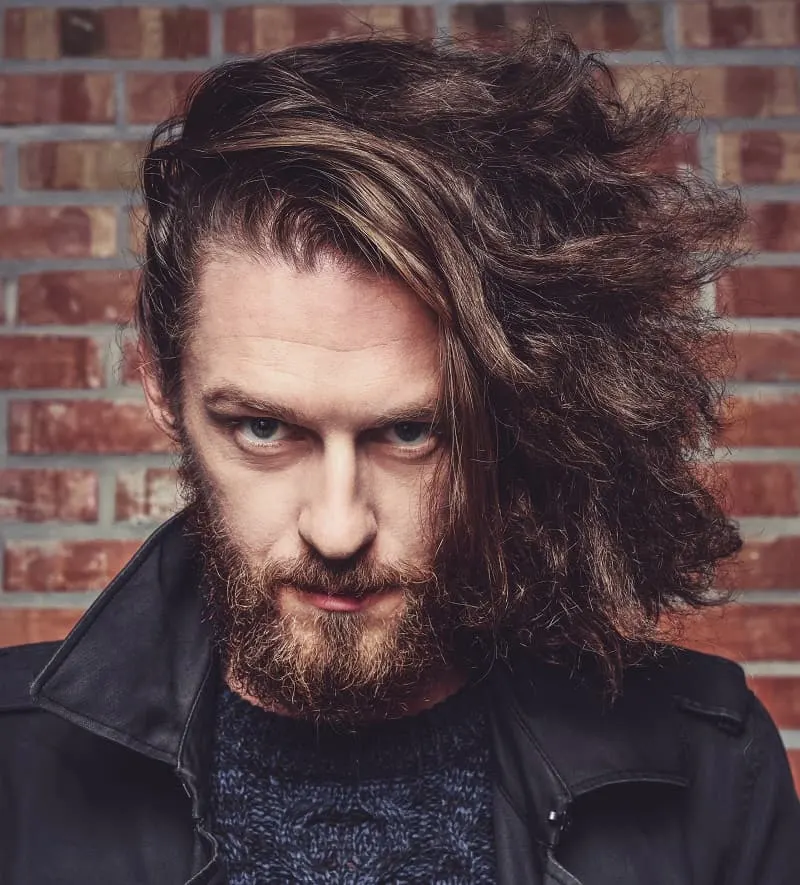 If you are still thinking about whether men can flaunt a long layered haircut without compromising their masculinity, have a look at this macho side-swept hairstyle. Get a layered haircut and sweep all your crimped waves on one side. A rugged beard completes this look.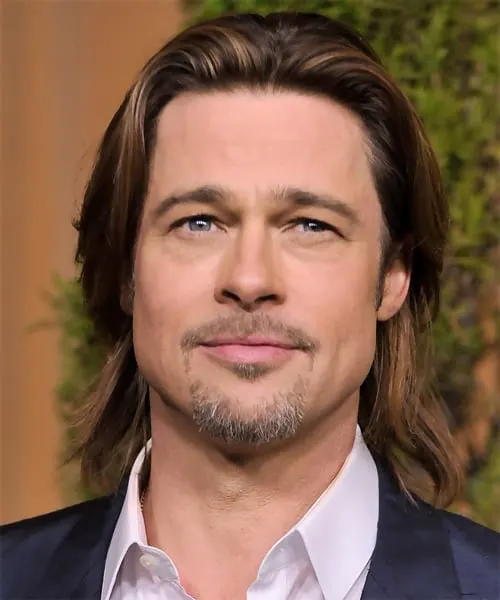 We've been admiring all of the men's long layered haircuts inspired by Brad Pitt throughout the course of the past 25 years. If you have long straight hair, this curtain hairstyle might just be perfect for you too.
Ideal for: Square and round-shaped faces.
How to style: Once you've to blow dry your hair, part it in the middle. You can add a little bit of hair gel at the front for it to be a bit back-swept.
A receding hairline is often the reason why many men choose to cut their long hair. But with a smart haircut, you can cover up the receding areas and have a great long hairstyle with layers for men.
Ideal for: Heart and round-shaped faces.
How to style: If your hair is layered and texturized, there is no need to style the lengths. However, if you have a receding hairline, make sure you always part your hair in the middle because that is the most effective way to cover it.
Most Amazing Long Hairstyles for Men
An undercut is also a great asset to the long & layered haircut for guys. It brings even more asymmetry and looks incredible.
Ideal for: Round and oval-shaped faces.
How to style: Use hair clippers to execute the long undercut for men. Wear the rest of the hair messy and swept to the opposite side.
14. Layered Curly Hairstyle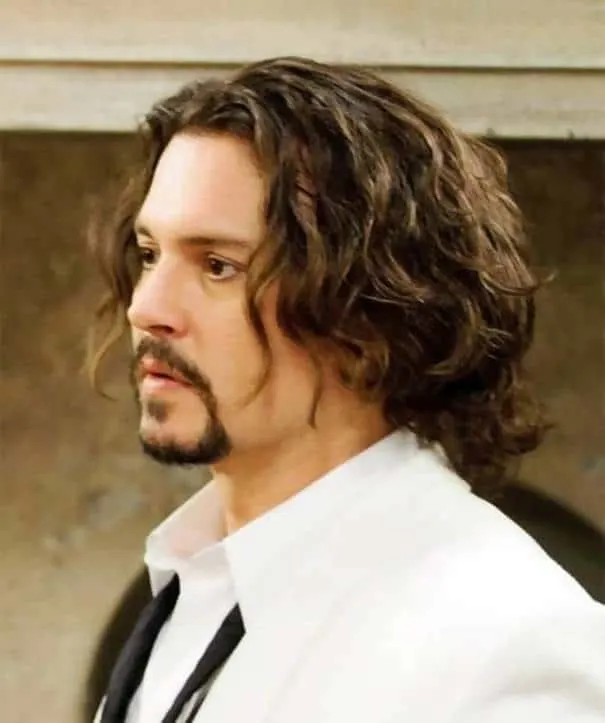 It is very important to layer long curly hair for men. Even though the layers are practically invisible, it helps the hair have a better shape and look more flattering.
Ideal for: Oval and square-shaped faces.
How to style: Layer the curls when they have been dampened or wet. Make the bangs a bit short at the front. Use a little bit of hair mousse to define the curls and let the hair dry naturally.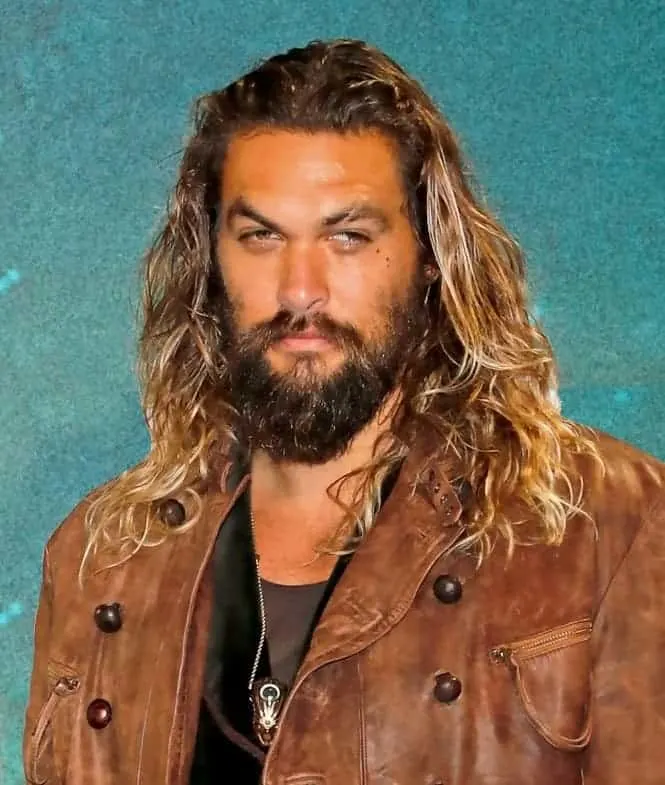 The longer your hair is, the more room you have to experiment with it. So you might as well try some blonde highlights.
Ideal for: Round and square-shaped faces.
How to style: Use bleach, gloves, and some foil for the highlights for the sun-kissed effect in the hair. The highlights will add some more texture to the men's long layered hairstyles.
16. Messy Layered Waves
Messy waves look charming and sexy and women just love this layered long wavy hair look on men.
Ideal for: Oval and square-shaped faces.
How to style: Dampen the hair before layering it. When the hair is half-dry, use a bit of hair mousse and mess it out.
Popular Long Hairstyles for Older Men
17. Messy Waves Longer at the Front
This is a more extreme version of a men's haircut with long layers, but it shows the full power of layers.
Ideal for: Heart and round-shaped faces.
How to style: Dampen the hair and layer it, leaving the bangs the longest. Dry the hair and lift it for volume using a styling brush. Mess it out with hair gel and fixate it with hairspray.
Changed your mind about men's long layered haircuts yet? What's more, is that these are quite easy to make and maintain. These 17 hairstyles can also serve as an inspiration to make one more unique to your style and taste. You will love the results.